Greetings from Washington, D.C., where Axios staff from around the country has gathered for a couple days of strategizing. That reminds me to remind you to subscribe to our other newsletters, including new offerings Generate (energy) and Login (Tech). Get em all.
Top of the Morning
• Drawbridge: Oracle yesterday announced that it will acquire Moat, a digital advertising analytics company that had raised nearly $70 million in VC funding since being founded in 2010. No financial terms were disclosed, but multiple sources say the deal value is nearly $1 billion.
Bump: Per PitchBook, Moat was valued at around $430 million post-money in a March 2016 round led by Insight Venture Partners. Other backers include Mayfield, First Round Capital, Lead Edge, Lerer Hippeau, Softbank, Bowery Capital, Vast Ventures and SV Angel.
Skyscraper: This is a major success story for New York City tech, which has otherwise proven much better and raising capital than at returning it. Particularly notable is that Moat has largely flown under the media radar, whereas many of its neighbors actively court coverage.
Why sell to Oracle? Distribution, distribution, distribution.
Strategy: This is yet another large startup sale where the financial terms are being kept under wraps, per order of the acquirer. I really don't understand the thought process (beyond Oracle not wanting to appear to generous to other potential targets). Some stories yesterday seemed to imply that the deal was a low-priced acqui-hire, which only serves to devalue Moat in the eyes of potential customers. If enterprise software companies often go public, in part, to increase their perceived staying power, shouldn't the same apply in an M&A scenario?
• Update: Speaking of undisclosed deal details, we now have some additional info on PetSmart's purchase of Chewy:
LevFin Insights says that the acquirer is expected to finance the deal via around $2 billion of new bond sales and $1 billion in equity. That would increase PetSmart leverage to 6.5X EBITDA, which is actually higher than the 6.4X leverage it had at the time of its original buyout by BC Partners.
Early Chewy investor Volition Capital informed LPs that they would be paid in full at closing, and in cash. In other words, outside investors in Chewy aren't going to be tied into PetSmart stock. The retention packages (i.e., the golden handcuffs) remain unclear.
• Earnings call: The Blackstone Group crushed Wall Street estimates this morning, reporting 82 cents in economic net income vs. 68 cent consensus (via Thomson Reuters). This also is more than double Blackstone's 31 cent ENI in Q1 2016. Credit here goes to rising values and distributions. Total AUM was up 7% y-o-y while fee-earning AUM climbed 15%, while those numbers were 4% and 36%, respectively, in the private equity segment.
• Quiz time: Yesterday a pair of former Dropbox execs ― Adam Michela and Soleio Cuervo ― disclosed in an SEC filing that they have launched a new seed investing platform called Combine Fund ($11m committed so far). Can you name the current Dropbox exec who also is talking to prospective LPs about a fund, this time in partnership with a couple of folks from a unicorn that is even more highly valued? Hint: None of the three has an investing record.
• Pen pal: Earlier this week came the resignation Klaud Kleinfeld as CEO of Arconic (NYSE: ARNC), which has been locked in a contentious proxy battle with activist investment firm Elliott Management. At issue was a letter he sent to Elliott boss Paul Singer, which was done without the authority of Arconic's board of directors.
Elliott today disclosed the letter, and it reads a bit like amateur extortion. Or reflects Kleinfeld's inability to properly tell a good joke. In short, the letter suggests that Singer did some embarrassing things while celebrating a soccer match in Berlin a decade ago (such as singing Singing in the Rain in a public fountain) and that Singer would give up a big-dollar battle so as to keep such things private. Apparently not.
The BFD
Source: Giphy
Virtu Financial (Nasdaq: VIRT) has agreed to acquire rival high-speed trading firm KCG Holdings (NYSE: KCG) for approximately $1.4 billion in cash, or $20 per share (12.74% premium over yesterday's closing price).
Why it's the BFD: High-frequency traders might have lower concerns today about increased regulatory scrutiny (let alone a financial transaction tax, which was favored by Hillary Clinton), but it's still been a tough slog of late due primarily to low volatility in U.S. equities. So this is an attempt to make it up on volume, plus allows Virtu to move into the retail wholesaler market. Also worth noting that Virtu's executive chairman is Vincent Viola, who was nominated by President Trump to be U.S. Army Secretary, but later bailed after saying it would be too hard to disentangle his business interests.
Bottom line: "All this low volume and low volatility is having an impact on the stock trading business. It doesn't matter the markets are near new highs. If no one is trading, or everyone is moving to passive investing, well, that is a big problem." ― Bob Pisani
Venture Capital Deals
• SenseTime, a Beijing-based developer facial recognition technology, has raised $60 million in new VC funding led by Sailing Capital. Existing shareholders include CDH Investments, Dalian Wanda Group, IDG Capital and StarVC. http://bit.ly/2pFSs7H
• Getaround, a San Francisco-based provider of P2P car sharing company, has raised $45 million in Series C funding. Braemar Energy Ventures led the round, and was joined by Toyota, SAIC Capital and return backers Menlo Ventures and Triangle Peak Partners. http://bit.ly/2oTxQJj
• MakeSpace, a New York-based self-storage startup, has raised $30 million in new VC funding from 8VC, Upfront Ventures, Harmony Partners and Summit Action. http://tcrn.ch/2pG1rWp
• ZappRx, a Cambridge, Mass.-based provider of prescription drug management solutions, has raised $25 million in new VC funding. Qiming Venture Partners led the round, and was joined by GV and SR One. http://bit.ly/2opQpnh
• CyberGRX, a Denver-based third-party cyber risk management platform, has raised $20 million in Series B funding. Bessemer Venture Partners led the round, and was joined by Aetna Ventures, Allegis Capital, ClearSky, GV, MassMutual Ventures, Rally Ventures and TenEleven Ventures. http://for.tn/2opUt6Q
• August Home, a San Francisco-based maker of smart doorlocks, has secured over $17 million of a new VC round that could total $25 million, per an SEC filing.
• Onkos Surgical, a Parsippany, N.J.-based developer of surgical oncology technologies, has raised $17.6 million in Series B funding. Canaan Partners led the round, and was joined by return backers 1315 Capital and 3D Systems. http://bit.ly/2pFY0BW
• BIMA, a Swedish insurance technology startup, has raised $16.8 million in new VC funding. Axiata Digital led the round, and was joined by Kinnevik, Milicom, LeapFrog Investments and Digicel. http://bit.ly/2oNPnE2
• IceKredit, a Shanghai-based provider of credit assessment solutions to SMEs, has raised $16 million in Series A funding. China Creation Ventures led the round, and was joined by Lingfeng Capital. http://bit.ly/2pFZYm1
• SafeGraph, a San Francisco-based machine learning startup initially focused on geospatial data, has raised $16 million in Series A funding from backers like IDG Ventures USA, Peter Thiel, Eric Cantor and Barry Sternlicht. www.safegraph.com
• Sapho, a San Bruno, Calif.-based micro enterprise app development platform for older software, has raised $14 million in Series B funding. Existing shareholder Caffeinated Capital led the round, and was joined by new investor Felicis Ventures. Other return backers include Alsop Louie Partners, SoftTech VC, Morado Ventures, AME Cloud and Bloomberg Beta. http://tcrn.ch/2pB6LNt
• Freebird, a Cambridge, Mass.-based, has raised $5 million in new VC funding from General Catalyst and Accomplice. http://bit.ly/2pGaABb
• Jaanuu, a Los Angeles-based medical apparel company, has raised $5 million in new VC funding from Sipaden Capital, Innovation Global Capital and individual angels. Existing investors include BAM Ventures, Ron Burkle, Potenza Capital and M3 Ventures. http://bit.ly/2pFJs2x
• Barnebys, a Sweden-based online services for comparing and buying items from auction houses, has raised $3.3 million in VC funding from Industrifonden and Howsat Venture Partners. http://bit.ly/2o75CNK
Private Equity Deals
• Audax Private Equity has agreed to acquire Impact Facility Services, a Dallas-based provider of fire protection services, from Caltius Equity Partners. No financial terms were disclosed. www.academyfire.com
• Brookfield Asset Management has agreed to acquire Loblaw's (TSX: L) network of Canadian gas stations for C$540 million. https://bloom.bg/2o39lvQ
• Element Materials Technology Group, a portfolio company of Bridgepoint, has agreed to acquire British lab testing firm Exova (LSE: EXO) for £620.3 million. http://on.ft.com/2oYx6EE
• Excelligence Learning, a Monterey, Calif.-based portfolio company of Brentwood Associates, has acquired Frog Street Press, a Dallas-based provider of early childhood education solutions for children up to 5 years-old. No financial terms were disclosed.
www.excelligence.com
• Riverbed Technology, a San Francisco-based network management company owned by Thoma Bravo, HarbourVest and Teachers' Private Capital, has agreed to acquire Xirrus, a Thousand Oaks, Calif.-based provider of wireless access network solutions. No financial terms were disclosed. Xirrus had raised over $100 million from firms like August Capital, Canaan Partners, InterWest Partners, QuestMark Partners and US Venture Partners. http://zd.net/2oYzmMd
• Whitebridge Pet Brands, a portfolio company of Frontenac Co., has acquired Dogswell, a Los Angeles-based maker of dog and cat treats, from TSG Consumer Partners. No financial terms were disclosed. http://bit.ly/2outkPB
Public Offerings
• Alpine Immune Sciences, a Seattle-based provider of protein-based immunotherapies targeting the immune synapse, has agreed to a reverse merger with Nivalis Therapeutics (Nasdaq: NVLS). Following the transaction, Alpine shareholders will hold 74% of the combined company, which will be led by current Alpine CEO (and former Dendreon head) Mitchell Gold. Alpine had raised around $48 million in VC funding from firms like Orbimed, Frazier Healthcare and Alpine BioVentures. http://bit.ly/2oStxOo
Liquidity Events
• Medidata Solutions (Nasdaq: MDSO) has agreed to acquire Mytrus, a Davis, Calif.-based provider of electronic informed consent software. No financial terms were disclosed. Sellers include inVentiv Health and the BU Tech Development Fund. http://bit.ly/2pVtnFe
More M&A
• Fifth Street Asset Management (Nasdaq: FSAM) has hired Morgan Stanley to explore sale opportunities, according to the WSJ. The Greenwich, Conn.-based firm has seen its stock drop around 30% so far in 2017, bringing its market cap down to just $242 million prior to the WSJ report. http://on.wsj.com/2pCgsLT

• Macquarie Bank has agreed to acquire Green Investment Bank from the British government for £2.3 billion. http://bbc.in/2o70F7H
• Microsoft (Nasdaq: MSFT) has agreed to acquire Intentional Software, a Bellevue, Wash.-based productivity software company founded by former Microsoft Office exec Charles Simonyi. No financial terms were disclosed. http://bit.ly/2pvGIr3
• Sawai Pharmaceutical (Tokyo: 4555) has agreed to acquire the generic drug business of Minnesota-based Upsher-Smith Labs for $1.05 billion. http://reut.rs/2pViWBA
Fundraising
• Nauta Capital has closed its third early-stage VC fund with $170 million in capital commitments. http://tcrn.ch/2oLpS6B
It's Personnel
• Stephen Harper, Canada's former prime minister, has joined San Francisco-based 8VC as an advisor. http://bit.ly/2pG7vyn
Final Numbers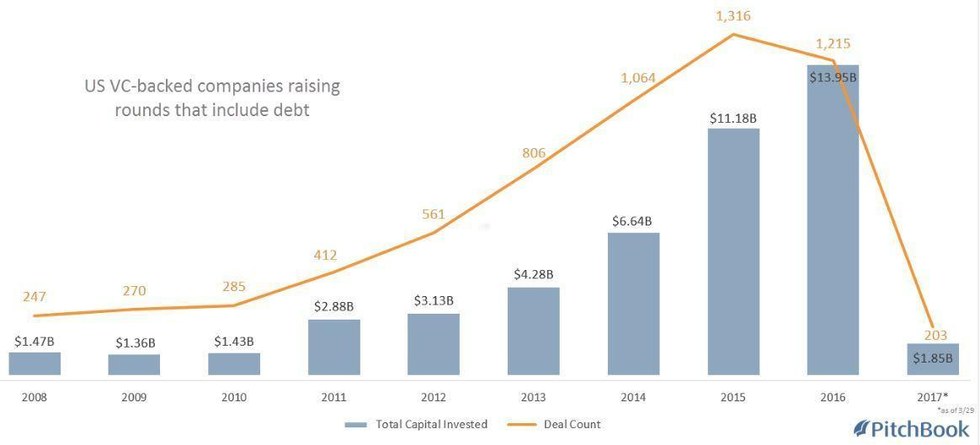 Source: Pitchbook