April 30, 2020
Welcome back and happy Thursday World readers. We've got the 1,458 words (5.5 minutes) you need to get up to speed on the latest global happenings.
1 big thing: Arms control on life support
There are three truly existential threats to humanity: pandemics, climate change and nuclear weapons.
Why it matters: COVID-19 has rightfully absorbed the world's attention and will for months to come. But the last treaty constraining the world's largest nuclear arsenals is set to expire in nine months.
Where things stand: The Trump administration has expressed little urgency over the looming expiration of New START (Strategic Arms Reduction Treaty), which comes two weeks after the next presidential inauguration on Feb. 5.
The treaty limits the long-range nuclear weapons programs of the U.S. and Russia, and it's verified through regular inspections.
It was signed in 2010 to replace the 1991 START and could be extended for up to five years by mutual assent (congressional approval is not necessary).
Russia had previously called for renegotiation, but it's now urging for an extension without preconditions.
The U.S. wants to negotiate a new deal instead, but time is running out.
The Trump administration has three primary concerns about extending New START, according to Frank Klotz, the former U.S. Department of Energy undersecretary for nuclear security (2014–2018).
It doesn't cover tactical nuclear weapons. Russia has more short-range, lower-yield weapons and more ways to deliver them.
It doesn't cover the new nuclear delivery systems Russia is currently developing.
It doesn't constrain China, which is significantly expanding its nuclear capabilities.
The third point looms largest for the Trump administration.
The administration is concerned that extending New START would undermine its hopes of a trilateral deal involving China, Foreign Policy reports citing a State Department document.
Marshall Billingslea, Trump's newly appointed special envoy for arms control, has been tasked with inking a new deal that restricts both of America's "great power" competitors.
Between the lines: China has no intention and little incentive to join such a deal, Rose Gottemoeller, the lead U.S. negotiator on New START, said Wednesday at an event hosted by the Arms Control Association.
By the numbers: The U.S. and Russia together have an estimated 91% of the world's nuclear warheads, and both countries have 20 times as many as China.
Gottemoeller agrees that China should be brought into the arms control framework and that there are thorny issues to be discussed around tactical nuclear weapons and missile defense systems (a top Russian concern).
But she contends that they can't possibly be negotiated before February — particularly amid a pandemic and U.S. general election.
On the one hand: Some China hawks see little reason to agree to an arms control deal that does not involve America's biggest geopolitical adversary.
On the other: Adm. Mike Mullen, the former chairman of the Joint Chiefs, says New START provides "continuous stability in an increasingly uncertain world."
The worst-case scenario, Mullen says, is an "arms race that none of us can afford."
2. COVID-19 success stories
South Korea and Hong Kong recorded no new local cases yesterday, and New Zealand and Australia also approached that milestone.
The big picture: Beyond those poster children of effective COVID-19 responses (Germany and Taiwan also qualify), there are a number of other success stories with lessons to offer the world.
Vietnam has now gone two weeks without any known community spread and has yet to record a death.
That success has been largely overlooked, perhaps because Vietnam is unlike the other high-achievers as it's "a developing Communist nation, led by a coterie of middle-aged men," per the Washington Post's Adam Taylor.
Researchers "have identified three key tactics used widely by the government: temperature screening and testing, targeted lockdowns and constant communication," Taylor writes.
Senegal "now boasts the third-highest recovery rate in the world," according to a weekly report from Albright Stonebridge Group.
Zoom in: "The Dakar-based Institut Pasteur (IPD) has developed a rapid $1 COVID-19 test, and the country has repurposed facilities built for Ebola into COVID-19 testing centers, as well as spearheaded the production of 3D-printed ventilators," the ASG reports notes.
Ghana is now lifting its lockdown, with President Nana Akufo-Addo saying the country's test-and-trace program is proving highly effective
South Africa, haunted by its slow response to the AIDS epidemic, imposed a strict lockdown and sent testing teams into townships to catch outbreaks before they grew. It quickly flattened the curve.
Central European countries like Slovakia, Poland and the Czech Republic have also seen far fewer cases and deaths than Western European countries.
They had additional time, with outbreaks beginning weeks after Italy's, but used it well, the FT notes.
3. U.S., China and COVID-19: Distrust and collaboration
Scientists in the U.S. and China are working together on testing COVID-19 treatments and drug candidates, developing vaccines, and understanding the origin and spread of the virus, Axios' Alison Snyder writes.
But, but, but: Scientific advances are increasingly seen as a national competitive advantage, creating tension that experts warn could undercut global efforts to defeat the pandemic.
The big picture: The two countries worked together during the SARS outbreak in 2003 and the Ebola outbreak in West Africa in 2014.
The CDC says it offered to help its parallel institution in China when the COVID-19 outbreak began but, the FT reports, the CDC hasn't asked them to collaborate formally on research.
China's delayed and inaccurate communications as the virus emerged led to criticisms and distrust around the world.
For some, those concerns provide more reason to collaborate.
"The more engagement we have, the more opportunities we have to build relationships and inform our understanding of this emerging infectious disease threat," says Margaret Hamburg, foreign secretary of the U.S. National Academy of Science and a former FDA commissioner.
"There is a long tradition of science diplomacy," she says, pointing to the role of nuclear scientists in opening up the former Soviet Union.
What to watch: There are stark warnings of "vaccine nationalism" because if a COVID-19 vaccine becomes available, there won't be enough at first to immunize the global population.
4. Gender equality on the rise ... except when jobs are scarce
The vast majority of people across 34 countries surveyed by Pew Research Center say it's important for women to have the same rights as men — but majorities in many countries still believe men should take priority when jobs are scarce.
Zoom in: In the Philippines, 94% believe it's important that women have the same rights as men, yet 75% believe men should take priority in securing scarce jobs.
Just 13% in the U.S. feel think men should have preferential treatment on jobs, compared to 81% in Tunisia, 79% in India and 52% in South Korea.
Majorities in all four African countries surveyed believe men should take priority, as do many in Russia (45%), Italy (40%) and Mexico (39%).
The flipside: Big majorities in most countries believe women currently have equal access to education and to express political opinions, notes Axios' Rashaan Ayesh:
The big picture: Opinions vary widely across the countries as to whether men currently have better lives than women.
Majorities in countries like France (70%), Sweden (62%) and the U.S. (57%) believe that is the case, but pluralities in Poland, Russia, Nigeria and India believe men and women have equally good lives.
Women are more likely to say men currently have better lives and less likely to believe gender equality will be achieved.
5. The White House position on Israel's annexation plans
The Trump administration has told Israel it won't support annexations in the West Bank unless Israel agrees to negotiate over a Palestinian state and fully endorses President Trump's Middle East peace plan, U.S. and Israeli officials tell Axios contributor Barak Ravid.
Why it matters: Prime Minister Benjamin Netanyahu's coalition deal with Benny Gantz envisions a vote on annexations as early as July 1.
What they're saying: A senior U.S. official tells Axios that any Israeli annexations must come "in the context of an offer to the Palestinians to achieve statehood based upon specific terms, conditions, territorial dimensions and generous economic support."
"We are prepared to recognize Israeli actions to extend Israeli sovereignty over areas of the West Bank in the context of the Government of Israel agreeing to negotiate with the Palestinians along the lines set forth in President Trump's vision."
— Senior U.S. official
The big picture: Many players in the international community are very concerned that the new Israeli government will move ahead with annexations.
A group of 12 European ambassadors, led by the U.K., issued a formal protest to Israel earlier today. They stressed that annexations in the West Bank would destabilize the region and harm Israel's standing in the international community.
What to watch: Once Israel's new government is sworn in, the Trump administration hopes it will formally endorse Trump's plan.
6. Long ago, in Madagascar...
This little guy roamed around the supercontinent Gondwana a long, long time ago.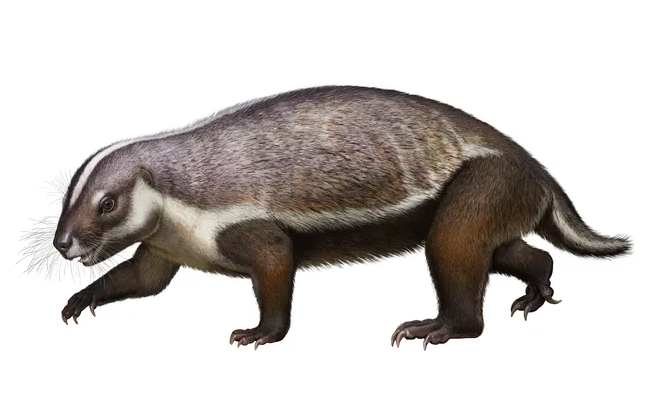 That's according to a new study, published in Nature, of a 66-million-year-old badger-sized skeleton found nearly complete in Madagascar.
Adalatherium hui was a giant for its time. Dinosaurs were still wandering the Earth, but few mammals were larger than mice.
To get a sense of just how long ago we're talking about, think of how long this April has felt — then multiply that by 800 million.
7. Stories we're watching
Quoted:
"Maduro's days are numbered."
— U.S. envoy for Venezuela Elliott Abrams, today
"Maduro's days are numbered."
— Secretary of State Mike Pompeo,
432 days
ago