Welcome to Axios World, where two evenings a week we break down what you need to know about the big stories from around the globe. We're off on Thursday, so have a wonderful Thanksgiving.
Thanks for joining me! Please tell your friends and colleagues to sign up here, and I'd love your tips and feedback: lawler@axios.com.
1 big thing: World dreads picking sides in U.S.-China breakup
The case that the U.S. and China are entering an era defined by hostility and competition was bolstered this weekend when an annual gathering of Pacific Rim countries turned into a standoff between Washington and Beijing.
Why it matters: So deep do the distrust and divisions run that the 30th Asia-Pacific Economic Cooperation (APEC) summit was the first to end without a joint statement from the 21 participants. If economic barricades go up, and stay up, countries could be forced to choose between the globe's two economic giants. "The entire world is worried," the summit's host, Prime Minister Peter O'Neill of Papua New Guinea said, per the NYT.
Vice President Pence, representing the U.S., said the Trump administration would continue to up the ante on tariffs "until China changes its ways," and he urged countries to reject Chinese investment in favor of the U.S. That followed an interview with the Washington Post's Josh Rogin in which Pence said it's up to China to avoid a new Cold War, and if they won't budge, "so be it."
President Xi Jinping, meanwhile, criticized President Trump's "zero sum" approach: "Mankind has once again reached a crossroads. Which direction should we choose? Cooperation or confrontation?"
That question is being vigorously debated in both Beijing and Washington, including earlier this month at Brookings:
David Lampton of Johns Hopkins School of Advanced International Studies conceded that with Xi (and Trump) in power "we're destined to have a problem," but argued that to give up on cooperation is to strengthen hardliners and ignore areas (security, global development) where interests align.
Evan Medeiros, the NSC's senior director for Asian affairs under Barack Obama, now at Georgetown, argued, "there is a risk you make rivalry a self-fulfilling prophecy, but there's a parallel risk of emboldening a rising power."
As the debate rages, both countries are already working to reduce their economic interdependency, particularly when it comes to tech, notes Benjamin Charlton of Oxford Analytica:
"The Trump administration is developing new processes to limit Chinese investment, issuing regulations on dual-use technology ... imposing sanctions and 'naming and shaming.' There is every sign that it intends to do more of all this."
"Even if a deal is reached with Washington that blunts the sharpest edges of the current trade conflict ... Beijing will likely only see this as a delaying tactic and an opportunity to make greater progress until a harder line is resumed."
What to expect: "The endpoint if the process of economic decoupling continues will not be zero bilateral trade and investment as in the Cold War, but rather a gradual separation of the global tech industry along political lines over the next 5–10 years."
All of this sets the stage for Trump and Xi's first meeting since the trade war kicked off, to be held at the G20 (Nov. 30–Dec. 1 in Buenos Aires).
Axios contributor Bill Bishop writes: "The best case scenario appears to be a tariff ceasefire with some sort of framework deal to keep talking, but based on what I am hearing, even that may be a stretch."
The big question, Axios' Jonathan Swan writes, is whether the meeting will go well enough for Trump to postpone ratcheting up tariffs on $200 billion worth of Chinese imports, as he's scheduled to do in January.
What to watch: Ali Wyne of the RAND Corporation argues in Foreign Affairs that there are major national security implications to an economic decoupling: "A China less constrained by and invested in economic ties with the United States could pose a substantially greater challenge to U.S. foreign policy."
Bonus: Air pollution and life expectancy
2. Asia: Business leaders (allegedly) behaving badly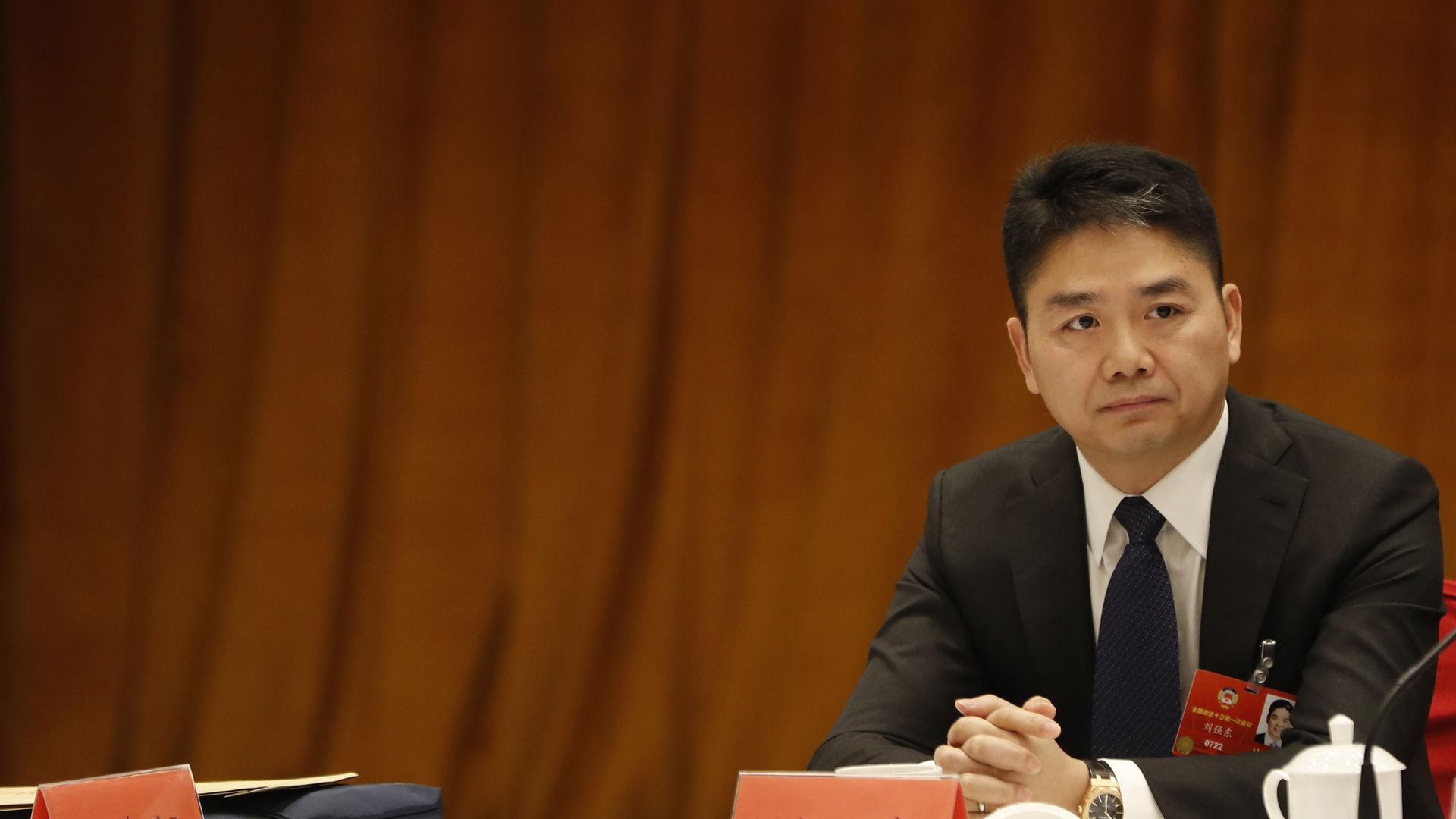 Richard Liu, the billionaire CEO of JD.com who is facing a rape accusation in Minnesota, said today that he will shift his primary responsibilities away from the Chinese giant's main e-commerce arm, instead focusing on the company's "new businesses."
Liu's announcement comes as JD.com, which has the backing of Chinese tech behemoth Tencent as well as Google and Walmart, is losing market value, Axios' Erica Pandey writes. Liu denies the accusations against him.
Nissan Chairman Carlos Ghosn has been arrested on allegations of under-reporting his income to the Tokyo Stock Exchange "over many years" and utilizing company assets for personal use.
For most of his career, Ghosn had this superhero mystique — a turnaround expert and automotive visionary who favored corporate alliances, not mergers, for global success. But Ghosn never came close to achieving his vision of an all-electric world, Axios' Joann Muller writes.
Those developments come a week after Binny Bansal resigned as CEO of Indian online retailer Flipkart, following an investigation into his behavior.
3. Three views on the Khashoggi crisis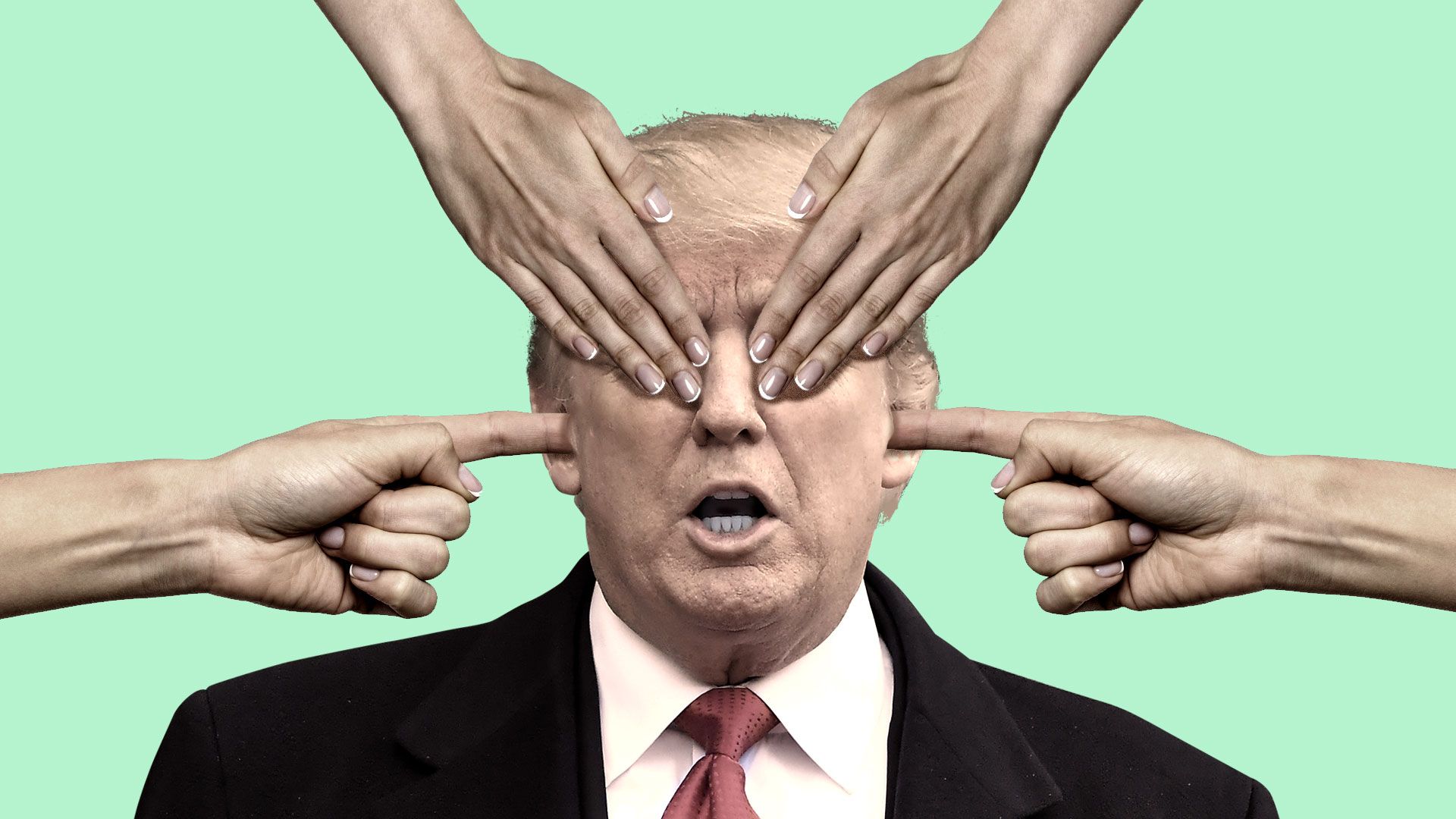 It has been 48 days since Washington Post columnist Jamal Khashoggi entered the Saudi consulate in Istanbul. The CIA has reportedly concluded that Crown Prince Mohammed bin Salman (MBS) ordered his assassination.
President Trump says such statements are premature. In fact, he told Fox News' Chris Wallace, in an interview that aired Sunday, that we may never know whether MBS was responsible, and "I want to stick with an ally that in many ways has been very good."
Privately, Trump has called the assassination "really bad," but immediately adds that other countries America deals with, including China, do "a lot of bad things," Axios' Jonathan Swan reports.
Trump has also told associates he thinks it's ridiculous that people are making so much of the murder of one man, and wondered aloud why America should take a side in the Khashoggi fight, Swan reports.
Germany, meanwhile, will halt all arm sales to Saudi Arabia and ban the 18 Saudi suspects linked to Khashoggi's murder from entering the EU's borderless Schengen Zone, Reuters reported today.
Last month, Germany agreed to ban future weapons exports to Saudi Arabia until satisfactory answers were provided. Now, the country plans to pressure German manufacturers to stop arms shipments that had already been authorized. Neither France nor the U.K. — the kingdom's two largest European suppliers — have indicated they will halt sales.
Saudi King Salman made his first public remarks since the crisis began today. He didn't mention Khashoggi.
His message was, essentially, that nothing has changed. MBS was seated in the front row.
Editor's note: This story was corrected to show that neither France nor the U.K. have agreed to halt sales of weapons to Saudi Arabia.
4. Middle East: Netanyahu wheels and deals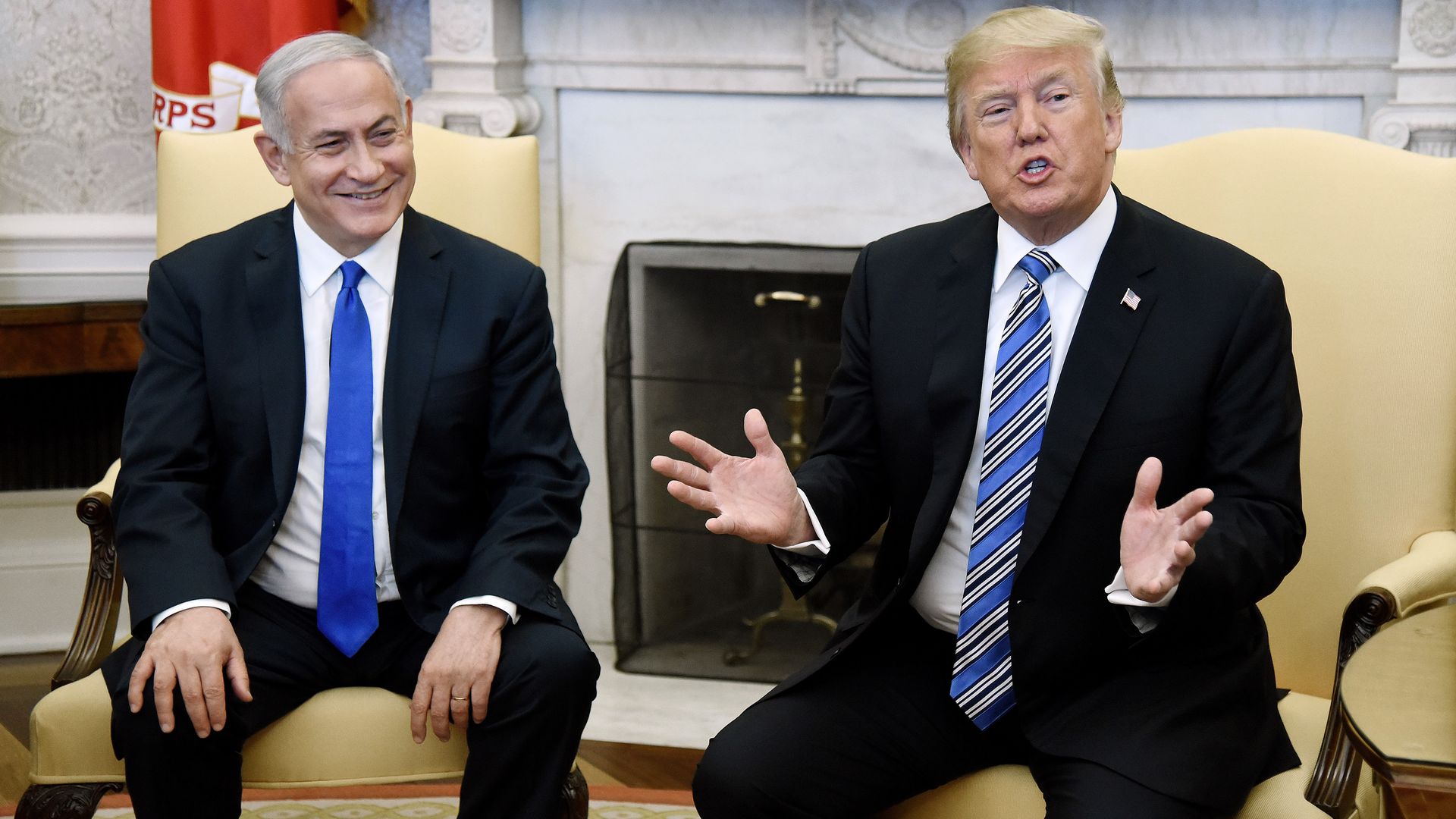 Israel is expected to withdraw from the UN Global Compact on Migration after requests from the U.S. and Hungary, Israeli officials tell Axios contributor Barak Ravid.
Why it matters: The Trump administration is leading international opposition to the compact, claiming it harms sovereignty and legitimizes illegal migration. Israeli diplomats were actively involved in the drafting of the international document over the past two years, but once Israeli Prime Minister Benjamin Netanyahu realized the U.S. was against it, he decided to withdraw.
The news comes a day after Netanyahu announced he'd take over the role of defense minister after Avigdor Lieberman resigned in opposition to a ceasefire with Palestinian militants in Gaza.
All members of Lieberman's party quit Netanyahu's government coalition after his resignation, leaving the prime minister with a one-seat majority in the Knesset. Netanyahu rejected calls from the remaining coalition partners to hold early elections, claiming it would be a distraction during "a sensitive time" for Israel's security.
For your radar: Trump will hold a meeting this week to make decisions on his Middle East peace plan and when to roll it out, Ravid scooped yesterday.
5. Europe: Crossing borders to stay out of jail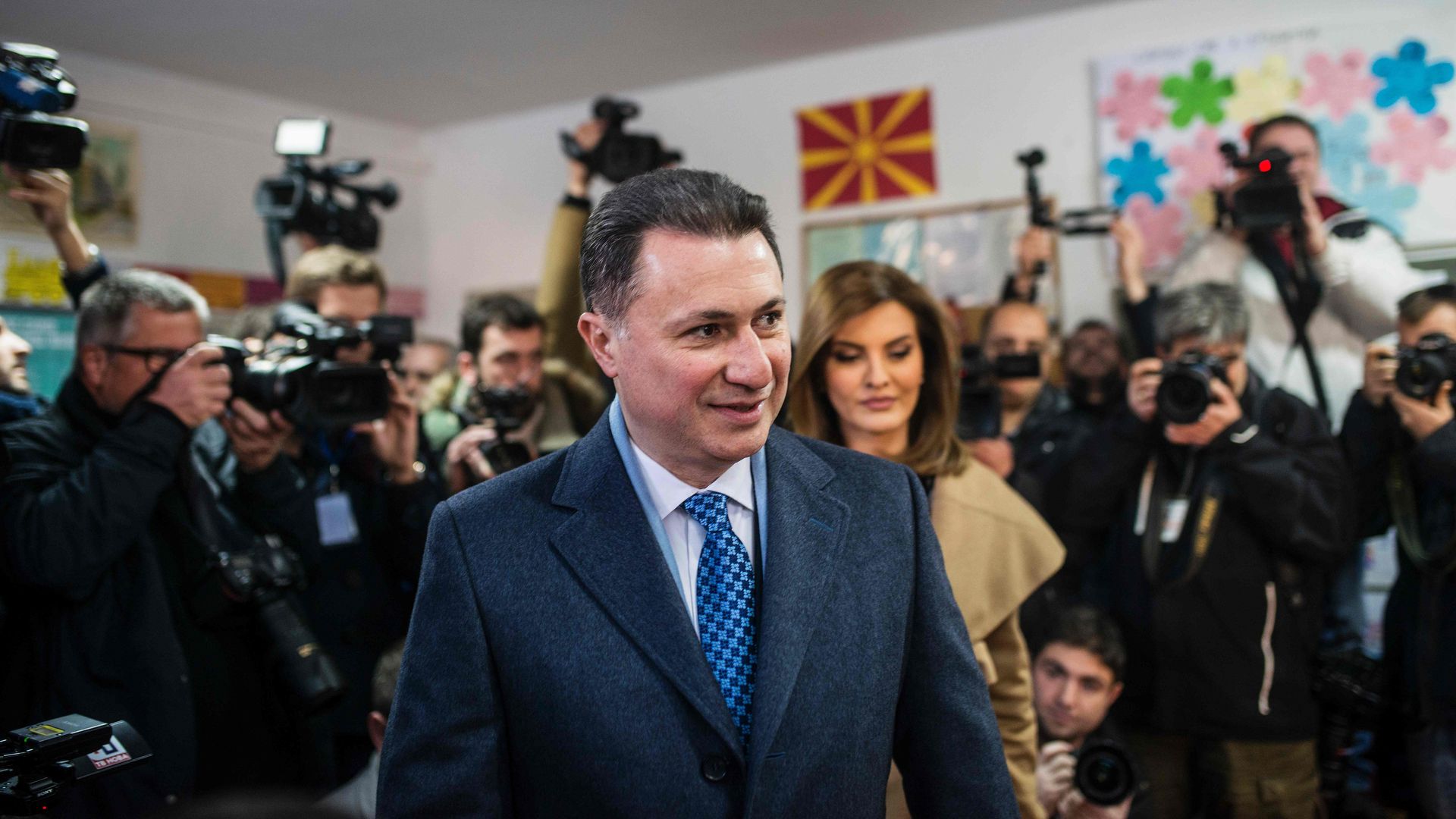 Macedonia has summoned Hungary's ambassador to demand the return of fugitive former Prime Minister Nikola Gruevski, AP reports.
Revelations that Hungary apparently helped Gruevski, who has been convicted of corruption, "travel through the Balkans to seek asylum in Budapest ... could land Hungary and its combative premier Viktor Orban in trouble with Brussels," per FT, which notes that the episode "comes at a delicate time in Macedonia" as it tries to resolve a dispute with Greece over its name.
6. One surprising thing: Latin America's mayor
I wasn't the only American in Uruguay this week. With presidential elections coming up next year, a businessman turned politician has brought in Rudy Giuliani's company to advise him on how to fight crime.
Giuliani sat down in Montevideo with Martin Aguirre — editor-in-chief of El Pais, former Axios fellow and host/tour guide extraordinaire — to discuss his approach:
"Take the case of a man we arrested accused of 3 or 4 crimes ... are we being fair if, for example, we put him in jail for 10 years? Someone will say 'oh, for God's sake, why 10 years?' I will tell you why. There is a point at which the person becomes a professional criminal. When he is not in jail, what will he do? He is not going to become a librarian."
My thought bubble:
Past his political prime in the U.S., Giuliani's crime-fighting reputation from his days as New York's mayor seem to be an electoral asset in Latin America.
The president's lawyer, ahead of a potential legal and constitutional showdown, still has time to travel the world as a security consultant!
7. Stories we're watching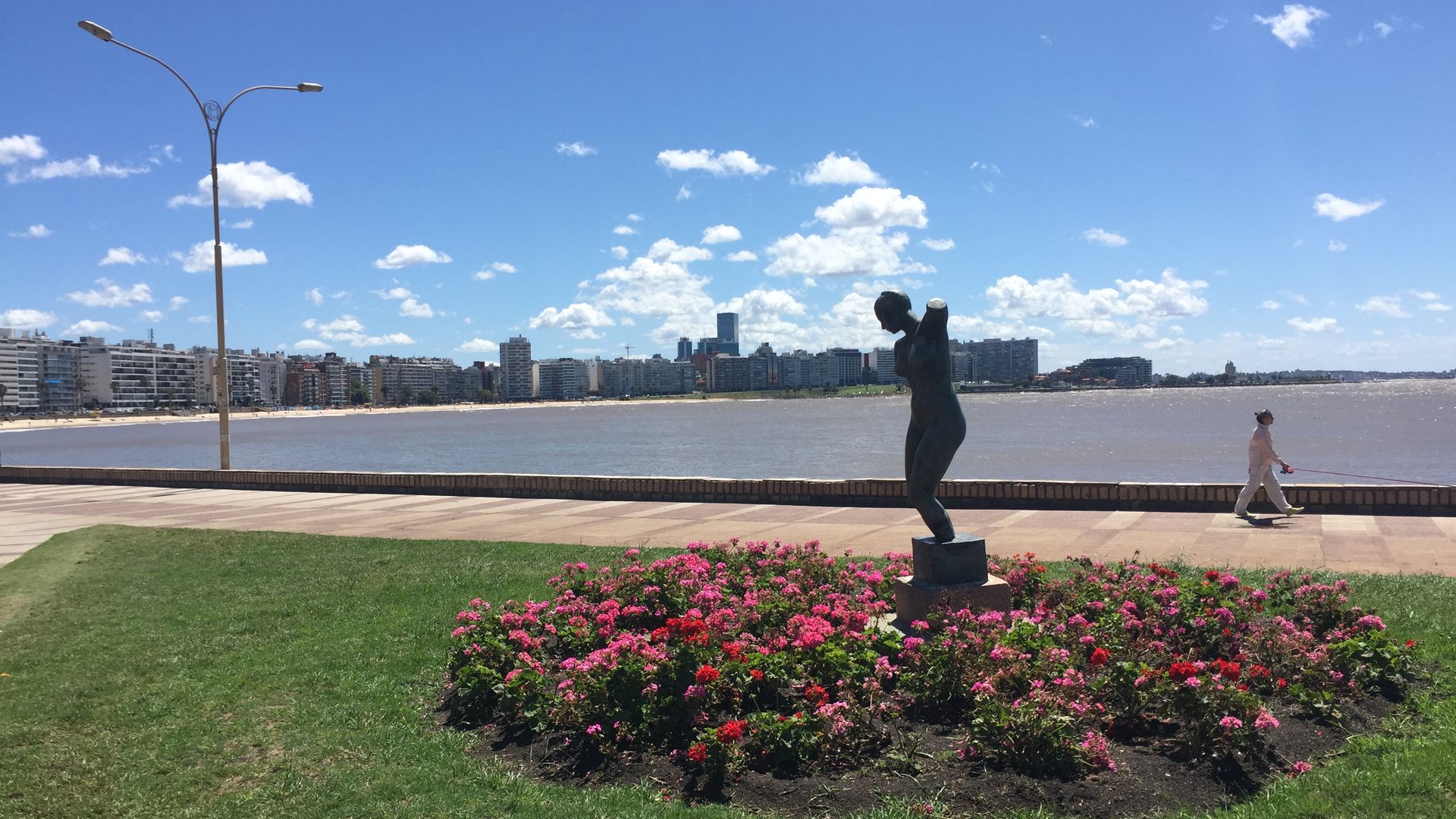 Quoted:
"I mentioned [to] him that Finland is a land covered by forests and we also have a good monitoring system and network."
— Finland's president, denying that he and Trump
discussed "raking" forests to prevent fires
.
Thanks for stopping by — have a great Thanksgiving, and I'll see you next week!