Welcome to Axios World, where two evenings a week we break down what you need to know about the big stories from around the globe.
Greetings from Davos! It's been a hectic, exhausting and genuinely fascinating week. Thanks to the good people at the Goal 17 space for giving me a spot to scribble out this newsletter.
Was this email forwarded to you? Sign up here.
1 big thing: The Trump-Maduro staredown in Venezuela
The U.S. will begin evacuating non-essential diplomatic personnel from Venezuela, but will keep its embassy open, amid fears of a potential clash with Nicolás Maduro's regime.
Why it matters: Maduro's 72-hour deadline for the U.S. to evacuate all diplomats set the stage for a confrontation between an authoritarian leader desperate to hold power and a U.S. administration determined to see it taken from him. The risk of escalation in the coming days remains high.
The backdrop:
The U.S. decision to recognize National Assembly President Juan Guaidó Wednesday as Venezuela's interim president precipitated an avalanche, with Brazil, Colombia, Canada and several other countries following suit.
Guaidó, who called mass demonstrations against Maduro before declaring himself president, has said the U.S. should not take orders from an illegitimate leader, a position shared by Secretary of State Mike Pompeo.
National security adviser John Bolton reiterated today that all options, including military action, are on the table.
Moisés Naím, a foreign policy heavyweight and former Venezuelan minister of trade and industry, told me, "Both sides are setting red lines that will be crossed." He says an armed confrontation at the U.S. Embassy is possible, but not probable.
"This is just the immediate concrete example that points to a larger reality: For the first time, Venezuela will be a football in a major geopolitical competition," he says.
I caught up with Naím after a World Economic Forum panel that included a fascinating exchange with Ricardo Hausmann, a former Venezuelan minister of planning now at the Harvard Kennedy School, who said all the conditions for a democratic transition are in place, and "the only thing that remains is for the armed forces to ... tell Maduro to leave."
Naím replied: "All the boxes he checked are correct. But there are boxes he didn't mention. … China, Cuba, Russia, Iran. They are players, and their preferences may be different. … Not all in the international community are friends of Venezuelan democracy."
Naím said we shouldn't expect Russian or Chinese troops in Caracas, "but we live in a world in which stealthy operations are very frequent. Will we see a presence, an influence, an attempt to shape things from these countries? Absolutely."
The view from the region:
Gabriela Saade, an economist who works with civil society in Caracas and was also on the Davos panel: "People cannot find food, they cannot find medicine, and they are starting to point fingers at the government." While Venezuelan politics are deeply polarized, "most people just want a change in their lives."
Martin Aguirre, editor-in-chief of Uruguay's El Pais newspaper, emails from Montevideo: "Venezuela is front-page everywhere." He's watching for statements from the European Union, which has backed protests but not recognized Guaidó, and China, which "will have to start thinking about how to maintain influence and get their money back if there is a government change." He also says the fact that Guaidó has not been arrested "shows how weak the government feels."
What to watch for: "The military, the military, the military," Naím told me. They're the protector of the regime, "but that is fraying. … We'll know more in the coming hours, days and weeks." In the absence of negotiation, he says, there will be confrontation.
The latest: Venezuela's top military brass is so far backing the regime.
Go deeper: Venezuela at a crossroads.
2. Latin America: Breaking down Trump's options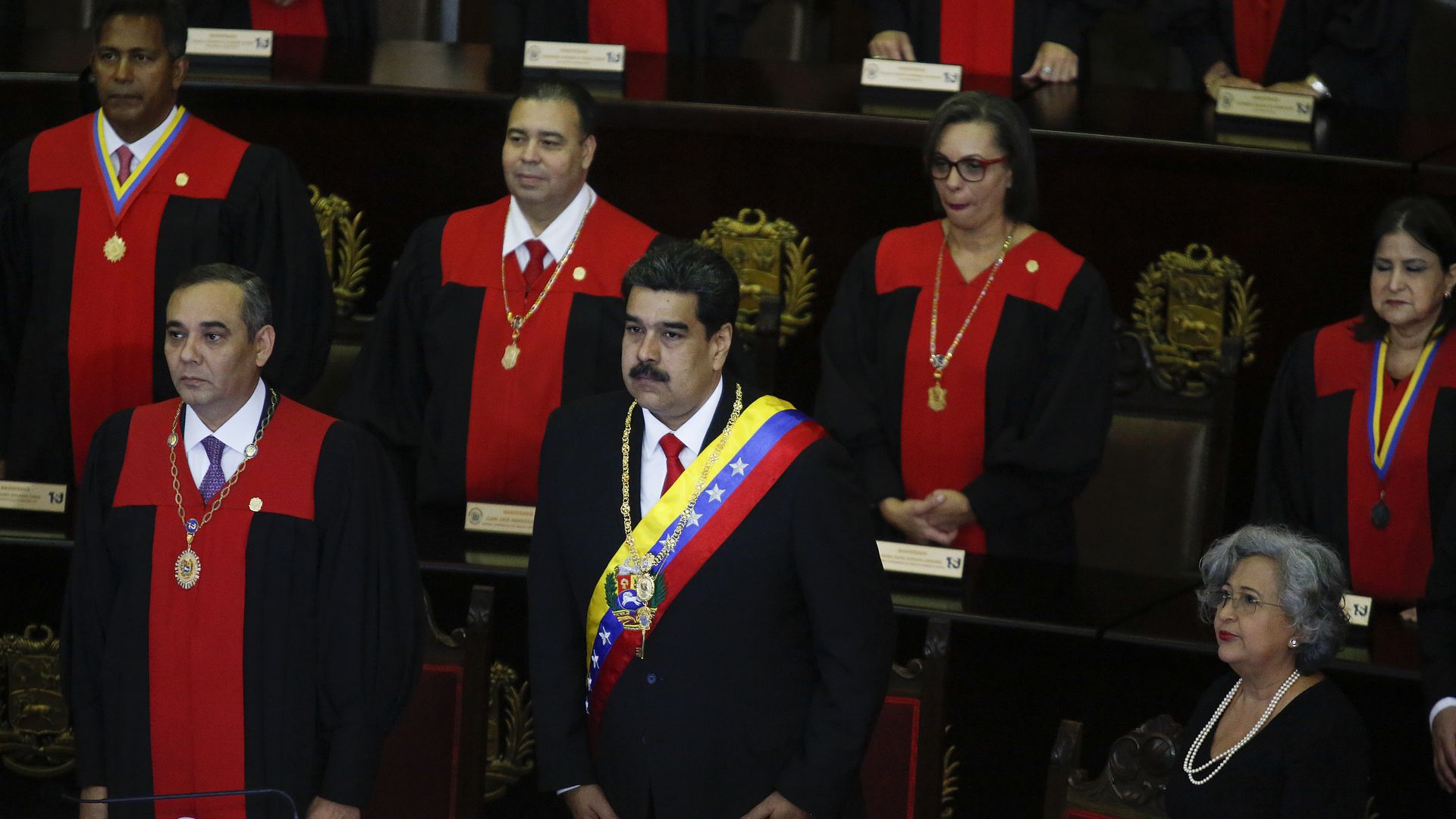 Joel Rubin of the Washington Strategy Group writes for Axios Expert Voices that "because Maduro's [anti-U.S.] card is his key to survival," the U.S. needs "to take actions that maintain the legitimacy of Guaidó's position without adding risk by raising the American profile." His proposal:
Economic and political incentives: A robust economic aid package dependent on a new leader being installed could make it clear to Venezuelans that their economic pain will subside once Maduro is gone. Amnesty to those willing to switch sides against Maduro could also be offered.
Humanitarian assistance: The U.S. could signal that it stands with Venezuelans by increasing humanitarian assistance to refugees and expediting its asylum process.
Non-militarism: A call for non-violence is critical. Maduro and his cronies should know that they will be held accountable for any violence on their part. Any hint of U.S. military activity could play into Maduro's hands.
Naím agrees. He told me: "There is a very, very strongly negative view among all the presidents here about military intervention, even among those who have been forceful in condemning Maduro."
It would be particularly damaging, he said, "if this ends up being seen as a U.S. military confrontation. You'll remember that the U.S. has a history in the region."
Jose Valencia — the foreign minister of Ecuador, which also recognized Guaidó — said, "we disagree" with the U.S. decision to keep the military option on the table. "We believe that a military action against Venezuela would have mostly negative impacts," he said on the Davos panel.
Axios' Jonathan Swan emails: "The big thing to watch is possible oil sanctions given Venezuela's dependence on U.S. purchases." The Trump administration has held off on such sanctions in the past out of a belief that they'd inflict more misery on the Venezuelan people.
3. The view from Davos: Post-liberal world order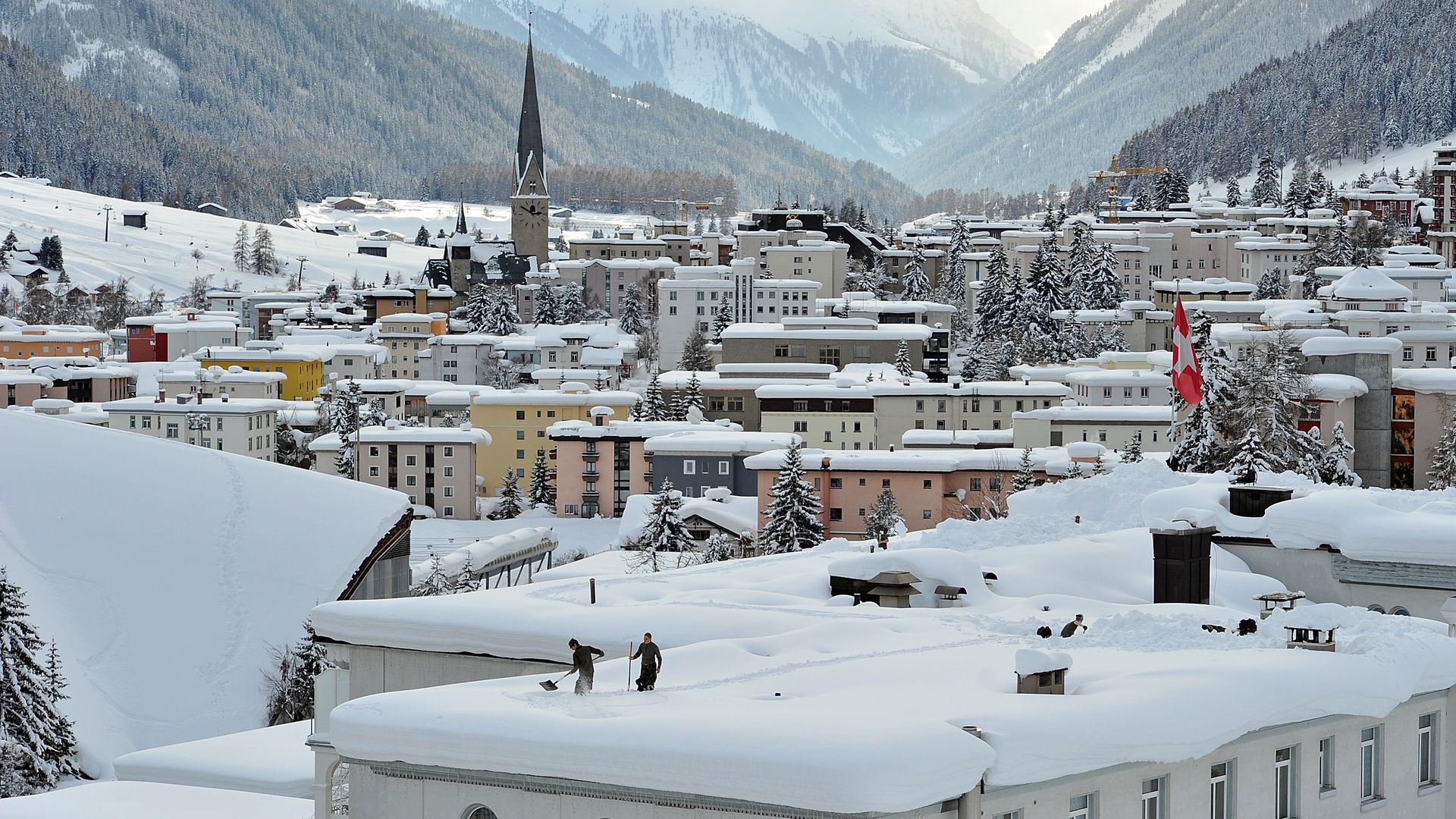 At this bastion of multilateralism, a procession of world leaders has acknowledged existential threats to the global order.
Between the lines: Adam Tooze, a professor of history at Columbia University, told Axios: "We may have to get used to a more modest definition of liberal world order." That likely means removing liberal politics from the equation and being less exclusive about who's invited to the club.
German Chancellor Angela Merkel took a step in that direction, saying the "global architecture will only work if we are willing to compromise."
Vice President Wang Qishan of China, which clearly poses an existential threat to the liberal order, said Beijing was determined to uphold the global system — on its own terms.
What's next: Tooze contends that a weakened, divided West is "not really in a position to go around postulating orders," and even if it were (perhaps with a defender of multilateralism in the White House), "China is simply not going to go along with it."
Counterpoint: We spoke to other experts here who said simply ceding space to China is exactly the wrong approach. We didn't hear from anyone, though, who said the world order would survive in its current form.
Watch out for our special report from Davos, coming this Saturday. Sign up for Axios AM to get it in your inbox.
4. China at Davos, and in Africa
The question of whether China is a partner or a predator hung over Davos this year.
One Davos veteran told us the Chinese participants were the "rockstars" of this year's forum. "Every panel has one or two Chinese people, speaking perfect English. They used to linger in the back. Now they are setting the agenda," she said.
Another said attendees tend to be sympathetic to China, both for economic reasons and "because they don't understand the Chinese model" and desire for influence around the world.
Both asked not to be named because they weren't representing the views of their companies.
With all that in mind, three fresh perspectives on what we should make of China's investments around the world, particularly in Africa:
1. Chin Okeke, a Nigerian-born, Mandarin-speaking entrepreneur, said at a panel on the Davos sidelines: "If China is a welcome alternative to what we've had before, and if what China is offering is more attractive, then other players have to step up."
On Chinese "debt traps," he said: "As much as we point at China ... as a Nigerian I'd rather look inward, and look at the corruption of African leaders" who are making these deals.
2. Lina Benabdallah, a professor at Wake Forest University, writes in Foreign Policy that if President Trump really wants to counter China's influence in Africa, the U.S. "needs to recognize how China's influence actually works."
"Chinese presidents and premiers make a point of making official trips to Africa as soon as possible after taking office. ... Every year, the Chinese government sponsors thousands of exchange visits, short-term trainings, and scholarships for civil servants, young entrepreneurs, and high-ranking military officers."
3. Jonathan Hillman of the Center for Strategic and International Studies, writes for Axios Expert Voices about a growing worry that "China is using Belt and Road for political gain."
"History is filled with examples of states using foreign infrastructure to access territory, harvest resources, shape government policy, dominate technology, and undercut their competitors. In many ways, China is merely updating the playbook used by Western powers during the 19th and 20th centuries to expand its influence."
5. Middle East: Iran deal could crumble in 2019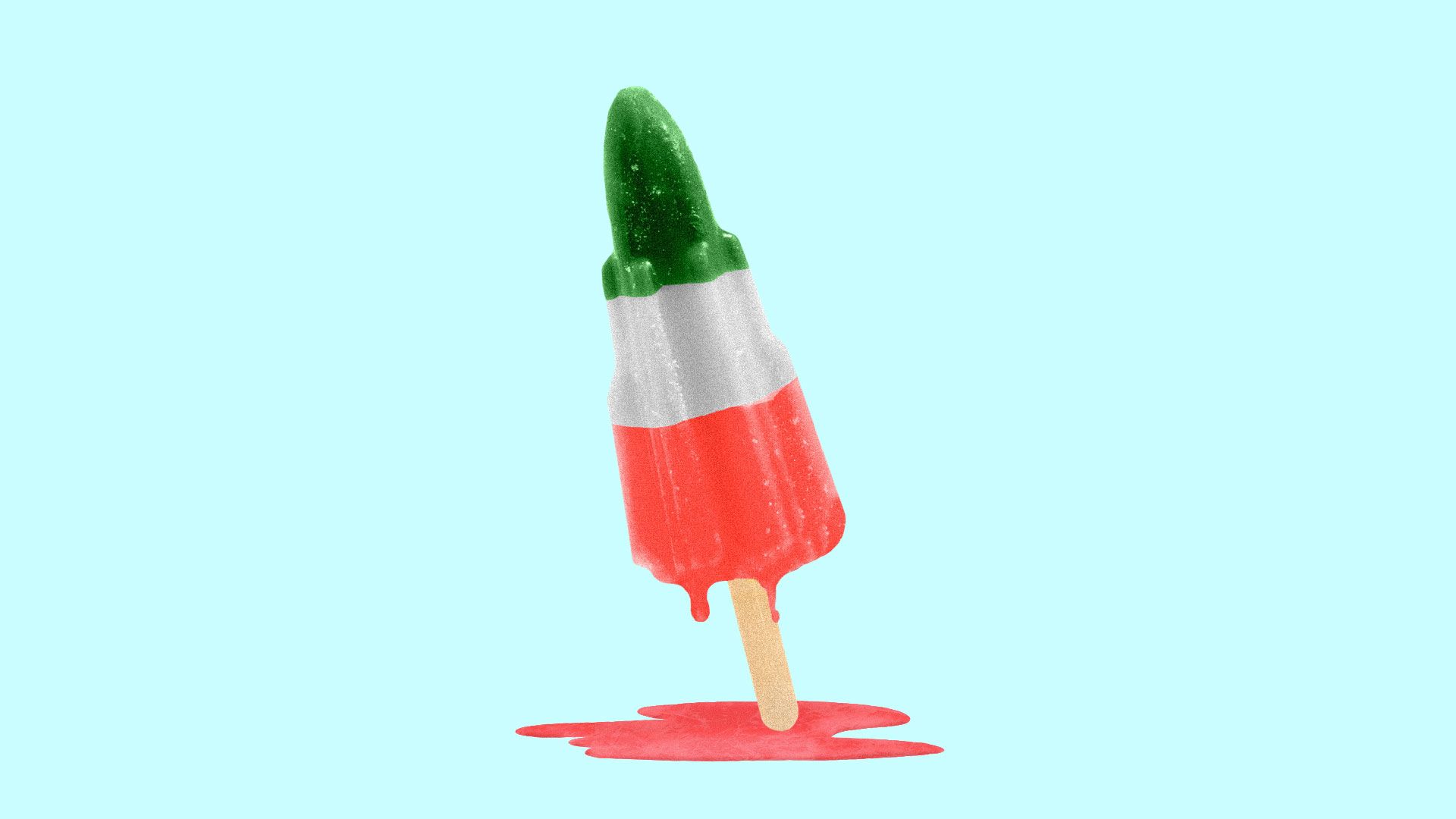 This will be a perilous year for the Iran nuclear deal and for smoldering U.S.-Iran tensions, according to a report tied to the third anniversary of the deal's implementation.
The big picture: The authors of the International Crisis Group (ICG) report argue that Iran — which is still complying with the deal even though President Trump abandoned it — is unlikely to simply walk away from the pact. But it will seek to inflict pain on the U.S. as sanctions continue to bite, likely through military means. The potential sources of escalation are many, and the risks are far more acute this year than last. 
Catch up quick:
Trump's withdrawal from the Joint Comprehensive Plan of Action (JCPOA) in May seemed to be a fatal blow, but since then, Iran's compliance has actually improved, inspectors say, likely because Tehran doesn't want to give Washington any pretext for action.
"Iran wants to put the burden of blame squarely on the U.S.," Ali Vaez, director of ICG's Iran Project, tells Axios. "The Iranians are pretty confident they can stay afloat to 2021," both economically and in terms of internal security, he says, despite scattered protests and a looming sanctions-driven economic recession.
Trump insists the goal is a wide-ranging deal with Iran, though the sense in Tehran is that those around him (most notably national security adviser John Bolton) are really aiming for regime change. In any event, they want to "bring Iran to its knees" economically as quickly as possible, the authors say.
What to watch: Iran's strategy of waiting out Trump is both logical and short-sighted, Vaez says, given "they don't seem to have a clear plan" should Trump be re-elected. They can live under sanctions for 2 more years, he says, but 6?
Even if a Democrat defeats Trump in 2020, "return to the JCPOA is easier said than done" due to new non-nuclear sanctions and the fact that sunsets in the deal will be fast approaching.
The bottom line: "It is easy to lose sight of the fact that the JCPOA, entering its fourth year of implementation, is serving its primary objective," the authors write. It's far from certain, though, that it will be in place a year from now.
Go deeper: Read the full Axios article.
6. No more immigrants! Unless they can code
Most of those calling for less overall immigration in 10 of 12 countries surveyed by Pew actually support high-skilled immigration, Axios' Stef Kight writes, a counterpoint to the immigration backlash that has upended politics in the U.S. and other countries.
Only two countries on this list have immigrant populations made up mostly of college graduates — Canada and Australia.
The U.S. has the highest number of college-educated immigrants, but they only make up around one-third of the total U.S. immigrant population.
Go deeper: Americans more open to increased immigration than most in Europe
7. Stories we're watching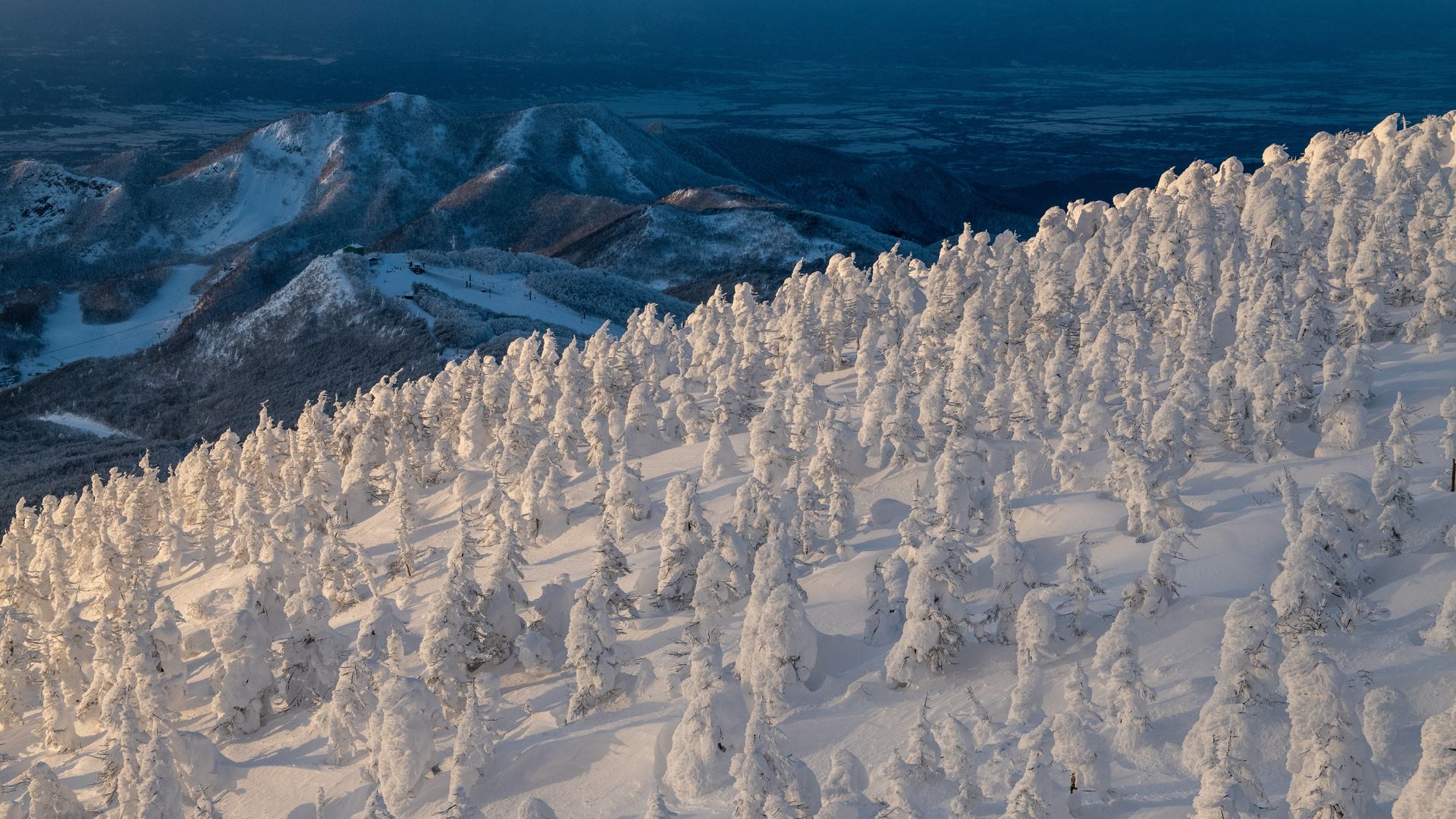 Quoted:
"Today we feel there hasn't been full accountability of that government. We don't feel US government has put enough pressure on the Saudis."
— Washington Post editor Marty Baron at Davos, discussing Jamal Khashoggi's murder
"We don't have any problem."
— Saudi Aramco CEO Amin Nasser,
asked
at Davos how the incident had affected business
Thanks for stopping by — see you Monday morning from Washington.