Axios World
January 13, 2023
Welcome back to Axios World. We start tonight (1,663 words, 6 minutes) in Japan, before stopping in Israel, India and an abandoned German village.
Thanks so much for all the recommendations you've sent in for my upcoming sabbatical.
We'll be off on Monday for Martin Luther King Jr. Day, but back on Thursday with a Davos edition.
1 big thing: Japan and U.S. upgrade alliance to counter China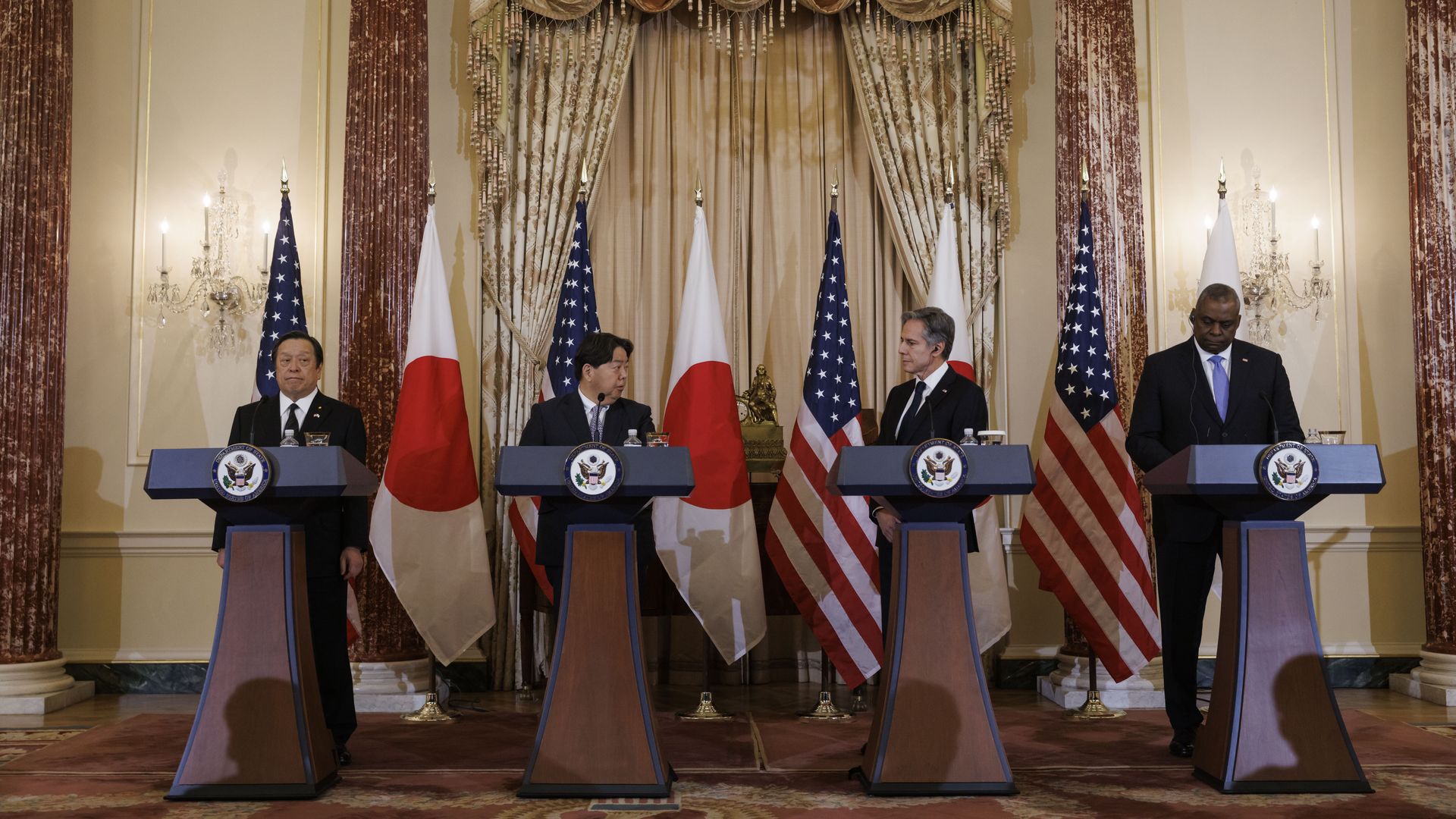 New announcements on deeper military cooperation between the U.S. and Japan — paired with Tokyo's drive to strengthen its own defense capabilities — confirm that the officially pacifist nation is a growing military power in East Asia. The moves could also give the U.S. new tools to defend against a potential invasion of Taiwan.
Why it matters: Japan was already arguably America's most powerful ally in Asia. Now spurred on by Russia's invasion of Ukraine, unprecedented missile launches from North Korea, and Chinese aggression toward Taiwan, Japan is doubling down on the U.S. alliance and plans to double its own defense spending by 2027.
Prime Minister Fumio Kishida arrives in Washington today, a month after unveiling landmark new national security documents that push the boundaries of Japan's pacifist constitution.
After a long and contentious domestic debate, Japan plans to seek "counterstrike" capabilities — longer-range missiles like the American-made Tomahawk that could take out launch sites in China or North Korea in the event of war.
Plans to hike spending to 2% of GDP by 2027 would make Japan's defense budget the third highest in the world behind the U.S. and China. However, the government could struggle to find the money. A recent poll found that 65% of the public opposes tax hikes to increase defense spending.
Kishida's visit is part of a tour of the G7 club, which Japan will chair this year. Earlier this week, Kishida and U.K. Prime Minister Rishi Sunak signed a defense pact that will make it easier to conduct joint exercises and deploy troops to each other's territories.
Driving the news: Ahead of Kishida's stop in Washington, which will include meetings with President Biden tomorrow at the White House, the U.S. and Japanese foreign and defense ministers made a series of joint announcements.
The allies will extend their security treaty to include attacks in space, such as on satellites linked to air defense systems. They also plan to develop a new joint com­mand and con­trol structure.
One announcement that surely got some attention in Beijing was a reorganization of the U.S. Marines' presence in Okinawa. A new littoral regiment will be armed with anti-ship missiles, and it'll be able to quickly mobilize across Japan's southwestern islands.
The reorganization will allow the regiment to "quickly respond to an imminent threat," Foreign Ministry spokesperson Yukiko Okano told reporters in a briefing over dinner last night.
Between the lines: Okano didn't specify which threat, but some of Japan's southwestern islands lie just 100 miles from Taiwan.
China's exercises around the self-governing island last year following then-House Speaker Nancy Pelosi's visit — during which Chinese missiles landed in Japan's exclusive economic zone for the first time — were a source of deep concern in Tokyo.
The Taiwanese government is keeping quiet about the news, but officials are privately thrilled, Axios' Bethany Allen-Ebrahimian reports from Taipei.
One official, who requested anonymity because they were not authorized to speak to the press, told her it was a "welcome development that will support deterrence and stability in the region."
Part II: Avoiding a cycle of escalation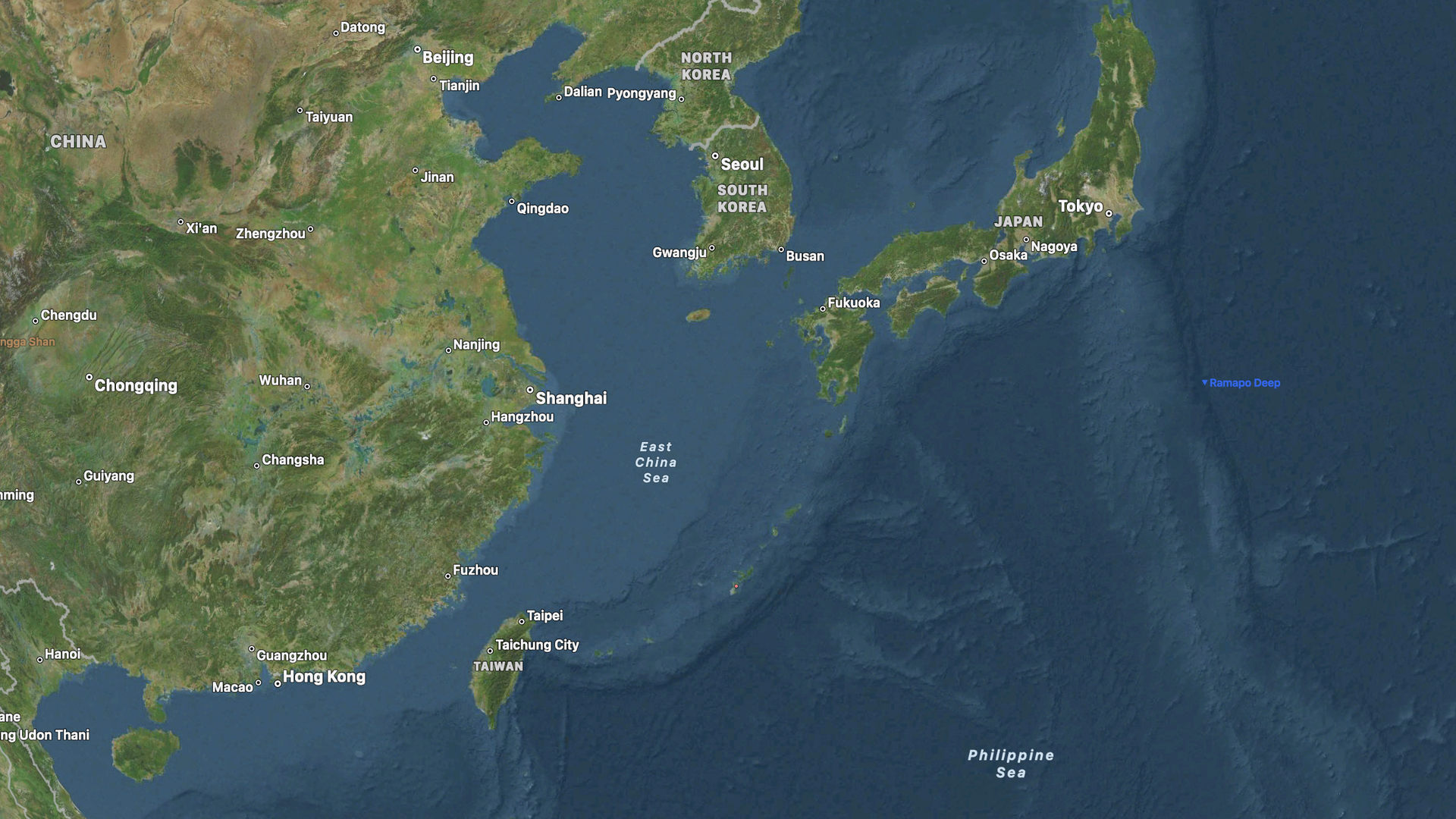 Chinese Foreign Ministry spokesperson Wang Wenbin today said that "military cooperation between the U.S. and Japan must not harm the interests of third parties or undermine the peace and stability in the region."
Okano said Beijing's reaction to Japan's recent defense announcements had been relatively measured and that Japanese officials would continue to communicate with their Chinese counterparts as to why they were necessary.
She noted that Japan and China are neighbors with very deep economic links. "We need to say what we need to say, but we need to think about ways to cooperate as well."
Some analysts have warned of a potential cycle whereby the U.S. and its allies continue to build up their capabilities to respond to a perceived threat from China, which in turn will do exactly the same thing.
Zoom out: China is not the only reason for Japan's increased attention to its national defense.
North Korea launched a missile over Japan in October and is testing missiles capable of reaching Japan with unprecedented regularity.
For residents of Japan who've been woken up by sirens warning of a potential attack, Pyongyang likely feels like the more immediate threat, Okano said.
That's certainly the case for the other close U.S. ally in East Asia.
Breaking a long-standing taboo, South Korea President Yoon Suk-yeol said Wednesday for the first time that South Korea would consider developing nuclear weapons, or asking the U.S. to position them on the peninsula if the threat from the north continues to escalate.
3. Global news roundup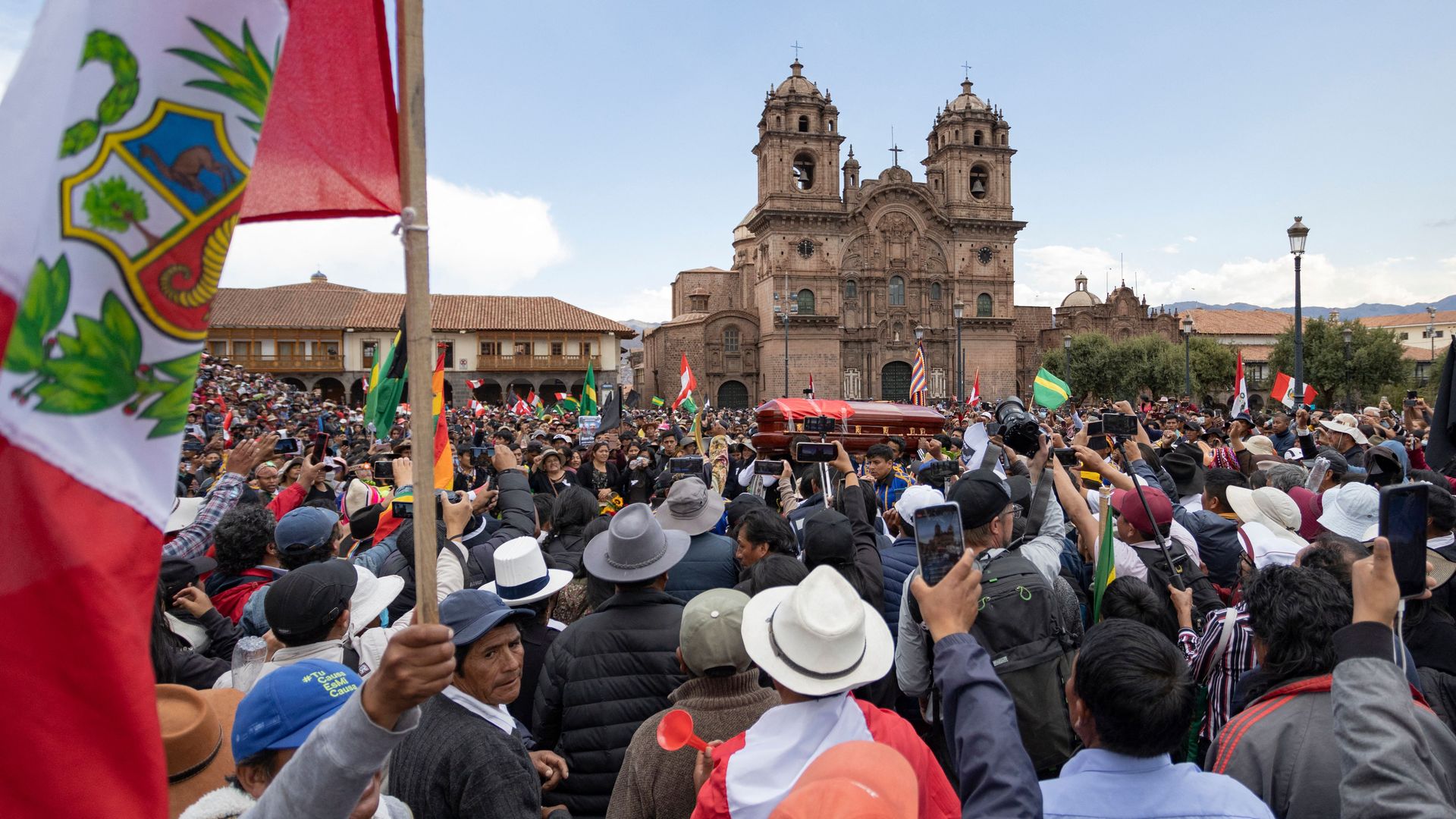 1. Moscow announced yesterday that Russia's top general, Valery Gerasimov, would take over for Gen. Sergei Surovikin as the commander of Russia's invasion of Ukraine.
Surovikin's three-month tenure included the embarrassing retreat from Kherson and relentless strikes on Ukrainian civilian infrastructure.
2. A spokesperson for the Tigrayan rebels says the regional force has handed over its heavy weapons as part of the agreement to end Ethiopia's civil war.
State of play: Aid to the formerly besieged region of Tigray is slowly increasing, but the humanitarian access granted by the Ethiopian government still "doesn't approximate the unhindered access we need," a senior U.S. official briefed reporters today.
The official added that the continued presence of some Eritrean forces, which fought alongside Ethiopian troops and were blamed for horrific war crimes, was "very intimidating for civilians."
3. The World Health Organization declared Uganda's recent Ebola epidemic over on Wednesday less than four months after the first case was confirmed.
4. A former deputy defense minister of Iran, who also holds British citizenship, has been sentenced to death in Tehran on charges of spying for the U.K.
5. The death toll from protests in Peru over the removal of left-wing President Pedro Castillo has risen to 48, with fierce clashes coming this week in Cusco, the gateway to Machu Picchu.
Bonus: Where in the world?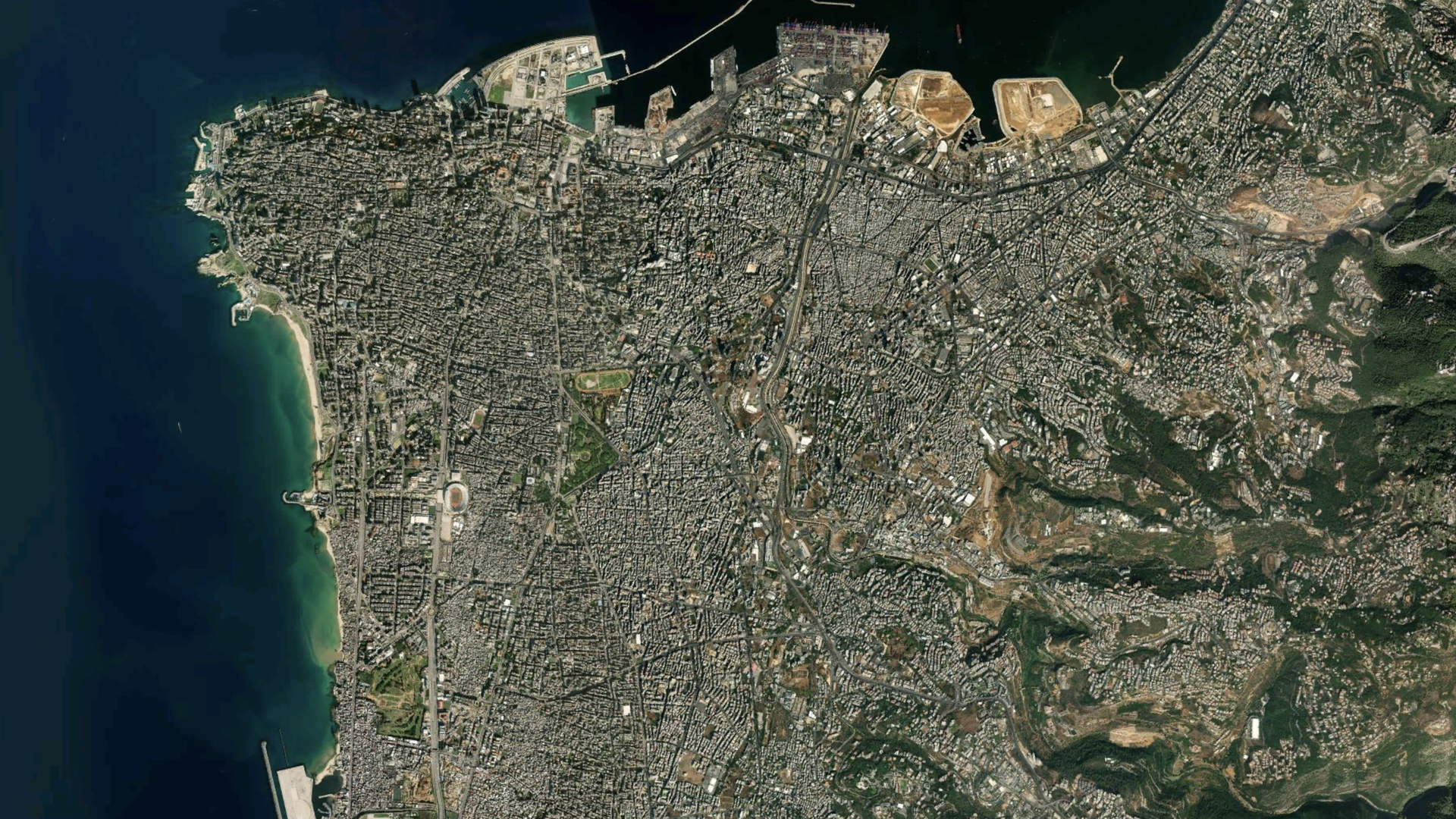 Can you name this city?
Hints: It sits on the Mediterranean, is one of the oldest cities in the world, and it suffered a major disaster in 2020.
Scroll to the bottom for the answer.
4. Israeli government moves to weaken Supreme Court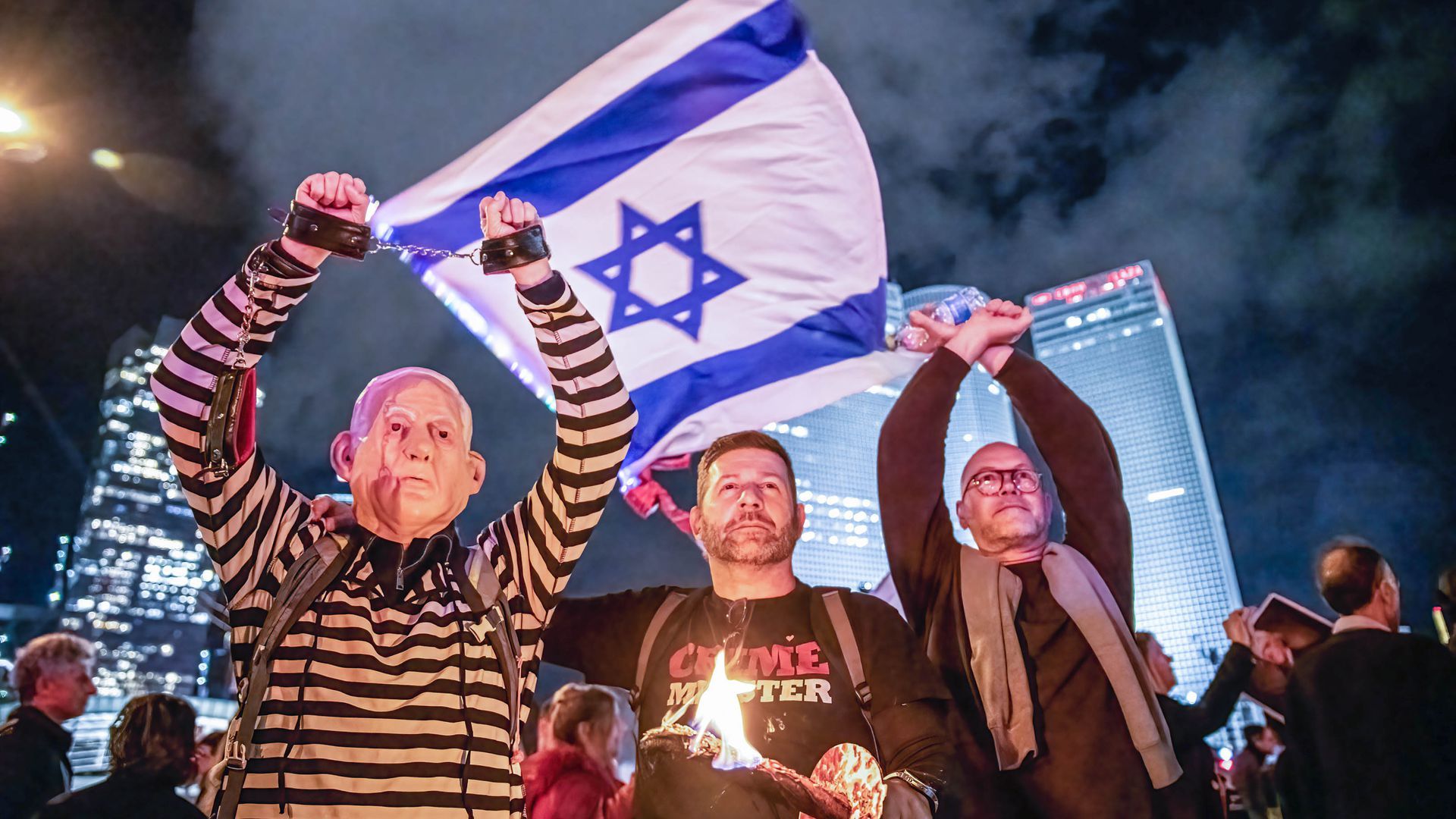 The Israeli opposition is calling for mass street protests against the new government's plan to weaken the Supreme Court and other democratic institutions, Axios' Barak Ravid reports from Tel Aviv.
Driving the news: Justice Minister Yariv Levin, who serves in Prime Minister Benjamin Netanyahu's new ultra right-wing government, presented plans last week for what he called "judicial reform." 
If fully implemented, it would significantly weaken judicial oversight, give the government absolute control over appointing judges, and allow the governing coalition to override Supreme Court rulings with a simple majority in the Knesset.
It could also have consequences for the Palestinians in the occupied West Bank. The Israeli Supreme Court has been the only institution they can turn to in land disputes with Israeli settlers.
The Israeli opposition argues Netanyahu is pushing for the new plan as part of his effort to stop his ongoing corruption trial.
State of play: Israeli Supreme Court president Esther Hayut claimed in a fiery speech today that the plan would "deal a fatal blow" to Israel's democracy, leading Levin to accuse her of colluding with the opposition and issuing "a call to set the streets on fire."
All opposition parties have announced they'll join protests against the plan. Former Defense Minister Benny Gantz urged people to take to the streets. "It is time for the public to go out and rock the country. … If Netanyahu continues down this path, the responsibility for the civil war in Israeli society will be his."
5. India poised to become world's biggest country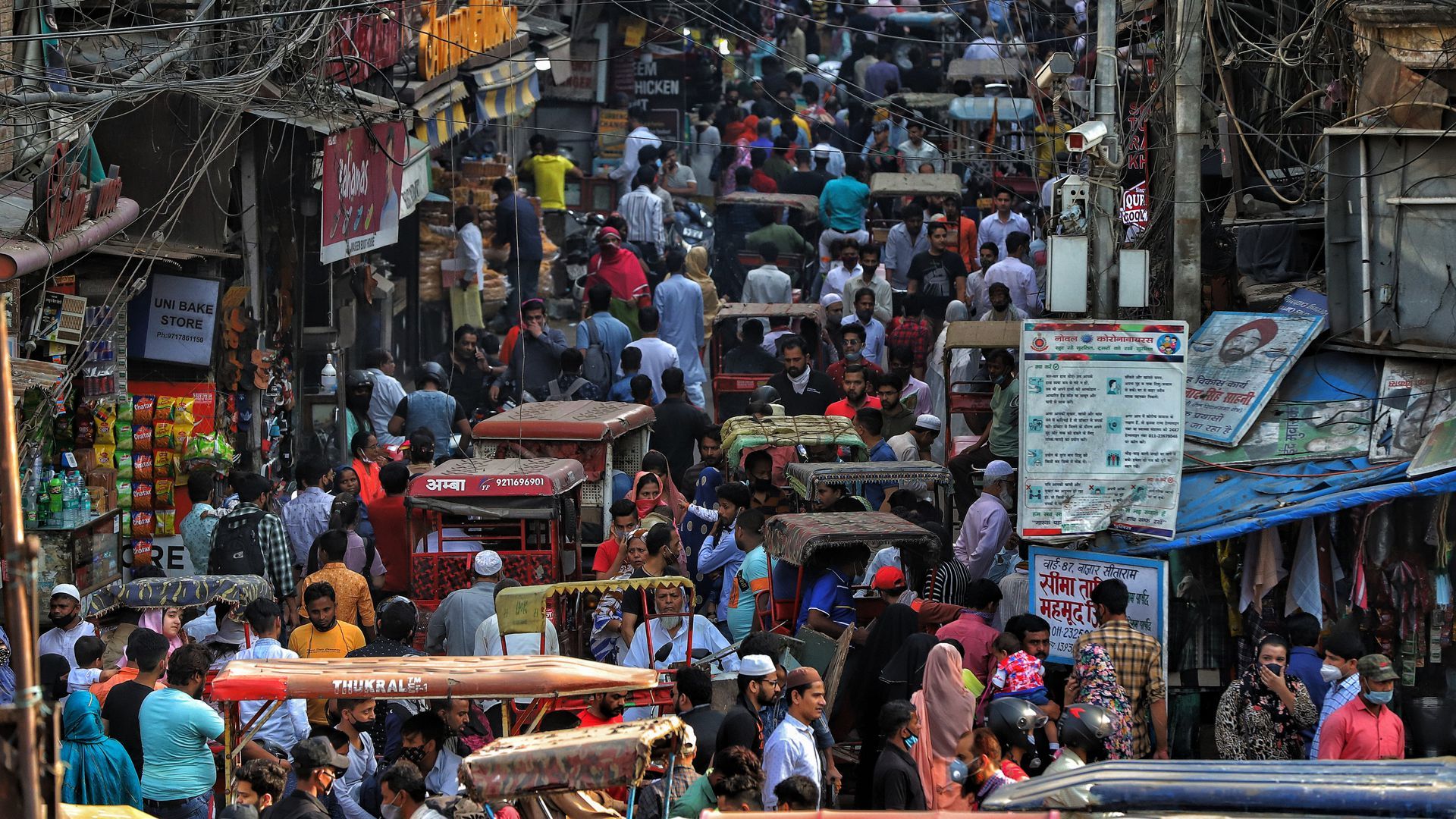 India will surpass China as the world's most populous country this year, the UN projects, and the gap will grow wide in the decades to come as China's population declines, Axios' Han Chen writes.
Why it matters: India could ultimately surpass China economically too.
"China's demographic decline is the single biggest factor driving down China's economic growth," said Robert Blohm of the investment firm Keen Resources Asia.
"A lot of production capacity will be moved to India," says Yi Fuxian, of the University of Wisconsin-Madison. "There will be more and more made-in-India goods on the U.S. market."
Yes, but: Some experts have cautioned that it will take decades for India to compete with China's manufacturing power, citing bureaucracy, protectionism and a weak value chain.
Indian Prime Minister Narendra Modi has also described the country's population growth as an "explosion" that "will cause many problems for our future generations."
While India has slashed its poverty rate over the years, its wealth gap has widened significantly over the last three decades, according to Oxfam.
6. Police vs. climate activists for control of abandoned village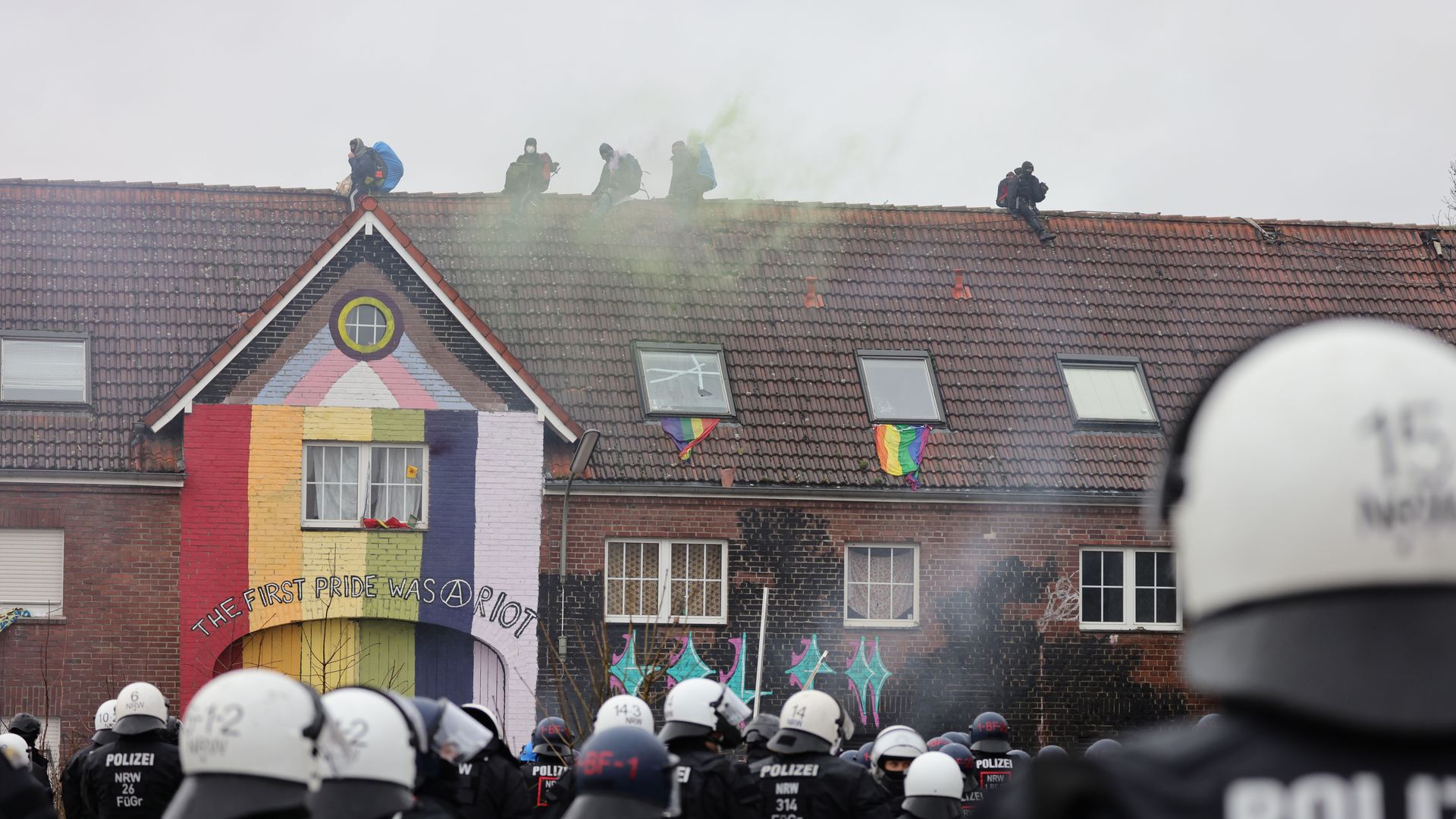 Riot police in Germany raided a village that had been abandoned until climate activists took it over to protest plans to expand a coal mine.
The operation to clear the roughly 1,000 protesters began yesterday and continued today, with police climbing ladders to reach protesters hiding out on roofs and using bulldozers to clear makeshift barricades and debris.
Reuters reports that the protesters have largely remained peaceful but some threw firecrackers or projectiles at police. 
Why it matters: Once the village is cleared, energy company RWE intends to demolish its homes to access the lignite coal sitting underneath.
But that could take a while. Greta Thunberg says she plans to join a protest in the village on Saturday.
7. Stories we're watching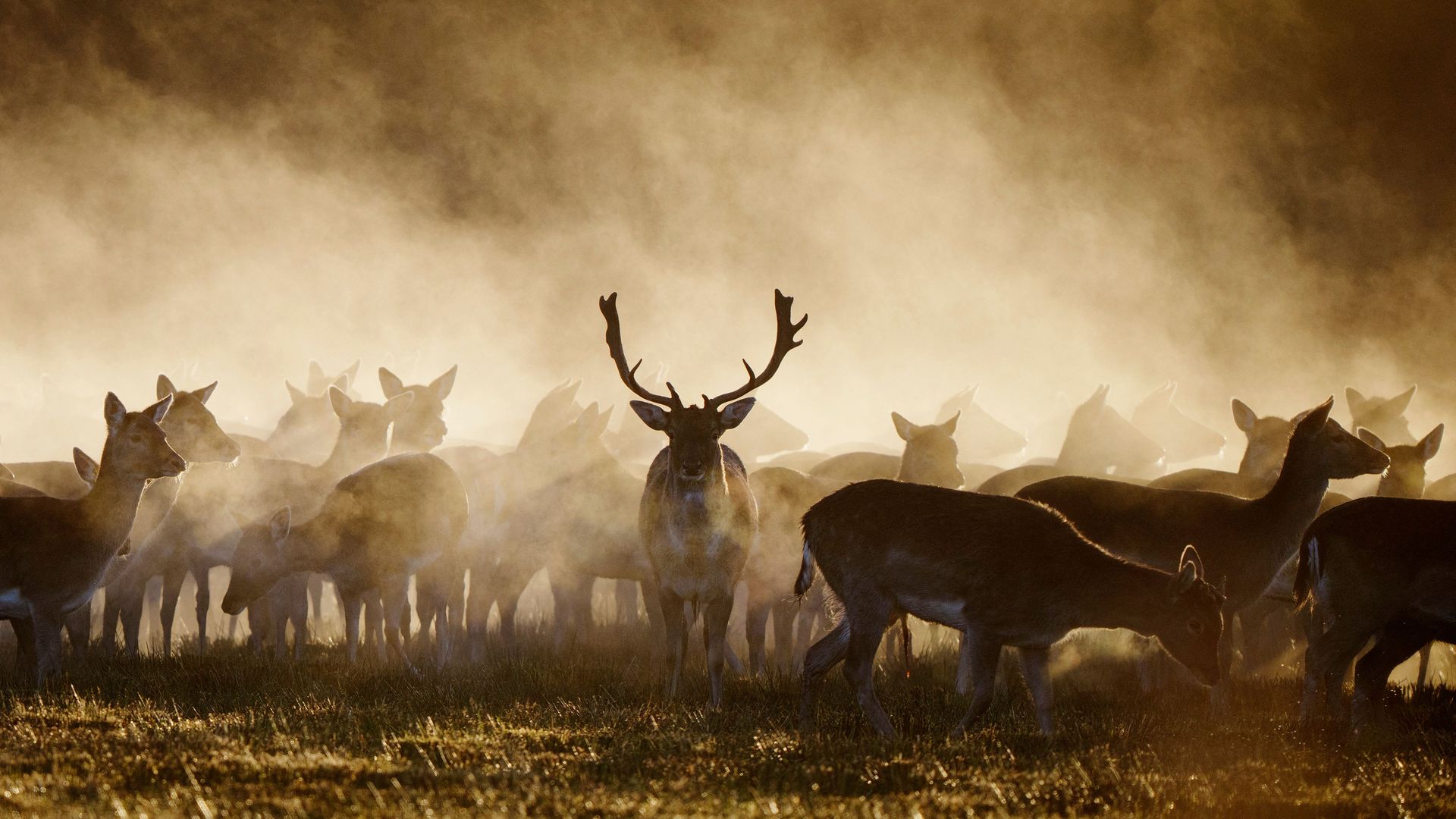 Quoted:
"This is the moment for us to determine to do away with this abandonment, this disdain and this forgetfulness for Latin America and the Caribbean."
— Mexican President Andrés Manuel López Obrador, speaking alongside President Biden
"Unfortunately our responsibility just doesn't end in the Western Hemisphere."
— Biden, in response