Welcome back to Axios World,. Tonight we're winding our way around the globe in 1,524 words ( ~ 5 minutes).
Thanks for joining me! Please tell your friends and colleagues to sign up, and I'd love your tips and feedback: [email protected].
1 big thing: Boris takes up the poisoned chalice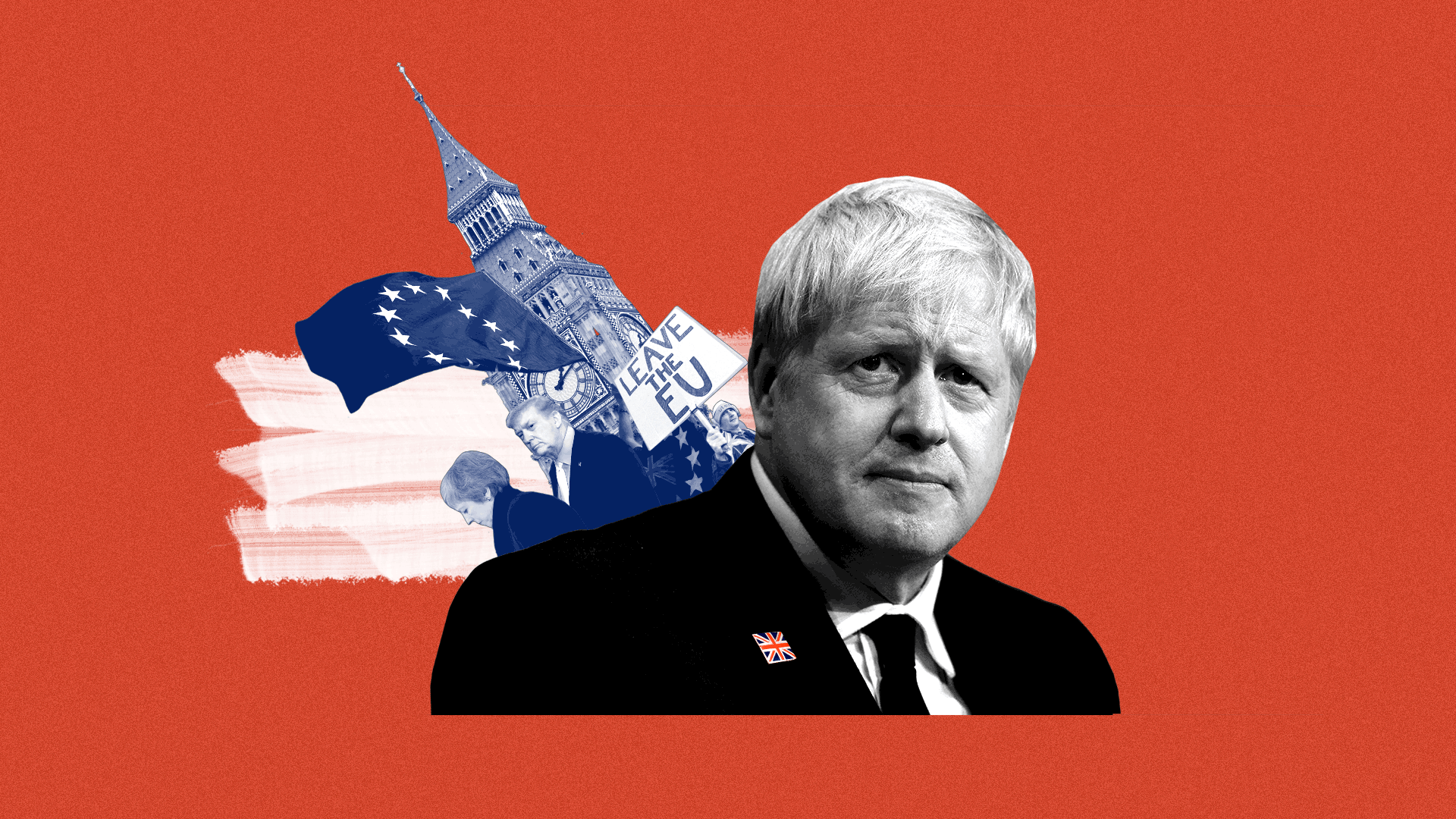 By Wednesday afternoon, Boris Johnson will almost certainly be prime minister of the United Kingdom.
Flashback: Johnson played a central role in pushing the "Leave" campaign over the top in the 2016 Brexit referendum — a shock result that unleashed the political chaos that consumed Johnson's two predecessors, David Cameron and Theresa May.
Why it matters: Now, the man is meeting the moment he helped create. He'll have 99 days to fulfill his promise to bring the country out of the EU by Halloween, with or without a deal.
What's next: Johnson will (almost certainly) be announced tomorrow morning as the winner of the Conservative Party leadership race.
On Wednesday, May will host Prime Minister's Questions in Parliament, offer her final remarks to the country and step down.
Johnson will travel to Buckingham Palace that afternoon to meet with the Queen, before moving into Downing Street.
How he got here: Johnson's rise to the pinnacle of British politics has been fueled by sheer force of personality and made possible in part by the fact that no one, least of all Johnson, takes him entirely seriously.
After Eton and Oxford came journalism. Johnson delighted eurosceptic Conservatives by lampooning the EU bureaucracy with outrageous and often fictitious dispatches from Brussels.
As mayor of London (2008–2016), Johnson thrived in the public-facing role while delegating most day-to-day responsibility. 
As foreign secretary (2016–2018), he was accused of spurning briefings and leaning on charm to conduct diplomacy, with mixed results.
When May's position became untenable, the job was Johnson's to lose. Rather than offer alternative proposals, though, he has offered alternative emotions.
In a Daily Telegraph column today, Johnson argued that if the U.S. could put a man on the Moon 50 years ago, surely the U.K. could overcome the "technical and logistical" challenges of leaving the EU.
"There is no task so simple that government cannot overcomplicate if it doesn't want to do it," he declared. "And there are few tasks so complex that humanity cannot solve if we have a real sense of mission to pull them off."
Between the lines: Johnson's political appeal blends humor with Churchillian grandeur, often unencumbered by reality.
On Brexit, the Telegraph's Peter Foster reports that the "question being asked around Europe is whether Mr. Johnson wants a deal at all."
Johnson says a "no-deal" divorce — which would have major economic repercussions for the U.K. and the world — is preferable to another delay. A parliamentary majority is prepared to block it, however.
A rebellion is already growing within the Conservative ranks over no-deal, with outgoing Finance Minister Philip Hammond as an unlikely resistance leader.
The bottom line: All of this means a collision is coming between now and October. Johnson argued in today's column, as he has throughout his career, that what's missing from the top ranks of British politics is "can-do spirit." We'll soon see if it makes all the difference.
2. World news roundup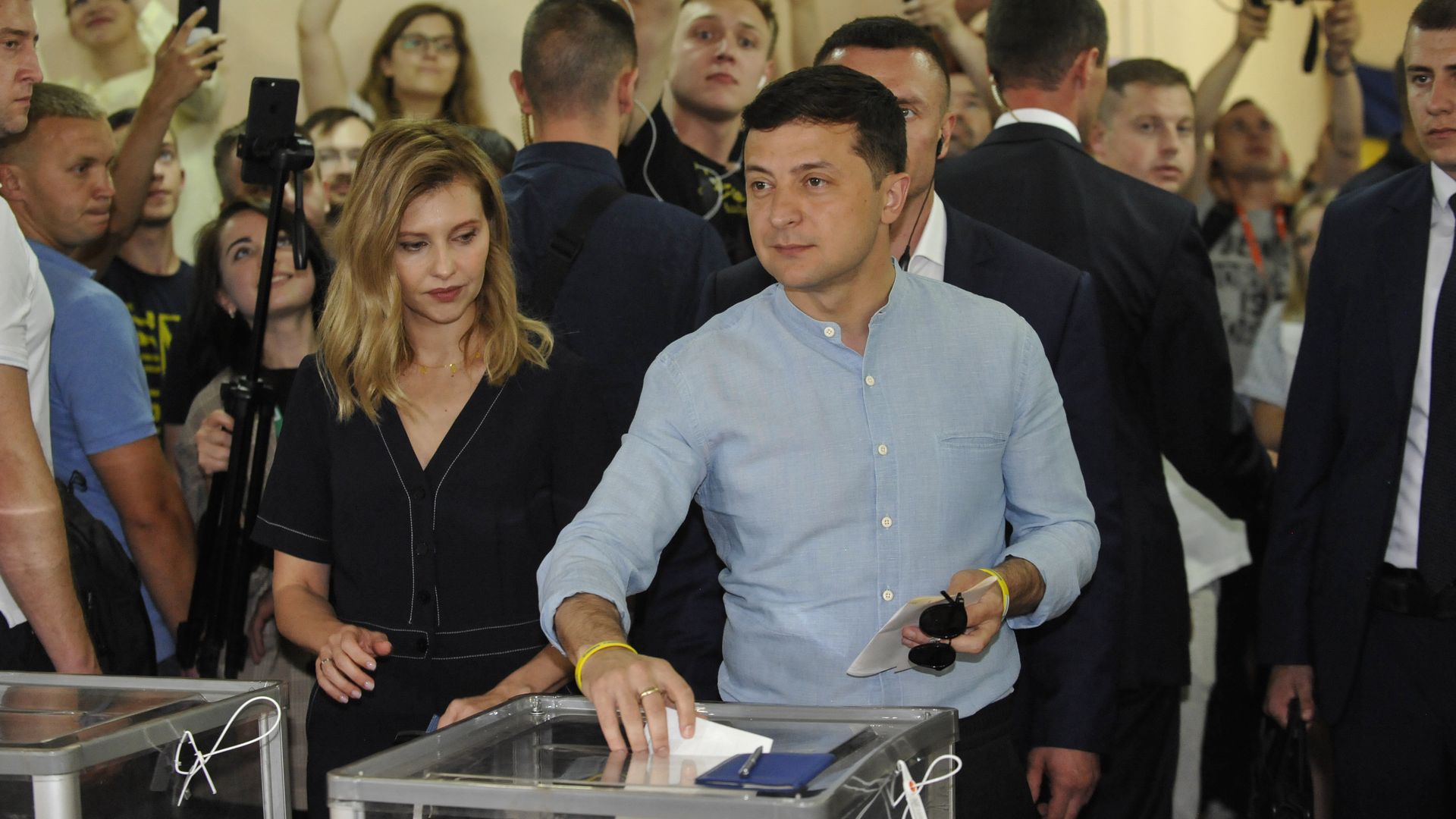 1. Volodymyr Zelensky, Ukraine's TV star-turned-president, is set to "become Ukraine's first leader since the fall of communism to command a single party majority in parliament," per Reuters.
So dominant was his Servant of the People party in yesterday's snap election that it finished first in every region in what has historically been a deeply divided country.
Expectations will now be sky high that Zelensky can deliver reforms, including on corruption, and bring peace to the country's east.
2. Police in Hong Kong are being accused of turning a blind eye as "masked men wielding sticks" beat unarmed protestors last night after a rally, per the BBC.
"There is speculation that the attackers have links with criminal gangs, known as triads. Forty-five people were injured, with one person in critical condition."
Context: Protests that began over a controversial extradition bill have expanded into broader calls for democratic reform.
3. The government of Kazakhstan has started intercepting all of the secure HTTPS traffic within its borders, Axios' Ina Fried writes.
Why it matters: The move is yet another example of the Balkanization of the once-global internet, as different countries seek to monitor or restrict what citizens can see. Authorities in China, Russia and other parts of Asia and Africa have all considered or imposed restrictions on their citizens' internet access.
4. U.K. Foreign Secretary Jeremy Hunt has said continued provocations from Iran, like the seizure of a British tanker last Thursday, would necessitate a "larger Western military presence" in the Gulf. He also called for European cooperation to protect shipping.
Meanwhile, Iran has claimed it captured 17 CIA spies and has sentenced some of them to death. Trump denies it.
3. Why Trump keeps Bolton around
Axios' Jonathan Swan had an inside look at why Trump keeps John Bolton around in yesterday's Sneak Peek newsletter. Excerpts:
While Bolton can rub Trump the wrong way — a well-documented dynamic — and while internal and external Bolton critics often complain to Trump that Bolton will drag him into an unwanted war, Trump still defends his national security adviser in private.
"He gets quite touchy when you bring it up," said a person who has criticized the national security adviser to the president. "He doesn't want anyone to believe he's anybody's pawn."
"Trump thinks that Bolton is a key part of his negotiating strategy," said the same person. "He thinks that Bolton's bellicosity and eagerness to kill people is a bargaining chip when he's sitting down with foreign leaders. Bolton can be the bad cop and Trump can be the good cop."
"He believes that because he, Donald Trump, doesn't want war, then there won't be war," said a source who worries Trump underestimates how Bolton's decisions could increase the likelihood of a war with Iran.
The bottom line: It's true that Trump has been frustrated with Bolton — sometimes deeply so. But even some who most want Bolton gone grudgingly concede that the hawk who Trump once said would "take on the whole world at one time" may survive for a while yet.
EXPERT VOICES
4. Latin America: Behind Taiwan's Caribbean tour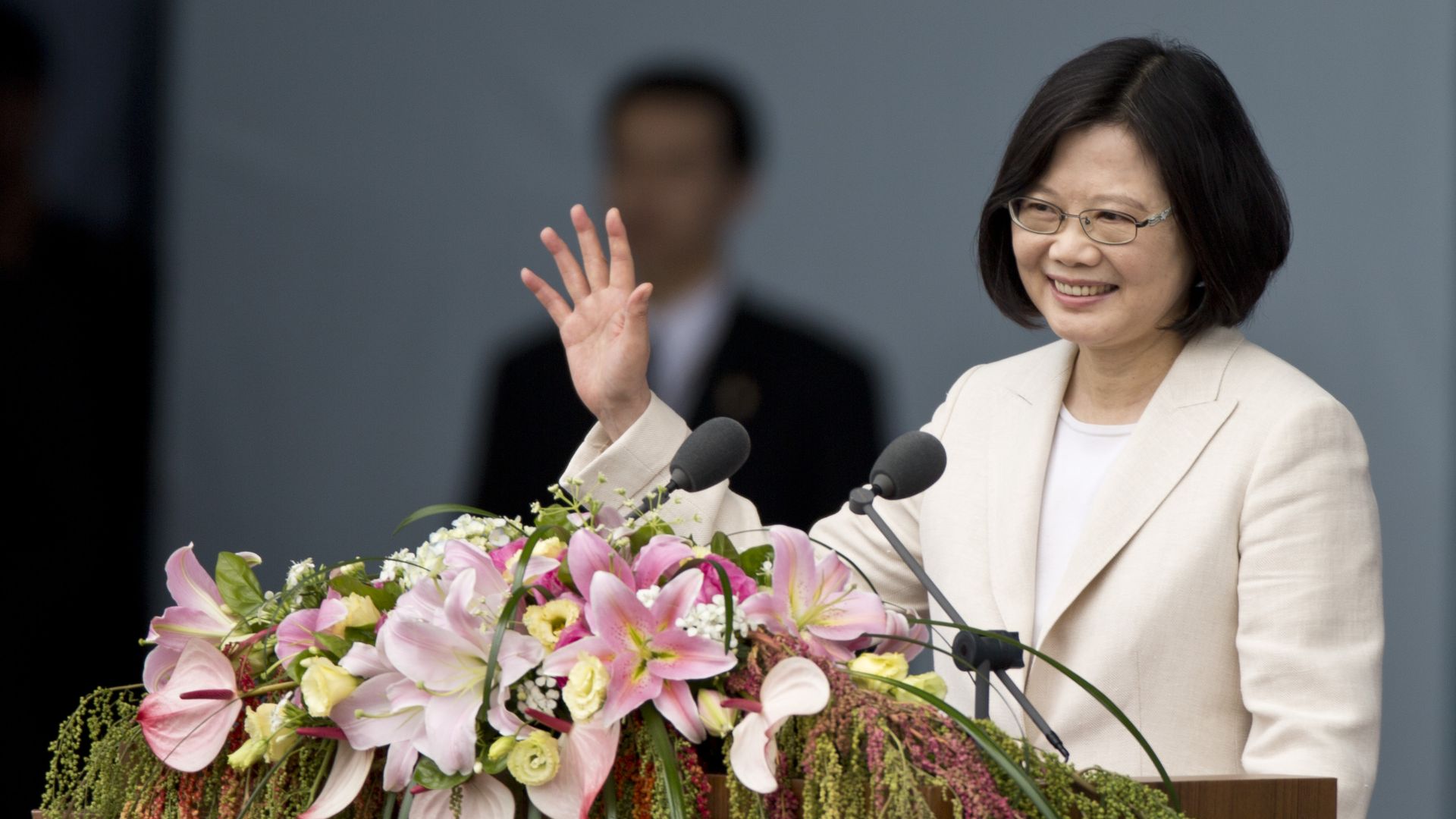 Taiwanese President Tsai Ing-wen's tour through the Caribbean reflects Taiwan's imperative to reinforce relationships with allies vulnerable to poaching by China, writes Daniel Erikson of the Penn Biden Center for Axios Expert Voices.
The big picture: Only 17 countries continue to recognize Taiwan instead of the People's Republic of China, and the majority are in Latin America and the Caribbean. Tsai's 10-day trip follows two years of bad news, as Panama, El Salvador and the Dominican Republic have all broken decades-long diplomatic ties with Taipei in order to extend official ties to Beijing.
Notably absent from the itinerary were visits to Guatemala, Honduras and Belize — longstanding allies considered likely to switch support to China. Although these countries are not yet a lost cause, and all recently sent high-level visitors to Taiwan, Tsai's trip redoubled efforts with smaller allies.
The Trump administration has supported Taiwan and harshly criticized countries that have changed sides, but its efforts haven't reversed the larger trend.
What to watch: Taiwan's Caribbean campaign is likely to buy time as China continues making economic inroads across the region. However, the emphasis on photo ops, symbolism and warm words over substantive new projects leaves an opening for deeper Chinese engagement that will likely irritate Washington when it comes to pass.
5. Europe: The view from Catalonia
Ahead of a vote tomorrow, Spanish Prime Minister Pedro Sánchez told parliament it was its "responsibility" to keep him in his post.
Sánchez's Socialist party easily finished first in a snap general election in April, but such is the polarization of Spanish politics that he hasn't been able to form a government since.
He's attempting to reach a power-sharing deal with the left-wing Podemos party ahead of tomorrow's vote. He'll also need the support of smaller regional parties for a majority.
But, but, but: The pro-independence Catalan parties that helped Sánchez come to power last year won't back him this time. Alfred Bosch, foreign minister of the autonomous region, told me last week that while there was once "hope in the air," Sánchez hasn't been "brave enough" to continue dialogue.
Flashback: A 2017 Catalan referendum ended in police violence and led to a high-profile trial of 12 pro-independence politicians that has gripped Catalonia and inflamed Spanish nationalism.
The leader of Podemos supports a referendum for Catalonia, but Sánchez notes that would be unconstitutional. Bosch insists Sánchez should "rise up to his historical mission."
"The only possible way out of this situation is to look for a democratic solution," Bosch says, pointing to Scotland's 2014 referendum as "how things are done in the modern, civilized world."
That's unlikely to happen any time soon.
6. Asia: Searching for truth in Turkmenistan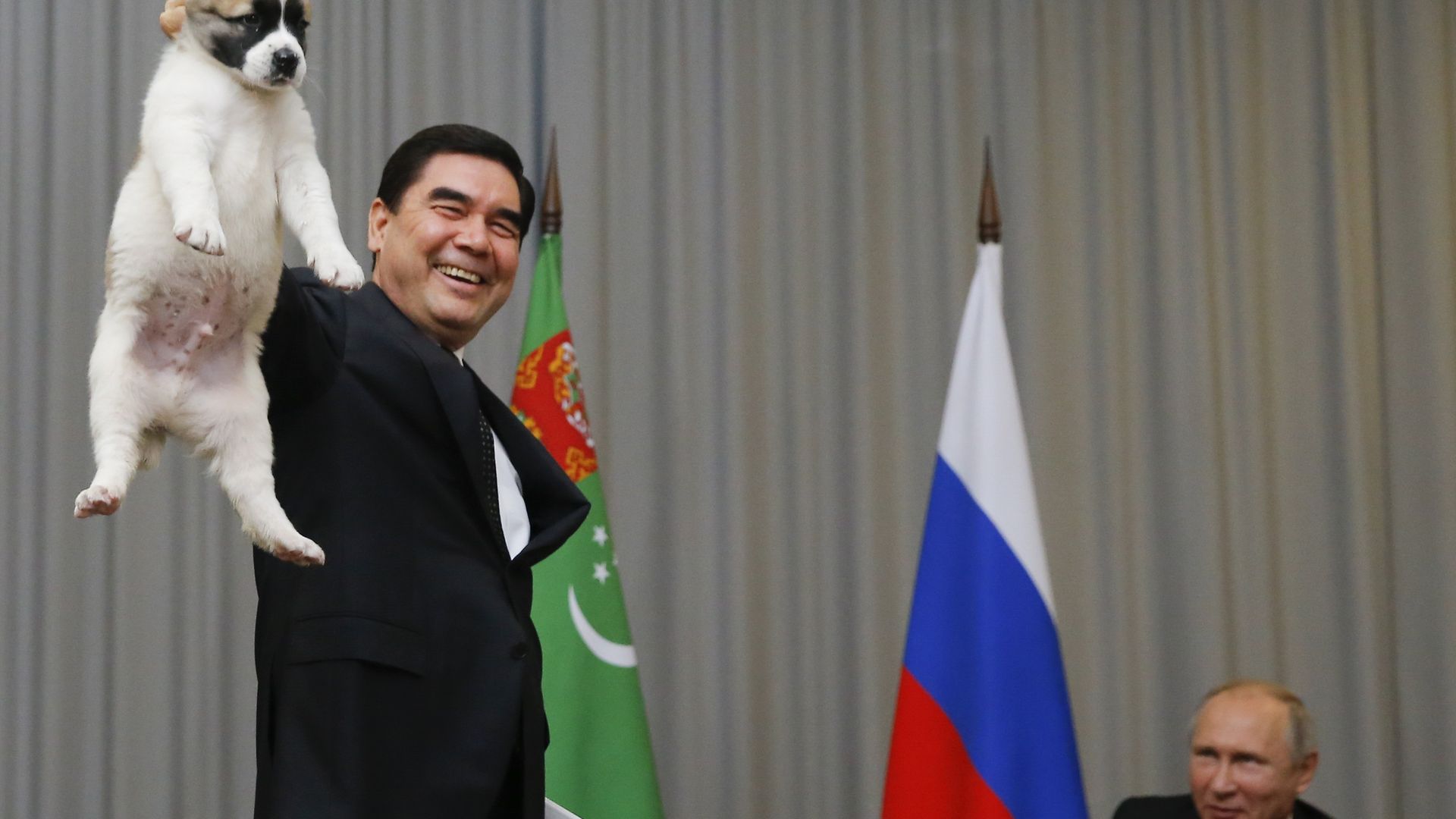 "Like Schrödinger's cat, the president of Turkmenistan spent the weekend hovering between life and death, with neither outcome certain," Reid Standish writes for Foreign Policy.
Why it matters: When rumors began to spread online that dictator Gurbanguly Berdimuhamedov had died, the regime seemed unable to extinguish them.
"The episode illustrates how difficult it is to get accurate information out of the country of 5.7 million people, which many analysts say is second only to North Korea in terms of its leadership cult and deliberate isolation," Standish writes.
7. Stories we're watching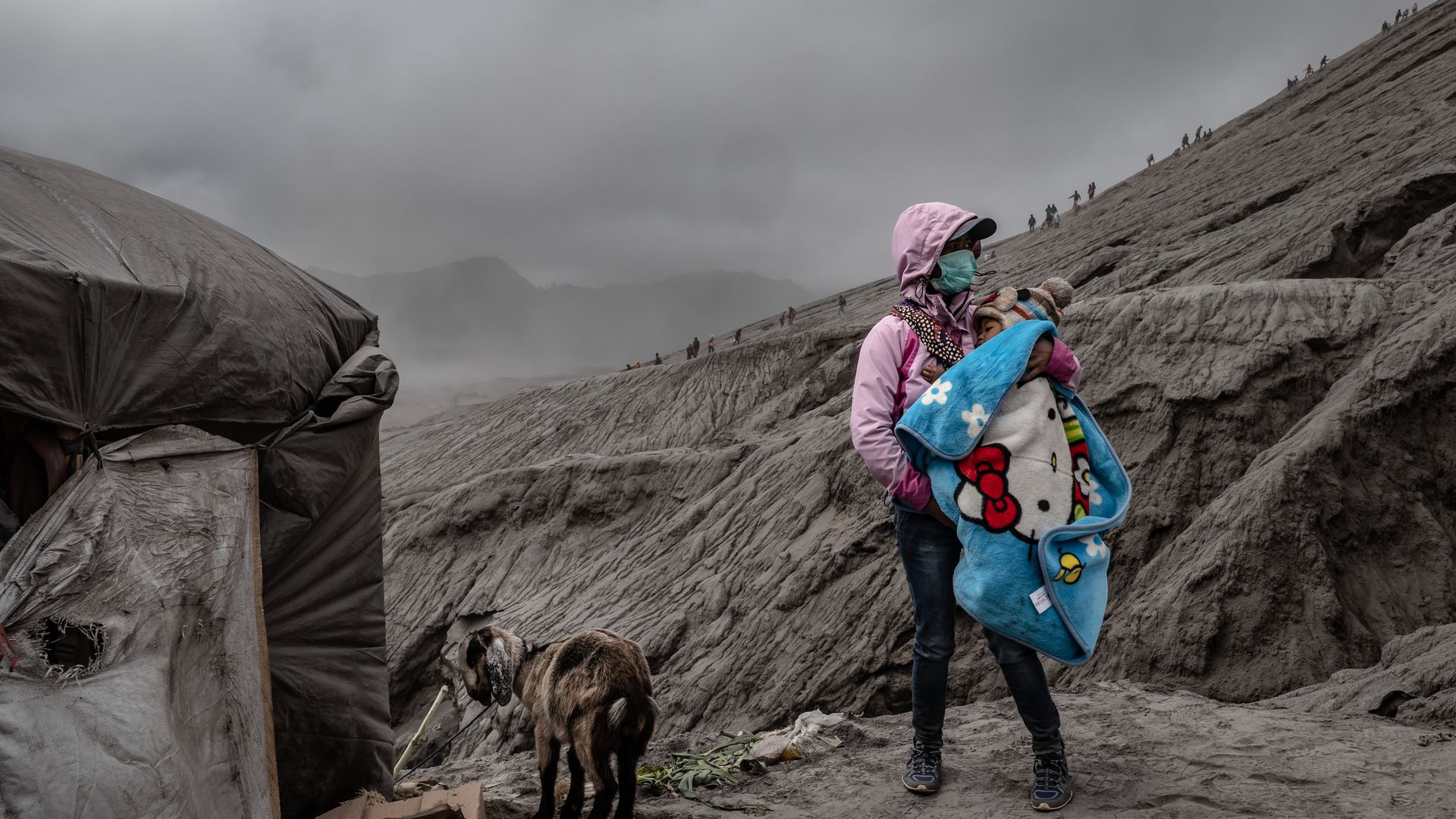 Quoted:
"So I was with Prime Minister Modi two weeks ago and we talked about this subject. And he actually said, 'would you actually like to be a mediator or arbitrator?' I said, 'where?' He said 'Kashmir.'"
— Trump today in the Oval Office, with Pakistani PM Imran Khan
"No such request has been made by PM @narendramodi to US President. It has been India's consistent position that all outstanding issues with Pakistan are discussed only bilaterally."
— India's Ministry of External Affairs, in a statement.
Go deeper.
Thanks for reading — see you Thursday evening