Welcome to Axios World, where two evenings a week we break down what you need to know about the big stories from around the globe.
Thanks for joining me! Please tell your friends and colleagues to sign up, and I'd love your tips and feedback: lawler@axios.com.
Was this email forwarded to you? Sign up here.
I'm filing today from Indiana University's beautiful campus. I'll be moderating a panel tomorrow morning at the Hamilton Lugar School of Global and International Studies.
1 big thing: How to rule indefinitely
The only president Kazakhstan has known since independence is stepping aside, though not really down.
Nursultan Nazarbayev carved out a powerful position for himself, set in motion a transition that should protect his family's interests, and even had the capital city renamed in his honor — a model exit for any aspiring autocrat.
The big picture: With Nazarbayev's surprise announcement, Algeria's Abdelaziz Bouteflika ending his re-election bid, and Sudan's Omar al-Bashir wobbling in the face of mass protests, the time feels ripe to take a look at the current world leaders who've held power the longest.
The 20 longest-serving leaders all represent countries considered "not free" by Freedom House.
The top 23 are all men. It isn't until number 24 that we hit a "free" country or a female leader — Germany's Angela Merkel.
Worth noting: Just below Putin in the rankings are Rwanda's Paul Kagame (18 years), Syria's Bashar al-Assad (18) and Turkey's Recep Tayyip Erdogan (16).
Between the lines: As regular readers may have picked up on, I'm fascinated by what Putin's next move might be when he runs up against constitutional term limits in 2024.
There's speculation he might form a union with Belarus (whose president, Alexander Lukashenko, is also high on this list) and place himself in charge.
Nazarbayev offers a different path, and one Putin will surely be watching closely.
Simply ceding power wasn't an attractive option but, as Carnegie Moscow's Alexander Gabuev points out, "if you want to keep your loved ones free, alive and wealthy, dying in office isn't an option."
Instead, Nazarbayev weakened the presidency and empowered the security council, which he still leads, then elevated his daughter to a powerful post second in line to the presidency.
Gabuev cites Singapore's former prime minister, Lee Kuan Yew, as Nazarbayev's model. He made way for his son, Lee Hsien Loong, who is now 21st on our list after 14 years in power.
In the Russian case, Alina Polyakova of Brookings argued recently that there is likely no successor who could guarantee the safety of Putin, his family and his assets. She expects some testing of public opinion through state TV ahead of whatever Putin's next move may be.
Keir Giles of Chatham House thinks Putin almost certainly has a succession plan in mind already and predicts that Putinism will long outlast Putin. He warns: "Change in Russia is not always change, and it's certainly not always positive."
Meanwhile, Africa is home to half of the 24 longest-serving leaders and 5 of the top 7. There are two major reasons Africa's longtime leaders have been able to retain power, according to Council on Foreign Relations analysis:
"Military coups were once common as a means to seize power, with both [Equatorial Guinea's] Mbasogo and [Uganda's Yoweri] Museveni entering their presidencies this way. ... [T]here were 27 successful coups from 1970 to 1982, but only 12 from 2000 to 2012, and just the one against [Zimbabwe's Robert] Mugabe since then.
"Leaders are increasingly securing longer terms through 'constitutional coups' … that allow for additional terms in office. This practice grew more frequent after 2000. … Since then, at least 17 heads of state have tried to remain in power by tweaking their countries' constitutions."
Flashback: Eight years ago, before the Arab Spring, this would have been a considerably different list. Since then, Libya's Moammar Gadhafi, Egypt's Hosni Mubarak and Tunisia's Zine al-Abidine Ben Ali have fallen — not to mention Mugabe, Cuba's Fidel Castro and Angola's José Eduardo dos Santos.
What to watch: There are a number of leaders not currently on our list who are working to ensure they join it.
Notes on the list
We're only counting a leader's current period in office. You won't see Malaysia's Mahathir Mohamad, for example, despite his 22 total years at the helm (with a 15-year hiatus).
Counting can be tricky. We went for 28 years for Nazarbayev, for example, though he also led Kazakhstan for two years prior to independence from the USSR.
We left off tiny countries (sorry to Samoan readers) and monarchs (apologies to Her Majesty).
2. Thailand: Generals vs. populists at the polls
Thailand's election season has featured generals, populists, royals — and a wildly uneven playing field.
The big picture: The ruling military junta, led by Prime Minister Prayuth Chan-ocha, overthrew a democratically elected government in 2014. The generals will try their luck at the polls on Sunday, albeit after bringing in a new constitution that means they're likely to win even if they lose.
The next prime minister will be selected by 500 elected members of Congress and 250 hand-picked senators. The junta therefore only needs one-quarter of the seats up for grabs to win outright and keep Prayuth in power.
The biggest threat comes from parties linked to exiled former Prime Minister Thaksin Shinawatra (it was his sister Yingluck whom the junta toppled in 2014). Pro-Thaksin parties are unlikely to win an outright majority, though, meaning smaller parties could play a pivotal role.
"The election campaign and its aftermath — the formal result is not expected until early May — has reopened the deep divide between Bangkok's royalist elite and the populist pro-Shinawatra camp that has haunted Thai politics for the past two decades, and periodically dealt business and society some nasty shocks," the FT's John Reed writes.
Why it matters: Turnout for the election is expected to be high. The junta hopes for a carefully managed process that gives it more legitimacy and the confidence of Western leaders and foreign investors. Thai politics are volatile, though, and there could be a surprise in store.
3. Trump recognizes Israeli sovereignty in Golan Heights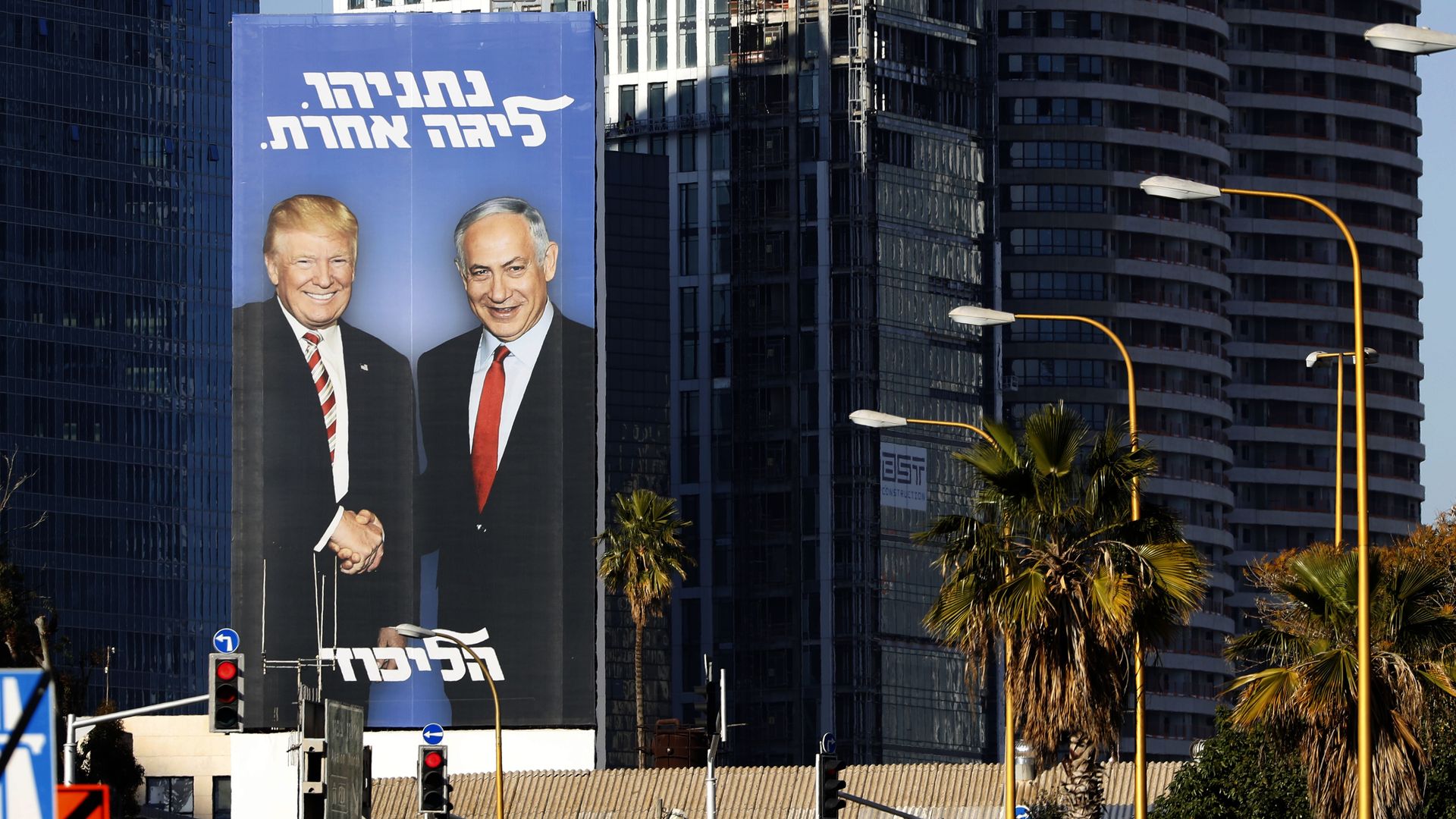 President Trump announced in a tweet today that the U.S. will recognize Israeli sovereignty over the Golan Heights, which Israel first captured from Syria and occupied in 1967, then effectively annexed in 1981. 
Why it matters: Trump's move is a major boost for Israeli Prime Minister Benjamin Netanyahu ahead of Israel's April 9 elections. It's also a huge policy shift that could have repercussions for American policy toward other occupied areas in the world, like Crimea, Axios contributor Barak Ravid writes.
Barak interviewed Pompeo today in Jerusalem, and the secretary of state issued a warning unrelated to the elections: If Israel doesn't limit its ties with China, the U.S. could reduce intelligence sharing and security cooperation.
Why that matters: Netanyahu has in recent years undertaken a diplomatic initiative to dramatically enhance trade with China, Barak writes. Pompeo said he told Netanyahu: "If certain systems go in certain places, then America's efforts to work alongside you will be more difficult and in some cases we won't be able to do so."
4. Europe: Belt and Road reaches Italy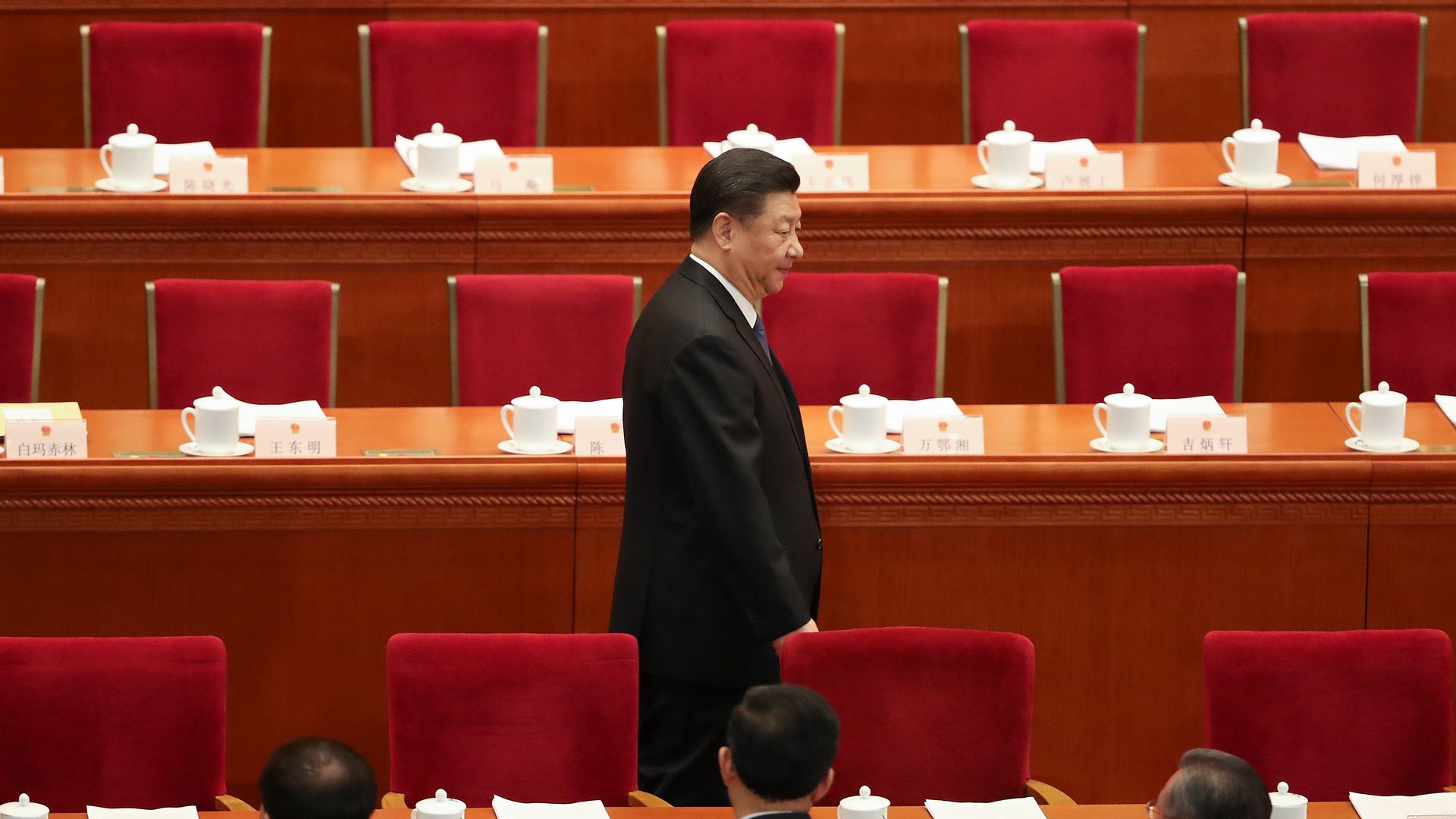 Chinese President Xi Jinping arrived in Rome today to plant a flag in the heart of Europe, writes GZERO Media's Gabe Lipton:
What to watch: Italy is expected to break with most other advanced economies by formally signing onto Beijing's $1.3 trillion global Belt and Road Initiative (BRI).
The big picture: Announced in 2013, BRI aims to boost China's trade and international clout through massive new investments in roads, railways and ports across the world. Italy's decision to sign onto the initiative — the centerpiece of Beijing's plans to overtake the U.S. as the dominant global economic power of the 21st century — is controversial.
Brussels and Washington don't like it at all, because they fear that if Italy takes loans from China, it could end up in a dangerous web of debt that exposes it to pressure from Beijing.
After all, Italy is already Europe's second-most indebted country, and unlike much smaller economies like Greece, a systemic crisis there could unravel the entire eurozone.
Within Rome, too, there is some disagreement: Deputy Prime Minister Luigi Di Maio, of the centrist Five Star Movement, is all for closer relations with Beijing, but far-right Interior Minister Matteo Salvini is more skeptical.
More broadly, Europe is already having trouble finding consensus on how to approach China's tech investments, 5G equipment suppliers and infrastructure investments.
The smaller economies of Central and Eastern Europe welcome the cash, while most of the larger economies are concerned about the financial and security implications of Chinese capital.
EU members are scheduled to meet on Friday to discuss a common approach to Chinese investment into the bloc.
The bottom line: The decision of the bloc's fourth-largest economy to embrace Beijing has just opened up a major new fault line within Europe.
5. South America: Two big arrests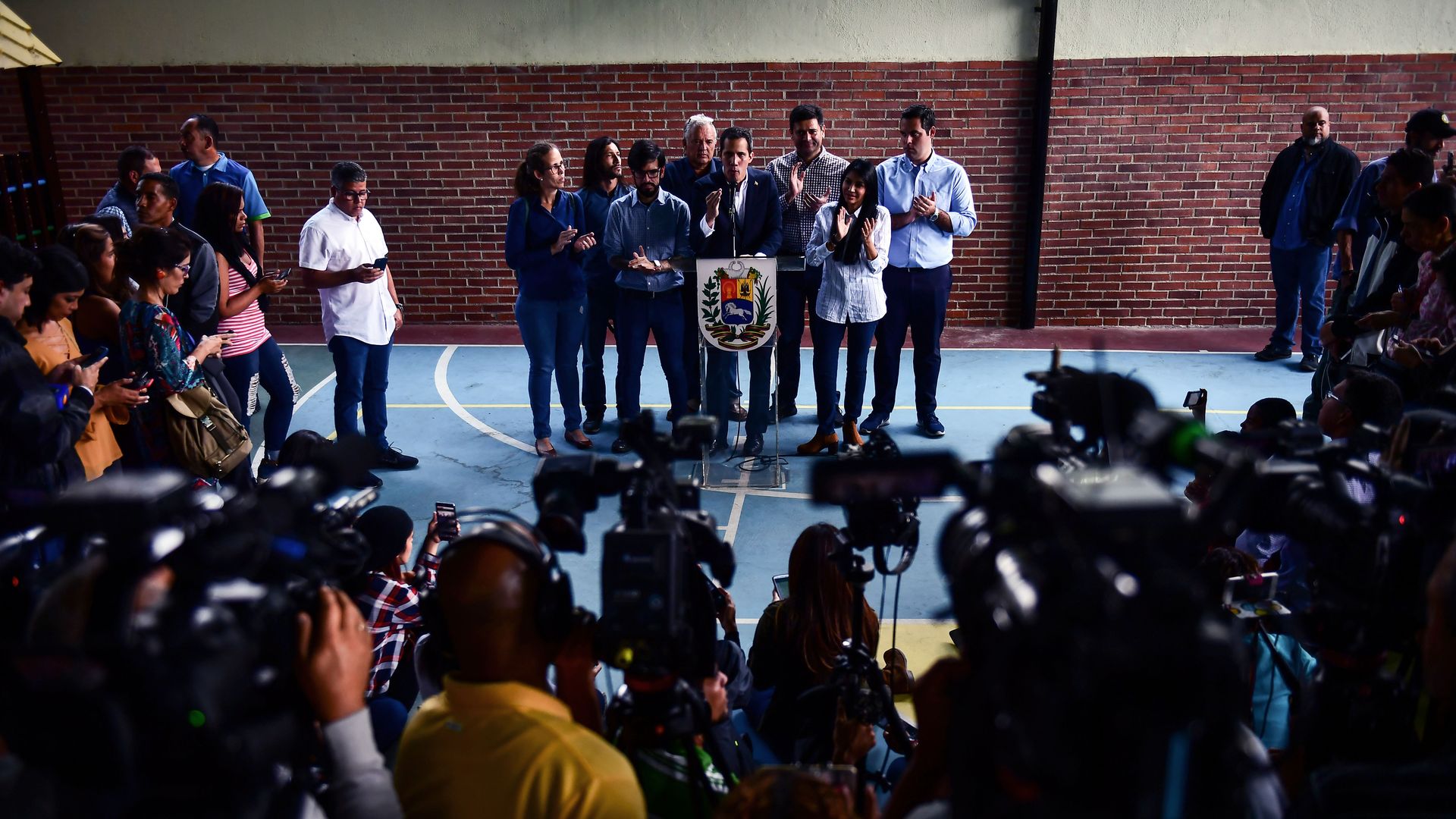 Former Brazilian President Michel Temer, who led the country from 2016 to 2018 after his predecessor Dilma Rousseff was impeached, was arrested today on corruption charges stemming from the sprawling Car Wash investigation.
Why it matters: Temer has been dogged by corruption allegations for years (he denies them) and was a deeply unpopular president. His arrest comes after a corruption case against leftist former President Luiz Inácio Lula da Silva gripped the country, and it could challenge claims that the anti-corruption probe is a partisan enterprise.
It's also a major political distraction. "This could slow down the pension reform process, which is already disappointing," Danilo Gennari, partner at Brasilia-based political consultancy DRG told Reuters. "Temer's arrest will not help the climate in Congress."
Meanwhile in Venezuela: "[O]pposition leader Juan Guaidó's top aide was taken away in the middle of the night by masked intelligence agents who broke down his door early Thursday," per AP.
"Washington demanded the immediate release of Guaidó chief of staff Roberto Marrero, whose whereabouts after the raid on his Caracas home were not immediately disclosed."
"The arrest represented a sharp increase in police pressure on the opposition after a period of relative calm."
Guaidó condemned the Maduro regime, and said: "Either he doesn't dare to jail me, or he's not in charge."
6. Data du jour: European Union
We're now 8 days out from the Brexit deadline with no clear picture of what's about to happen.
A new Pew survey takes the temperature on how the U.K. and 9 other EU countries feel about the union.
Most positive: Poland (72% favorable), Spain (67%), Germany (63%), Netherlands (63%), France (62%), Sweden (62%).
Least positive: Greece (37%), U.K. (48%), Hungary (57%), Italy (58%).
Good news: Respondents across the 10 countries tend to think the EU promotes peace (74%), promotes democratic values (64%), and promotes prosperity (55%).
Bad news: They tend to think the EU is intrusive (51%), inefficient (54%), and doesn't understand the needs of its citizens (62%).
Younger respondents are far more pro-EU than older ones. In the U.K., for example, 67% of 18- to 29-year-olds view the EU favorably, compared to 39% of people over 50.
Respondents tend to think Germany is more powerful globally than a decade ago, French power is about stable, and U.K. power is either holding steady or diminishing.
7. Stories we're watching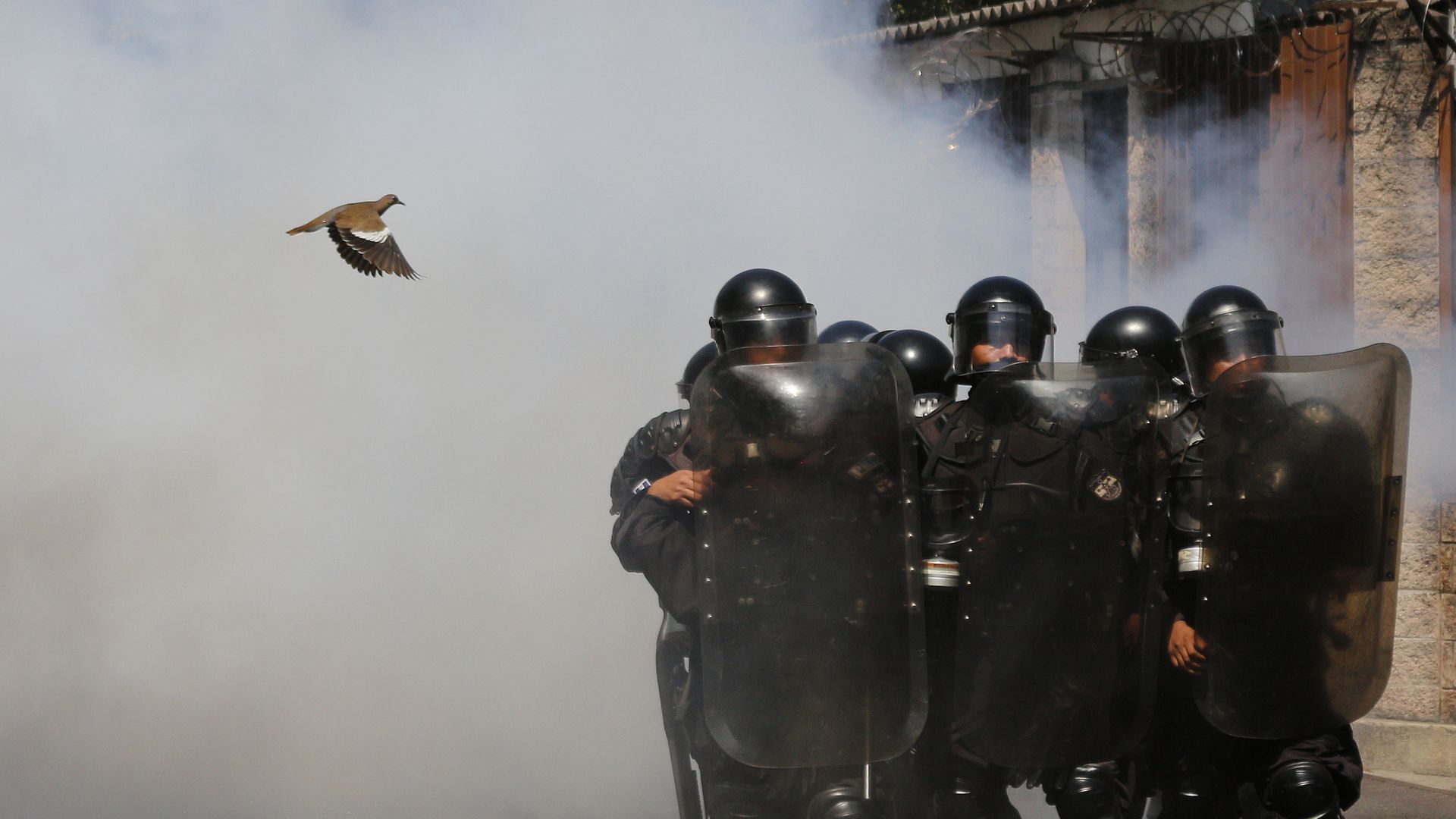 Quoted:
"Health care costs are too high that is true but comparing us to Finland is ridiculous. Ask them how their health care is. You won't like their answer."
— Former UN Ambassador Nikki Haley
on Twitter
. Lots of Finns chimed in to say their health care was among the best in the world, thanks for asking.
Thanks for reading — see you Monday evening.