Axios World
May 12, 2022
Welcome back to Axios World.
We're starting today (2,017 words, 7½ minutes) with three summits, all hosted by President Biden and all facing significant headwinds. Then we look at NATO's expanding map and the tragic death of journalist Shireen Abu Akleh.
New arrival? Subscribe.
1 big thing: Biden seeks to "step up our game" in Southeast Asia
President Biden is hosting the leaders of eight countries in Southeast Asia today and tomorrow, underscoring the importance of the region by holding a summit with the Association of Southeast Asian Nations (ASEAN) at the White House for the first time.
Why it matters: Home to some of the world's fastest-growing economies and most contested waters, Southeast Asia is an epicenter of U.S.-China competition.
The White House announced $150 million in initiatives today in areas including clean energy, maritime security and digital development.
It will also soon unveil a regional trade framework for the broader Indo-Pacific to set standards on things like labor practices and digital trade.
But many ASEAN countries will view that as an "all-pain, no-gain economic deal," notes James Crabtree of Foreign Policy. The Biden administration is unwilling to negotiate trade deals that offer countries deeper access to the U.S. market.
China, which has a free trade deal with ASEAN, surpassed U.S. trade with the region in 2009 and has since sprinted far ahead, while also promising billions in infrastructure investment.
What they're saying: Asked if China simply has more to offer ASEAN economically than the U.S., a senior administration official noted that China's economic growth and geographic proximity meant it was only natural that trade with ASEAN would increase.
But the official noted that the U.S. was still the largest source of foreign direct investment in most ASEAN countries, that U.S. firms were currently turning to the region to strengthen their supply chains, and that U.S.-ASEAN trade typically has "a much higher value add."
Still, the official said the summit and the accompanying announcements should be seen as a recognition that "we need to step up our game in Southeast Asia."
A Morning Consult poll out today found that in two ASEAN countries, Indonesia and Singapore, views of trade with China and the U.S. are broadly positive and roughly equivalent.
The U.S. remains the primary security guarantor for the region, though China is attempting to challenge that (with limited success).
The Biden administration claims it's not trying to force countries in the region to choose between the U.S. and China, something they'd be loath to do.
Meanwhile, "China's unpopularity in the region has grown in the past year, and China's own domestic problems, stemming largely from its zero-COVID strategy, have hindered its normally robust regional diplomatic efforts," notes Joshua Kurlantzick of the Council on Foreign Relations.
Still, it's clear that the superpower that won't be in the room will still be looming over the proceedings.
Worth noting: While there was an empty chair at the summit for Myanmar, which has been suspended from ASEAN's high-level gatherings since the 2021 coup, human rights was not expected to be on the top of the agenda.
The bloc includes a number of authoritarian states, including the current chair, Cambodia.
In sharp contrast to the Summit of the Americas (see item 2), there was never a question of uninviting them — though Biden did draw a rebuke from Cambodia by declining to hold a bilateral with Prime Minister Hun Sen. The White House says he'll have brief "private time" with each leader.
Aside from Singapore, which has imposed sanctions on Moscow, most ASEAN countries have declined to take a firm stand over Russia's invasion of Ukraine. It will be worth watching whether the leaders' statement released tomorrow makes any mention of the war.
2. Boycott threat surrounds upcoming Summit of the Americas in LA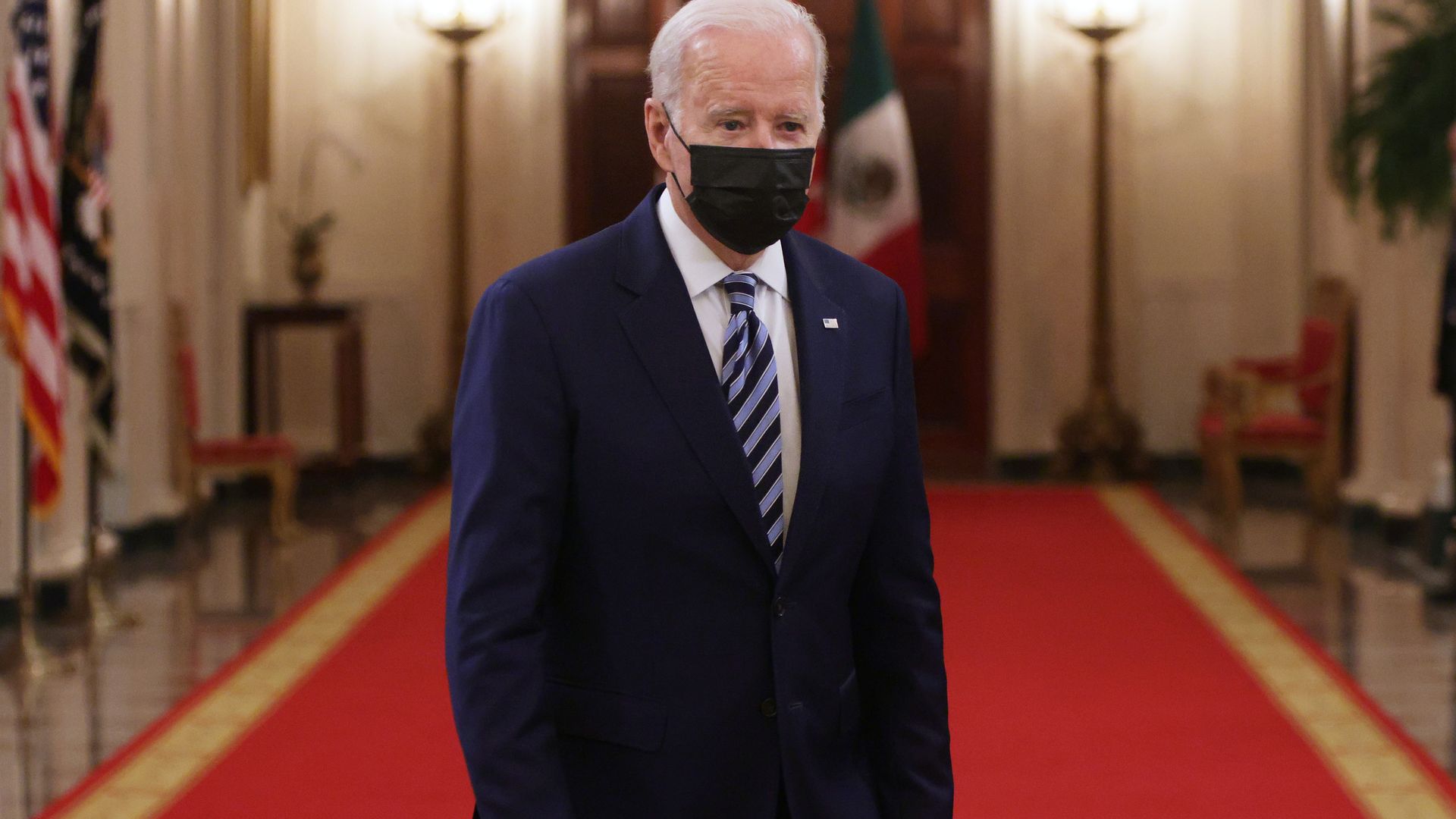 Mexican President Andrés Manuel López Obrador and Bolivian President Luis Arce have threatened to reject Biden's invitation to the Summit of the Americas in Los Angeles, June 6–10, if the leaders of Cuba, Nicaragua and Venezuela are excluded.
Why it matters: Last held in 2018 and returning to U.S. soil for the first time since 1994, the Summit of the Americas is the preeminent gathering of regional leaders — but López Obrador and Arce aren't the only ones considering skipping it.
Honduran President Xiomara Castro tweeted that if some nations were excluded, "it is not Summit of the Americas."
The 15-country Caribbean Community is undecided about a potential boycott, according to Antigua and Barbuda Prime Minister Gaston Browne. Some Caribbean countries have objected in particular to Cuba's likely exclusion, while several of them also recognize Nicolás Maduro as president of Venezuela, rather than the U.S.-backed Juan Guaidó.
Meanwhile, Reuters reports that Brazilian President Jair Bolsonaro is also "likely to skip the meeting." It's unclear why, though Bolsonaro and Biden are hardly ideological allies.
State of play: After López Obrador said Tuesday that he'd proposed that "everyone be invited" in order to further "the unity of all America," White House Press Secretary Jen Psaki said the guest list hadn't been finalized and invitations hadn't been sent.
But the top U.S. diplomat for the Americas said earlier this month that he didn't expect Cuba, Nicaragua and Venezuela to be invited because they "do not respect democracy."
Between the lines: A snub for Maduro would be no surprise, given the U.S. no longer recognizes his legitimacy. But many leaders across the continent, particularly on the left, would object if Guaidó were invited.
Cuba was controversially excluded from previous summits up until 2015 in Panama, when Barack Obama memorably shook hands with Raúl Castro.
Nicaragua, meanwhile, has taken a sharp authoritarian turn, with President Daniel Ortega locking up all of his top political rivals ahead of a sham election last November.
"To many Latin Americans this feels like a perfect opportunity to say: No, it's 2022, and we're not going to take this unilateral nonsense from the United States ever again," Americas Quarterly editor-in-chief Brian Winter writes.
For one thing, China's growing influence means there isn't one regional hegemon anymore.
Plus, "Washington simply doesn't have much new to offer on trade or investment," so countries wouldn't miss much by boycotting, Winter rights.
He adds a third reason: "A growing ambivalence toward democracy throughout much of the region."
What to watch: While López Obrador and Arce took clear-cut positions, many of the other leaders have left themselves some wiggle room. So too has the White House, though leaving the invitations so late in the game may only have increased the headache.
3. State of the outbreak: Biden's COVID summit nets $3 billion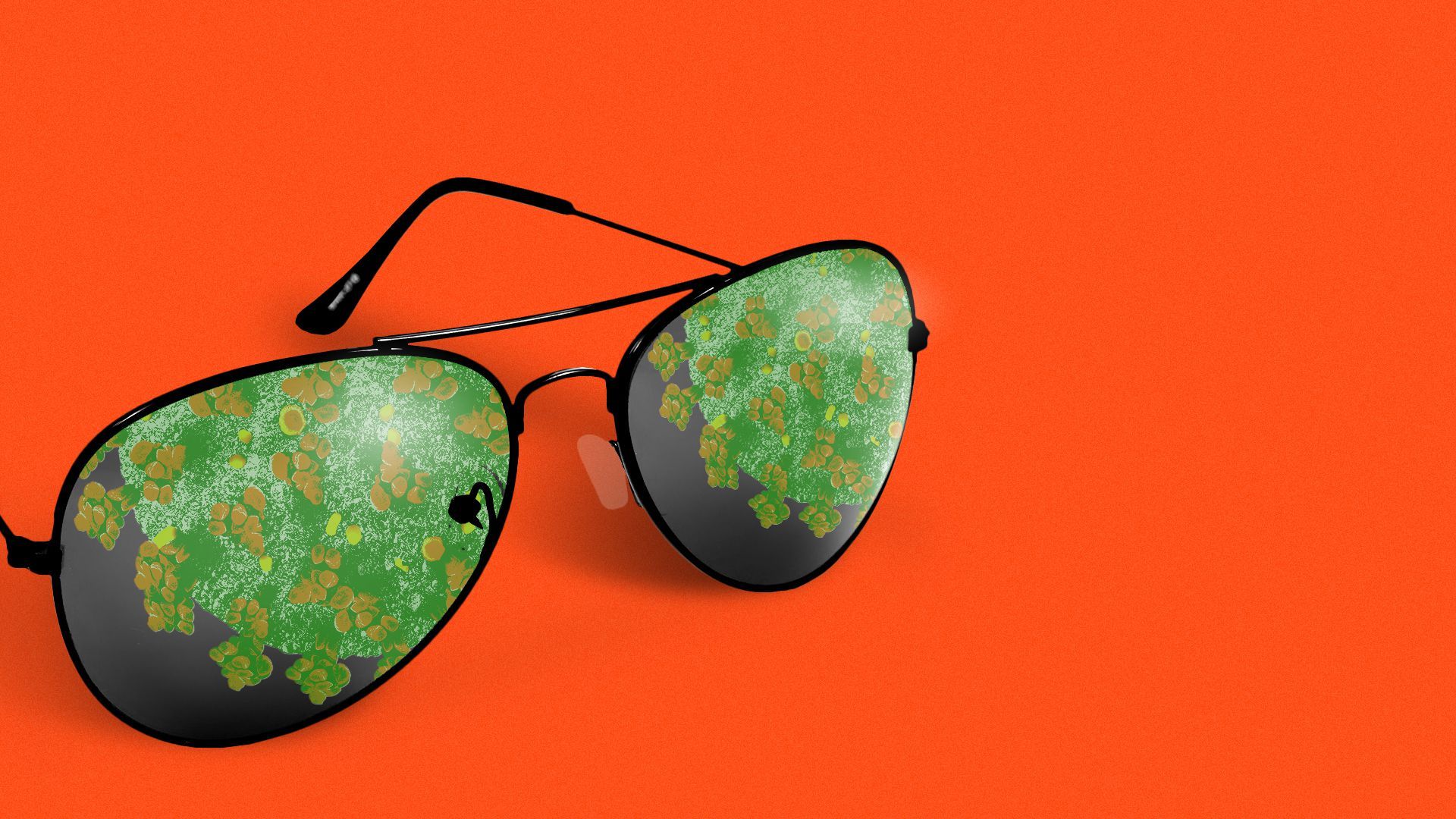 The Biden administration's second annual COVID summit raised more than $3 billion in new funding today.
The good news: By hosting the summit and getting world leaders to participate, the U.S. was able to "get commitments to the table" that otherwise would not have been made, Krishna Udayakumar, founding director of the Duke Global Health Innovation Center, told Axios.
He says there was some limited but much-needed progress on increasing access to COVID treatments, for example.
The bad news: "$3 billion is good, but it's still an order of magnitude off from what's actually needed," Udayakumar says.
"There was a mismatch between what's being offered and what's needed" in some cases, he says, with countries continuing to pledge doses when supply is no longer the main concern.
What to watch: What's really needed now is financial and technical assistance to help countries with low vaccination rates get doses in arms, particularly for high-risk populations.
"From the U.S. perspective, it's good that there's been a commitment made to provide 1.2 billion donated doses, and more than 530 million of those doses have already shipped," says Udayakumar.
"It really would be a shame if we're not able to help translate those vaccines into vaccinations because we didn't make the additional investment to allow that to happen."
State of the outbreak...
North Korean leader Kim Jong-un declared a "severe emergency incident" and launched a nationwide lockdown today after announcing a positive test in the country for the first time, Axios' Rebecca Falconer writes.
The official case count in Shanghai has dropped sharply, but quarantine policies in much of the city are actually getting stricter. It's unclear if the numbers really are dwindling and authorities are tightening restrictions to crush them entirely, or if they are perhaps manipulating the data, FP's James Palmer notes.
Beijing and the WHO are in a squabble after director-general Tedros Adhanom Ghebreyesus called the zero-COVID policy "unsustainable" (see Quoted in No. 7).
Bonus: Where in the world?
Can you fill in the blank with a world capital? As it's nearly Friday, let's end with a cocktail or two.
___ folder
___ syndrome
___ bean
___ sprout
___ sausage
Chicken ___
___ broil
___ sling 
___ mule
Scroll to the bottom for the answers.
4. Finland's leaders declare support for joining NATO
Finland's president and prime minister today announced their support for NATO membership, setting in motion a process that will culminate in the alliance's ninth enlargement since its founding in 1949, Axios' Zach Basu reports.
Why it matters: Finland's membership in NATO would more than double the length of the alliance's borders with Russia. Sweden is expected to make an announcement on applying to NATO on Sunday.
What they're saying: Asked if Putin would view the forthcoming announcement as provocative, Finnish President Sauli Niinistö said at a press conference: "My response would be that you caused this. Look at the mirror."
Russia's Foreign Ministry issued a statement warning that Finland's accession to NATO will cause "serious damage" to Russia-Finland relations and that Russia "will be forced to take retaliatory steps, both of a military-technical and other nature."
The big picture: Public support for NATO membership in Finland and Sweden shot up virtually overnight after Russia's invasion of Ukraine underscored the importance of the alliance's Article V commitment to collective defense.
Unlike Ukraine, Georgia or Bosnia and Herzegovina, whose membership aspirations are all pending, Finland and Sweden are expected to be admitted relatively swiftly.
Driving the news: British Prime Minister Boris Johnson traveled to Finland and Sweden on Wednesday to sign "historic declarations" vowing to come to their defense if they're attacked.
5. Data du jour: $94 billion and counting
6. Outrage and mourning for esteemed journalist killed in West Bank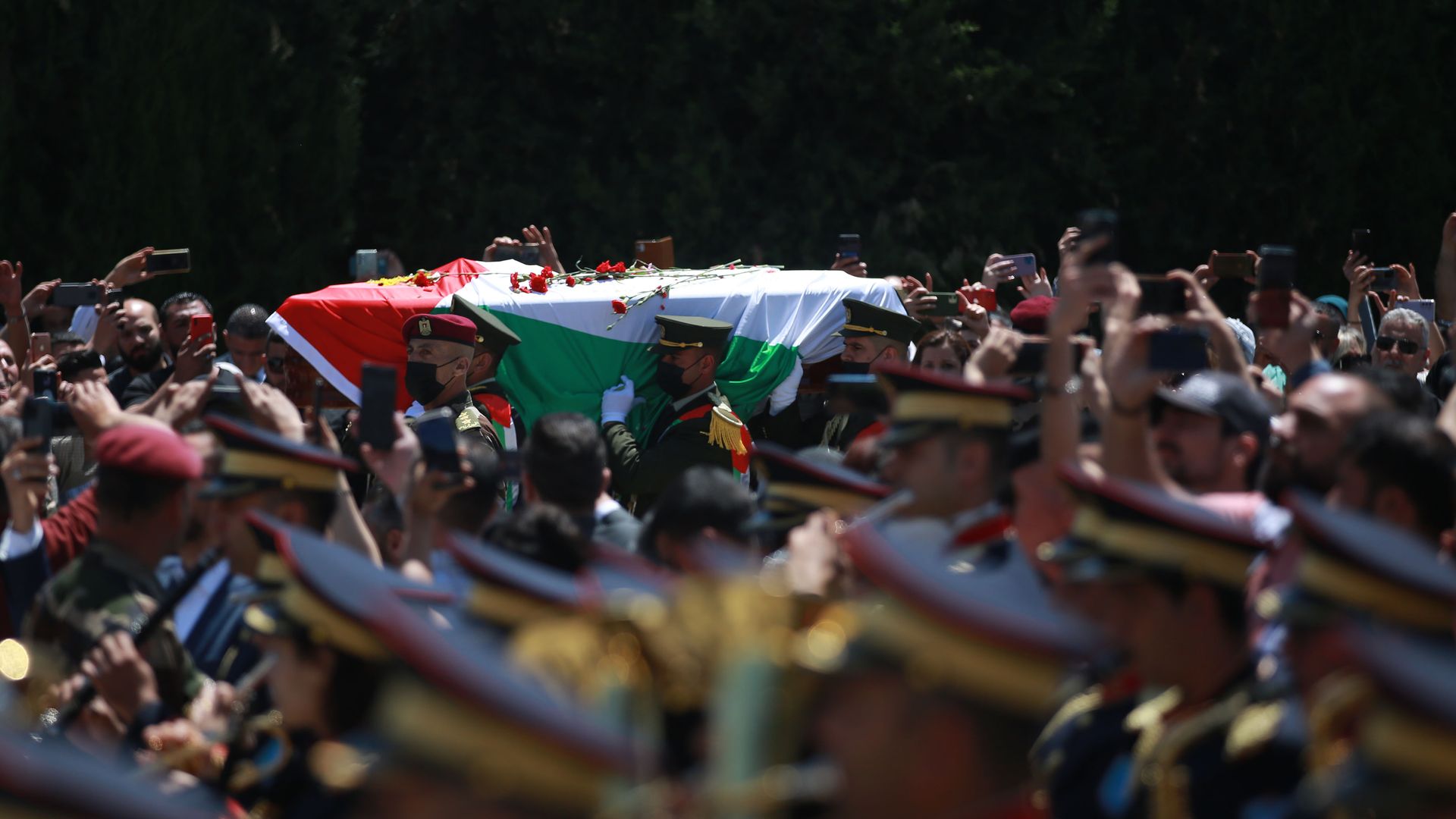 Thousands gathered in Ramallah today to honor Shireen Abu Akleh, a Palestinian American Al Jazeera journalist shot dead yesterday while covering an Israeli military raid in Jenin in the occupied West Bank, Axios' Laurin-Whitney Gottbrath writes.
Palestinian President Mahmoud Abbas, who led the ceremony, said Israel is "fully responsible" for Abu Akleh's death and vowed to take the case to the International Criminal Court.
Driving the news: Abu Akleh was killed as Israeli forces conducted a military operation in Jenin to arrest Palestinians suspected of planning attacks against Israelis, the Israeli military said.
According to the Israeli military, Palestinian militants fired at the Israeli forces and used explosive devices. Israeli officials have since said, "At the moment, it is not possible to determine from which fire Abu Akleh was killed."
Palestinian officials and Al Jazeera, including journalists who witnessed the incident, said Israeli forces fired on 51-year-old Abu Akleh and another Palestinian journalist, who was wounded. They were both wearing bulletproof vests marked "Press."
The big picture: The killing of Abu Akleh, a veteran journalist who was highly respected in the Arab world and beyond, prompted widespread condemnation and calls for an investigation.
Israeli officials said they proposed holding a joint investigation with the Palestinian Authority. But Palestinians officials rejected the proposal, saying they didn't trust Israel.
What's next: Abu Akleh's funeral is expected to be held tomorrow in the Beit Hanina neighborhood of East Jerusalem where she lived.
7. Stories we're watching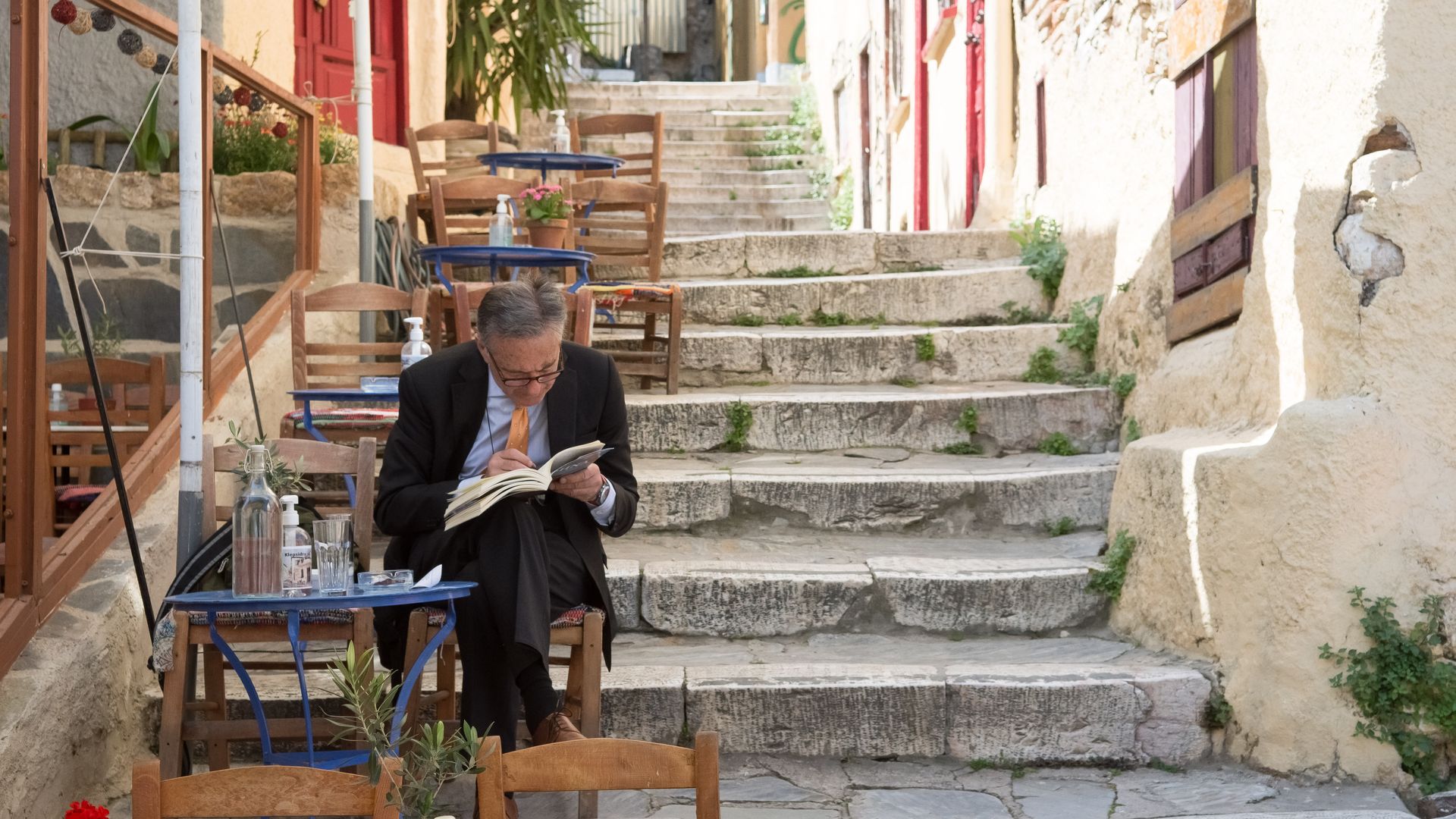 Quoted:
"When we talk about the zero-COVID strategy, we don't think that it is sustainable, considering the behavior of the virus now and what we anticipate in the future."
— WHO director-general Tedros Adhanom Ghebreyesus, in comments that were censored on the Chinese internet
"We hope relevant people can view China's epidemic prevention and control policy in an objective and rational way, learn more about the facts and refrain from making irresponsible remarks."
— Chinese Foreign Ministry spokesperson Zhao Lijian
Answers: 1. Manila; 2. Stockholm; 3. Lima; 4. Brussels; 5. Vienna; 6. Kiev/Kyiv; 7. London; 8. Singapore; 9. Moscow