Welcome back to Axios World. We're flying around the world this evening in 1,642 words (~ 6 minutes). This is our lucky 127th edition.
Thanks for joining me! Please tell your friends and colleagues to sign up, and I'd love your tips and feedback: lawler@axios.com. 
1 big thing: World's top autocrats stare down protests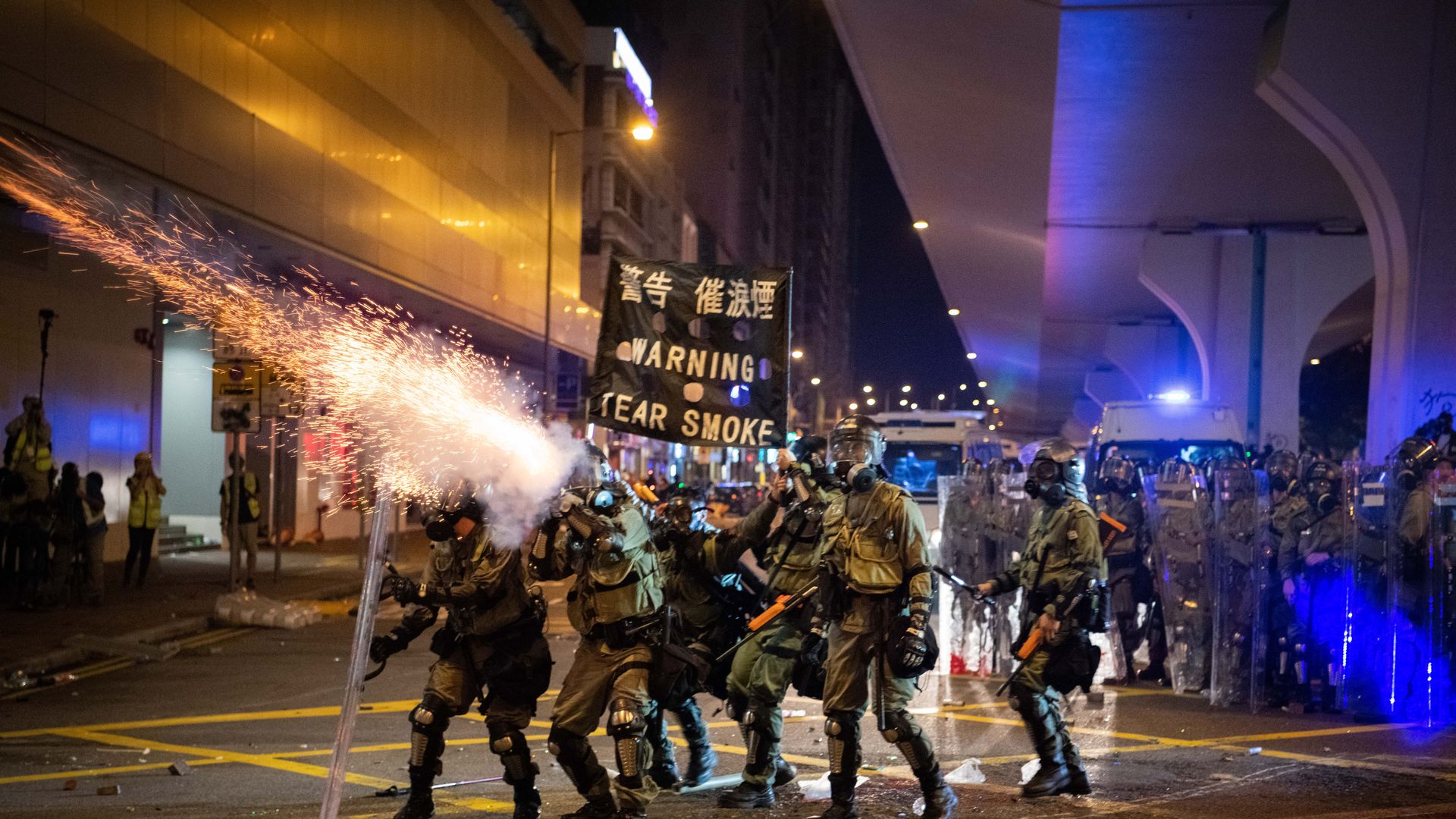 Emboldened pro-democracy movements are testing China's Xi Jinping and Russia's Vladimir Putin.
The big picture: Beijing and Moscow have repeatedly horrified the world, but never one another, with their treatment of dissidents and protestors.
The latest from Hong Kong, where protests that began over a controversial extradition bill have expanded in scope and raged for 3 months:
The latest from Moscow, where opposition leader Alexei Navalny says he fears an "allergic reaction" suffered in jail may have been the result of poisoning:
A second round of protests in Moscow was violently dispersed on Saturday. "Officers clad in riot gear used batons against demonstrators," some of whom had been chanting slogans such as "Russia without Putin," Radio Free Europe reports. There were at least 80 injuries and 1,373 arrests.
Worth noting: One of the many fronts on which Navalny has irritated the Kremlin is his criticism of its embrace of China, a relationship in which Russia is increasingly the junior partner.
2. Coats: Not Trump's favorite layer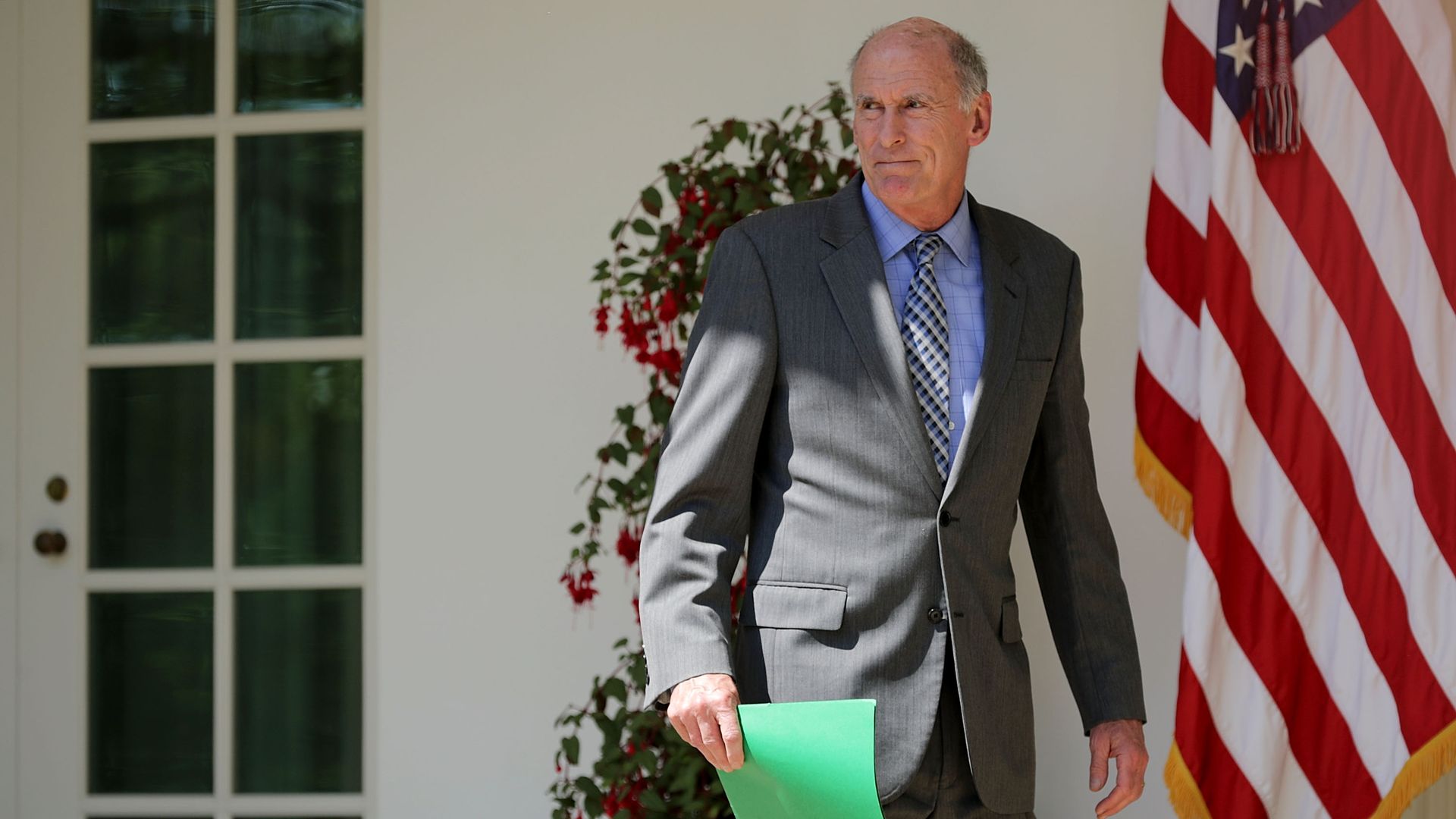 President Trump has picked a fierce loyalist to replace Dan Coats as Director of National Intelligence (DNI).
Behind the scenes: Axios' Jonathan Swan reports Trump was thrilled by Rep. John Ratcliffe's admonishment of former special counsel Robert Mueller last week — but while it certainly helped his chances, the Texan was already the president's radar.
Trump had previously shortlisted Ratcliffe to replace Jeff Sessions as attorney general. He'd been mulling replacing Coats since at least February and has described the DNI as an unnecessary bureaucratic layer, Swan reports.
Coats angered Trump when he appeared to criticize the president's relationship with Russian President Vladimir Putin and when he told a Senate panel North Korea was unlikely to give up its nuclear weapons.
I asked James Clapper, the longest-serving DNI (2010-2017), what he made of Coats' tenure, and Trump's choice of Ratcliffe.
"I think Dan Coates served with great distinction.  He supported the writ of intelligence:  'truth to power,' whether it comported with the President's desired world view or not," Clapper emailed.
"Unfortunately, it was a question of time before he was gone. He lasted almost two and half years, which in the administration, is an eon."
"I am sure there is a good bit of angst in the Intelligence Community about nominating someone whose first requisite is loyalty, and who is quite ideological."
What to watch: Ratcliffe, a 53-year-old former U.S. attorney, has among the most conservative voting records in Congress. He's unlikely to get any Democratic votes, and Republican senators have been far quicker to praise Coats' service than Ratcliffe's nomination.
3. Latin America: Bolsonaro's report card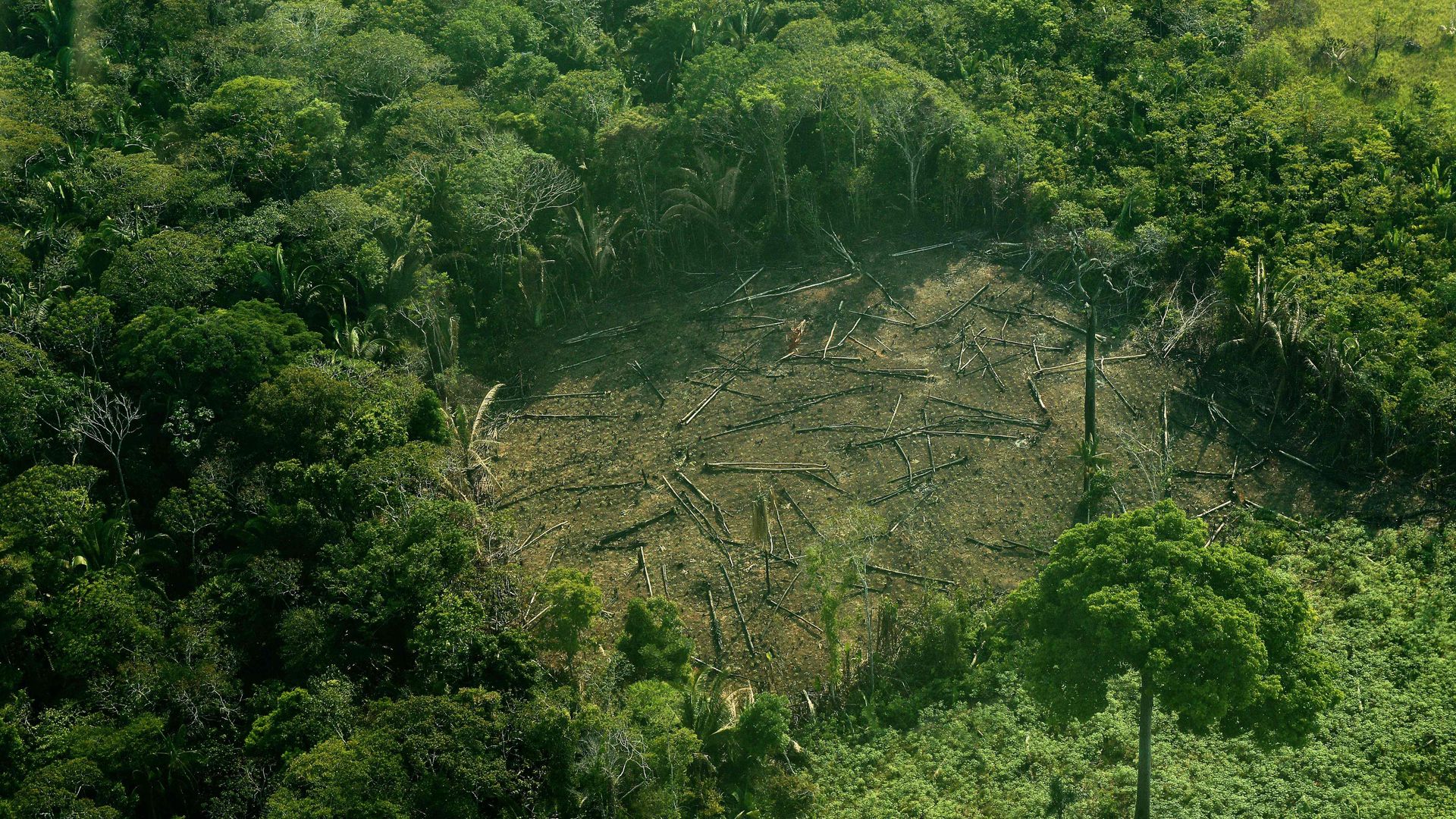 When Jair Bolsonaro was elected Brazil's president 9 months ago yesterday, there were high hopes he'd clean up corruption and revitalize the economy — and fears he'd endanger the environment and further divide the country.
So how's he doing?
On corruption... Bolsonaro's administration, the Economist reports, "looks nearly as scandal-prone as the one it replaced."
"One of his sons, Flávio, a senator from Rio de Janeiro, is being investigated for money-laundering. Messages leaked to the Intercept... have damaged the reputation of Sérgio Moro, the justice minister."
"Mr Bolsonaro nominated another son, Eduardo, to be Brazil's ambassador to the United States, adding nepotism to his administration's list of sins."
On the economy... the FT notes, "Bolsonaro has achieved two of the biggest breakthroughs in Brazilian policymaking in years, with a new EU-Mercosur trade deal and the likely passage of pension reform in the coming months." 
On the environment... Bolsonaro is sticking to his promise to open up the Amazon to new economic ventures, Axios' Ursula Perano writes.
The Brazilian part of the rainforest shed 1,330 square miles of forest cover — 39% more than during the same period last year.
On polarization... Bolsonaro campaigned as a culture warrior, lambasting gay rights and the political Left. He's governed that way too.
That may rile up the base, but his approval rating is down to 33%.
4. World news roundup
1. Guatemala, under severe U.S. pressure, agreed to sign a "safe third country" agreement that would make migrants who travel through the country ineligible for asylum in the U.S.
"[I]t appears that no such agreement has been signed with a nation... as ill-equipped as Guatemala to deal with asylum seekers and keep them safe," the NY Times reports.
The deal rests on dubious legal grounds in Guatemala, and will face legal challenges there and in the U.S.
2. In northeast Nigeria, more than 60 people were killed Saturday in an attack at a funeral, believed to have been carried out by Boko Haram.
3. In happier news, India's tiger population has bounced back due to a conservation push, and Ethiopia's government claims the country planted a word record 353 million (!!) trees today.
4. The Senate Foreign Relations Committee voted last Thursday to adopt a treaty that would make North Macedonia NATO's 30th member. It now goes to the full Senate. Ari Mittleman, publisher of Balkan Insider, emails:
"As the Senate focuses again on North Macedonia and the role of NATO in the region, Prime Minister Zoran Zaev has opened a 29 mile stretch of four lane highway built and financed by China."
"While Russian influence is still strong across the Balkans, China is increasingly investing in critical transportation and energy infrastructure."
5. Data du jour: Rise of the retirees
There are around 12,000 octogenarians in the UAE today. By 2050, according to the UN's latest population prospects assessment, there will be 412,000.
The big picture: The world will have 3x as many people over 80 by 2050, and 2.2x as many over 65 (the overall population will grow by 1.3x).
In Africa, where populations tend to be young and life expectancy is growing fast, there will be 3.5x as many 80+ and 3.1x as many 65+ people.
But it's the numbers from the Gulf that really boggle the mind. The currently tiny 65+ populations in Saudi Arabia, Qatar and the UAE will rise by 7.4x, 12.7x and 14.7x by 2050, respectively, according to the projections.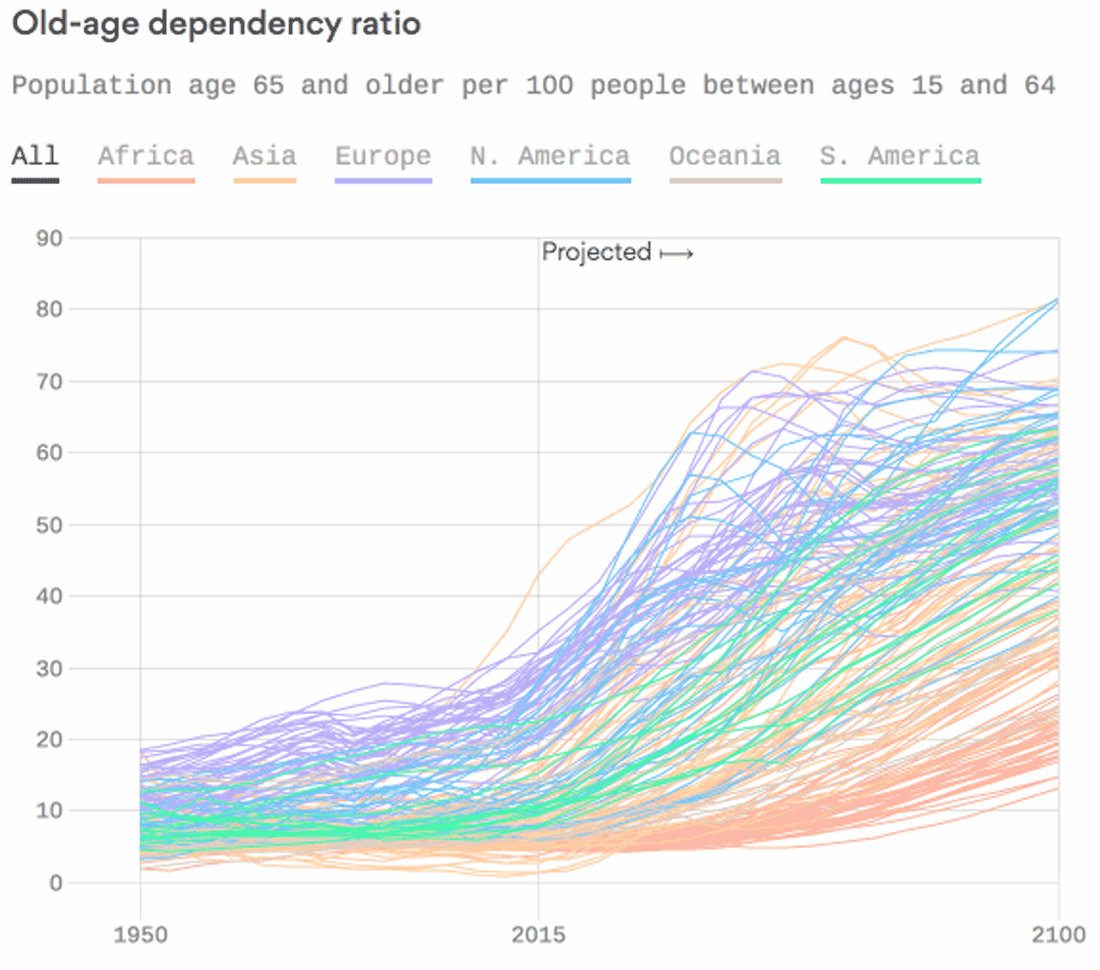 Data: United Nations World Population Prospects 2017; Chart: Harry Stevens and Chris Canipe/Axios
Why it matters: As my Axios colleagues explored last year in a deep dive (from which I stole the above visual), the world may not have sufficient working-age people to support the elderly.
6. The sports world: History and the Tour de France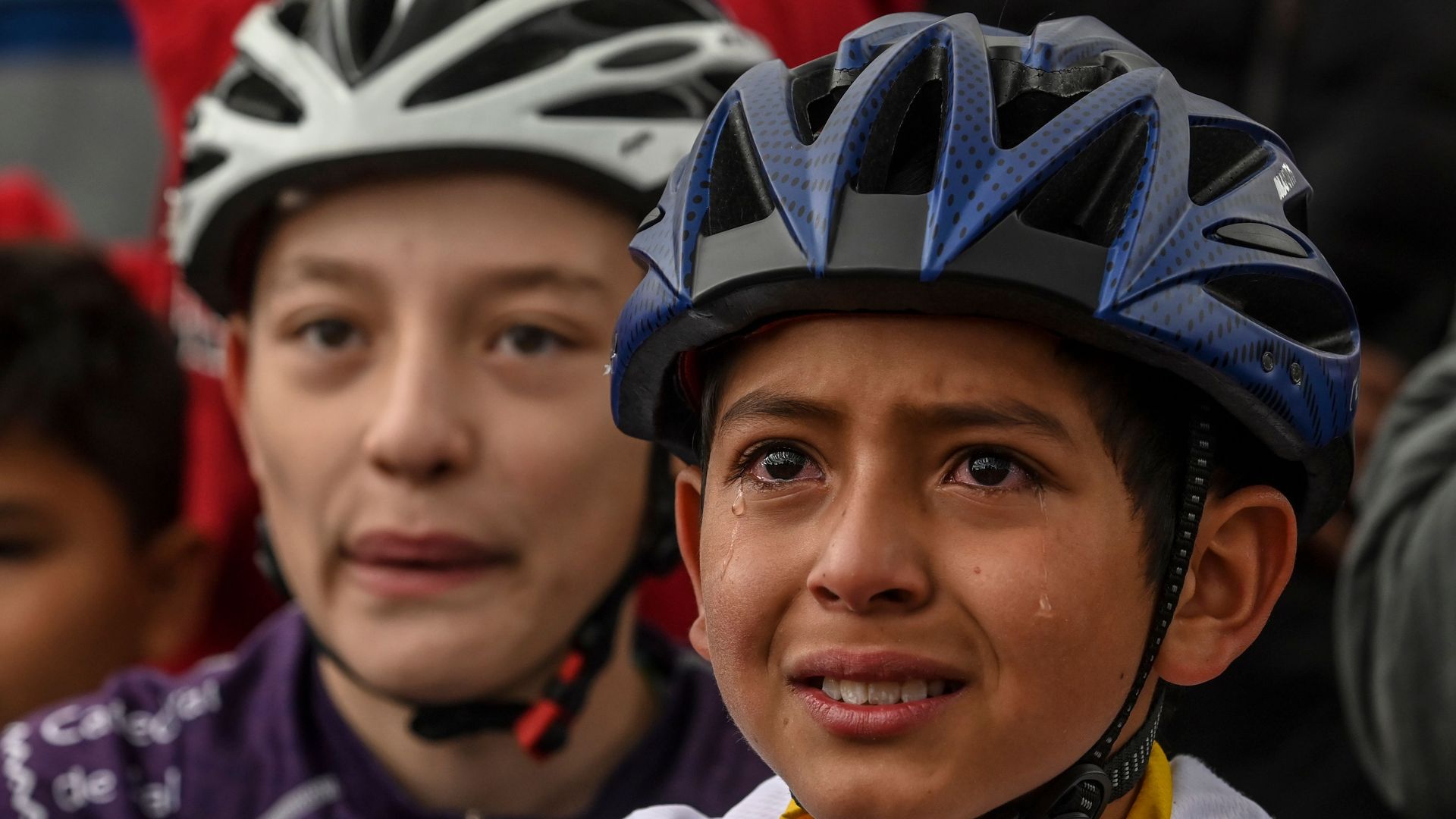 Colombia's Egan Bernal on Sunday became the first Latin American cyclist to win the Tour de France. At 22, he's also the youngest champion in 110 years.
"In his hometown of Zipaquira, hundreds came to the 'Plaza of Hope' to watch the final stage of the Tour in Paris, beamed across a giant screen," per the BBC.
"I feel this is not only my triumph, but the triumph of a whole country ... It's a great honor to think that I'm the one achieving this. My dad couldn't talk at first, but when he managed, he congratulated me. He was about to cry. For us, it's a dream. We used to watch the Tour on TV and we thought it was something unreachable."
— Egan Bernal,
The Washington Post
via NBC
The flipside: It looked for a time like France would have its first winner in 34 years. Then one contender got hurt and another struggled toward the end of the tour, which unfolds over 3 grueling weeks.
Flashback: The first Tour de France was held in July, 1903.
More, via History:
"Journalist Geo Lefevre had dreamt up the fanciful race as a stunt to boost the circulation of his struggling daily sports newspaper, L'Auto."
"Unlike today's riders, the cyclists in 1903 rode over unpaved roads without helmets."
"... forced to cover enormous swathes of land, spent much of the race riding through the night with moonlight the only guide and stars the only spectators."
"One of the favorites, Hippolyte Aucouturier, quit after developing stomach cramps, perhaps from the swigs of red wine he took as an early 1900s version of a performance enhancer."
The wire-to-wire winner was Maurice Garin, a "mustachioed French national [who] worked as a chimney sweep as a teenager."
7. Stories we're watching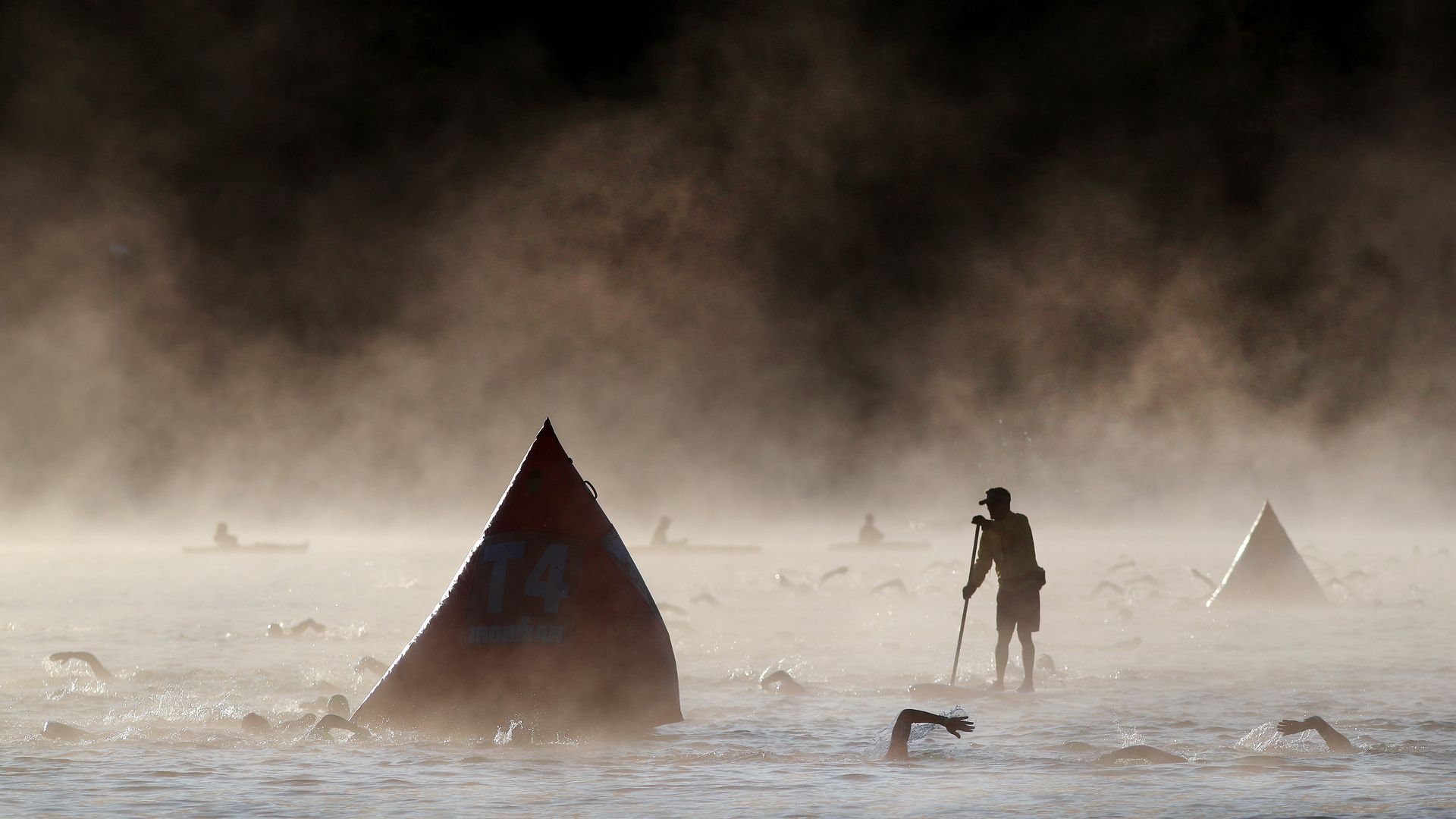 Quoted:
"What we've lived in five months, the Arab world hasn't seen in 40 years. We've removed a president without exiling him, without imprisoning him and without killing him. ... And nobody has been killed. There's nothing similar in the Arab world."
— Abdelaziz Rahabi, an Algerian former government minister,
to the NY Times
Thanks for stopping by — see you Thursday evening.