Welcome to Axios World, where two evenings a week we break down what you need to know about the big stories from around the globe.
Thanks for joining me! Please tell your friends and colleagues to sign up here, and I'd love your tips and feedback: [email protected].
Situational awareness: CIA chief Gina Haspel is flying to Turkey, which is preparing to release the results of its investigation into the killing of journalist Jamal Khashoggi, Reuters reports.
1 big thing: Landmark of Cold War I cast aside for the next one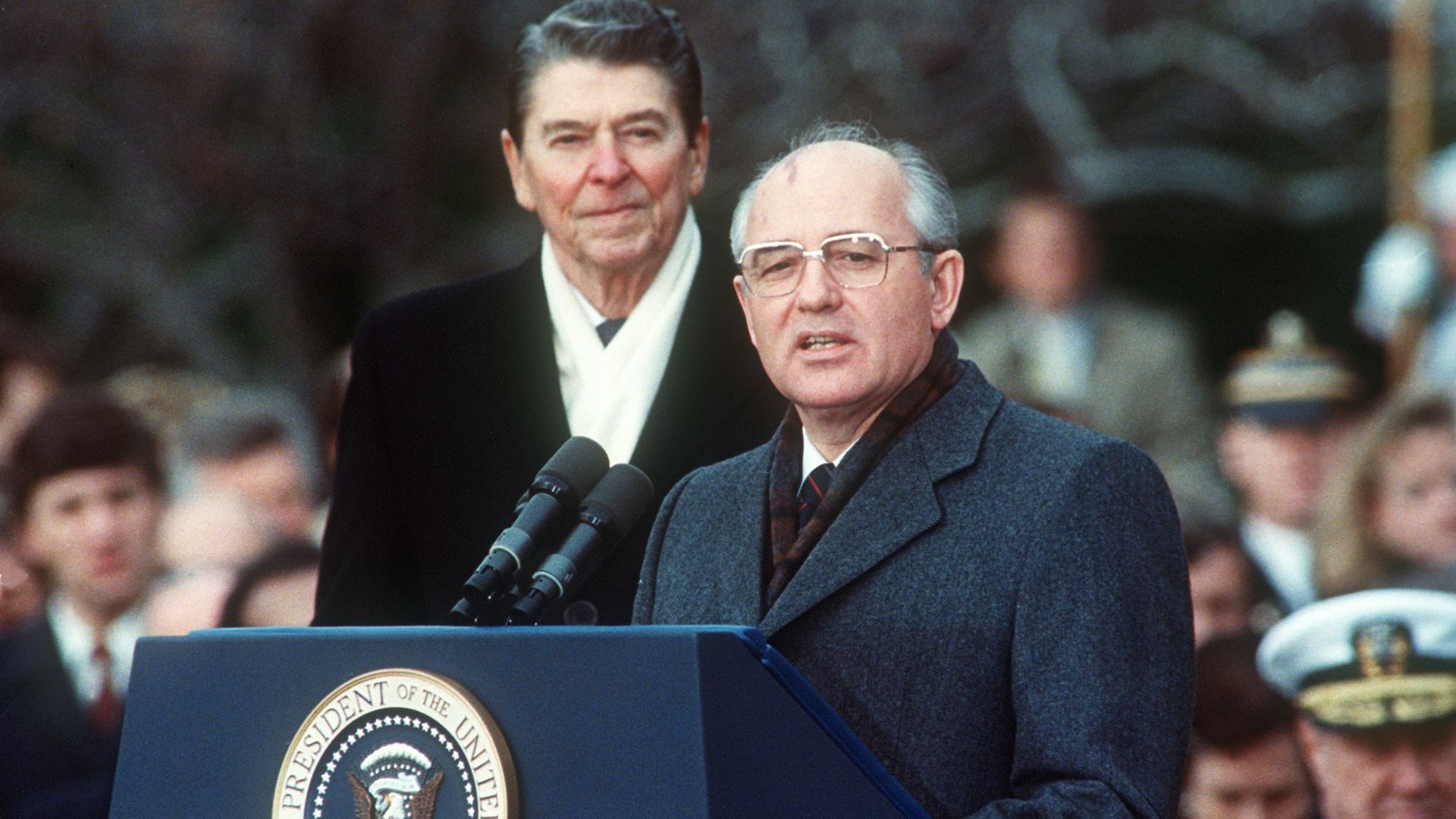 National Security Adviser John Bolton reiterated to his Russian counterpart today in Moscow that the U.S. is pulling out of an arms control treaty signed in 1987 by Ronald Reagan and Mikhail Gorbachev, Axios' Jonathan Swan reports.
The big picture: Trump isn't just walking away from a landmark of the last Cold War, he's preparing for the next one. One of the key arguments for withdrawing from the treaty is that the U.S. will need every tool at its disposal to confront the military rise of China.
The backdrop: The Obama administration first accused Russia in 2014 of violating the treaty — which bans ground-launched ballistic and cruise missiles with ranges of 500 to 5,500 kilometers — after the test of a prohibited cruise missile. The Trump administration announced last year that instead of returning to compliance under U.S. pressure, Russia had begun deploying the missile.
After Trump told reporters "we're going to terminate the agreement" on Saturday, the Kremlin accused Trump of a reckless step that "will make the world more dangerous." Gorbachev has also spoken out against the move:
"Do they really not understand in Washington what this can lead to?"
— Gorbachev to the
Interfax
news agency
Steven Pifer of the Brookings Institution argues for Axios Expert Voices that Trump has made a mistake and "it is not evident that the administration tried hard to save the treaty, perhaps because Bolton has long favored ditching it." His argument against:
"Withdrawal entails significant costs for U.S. and Western security. Russia will be free to deploy without constraint the 9M729 and other land-based intermediate-range missiles, for which the U.S. military currently has no counterpart." 
"The decision has already sparked controversy within NATO, with officials in Berlin, Rome and Paris criticizing Trump's announcement. Finally, absent a strong public case regarding the Russian violation — that information is highly classified — Washington will widely be seen as responsible for the INF Treaty's demise."
Matthew Kroenig of the Atlantic Council contends that while consulting with allies and staging a formal policy rollout would have been more effective, Trump has ultimately made the right decision. His argument for:
"Why be single-handedly constrained by an agreement that Russia has no intention of complying with?"
Kroenig says as great power competition with China heats up, ground-based missiles positioned in Asia — perhaps in Japan or Australia — will be cheaper and more effective than the alternatives. If you agree that "the rise of China is the major threat of the 21st century," he says, this is the logical step.
What to watch: Kroenig says because it takes 7-10 years to develop a new missile system, steps like adapting sea-launch missiles for use on shore might be needed. "It doesn't look great to say, 'we're pulling out of this treaty. Wait for an update from us in 10 years,'" he says.
2. Khashoggi case: Leaks precede Erdogan's reveal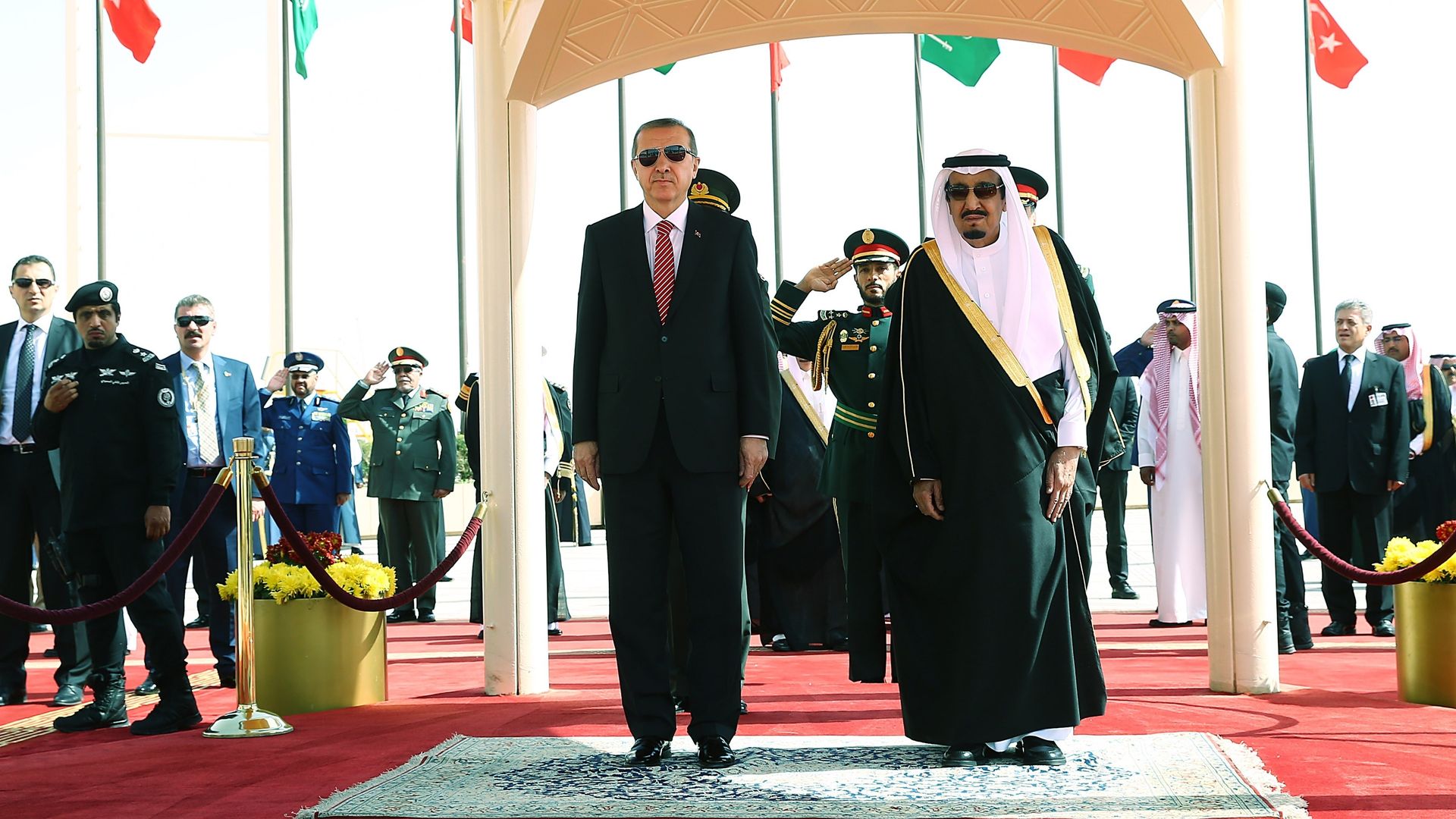 President Recep Tayyip Erdogan has said he'll release the findings from Turkey's investigation into the killing of journalist Jamal Khashoggi's on Tuesday, pledging to go into "full detail."
Between the lines: For the nearly three weeks since Khashoggi disappeared, Turkey has been setting the pace. A steady stream of anonymous leaks have kept the pressure on, but haven't been followed by concrete accusations. Erdogan's strategy had seemed to be to build leverage with Riyadh and Washington, while keeping an escape hatch open for the Saudis.
But the Saudis still have questions to answer a day after the kingdom's foreign minister insisted on Fox News that Khashoggi's death was the result of "a rogue operation" not authorized by Crown Prince Mohammed bin Salman (MBS).
Since then...
Where things stand: Trump said this afternoon that he's "not satisfied" with the Saudi explanations. Erdogan, meanwhile, says he'll put his cards on the table tomorrow.
3. Europe: "Leader of free world" in trouble at home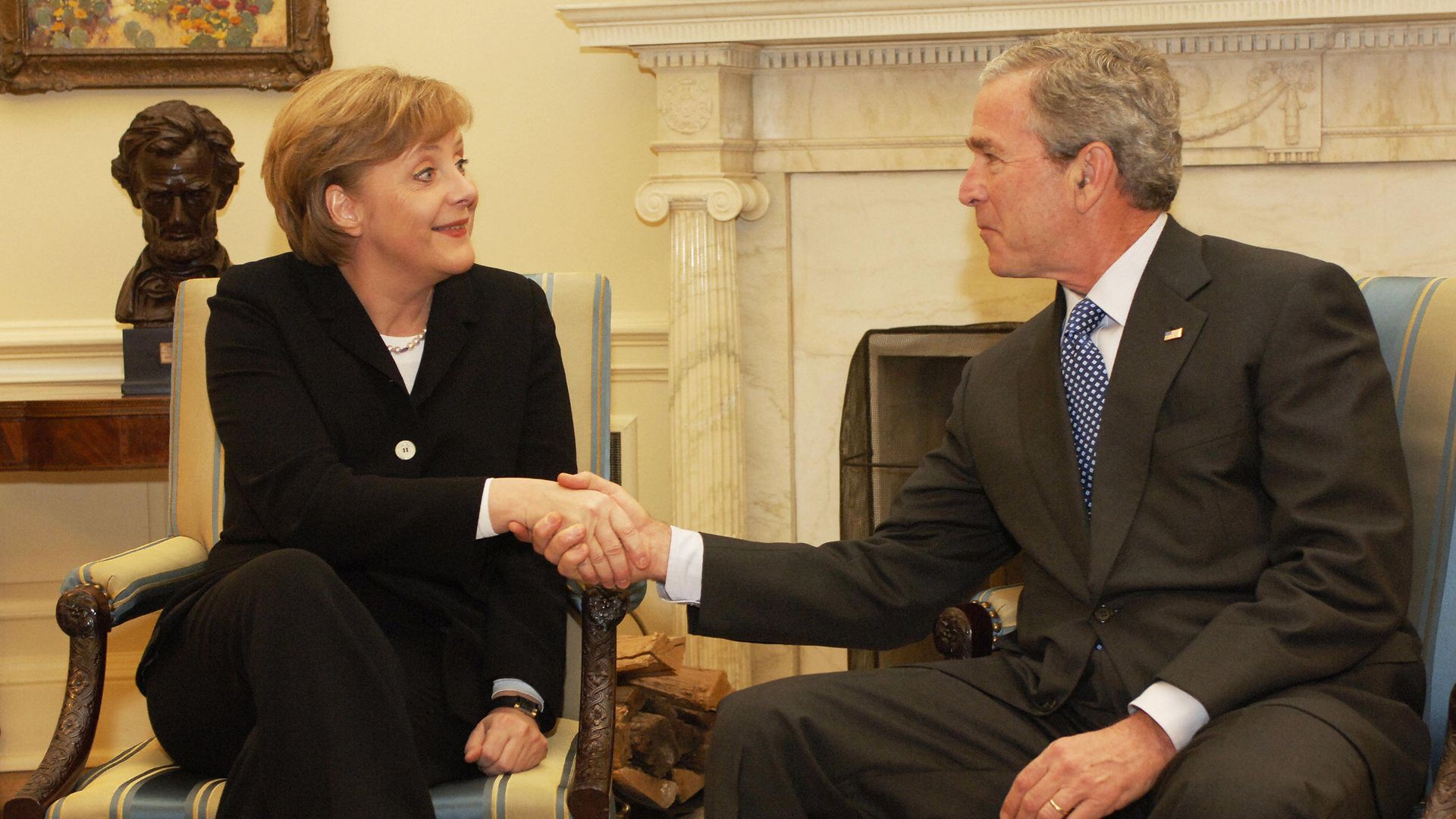 Germany's Angela Merkel said last night that she will not approve any new arms sales to Saudi Arabia, becoming the first western leader to do so and — at least according to many in my Twitter feed — affirming her status as "leader of the free world."
But she may not be the leader of Germany much longer. If the center-left SPD fares as badly in a state election in Hesse on Sunday as it did in Bavaria a week ago, its leaders may decide staying in Merkel's coalition government is too politically painful to bear.
Merkel is a survivor, but her government is unstable and may be unsustainable. Even if it "staggers on, the chancellor's days at the top seem numbered," the Economist writes. "Senior members of her party openly discuss the likelihood that she will be obliged to stand down as party leader (though not, yet, as chancellor) in December."
Why it matters: Merkel has been in power for 13 years — nearly half the period since German reunification. She sees her legacy as keeping the west together during a difficult period in history. This would be quite a time to remove her from the global equation.
The bigger picture: Big tent parties are getting battered all over Europe.
Bonus: What I'm reading
From the NY Times obituary for Joachim Ronneberg, who has died at the age of 99:
"The Norwegian saboteurs skied across the Telemark pine forest in winter whites, phantom apparitions gliding over moonlit snow. They halted at a steep river gorge and gazed down at a humming hydroelectric power plant where Nazi scientists had developed a mysterious, top-secret project."
"Lt. Joachim Ronneberg, the 23-year-old resistance fighter in command,

and his eight comrades

— all carrying cyanide capsules to swallow if captured — had been told by British intelligence only that the plant was distilling something called heavy water, and that it was vital to Hitler's war effort."
"Hours later, in one of the most celebrated commando raids of World War II, Lieutenant Ronneberg and his demolition team sneaked past guards and a barracks full of German troops, stole into the plant, set explosive charges and blew up Hitler's hopes for a critical ingredient to create the first atomic bomb."
4. Women worldwide are having children later
Last week, Axios' Stef Kight took a look at the global rise in out-of-wedlock births. Now she's breaking down another trend that is shaping our world: people are having kids later in life.
In the next several decades, most babies in the Western world are projected to be born to 30-somethings, according to the 2017 United Nations World Population Prospects.
One big reason: Women are now more likely to focus on their pursuit of education, career development or greater financial stability before having kids.
Why it matters: Already, demographers and economists are concerned about the falling rate of children being born in many countries, which could ultimately cause economic instability. Having kids later in life typically leads to having fewer kids, and women who wait until their 30s and 40s are at greater risk of infertility or pregnancy complications, according to UNFPA.
5. Middle East: Scoop — Trump ready to pressure Bibi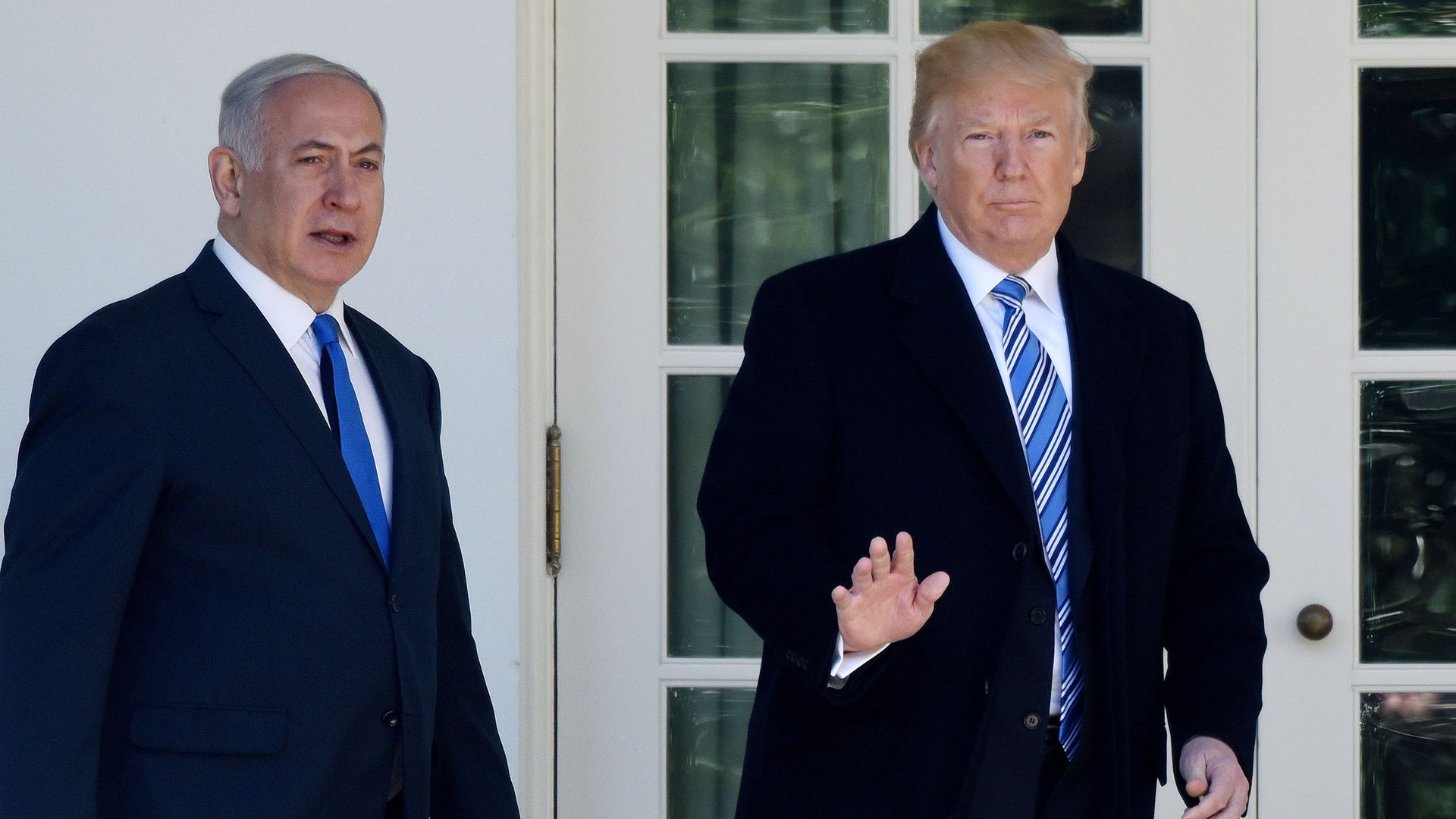 President Trump told French President Emmanuel Macron last month that he's ready to put pressure on Israeli Prime Minister Benjamin Netanyahu to accept his upcoming Middle East peace plan, four Western diplomats briefed on the meeting tell Axios contributor Barak Ravid.
Trump specifically mentioned the fact the U.S. gives Israel billions of dollars in aid every year and said "I can be as tough with Bibi as I have been with the Palestinians."
Why it matters: We haven't previously heard Trump say anything about his willingness to put pressure on Netanyahu, perhaps his staunchest ally around the world. Three days after the meeting with Macron, Trump met with Netanyahu in New York and announced for the first time his support for the two state solution. He also said he was planning to present his peace plan in two to four months.
According to the four Western diplomats, Macron told Trump he has the impression Netanyahu doesn't really want to move on the peace process "because he loves the status quo." Trump said he was very close to reaching the same conclusion.
6. Latin America roundup: Caravans, Bolsonaro, China v. Pompeo
1. President Trump tweeted today that he would begin cutting off foreign aid to Guatemala, Honduras and El Salvador. The tweet came in response to the migrant caravan making its way to the U.S.-Mexico border, which Trump (without evidence) claimed contains "unknown Middle Easterners."
While Trump is cutting aid, Mexican President-elect Andres Manuel Lopez Obrador (AMLO) is pitching a U.S.-Mexico-Canada project to provide development aid for those countries in order to address the root causes of immigration.
2. Polls show Jair Bolsonaro, Brazil's far-right presidential frontrunner, with leads of between 16 and 20 points ahead of Sunday's runoff. Speculation that Bolsonaro's support would hit a "ceiling" isn't borne out by the numbers, which show his leftist opponent with higher negatives.
3. An editorial from state-run China Daily accuses Secretary of State Mike Pompeo of a "stab in the back" after Pompeo — while in Panama on Thursday — said Latin American countries should "keep their eyes open when it comes to China's investments."
4. Uruguay could face legal troubles over a privatization deal gone bad. Axios Business Editor Dan Primack explains.
7. Stories we're watching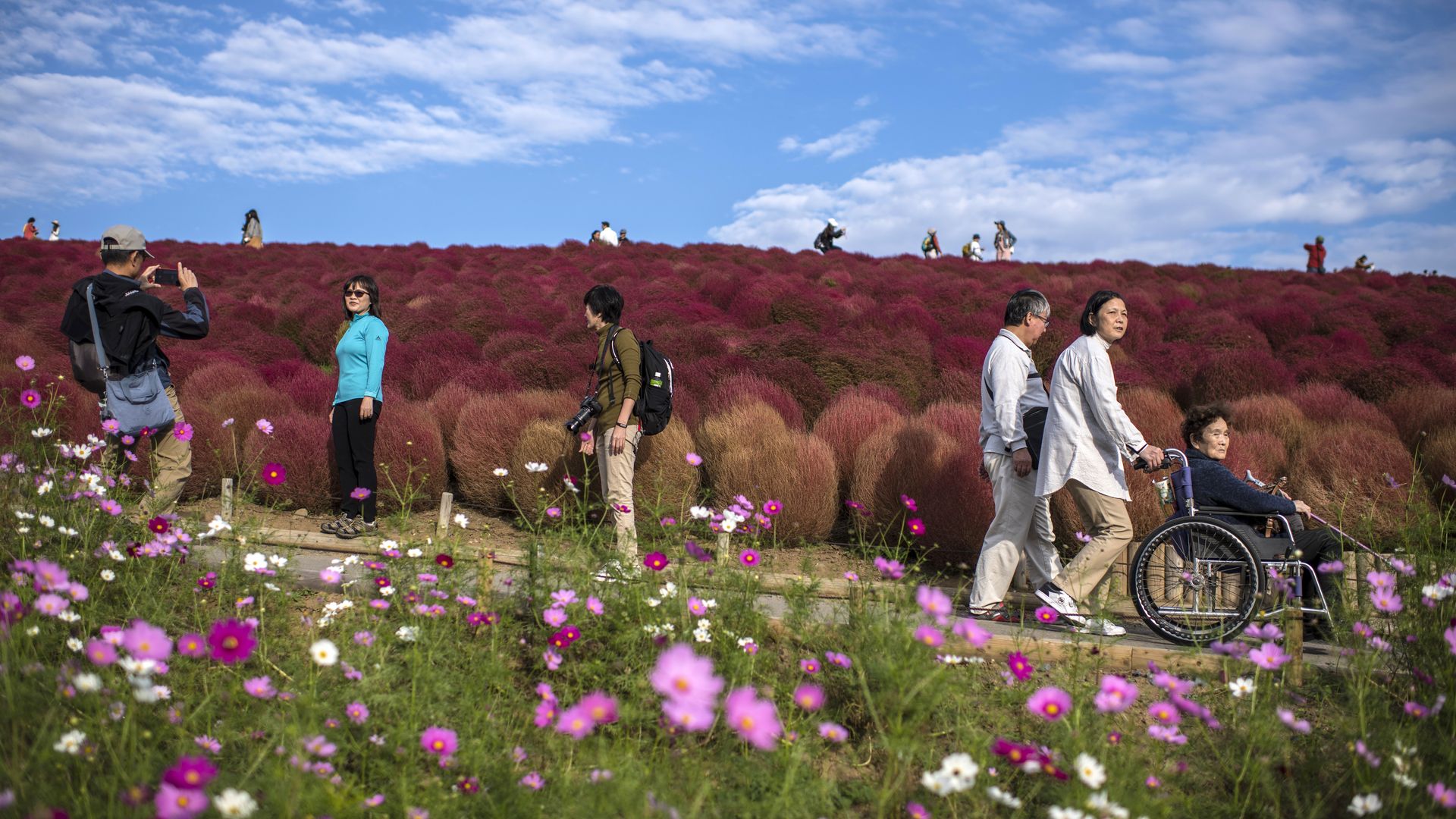 Quoted:
"Sometimes I feel his style is shoot first, aim later. He needs proper advisers around him to lead Saudi Arabia into the future. But he does believe in himself, it's obvious, he very much believes in himself."
— Jamal Khashoggi, discussing Mohammed bin Salman
in an interview 8 months before he was killed
Thanks for stopping by — see you Thursday evenign!