Welcome to Axios World, where two evenings a week we break down the big stories from around the globe.
Thanks for joining me! Please tell your friends and colleagues to sign up, and I'd love your tips and feedback: lawler@axios.com.
Tonight's Smart Brevity count is 1,468 words (~5 minute read). Speaking of ... what do you make of the word count at the top of each newsletter? Click here for love and here for hate. We'll share the results on Monday.
1 big thing: Here comes Boris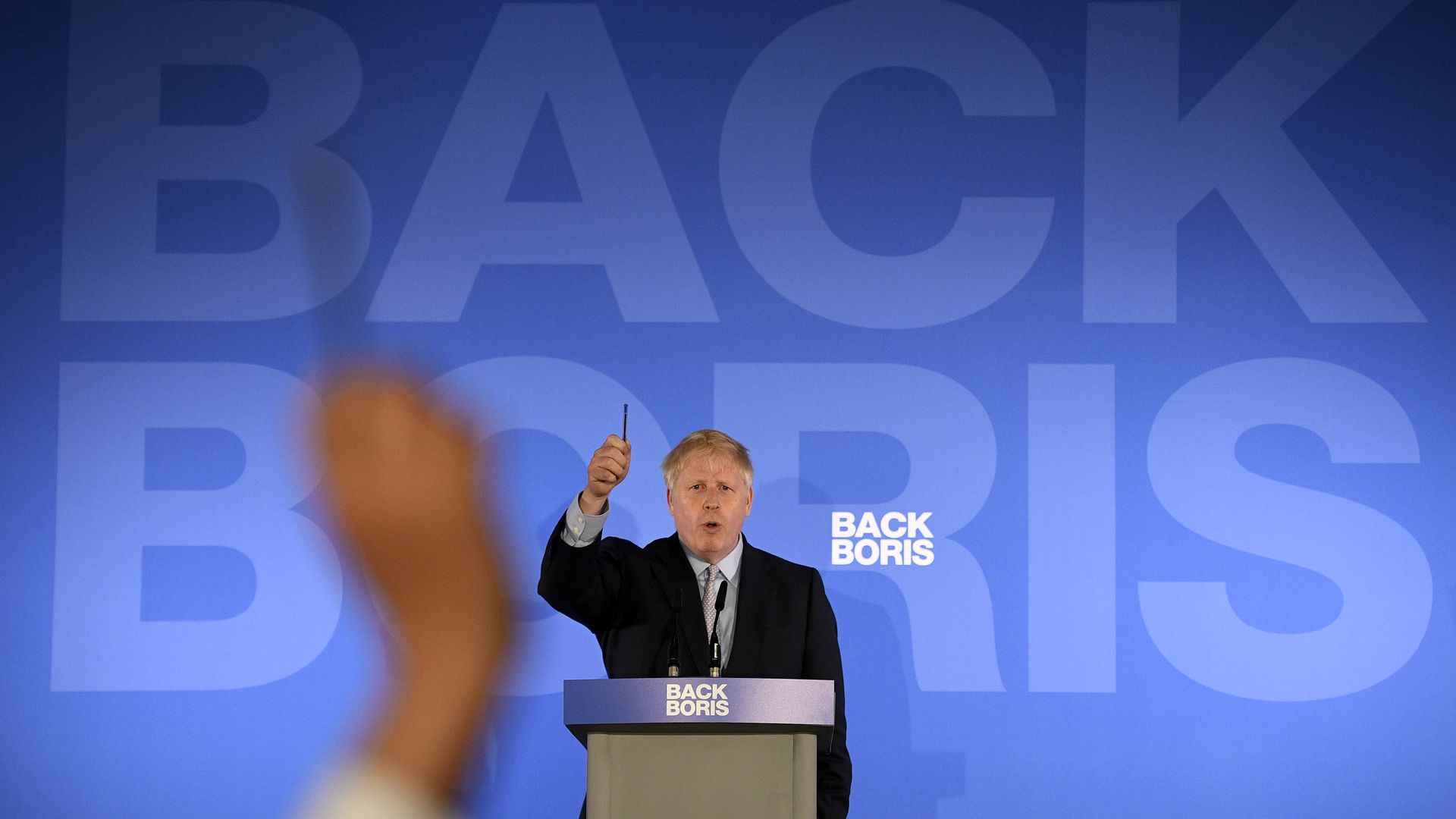 There is little standing in the way of Boris Johnson becoming Britain's next prime minister.
Why it matters: Johnson is a brash Brexiteer who has vowed to take the U.K. out of the EU without a deal if one can't be reached by October. He's often praised for his charisma and criticized for his lack of substance on policy and penchant for provocative rhetoric. He also has a friend in the Oval Office.
The latest: Step one in the two-step process to replace Theresa May as Conservative Party leader, and thus prime minister, officially began today.
Johnson got off to a massive head start after 114 Conservative Members of Parliament selected him — far more than went for Foreign Secretary Jeremy Hunt (43), Environment Secretary Michael Gove (37), or former Brexit Secretary Dominic Raab (27).
Seven candidates had enough backers to move on to the next round, with three others eliminated. The voting will continue until the list is whittled down to two, whom the party's 160,000 members will then choose between.
Between the lines: This was supposed to be the hard part for the former mayor of London, who has long been considered a shoo-in if he makes the final two.
Polled last week, 43% of the members supported Johnson, compared to 12% for Gove and 10% for Raab.
What to watch: "The pro-Brexit support is coming home to Boris, causing problems for Raab, whose candidacy is based on pursuing a hard Brexit," Ben Roback of the Cicero Group political consultancy emails from London.
"Hunt is pitching himself as the 'serious leader' and Sajid Javid, the Home Secretary, is making his compelling backstory the central pillar of his campaign. But the remaining candidates are all unquestionably chasing Boris Johnson."
"The next key development to watch is whether the less-supported candidates drop out before the second round of voting next Tuesday."
Flashback: Johnson was the front-runner to replace David Cameron back in 2016, before a bizarre split with Gove cleared the way for May.
He's long been seen by many as a punchline. I recall a State Department briefer grinning when he was told Johnson had been named foreign secretary in 2016, only to turn serious when it dawned that this wasn't a joke.
This time around Johnson's playing it safe — putting forward a serious face, avoiding major gaffes and even trimming his trademark shaggy hair.
The bottom line: If he does triumph, Johnson will take ownership of the most intractable dispute in recent British political history and a divided party that has fallen to once-unthinkable depths in the polls. There are clearly many who think he's just the man for the job.
2. Pompeo accuses Iran of tanker attacks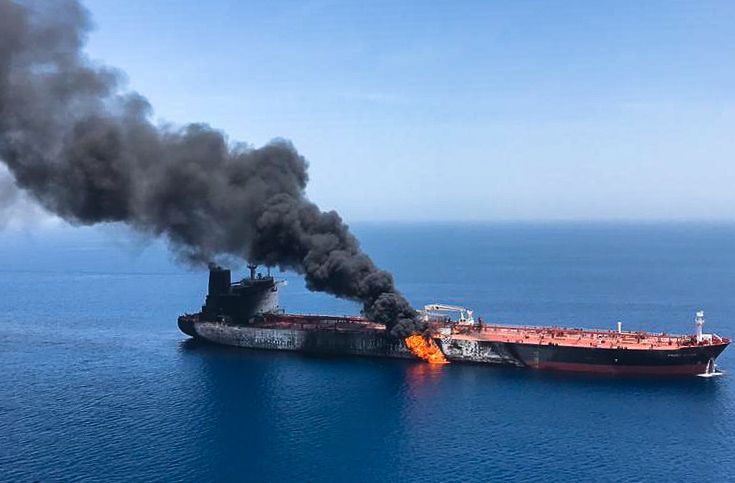 The Norwegian-owned Front Altair tanker, which was attacked in the Gulf of Oman. Photo: AFP/Getty Images
A day in which a reduction of tensions with Iran seemed possible has turned into one of the most contentious of the current standoff after two oil tankers were attacked in the Gulf of Oman. Secretary of State Mike Pompeo accused Iran of being behind the attacks during a news conference today.
Context: Fears that the U.S. was on course for war with Iran had been falling, and Japanese Prime Minister Shinzo Abe traveled to Tehran today with a message from President Trump.
But Pompeo declared Iran "a clear threat to international peace and security." He didn't present any evidence of Iranian culpability, but said the U.S. would raise the matter at the UN Security Council.
Meanwhile Iranian Supreme Leader Ali Khamenei told Abe that Iran would under no circumstances engage in negotiations with Trump.
Trump later tweeted that it's "too soon to even think about making a deal. They are not ready, and neither are we!"
The big picture: Pompeo said Iran was attempting to follow through on its threat to "disrupt the flow of oil through the Strait of Hormuz" and was "lashing out" in the face of the Trump administration's "successful maximum pressure campaign."
Between the lines: "If Iran was behind it, it is very clear the maximum pressure policy of the Trump administration is rendering Iran more aggressive, not less," Ali Vaez of the International Crisis Group told the Washington Post.
What to watch: Oil prices spiked on news of the attacks. Nearly 20% of the world's oil supply flows through the narrow Strait of Hormuz.
3. China: Two sides of a trade war
Larry Kudlow, President Trump's top economic adviser, warned today that "there may be consequences" if Chinese President Xi Jinping rejects President Trump's request for a meeting two weeks from now at the G20 summit in Japan.
Asked today at the Peterson Institute for International Economics how the Trump administration can make a deal that forces China to fundamentally change its trade practices, Kudlow said they'd have to "kick some butt."
He insisted that the effects of the trade war on consumers would be "minuscule."
I asked Kudlow whether Trump needed to reach a deal with China to make the economic pain from the trade war worthwhile. He said the tariffs were "a negotiating tool," but not "a bluff," and he hopes future administrations continue to push China on these issues.
Meanwhile, Xi's trade war point man, Vice Premier Liu He, said today that there were upsides to the "external pressures" China was facing.
"Those external pressures will help us boost our self-reliance in innovation and accelerate the pace of high-speed development."
In other news, Kudlow was asked about the protests and clashes in Hong Kong this week and said, "It makes one think of Tiananmen Square and the battle over freedom."
Go deeper: Hong Kong's people stand up to China
4. How North Korea executes people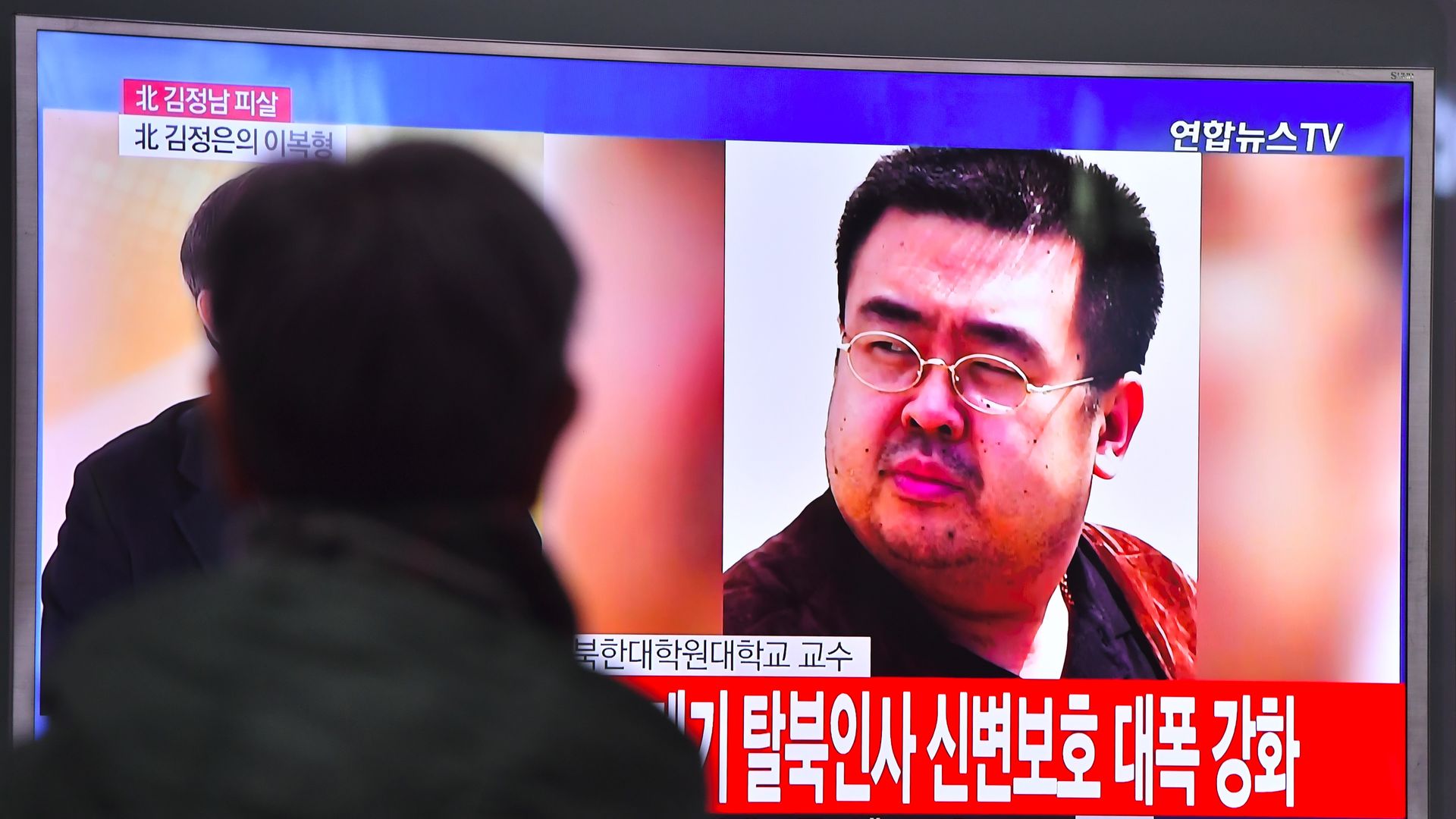 President Trump responded to reports that the CIA had recruited Kim Jong-un's late half-brother, Kim Jong-nam, by assuring North Korea that "would not happen under my auspices."
Asked later whether he objected to spying on North Korea, or simply to enlisting a family member, Trump didn't give a clear answer.
Flashback: Few Americans had ever heard of Kim Jong-nam before he was murdered with a chemical weapon in a Malaysian airport in 2017. That might be North Korea's most infamous recent execution, but it's far from the only one.
A new report from the Seoul-based Transitional Justice Working Group found 318 reports of public execution sites in North Korea over the last 4 years, Axios' Orion Rummler writes.
Details, per the report:
There were 19 reports of "public executions of more than 10 people at once." Almost all reported state-sanctioned killings were public executions by firing squad.
"Brief 'trials' almost always occur on the spot immediately before a public execution, where charges are stated and a sentence given without legal counsel for the accused."
Interviewees said executions happen most often in places like "river banks, open spaces and fields, market places, hills/mountains, sports grounds and school grounds." Those "killed by the regime are not usually returned to family members."
5. South America: Battle lines drawn in Argentina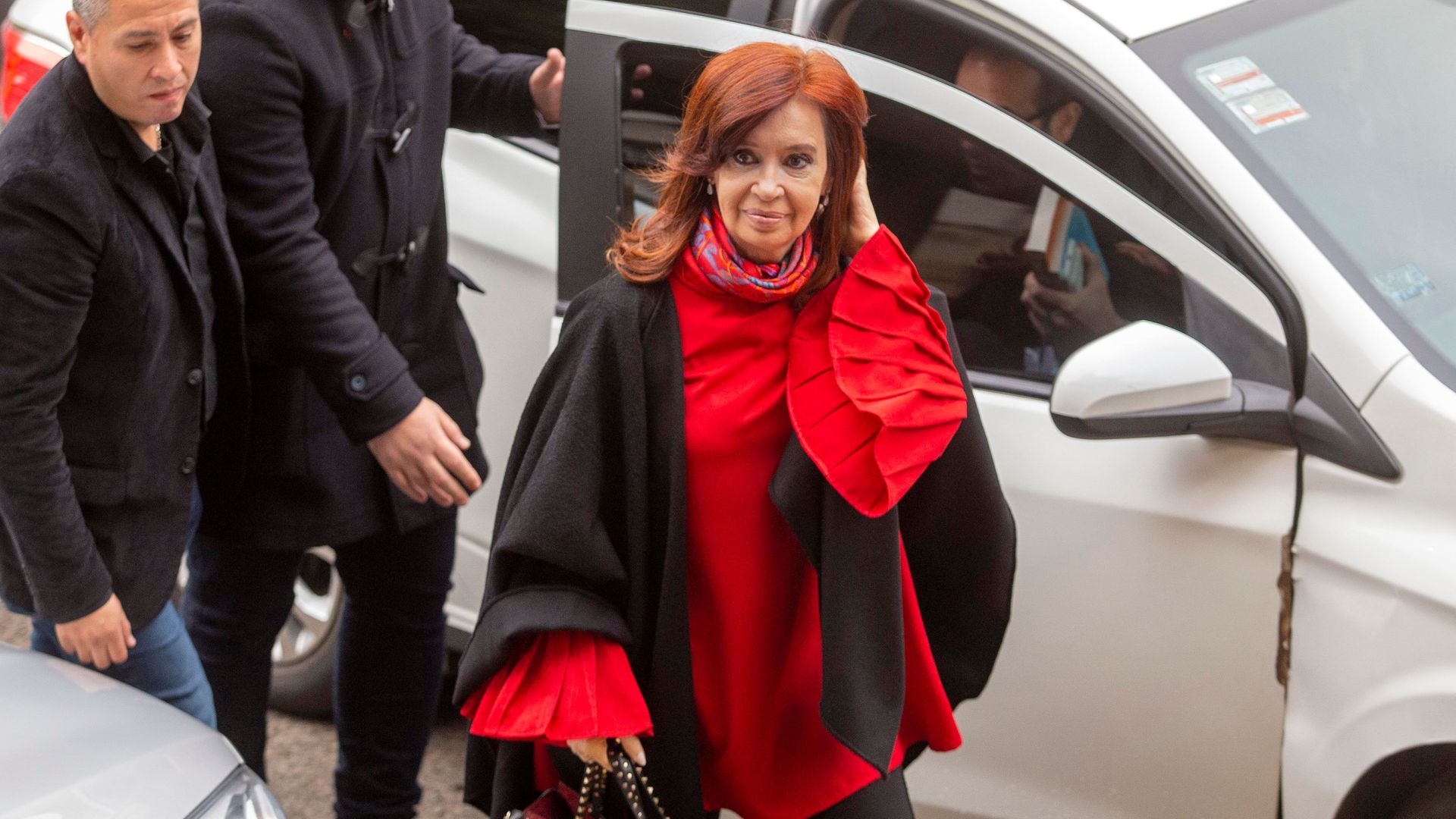 "The presidential campaign in Argentina is delivering a shock every week, even for the most seasoned analysts," Martin Aguirre, editor-in-chief of Uruguay's El País newspaper, emails from Montevideo.
"The first big shock came when former President Cristina Fernández de Kirchner, who was leading all the polls despite facing several corruption cases, decided to step aside and run as the vice presidential candidate for her former chief of staff, Alberto Fernández."
"Now the ticket reads 'Fernández-Fernández,' something that brings back memories of when Juan Perón ran for president alongside his wife, on a 'Perón-Perón' ticket."
"The reason is believed to be that Fernández realized her negatives were so high that she'd lose a second round election against the current president, Mauricio Macri."
"The second shock came earlier this week, when Macri announced that his vice president would be Miguel Angel Pichetto."
"Pichetto is a senator from the Peronist opposition, who was until recently very vocal in his defense of Cristina Fernández — to the point that he cast a key vote to save her from facing charges in court."
"Macri's decision was very well-received by the markets, and Argentinean stocks and currency rebounded strongly after weeks of turmoil."
The big picture: Macri, a center-right pragmatist, was viewed by many as an economic savior when he took power four years ago, but he has presided over steep declines. His supporters blame the mess left behind by his predecessor, Fernández.
6. Belt and Road: The view from Malta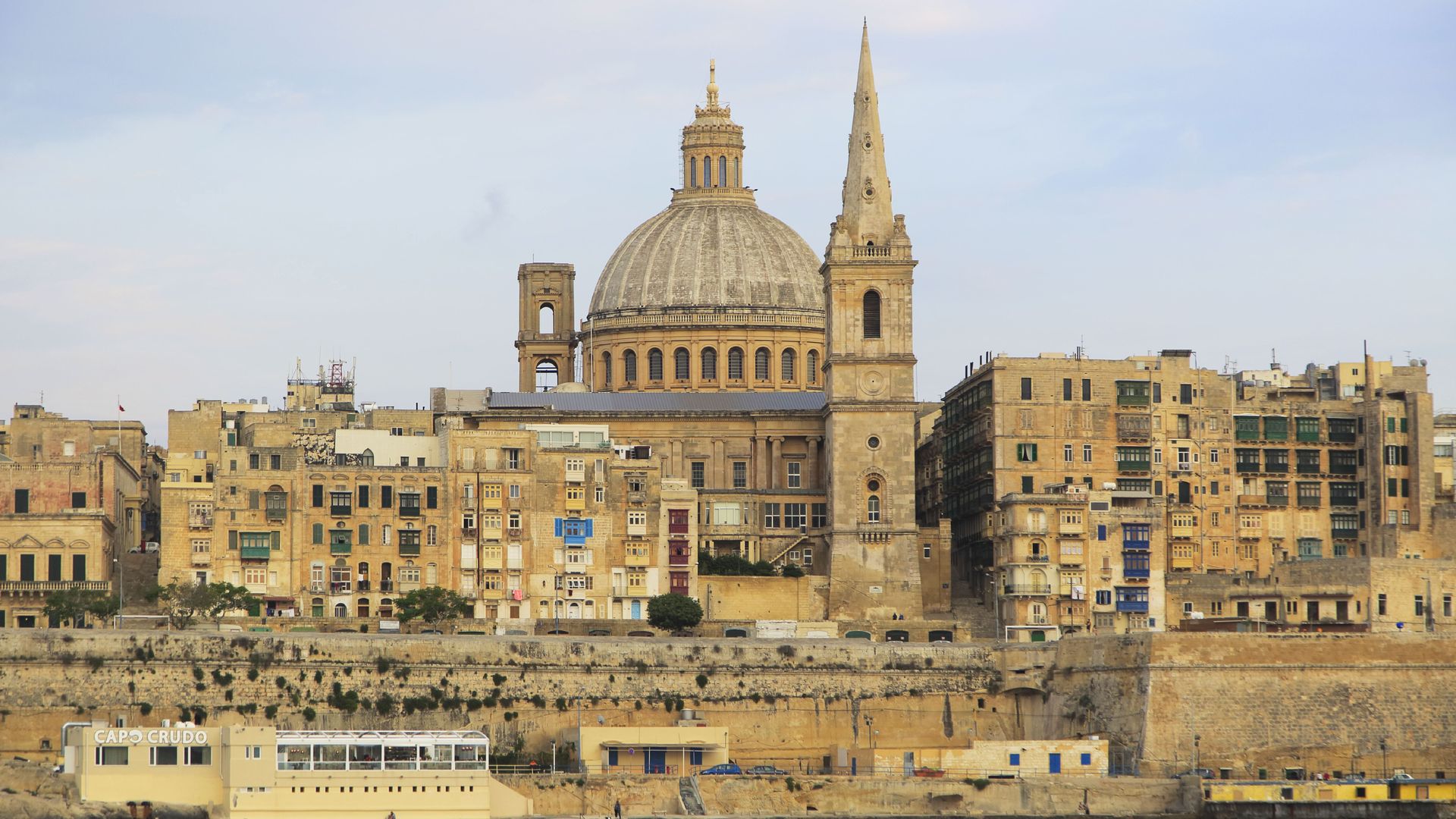 The debate around China's global ambitions continues to heat up in Washington, with the Trump administration making a public case that countries should reject Chinese investment and influence. But is that message breaking through?
Zoom in: Malta, the EU's smallest member state, is among several countries considering joining China's Belt and Road infrastructure initiative, but Transportation Minister Ian Borg told me the matter wasn't raised in any of his meetings this week in Washington.
Borg said there'd been "no decision yet" on Belt and Road, though China had made a major investment in Malta's state electricity company.
Asked whether he'd prefer investment that comes from, say, Berlin or Beijing, Borg said Malta would consider any sound investment that "falls squarely within the EU framework."
Pressed on the point, Borg laughed and said, "I'm in America because I want to attract American investment. I didn't visit China yet, and this is my second time here."
7. Stories we're watching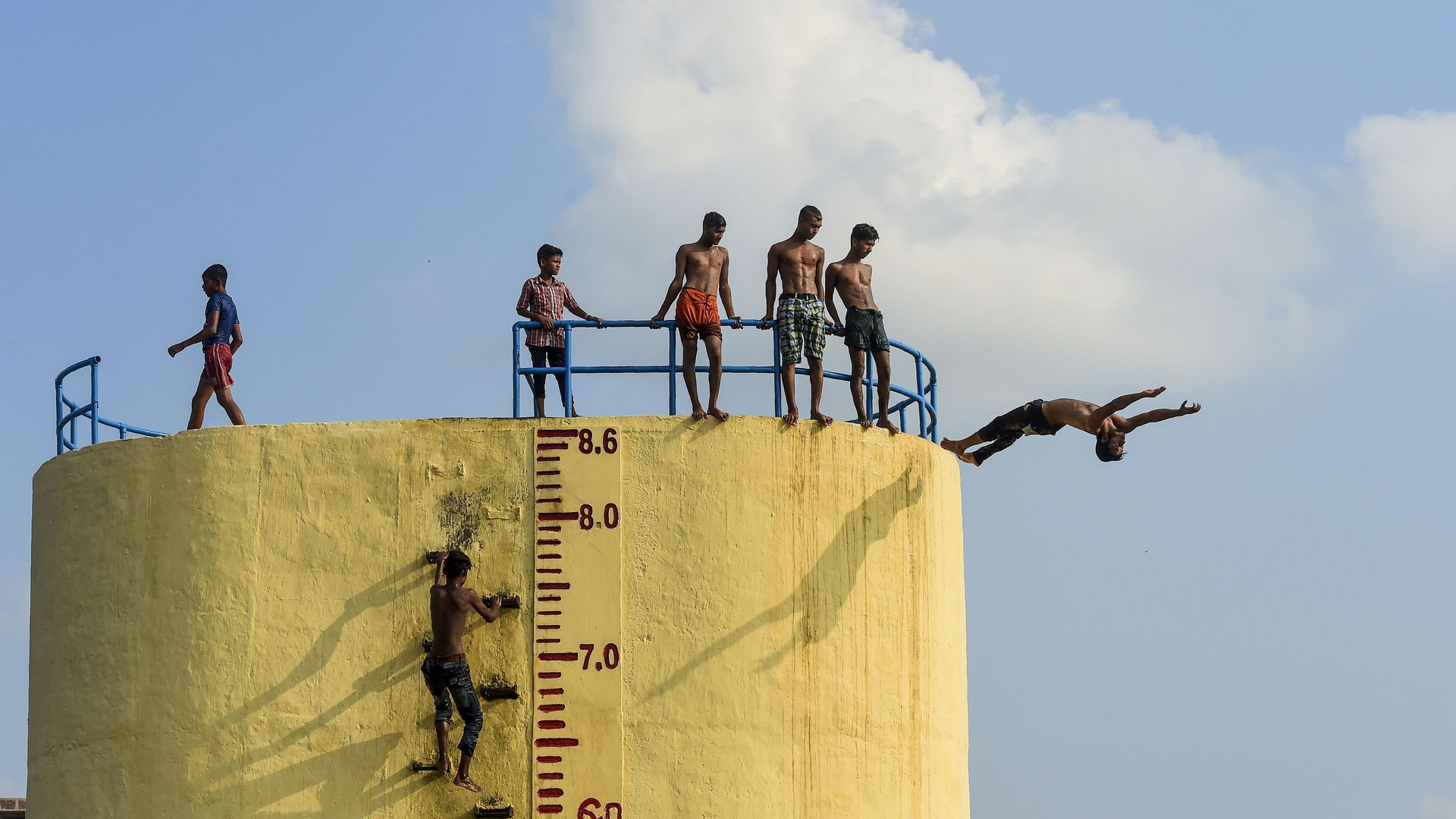 Quoted:
"Just imagine how many people in Russia are in jail for nothing, for reasons invented by our government."
— Tatyana Malshava, who was among those who turned out yesterday to protest police tactics following the arrest of journalist Ivan Golunov. More than 400 of the
protestors were themselves arrested
.
Thanks for reading — see you back here on Monday.