Axios World
September 30, 2021
Welcome back to Axios World.
We've got a jam-packed edition for you tonight (1,895 words, 7 minutes).
Let's start with a look at where in the world Biden's team has (and hasn't) been traveling.
New arrival? Subscribe
1 big thing: Where Biden's team is (not) traveling
The travel itineraries of the Biden administration's top foreign policy officials show a clear pattern:
Early engagement with long-standing partners in Europe, the Middle East and East Asia.
An effort to deepen relationships in Southeast Asia.
Limited emphasis on Latin America beyond migration issues.
Little high-level attention at all on sub-Saharan Africa.
Breaking it down: With the pandemic still a concern, President Biden has traveled only for summits: NATO in Belgium, the G7 in the U.K., and Vladimir Putin in Geneva. He's expected to return to Europe for the G20 in Italy (Oct. 29–Nov. 1) and the UN climate summit in the U.K. (Nov. 1–3).
Secretary of State Tony Blinken has visited 22 countries, mostly in Europe, the Middle East and the Indo-Pacific, with one stop in Latin America (Costa Rica).
India, Japan and South Korea have all hosted multiple high-level visitors, and several officials have made trips to Southeast Asia, all of which underscore Biden's focus on China.
Worth noting: No senior officials have visited Canada, though Biden met virtually with Prime Minister Justin Trudeau and saw him at the G7.
For an administration that is trying to shift attention and resources away from the Middle East, there have been quite a few high-level visits to that region (some came in the context of the Afghanistan withdrawal).
National security adviser Jake Sullivan this week became the most senior Biden official to visit Saudi Arabia and meet Crown Prince Mohammed bin Salman.
Meanwhile, with the exception of Egypt, none of the eight senior officials whose travels we tracked have stepped foot in Africa.
State of play: The administration has not ignored the continent entirely.
Victoria Nuland, the third-ranking State Department official, visited four African countries in August, and Biden held virtual "visits" in Nigeria and Kenya in April.
The civil war and humanitarian crisis in Ethiopia has attracted significant high-level attention, as well as visits from USAID administrator Samantha Power (who has also visited Sudan) and Jeffrey Feltman, special envoy for the Horn of Africa.
Yes, but: "As long as aid and not investment is the basis of the relationship, making the case for Africa's strategic importance will be difficult," says Gyude Moore, a fellow at the Center for Global Development. "It is a bit disappointing since Biden was supposed to be an improvement on Trump."
By contrast, Chinese foreign ministers typically take their first overseas trip to Africa, other top officials visit regularly, and African and Chinese leaders will gather in Senegal later this year for a triennial summit.
Just 4% of China's global trade is with Africa, Moore says, but "you wouldn't know from the attention China lavishes on the continent."
The bottom line: "It's difficult to convince the U.S. government that Africa is important enough to warrant these exchanges," says Moore, who is also a former government minister in Liberia. "This is not a Biden problem. This is an American government problem."
The White House and State Department did not comment for this story.
Editor's note: In addition to Biden, Sullivan, Blinken and his deputy Wendy Sherman, we tracked the travels of Vice President Harris, Defense Secretary Lloyd Austin and UN Ambassador Linda Thomas-Greenfield. We also included climate envoy John Kerry, who has Biden's ear and is keeping a particularly busy travel schedule.
2. Erdoğan takes a swing at Biden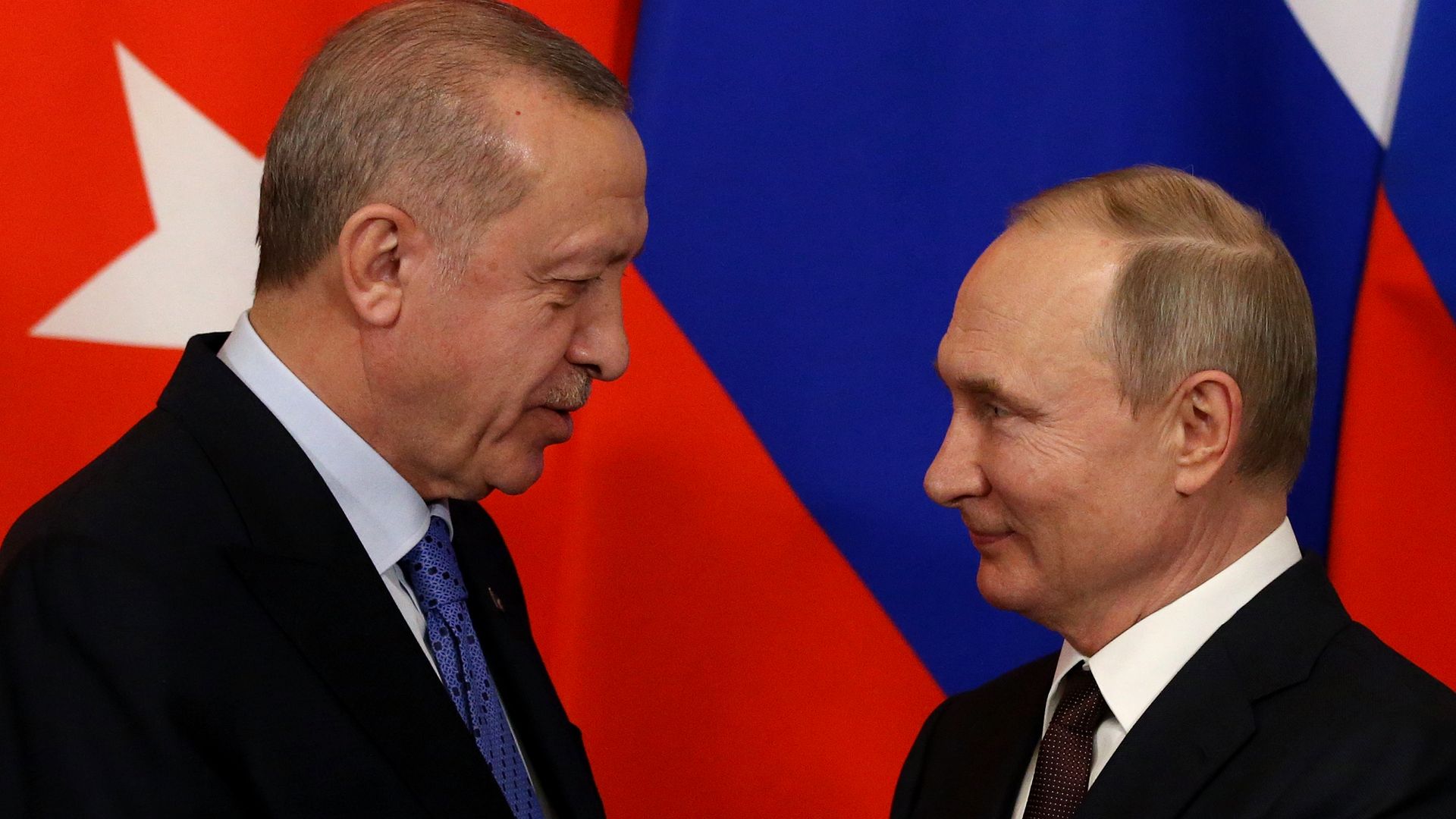 Fresh off his first visit with Vladimir Putin in over a year, Turkey's President Recep Tayyip Erdoğan accused a top Biden official of "supporting terrorism" and demanded the U.S. pay $1.4 billion for kicking Turkey out of a stealth fighter jet program, Axios' Zach Basu writes.
Driving the news: Speaking to reporters on his way back from Sochi, Erdoğan condemned Brett McGurk, the White House coordinator for the Middle East and North Africa and former anti-ISIS envoy, for allying the U.S. with Kurdish militias in Syria who Turkey considers a top threat to national security.
For the U.S., a far more pressing issue is Erdoğan's purchase of Russia's S-400 missile defense system, a move that triggered sanctions and Turkey's removal from a program that develops F-35 fighter jets.
"We made a $1.4 billion payment, what will become of that?" Erdoğan told reporters. "We did not — and do not — earn this money easily. Either they will give us our planes or they will give us the money."
How we got here: Biden's relationship with Erdoğan began with a "cold shoulder" for a man he called an "autocrat" on the campaign trail.
It took until April for Biden to speak to Erdoğan — a courtesy phone call that the president delivered one day before he formally recognized the Armenian genocide, enraging Turkey.
Relations improved after Biden met with Erdoğan at the NATO summit in June, with the administration muting its criticism as it sought Turkey's cooperation in securing Kabul's airport.
But Biden's refusal to meet with Erdoğan at the UN General Assembly last week — denying the image-conscious strongman a photo op — prompted a new outburst.
"In my 19-year-long life as a ruler, as prime minister and president, the point we arrived in our relations with the U.S. is not good," Erdoğan told reporters Wednesday. "I have worked well with Bush Jr., with Mr. Obama, with Mr. Trump, but I can't say we have a good start with Mr. Biden."
What's next: They'll see each other at the G20 next month.
3. Global news roundup: Missing the target
1. The WHO was aiming to have at least 10% of the population of every country vaccinated by the end of September, but 55 mostly African countries still haven't hit that mark.
2. Ethiopia announced today that it would expel seven UN officials for "meddling" in the country's affairs after the UN's aid chief accused the government of intentionally blocking aid to starving people in the war-torn Tigray region.
UN Secretary General Antonio Guterres said he was "shocked" by the decision, and White House Press Secretary Jen Psaki reiterated a sanctions threat for officials who interfere with aid deliveries.
My thought bubble: The 2019 Nobel peace laureate is expelling UN officials for pressing him not to use starvation as a weapon of war.
3. Japan's next prime minister is Fumio Kishida, a former foreign minister and the consensus pick of the ruling Liberal Democratic Party (LDP). He isn't a particularly popular (or well known) choice with the public.
The big picture: The LDP's dominance and lack of a strong opposition essentially means that a small number of party insiders tend to pick the prime minister.
4. Tunisia's new prime minister is Najla Bouden Romdhane, the first woman to hold the job. For now, President Kais Saied is still ruling by decree.
5. Germany's far-right AfD party says it will pursue legal action against the firm it hired to distribute millions of fliers ahead of last Sunday's election — but which turned out to be a group of activists that now describes itself as "the world market leader in not distributing Nazi fliers."
Bonus: Where in the world?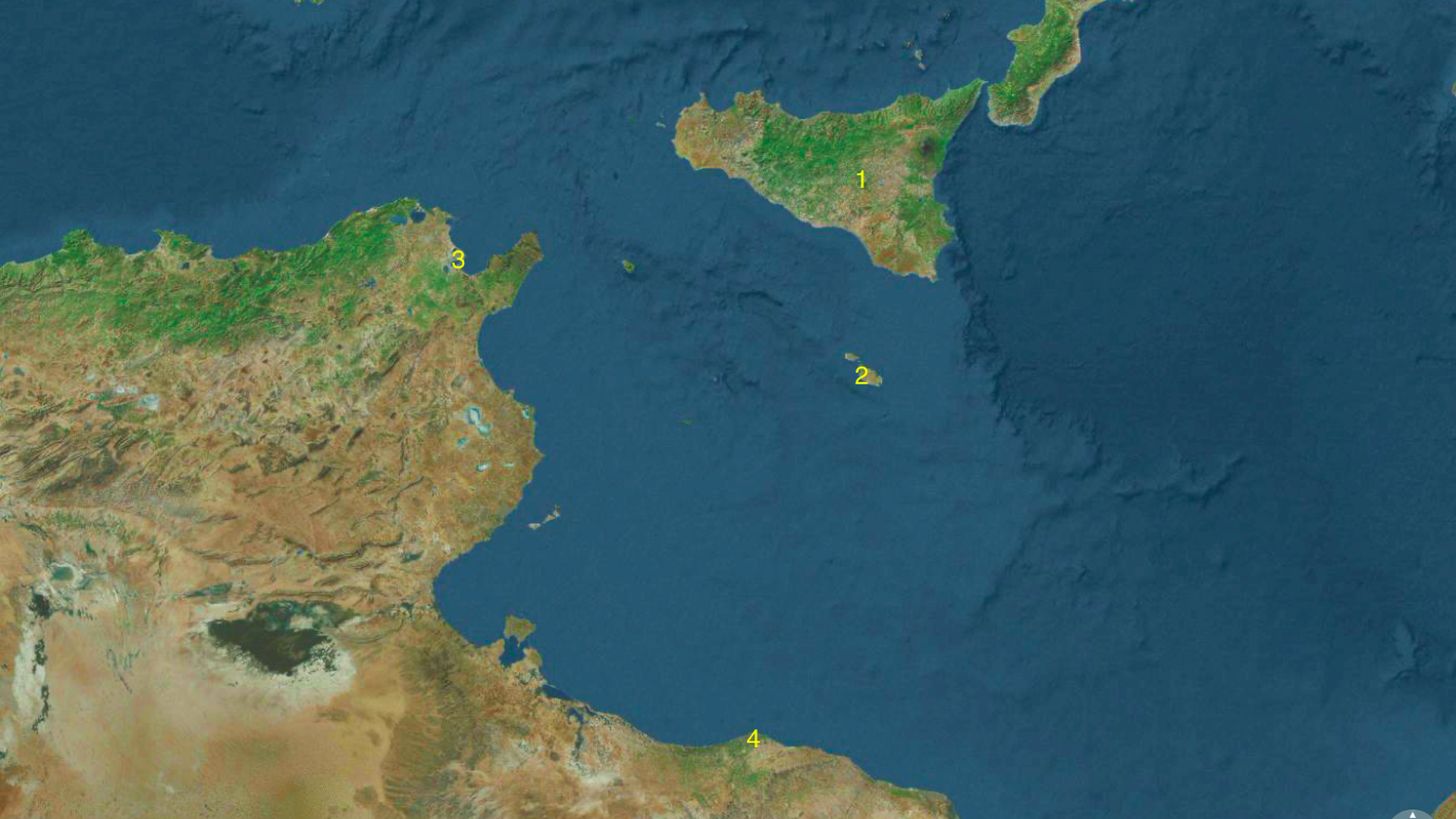 I'm in the mood for a trip to the coast, so let's visit two islands (1,2) and two capital cities (3,4) at the intersection of two continents.
Scroll to the bottom for the answer.
4. Interview: Panama FM says bigger wave of Haitian migrants is coming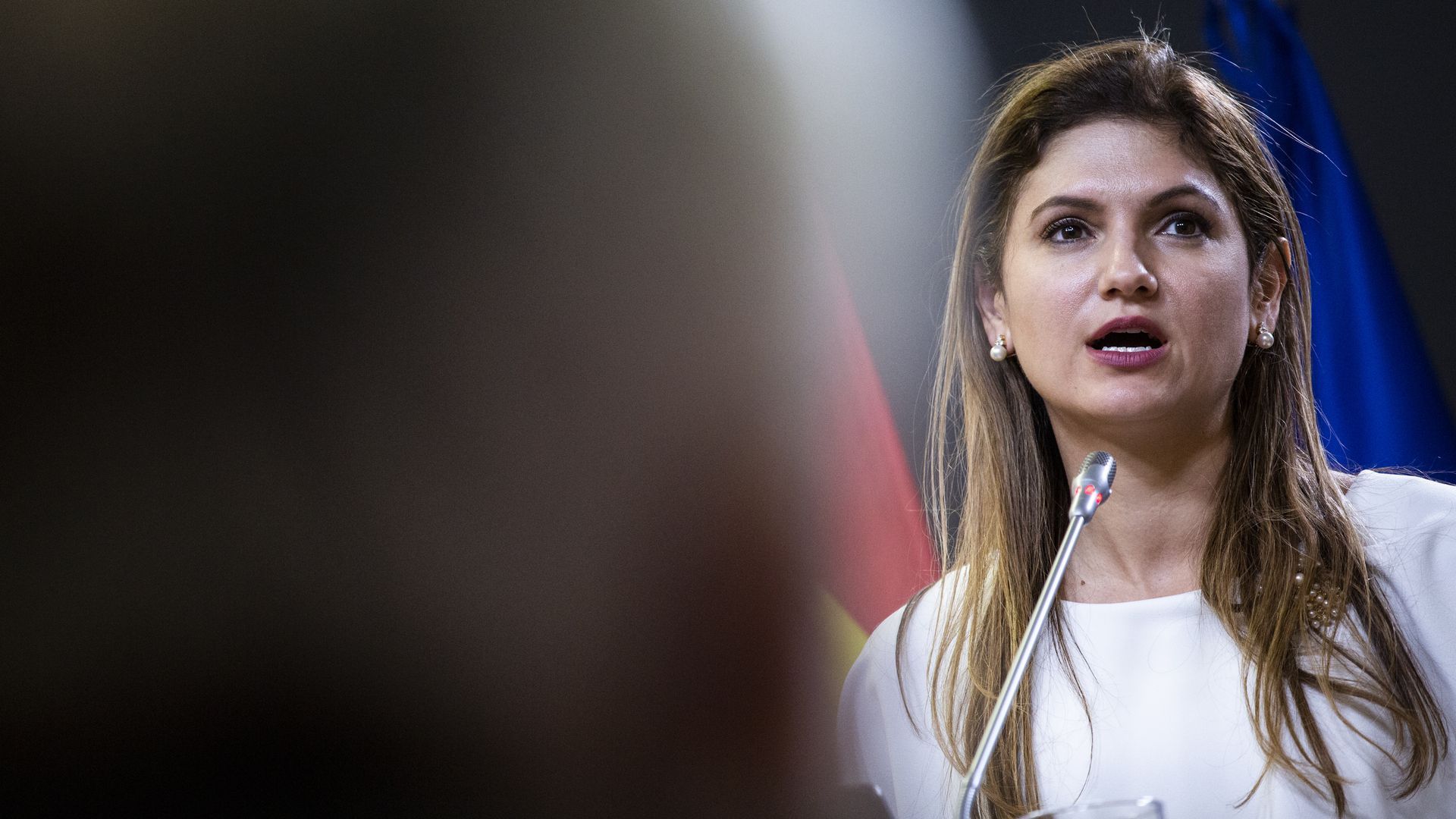 Panama Foreign Minister Erika Mouynes told Axios' Stef Kight that the Biden administration shouldn't have been caught off guard by the Haitian migrant crisis, because "we sounded the alarm when we should have."
Why it matters: Mouynes said there are as many as 60,000 migrants — mostly Haitian — still poised to make their way north to the U.S.-Mexico border.
Panama is expecting more migrants to cross through the dangerous jungles of the Darién Gap this month than in all of 2019 — nearly 27,000, according to Panamanian government estimates provided to Axios.
More than 85,000 migrants have already passed through Panama since January — most of them Haitians.
The foreign minister wrapped up meetings Monday and Tuesday in Washington with Homeland Security Secretary Alejandro Mayorkas and members of Congress, among others.
Mouynes expressed her exasperation to Axios after spending months warning leaders across the hemisphere of the impeding Haitian wave.
"We've engaged with every single authority that we can think of, that we can come across, to say, 'Please, let's pay attention to this,'" Mouynes said.
What to watch: Pro-migration messaging from the U.S. and some South American nations has played a role in the uptick in people moving north.
It's unclear whether the Biden administration's recent emphasis on deportations of thousands of Haitians, and Mayorkas' own warnings about not being admitted to the United States, will change anything.
Mouynes said Mayorkas asked for her assessment of that messaging during their meeting this week.
5. Data du jour: Young Americans are weary of war
According to a new survey from the Eurasia Group Foundation, significant majorities of 18- to 29-year-old Americans...
Think the U.S. should reduce its troop presence in Asia (63%) and let allies take over more security responsibility as China rises.
Think the U.S. should decrease defense spending (55%) rather than maintain (34%) or increase (11%) it.
Think the U.S. should negotiate with Iran (65%).
Are critical of drone strikes (57%) either because of the danger to civilians or to America's reputation. (Older groups are generally pro-drone.)
Think the U.S. is not an exceptional nation (60%), in contrast to the 78% of Americans over 60 who think the U.S. exceptional.
Other key findings:
52% of Americans think the U.S. should respond militarily if Russia invades a NATO ally in the Baltics.
42% think the U.S. should defend Taiwan militarily if it's attacked by China vs. 16% who say no (the rest are unsure).
Methodology: The survey was of a geographically and demographically diverse national sample of 2,168 voting-age adults between Aug. 27–Sept. 1.
6. World of sports: Moldova beats Madrid. Sort of.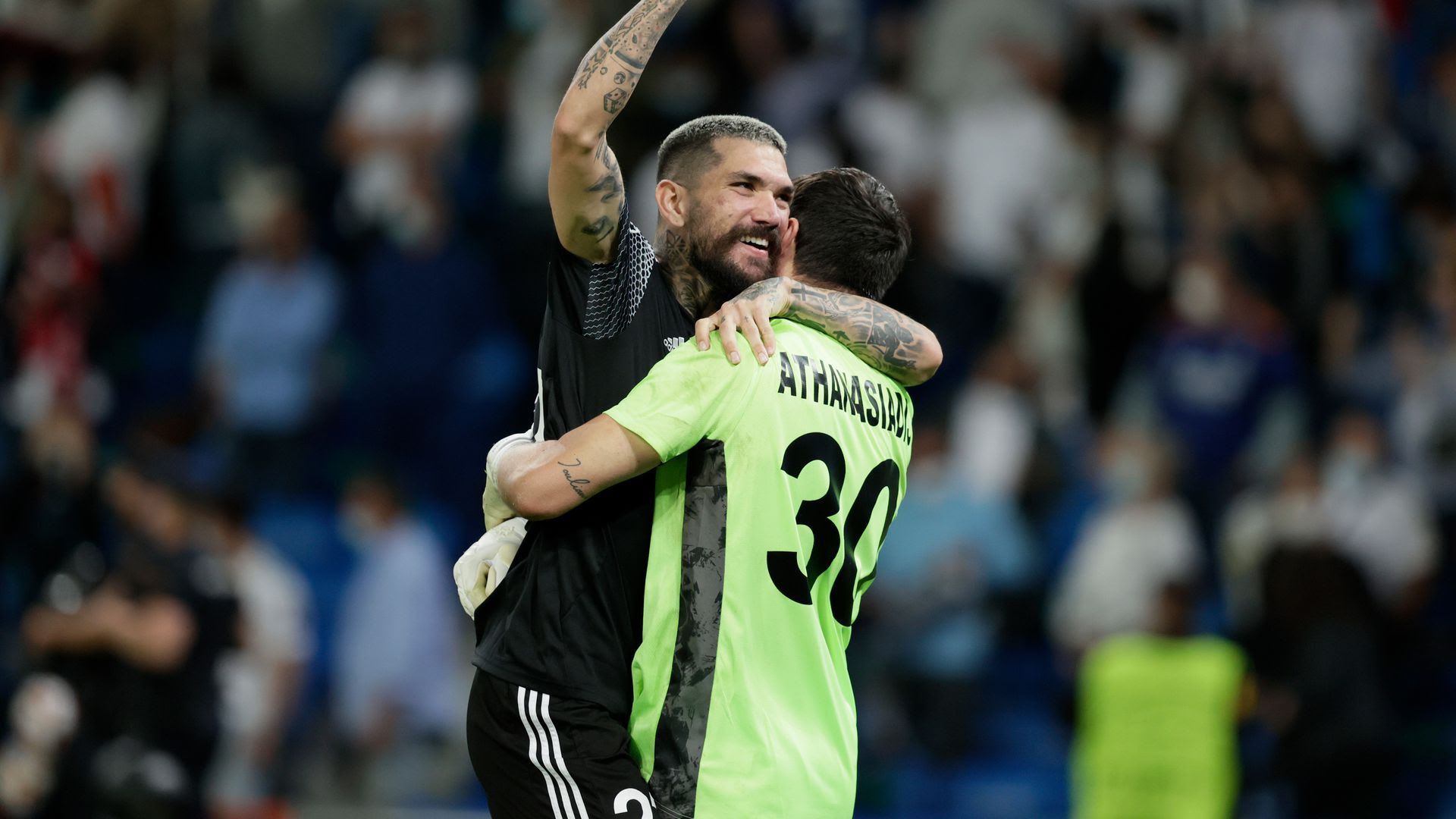 A little-known club from Moldova shocked Real Madrid 2-1 on Tuesday in Europe's most prestigious club soccer competition, the Champions League.
What a wonderful Cinderella story, right? Well, as Axios Sports author Kendall Baker explains, it's more complicated than that.
The club, Sheriff Tiraspol, is based in the capital of Transnistria, a pro-Russia breakaway state with its own currency, flag and government. It's part of a conglomerate run by a former KGB agent who has a local monopoly on everything from supermarkets and gas stations to TV channels.
Sheriff has won the Moldovan league in every season but two this century with a roster full of foreign imports. It plays in a beautiful stadium while rivals play on decrepit fields.
The huge gap between Sheriff and its opponents has contributed to widespread match-fixing.
Sheriff will be paid handsomely for its Champions League play, as will Moldova's soccer federation — an outcome that could improve the lives of kids (more youth programs) and pros (better facilities) alike.
The other side: The money might only widen the gap.
7. Stories we're watching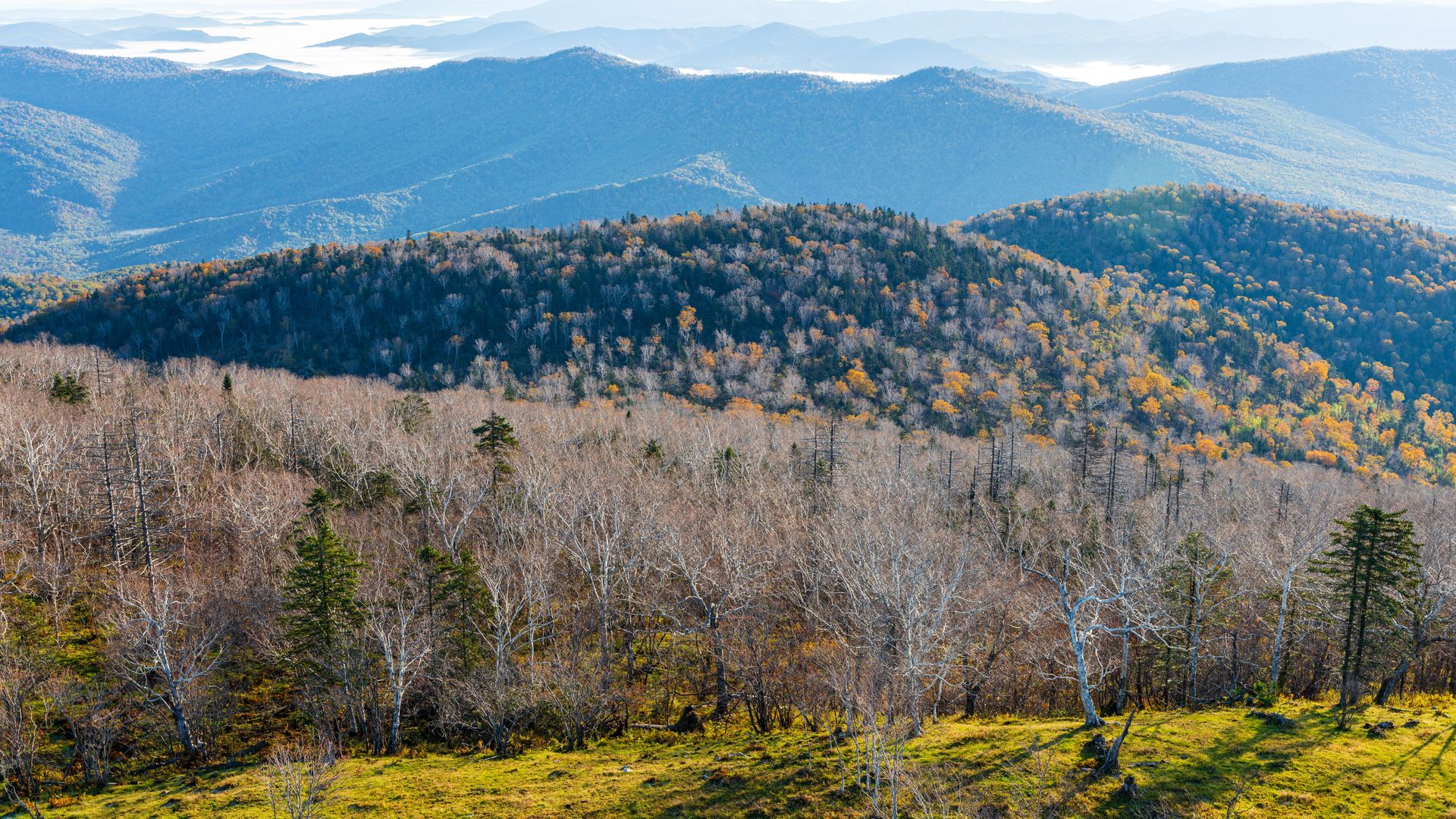 Quoted:
"It's very low. My antibody level, for example, is above 1,000."
— Recep Tayyip Erdoğan today to Vladimir Putin, who had boasted that his level was "around 15 or 16"
"Specialists told me mine was high. I spent a whole day with an infected person and didn't get sick. ... So if you're going to get re-vaccinated, do it with Sputnik V."
— Putin to Erdoğan, saying the scales of measurement must be different.
"I took BioNTech for that."
— Erdoğan
"Next time then."
— Putin
Answers: Sicily, Malta, Tunis and Tripoli.