Welcome to Axios World, where two evenings a week we break down what you need to know about the big stories from around the globe.
Thanks for joining me! Please tell your friends and colleagues to sign up here, and I'd love your tips and feedback: lawler@axios.com.
1 big thing: Ballots and bullets in Zimbabwe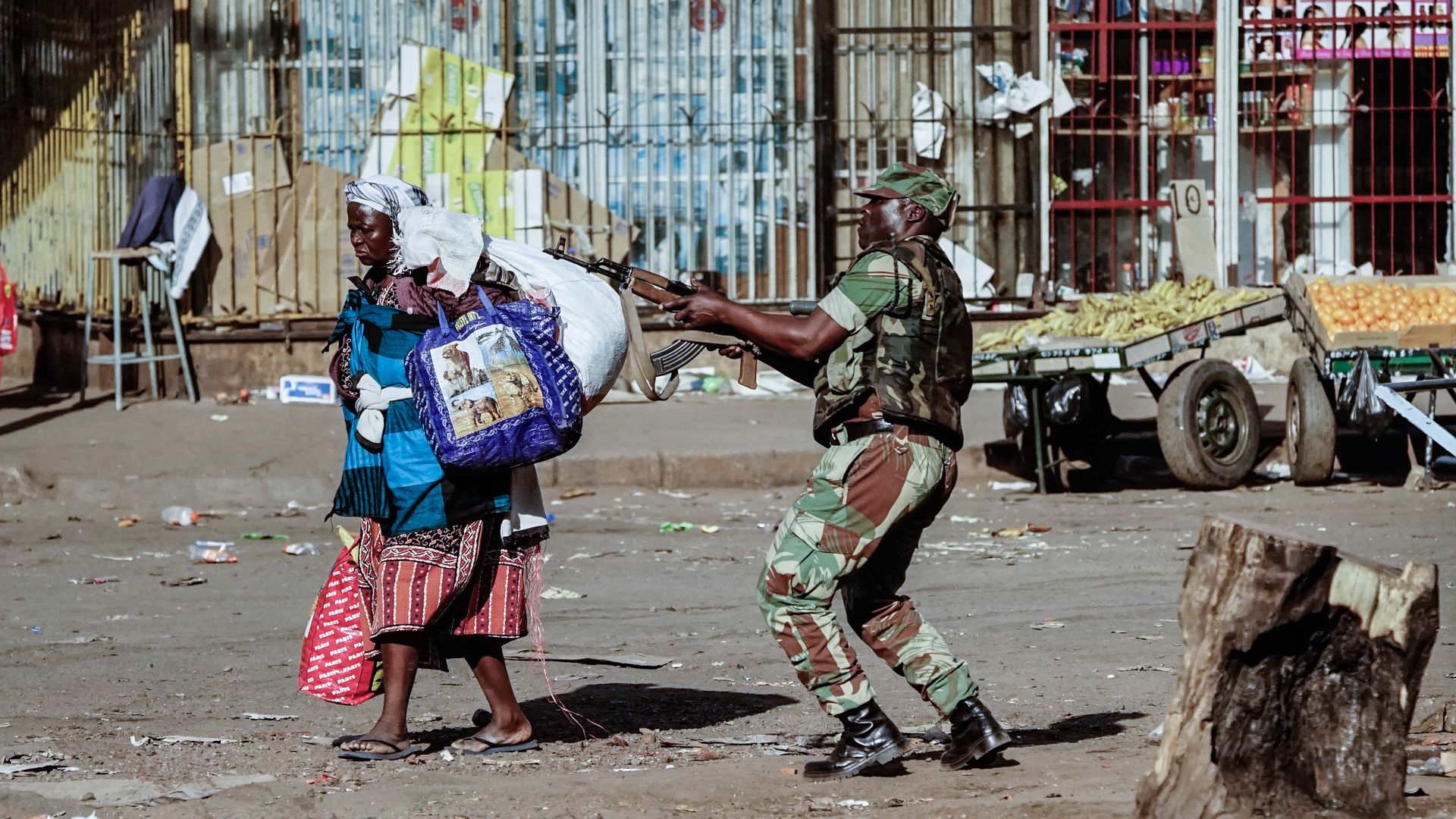 Incumbent Emmerson Mnangagwa has won Zimbabwe's presidential election, according to results read out moments ago by the country's electoral commission.
The backstory: The election, the first since the end of Robert Mugabe's 38-year reign, had seemed to represent a historic opportunity for the southern African country. It has thus far yielded only anger, fear and violence.
The opposition, led by 40-year-old Nelson Chamisa, has already rejected the results, which showed him securing 44% to

Mnangagwa's 51%.
Monday's vote proceeded relatively smoothly. Then, order broke down. Al Jazeera's Hamza Mohamed reports from Harare:
"On Wednesday, after electoral officials announced that

Mnangagwa's

ruling ZANU-PF party won most of the parliamentary vote, opposition supporters who claim Monday's poll was rigged took to the streets, burning tires and throwing stones before riot police and the army intervened. Witnesses say soldiers fired live bullets."
"Chamisa claimed victory before the release of official results. Meanwhile, 

Mnangagwa

said he was in talks with the opposition to find ways to defuse the situation."
The FT's David Pilling describes the stakes for a country in the grips of a currency crisis, and with not nearly enough jobs to support its well-educated population:
"Down one fork, if a clear winner emerges in a poll deemed to pass muster, Zimbabwe could shed its pariah status and be reinstated into the global community. That could mean a restructuring of debt arrears and a potential flood of investment into one of Africa's most promising economies."
Down the other, "lies a progressive falling out with western capitals — although not necessarily with China. Zimbabwe would then hunker back down into an isolationist sulk."
History has loomed over this election — decades of one-party rule, Mnangagwa's role in enforcing Mugabe's repression, ZANU-PF's history of rigging elections. After the most open election Zimbabwe has seen in decades, it remains unclear how much has changed.
2. U.S. and Turkey: The worst of friends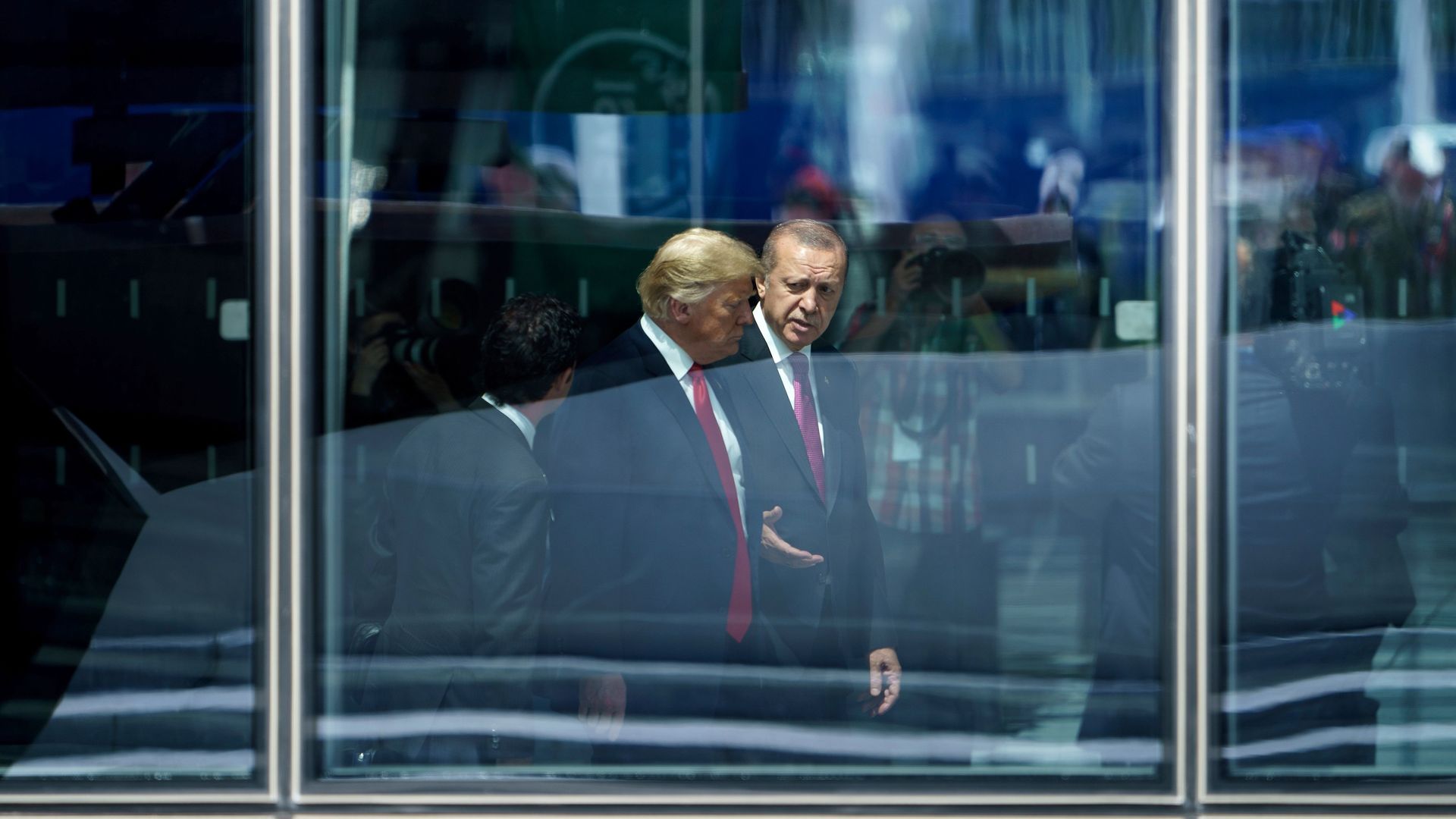 Turkey is threatening to retaliate over sanctions levied by the U.S. on two cabinet ministers in response to the prolonged detention of American pastor Andrew Brunson.
Catch up quick: Brunson was detained after the 2016 coup attempt against Turkish President Recep Tayyip Erdoğan. He's now under house arrest and facing terrorism and espionage charges, which the U.S. says are baseless. Trump announced the sanctions yesterday, sending Turkey's spiraling currency even lower amid fear of further escalation.
The bigger picture: Amanda Sloat of Brookings writes in Foreign Affairs that Washington has "tried to exercise strategic patience" as Erdoğan has pulled Turkey in an increasingly authoritarian direction, but "that patience is wearing thin, as Ankara has repeatedly failed to respond to Washington's concerns," particularly over Brunson's case.
Turkey's concerns include U.S. backing in Syria for Kurdish forces that are viewed by Ankara as terrorists and Washington's refusal to extradite Fethullah Gülen, a cleric now living in Pennsylvania who Turkey claims masterminded the coup attempt.
"The United States has begun questioning whether Turkey is still a reliable ally," Sloat writes, as Erdoğan conducts "hostage diplomacy" in Brunson's case and plans to buy a sophisticated missile defense system from Russia over NATO objections.
Smart take, from Soner Cagaptay of the Washington Institute: "Since the late 1940s, not Europe but the U.S. has anchored Turkey to the West. Now, coming at a time of historic tensions between the West and Islam, a potential rupture between Turkey and U.S. could result in the unmooring of Turkey from the West."
3. Global: The cost of a morning commute
Estonia has become the first country in the world to offer free public transport to all residents, a move the Baltic state says will reduce air pollution and traffic congestion while boosting commerce in its city centers.
You may well be commuting while you read this — how did your fare stack up? Axios' Zach Basu ran the numbers from big cities around the world:
Why it matters: The metro can be a touchy subject (just ask D.C. residents), and for good reason. Public transportation is a huge factor in making major cities affordable and convenient places to live and work. Combine rapid urbanization with crumbling infrastructure and you've got a tricky and expensive problem to solve.
The big picture: Around the world, national and municipal governments are experimenting with ways to cope with growing transportation demands in the face of economic and environmental pressures — some more successfully than others.
4. China: Driving the trade war
China today threatened stiff repercussions if the U.S. follows through with President Trump's proposal to impose tariffs of 25%, rather than 10%, on $200b in Chinese goods. Even if this is all just a prelude to negotiations, some long-term effects of this trade war can already be seen.
American-made cars are among the hardest hit products in the trade war, Axios' Erica Pandey writes, facing a 40% import tariff in China, and some automakers are weathering the storm by doubling down on Chinese operations.
BMW expects a 5–10% bump in Chinese sales this year, despite tariffs, because it has shifted some manufacturing from South Carolina to Asia, Reuters reports.
Tesla wants to build a massive Chinese factory, and those plans "have taken on more urgency" because of the trade war, Bloomberg reports.
Volkswagen says it will invest $12 billion in the Chinese market as it plots its move to electric vehicles.
Why it matters: Moving into China is a natural step for big automakers looking to crack the world's fastest-growing car market, but tariffs provide a big incentive to accelerate those plans. Their investments in factories and in research and development on Chinese soil could give China a long-term advantage when it comes to building the electric and autonomous vehicles of the future.
Bonus: Watch this space
A Chinese company has dropped its bid to acquire an advanced manufacturer in Germany as the German government prepared to veto the deal.
Why it matters: The U.S. has stepped up review procedures to block Beijing from acquiring U.S. tech and defense secrets. This is the first time Germany has used its veto power in such a way, and that could have a "snowball effect" across Europe, Larissa Brunner, an analyst with Oxford Analytica, told Caixin Global.
5. Asia: Plundered from Nepal, displayed in New York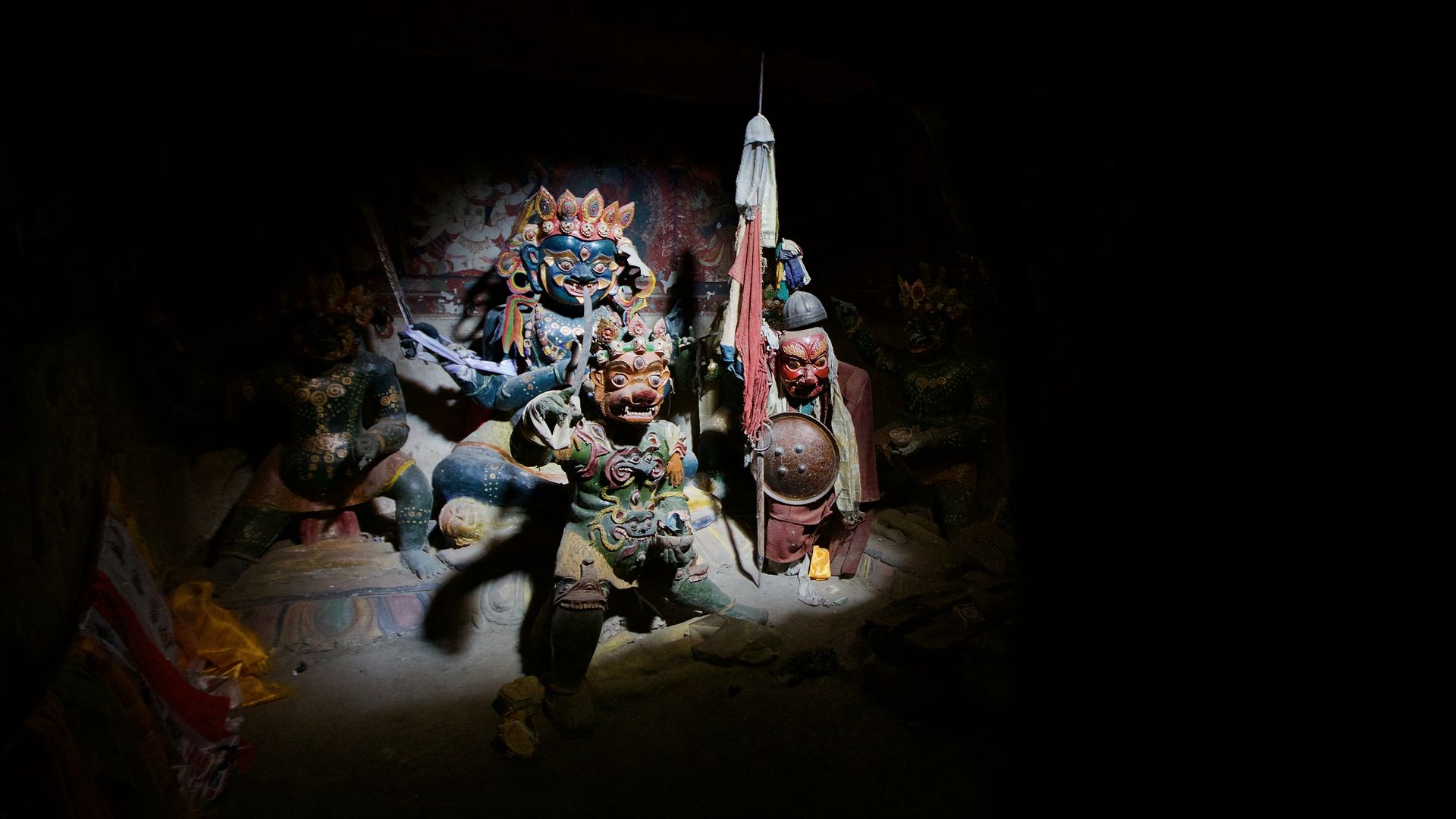 About 80% of Nepal's religious artifacts are believed to have been stolen and sold abroad, with plundered ancient statues fetching millions on the black market, according to an investigation from Al Jazeera's 101 East.
Behind the scenes: The investigation led to police raids on antiquities shops in Kathmandu, where ancient treasures were on sale. Police announced in a subsequent press conference that of the many artifacts sold illegally, "some made it to the USA, and some of those to museums."
Why it matters…
"We're suffering cultural heritage loss at an alarming rate," Tashi Bista, who has spent the last decade studying the region's religious icons and fighting to protect them, told Al Jazeera. "Because items that are such a big part of our living heritage have such a large market value, it somehow fuels the happening of such things."
"The more ancient the things are in religious places of worship, the more stories and histories and tales of their worship have been passed down for generations," Bista adds. "And when it's gone, of course the faith is also gone."
Go deeper: Watch the report.
6. Middle East: ISIS shows its strength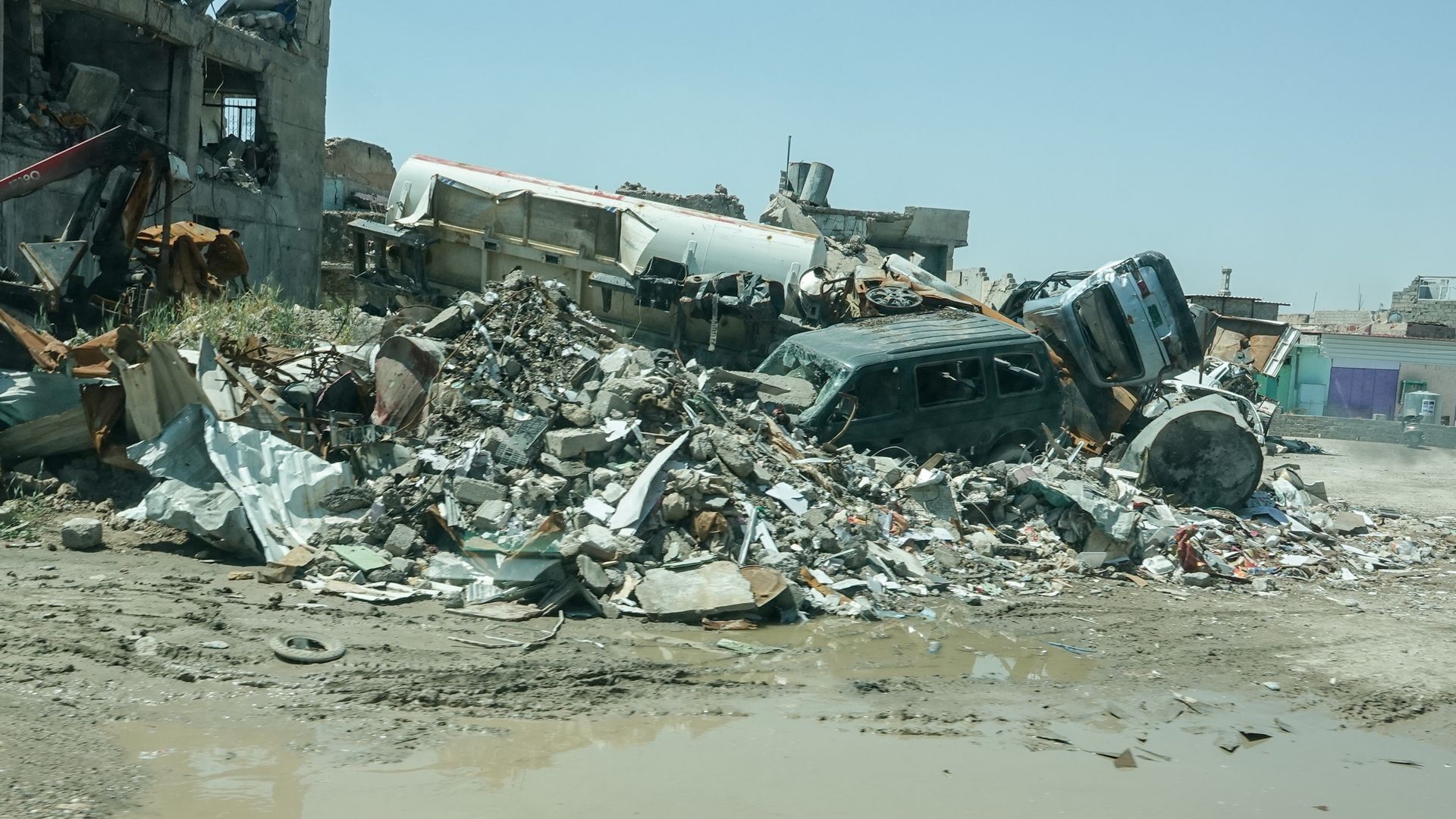 Michael Dempsey, former acting director of national intelligence, writes for Axios Expert Voices that a recent spate of ISIS attacks serves as a sharp reminder that the group still poses a significant danger.
Why it matters: The Islamic State has remained resilient and lethal, even after losing its physical caliphate in Iraq and Syria last year — continuing to thrive in areas without local authority and legitimacy and to recruit from vulnerable Sunni populations. Equally worrisome, the recent attacks demonstrate the group's ability to retain its followers; in the year since the fall of Raqqa, no Islamic State branch has renounced its pledge of fealty.
In the absence of a sustained, multi-pronged strategy to confront this threat, the Islamic State will almost certainly regain its footing and force its way back to the top of America's crowded security agenda.
Go deeper: Displaced Iraqis find nothing to return to after ISIS defeat.
7. Stories we're watching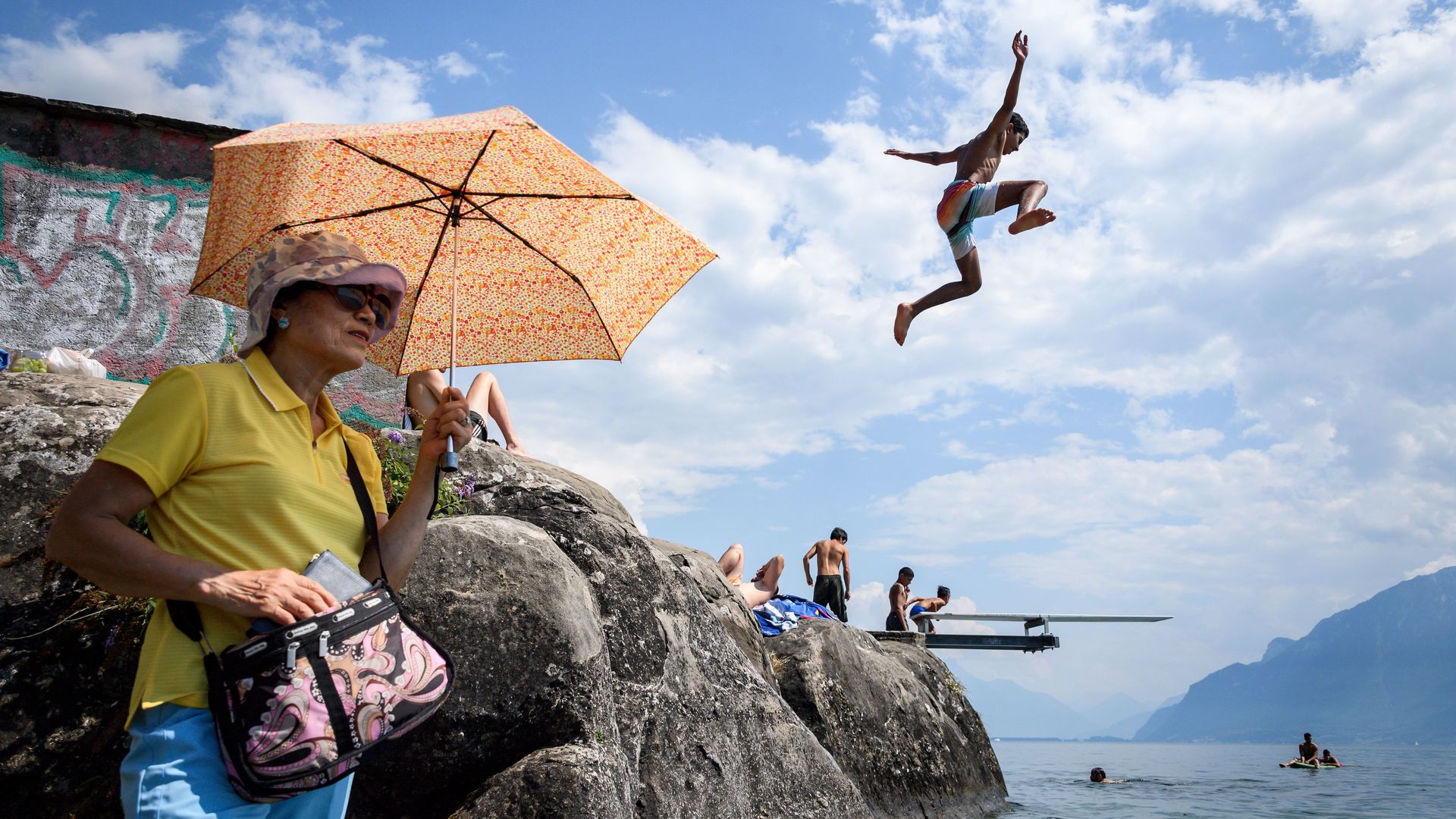 Quoted:
"Consequently the church teaches, in the light of the Gospel, that the death penalty is inadmissible because it is an attack on the inviolability and dignity of the person, and she works with determination for its abolition worldwide."
— Pope Francis
changing Catholic teaching
on the death penalty. Perhaps he read
the top of Monday's newsletter
.
Thanks for stopping by — see you next week!