Welcome to Axios World, where two evenings a week we break down the big stories from around the globe.
Thanks for joining me! Please tell your friends and colleagues to sign up, and I'd love your tips and feedback:

[email protected]

.
Tonight's Smart Brevity count is 1,527 words (~5 minute read). A whopping 78% of respondents like this new feature, so we're sticking with it.
1 big thing: Trump faces two Iran crises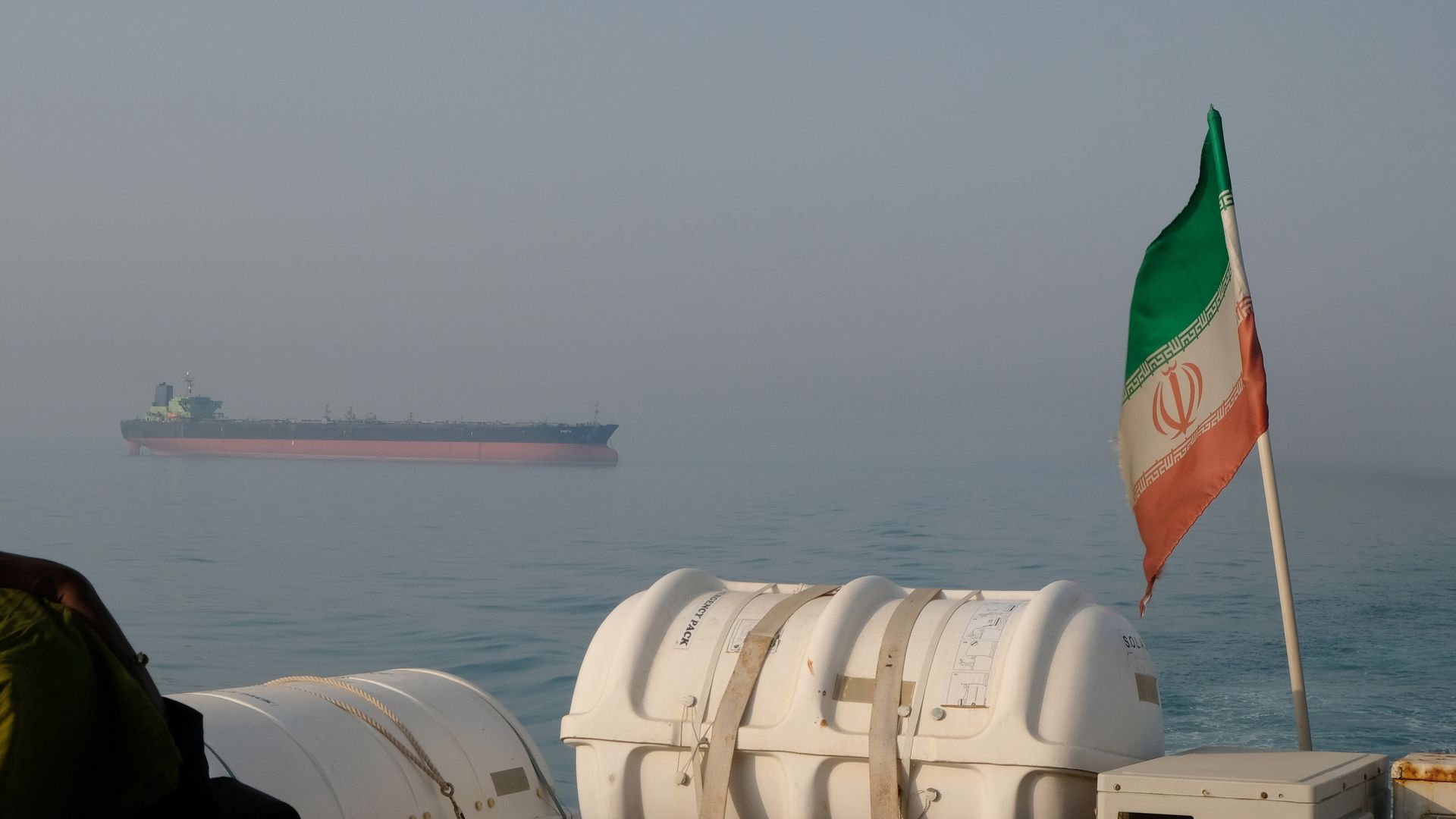 The U.S. is deploying an additional 1,000 troops to the Middle East in response to "hostile behavior by Iranian forces and their proxy groups" that threaten U.S. "personnel and interests," Acting Defense Secretary Patrick Shanahan announced on Monday.
The backdrop: This standoff is reaching uncharted waters. As the Trump administration scrambles to rally an international response to alleged covert attacks by Iran last week, Tehran is taking a long-feared step in broad daylight — announcing it will breach the 2015 nuclear deal's limits on enriched uranium in 10 days' time.
Shanahan said the U.S. isn't seeking "conflict" with Iran, but would adjust "force levels as necessary given intelligence reporting and credible threats."
Meanwhile, the Pentagon tonight released additional photos it says indicate Iran's Revolutionary Guard Corps was behind attacks on two oil tankers last week.
While the U.K., Saudi Arabia and Israel have backed the administration's assessment, Germany and Japan have demanded more evidence
The big picture: President Trump now faces dual challenges — deterring attacks on oil shipments through the critical Strait of Hormuz and keeping Iran from marching toward a nuclear weapon — amid a crisis that many of America's allies privately hold him at least partially responsible for.
Barbara Slavin of the Atlantic Council argues for Axios Expert Voices that Iran is "signaling the death" of the 2015 nuclear deal.
"Even if initial infringements are modest, the combination of rising tensions in the Persian Gulf, a near-total U.S. embargo on Iranian energy exports and Europe's failure to operationalize a reliable means of trading with Iran is increasingly unstable," she writes.
"If the Iranians make good on their threat… Tehran will have enough fuel to make a single bomb in less than a year for the first time since the 2015 agreement went into effect," David Sanger writes in the NY Times.
The White House, meanwhile, is accusing Iran of "nuclear blackmail" and vowing to never allow the regime to get a bomb.
The Trump administration argues that the impending crisis only highlights the vulnerabilities of the original deal. Trump's critics argue that he left the deal without a Plan B, and has simply been squeezing Iran and waiting for something to burst.
The Trump administration has said its ultimate goal is a new, more comprehensive deal with Iran. Trump has said repeatedly that he doesn't want a war.
But officials suggested that even absent a deal, the maximum-pressure campaign would render Iran less dangerous by restricting its cashflow. Recent events are challenging that theory.
What to watch: Iran is now betting that the Trump administration "is too risk-averse to resort to military action and potentially touch off a regional conflagration," Slavin writes. That too will be put to the test.
2. Hong Kong: Win for protesters, rebuke for Beijing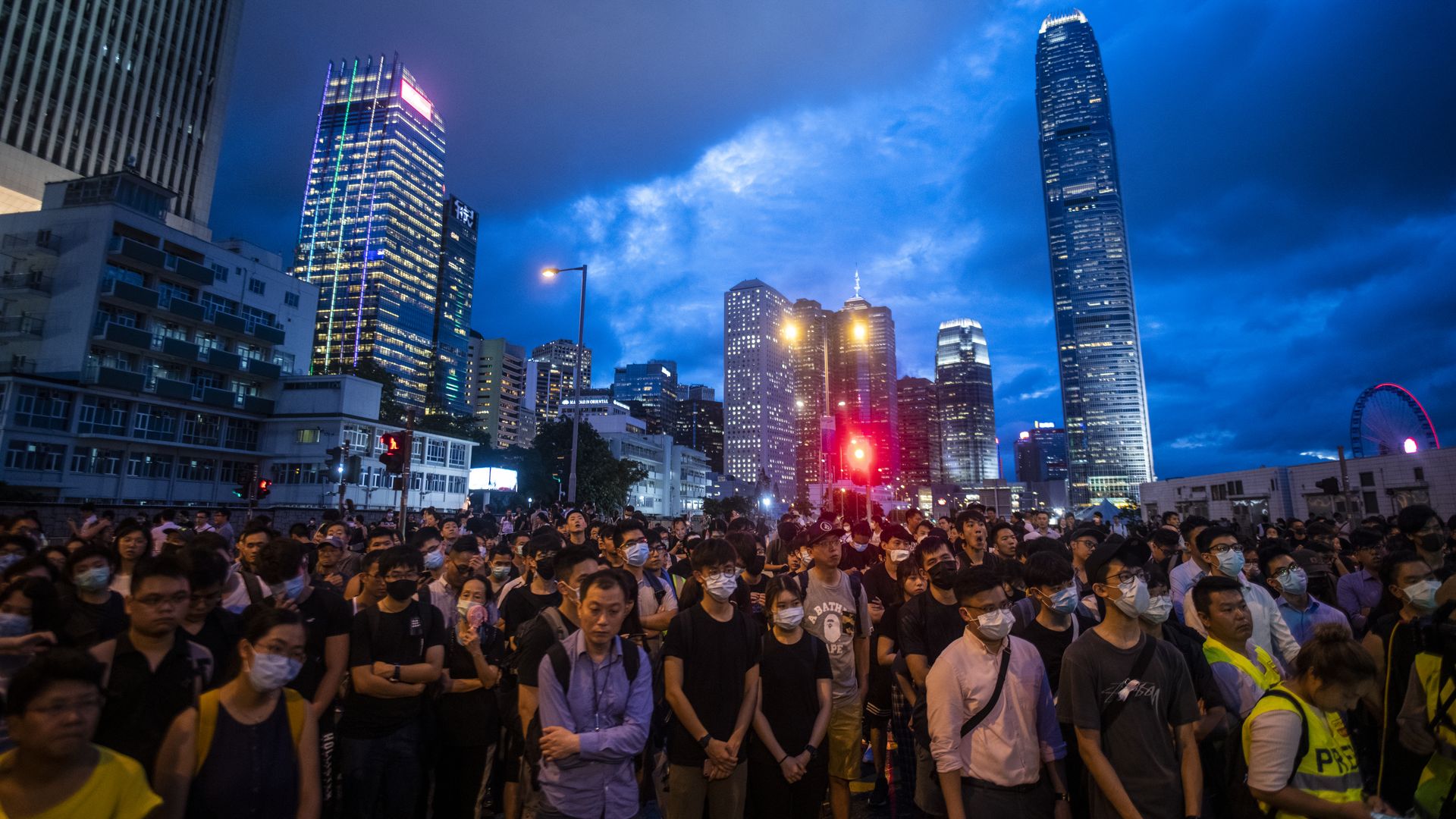 Hongkongers have won a temporary victory in their protests against a law that would allow residents of the city to be extradited to mainland China.
The city's head of police today backed down from an earlier attempt to characterize protesters as rioters.
Hong Kong chief executive Carrie Lam apologized yesterday for the extradition bill, withdrawing but not killing it.
Despite the climb down, organizers say Sunday's protests were the largest turnout in Hong Kong's history, per the BBC. The demonstrators want the bill dropped entirely, not just delayed.
The big picture: "We still do not know if the [Chinese] government pushed Carrie Lam to move forward with the legislation or if she did it on her own initiative, but clearly it is convenient for the Party center to have people think she did it on her own," writes Bill Bishop of Sinocism.
"Regardless, the rebuke of the mainland and its political system by millions of Hong Kongers could not be clearer, and the damage to Xi and the Party's reunification project that is core to the Great Rejuvenation is real."
Go deeper: I discussed Hong Kong in Friday's edition of the Axios Pro Rata podcast.
3. Putin may try to swallow up Belarus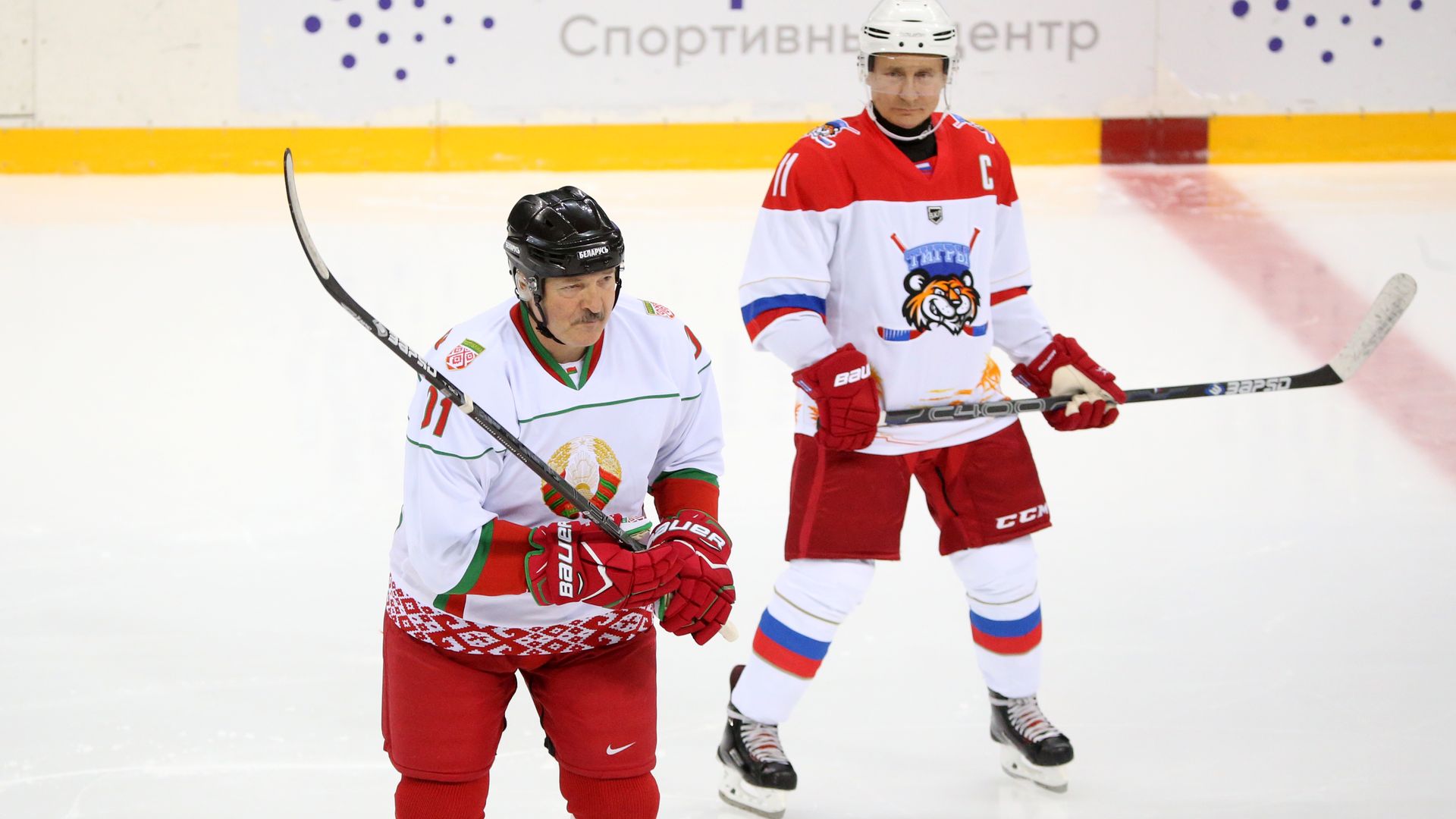 With Vladimir Putin's presidential mandate expiring in 2024, there's growing speculation he'll try to hold on to power by forming a Russia-Belarus union and placing himself in charge.
Why it matters: It's a distinct possibility given Putin's penchant for using legalistic steps to maintain a semblance of legitimacy. But it's not just about Putin's job security — the Kremlin is waging a "creeping assault" on its neighbor's sovereignty and will take whatever steps it deems necessary to keep Belarus in its orbit, according to research discussed today at the German Marshall Fund.
The groundwork is being laid though a misinformation campaign with links to the Kremlin. One frequent claim is that the Belarusian identity is a recent invention, promoted by the West to weaken Russia.
Russia-linked outlets are better funded and in many cases more trusted than local competitors, which have suffered under longtime strongman Alexander Lukashenko. That allows Russian propaganda to spread.
Polls show that few Belarusians are currently in favor of joining Russia, though most want close ties to Moscow.
A Ukraine-style military confrontation is unlikely, the experts said. Two scenarios were raised for how a union could be secured:
Lukashenko is coerced into allowing constitutional changes, or a unity referendum.
Something happens to Lukashenko and a pliant pro-Moscow regime is installed.
What to watch: Russia would also intervene if its "red lines" in Belarus are crossed, the experts said. Those include threats to military cooperation or the flow of Russian oil and gas through Belarus, and deeper Belarusian economic integration with Europe.
4. Africa: The state of Sudan's uprising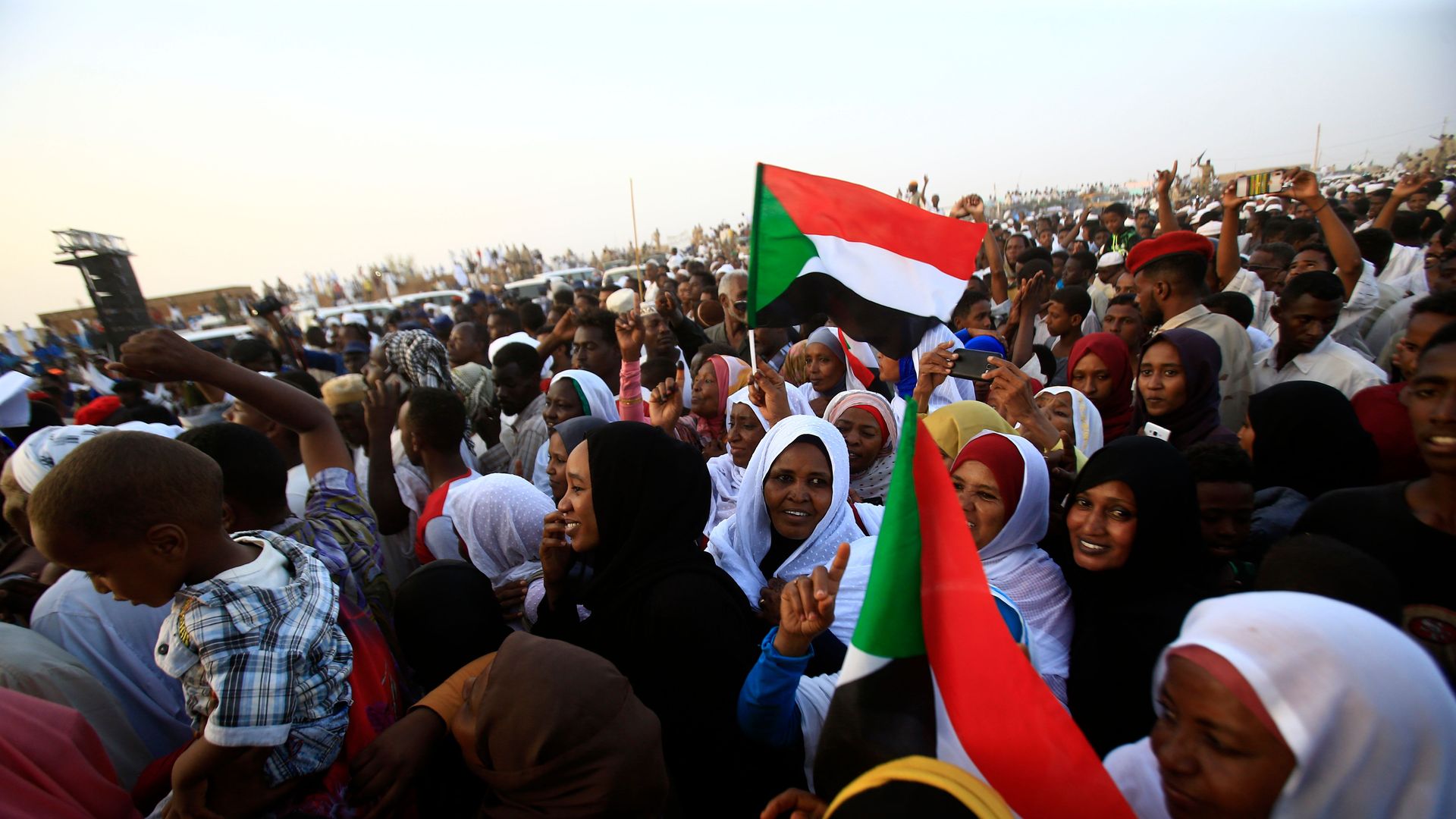 "Sudan's protest leaders on Monday called for nighttime demonstrations and marches in the capital... and elsewhere in the country, amid a tense standoff with the ruling military over who should lead the transition after the ouster of the autocrat Omar al-Bashir," the AP's Hussein Malla and Samy Magdy report from Khartoum.
The backdrop: Amid growing international pressure, military leaders have at last admitted they ordered the crackdown on a group of protesters on June 3 that left at least 100 people dead. They're still refusing to place power in civilian hands.
"Many Sudanese are still in shock after the crackdown," Zeinab Mohammed Salih writes for the BBC. Amid an ongoing internet shutdown, "not only are the demonstrators no longer able to gather, but they have found it difficult to communicate and share their disappointment, frustration and anger at the turn of events."
A spokesman for the military council admitted there had been "outrageous" violations during the crackdown and said an internal investigation had been launched, the AP reports.
The State Department's Assistant Secretary for African Affairs, Tibor Nagy, is calling for an outside probe, saying, "when governments investigate themselves, there tends to be a lot of skepticism."
Meanwhile, Bashir appeared in public yesterday for the first time since being toppled in April. He's being held on corruption charges.
5. Americas roundup: Protest and power outages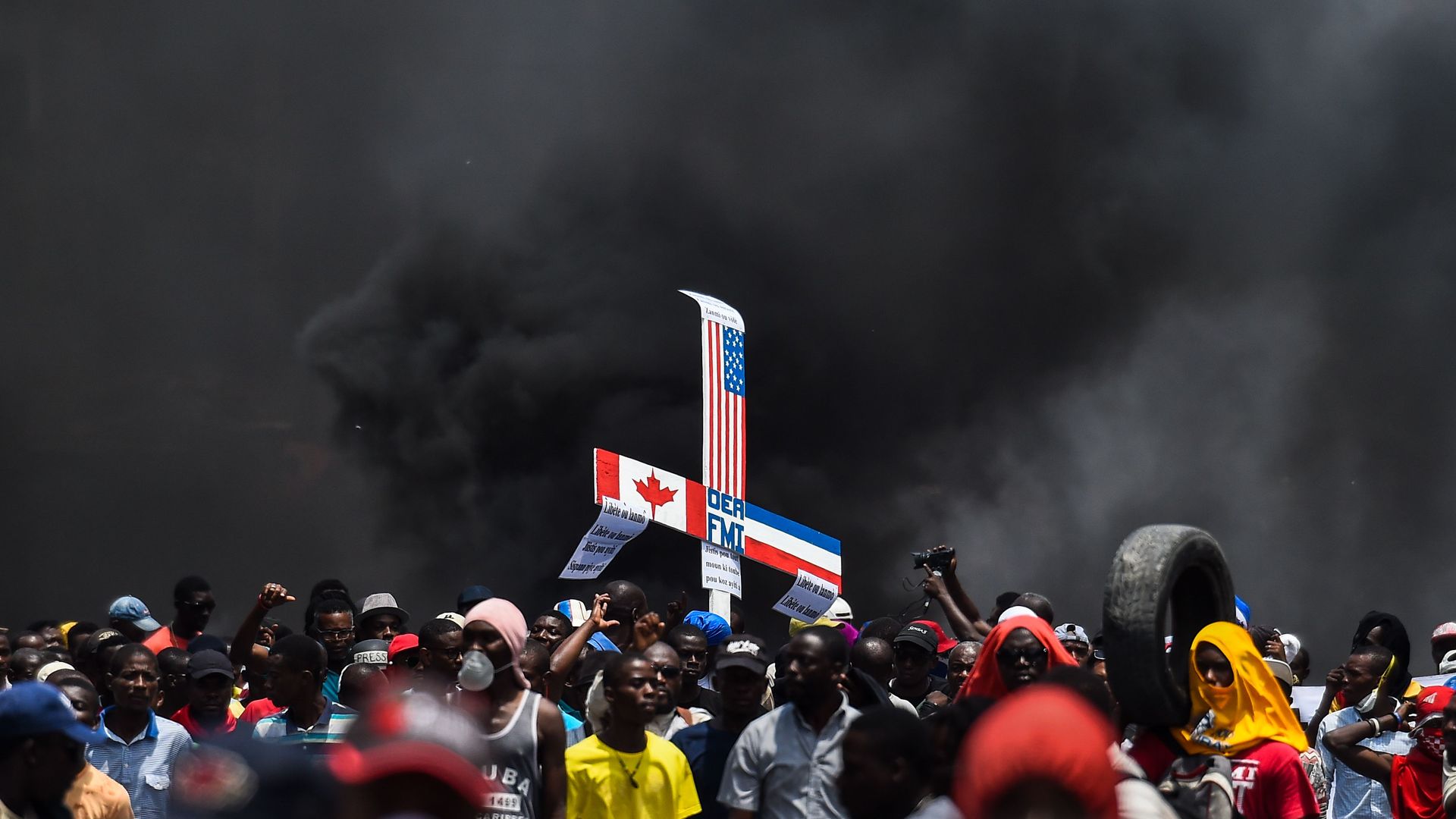 1. Thousands took to the street in Haiti on Sunday demanding the resignation of President Jovenel Moise. The capital, Port-au-Prince, has seen several days of rubber bullets fired on protesters and roadblocks of burning tires.
The backdrop: $3.8 billion in revenue from an energy alliance with Venezuela that had been earmarked for infrastructure and social programs went missing, per Voice of America.
2. With votes still being counted in Guatemala's presidential election, first lady Sandra Torres leads with about 1/4 of the vote. The race is headed for a runoff in August.
The backdrop: Outgoing president Jimmy Morales took power in 2016 on an anti-corruption platform but ended up moving to kick a UN anti-corruption commission out of the country after his own behavior drew scrutiny.
3. The chief of Brazil's development bank resigned Sunday after President Jair Bolsonaro said he had a "price on his head," per AFP.
Bolsonaro is also at odds with Brazil's central bank, which denied his claims that Brazil was considering a monetary union with Argentina.
4. Power has returned to most of Argentina and Uruguay a day after an unprecedented outage struck tens of millions. Argentina's energy minister said "we don't think it is down to a cyber attack," per the BBC.
5. The State Department announced that it is cutting off any further aid to Guatemala, Honduras or El Salvador until the countries take "concrete actions to reduce the number of illegal migrants coming to the U.S. border," Axios' Stef Kight writes.
Bonus: This week's coming attractions
Canadian PM Justin Trudeau in DC (Thurs.) for a visit centering on trade.
Xi Jinping in North Korea (Thurs./Fri.), the first visit by a Chinese leader in 14 years.
Leaders from across the EU gather (Thurs./Fri.) to discuss the bloc's top jobs. There are major divisions over who will replace Jean-Claude Juncker as Commission president.
6. Women's world cup: Team USA on the march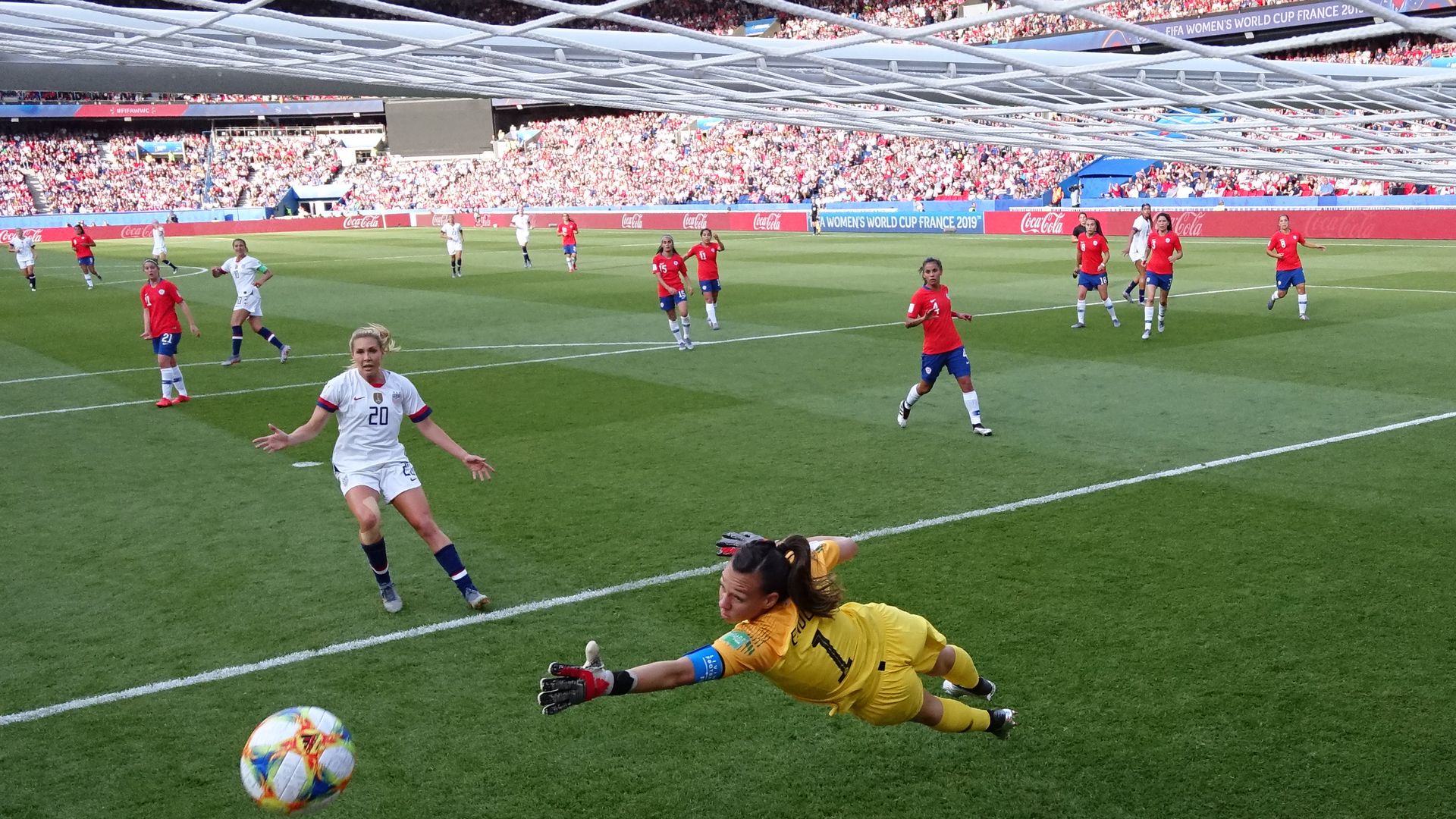 All 24 teams at this year's World Cup in France have played at least two matches, with the U.S., France, Germany, Canada, England, the Netherlands, Sweden, Japan, Spain, Norway, China and Italy having punched their tickets to the round of 16.
Australia and Brazil are all but certain to advance. That leaves two spots up for grabs.
The U.S. followed up its 13-0 (!!) win over Thailand by cruising to a 3-0 victory over Chile yesterday. FiveThirtyEight pegs the U.S. as the favorites with a 23% chance of winning the whole thing, followed by France (19%) and Germany (13%). Next up is Sweden, on Thursday.
"Games at the tournament are drawing millions of dollars worth of bets, another sign of the World Cup's growing popularity but also one of future risks to the women's game, where match-fixers long active in professional men's soccer are beginning to cast their gaze toward their female counterparts," the NY Times reports.
Get involved: Axios is launching a bracket challenge for the knock-out round, which begins on Saturday.
Enter your email to get a unique link, refer 1 friend to Axios World and enter the contest for a chance to win prizes.
7. Stories we're watching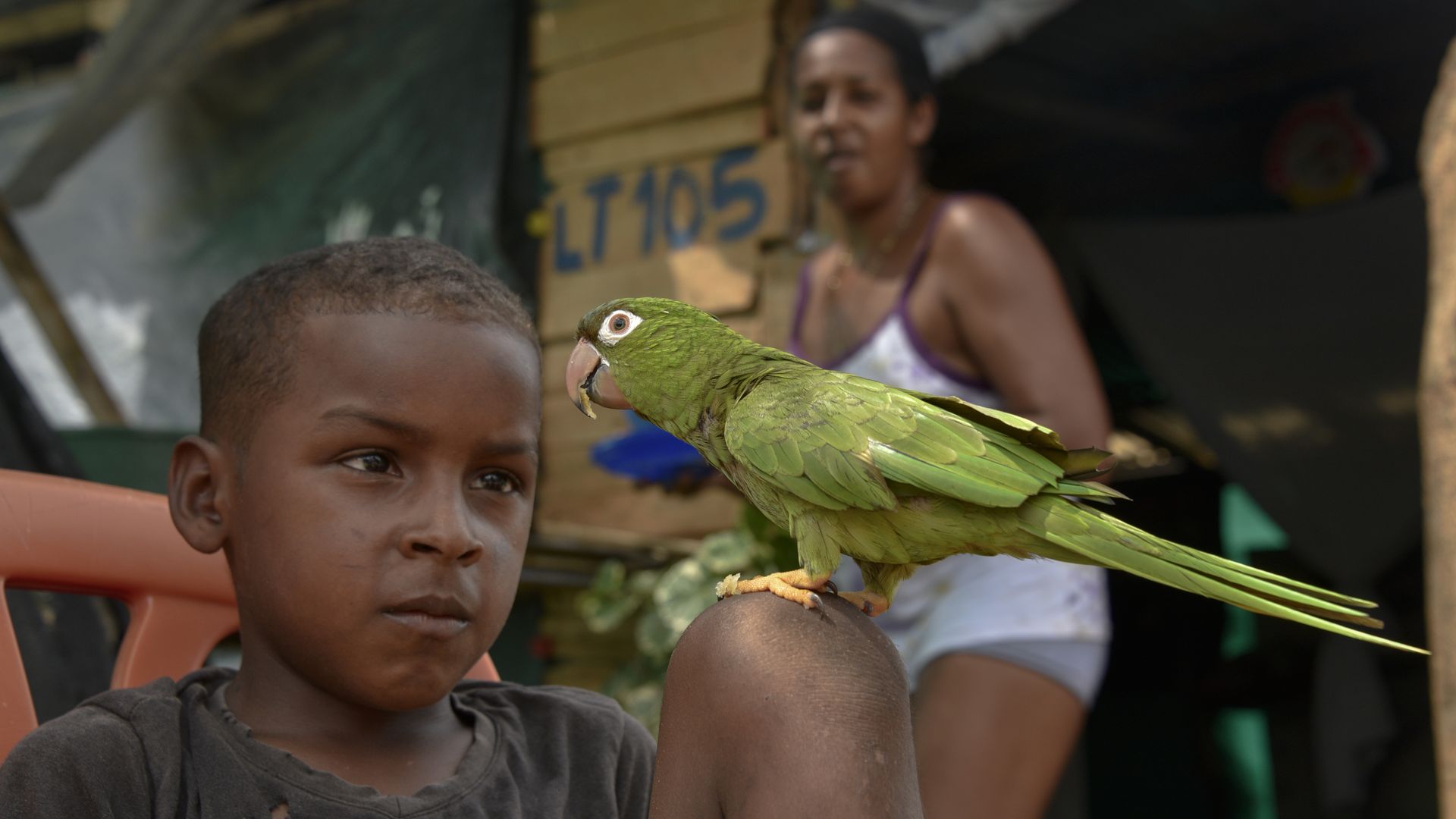 Quoted:
"I think frankly that we're beyond that point in terms of a relationship. And I don't think it would have to happen. I think that Kim Jong Un — and you've heard many bad things about him, but you've heard from me different things."
— Trump
to ABC's George Stephanopoulos
, explaining his remark that Kim's half-brother wouldn't have been recruited as a CIA informant "under my auspices."
Thanks for stopping by — see you Thursday evening