Welcome to Axios World, where two evenings a week we break down what you need to know about the big stories from around the globe.
Thanks for joining me! Tell your friends and colleagues to sign up here, and send tips and feedback to lawler@axios.com.
1 big thing: Sham elections in crisis-stricken Venezuela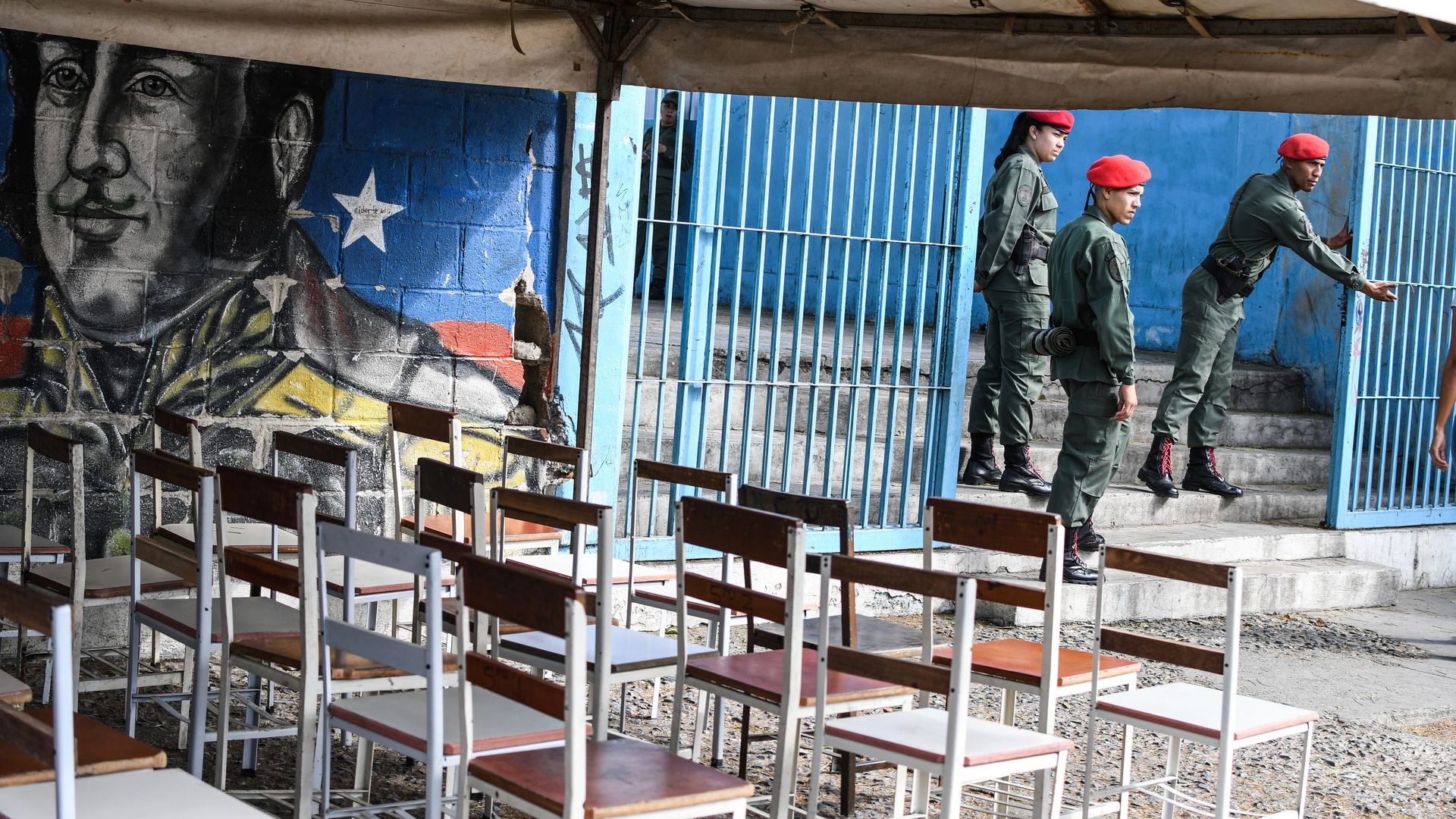 Venezuelan President Nicolas Maduro has a new six-year term after declaring victory in a sham election over the weekend.
Between the lines: Turnout plummeted to 46% from about 80% in previous elections despite the fact that Maduro offered cash and boxes of food to those who cast ballots. That's remarkable in a country struggling through one of the world's worst economic crises.
Five years after the death of Hugo Chavez, both the Socialist Party and the weakened opposition are struggling to mobilize supporters. A viral video of Maduro waving enthusiastically to an empty square underscores the fact that the emperor is increasingly short on clothes.
Harold Trinkunas, a Latin America expert at Stanford and Brookings, notes that the armed forces were tasked with election security, and ultimately "sat there looking at empty polling places all day." The rate of soldiers detained for disloyalty already has already spiked this year, Trinkunas says.
Military support is crucial, as Eurasia Group's GZERO Media noted in the most recent Signal newsletter:
"Elections aren't really what keeps a fellow like Maduro in power. What keeps him in power — as in other failing, deeply corrupted, or profoundly undemocratic systems — is the loyalty of economic and military elites."
"If the Venezuelan elections don't matter, what happens afterwards most certainly does. The critical question is: Can Maduro hold together a collapsing country while keeping the carousel of money and privilege turning for the shrinking elite core of the Chavista regime?"
But, but, but: The Venezuelan opposition remains hopelessly fractured, and didn't even seem sufficiently organized to capitalize on the low turnout, Trinkunas says.
What to watch:
For the time being, Maduro seems well insulated from internal challenges, Trinkunas says, but oil production has fallen off a cliff and Venezuela's creditors like ConocoPhillips are being increasingly assertive.
One remaining lifeline is Russia, which as Reuters reports, is offering "the cash and credit the regime needs to survive" in exchange for valuable Venezuelan assets.
The U.S. is intent on ratcheting up the pressure on Maduro's regime, announcing new sanctions today banning Americans from buying Venezuelan debt and making it harder for Venezuelan officials to "sell off public assets in return for kickbacks."
The bigger picture: Faced with hyperinflation, crippling food and medicine shortages, limited electricity and an oppressive dictatorship, around 5,000 Venezuelans a day are fleeing to surrounding countries. Upwards of 1.5 million left between 2014 and 2017.
Go deeper: The new global migrant crisis is in the Americas.
A tale of two quotes
"We're focused on our elections. We don't get to dictate how other countries operate. Putin has been elected in their country, and that's not something we can dictate to them, how they operate."
— Sarah Sanders, March 20, on Russia's sham elections
"Venezuela's election was a sham. America stands AGAINST dictatorship and WITH the people of Venezuela calling for free and fair elections."
— Mike Pence today on Venezuela's sham elections
2. Pompeo's plan B on the Iran deal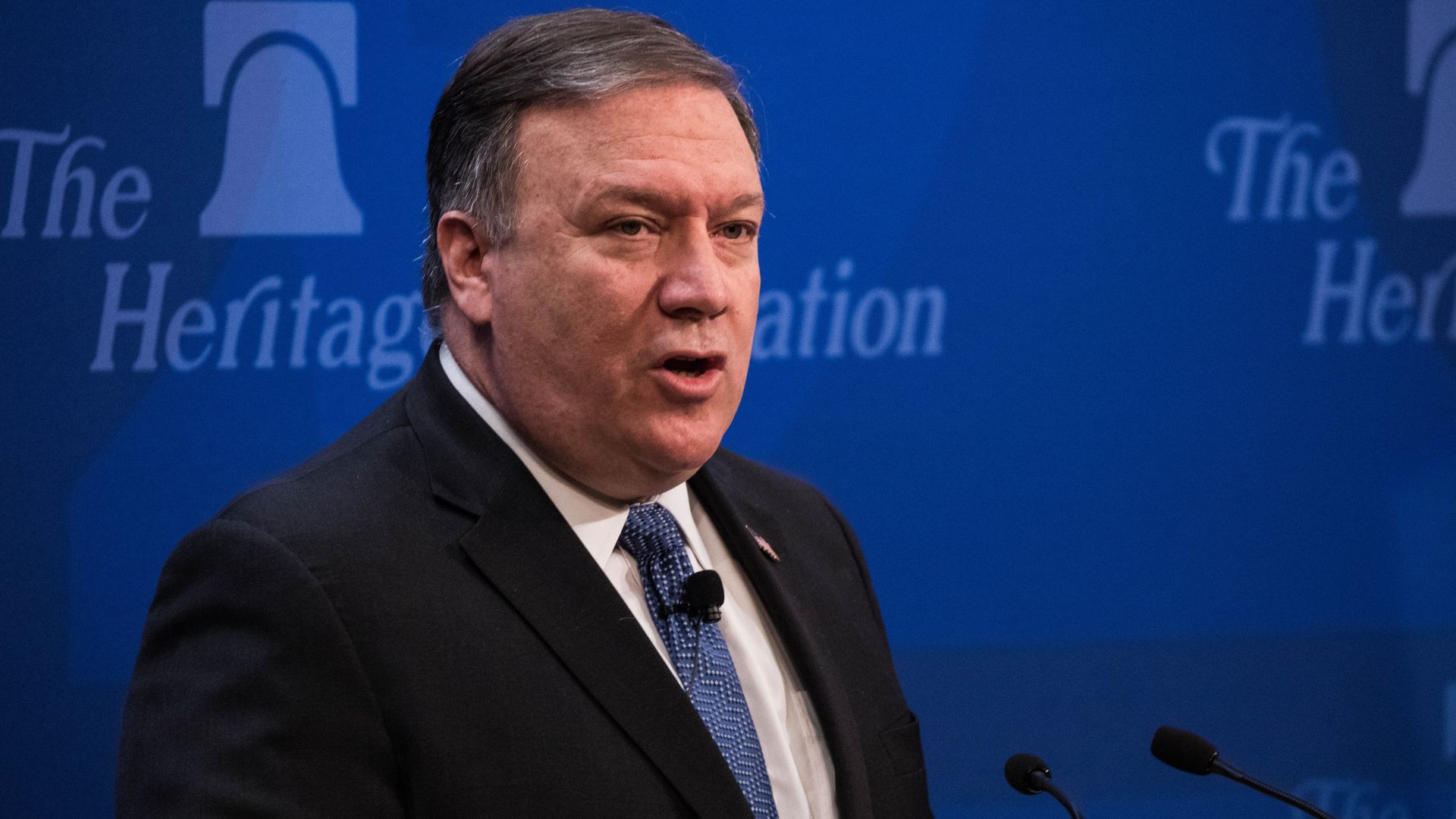 Secretary of State Mike Pompeo today laid out what he called "the path forward" after President Trump's decision to withdraw the U.S. from the Iran nuclear deal.
He threatened the "strongest sanctions in history" unless Iran complies with 12 U.S. prerequisites for a new deal. The Atlantic Council's Barbara Slavin writes for Axios Expert Voices that Pompeo's strategy "has almost no chance of working."
"Pompeo's demands range from Iran ending all uranium enrichment ... to stopping support for Hezbollah, Hamas and Iran's other historic partners in the Middle East. He also demanded that Iran withdraw 'all forces under Iranian command' from Syria."
"The demands would require that the Iranian leopard not just change its spots but transform itself into a lamb, subordinated to the wishes of the U.S. and Iran's regional rivals — Saudi Arabia, the United Arab Emirates and Israel."
The bottom line: "It's likely to further alienate the U.S.'s European allies, boost China as a global economic and political power and gladden Iranian hardliners looking for more reason to restart proscribed nuclear activities and to continue their interventions in the Middle East."
3. Trade war truce with China
Treasury Secretary Steve Mnuchin announced yesterday that the "trade war is on hold," and around $150 billion in expected tariffs are off the table for now, Axios' Dan Primack writes.
That follows a joint-statement from the two countries on Saturday, which said China would purchase more U.S. goods and take in more U.S. agriculture and energy exports.
The Washington Post notes that the lack of specifics on trade deficit reduction and on IP protections for U.S. companies are wins for China.
Between the lines, from Axios' Jonathan Swan: Sources who've been in the negotiating room with Trump described his predictable tactics: "threaten the outrageous, ratchet up the tension, amplify it with tweets and taunts and then compromise on fairly conventional middle ground."
Go deeper: How China's long-term thinking threatens the U.S.
4. China: Child limit on the chopping block
China is considering ending its 4-decade-long policy of limiting the number of children families can have, reports Bloomberg.
The big picture, from Axios' Michael Sykes: China's birth limits have left the country with an aging population, a shortage of working-age citizens, and millions more men than women — all as the country's birth rate has declined for decades. This would be China's second shift on the policy after Beijing permitted families to have two children in 2015.
The bigger picture:
Go deeper: The world's fastest-shrinking countries ; When children become scarce.
5. Africa: Power grab in Burundi
Burundi's President Pierre Nkurunzizahas won a referendum that could see him remain in power through 2034, reports the AP, in a vote the opposition says was marred by voter intimidation.
President Pierre Nkurunziza, 54, came to power in 2005 following a civil war, and sparked a crisis in 2015 by bypassing term limits on a technicality. "In the year afterwards, Burundi was shaken by violence. Opposition supporters (or those merely suspected of being so) were arrested or went missing. Almost half a million people have fled to neighbouring countries," The Economist reports.
"There is little hope of outside intervention halting the crisis. ... Without regional support, foreign powers such as the European Union are unable to do much. They have already played their strongest card by cutting most aid."
The bigger picture: "The referendum in Burundi highlights the steady erosion of term limits in recent years across central Africa. Over the past decade half a dozen countries have ignored or revoked laws limiting presidents to no more than two terms in office."
6. North America: Asylum seekers fill labor gaps in Canada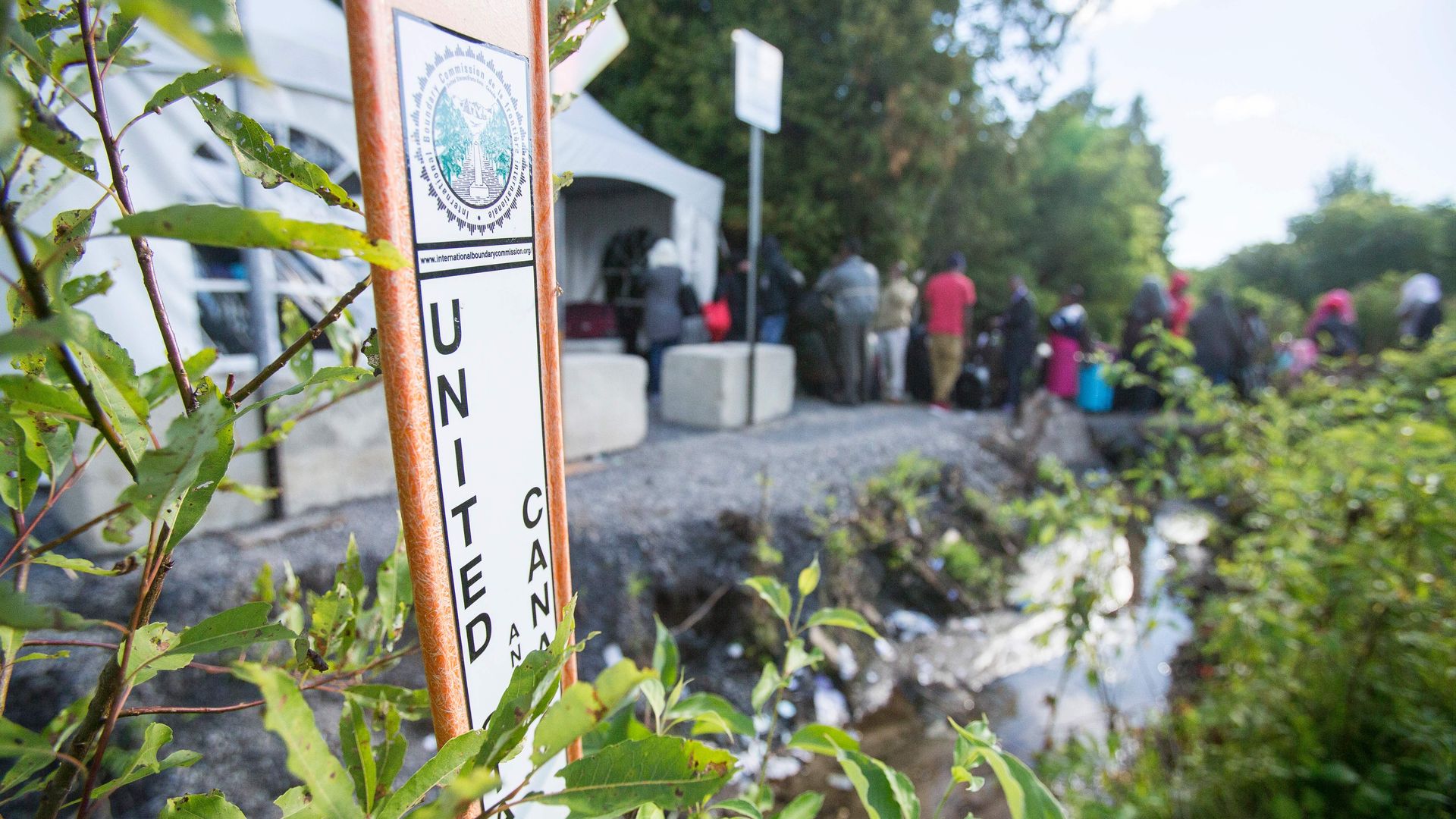 Tens of thousands of asylum-seekers have left the U.S. for Canada over the past year, as the Trump administration continues to impose and threaten stricter immigration policies, and many are now working north of the border, the Washington Post reports.
Axios' Stef Kight breaks it down: Asylum seekers wait an average of 19 months for a hearing in Canada, according to the Post. But the Canadian federal government recently decreased the wait time for work permits to just 3 weeks, and made it easier to move new immigrants to more rural parts of the country that have labor shortages.
Why it matters: Canada is trying to use the unprecedented wave of border crossings to its advantage. The tactic seems to be somewhat successful, a labor ministry official told the Post, with 55% of asylum seekers quitting Quebec's social support program by the end of last year.
Bonus: Update from Italy
Italy's populist coalition-in-waiting has nominated Giuseppe Conte, a law professor with no political experience, to be the next prime minister.
The markets have been rallying against Italian bonds in fear that the new government's policies will deepen Italy's fiscal crisis and harm relations with the European Union.
7. Stories we're watching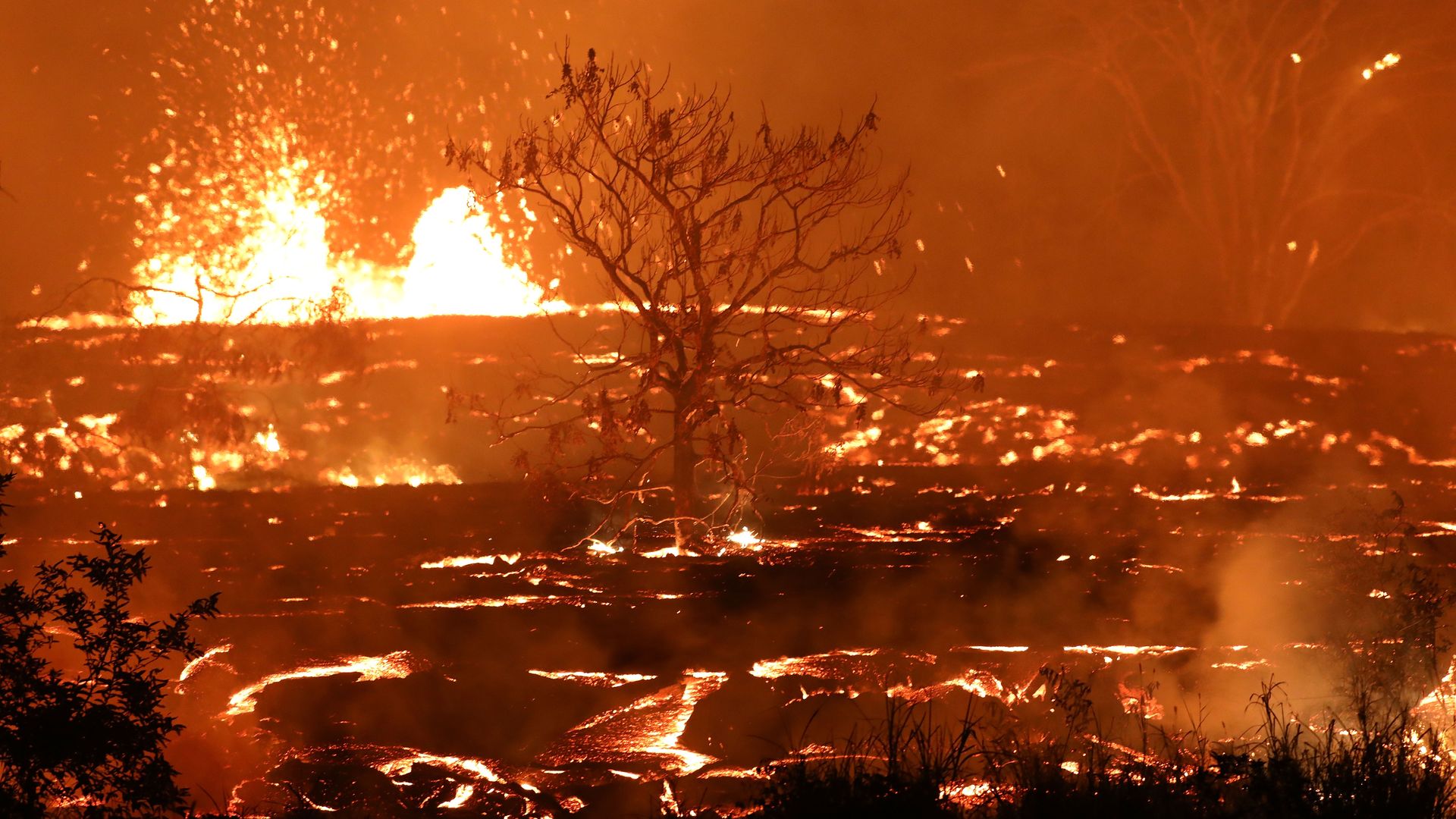 Quoted:
"I think if you try now to fold all those issues — ballistic missiles, Iran's behavior, Iran's disruptive activity in the region, nuclear activity — if you try to pull all of those into a new jumbo Iran negotiation … that seems to be what they envisage and I don't see that being very easy to achieve in anything like a reasonable timescale."
— U.K. Foreign Secretary Boris Johnson on Pompeo's "Plan B"
Thanks for reading — see you Thursday evening!