Welcome to Axios World, where two evenings a week we break down what you need to know about the big stories from around the globe.
Thanks for joining me! Please tell your friends and colleagues to sign up, and I'd love your tips and feedback: lawler@axios.com.
Was this email forwarded to you? Sign up here.
1 big thing: Trudeau in trouble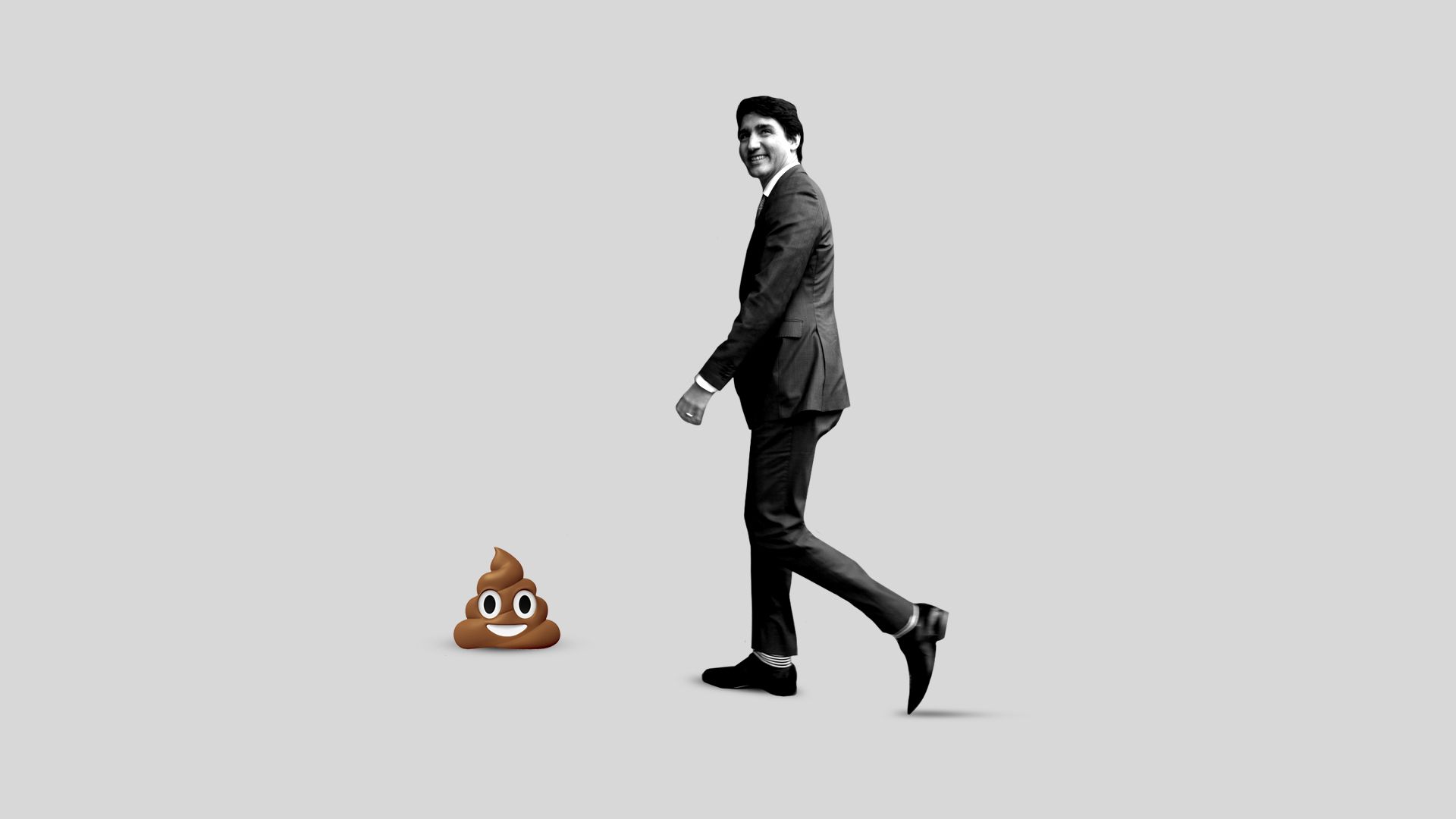 Justin Trudeau broke his silence on the biggest scandal of his premiership this morning, insisting there was nothing illegal or unethical about his handling of a corruption case against engineering and construction giant SNC-Lavalin.
Why it matters: Trudeau's popularity has been slumping ahead of his re-election bid in October. With his former attorney general claiming she felt "inappropriate" pressure to settle the case against SNC, Trudeau is now having to defend the image of an honest and transparent leader he's polished during his four years in office.
The latest: Trudeau suggested today that the controversy was the result of an "erosion of trust" that developed, unbeknownst to him, between his office and the former attorney general, Jody Wilson-Raybould.
Asked if he had anything to apologize for, Trudeau was defensive: "In regards to standing up for jobs and defending the integrity of our rule of law, I continue to say that there was no inappropriate pressure."
The prime minister has seen his top aide and two Cabinet members resign since the SNC affair emerged in the pages of the Globe and Mail newspaper last month — and this isn't going away.
Catch up quick: SNC would be banned from bidding for government contracts for 10 years if convicted of fraud and corruption over its dealings with the Moammar Gadhafi regime in Libya from 2001 to 2011. That puts thousands of jobs at risk, many of them in Trudeau's home province of Quebec.
Wilson-Raybould testified last week that she faced "consistent and sustained" pressure from Trudeau's top aide, Gerald Butts, and other officials to settle the matter out of court.
She claims Trudeau personally asked her to "find a solution" that wouldn't force SNC to slash jobs or relocate.
Trudeau said today: "Even though she indicated to me that she had made a decision, I asked her if she could revisit that decision … and she said that she would." He added that he now realizes she "felt it was inappropriate when we continued to talk about it" — but claimed she never raised such concerns at the time.
In Trudeau's telling, this was all about jobs. His rivals say it was all about cynical politics. Wilson-Raybould, meanwhile, has suggested it caused her to lose her job.
Trudeau denies that. He said he intended to move her to Indigenous Affairs during January's Cabinet reshuffle to signal that portfolio was a top priority, but she rejected that move. She wound up as Veterans Affairs minister before resigning from the Cabinet last month.
Next to go was Butts, sometimes described as Trudeau's "right-hand man," who resigned in an attempt to slow the fast-moving scandal. He defended Trudeau before a parliamentary committee yesterday, saying: "All we ever asked the attorney general to do was to consider a second opinion."
Jane Philpott made Trudeau's headache worse on Tuesday by resigning as president of the Treasury Board over her "serious concerns" about the allegations.
Between the lines: This has been a month of controversy that "in some ways seems mild — no money changed hands and no laws appear to have been broken," the NYT notes. Nevertheless, it's dominating Canadian politics in an election year.
2. North Korea seeks "shortcut" to sanctions relief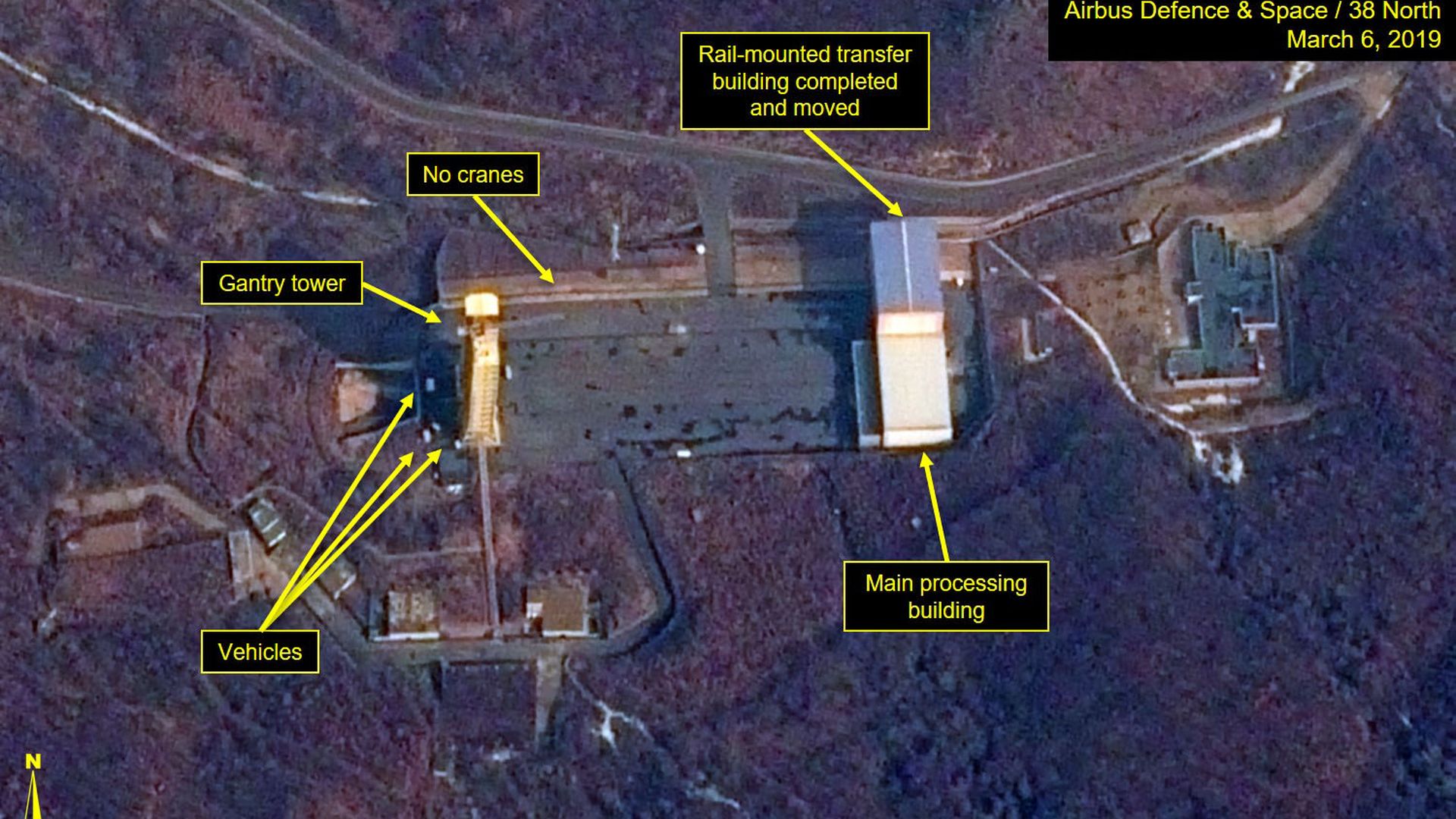 North Korea's Sohae rocket launch site is back to "normal operational status" just one week after the Hanoi summit ended in "no deal," according to an analysis of satellite images by 38 North.
Backstory: North Korea has in recent days been repairing the site, which it partially destroyed following the Singapore summit last year. Joel Wit of 38 North said at a Stimson Center event this week that the regime had poured a lot of money and effort into Sohae, viewed its partial destruction as "above and beyond the call of duty," and felt the U.S. was refusing to make any concessions in return.
Wit said he didn't expect a test at Sohae in the short term and asked: "How can everyone dismiss the importance of this site [when North Korea offered to dismantle it] and now when they start to rebuild it all the alarm bells are going off?"
"The fact that they were willing to dismantle it had larger symbolic meaning," added 38 North's Jenny Town. She said it signaled the North Koreans might be willing to eliminate their space program, which is a source of national pride and was a sticking point in past negotiations.
What's next: "You don't know whether this is a bargaining tactic or whether someone has made a decision that now we're moving on this other track," Wit said. Noting that neither Trump nor Kim Jong-un is known for patience, he added: "What's going on at Sohae tells me someone might have said, 'let's take a shortcut.'"
"The danger here is we could start spiraling downward as each side takes steps that undermine the process that's been in place since last June."
The latest: Trump was asked today about the activity at Sohae and said he'd be "very disappointed in Chairman Kim" if the news proved accurate, but "it'll ultimately get solved."
Bonus: Another view on the Hanoi fallout
As I wrote on Monday, much of the analysis after Hanoi was that Trump lacked leverage with Kim, who emerged from even a failed summit with increased global stature and little urgency to make a deal.
The activity at Sohae might indicate Kim doesn't view things that way. And Town made a point I hadn't considered about the benefits of Kim's pariah status fading:
"It builds more leverage over time now that North Korea has something to lose. They've lived under sanctions for a long time. But this is new."
3. Ukraine: TV presidency might come to life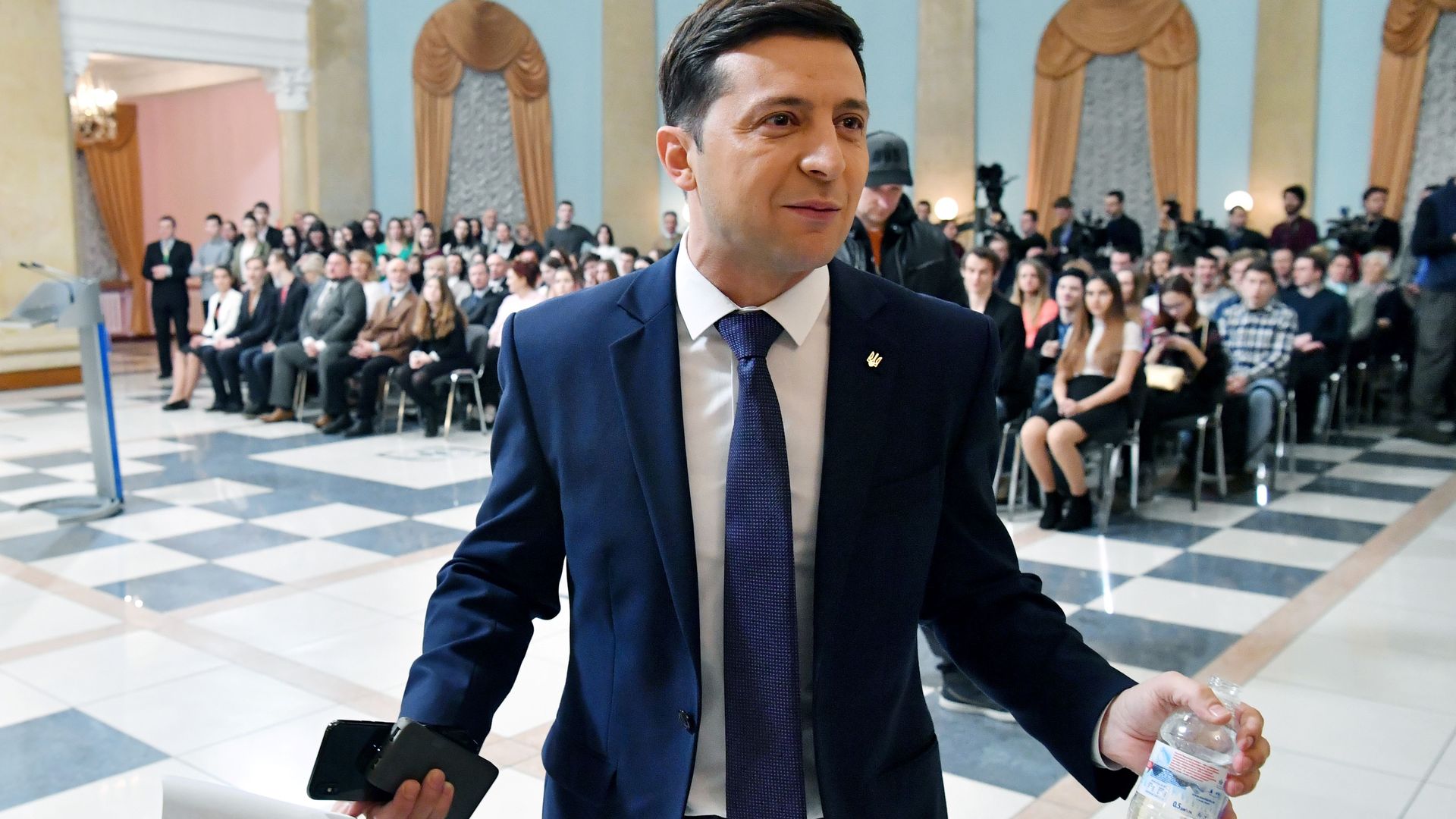 U.S. Ambassador to Ukraine Marie Yovanovitch issued a scathing rebuke to Ukrainian leaders this week for failing to tackle corruption. She called for Ukraine's special corruption prosecutor — whom she said was "coaching suspects on how to avoid corruption charges" — to be fired.
Meanwhile, President Petro Poroshenko fired a top defense official whose son is accused of using his connections to sell Russian arms components to state-run firms at a big markup.
"Although corruption is widespread, stealing money intended to fund arms and equipment for the hard-pressed Ukrainian military is a particularly egregious sin in the eyes of many voters," writes John MacLeod of Oxford Analytica.
Backdrop: Ukraine's presidential election is March 31. Poroshenko is deeply unpopular and may even be left out of a runoff between the top two finishers. Actor Volodymyr Zelensky, whose only qualification is that he plays a president on TV, is leading the polls. His main selling point is that the old guard are all crooks.
Stay tuned: I'll have more on this crucial election in the comings weeks.
4. Europe: Balkans rise up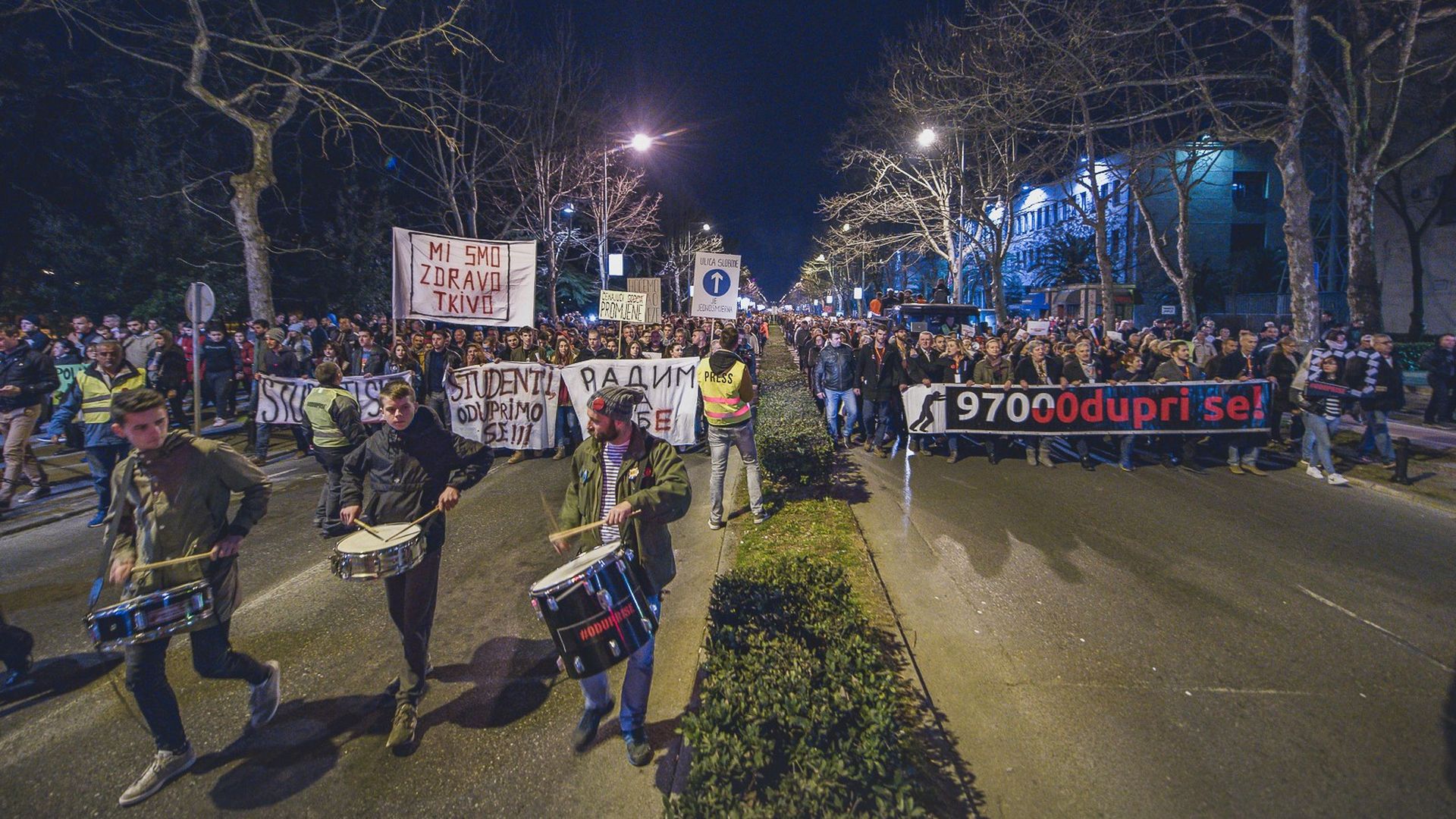 Protests over corruption and abuse of power have swept through Montenegro, Serbia and Albania, three Balkan states with ambitions of joining the EU.
Zoom in: Last Saturday night, 20,000 Montenegrins took to the streets of their capital, Podgorica, write Ryan Scherba and Ari Mittleman of Balkan Insider:
That's 3% of the entire population and more than three times the capacity of the largest arena in the country.
The broad mix of protestors has descended each Saturday for the last month. They're demanding the resignation of President Milo Djukanovic, who has been dogged by allegations of corruption.
Djukanovic has dominated Montenegro's politics for most of the past three decades — during the dissolution of Yugoslavia, the referendum dissolving the union with Serbia and ultimately the accession to NATO.
Why it matters: Montenegro is the newest member of NATO and furthest along EU aspirant, though its bid to join that bloc has been hurt by corruption.
The big picture: "Critics of the EU across the Balkans accuse it of supporting these 'stabilitocracies' — systems run by autocrats whose abuses of democracy are tolerated because they are seen as guarantors of stability in a complex region," per the Irish Times.
5. Trade warrior Trump is just getting started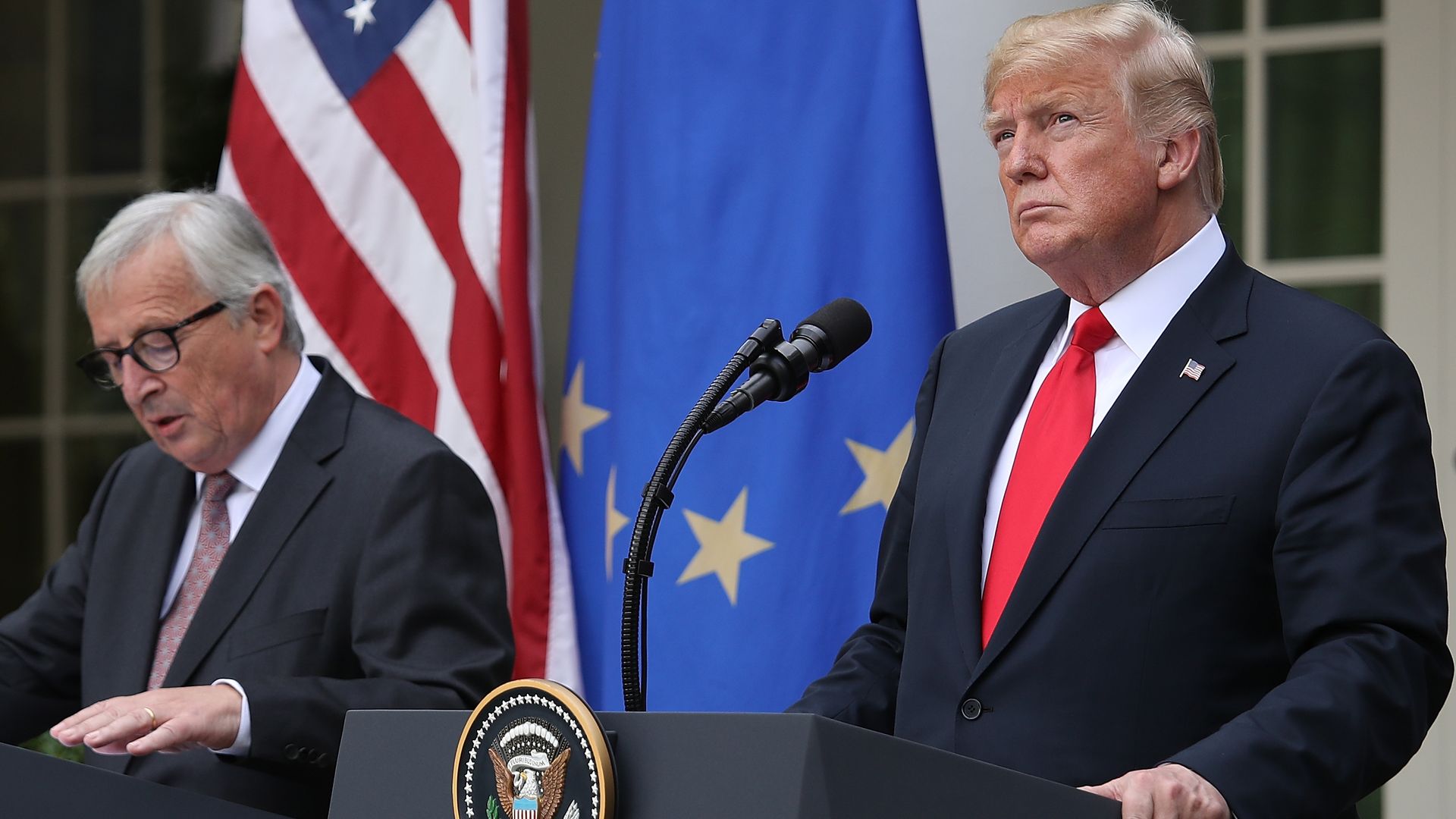 A resolution to the U.S.-China trade battle later this month wouldn't spell the end of the Trump administration's aggressive bid to remake the global trading order, writes Gabe Lipton of GZERO Media:
The big picture: Emboldened by their apparent successes in renegotiating NAFTA as well as the China trade relationship, Trump and his hardline trade czar Robert Lighthizer will train their sights on a slew of other countries.
Japan: The U.S. announced this week an investigation into Japanese titanium exports on national security grounds.
The Trump administration wants to cajole Japan into accepting quotas on its auto exports and lowering its import tariffs on U.S. beef and agricultural goods.
With elections coming up, the Japanese government will be reluctant to offer quick concessions. That could mean long and acrimonious negotiations.
European Union: President Trump wants the EU to remove its massive industrial and agricultural subsidies, and he has threatened import tariffs on EU cars if he doesn't get his way.
Trump agreed to a temporary trade truce with the EU in July while he focused on China, but he may soon be spoiling for a fresh fight.
European politicians are loathe to scrap support to hugely influential voting blocs, but Trump can inflict real pain on EU automakers. A final decision on auto tariffs is due by May 17.
Emerging economies: The U.S. isn't just taking aim at rich countries. This week the White House announced it would end preferential treatment for India and Turkey under a decades-old trade regime intended to promote growth and prosperity in poorer economies.
The Trump administration's beef is that India hasn't opened up its industries to U.S. firms and that Turkey is wealthy enough to no longer need special treatment. He might not stop with those two countries.
6. What I'm reading: Going deep on the president's men
Some of you probably have the recent profiles of John Bolton and Mike Pompeo on your "read later" lists. They're both worth diving into when you get the time, but for now, here's some smart brevity:
Graeme Wood's descriptions of Bolton in The Atlantic as "shrewd" and "ill-tempered" ("It's difficult to exaggerate how hard it is to earn a reputation as a dick in Washington," he writes) are familiar. His analysis of the position Bolton finds himself in ("less like a national security adviser than a lawyer clawing back the utterances of an uncontrollable client") make for a smart, amusing read.
Key excerpts:
"The first year of the Trump administration had been lost to poor planning and lack of familiarity with government ... and it is possible that their ineptitude saved the world from the implementation of disastrous policies. Then came Bolton. He has been called many things — vain, miserly, rage-prone — but never incompetent, and his arrival disrupted a delicate balance of idiocy."
"Many will worry that Bolton's pragmatism leaves him unrestrained, and that the world will suffer for it. But having a shrewd, amoral calculator in charge might not be so terrible. ... With a president not only prone to bold gestures but incapable of any other kind, Bolton's role as national security adviser is becoming one for which no one ever thought him suited: a moderating influence."
Mattathias Schwartz writes that Pompeo's "attempt to weld Trump's moves into a real doctrine will outlast the presidency that gave birth to it" in his great NYT Magazine profile.
Key excerpts:
"[H]e has helped to coalesce what might be called a frugal-hawk foreign policy, reflecting a new species of Republican leader who wants America to talk tough, avoid war, punish its enemies through economic sanctions and prod allies to pick up a larger share of the tab."
Pompeo acknowledges to Schwartz that his relationship with Trump is his most valuable asset. Schwartz writes that Pompeo has had to "walk a difficult tightrope, respecting Trump's instincts while channeling them into something coherent. If he failed, United States allies ... might look elsewhere for protection."
Bonus: The president's former man
H.R. McMaster joined FDD's "Foreign Podicy" podcast this week for a lengthy and interesting interview.
One takeaway: It might have been under-appreciated during McMaster's time as NSA just how hawkish he really is, particularly on Iran and North Korea.
Key excerpts:
"What China and Russia are trying to do is collapse the international political, economic order and replace it with a new order that's more consistent with their objectives. Russia wants to regain national greatness. China wants to achieve national rejuvenation. And they, in large measure, want to do it at our expense. And when I say our expense, it's the free and open societies of the world."
McMaster isn't a fan of negotiations with the Taliban, says a military option should be on the table in North Korea (as a deterrent) to "convince Kim Jong-un you're less safe with a nuclear weapon," and bemoaned what he called "the new-Left interpretation of history" which "blames us for all the problems, and therefore doesn't give any agency or control to our enemies who are fighting us."
7. Stories we're watching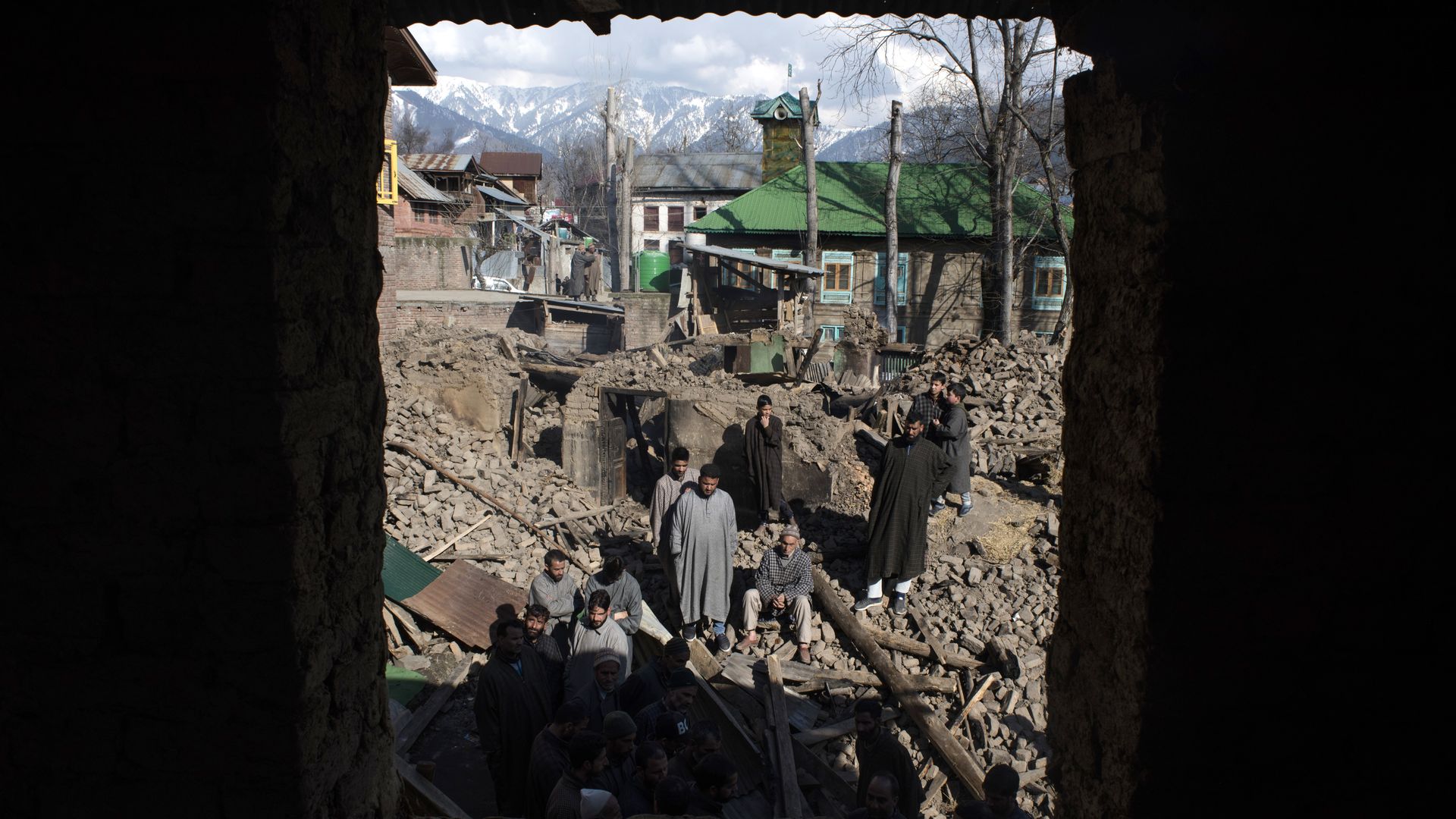 Quoted:
"Burn in hell, executioner of the people and murderer of women and children!"
— A
protestor who disrupted
a somber commemoration of Stalin in Red Square on the anniversary of his death. The man was dragged away by police.
"Contemporary attitudes in Russia are split over the historical legacy of Stalin, with many younger Russians saying they are unaware of the purges under his rule."
—
The Moscow Times
Thanks for reading — see you next week!