Welcome to Axios World, where two evenings a week we break down what you need to know about the big stories from around the globe.
1 big thing: North Korea's tactical guided message
North Korea sent a signal to the Trump administration last night in the form of a "tactical guided weapon," according to state media. It remains unclear what exactly North Korea tested.
Why it matters: President Trump and Kim Jong-un began with distrust, lurched toward fire and fury, then shifted into a period of stop-start diplomacy. With talks at an impasse, we now seem to be entering a new phase.
The latest: Last night's test was followed by a North Korean demand that Secretary of State Mike Pompeo be removed from nuclear negotiations in favor of someone more "mature," and news that Kim would be visiting Vladimir Putin in Moscow later this month.
Trump has continued to stress his "excellent" relationship with Kim, and tweeted Saturday that a third summit "would be good."
It's hard to see what it would achieve, given North Korea's vehement opposition to the all-or-nothing approach to denuclearization backed by Pompeo and National Security Adviser John Bolton.
With his latest moves, Kim is clearly attempting to change the equation.
Before Trump and Kim's spurt of diplomacy, U.S.-North Korea talks had entered a deep freeze. It began after a key series of events from late 2011 into early 2012.
Kim Jong-un replaced his father as leader just as North Korea and the U.S. were concluding the "Leap Day Agreement" — a freeze on North Korea's nuclear program in exchange for U.S. food aid and other concessions.
Kim moved ahead with the deal, but also signed off on a missile test that effectively killed it.
Van Jackson, a former Pentagon strategist and author of "On the Brink: Trump, Kim, and the Threat of Nuclear War," says Kim had little choice but to approve the test. Still, talks broke down and mistrust intensified.
Jackson says the Obama administration maintained some engagement with North Korea through the UN and other channels but never found a "credible basis" on which to resume negotiations.
In the meantime, the U.S. was ramping up sanctions and engaging in covert cyberattacks.
"North Korea responds to pressure with pressure, and we've historically not understood that as a government," Jackson says. "We essentially pressured our way into a crisis."
The period of heaviest diplomatic engagement, meanwhile, came under Bill Clinton. But it was a "fractious political moment" and "Republicans threw sand in the gears," he says.
The lesson, Jackson says, is that a step-by-step approach — which many experts believe is the only plausible path to denuclearization — is "not going to lead anywhere good if it happens in an environment where North Korea is a contested political issue."
What to watch: While there have historically been far fewer tests and other provocations when the U.S. and North Korea are engaged in diplomacy, North Korea's successful launch in late 2017 of an intercontinental ballistic missile that could reach the U.S. makes the value of a testing freeze less certain.
Go deeper: While nuclear testing paused, North Korean cyber threat still looms
2. Ukraine: From TV president to... president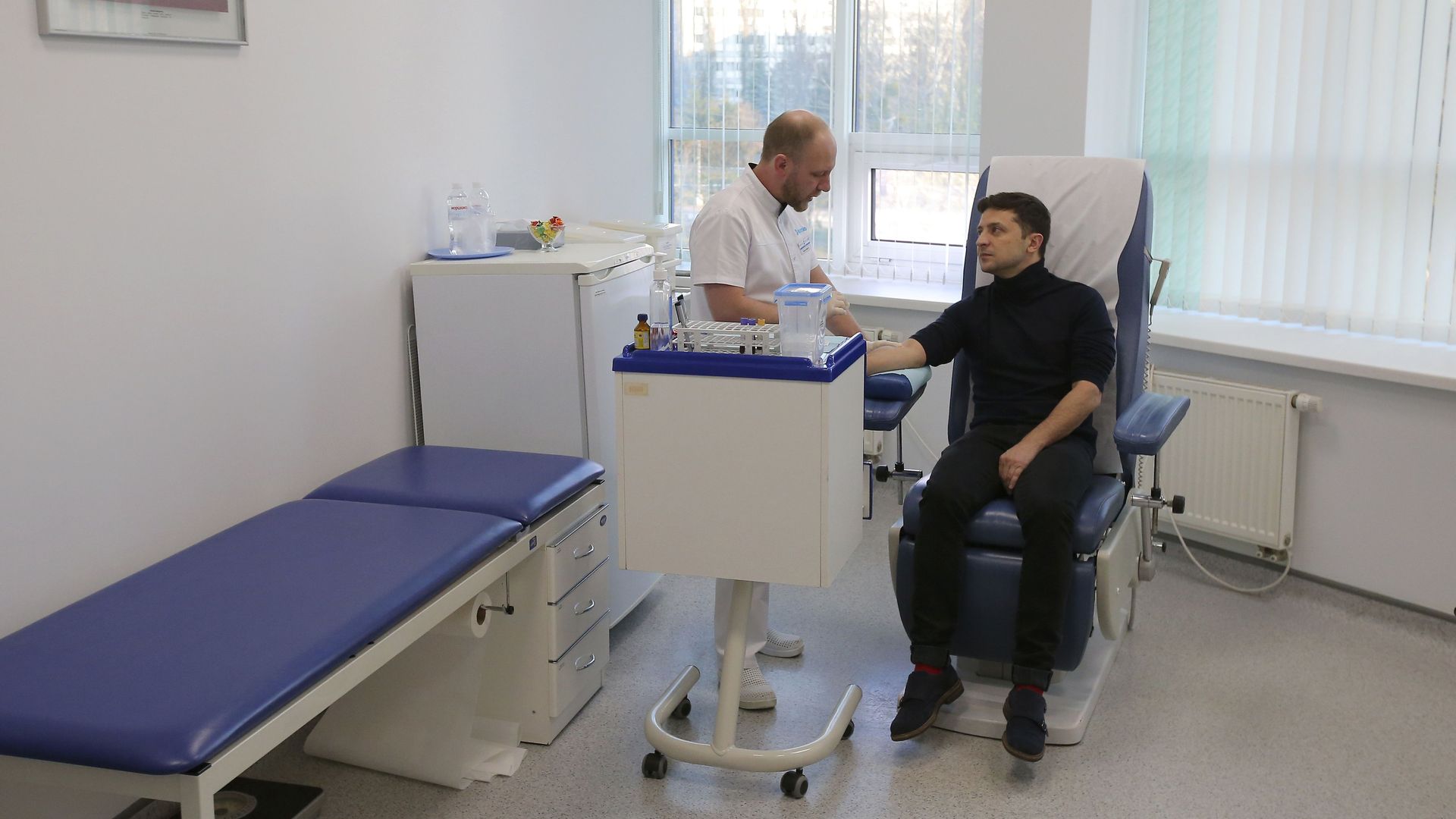 Ukraine appears to be three days away from electing a man best known for playing a president on TV as its actual president.
One recent poll shows Volodymyr Zelensky leading incumbent president Petro Poroshenko by a whopping 47 points. It's all the more remarkable because Zelensky has hardly campaigned and has few clear policy positions.
Poroshenko's unpopularity is tied to his failure to tackle corruption. The president has suggested the inexperienced Zelensky would be a dream come true for Vladimir Putin.
What to watch: Before Zelensky can turn fiction into reality, he's slated to debate Poroshenko on Friday in front of a crowd of up to 60,000 at Ukraine's national stadium.
Claire Kaiser, an expert on Eastern Europe at McLarty Associates, says that if Zelensky wins, he'll have to build a strong national security team and send an early signal he has a handle on foreign policy.
"Anyone running the show in Ukraine has the dual challenge of managing the economy and finding some sort of solution to the war in the East," she says.
Kaiser says Zelensky hasn't sent any signals that he plans to shift Ukraine's orientation away from Europe and the U.S., so while "there will definitely be a getting to know you phase," U.S. policy toward Ukraine is unlikely to change significantly.
Update: Jokowi on course for victory in Indonesia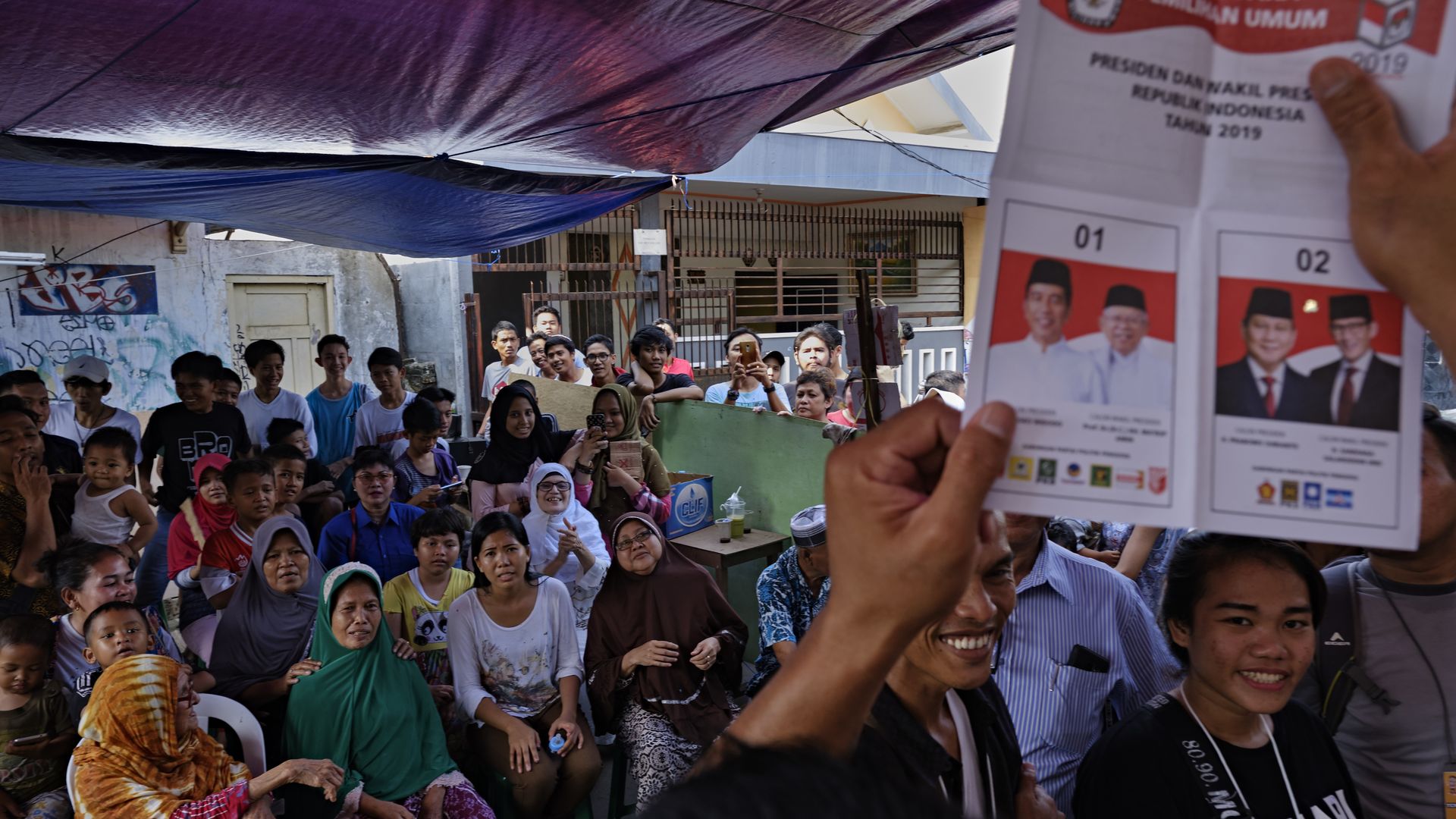 "Quick counts" from polling stations in Indonesia show President Joko Widodo leading Prabowo Subianto by between 9 and 11 points. Prabowo nonetheless claimed victory. Official results aren't expected until next month.
Go deeper:
3. Chinese block visit of Trump confidant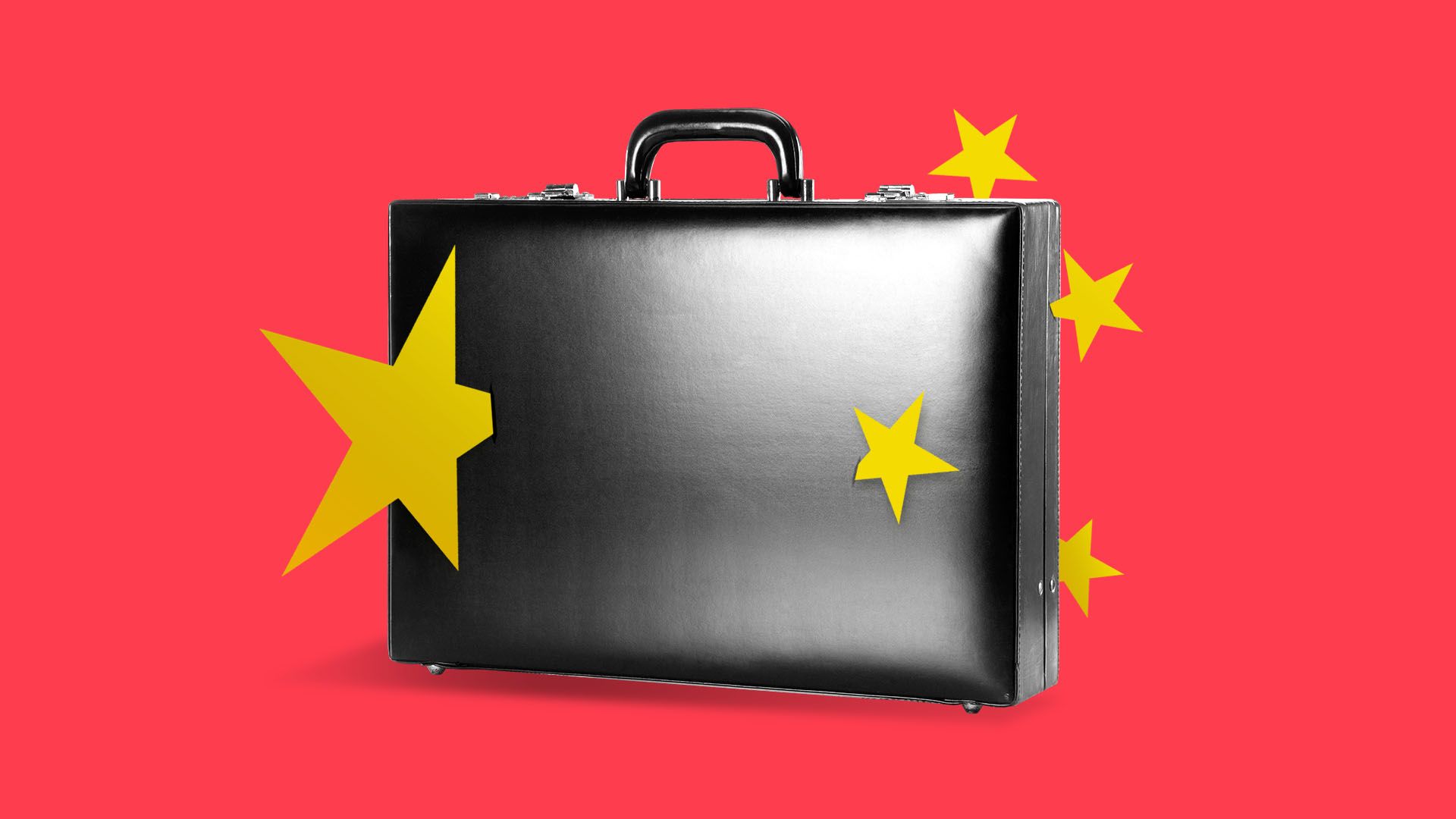 China recently declined to issue a visa to Michael Pillsbury, an informal adviser to President Trump on China policy, Axios' Jonathan Swan and I scooped this week. It's an unusual move that comes as the Trump administration steps up its scrutiny of Chinese experts attempting to travel to the U.S.
Why it matters: Trump has praised Pillsbury, a hawkish former Pentagon official and author, as "the leading authority on China." Pillsbury regularly discusses China with Trump, including during an Oval Office meeting about a month ago.
Pillsbury told Swan he has visited China over 50 times since the 1970s, and this is the first time his visa request hasn't been approved.
How it happened: Pillsbury was due to participate in a conference in Beijing last Sunday hosted by the Center for China and Globalization. He was also invited to an event at the U.S. Embassy in Beijing hosted by Ambassador Terry Branstad.
Pillsbury told Axios he applied for a visa at the Chinese consulate in Washington three weeks prior to his trip, but the Chinese sat on his application, and he has not yet received his passport back.
He said he reached out to a well-connected Chinese contact seeking information about what was going on, and the contact pointed him to an article published Sunday in the New York Times about the U.S. blocking visits from Chinese scholars due to concerns about espionage.
Between the lines: It's not entirely clear whether the Chinese move was a tit-for-tat response to the U.S. steps. The Chinese embassy did not respond to requests for comment. Pillsbury, for one, links it to ongoing trade talks. "It's part of China's apparent slowdown or refusal to make the final deal and deal with the remaining issues of importance," he said.
4. Latin America: Death of Peru's former president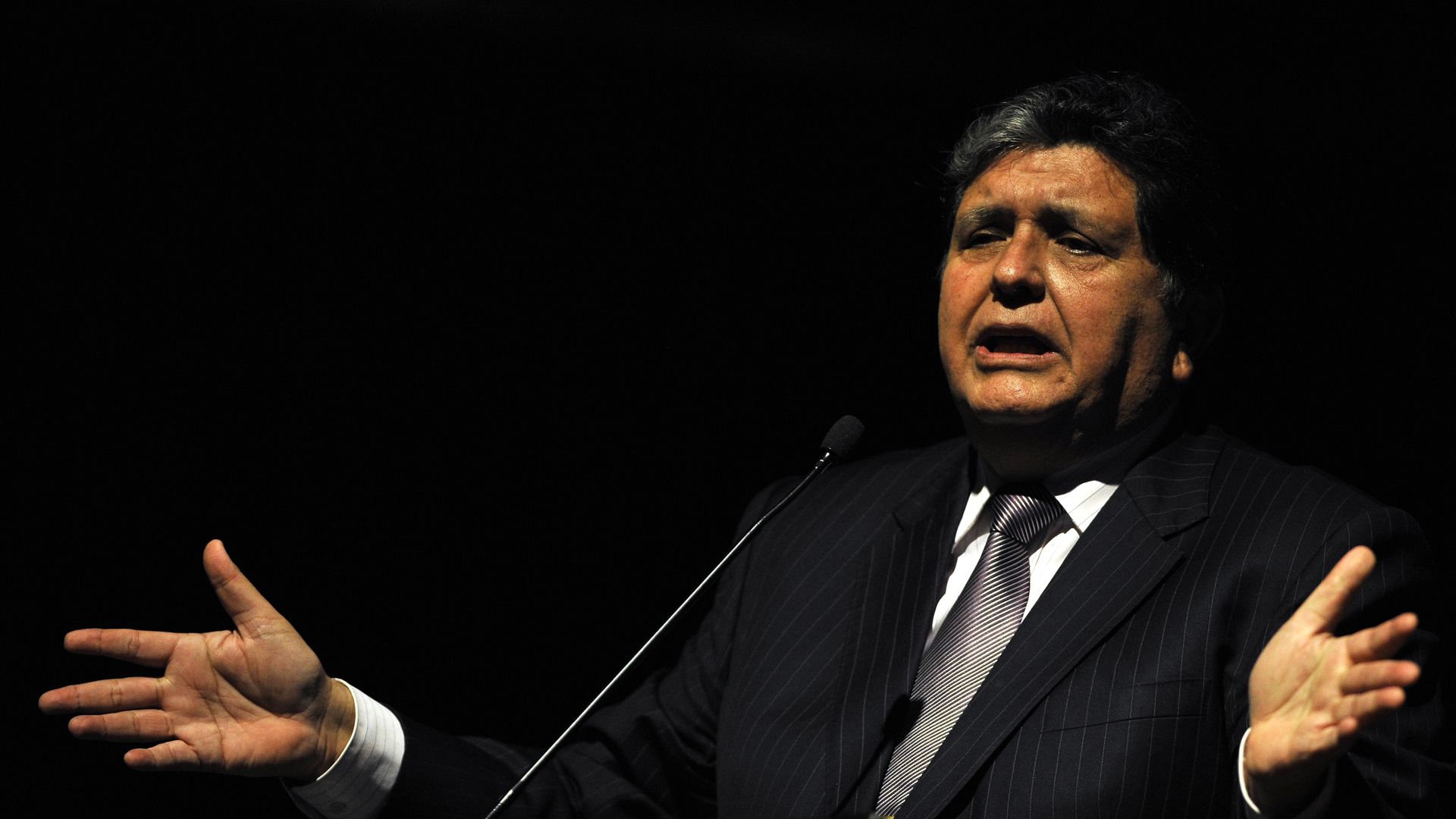 Former Peruvian president Alan García died yesterday after shooting himself as he was about to be arrested on corruption charges.
Garcia served as Peru's president from 1985-1990 and then again from 2006-2011. He was one of several Latin American leaders accused of taking bribes from Brazilian construction company Odebrecht. He denied the charges.
Peru's last five presidents have all faced criminal charges, Axios' Dion Rabouin points out.
Martin Aguirre, editor-in-chief of Uruguay's El Pais newspaper, interviewed García at length a few years ago. He emails that the former president was "like someone out of a Gabriel García Márquez novel."
"One minute he was telling you about the time he had a bbq in Zimbabwe with Fidel Castro and [Muammar] Gaddafi, next when he met [Juan] Perón in Madrid, and so on."
"Even his most bitter rivals would say that if you let him talk for 10 minutes, he would convince you of anything."
"He was one of the last leaders that had some sort of epic ingredient, from a time where politics was not the reign of bureaucrats and businessmen. I guess his final gesture suits him perfectly."
5. Middle East: Polling Palestinians ahead of peace plan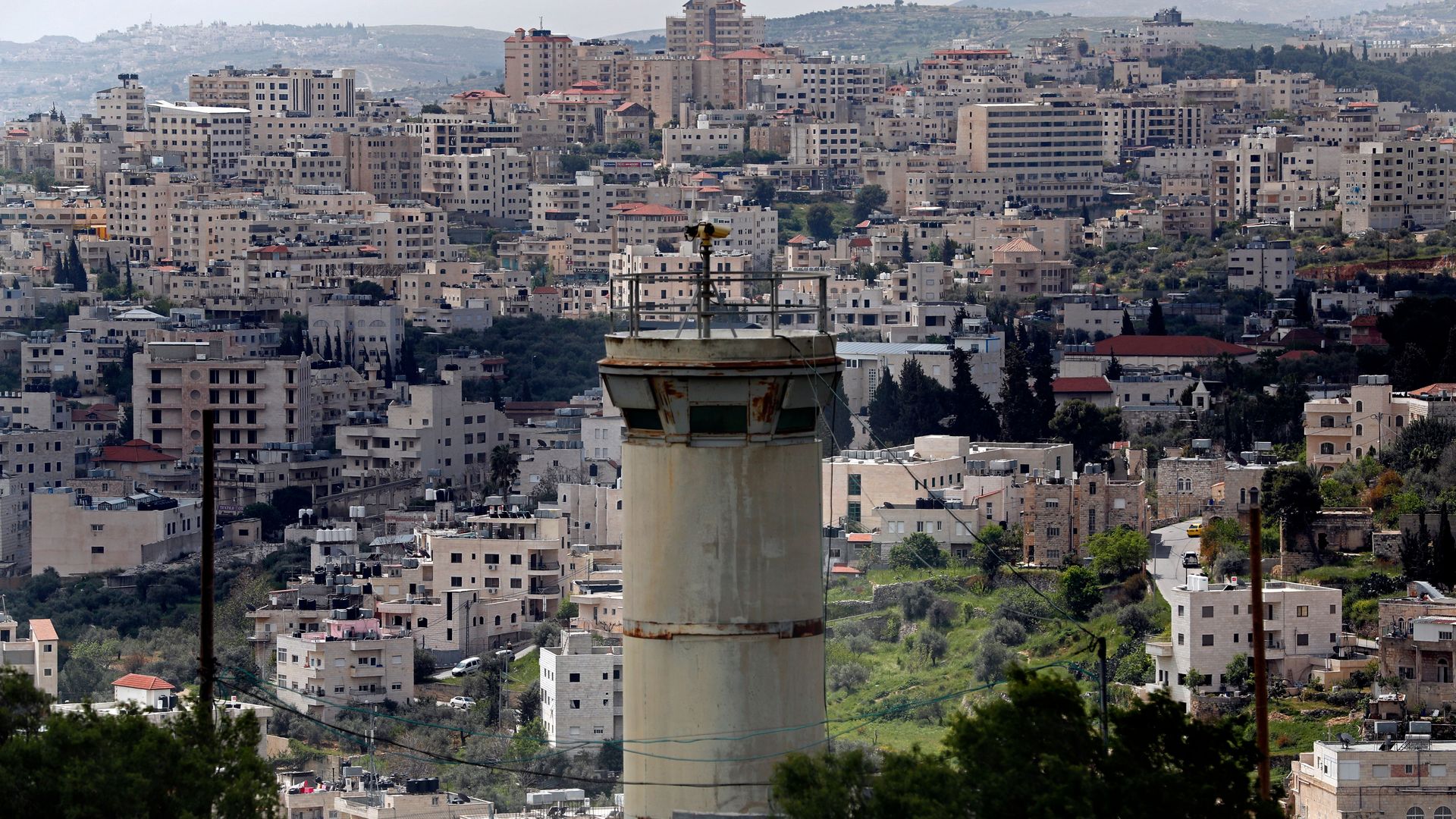 Jared Kushner has signaled that the White House will "start unveiling" its Middle East peace plan in June, Axios contributor Barak Ravid reports.
Between the lines: Few believe the plan has much of a chance of success, but it still has serious implications for the region. Its contents have, somewhat remarkably, been kept secret. King Abdullah II of Jordan is among those frustrated over having been kept in the dark.
One question we're perhaps not asking enough: what do Palestinians want? Raf Sanchez, the Telegraph's Jerusalem Correspondent, asked a top pollster, Khalil Shikaki.
The key findings, from Raf's "Letter from Jerusalem" newsletter:
1. "Support for the Two-State Solution is shrinking. Only 48% of Palestinians support the Two-State Solution, while 50% oppose it."
2. "Around a third of Palestinians support a One-State Solution — the idea that the residents of Israel, Gaza and the West Bank would all live together as citizens of a single bi-national state."
"That puts some data around a long-term question facing Israel and its supporters: what will Israel do if Palestinians give up on Palestine and start asking to be Israeli citizens instead?"
3. "Support for violence is growing. Between 2005-2015, Shikaki's surveys consistently found that less than a third of Palestinians supported a return to armed struggle against Israel. That figure is now at 47%."
4. "There is a generational gap. Younger Palestinians are more likely to support violence and less likely to support the Two-State Solution than their parents."
6. Data du jour: Press Freedom Index
From the 2019 World Press Freedom Index from Reporters Without Borders...
Most free (1-10): Norway, Finland, Sweden, Netherlands, Denmark, Switzerland, New Zealand, Jamaica, Belgium, Costa Rica.
Least free (171-180): Laos, Saudi Arabia, Djibouti, Syria, Sudan, Vietnam, China, Eritrea, North Korea, Turkmenistan.
Selected others: USA (48), Japan (67), Brazil (105), Mexico (144), Russia (149), Turkey (157).
Right direction: Ethiopia (moved up 40 spots), Gambia (+30), Tunisia (+25), Malaysia (+22), Maldives (+22).
Wrong direction: Central African Republic (-33), Tanzania (-25), Nicaragua (-24), Mauritania (-22).
The bottom line: "The number of countries regarded as safe, where journalists can work in complete security, continues to decline, while authoritarian regimes continue to tighten their grip on the media."
7. Stories we're watching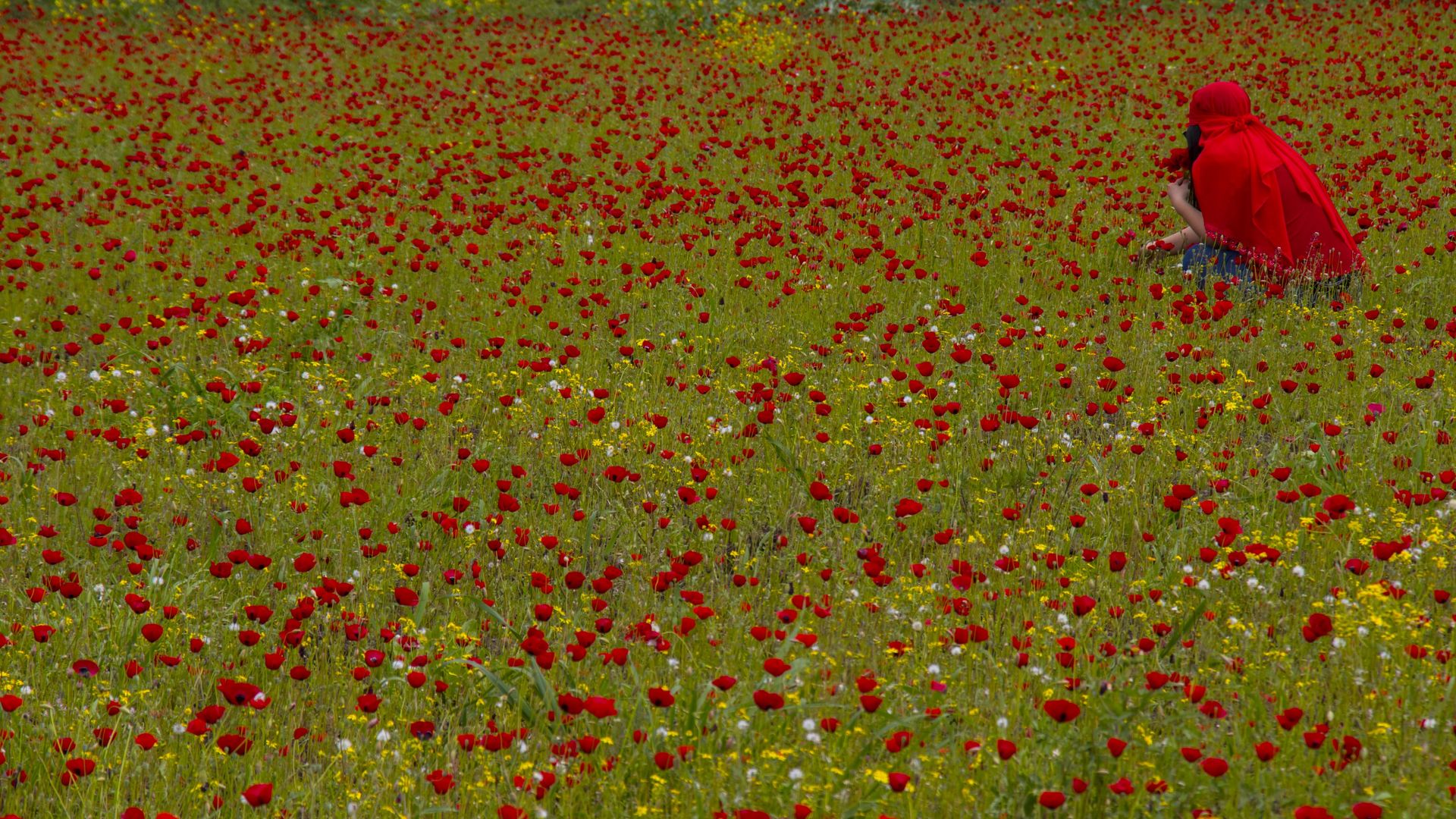 Quoted:
"He did ask me about that, but I love the work that I'm doing."
— Ivanka Trump to the AP,
confirming her father asked
if she was interested in becoming World Bank chief. As to whether he also asked her about becoming UN ambassador, she said: "I'll keep that between us."
Thanks for stopping by — have a wonderful weekend.