Welcome to Axios World, where two evenings a week we break down what you need to know about the big stories from around the globe.
Thanks for joining me! Please tell your friends and colleagues to sign up here, and I'd love your tips and feedback: lawler@axios.com.
1 big thing: Turkey decries Trump's "stab in the back"
Turkey's currency plunged to new depths today amid a standoff that has Turkish President Recep Tayyip Erdogan accusing the U.S. of sabotaging an ally.
Why it matters: Turkey was already bracing for economic turbulence, but President Trump's decision to apply sanctions over the detention of American pastor Andrew Brunson has accelerated the crisis, and provided Erdogan with a scapegoat. The dispute could also exacerbate another trend: Turkey's drift away from the West.
Catch up quick…
Erdogan — beginning a fresh term after 15 years in power — has been pulling Turkey in an increasingly authoritarian direction, particularly after surviving a coup attempt in 2016. Thousands were arrested in the wake of the failed coup, including Brunson, who was charged with links to terrorism, an accusation the U.S. says is baseless.
Trump sanctioned Turkey's justice and interior ministers on August 1 over Brunson's detention and followed up last Friday by announcing the doubling of steel and aluminum tariffs on Turkey.
Turkey's already sliding currency has lost more than 40% of its value against the dollar this year, and 22% as tensions have ratcheted up over the past week. Erdogan is blaming an "economic war" against Turkey. Investors cite economic mismanagement from his government.
The bigger picture...
A Turkey-U.S. split is "not the intention of either side," says Ozgur Unluhisarcikli, director of the German Marshall Fund's Ankara office, "but events could lead Turkey there," particularly because Trump and Erdogan both "seem to care more about their own political power" than their alliances.
Unluhisarcikli says public and elite opinion in Turkey has been turning against the U.S. under the Trump administration, and the situation surrounding Brunson's detention could escalate further because "Trump has denied Erdogan any honorable way out of this."
What to watch...
"While the sanctions might cripple Turkey's economy, they are unlikely to pose a threat to Erdogan's power," Soner Cagaptay of the Washington Institute writes for Axios Expert Voices. "In fact, his base is likely to band around him even tighter."
"It is actually Russia that stands most to gain from a weakened Turkey," Adham Sahloul of Tufts' Fletcher School writes for Expert Voices. "Despite the amicable diplomatic and military coordination between Erdogan and Putin in Syria, Russia views Turkey as a geopolitical threat in Eurasia."
"Amid signs of emerging market contagion, the South African rand briefly fell as much as 10% to a two-year low on Monday morning. ... The Indian rupee slipped 1.1%, while the Indonesian rupiah lost 1%," per the Financial Times.
2. Scoop: Netanyahu's secret Egypt trip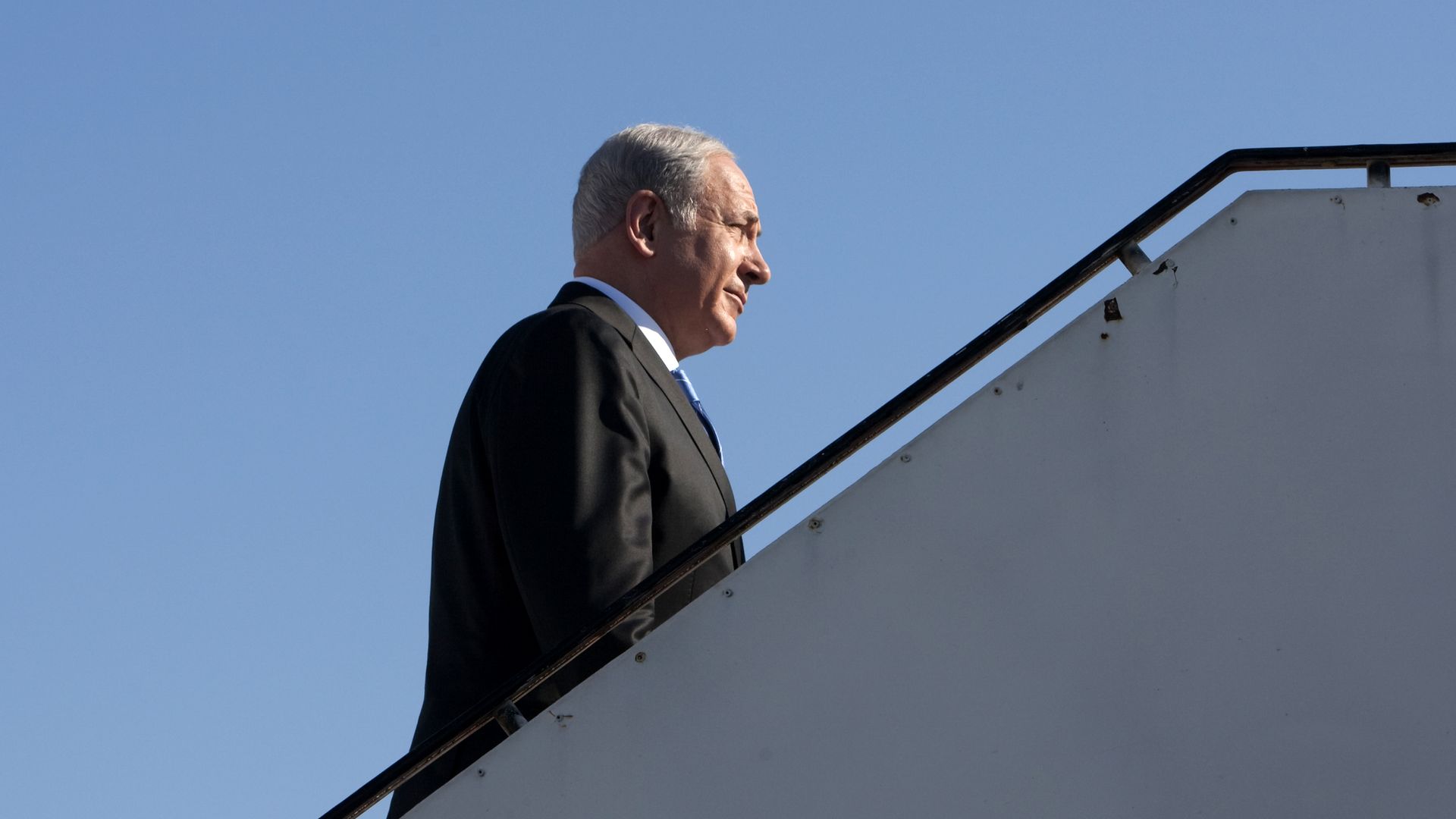 Israeli Prime Minister Benjamin Netanyahu and Egyptian President Abdel Fattah el-Sisi held a secret summit in Egypt in May, Axios contributor Barak Ravid reports, citing U.S. officials.
Netanyahu traveled to Egypt on May 22nd with a very small group of advisers and security guards. He stayed in Egypt for a few hours and went back to Israel after midnight. Netanyahu's trip stayed secret and most of the members of his security cabinet were kept out of the loop.
This meeting was pivotal in the Egyptian-led efforts over the last three months to reach a deal between Israel, Hamas and the Palestinian Authority on stabilizing Gaza. The leaders also discussed the Trump administration's long-anticipated Middle East peace plan.
Netanyahu was far less clandestine in responding to reports Jeremy Corbyn, leader of Britain's opposition Labour Party, attended a ceremony honoring Palestinian terrorists.
Netanyahu's tweet: "The laying of a wreath by Jeremy Corbyn on the graves of the terrorist who perpetrated the Munich massacre and his comparison of Israel to the Nazis deserves unequivocal condemnation from everyone – left, right and everything in between."
Corbyn's reply: "Israeli PM's claims about my actions and words are false. What deserves unequivocal condemnation is the killing of over 160 Palestinian protesters in Gaza by Israeli forces since March, including dozens of children."
3. Latin America: Jilted lover rocks Argentina's politics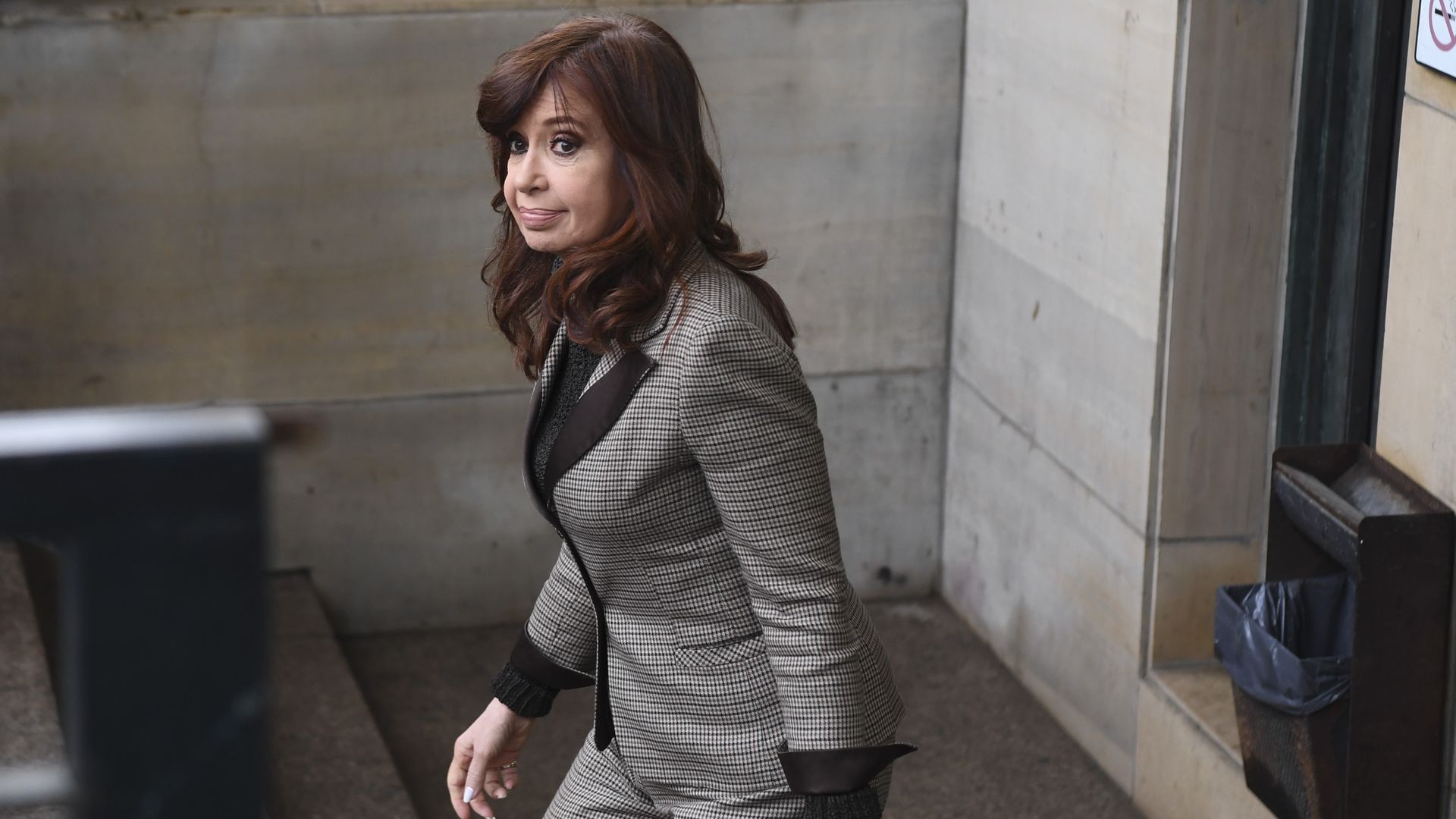 Former Argentinian President Cristina Fernández de Kirchner testified in court yesterday in relation to the biggest corruption scandal uncovered in years in her country, which could land her in prison. Martin Aguirre of Uruguay's El Pais newspaper unravels the epic tale in an email from Montevideo:
Kirchner is accused of leading a criminal enterprise to steal hundreds of millions from public infrastructure contracts, the latest big name in Latin American politics to be implicated in a kickback scandal.
The scandal was exposed when Hilda Horowitz, the former lover of a driver tasked with transporting bags of cash from bribes paid by construction companies, told a judge about the operation after a sour break up.
The driver, Oscar Centeno, filled notebooks for years with details of every trip to pick up the money, which would eventually end up in the hands of people close to former president Néstor Kirchner, Kirchner's deceased husband and predecessor.
The notebooks arrived secretly to the newsroom of La Nación, one of Argentina's biggest newspapers, which confirmed the whole operation. Since then, most of the construction moguls involved have agreed to cooperate, hoping for lighter sentences.
Their information has exposed a massive operation where companies would fix public biddings with the government, charge far above market value, and illegally pay back a portion to public officials as bribes and for campaign funding.
4. Europe: Italy's populists, pipelines and vaccines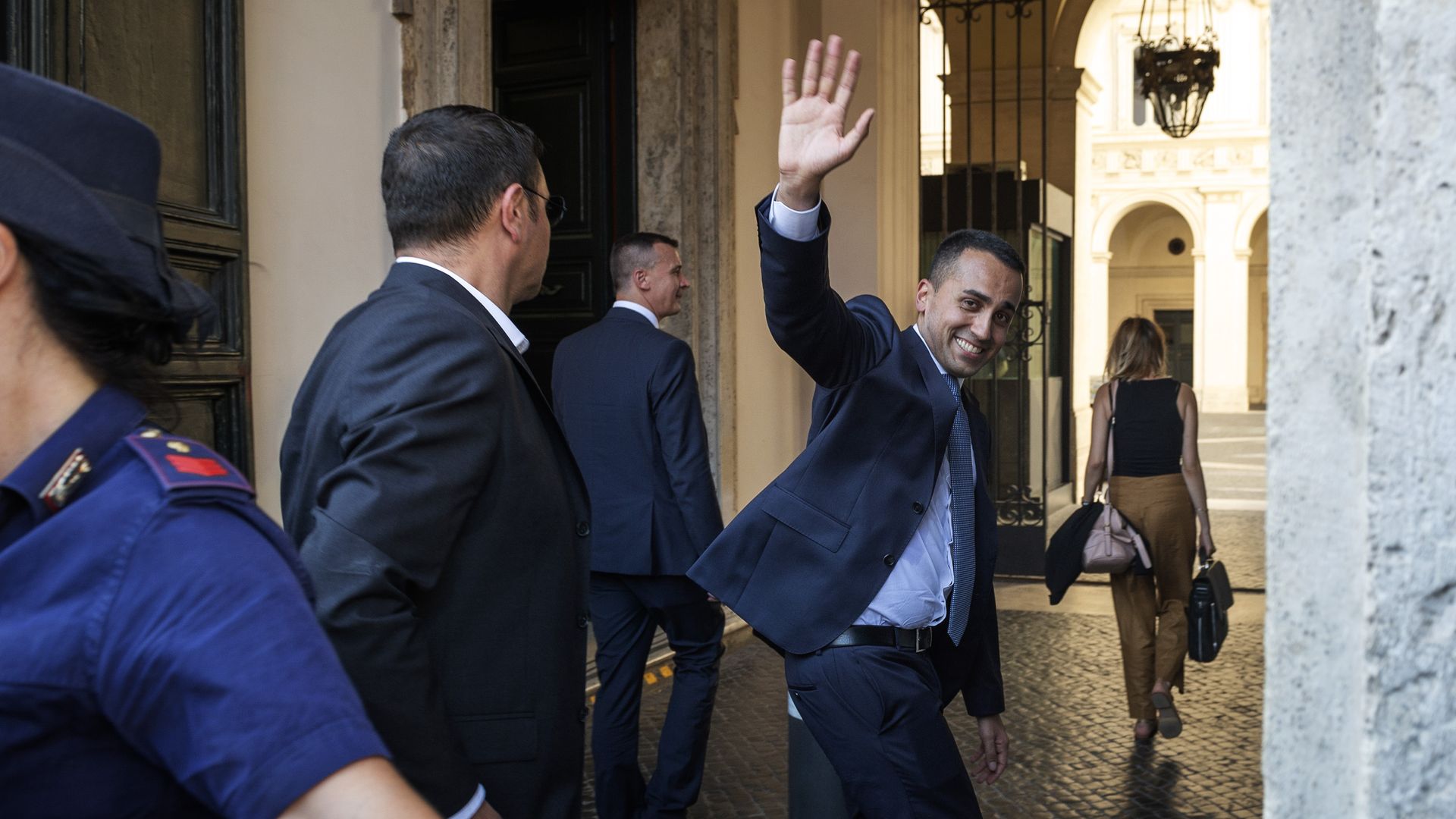 Italy's populist government pushed a bill through the upper house last week that would end mandatory vaccinations for children entering pre-school. The law was passed during a measles outbreak last year.
Why it matters: The vote could be contagious. The anti-establishment wave in Europe and the U.S., plus the ability of social media to spread any opinion, have put new impetus behind the opposition to mandatory inoculation, Axios' Eileen O'Reilly writes.
"I'm really concerned, obviously, about the move Italy made," Anthony Fauci, director of the U.S. National Institute of Allergy and Infectious Diseases, tells Axios. He says people in Italy and elsewhere continue to believe there are significant adverse effects that warrant not getting vaccinated, despite all evidence to the contrary.
Five Star, the larger constituent of Italy's populist government "came to power by harnessing Italy's anger toward politics-as-usual and big business interests, running a nationalist-themed campaign filled with conspiratorial overtones against globalist forces and suspicion of expertise and the elite —

whether it came to vaccines

, economics or energy," the NY Times Jason Horowitz writes.
But while ignoring the consensus of experts may be part of the emerging populist playbook, Five Star is facing a more traditional political hurdle: keeping its promises.
Horowitz writes that the party faces an "existential political problem" over a proposed gas pipeline worth billions of dollars. It is fiercely opposed in a coastal area that swung to Five Star in March and now senses a betrayal as the party "is awkwardly walking back its opposition."
5. Asia: Indonesia's high-stakes rematch
Indonesia, the world's fourth most populous country, will host a bitter presidential rematch next year, as President Joko Widodo (known as Jokowi) and Prabowo Subianto, a retired general, have both registered for the April vote.
The 2014 contest between the two was riven by misinformation and sectarian division. One false claim that spread on social media was that Jokowi, who is a secular Muslim, was a Christian of Chinese descent.
"Jokowi's announcement Thursday that he had chosen the 75-year-old cleric Ma'ruf Amin [as his running mate] was aimed at staving off a similar smear campaign against him," per the LA Times.
Jokowi is polling far ahead, but the downfall of a close ally gives reason for concern, the NY Times notes.
Indonesia is recovering from an earthquake last Monday that killed at least 436 people
Another reason for concern: Jakarta, the capital city of 10 million, has been declared the fastest-sinking city in the world, and could be totally submerged by 2050.
6. Global: Watch your language(s)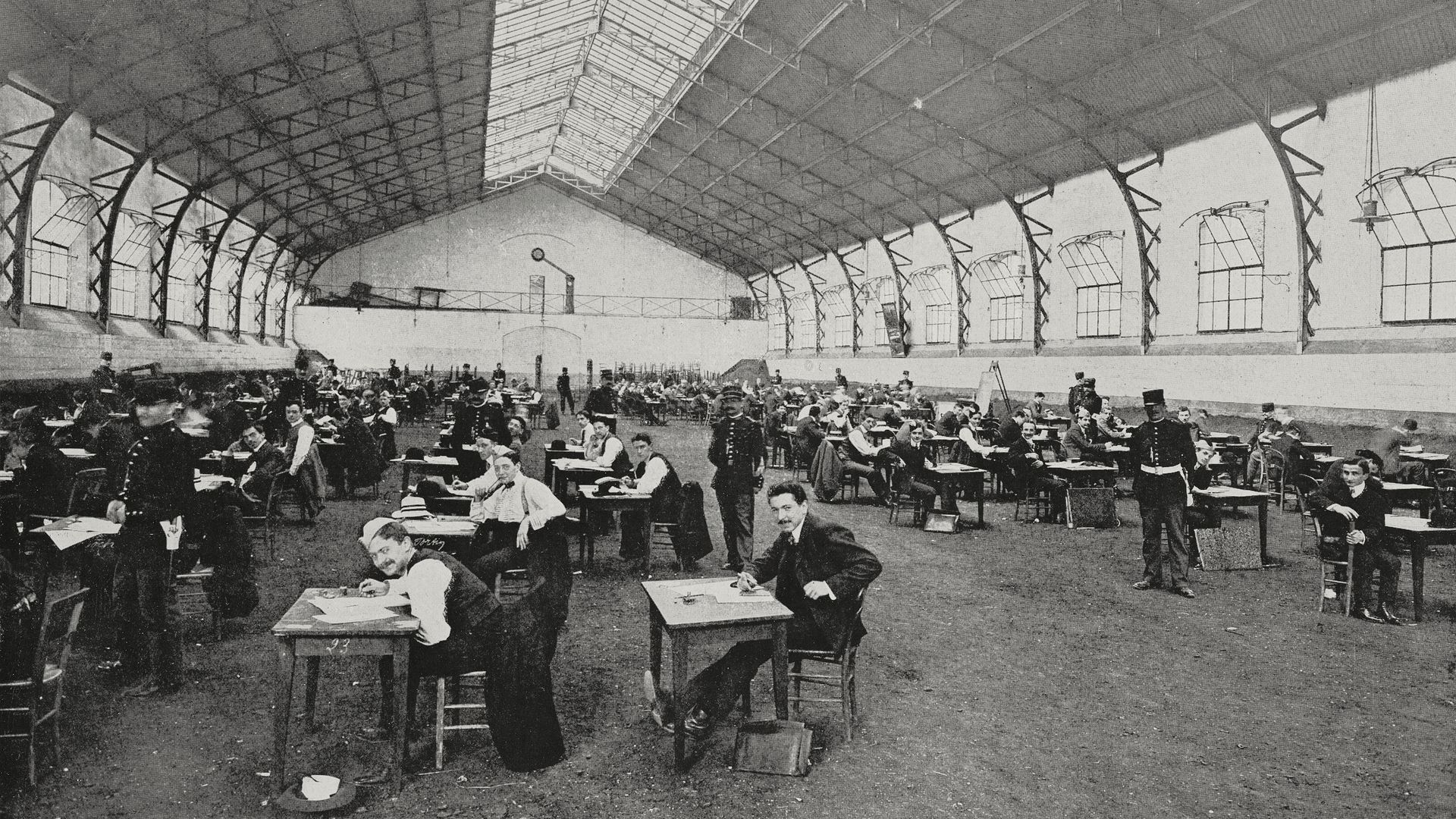 100% of French schoolchildren are learning a foreign language. That's also the case in Austria and Norway. Poland and Spain aren't far behind.
The median among European countries is 92% across primary and secondary school, according to Pew. In the U.S., that number is 20%.
New Jersey is the only U.S. state where more than half of students are learning a second language. Wisconsin, Maryland and Vermont are next at around one-third. The rate is just 9% in Arkansas, New Mexico and Arizona.
No sorpresas: Spanish is by far the most popular foreign language taught in the U.S. In Europe, it's English.
Another global educational disparity is examined in this week's Economist: the length of summer breaks...
"Their length ranges from three weeks in South Korea to three months in America, Italy and Latvia. ... studies have found that children regress over the summer even in Belgium, Britain, Canada, Germany and Malawi, all of which have much shorter summer breaks than America's."
7. Stories we're watching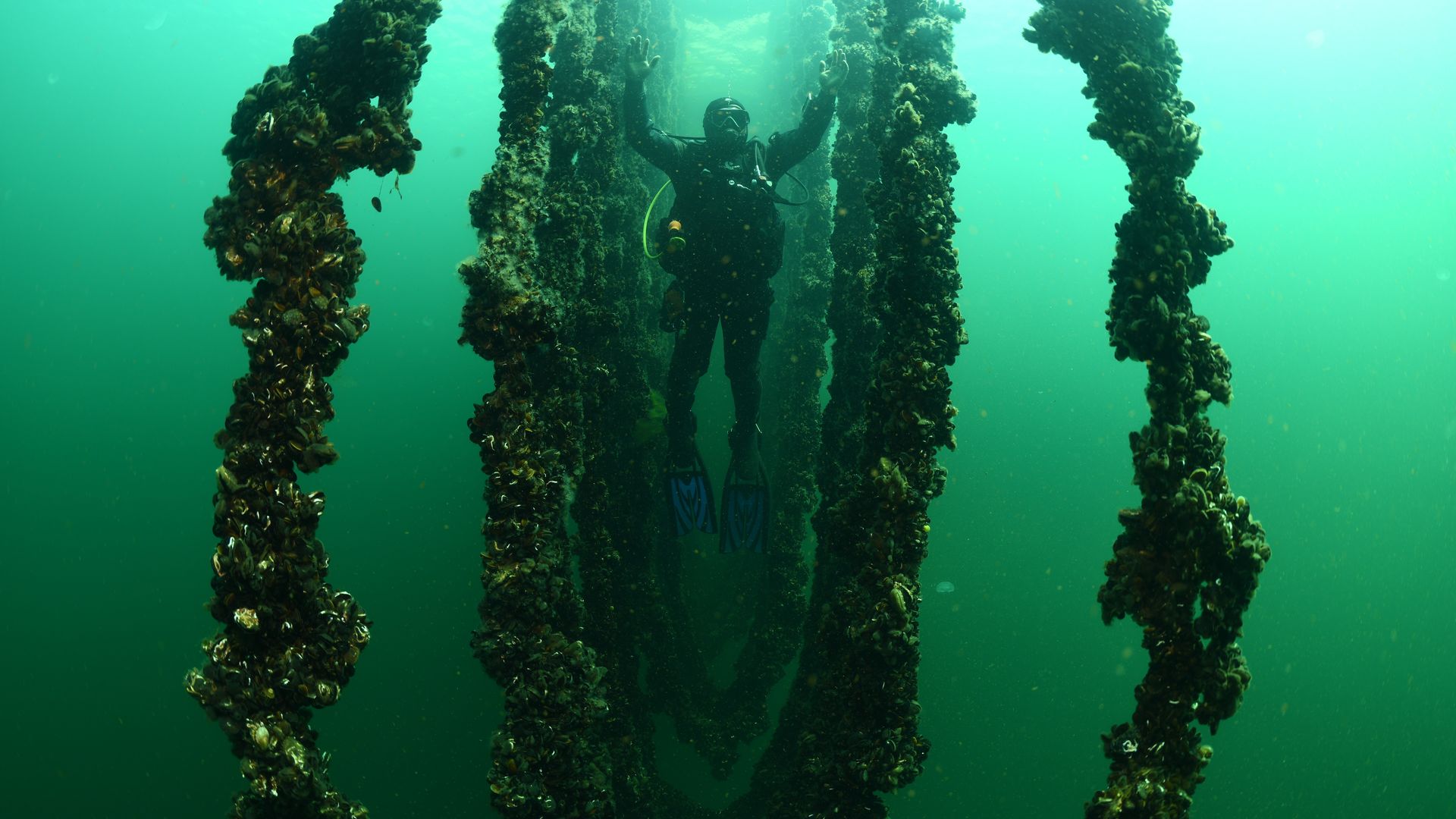 Quoted:
"Shame on you, shame on you. You are swapping your strategic partner in NATO for a pastor."
— Erdogan, speaking
at a rally
Thanks for reading — see you Thursday evening!