Welcome to Axios World, where two evenings a week we break down what you need to know about the big stories from around the globe.
Thanks for joining me! Please tell your friends and colleagues to sign up here, and I'd love your tips and feedback: lawler@axios.com.
1 big thing: Trump's trade war truce with Europe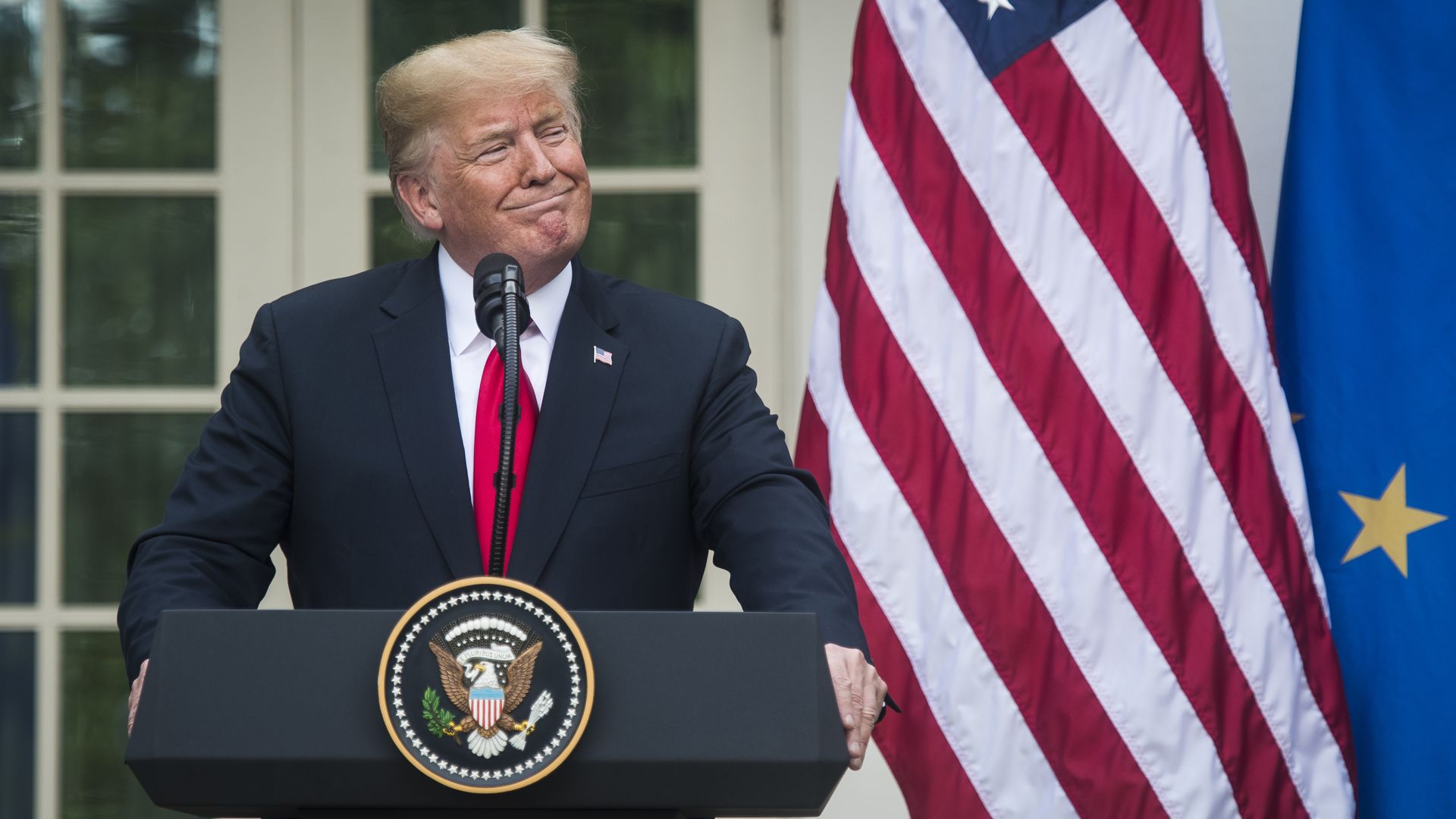 President Trump's "deal" with the EU on trade is more a fragile ceasefire — no significant territory was gained or lost, no white flags have been raised, and the president's trigger finger remains itchy. Crucially, though, the guns have gone silent.
Why it matters: Looming over the White House meeting yesterday between Trump and European Commission President Jean-Claude Juncker was Trump's threat of a 20% levy on auto imports that would hit EU countries like Germany (and U.S. consumers) hard, and could lead to a full-scale trade war. That threat is now on hold while the sides negotiate.
How it happened, per the FT:
"Mr Trump surprised the Europeans by quickly declaring that he wanted to hammer out an agreement. Within three hours there was a one-page joint statement laying out a vague plan for further discussions and a ceasefire on tariffs."
"Mr Trump seized on what he said were promises from the EU to buy more soybeans and liquefied natural gas in his announcement. Yet European officials said on Thursday that the EU delegation had done little more than describe the reality of global markets to the president."
Behind the scenes, from Axios' Jonathan Swan:
Trump keeps privately telling skeptics of his trade tactics that he needs "space" to negotiate. He's asking them to trust that, given room to maneuver, he'll bring the trade standoffs to a satisfactory conclusion.
But the $12 billion in subsidies announced Tuesday for farmers hurt by the trade war was seen almost as an admission of failure. Now, pressure is ratcheting up from the Hill and free traders in the West Wing. They want to see the light at the end of the tunnel.
After yesterday's announcement, officials in Washington, Brussels and Beijing are looking for a sign as to whether Trump has been spooked and is planning to back down. It's impossible to divine that because Trump would never articulate it out loud.
The view from Beijing...
Chinese leaders welcomed the U.S.-EU agreement, but noted that no progress has been made for a similar U.S.-China deal, Caixin Global reports.
"Both sides thought the other was a paper tiger and would fold relatively quickly," Scott Kennedy of CSIS tells Axios' Erica Pandey. "Certainly, the Chinese miscalculated and are probably regretful of some of the steps they've taken. But it's hard to say that the U.S. has the upper hand because China is not showing any signs of relenting."
"I'm sure they recognize that the U.S. collaborating with the EU puts China in a more difficult position, as the U.S. is less isolated now. They also know a statement in the Rose Garden does not equal implementation."
The view from Tokyo...
Japan is also wary of auto tariffs, and looking to ratchet down trade tensions.
"They're probably taking notes as to what kind of deal took place yesterday. They're trying to figure out if these kinds of sweeteners, like buying U.S. soybeans, will work for the Trump administration," says Mireya Solís of Brookings.
A closing thought, from FT World Trade Editor Shawn Donnan: "The biggest tension in the global trading system today is the internal one in Donald Trump. He loves tariffs. He also loves making deals."
Bonus: America's top partners
Pew asked Americans which countries they consider to be the two most important partners for U.S. foreign policy. The top responses:
Great Britain: 33%
China: 24%
Germany, Israel: 12%
Canada: 10%
France, Russia: 8%
Japan: 7%
Partisan divide: Republicans are more likely than Democrats to pick Israel (24%), Canada (18%) and the U.K. (42%) than Democrats. Dems are more likely to pick Germany (21%), Mexico (7%) and China (26%).
Note: Data from October, 2017.
2. The intensifying Afghanistan fight
The U.S. military reported on Friday a 78% total increase in weapons used in Afghanistan from the first half of 2017 to the same period this year, Axios' Haley Britzky writes.
The big picture: Michael Kugelman of the Wilson Center told Axios the uptick in weapons being used "makes perfect sense. ... Washington is likely trying to give the Taliban a better incentive to stop fighting — and that entails making the Taliban feel more vulnerable on the battlefield. Hence the upsurge in weaponry."
Each month this year has seen more weapons used than the corresponding month in every year since 2013, when the data was first made available.
Pentagon spokesman Lieutenant Colonel Koné Faulkner said "expanded authorities to conduct airstrikes against hostile forces," a stated element of Trump's strategy, accounted for the uptick.
What to watch: This comes as the Trump administration is reportedly considering a review of its Afghanistan approach, with President Trump frustrated by a lack of progress.
The latest, per the Wall Street Journal: "The top U.S. envoy for South Asia met with Taliban officials this week to discuss ways to lay the groundwork for peace talks, in a fresh bid to end the 17-year war in Afghanistan, people familiar with the matter said."
3. Asia: Khan for Pakistan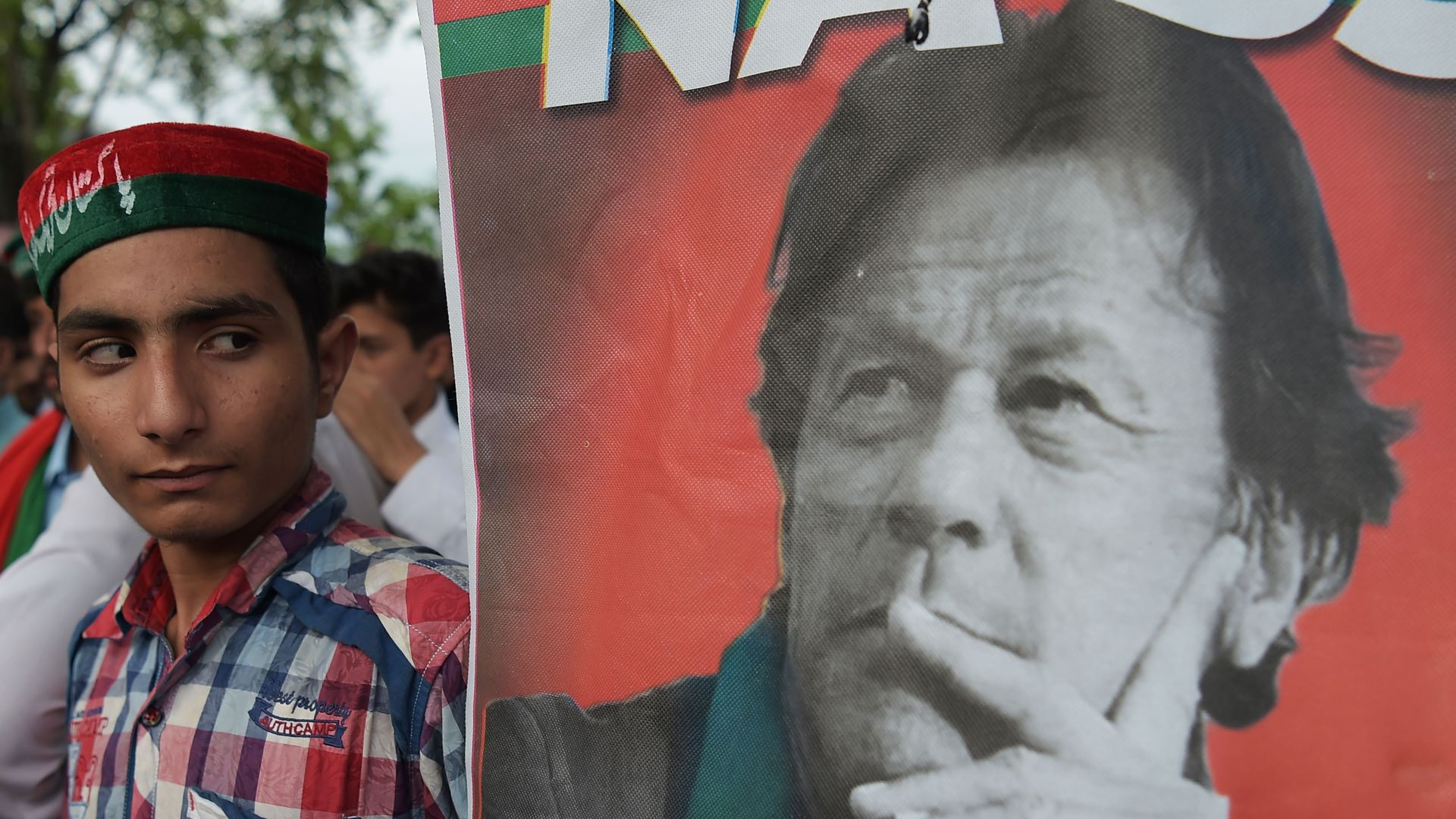 Imran Khan, the cricket star-turned anti-establishment politician, has declared victory in Pakistani elections that have been marred by violence and allegations of military meddling.
Khan's PTI party has reportedly benefited from behind-the-scenes support from Pakistan's powerful military and intelligence agencies, and some experts believe his victory will cement them as the preeminent powers in Pakistani politics for the foreseeable future.
The PTI's chief rival, the PML-N party, has cited widespread irregularities in rejecting the results. So to has the PPP party, which is running third.
Just 34% of Pakistanis have confidence in the honesty of elections, according to a Gallup poll taken last year. 96%, meanwhile, said they had confidence in the military.
Khan has lambasted the U.S. in the past, though foreign policy is the military's domain, so his views there may be of limited consequence. He called today for dialogue with India, Pakistan's neighbor and rival.
"I started this struggle 22 years ago and thankfully today I have been given a chance to fulfill what I dreamt for the country. ... We are going to uplift Pakistan's poor and help our country's laborers. Corruption has been eating Pakistan like a kind of cancer."
—
Khan, in his victory speech
4. Middle East: No Israeli-Palestinian summit for Putin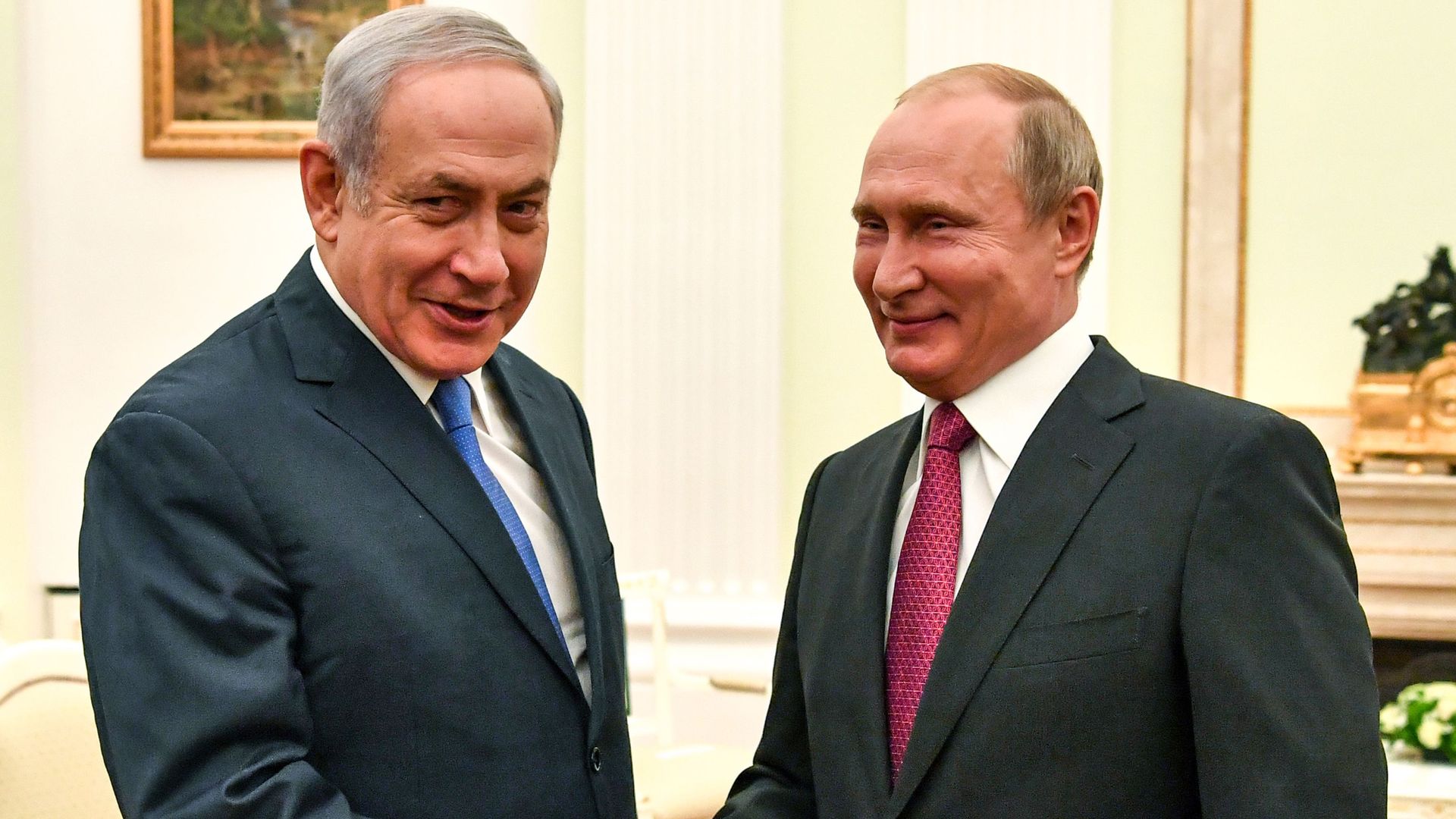 Israeli Prime Minister Benjamin Netanyahu has rejected Russian President Vladimir Putin's proposal to organize a summit with Palestinian President Mahmoud Abbas in Moscow, Axios contributor Barak Ravid scoops. The reason: Netanyahu didn't want to step on President Trump's toes.
Netanyahu and Abbas haven't met since September 2010. Russian Foreign Minister Sergey Lavrov told Netanyahu that Putin had proposed a Moscow summit to Abbas, who said he was willing, Russian diplomats said. Netanyahu told Lavrov he is not against such a meeting in principle, but doesn't want to do it before the Trump administration launches its peace plan.
Putin's new attempt to inject himself into the Israeli-Palestinian peace process is a challenge to the Trump administration, which has been working on a peace plan for the last 18 months but hasn't decided if or when to present it.
Go deeper: On Tuesday, the Israel Defense Forces used two surface-to-air missiles to shoot down a Syrian fighter jet that strayed two kilometers into Israeli airspace over the Golan Heights. Eurasia Group's Willis Sparks explains how that fits into the wider conflict.
5. Africa: Zimbabwe's election boosts businesses
We're just four days away from a landmark election in Zimbabwe, the first since Robert Mugabe resigned under pressure after nearly four decades in power.
Mugabe was replaced by his former deputy, Emmerson Mnangagwa, who is on the ballot (in an oddly prominent spot) in Monday's election, and says he wants to improve Zimbabwe's business climate and ties with the West.
Unlike in the past, election observers and NGOs have been allowed in. That has been a boon for business amid a cash shortage in Zimbabwe's damaged economy, Al Jazeera's Hamza Mohamed reports from Harare: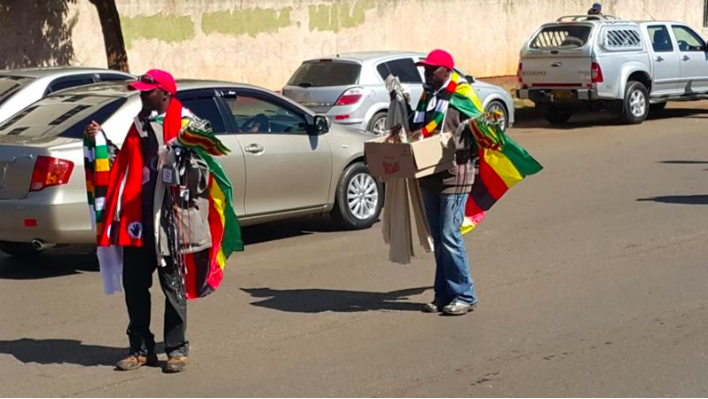 Photo: Hamza Mohamed/Al Jazeera
What's happening: Hotels have seen a surge in customers, car rental businesses can't keep up with demand and newspapers and radio stations are enjoying a surge in political advertising.
Shine Shapure has replaced his usual offerings of matchsticks, keyholders, stickers and water with memorabilia of the ruling ZANU-PF and the main opposition MDC parties. "ZANU-PF supporters have more money than MDC's. They are willing to pay anything. That is why I charge them more," he says with a smile.
Lovemore Mapiro runs a printing business in the Zimbabwean capital, and has been traveling up and down the country delivering orders and taking in new ones from candidates and parties. "MDC people usually buy plenty of stuff at times like this," says the 34-year-old. "They are used to the party being in the bush (political wilderness), so they know they must support their party so it wins."
Go deeper: Read Hamza's full report on Al Jazeera.
6. Global: Extreme weather with alarming frequency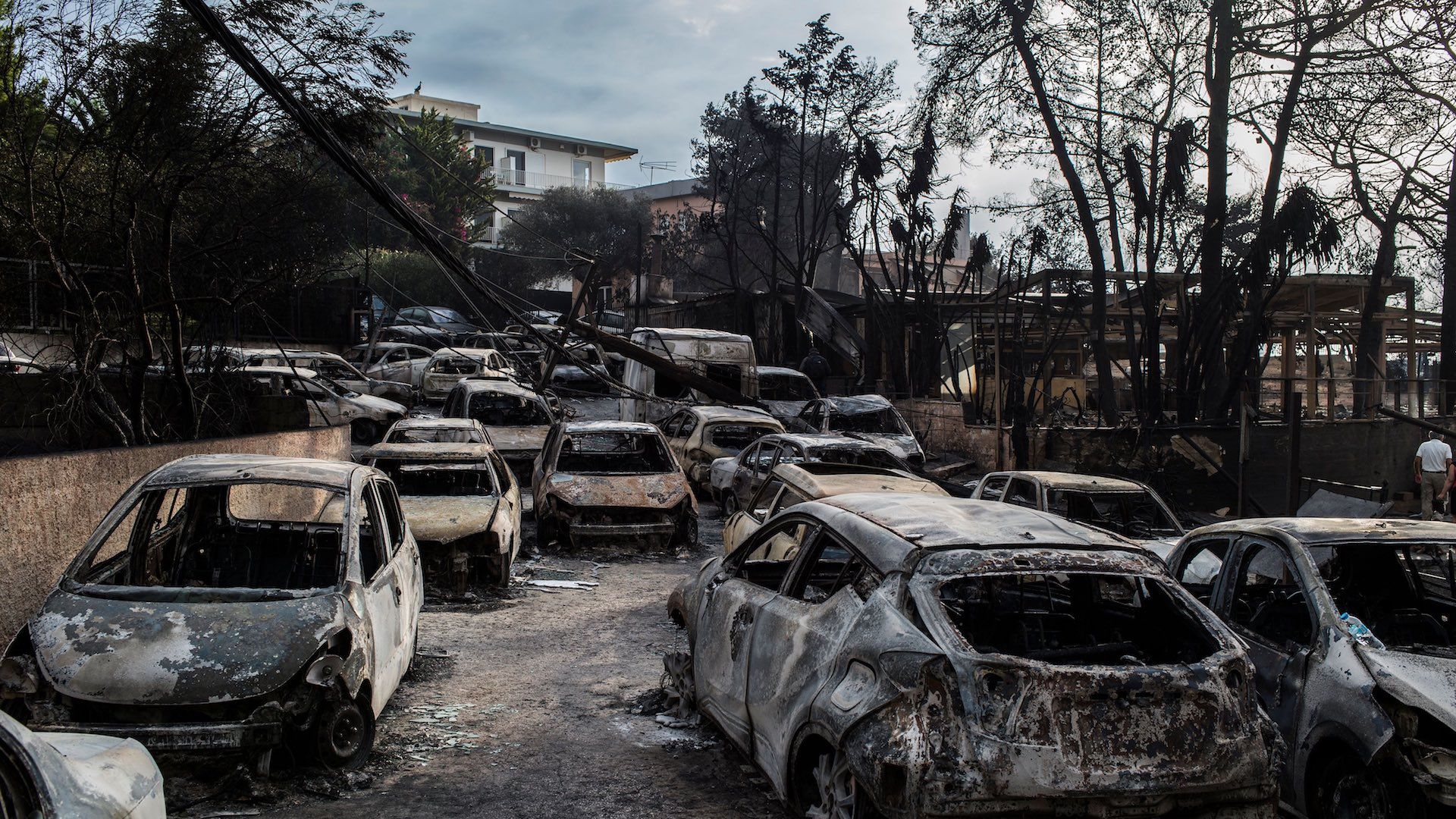 Axios' Henrietta Reily gets you caught up quick on weather-related disasters around the world:
The most destructive wildfires in Greece since World War II have been raging in coastal areas for four days now, and the death toll has reached 85.
Japan notched its highest temperature ever recorded in the midst of a heat wave that has killed 86 and left 23,000 hospitalized. The wave came right after significant floods battered the country, and a typhoon is expected this weekend.
Monsoon rains led to the collapse of a large dam in rural Laos, stranding thousands and forcing thousands more downstream in Cambodia to evacuate. The government has reported a death toll of 27, but it might be significantly higher.
The bigger picture: The U.K. and France are also experiencing record temperatures, and fires are blazing everywhere from the U.S. West Coast to the Arctic Circle. Daniel Swain, a climate researcher at UCLA, emails:
"From my perspective as a climate scientist, one of the most striking (and disconcerting) aspects of this is that we're now seeing decades-old scientific predictions being validated in the real world, right before our eyes. And now we're seeing these changes manifest themselves in a very tangible sense in London, and Tokyo, and Delhi, and Los Angeles, and Washington D.C.—places where hundreds of millions of people live."
Axios Science Editor Andrew Freedman will have more reporting on all of this in the coming days. Sign up for his excellent newsletter here.
7. Stories we're watching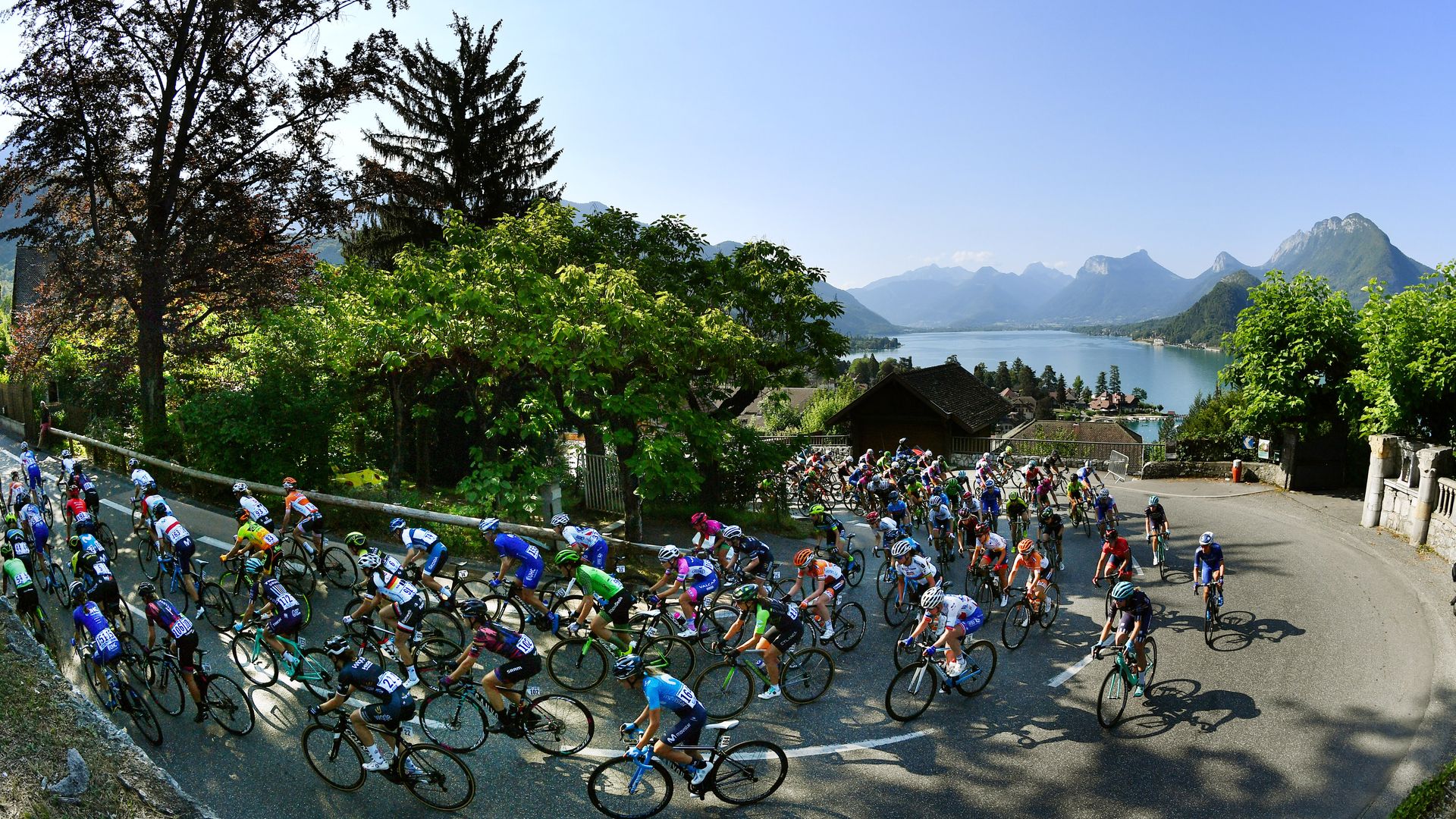 Quoted:
"If we join forces, maybe we can become rule shapers and motors of the international order. Germany and Japan can become the core of an alliance of the multilateralists."
— German foreign minister
Heiko Maas
in Tokyo.
Thanks for reading — see you Monday evening!