Welcome to Axios World, where two evenings a week we break down the big stories from around the globe.
This edition comes to you from Axios' semi-annual all-staff gathering. Thanks to readers old and new for helping us to keep growing and taking on new challenges.
Please tell your friends and colleagues to sign up, and I'd love your tips and feedback:

[email protected]

. Tonight's Smart Brevity count is 1,467 words (~5 minute read).
1 big thing: Mexico's populist-in-chief wasn't bluffing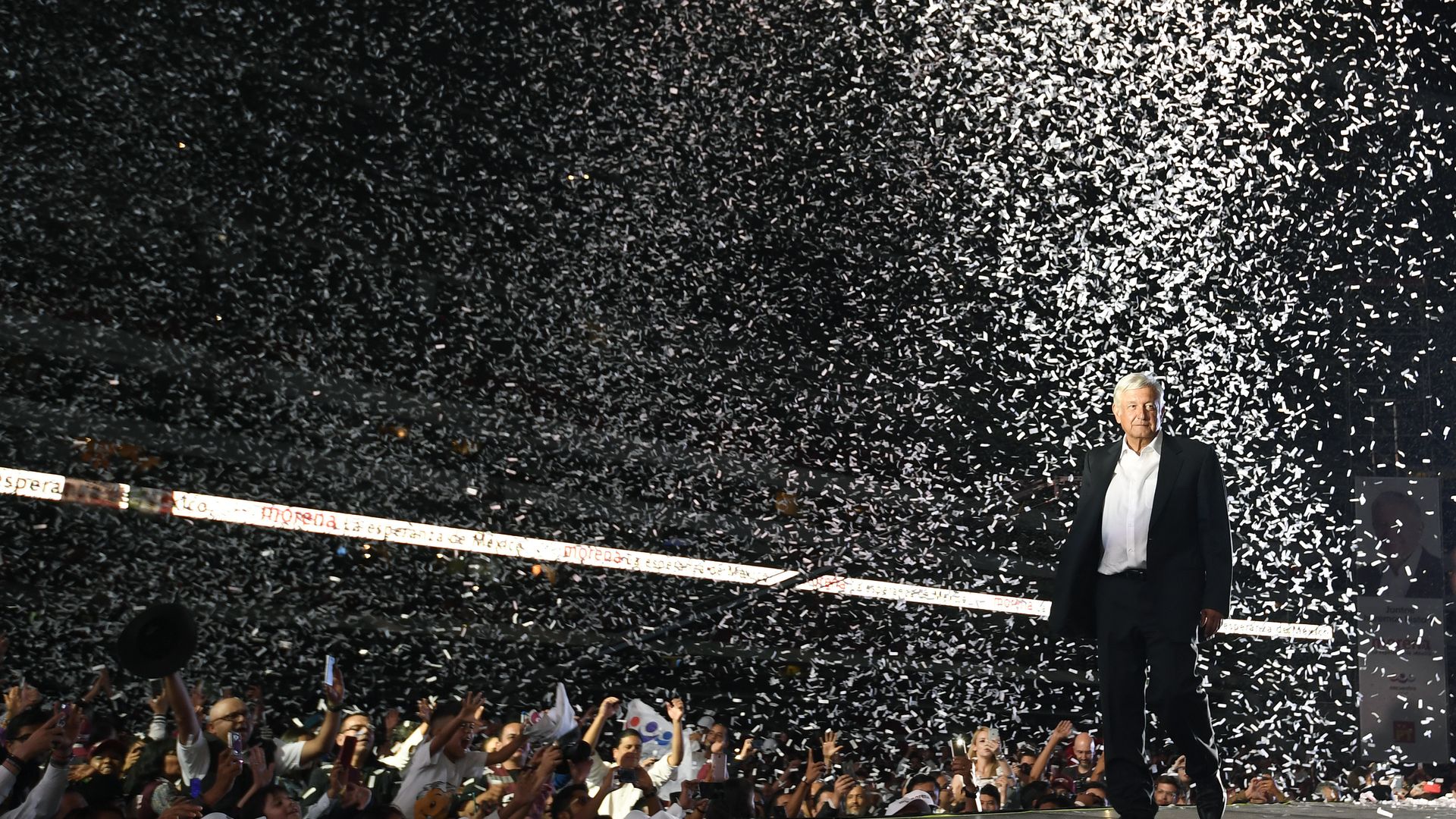 When Andrés Manuel López Obrador triumphed one year ago, it was unclear whether Mexico had elected the revolutionary populist from the campaign trail, or the more pragmatic figure from his tenure as mayor of Mexico City. We may now have the answer.
The latest: Finance Minister Carlos Urzúa excoriated the leftist president on Tuesday, penning a resignation letter that accused him of failing to base policy on evidence and empowering ideologues over experts.
Between the lines: "Hope for pragmatism is fading," says Shannon O'Neil of the Council on Foreign Relations. "These resignations show there's little hope for those who want change within the boundaries of checks and balances and democratic institutions."
"After he lost two elections [in 2006 and 2012] he thought were stolen, I think that pragmatism went away," she says.
"He did advertise this," says Roberta Jacobson, who served as U.S. ambassador to Mexico from 2016-2018. "He's doing what he said he was going to do. He is the decider, he's not an institutionalist."
"Everything that blocks his decision-making has to be chucked over the side," she adds, contending that the president's efforts to undermine regulators and the civil service are leading to a "death of expertise."
"The tragic thing about López Obrador — and I'm still hoping he'll succeed — is his diagnosis of the problems in Mexico was absolutely accurate. But his programs for fixing the problems are absolutely wrong."
Yes, but: While investors and experts are increasingly wary, López Obrador boasts approval ratings above 60% nationwide.
Everything is driven by the force of his personality, which is on display daily in early morning press conferences. Aides rarely speak, and he often contradicts them when they do.
But there's one person López Obrador has scrupulously avoided confrontation with. On May 30, President Trump said he'd hit Mexico with tariffs that would escalate "until the Illegal Immigration problem is remedied."
López Obrador immediately sought to defuse tensions, and eventually agreed to send 6,000 national guard members to the border with Guatemala, among other steps, to gain a reprieve.
The big picture: Jacobson says López Obrador told her he'd do everything possible to maintain a positive relationship with the U.S., "and he has continued to abide by that, almost beyond reason."
Where things stand: Trump tweeted today that Mexico "is doing great at the Border." But appeasing a president who regularly attacks your country, and could still reverse course with an election looming, is politically risky.
It's also expensive. López Obrador didn't get any financial assistance from the U.S. for the immigration offensive, O'Neil notes.
It's just one case of his ambitious and costly plans running up against fiscal reality. And while his base of 25-30% will stand by him indefinitely, the rest of the country won't be so patient, O'Neil says.
"He's going to face an economic and fiscal crisis and that's when I think that other 25-30% might go away."
What to watch: Jacobson agrees that "a train-wreck may be coming." She says we might find out then whether López Obrador has retained his pragmatic streak.
"He's a very good politician. If he has to become more flexible, he'll probably be able to convince people, 'this is what I wanted all along.'"
2. Quick hits from around the world
1. China is developing 500 smart cities — almost half the worldwide total, and more than 10 times North America's figure, Graham Allison of Harvard writes for Axios Expert Voices.
"In Canada and the U.S., smart cities face obstacles including skepticism of Big Tech, privacy concerns, outdated infrastructure, and the difficulty of aligning stakeholders," Allison writes.
"China is at a clear advantage, as many of North America's greatest obstacles are irrelevant for the Chinese government."
2. Boats belonging to Iran's Revolutionary Guard attempted to impede a U.K. tanker today in an apparent attempt to seize the ship, per the BBC.
A U.K. warship intervened, reportedly with guns "trained on the Iranian boats as they were ordered to back off."
The move comes after British marines raided a tanker carrying Iranian oil off the coast of Gibraltar, purportedly because it was headed to Syria, which is under E.U. sanctions.
The big picture: The U.S. wants to establish a coalition to ensure the safety of ships traveling through the waters around Iran and Yemen. For now, more incidents seem likely.
3. The resignation of Kim Darroch, the U.K. ambassador to Washington whose leaked memos back to London outraged President Trump, has amplified debates in the U.K. over the country's relationship with the U.S., and place in the world after Brexit.
Boris Johnson, the prime minister-in-waiting, refused to say he'd keep Darroch on over Trump's objections. Afterwards, Tom Tugendhat, a Conservative MP and chairman of the Foreign Affairs Select Committee, said the U.K. had been "bullied" and put in a position of "servitude."
EXPERT VOICES
3. 'Roadmap to peace' in Afghanistan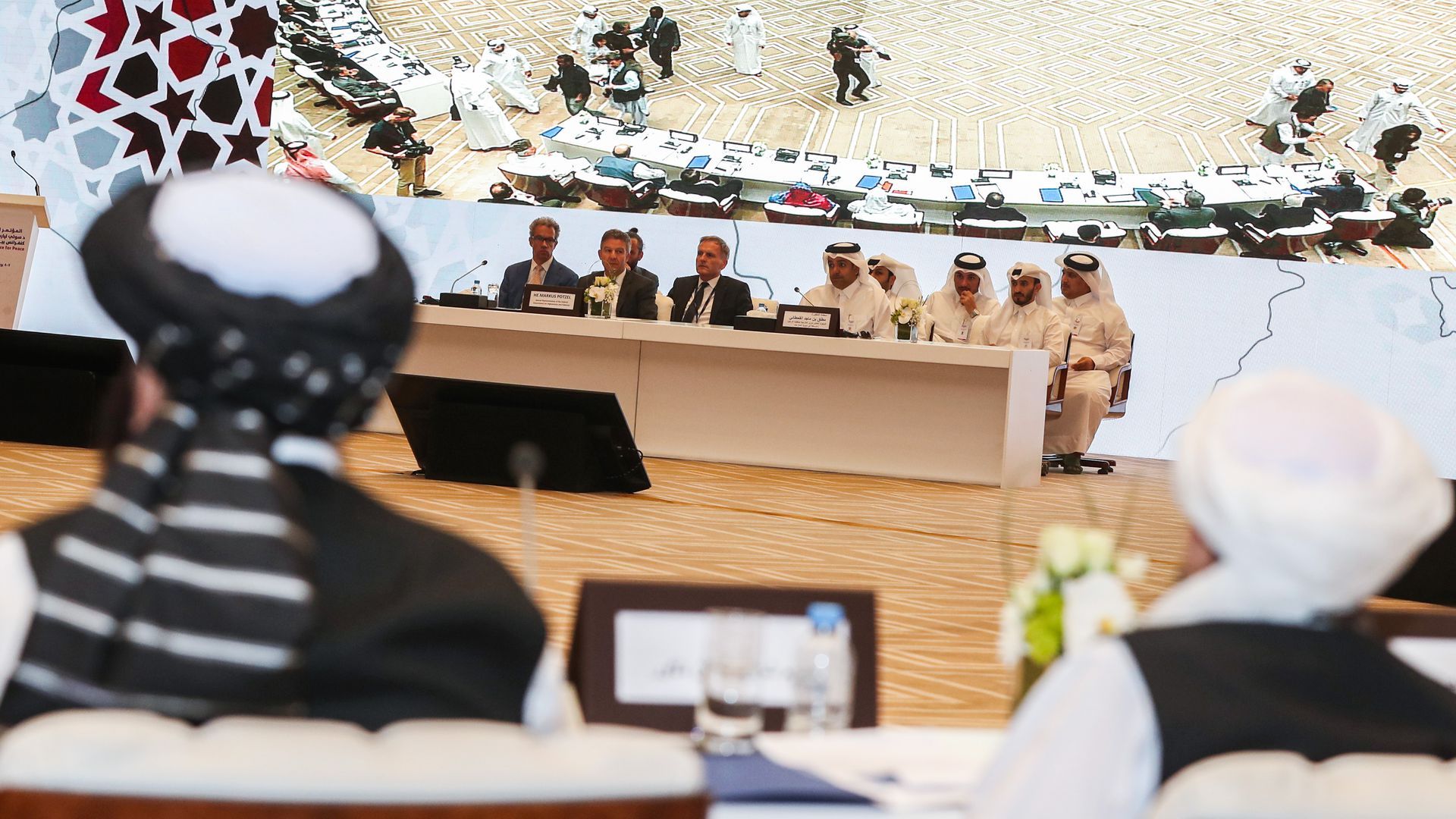 A weekend dialogue in Qatar between rival factions of Afghanistan's volatile politics and the Taliban has yielded a joint statement calling for an end to war, Michael Kugelman of the Wilson Center writes for Axios Expert Voices.
Why it matters: The fledgling Afghanistan peace process is gaining critical momentum. Although the conference statement represents only a vague roadmap, the consensus reached arguably marks the biggest step yet toward a long-elusive peace.
Where it stands: The seventh round of U.S.–Taliban talks, which took a 2-day pause during the intra-Afghan dialogue, is likely to resume in the coming days. Secretary of State Mike Pompeo says he wants a deal before September 1.
However, the Taliban refuses to lay down arms or negotiate directly with the Afghan government until it reaches a troop withdrawal deal with the U.S.
Washington, meanwhile, insists there can be no accord on troops until there is agreement on multiple issues — a troop withdrawal, counterterrorism assurances, a ceasefire and a Taliban commitment to launch formal talks with Kabul.
Yes, but: Afghanistan's September 28 presidential election threatens to pull away the attention of political leaders. The campaign season may also exacerbate the country's sharp political rivalries and undercut efforts to forge a political consensus on peace.
These challenges help explain Washington's haste to secure a deal.
The bottom line: An end to the protracted conflict in Afghanistan has never appeared closer. But tough negotiations lie ahead, and reaching a quick deal to end America's longest war remains a tall order.
4. Scoop: Israeli official calls intermarriage of U.S. Jews "second Holocaust"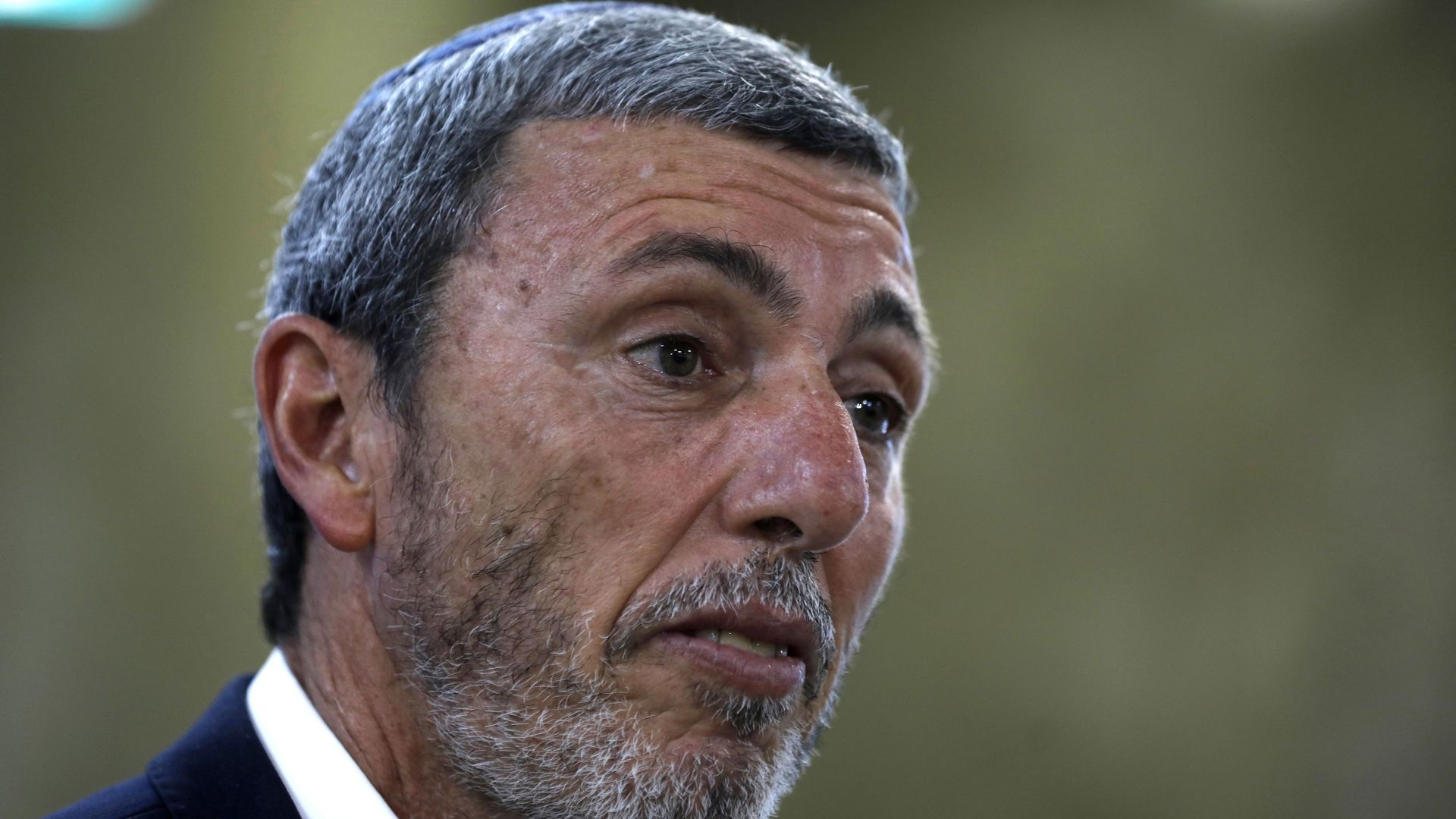 Israel's newly appointed Minister of Education Rafi Peretz said at a Cabinet meeting on July 1 that the rate of intermarriage among U.S. Jews is "like a second Holocaust," 3 people who were in the room told Axios contributor Barak Ravid.
Why it matters: Peretz, a former chief rabbi of the Israeli army, is the leader of a bloc of ultra right-wing religious parties. Prime Minister Benjamin Netanyahu was personally involved in forming this political bloc, which also includes the Jewish supremacist "Jewish Power" party. If Netanyahu wins the upcoming elections, Peretz will likely stay on as education minister.
Peretz's remarks represent the growing rift between the Orthodox parts of Israeli society and politics, and the majority of Jewish people in the U.S. who are much more liberal, and most of whom identify with the Reform or Conservative denominations.
How it happened: The July 1 Cabinet meeting included a briefing by former U.S. official Dennis Ross on trends in Jewish communities around the world.
During Ross' briefing, the ministers discussed the growing rate of marriages between Jewish and non-Jewish people in America.
Peretz said the assimilation of Jewish people in the U.S. was "like a second Holocaust," and added that due to intermarriages in the last 70 years the Jewish people "lost 6 million people." Peretz's spokesman confirmed this account.
Netanyahu said he's less concerned by political trends among America's more liberal Jewish population than by the demographic trends.
5. Data du jour: Immigrants moving to smaller U.S. cities
As young Americans stream to coastal cities, immigrants are seizing opportunities in the midwest and south where mid-sized cities are struggling to maintain a younger, working-age population, Axios' Kim Hart reports in the inaugural edition of her Axios Cities newsletter.
By the numbers: Foreign-born migration helped reverse population decline in several metros, such as Detroit, Memphis, Dayton and St. Louis.
In 2017, immigrants were responsible for 98% of the population growth in metro Cincinnati, 88% of the growth in metro Birmingham, and 87% of growth in metro Miami.
Four of the top 10 cities seeing the most population growth from immigrants are in Florida — a state seeing a disproportionate growth of aging residents.
6. What we're watching and reading this summer
If you're looking for a summer binge... Axios' Shane Savitsky recommends HBO's "Years and Years," which originally aired on the BBC in the U.K.
"It follows a British family navigating society's changes from 2019 through 2024 and beyond."
"The show imagines how our planet's near-future might play out, predicting President Trump's re-election, a resurgent European migrant crisis, and a U.S.-China nuclear standoff — and that's just in the first episode."
"The big star is Emma Thompson, who plays a businesswoman who launches a political career on the back of her increasingly controversial public statements."
And if you're looking for a beach read... I've been transporting myself back to 1930s/40s Germany through the eyes of Bernie Gunther, the late Philip Kerr's fictional detective.
Kerr's many installments bring Gunther into contact with the Nazi high command, historical turning points and plenty of suspense. They're fast, satisfying reads.
7. Stories we're watching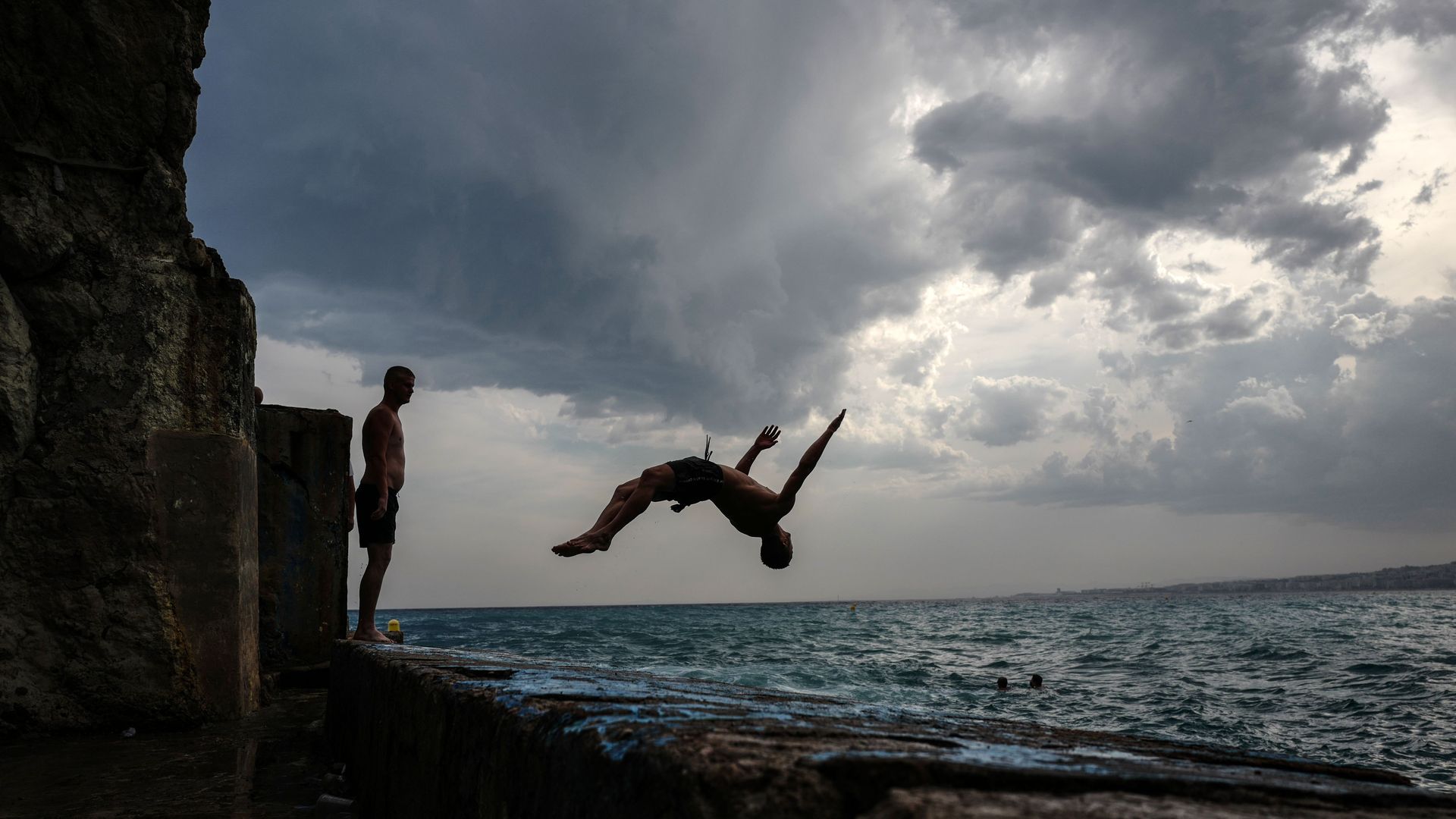 Quoted:
"We are the United States and we do not coddle dictators."
— Joe Biden in a foreign policy speech today. He'll likely return to that line of attack on Trump throughout the campaign.
Thanks for reading — have a wonderful weekend!