Welcome to Axios World, where two evenings a week we break down the big stories from around the globe. Tonight's Smart Brevity count is 1,454 words (~ 5 minutes).
Thanks for joining me! Please tell your friends and colleagues to sign up, and I'd love your tips and feedback: [email protected].
1 big thing: Istanbul rejects Erdogan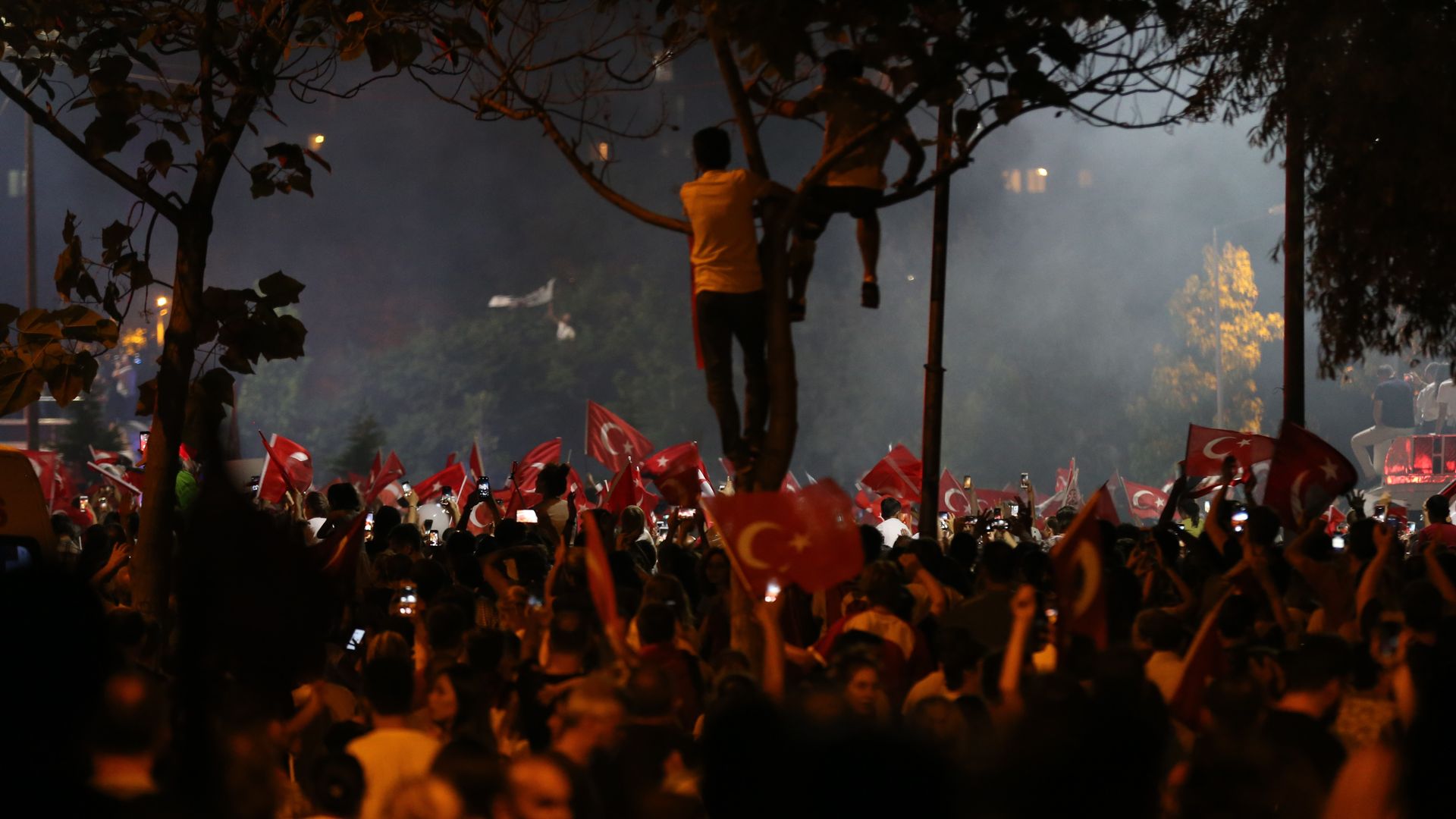 An election some feared would be the last gasp for Turkish democracy has instead emboldened the opposition and stoked belief that President Recep Tayyip Erdogan is vulnerable.
Catch up quick: The ruling AKP already lost the powerful Istanbul mayoralty on March 31, by 0.2%. But Erdogan refused to accept the result and forced a rerun.
On Sunday, Ekrem Imamoglu of the center-left CHP won by a stunning 9.2%, dealing Erdogan the most damaging electoral defeat of a political career that began when he was himself elected mayor of Istanbul in 1994.
Between the lines: It was widely believed that Erdogan would only force fresh elections in Istanbul, a city he views as central to his hold on Turkey, if victory was assured. Instead, Turkey's financial and cultural capital will change hands after 25 years of AKP control.
Istanbul is vital to the AKP's finances and political patronage system, Lisel Hintz of Johns Hopkins School of Advanced International Studies said today at a Washington Institute event.
"The books are going to open, and we're going to see what was being done in Istanbul for all these years," she added, before cautioning that Erdogan and his allies could thwart Imamoglu's ability to govern.
The big picture: Erdogan has dominated Turkish politics since becoming prime minister in 2003, overseeing an economic boom and racking up victory after victory on conservative Islamist platforms that emphasize his man-of-the-people credentials.
He slowly sliced away at Turkish democracy for years, according to Soner Cagaptay, author of "The New Sultan." After a failed coup in 2016, he gave up the pretense, demonizing his opponents and consolidating power in a new executive system.
Cagaptay argues that Erdogan is the "inventor of 21st century populism" — a pioneer among the strongmen who portray their followers as the only "good citizens" and frame checks on their power as rejections of the popular will.
But he's been weakened by an economic downturn and now faces a resurgent opposition. "Erdogan has created a new Erdogan," Cagaptay says, arguing that it's Imamoglu who can now claim to represent those persecuted by the establishment.
What's next: The soft-spoken Imamoglu may have offered a new path for the opposition. He emphasized inclusiveness and refused to take Erdogan's bait, while making inroads with his base.
There might not be an opportunity to test that path anytime soon. Turkey's next elections aren't due until June 2023.
By then, Turkey could face both an economic crisis and a geostrategic one, as the alliance with the U.S. breaks down in part over Erdogan's decision to buy s-400 missiles from Russia.
The bottom line: Erdogan has lost Istanbul, but he still has extraordinary control over Turkey's politics, judiciary and media. Sunday's result shows he can be defeated, but not anytime soon.
2. Iran: How we got here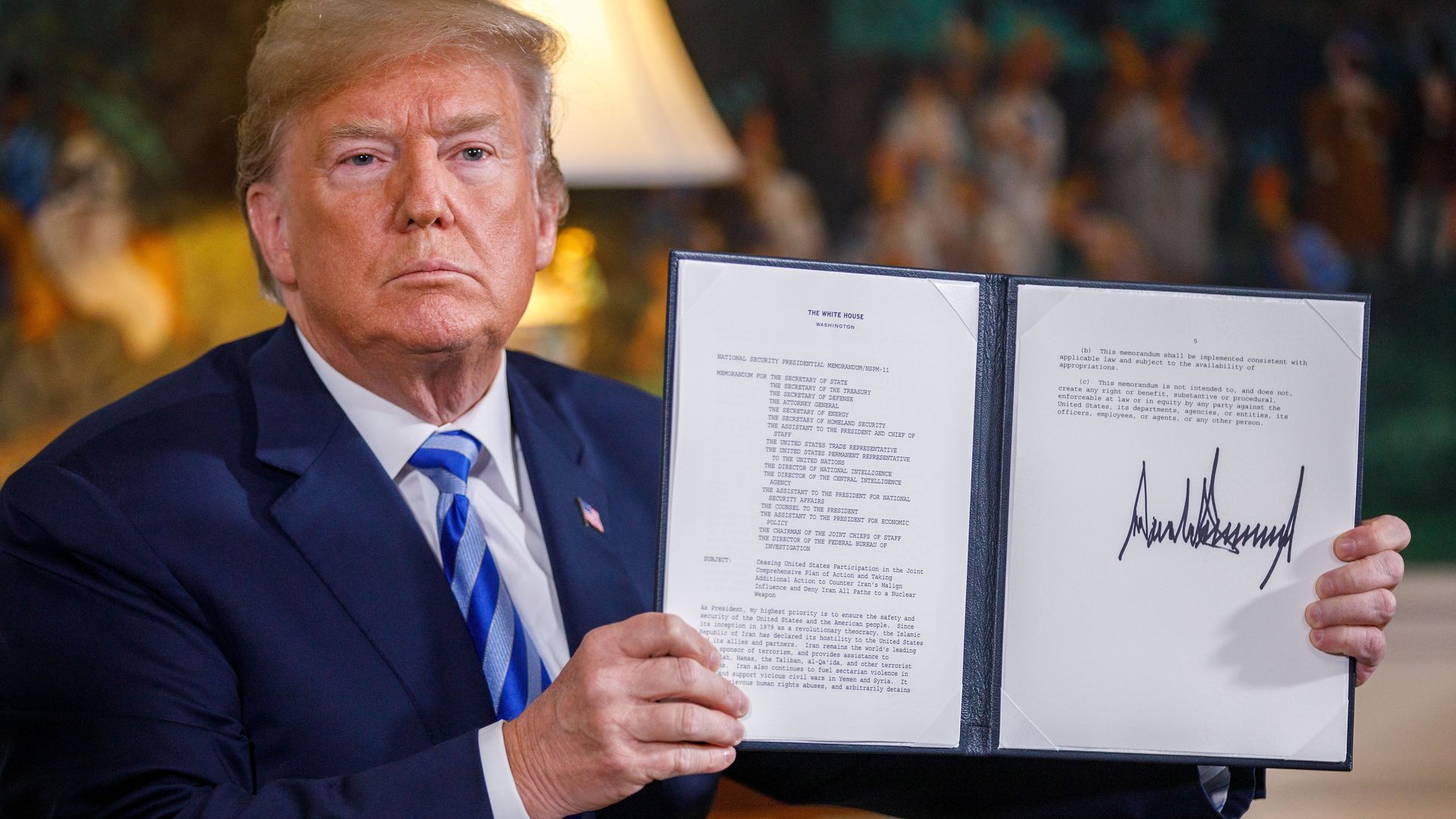 President Trump today announced a new set of sanctions targeting top officials in the Iranian government, including Supreme Leader Ayatollah Ali Khamenei.
Trump continues to insist he wants a new nuclear deal with Iran, while threatening consequences if Iran moves toward the bomb.
Iran's UN ambassador said today, "You cannot start a dialogue with someone who is threatening, who is intimidating you."
Context: This all comes four days after Trump ordered, and then called off, strikes on Iranian targets in response to the downing of a U.S. drone.
Key dates:
May 8, 2018: Trump announces that the U.S. will pull out of the 2015 Iran nuclear deal before kicking off his "maximum pressure" campaign.
May 5, 2019: National security adviser John Bolton issues a statement referring to impending Iranian attacks. The U.S. deploys military hardware to the Gulf and reportedly considers a plan to send 120,000 troops.
May 12: Four oil tankers are attacked near the Strait of Hormuz. The U.S. later accuses Iran and withdraws staff from its embassy in Iraq.
June 13: With Japanese Prime Minister Shinzo Abe in Tehran and diplomacy apparently on the table, two more tankers are struck.
June 17: Iran announces that it will breach uranium enrichment levels under the 2015 deal in 10 days. That day, the U.S. announces it will send 1,000 more troops to the Middle East.
June 20: Iran shoots down a U.S. drone it says was in its airspace but the U.S. insists was over international waters. Trump cancels retaliatory strikes.
Go deeper: Full timeline
3. World news roundup: Protests, coups and summits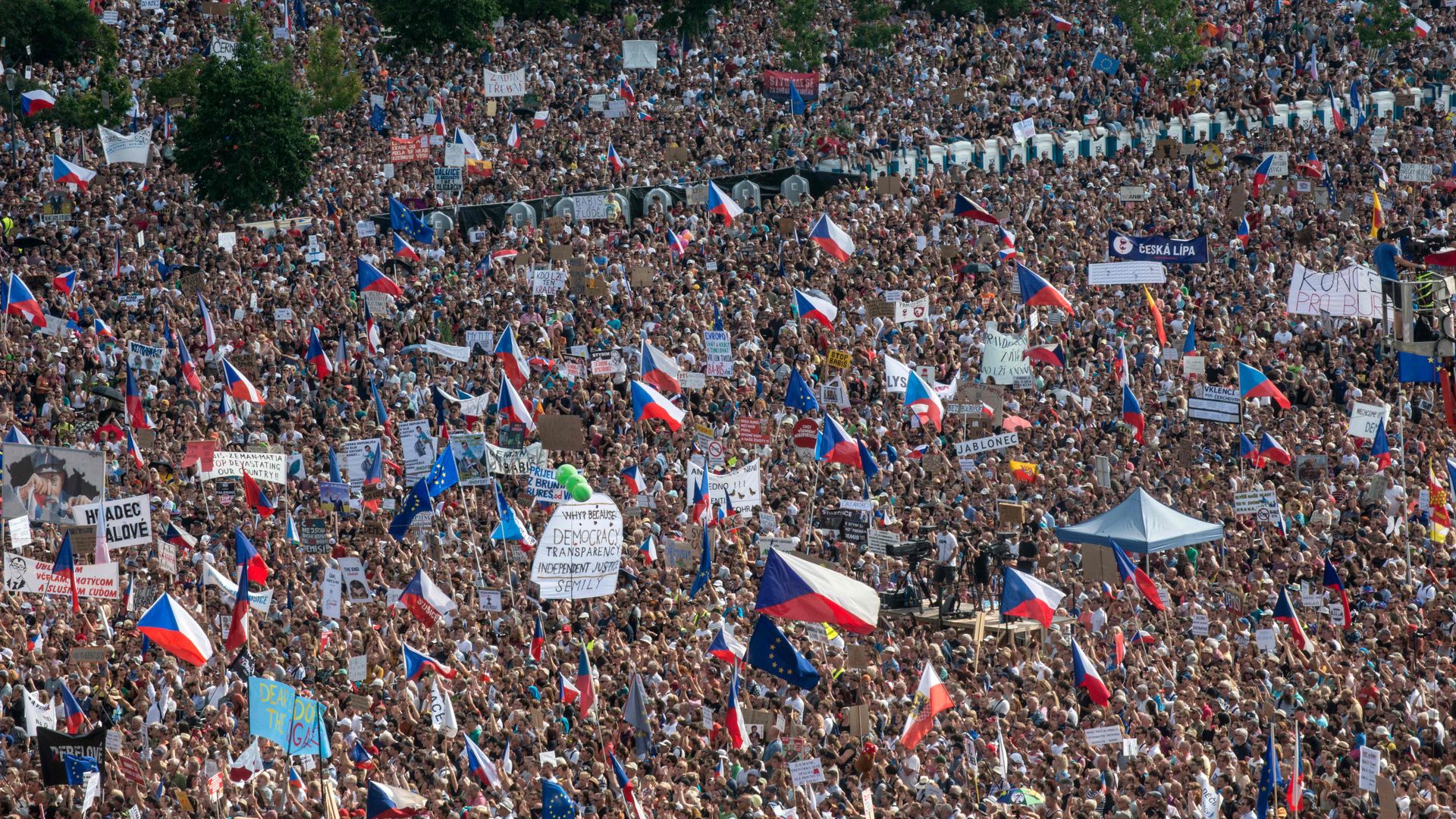 1. Some 250,000 people gathered in Prague Sunday to demand the resignation of Prime Minister Andrej Babis, who faces criminal fraud charges and conflict of interest accusations.
It was "the country's biggest display of dissent since the 1989 velvet revolution that ended communism in the former Czechoslovakia," according to The Guardian.
2. "A foiled coup in the Ethiopian state of Amhara that left five senior officials dead, including the army's chief of staff, has thrust ethnic militias in one of Africa's fastest-growing economies into the spotlight," Reuters reports.
"Militias formed by ethnic groups are proliferating across Ethiopia, threatening sweeping political and economic reforms that Prime Minister Abiy Ahmed kickstarted after he took power in the Horn of Africa country in April 2018."
"Since Abiy embarked on his ambitious reforms, old state border disputes have reignited. Large ethnic groups that dominate in many regions are demanding more territory and resources. At the same time, smaller groups, tired of being sidelined, are pushing back."
3. The G20 summit opens Friday in Japan. A high-stakes meeting is expected between Trump and China's Xi Jinping.
4. Just in: Boris Johnson speaks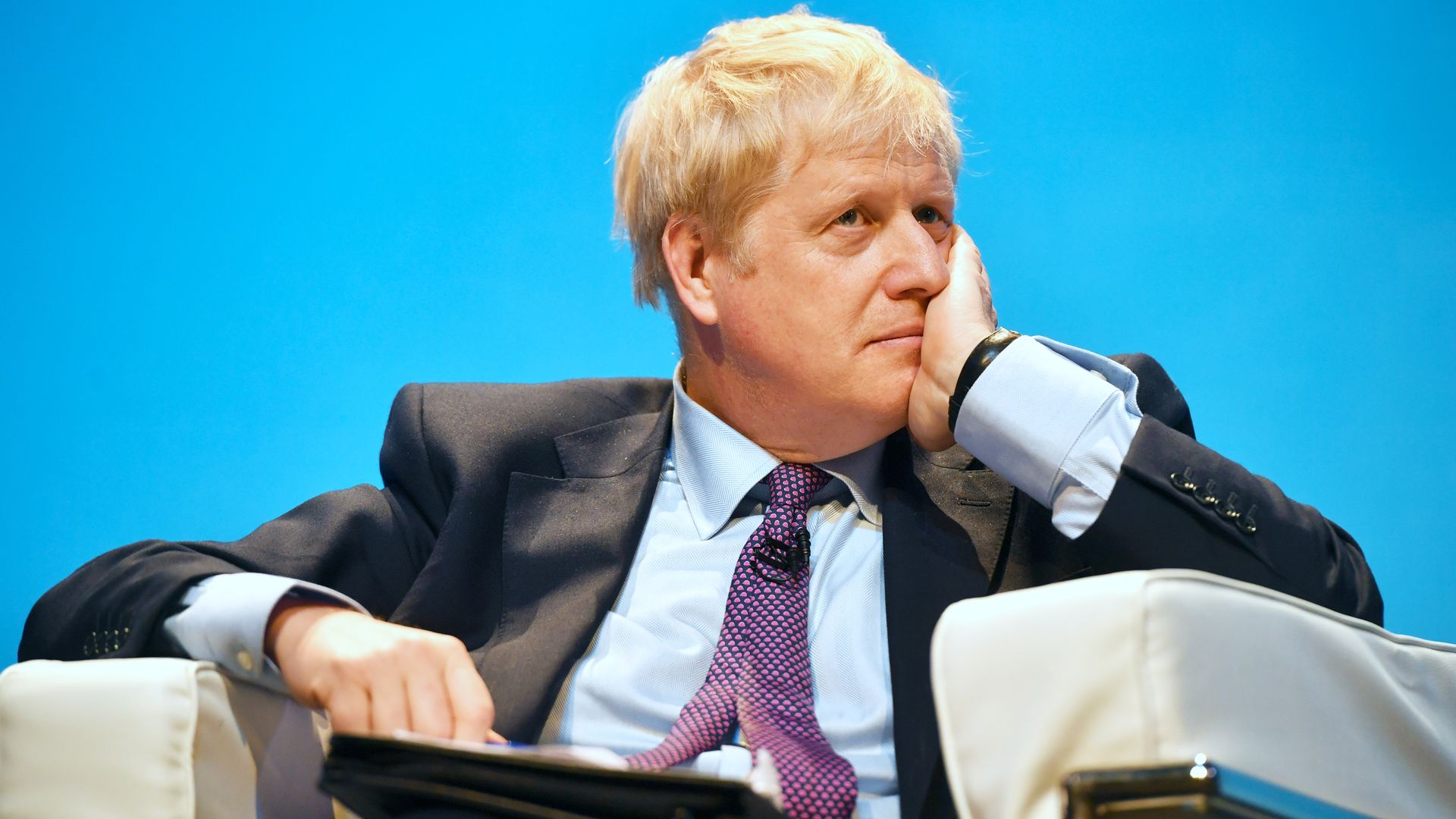 Boris Johnson claimed a "no deal" Brexit could get through the U.K. Parliament and refused to answer questions about the domestic disturbance that saw police called to his home last week in an interview with the BBC's Laura Kuenssberg.
Why it matters: Long the favorite to replace Theresa May as prime minister next month, Johnson had until tonight been avoiding interviews, apparently believing he could only hurt his chances.
On Brexit: Johnson said the threat of "no deal" is necessary to get the EU to understand "how serious we are," but stressed that it's "not where I want us to end up."
Johnson said both major parties face "mortal retribution from the electorate" if the U.K. doesn't leave by the Oct. 31 deadline.
On the Irish border, Brexit's defining quagmire, Johnson argued that "abundant technical fixes" could be introduced during the implementation period to avoid a hard border, but acknowledged when pressed that there'd be no implementation period without a withdrawal deal.
Go deeper: Johnson featured heavily in my weekend reading. Simon Kuper has a delightful piece in the FT on what today's Tory heavy hitters were like at Oxford, while Sam Knight navigates Johnson's biography of privilege and chaos in the New Yorker. One good line:
"Johnson's life and career have been a kind of monument to wishful thinking — of ridiculous expectations shockingly fulfilled."
5. Coming attractions: Peace plan, part I
The White House "peace team" led by Jared Kushner will unveil the economic portion of its Middle East peace plan at a conference that begins tomorrow in Bahrain.
Expectations are low. The Palestinians are boycotting, and Israeli officials weren't invited.
The plan includes an investment of $50 billion over 10 years, with half going to the West Bank and Gaza and the rest to Jordan, Egypt and Lebanon, Axios contributor Barak Ravid reports. More details here.
What to watch: Barak has been out in front of nearly every twist and turn in this saga, and he will be reporting from Bahrain — which is allowing Israeli journalists to enter for the first time ever.
6. What I'm reading: Macron, the epic pragmatist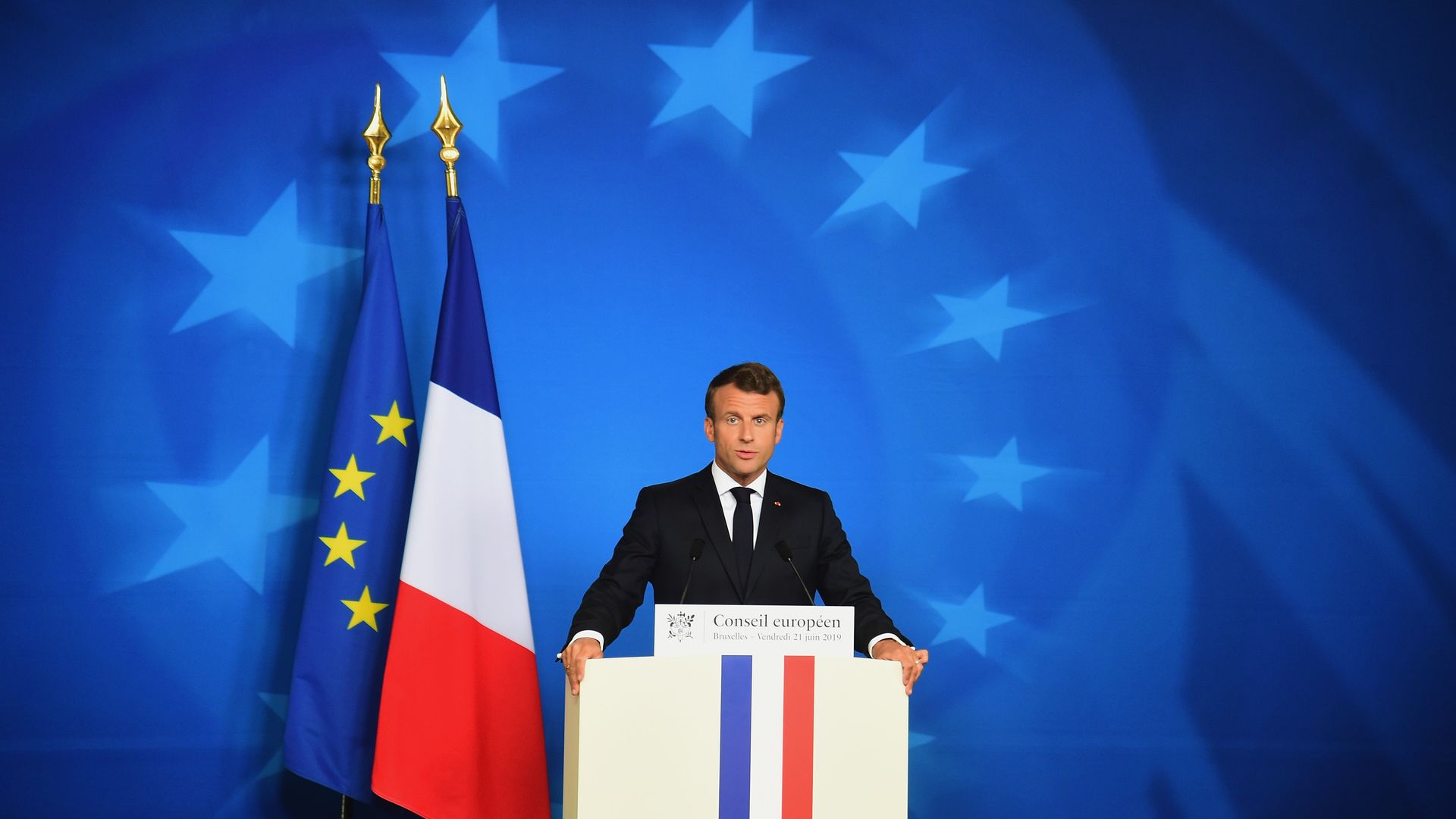 Lauren Collins portrays Emmanuel Macron in a newly published New Yorker profile as hard-charging, confrontational, brilliant and pretentious.
Why it matters: Macron says recent EU elections — in which Marine Le Pen's far-right National Rally narrowly beat his liberal En Marche party — show his battle with political "extremists" is unfinished.
Battered by mass protests and mocked as "president of the rich," Macron in recent months went on a national listening tour ("people wasted the President's time because they could," Collins writes) and emerged promising "to put man at the heart of our project."
He conceded to Collins that his designs for France had "probably" been "too abstract." She fills in the blanks: "At times, it can feel like a group of extremely smart and annoying interns is running the country."
Now, he's ready to "be as pragmatic as the extremists are," adding: "This is a battle. And, even if you die with good principles, you die."
What to watch: Macron has portrayed himself as a revolutionary at home and a valiant defender of multilateralism and liberal values abroad. He clearly sees himself in epic terms. But nearly halfway through his term, less than one-third of the public approves of him.
"If it succeeds, it could be the beginning of a renewal of French democracy; if it fails, it will have been an interregnum before the era of Le Pen and her brand of far-right populism," Collins writes.
7. Stories we're watching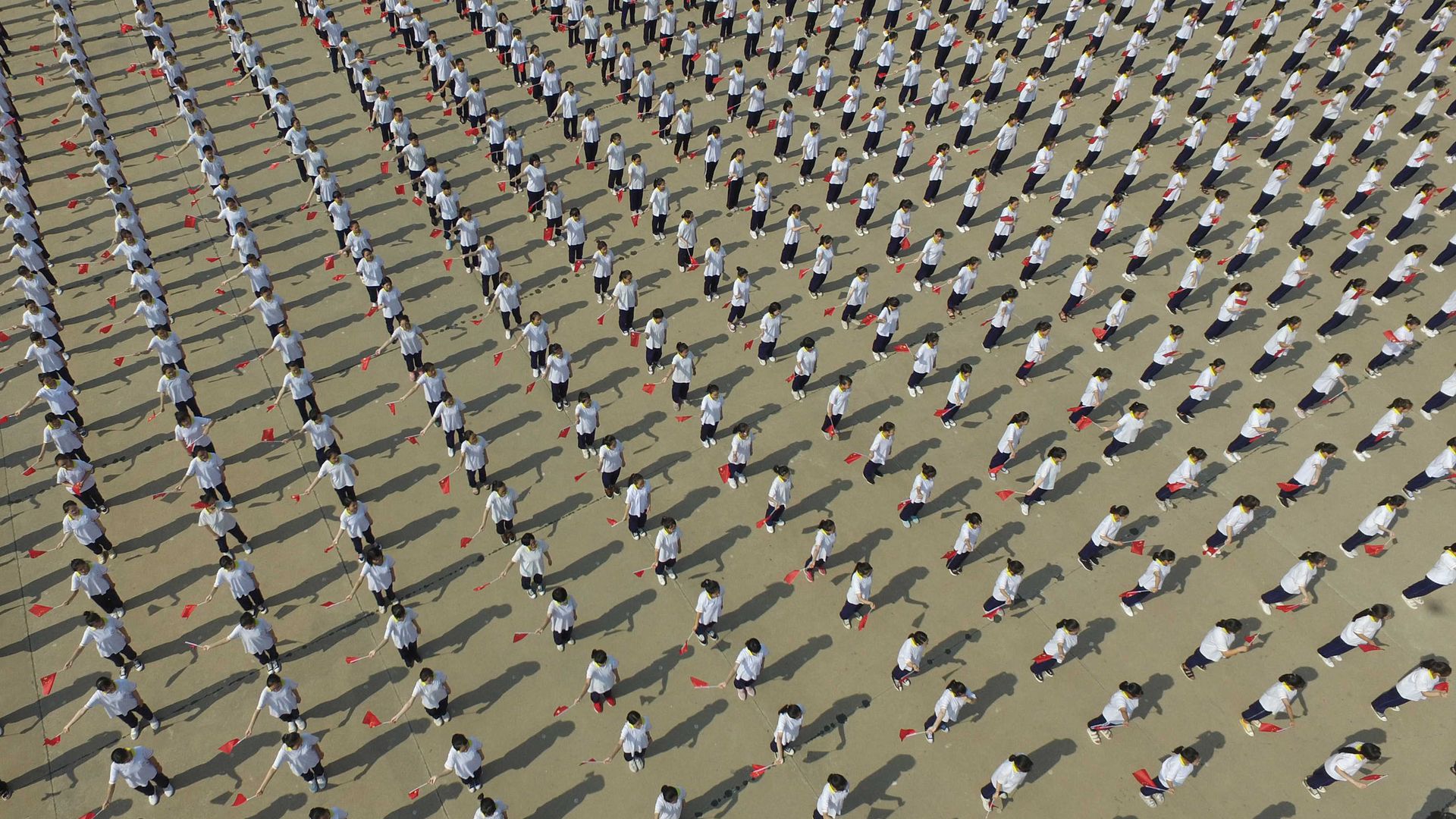 Quoted:
"I think it's been heavily investigated. ... Iran's killed many, many people a day. Other countries in the Middle East ... this is a vicious, hostile place. If you're going to look at Saudi Arabia, look at Iran, look at other countries. ... And I only say they spend $400 to $450 billion over a period of time, all money, all jobs, buying equipment."
— Trump to NBC's Chuck Todd on why he's not asking the FBI to investigate the murder of Jamal Khashoggi
Thanks for reading — see you Thursday evening!