Axios World
January 19, 2023
Welcome back to Axios World, and hello from snowy Davos.
This is our last edition (1,952 words, 7 minutes) before my six-week sabbatical. Watch out for a special report on Saturday from our team here at the World Economic Forum. Then I'll be off to the ski lifts, but our coverage will continue on Axios.com.
See you in early March. Don't forget about Axios World!
The finale of our podcast "How it Happened: Elon Musk vs. Twitter" explores whether Musk's cross-industry empire is too big for one billionaire to run. Listen.
1 big thing: The debt crisis is a climate crisis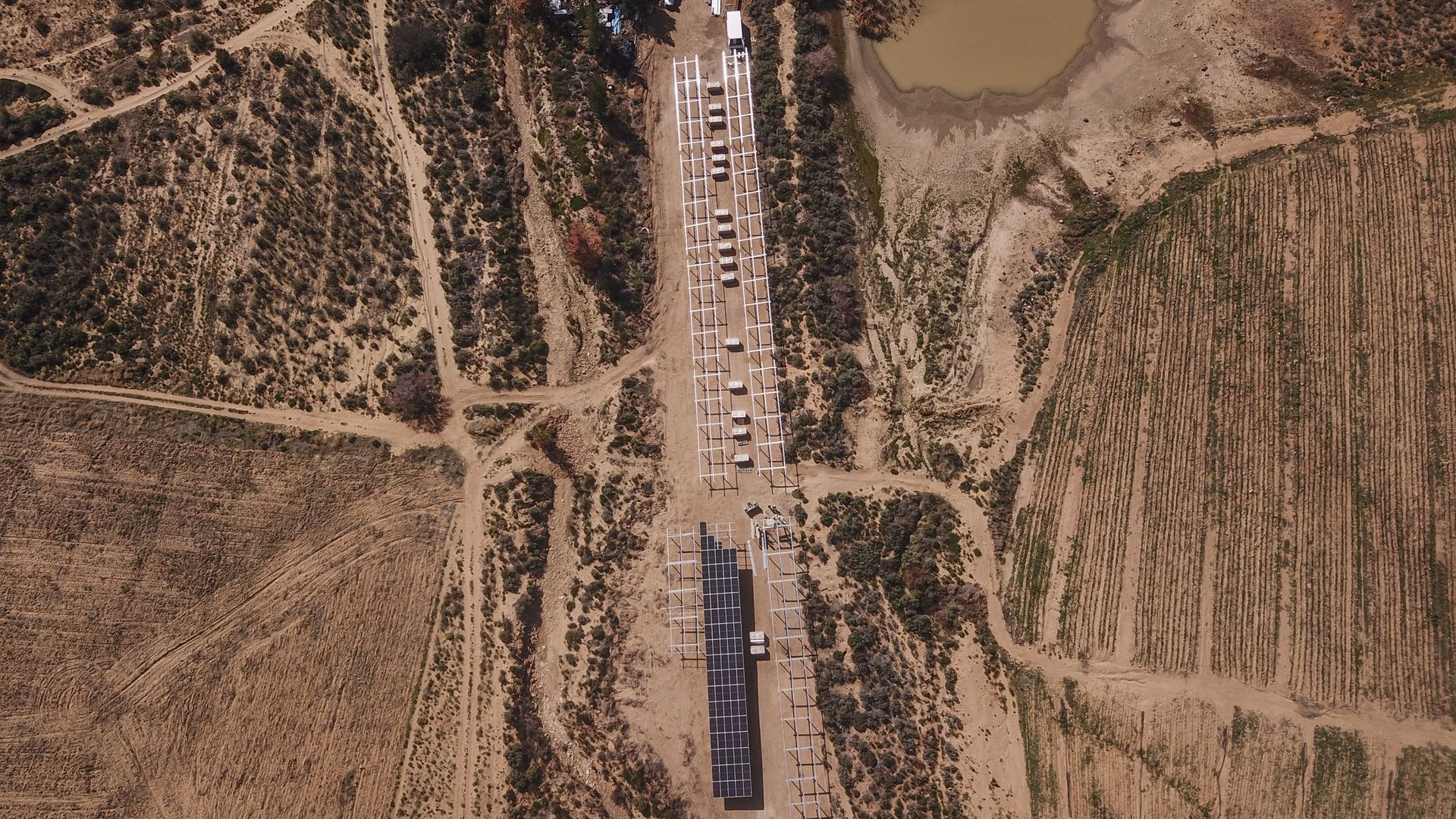 The global energy transition was near the top of the agenda this week in Davos, whether it was the carbon-cutting potential of everything from green hydrogen to AI, or tensions between the U.S. and Europe over climate-related subsidies.
Less discussed in the halls and in the sessions, at least the ones Axios attended, was the debt crisis in the developing world. But the link between those two issues will have lasting ramifications.
State of play: The global energy crunch exacerbated by the war in Ukraine led countries in Europe and beyond to revert to dirtier energy sources in the short-term while intensifying their efforts to secure alternative sources in the longer-term.
Meanwhile, the U.S. is offering huge incentives under the Inflation Reduction Act to develop everything from electric cars to green hydrogen in the U.S.
"I think we'll look back on this [crisis] and see that it did accelerate a transition toward clean energy," Jason Bordoff, director of the Center on Global Energy Policy at Columbia University, tells Axios.
Yes, but: "The story, I fear, may be different in the developing world," Bordoff says. "And that is where most of the growth in carbon emissions from this point forward are going to come from."
54 developing countries, accounting for half the world's population, face such high debt burdens that without relief they have little hope of financing an energy transition, according to a report from the UN Development Program (UNDP).
Many of those countries are in Africa. "The continent will connect another 1.4 billion to 1.6 billion people to the global electricity matrix by 2050," UNDP administrator Achim Steiner told Axios during an interview in Davos.
That's a good thing. "Electricity is the fundamental driving variable of development," Steiner said. But as it stands, many developing countries are likely to struggle to supply sufficient energy of any sort in the coming decades, let alone from renewable sources.
Decisions from developed countries can actually exacerbate that situation.
Europe's scramble to secure enough energy for the winter drove up prices in developing countries. Some of the same countries that reverted to coal in 2022 have committed not to fund new fossil fuel projects overseas.
The irony is not lost on Pakistani climate minister Sherry Rehman, who noted at an Axios event in Davos that her country accounts for less than 1% of global emissions but is facing some of the worst effects of climate change.
"Even if we go totally green and totally renewable tomorrow, we will still be facing the impacts of extractive economic policies by others," she said.
What to watch: With a string of defaults possible in 2023, G20 countries are struggling to come to a coherent position on debt relief.
"I think it is fair to say that what we have witnessed over the last 36 months is an erosion of the capacity to act collectively," Steiner says.
Meanwhile, fears of a global recession could slow both public and private-sector climate investments in the developing world. Rehman is among those calling for the IMF and World Bank to be retooled to tackle that challenge.
2. Views from the mountaintop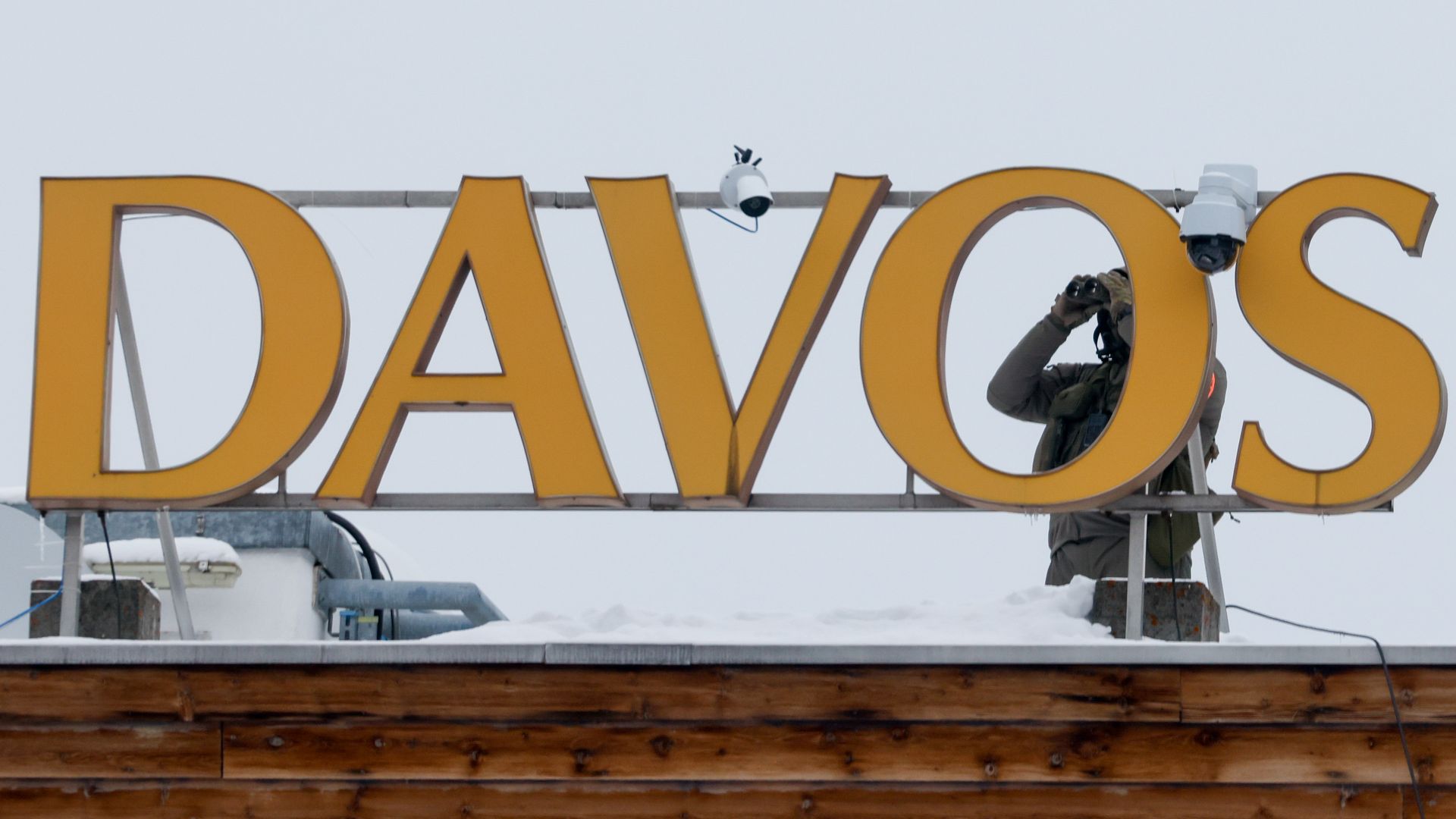 My general impression from meeting with more than a dozen senior executives from big, mostly U.S. and European firms this week is that they expect 2023 to be a turbulent year — for the economy, maybe for their clients or competitors, but not for them.
On the one hand... The various surveys and reports released ahead of the forum made for grim reading, with "recession" peppered throughout.
On the other... Many of the top concerns — inflation, U.S.-China tensions, escalation beyond Ukraine — look less daunting than they did six months ago.
Overall, I heard a lot more optimism than I expected. That doesn't mean it won't be misplaced.
Voices of Davos...
German Economy Minister Robert Habeck offered a remarkable mea culpa (or perhaps Merkel culpa) for Germany's "astonishing" reliance on Russian gas.
"Looking back on history, it's hard to see how this mistake could be made. ... It was Europe that paid the price for German reliance on Russian gas."
Chinese Vice Premier Liu He, who led the Chinese delegation, continued the trend of friendlier rhetoric from Beijing following last year's Party Congress.
He also claimed that China was back to "normal" after its Covid surge, and urged the Davos set to visit.
Belgian Prime Minister Alexander De Croo sounded a different note than many fellow European leaders on the protectionist aspects of the Inflation Reduction Act.
De Croo said Europe should welcome the legislation because the U.S. is back in the fight against climate change, and pursue a similar measure at the European level.
Former U.K. Prime Minister Boris Johnson turned up at a Ukraine breakfast this morning and stated emphatically that Vladimir Putin will never use nuclear weapons, so Ukraine's partners should stop worrying about "provoking" him.
"Give them the tanks, there is absolutely nothing to be lost," Johnson said in an apparent appeal to Germany. More from the breakfast.
More Davos headlines:
3. Two abrupt departures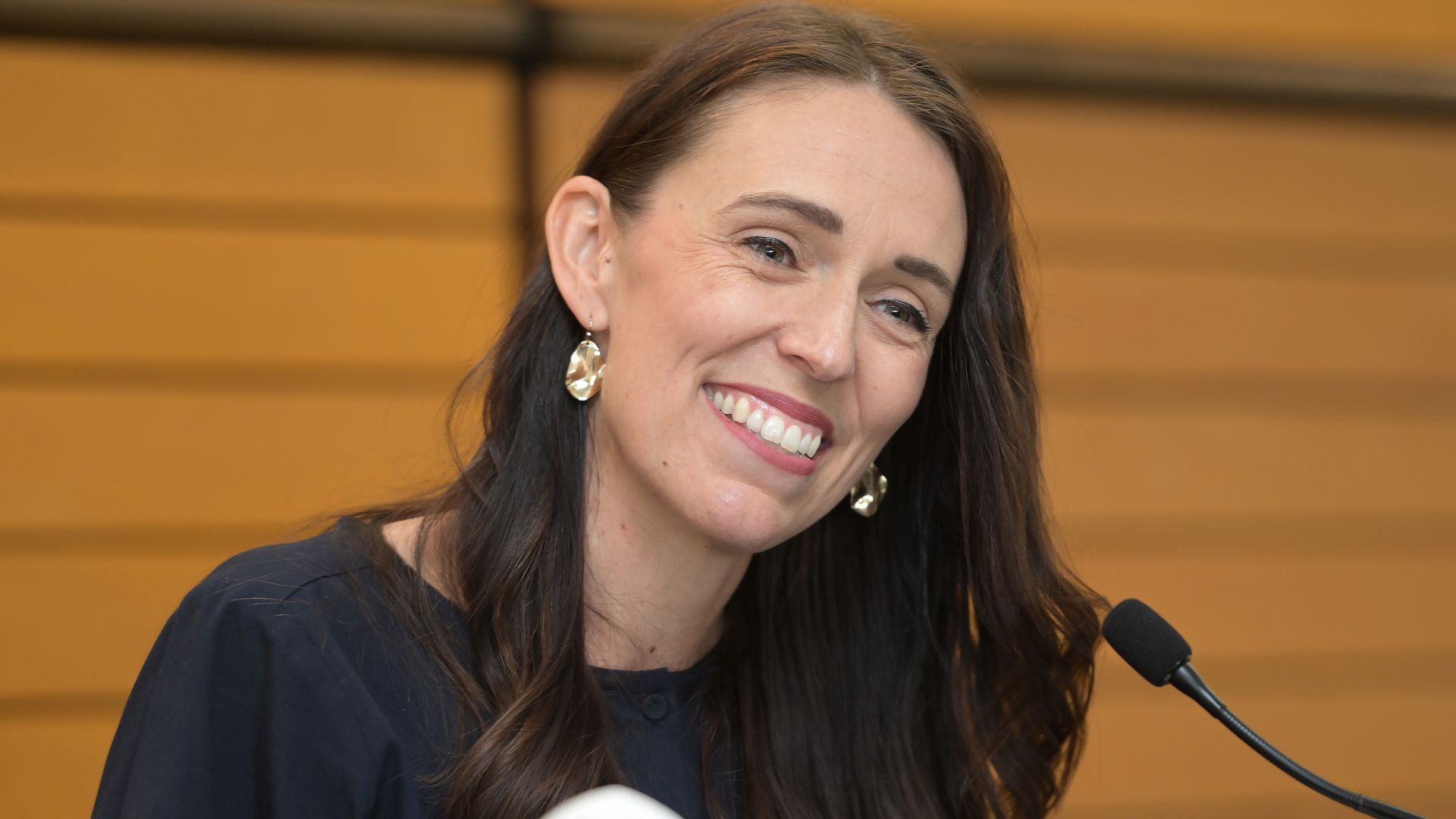 1. New Zealand Prime Minister Jacinda Ardern will step down as leader on Feb. 7, and the country will hold an election on Oct. 14, she abruptly announced on Thursday, Axios' Rebecca Falconer writes from Auckland.
Ardern rose to global prominence for her response to the 2019 terrorist attack on two Christchurch mosques.
While her popularity had waned, she's leaving on her own terms. She says she no longer has "enough in the tank" after nearly six years in office.
2. The sudden resignation of Vietnamese President Nguyen Xuan Phuc is more mysterious.
The ruling Communist Party said Phuc had taken responsibility for wrongdoing by officials who report to him. The news comes amid an anti-corruption drive overseen by General Secretary Nguyen Phu Trong, who ranks above the president in the party hierarchy.
It led to speculation that Trong, who is serving an unprecedented third term, might be trying to consolidate his power or clear a path for his preferred successor. Two deputy prime ministers were also fired this month, and dozens of officials have been arrested for corruption.
Bonus: Where in the world?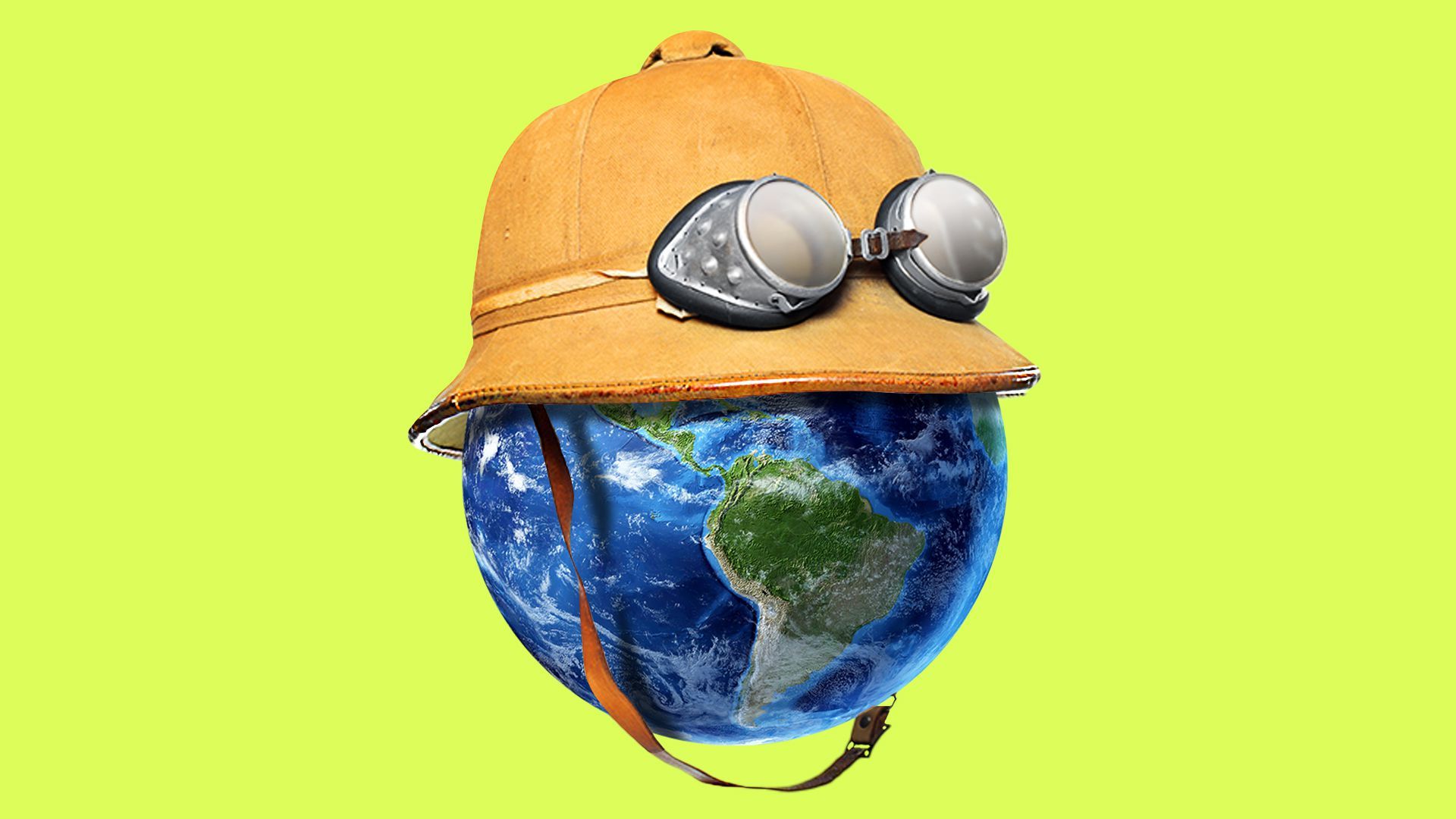 I'm in the famously multilingual country of Switzerland, but the following countries have just one official language. Can you name it? It might get a bit harder as you go.
Greece
Brazil
Israel
Austria
Iran
Thailand
Jordan
Botswana
Cambodia
Gabon
Suriname
Andorra
Scroll to the bottom for answers.
4. UN human rights chief hopes to avoid "whirlwind of geopolitics"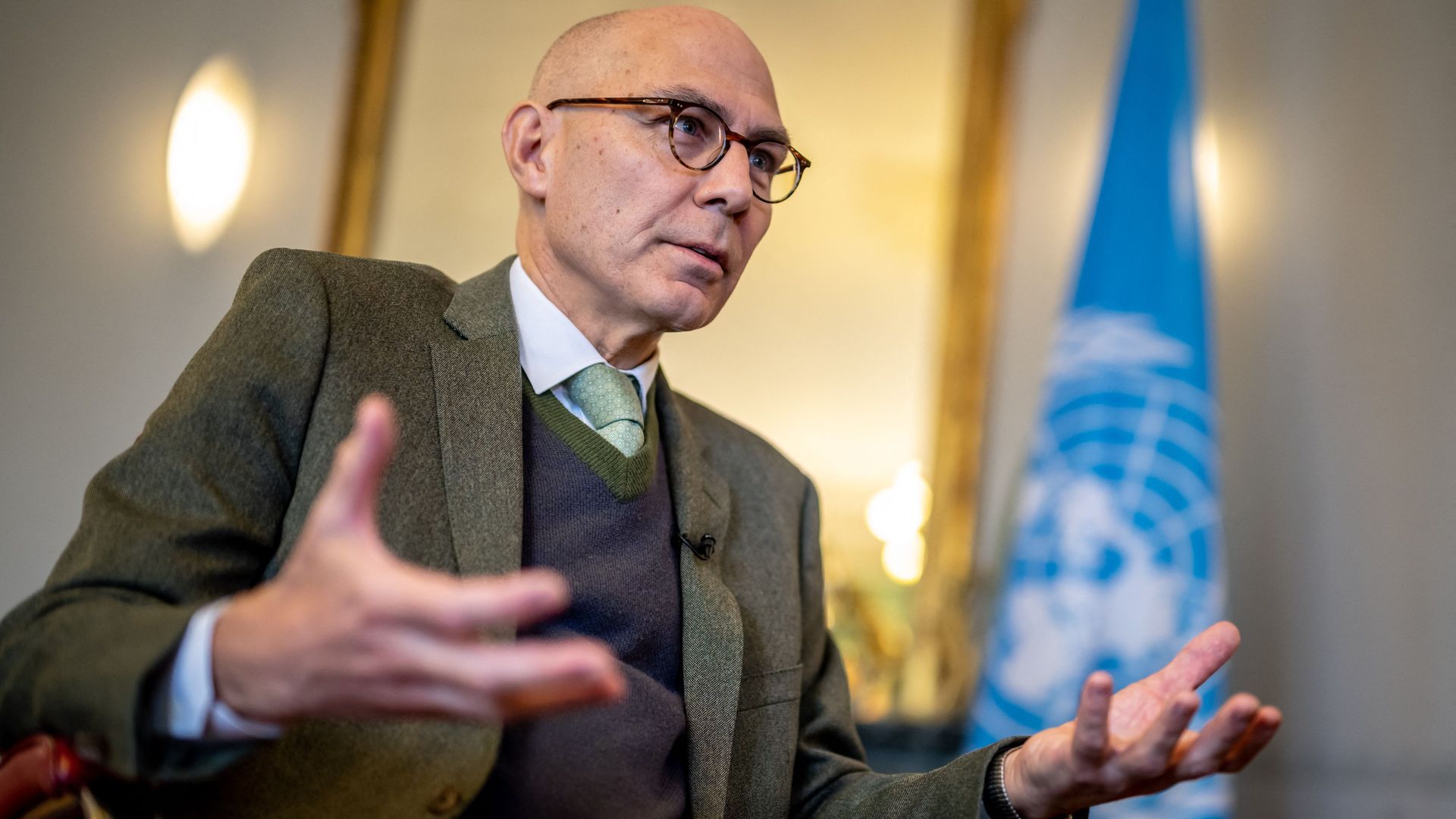 UN Human Rights High Commissioner Volker Türk tells Axios he's determined not to get caught up in "the whirlwind of geopolitics" or "any agenda" in the role he assumed in October.
Flashback: In the final hours of her tenure, Türk's predecessor Michelle Bachelet defied intense pressure from Beijing to release a report accusing the Chinese government of "serious human rights violations" in Xinjiang.
Türk told Axios the "complex task" of "ensuring follow-up on the recommendations" in the report now falls to him.
Türk didn't criticize the handling of the report but quickly pivoted to his belief that while public pronouncements are sometimes necessary, private conversations can be more effective.
"I need to be able to have the ability to talk to member states in such a way that I could influence their behavior," he said in an interview in Davos.
Between the lines: Some human rights advocates criticized the appointment of the low-profile Türk, an Austrian lawyer with two decades of UN experience, to replace Bachelet, a former Chilean president. Former Human Rights Watch chief Kenneth Roth predicted that Türk would favor "quiet diplomacy," which he argued would not work with China.
For his part, Türk told Axios: "You need to do both, and you need to choose the best tool at the appropriate time."
He expects pushback no matter where his office conducts investigations. "No one wants to have anyone look into their backyard. There will always be reactions that are not very pleasant. I will have those unpleasant conversations with whomever I have to have them [with]."
What to watch: Türk already spoke about Russian "war crimes" on a trip to Ukraine and denounced President Biden's new border policies.
Still, he says he plans to emphasize "forgotten" human rights crises, like Haiti and South Sudan.
5. From the Axios universe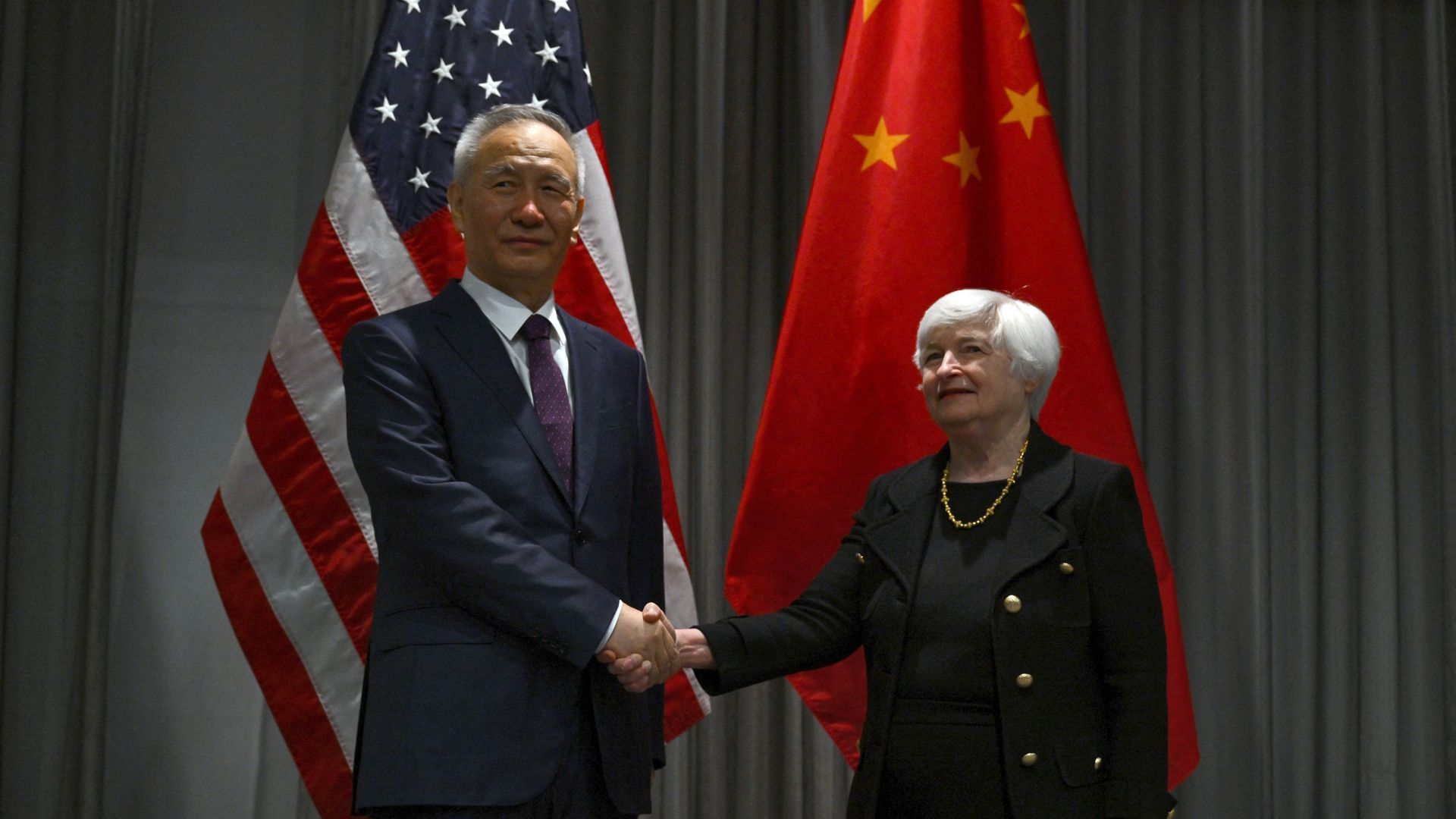 1. Treasury Secretary Janet Yellen and Chinese Vice Premier Liu He held a largely positive meeting Wednesday in Zurich, with Chinese officials expressing optimism that China can return to normal economic growth and avoid a crisis in its property sector, Axios' Hans Nichols reports.
The intrigue: When the official agenda indicated it was time to raise any concerns, both sides said there was no need — as Yellen and Liu already had discussed them one-on-one at a coffee break.
Go deeper: China's giant downshift.
2. The Israeli Supreme Court ruled 10-1 to revoke the appointment of a senior government minister due to past criminal convictions, a decision that could dramatically escalate the constitutional crisis in Israel, Axios' Barak Ravid writes from Tel Aviv.
3. The identity of a former Israeli spy who was in charge of Palestinian agents in Gaza and led secret talks in the Arab world was revealed for the first time this week after he was appointed director general of the country's Foreign Ministry, Barak writes.
6. Why Davos isn't dead yet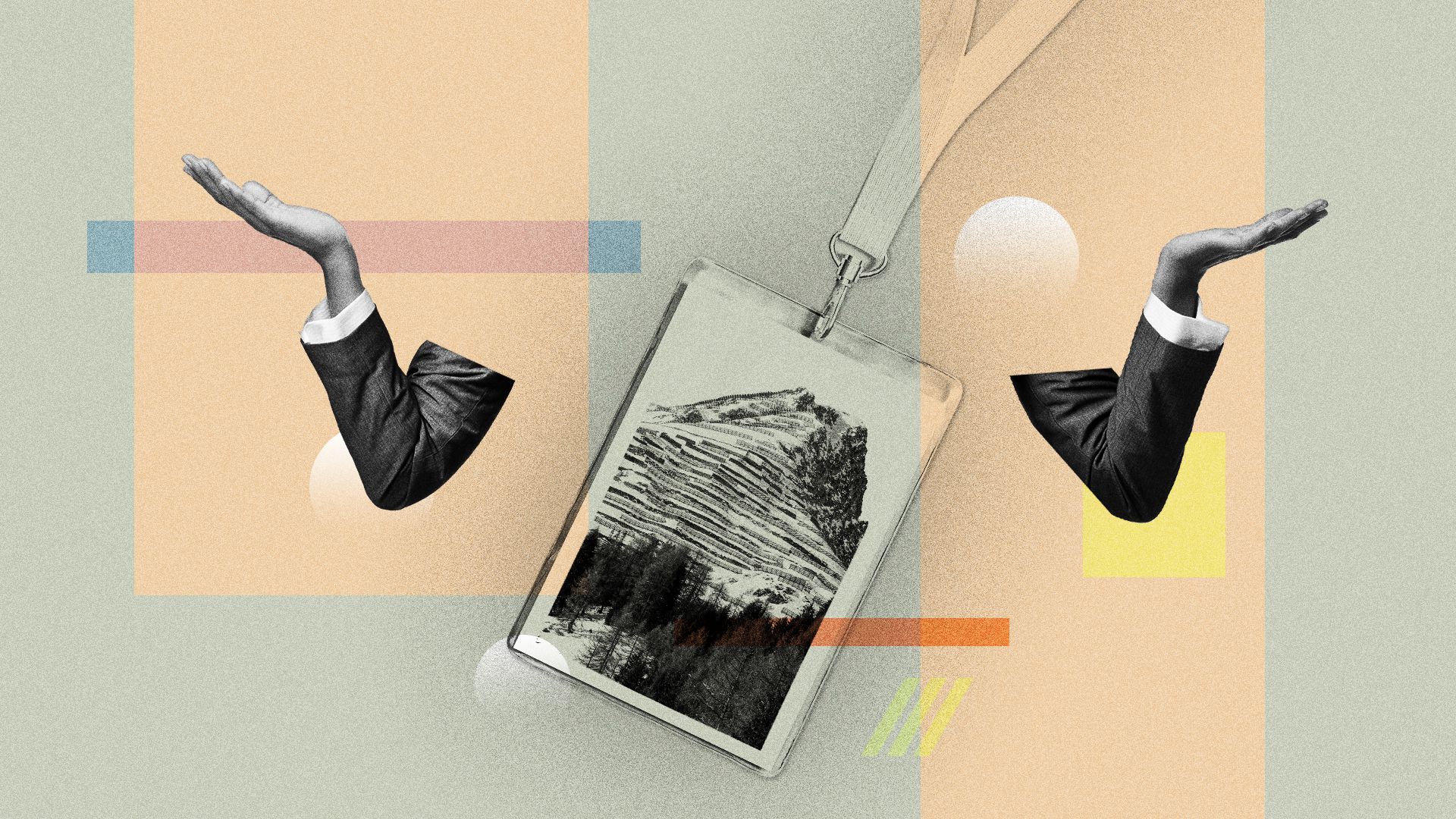 The power of Davos is its guest list.
Why it matters: Beyond the panels and Alpine views, the World Economic Forum's annual meeting is basically the world's greatest hotel lobby: Power players can pack their schedules with high-level meetings, sip Champagne with clients and keep up with their competitors.
The Forum faces growing skepticism and competition, leading some to contend that it could slide, or has already slid, into irrelevance.
But Davos still holds an allure for companies and countries seeking global investment and respect — the new presidents of Colombia and the Philippines attended, for example, and startup founders are competing for attention with blue chip companies.
The big picture: The forum's celebration of globalization and core premise of bringing the international elite together to solve global problems can feel like a relic of the post-Cold War haze.
Quips about taking private planes to a ski resort to lament climate change have become an annual tradition.
The annual UN climate conference is now arguably a bigger draw for prime ministers and executives, leading to the question of whether COP is "the new Davos."
But attendance this year was at a record high — even if some of the biggest names were missing.
The bottom line: As long as global elites keep coming, global elites will keep coming to meet them.
7. Stories we're watching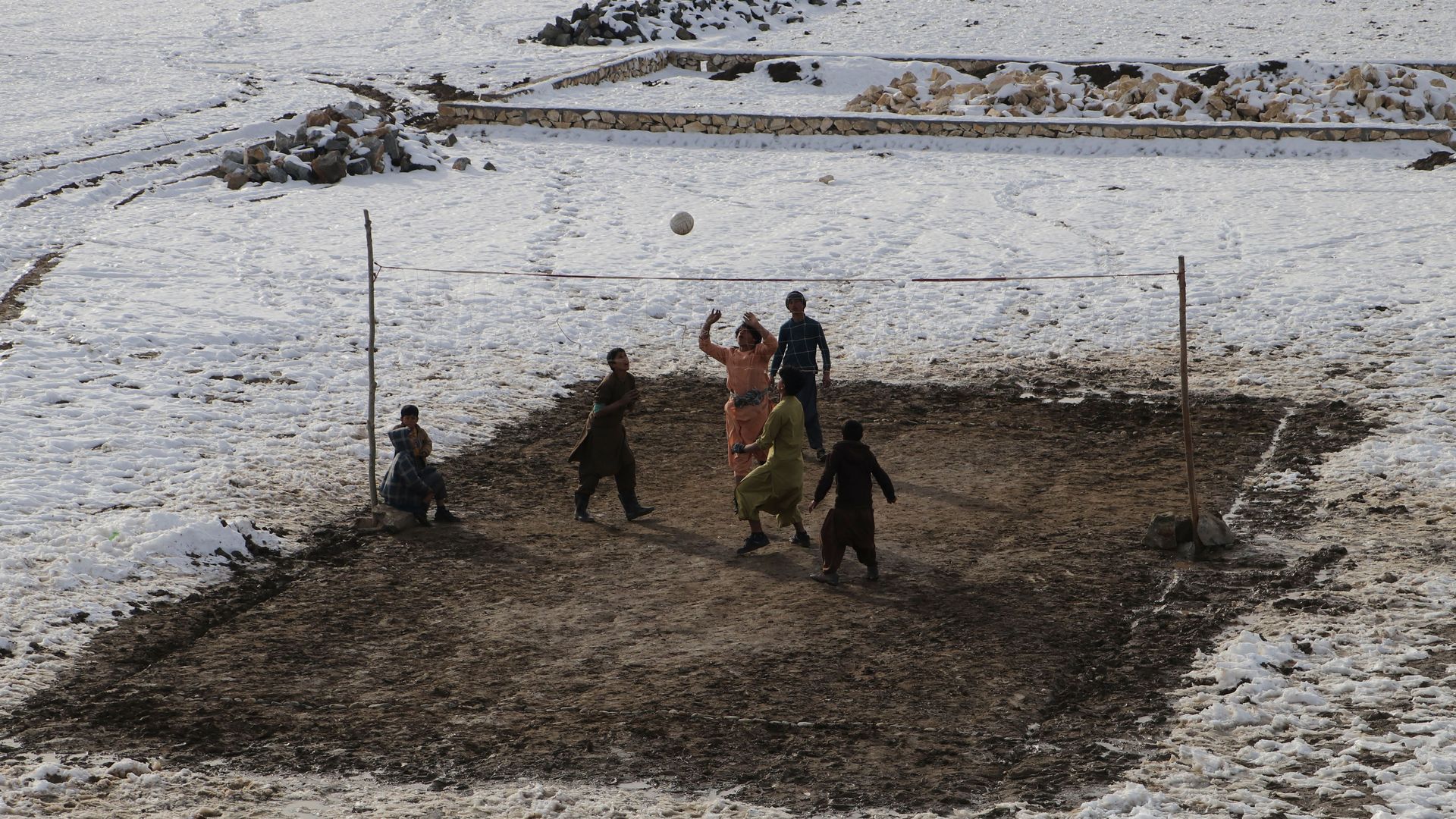 Quoted:
"One of the great [Wayne] Gretzky lines is, 'I don't skate to where the puck is. I skate to where the puck is going.' This puck is going to Ukrainian victory."
— Canadian Deputy Prime Minister Chrystia Freeland at a Ukraine breakfast today in Davos
"Tell Putin to get the puck out of Ukraine."
— Former U.K. Prime Minister Boris Johnson
Answers: 1. Greek; 2. Portuguese; 3. Hebrew; 4. German; 5. Persian; 6. Thai; 7. Arabic; 8. English; 9. Khmer; 10. French; 11. Dutch; 12. Catalan.
Key: 1. Greece; 2. Brazil; 3. Israel; 4. Austria; 5. Iran; 6. Thailand; 7. Jordan; 8. Botswana; 9. Cambodia; 10. Gabon; 11. Suriname; 12. Andorra.