Axios World
August 06, 2018
Welcome to Axios World, where two evenings a week we break down what you need to know about the big stories from around the globe.
Thanks for joining me! Please tell your friends and colleagues to sign up here, and I'd love your tips and feedback: [email protected].
1 big thing: The two biggest trends on Earth
Extreme poverty is decreasing, while extreme inequality is on the rise — two trends with far-reaching consequences all over the globe.
Poverty receding...
20 years ago, two-thirds of the world lived on less than $5.50 a day, according to the World Bank. Less than half does now. Equally dramatic is the reduction in extreme poverty (less than $1.90/day), from 30% of the world in 1996 to 11% as of 2013.
China's transformation is more remarkable still. If the poverty rate had remained unchanged from 1990 to today, rather than decreasing from 98% to 31%, 900 million more Chinese would live in poverty than currently do.
Children being born on every continent and in nearly every country on earth are significantly less likely to grow up in poverty than their parents were.
Income inequality rising...
The 7 million richest people in the world (the top 0.1%) have taken home 13.8% of all economic growth since 1980, according to the 2018 World Inequality Report from the Paris School of Economics. That's as much as the poorest half of the world, or 3.8 billion people.
Europe is the least unequal part of the world, but the top 10% of earners still capture 37% of total income. In the Middle East — the most unequal region — 10% of earners take home 61% of total income.
"If established trends in wealth inequality were to continue, the top 0.1% alone will own more wealth than the global middle class by 2050," per the report.
Social mobility falling...
The Organization for Economic Co-operation and Development (OECD) notes that "as income inequality has increased since the 1990s, social mobility has stalled, meaning that fewer people at the bottom have moved up while the richest have largely kept their fortunes."
A recent OECD report examines how much of that wealth carries over to the next generation — it ranges from 20% in Denmark to 70% in Colombia — and calculates how long it would take someone born in the bottom 10% to reach the mean income in their country.
3 or fewer generations: Denmark (2), Finland (3), Norway (3), Sweden (3).
4 generations: Australia, Belgium, Canada, Spain, Greece, Japan, New Zealand, Netherlands.
5 generations: United States, Ireland, South Korea, Portugal, U.K., Italy, Austria, Switzerland.
6 generations: France, Chile, Germany, Argentina.
7 or more generations: China (7), India (7), Hungary (7), Brazil (9), South Africa (9), Colombia (11).
The bottom line: The millions of people escaping poverty may find they don't have far to rise.
Bonus: The gravest threats the world faces
In case you missed our Saturday Deep Dive on global security threats, which featured the insights of 7 former directors and deputy directors of the CIA among other top intelligence experts...
Check out the full report, starting with the threat of a "hurricane-force cyber attack."
Check out our video on why Pakistan is, as former acting CIA Director Michael Morell put it, "the most dangerous country in the world."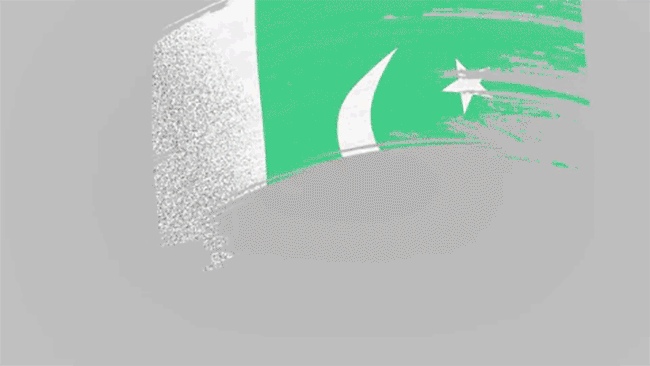 2. Latin America: Drone attack in Venezuela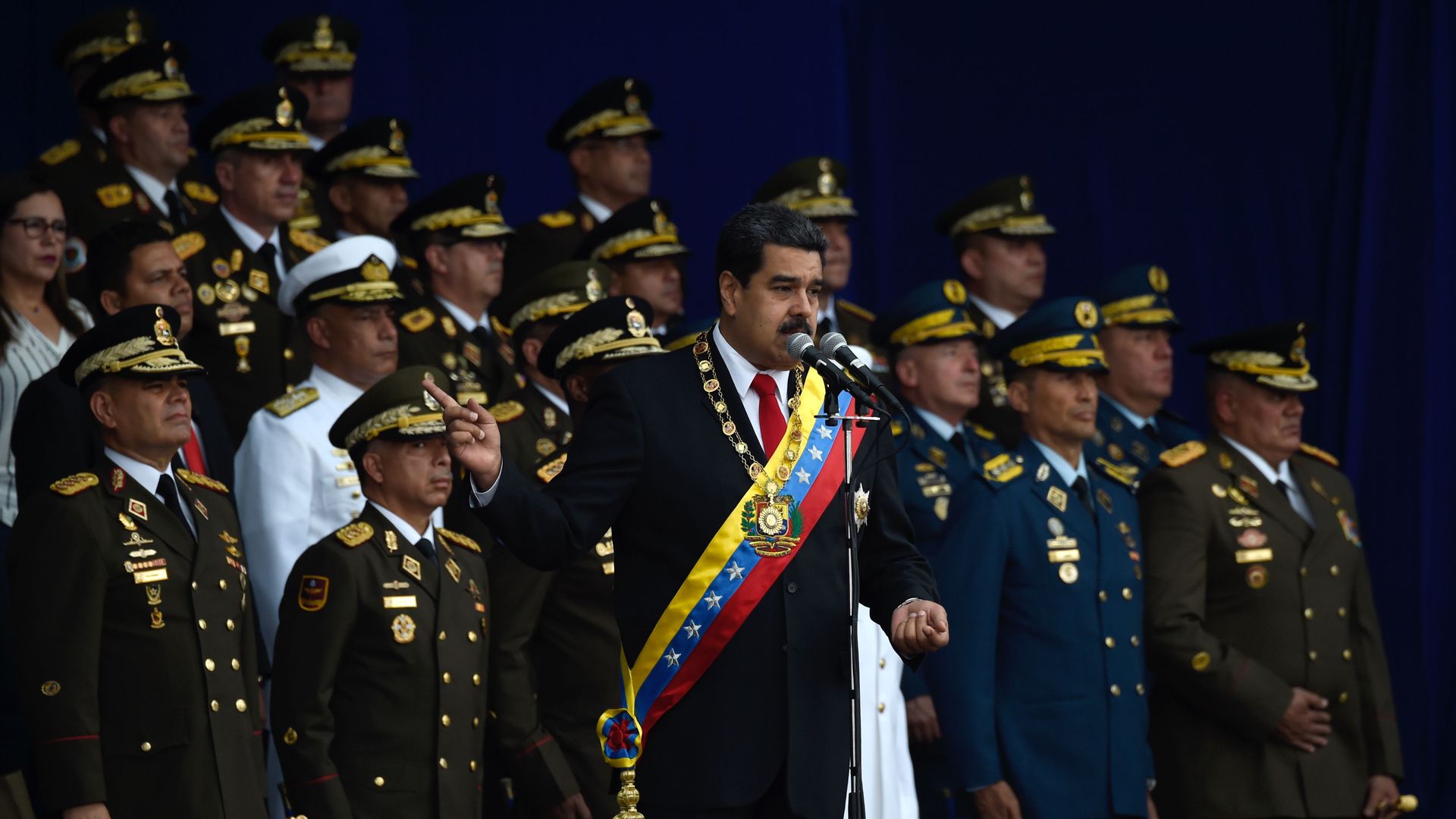 Six people have been arrested in connection with an apparent drone attack, described by the government as a failed assassination attempt, which took place Saturday night as Venezuelan President Nicolas Maduro addressed the country's national guard.
Maduro's government has accused Colombia and elements within the U.S. of undertaking a "right-wing" assassination plot. Meanwhile, some have speculated this was all a ploy by Maduro to justify further repression.
Harold Trinkunas of Stanford's Institute for International Studies says there's no evidence to support either claim, but there was clearly a drone attack of some sort, and it "clearly surprised some people" given the chaotic scenes of soldiers fleeing and general panic.
Another theory is that rogue actors from within the military were responsible. Trinkunas says a drone attack in that scenario, taking place at a major military event, is not as crazy as it might sound. A large-scale conspiracy would be nearly impossible to organize in the current climate, he says, so any coup attempt would have to be carried out by a small group of conspirators.
What to watch: Trinkunas says regardless of who ordered the attack, Maduro will "try to use this to his advantage," with further crackdowns on the opposition and purges in the military. American University's Michael McCarthy, meanwhile, writes for Axios Expert Voices that "the pressure against Maduro is coming from within his movement as much as from the opposition," and will only grow after this "embarrassment."
Go deeper: Venezuela's manmade economic crisis.
3. Rohingya crisis: The view from no-man's land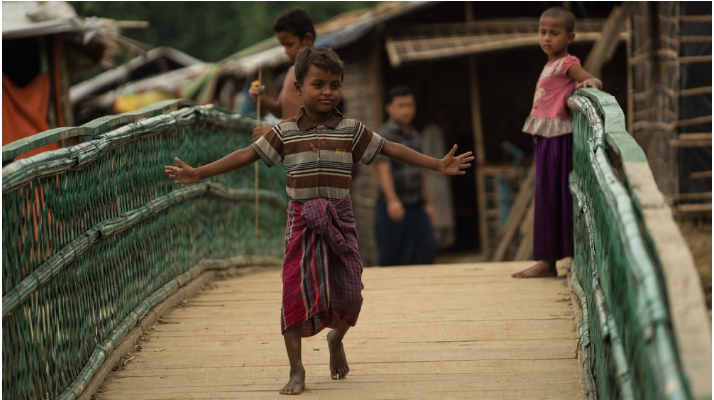 Of the more than 700,000 Rohingya forced from their homes in Myanmar, 4,600 are stranded in bleak conditions at a camp in no-man's land on the Myanmar-Bangladesh border, known to locals as Zero Point, Linah Alsaafin of Al Jazeera reports from the camp:
The bigger picture: Many Rohingya, a majority-Muslim ethnic group often described as "the world's most persecuted minority," now live in limbo. Residents of Zero Point have not been given refugee status, as the area in which they have been sheltering for almost a year now is officially under Myanmar control — but a fortified border fence rigged with landmines makes a return to their villages in Rakhine state an impossible mission.
This is the third time Nur al-Amin, who used to own paddy fields in Myanmar, has experienced displacement. The first was in 1978, when he was still a child and had to spend a year at a refugee camp in Bangladesh after escaping anti-Rohingya violence by Myanmar's authorities. Then in 1992, he was forced to flee for a second time and ended up living as a refugee for eight years.
"There is no work here and nothing to do," he says of life in the camp. "I wake up at dawn to pray, I read Quran, I take naps, I wait for the aid agencies to come."
The bottom line: "When we first arrived, we thought that after a few days we would return back to our homeland," says Dil Muhammad, the Rohingya camp leader. "One year has passed, and there has been no solution. The UN has failed us."
Go deeper: Mass graves and ethnic grievances in Myanmar's Rakhine state.
4. Africa: Good news from rough places
Eritrea subjects its people to mandatory and indefinite national service, and shuts itself off to the world. But things seem to be changing in "the North Korea of Africa," the Economist reports, after an unexpected thaw with neighbor and rival Ethiopia.
What to watch: "If Ethiopia is no longer a threat, why should Eritreans spend decades doing national service? If Eritrea is no longer on a war footing, why does it need a military strongman to keep it safe?"
Nearly five years into South Sudan's civil war, the leaders of two warring factions say they have reached a power-sharing agreement.
If it holds, that's fantastic news for a country facing one of the most dire humanitarian crises on earth. Over 3.5 million people — one-quarter of the population — have been displaced from their homes, and both sides in the war have been accused of atrocities.
5. Saudi Arabia fumes at Canada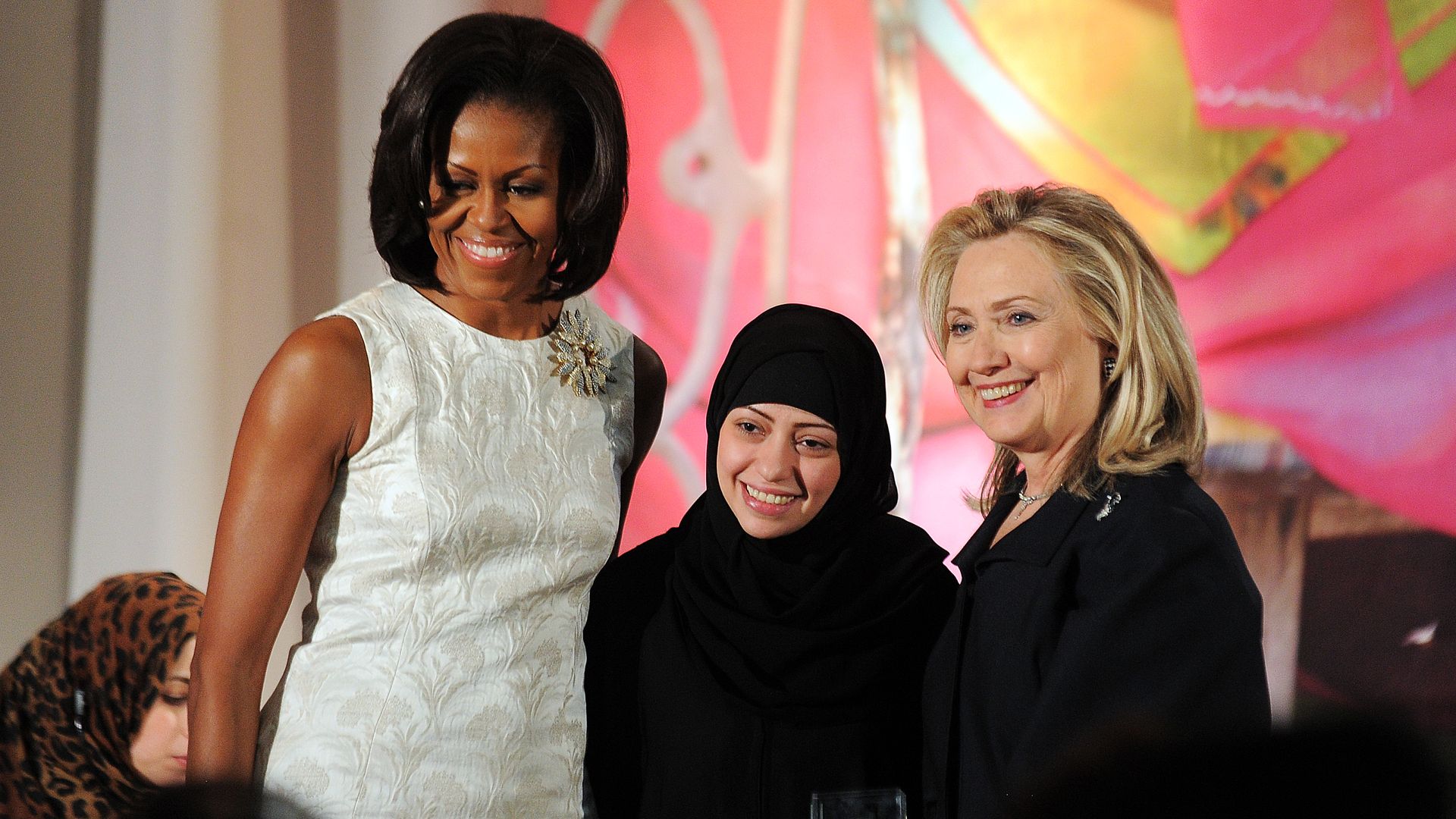 Saudi Arabia has frozen all new trade and investments with Canada and is expelling its ambassador in retaliation for a tweet by the Canadian Foreign Ministry, which called for Saudi authorities to release imprisoned human rights activists, Axios' Zach Basu writes.
The big picture: Crown Prince Mohammed bin Salman has garnered praise for his efforts to modernize the Saudi kingdom, but the reforms have come amid a ruthless crackdown on dissidents like women's rights activist Samar Badawi.
The backdrop: Badawi (pictured), the recipient of the 2012 International Women of Courage award, is one of at least 15 human rights activists and government critics to be arbitrarily detained in Saudi Arabia since May 15, according to the UN High Commissioner for Human Rights.
On Aug. 2, Canadian Foreign Minister Chrystia Freeland tweeted that she was "very alarmed" to hear Badawi had been detained. The next day, the Canadian Foreign Ministry called for her "immediate release."
Saudi Arabia's Ministry of Foreign Affairs issued a statement Monday expressing "disbelief" over the comment, calling it "a blatant interference in the Kingdom's domestic affairs."
In addition to freezing all new business and declaring the Canadian ambassador persona non grata, Saudi Arabia also plans to withdraw all 20,000 Saudi students studying in Canada, according to The Globe and Mail. They will reportedly be moved to similar programs in countries like the U.K.
Worth noting: Annual trade between the two countries is worth about $3 billion.
6. Middle East: Iran sanctions snap back
On Tuesday, the first tranche of U.S. sanctions against Iran lifted by the 2015 nuclear deal will snap back into place — a result of President Trump's withdrawal from the deal that comes in spite of Iran's continued compliance, Barbara Slavin of the Atlantic Council writes for Axios Expert Voices:
In a background briefing for reporters on Monday, a senior Trump administration official boasted that, because of sanctions, the Iranian currency "is tanking, unemployment in Iran is rising, and there are widespread protests over social issues and labor unrest." The administration refused to take responsibility for the humanitarian damage, placing the blame on Iran's government.
Officials also continued to claim that the U.S. is leading a "coalition" against Iran, even as European allies were decrying U.S. actions and vowing to maintain the deal despite U.S. sabotage.
The main beneficiary of the U.S.' Iran reversal is China, which became Iran's top trading partner more than a decade ago. Beijing has already told the Trump administration that it will not reduce Iranian oil imports after the slated return of oil sanctions on November 4.
The big picture: The Trump administration hopes the sanctions will curb Iran's "malign" activities in the Middle East, but there's little likelihood of that result, especially since Assad has "won" in Syria, and Iran's regional rival, Saudi Arabia, remains bogged down in Yemen. Although widespread protests have erupted in Iran since late last year, there are no assurances that Iranians will overthrow their government and replace it with one more attractive to Washington and its allies.
The bottom line: Iranians will suffer, but the U.S. is unlikely to benefit.
7. Stories we're watching
Quoted:
"Now, someone is going to say a grand chef who drinks Coca-Cola, that can't be. But I also use ketchup. One must be open to everything. Sometimes, you feel like eating a pizza; the next day, you may feel like couscous or paella, then, the day after, you eat some more refined cuisine. All of it is necessary."
— Joel Robuchon, the
renowned French chef
who has died at 73,
speaking to the LA Times
in 1996.
Thanks for reading — see you Thursday evening!