Welcome to Axios World, where two evenings a week we break down what you need to know about the big stories from around the globe.
Thanks for joining me! Please tell your friends and colleagues to sign up here, and I'd love your tips and feedback: lawler@axios.com.
1 big thing: The threat from America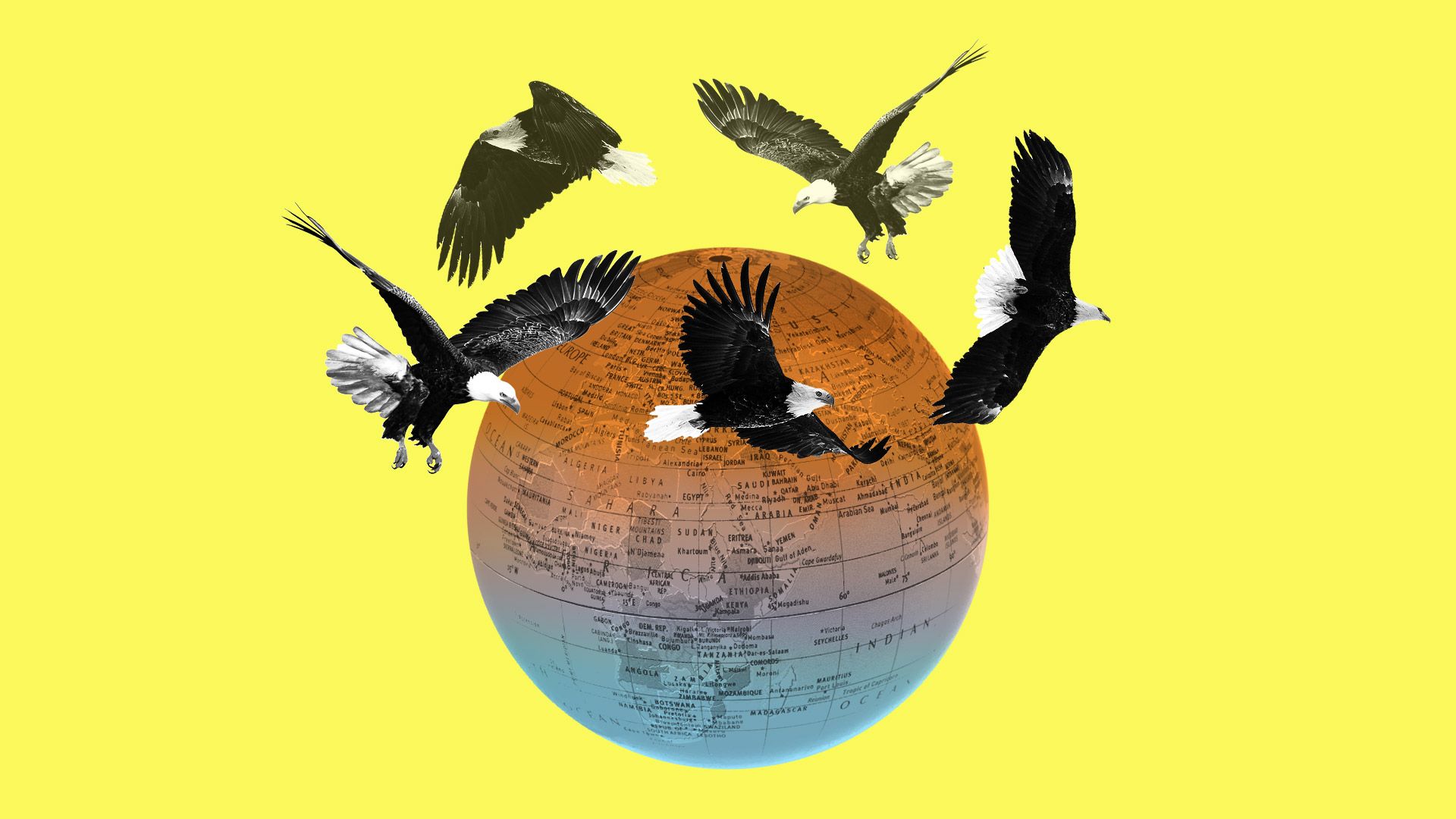 Russian aggression and the rise of China are among the biggest foreign policy concerns Americans face. In many countries, though, the world power seen as most threatening is the United States.
According to a 2017 Pew survey, 39% of respondents across 38 countries consider U.S. influence and power a major threat to their countries, compared to 31% for both Russia and China. That's up from 25% in 2013, when the survey was conducted previously.
Approval of U.S. global leadership fell to 30% worldwide, per a January Gallup poll. That's narrowly behind China (31%) and ahead of Russia (27%). It's also the lowest score in the 10 years the survey has been conducted, and down from 48% in Barack Obama's last year.
America's favorability around the world has fallen sharply, particularly among key allies like Mexico, Canada and Germany. And that was before Trump's trade war and Iran deal withdrawal.
President Trump would argue that foreign policy is not a popularity contest, and it's better to be viewed as a threat than a pushover. But there are real foreign policy implications behind these numbers:
Partnerships with South Korea and Japan are crucial to containing both the North Korean threat and the rise of China. Unsurprisingly, both countries list China as among the top threats they face. Startlingly, though, the U.S. is right behind — with 70% in South Korea and 62% in Japan viewing the U.S. as a major threat.
Meanwhile, some NATO allies like Germany apparently see the threat to the west as larger than the one to the east. 35% of Germans view the U.S. as a major threat, compared to 33% for Russia. Meanwhile, as relations with Trump have soured, Chancellor Angela Merkel has sought common cause with both Russia and China.
Worth noting: India and Poland are among the countries that bucked the trend, viewing the U.S. less warily than in 2013.
The bottom line: Global views of the U.S. have slumped before — during the Iraq War, for example — and cracks in U.S. alliances have been repaired in the past. But as the mistrust grows, it could get harder and harder to put Humpty Dumpty back together again.
Bonus: Update your calendars
Press Secretary Sarah Sanders said today that President Trump's summit with Kim Jong-un is scheduled to begin at 9am Singapore time on Tuesday, June 12. That's 9pm Monday night for those of us on the East Coast.
2. Trade war: Berries and bourbon caught in crossfire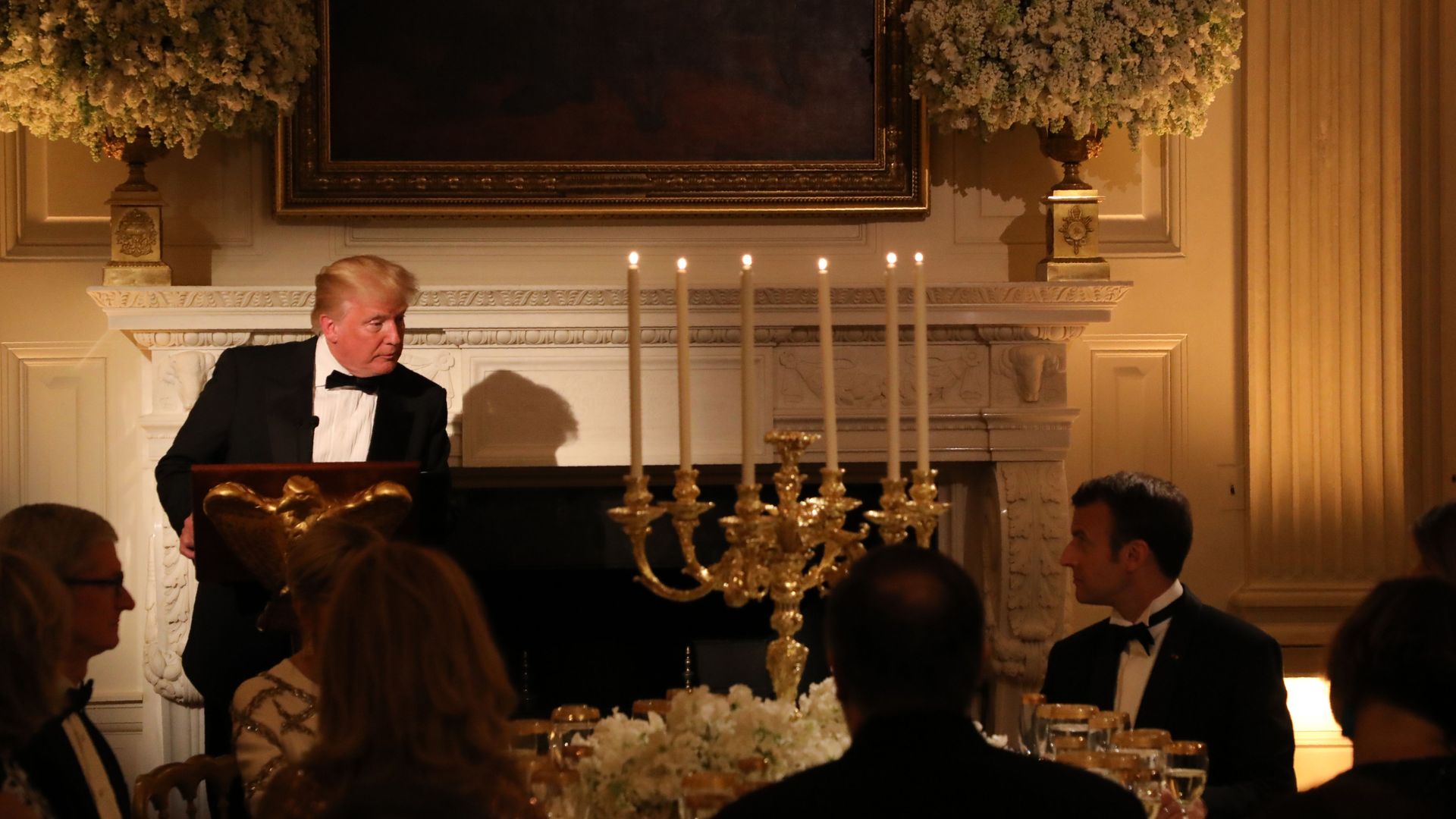 U.K. Prime Minister Theresa May told President Trump today that tariffs on EU steel and aluminum are "unjustified" and "deeply disappointing," according to a Downing Street readout of the call.
That follows what a source described to CNN as a "terrible" call between Trump and French President Emmanuel Macron about the tariffs, which Macron has called "illegal." Press Secretary Sarah Sanders defended them today as "the only measures appropriate to safeguard the country."
Here's a look at the U.S. products now being targeted in retaliation for U.S. tariffs, compiled by Axios' Shannon Vavra.
EU: Bourbon whiskey, motorcycles, denim, cigarettes, cranberry juice, orange juice, corn, tobacco, t-shirts, motor boats, peanut butter and forms of aluminum and steel.
China: Fruit, nuts, wine, pork, aircraft, soybeans, cotton, wheat, forms of beef, cranberries, orange juice, whiskey, tobacco, liquid propane, plastic products, chemicals, and forms of aluminum and steel.
Canada: Cheese, pizza, quiche, chocolate, whiskey, toilet paper, paper towels, strawberry jam, ketchup, mustard, yogurt, lawn mowers, sleeping bags and a lot more.
Mexico: Lamps, pork, cheese, flat steel, apples, pears, grapes, cheese, blueberries, sausages and other meat products.
3. Europe: Corruption and instability
The toppling of Spain's prime minister and the rise of Italy's new populist government have led to concerns over newfound instability in Europe. One factor in both cases: corruption.
81% in Spain and 84% in Italy believe government corruption is widespread, among the highest marks in the EU, according to Gallup.
Slovenia, which is also near the top at 80%, elected a right-wing populist party over the weekend.
The lowest percentages, by far, came from Scandinavia (16% in Sweden, 17% in Denmark, 19% in Finland), while Croatia (89%) was highest. Germany (32%), the U.K. (41%) and France (64%) fell in between.
4. Asia: Malaysia wants out of China's debt trap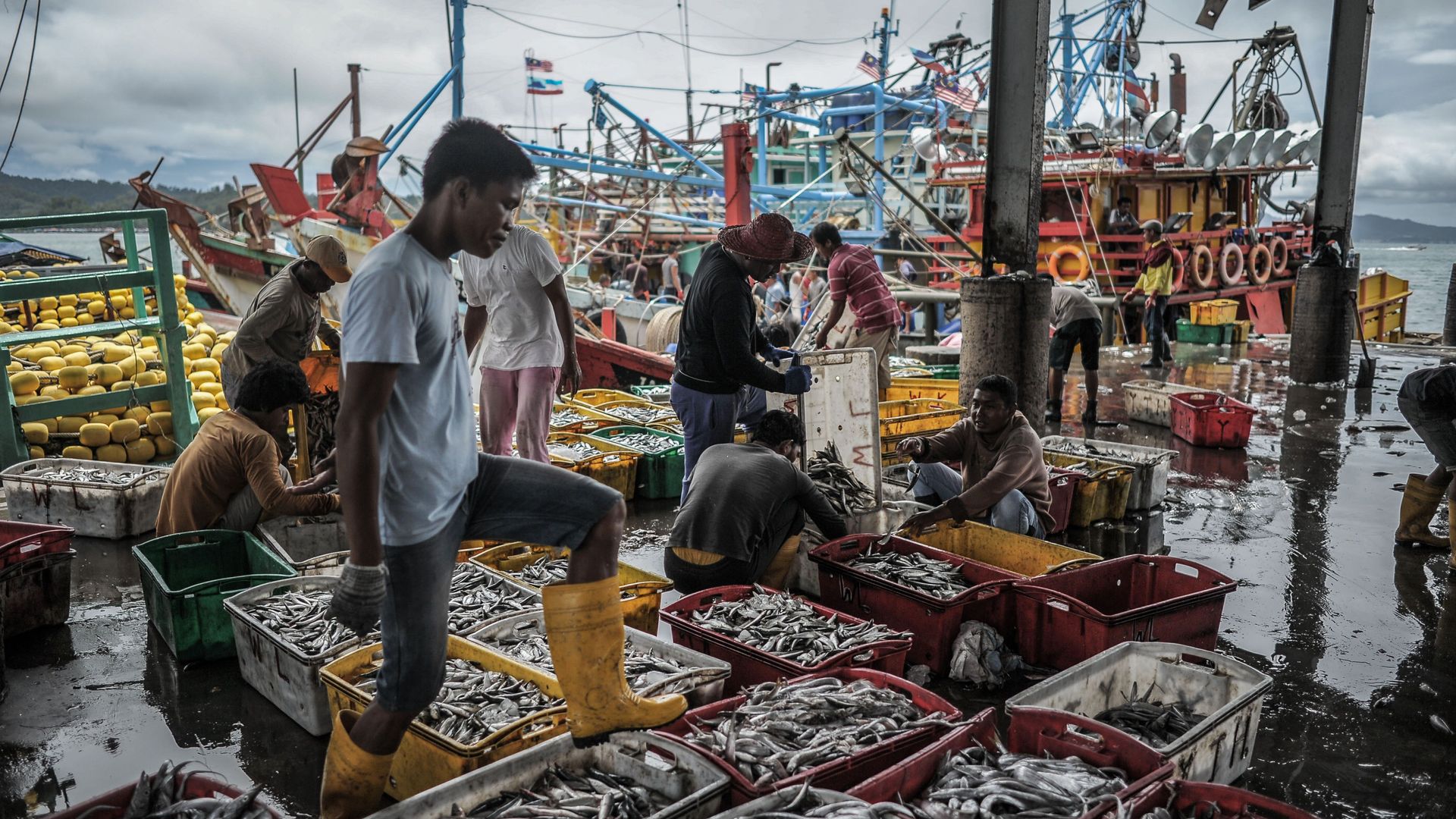 Malaysia made headlines, and raised eyebrows, last week by announcing it would use crowd-funding to help pay down the crippling national debt. But another move could have much bigger implications, Axios' Erica Pandey writes: renegotiating debt-busting infrastructure contracts with China
Malaysia is caught under a $250 billion pile of debt. It's not clear how much is owed to China, but Prime Minister Mahathir Mohamad told the Financial Times his new government hopes to re-negotiate a $14 billion Chinese rail project.
The bigger picture: China's debt-trap diplomacy has spread across Asia and Africa. Beijing offers attractive, expensive projects to countries that need infrastructure, then leverages debt for influence.
5. Africa: Land reform could speed up in South Africa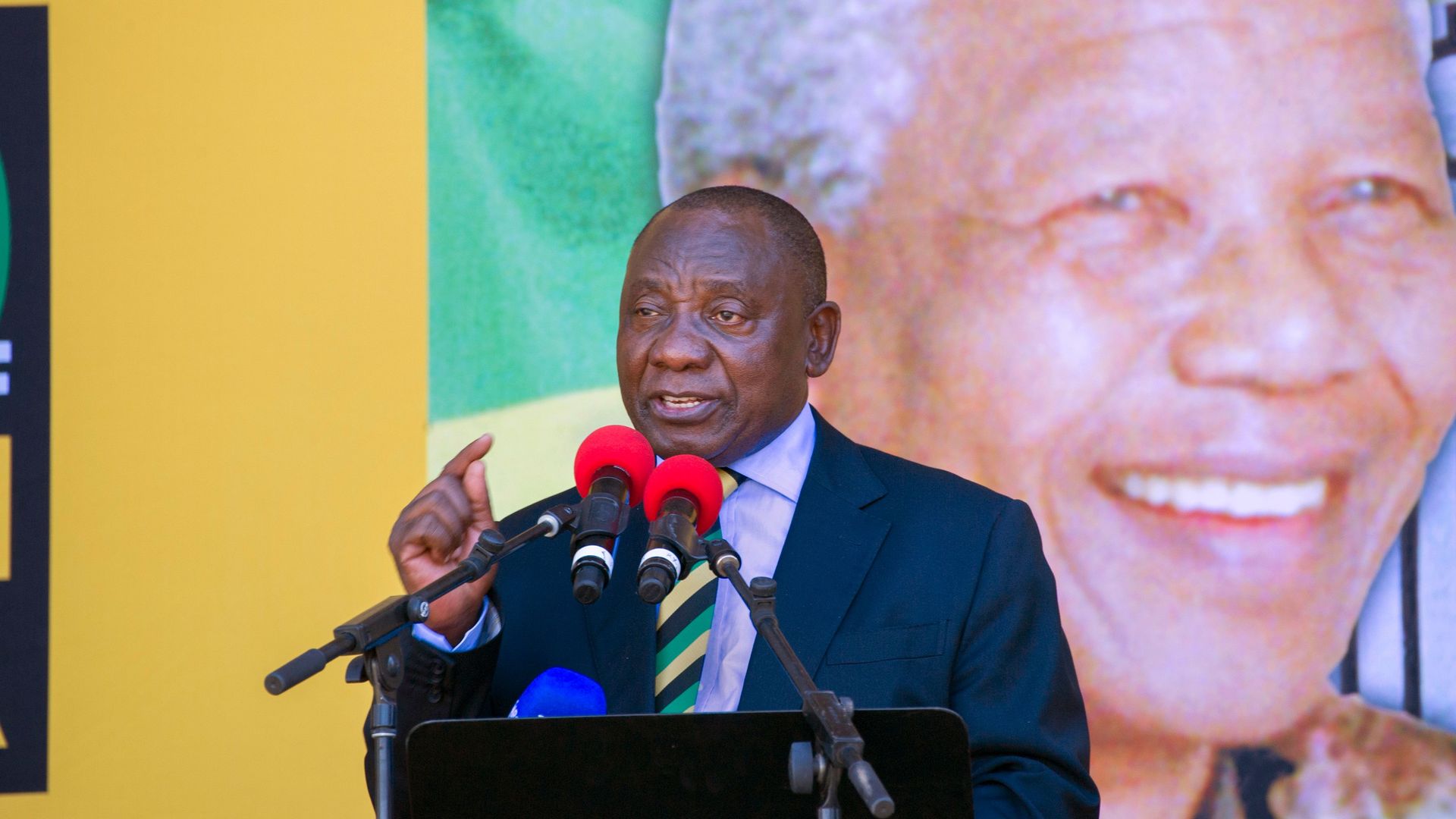 With the end of apartheid in 1994, South Africa's ruling African National Congress (ANC) pledged to return 30% of land granted to whites under a 1913 law to its "previous owners" by 2014. GZERO Media's Willis Sparks writes in the latest Signal newsletter that to maintain investor confidence the government has moved slowly to implement this policy — but that could soon change.
Best estimates are that, 24 years later, just 10% of commercial farmland has been redistributed. Pressure for a dramatic change in policy is on the rise. As he leads the ANC toward elections next year, President Cyril Ramaphosa has his work cut out for him.
The bigger picture: In country after country, in rich states and developing ones, voters have swept aside the political class in favor of outsiders. Ramaphosa, an unelected leader who assumed office after his predecessor's ouster, will have to find new ways to persuade South Africans that the ANC, the only ruling party anyone under 30 has ever known, can buck the trend. 
6. Latin America roundup
Nicaragua: At least 100 people have now died in protests against President Daniel Ortega, which have resumed after a period of quiet. Per the Washington Post, "police and pro-government militias have clashed with protesters and businesses have been looted and burned. ... A march led by mothers of those killed during protests ended when gunmen opened fire on the crowd."
Chile is set to become the first country in the Americas to ban plastic bags at retail stores. The new rules, which will phase in over two years, are aimed at protecting the country's coastline.
Go deeper: More on López Obrador.
7. Stories we're watching
Quoted:
"The worst part of it is that the machinery of government has been corrupted and we have to rely on that corrupt machinery because we can't dismiss everybody."
— Mahathir Mohamad
on taking power
in Malaysia
Thanks for reading — see you Thursday evening.