Welcome to Axios World, where two evenings a week we break down what you need to know about the big stories from around the globe. This is our lucky 110th edition.
Thanks for joining me! Please tell your friends and colleagues to sign up, and I'd love your tips and feedback: lawler@axios.com.
Was this email forwarded to you? Sign up here.
1 big thing: Populists squeeze Europe's conservatives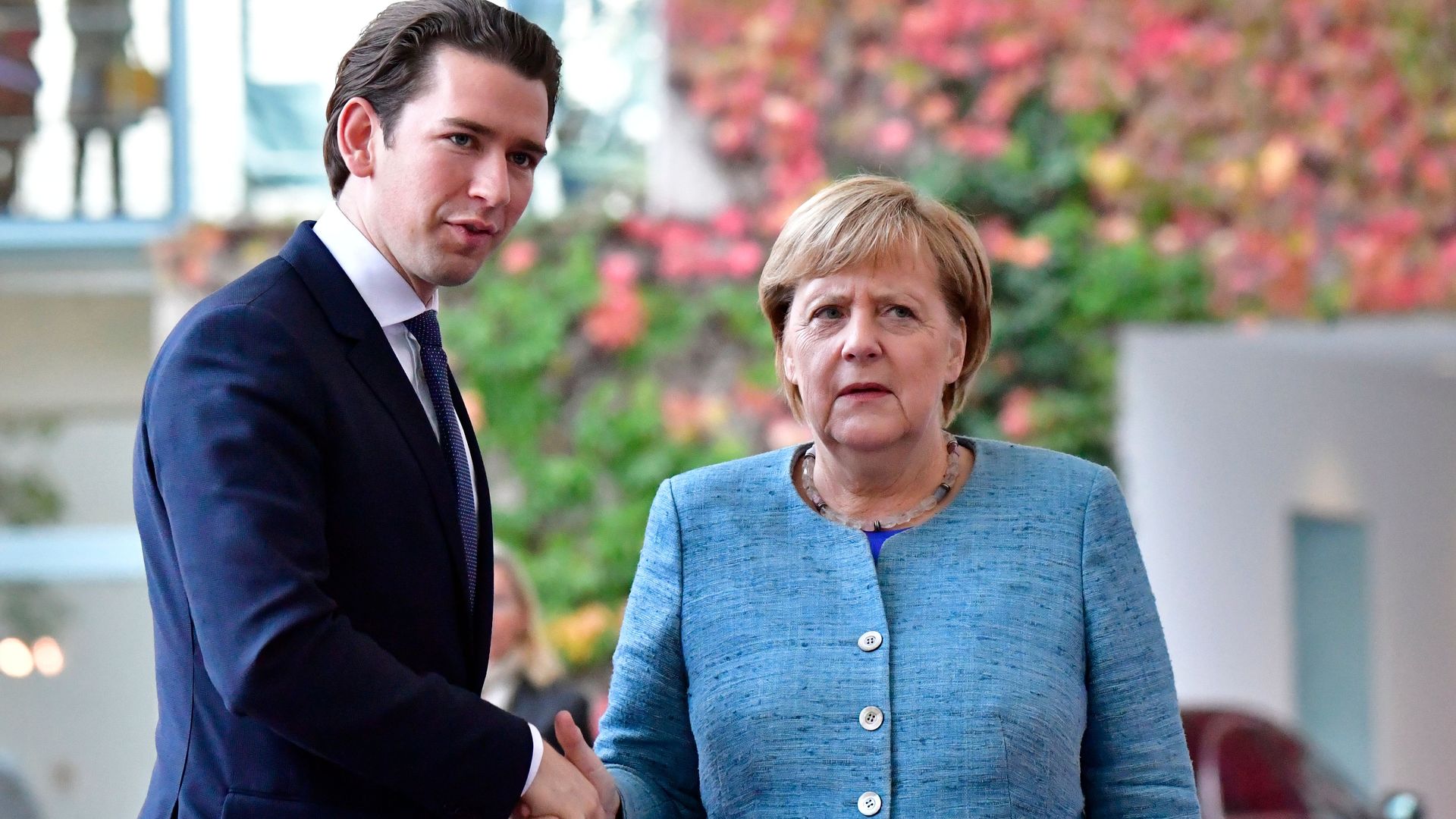 Austria's coalition government has shattered in spectacular fashion after video emerged over the weekend of Vice Chancellor Heinz-Christian Strache discussing how a woman he believed to be a wealthy Russian could secretly funnel money to his far-right Freedom Party.
Chancellor Sebastian Kurz of the conservative People's Party quickly terminated his partnership with the populists, triggering fresh elections in September.
It was Kurz who brought the Freedom Party, which has a long history of racist and anti-Semitic rhetoric, into government 17 months ago. He defended that decision yesterday, but said "enough is enough."
Why it matters: Mainstream politicians all over Europe have been flummoxed by the rise of anti-establishment parties, particularly on the far right. Kurz argued that the Freedom Party would be less destructive inside the tent, where they'd be forced to adapt to the realities of governance, than howling from the outside.
That approach won Kurz widespread praise and worked, up to a point. He remains popular, and he might now steal votes from his discredited former coalition partners.
The Strache affair is nonetheless an embarrassment. The lesson for "[o]ther mainstream European politicians facing threats from a growing far right" is clear, according to Alina Polyakova of Brookings: "pandering to them doesn't work."
Nothing else they've tried has worked either.
Spain's People's Party tacked hard right to fend off a challenge from the upstart Vox Party last month, only to suffer a disastrous defeat.
Once-powerful center-right parties have been boxed out both from the liberal center, as in France, and the far right, as in Italy.
Angela Merkel's Christian Democrats have clung to power but watched German politics fracture around them. Merkel is on her way out, with the far-right AfD taking credit.
Nowhere is the populist right more emboldened than in the U.K., where Nigel Farage's Brexit Party is poised to win three times as many votes as the ruling Conservatives in this week's European parliamentary elections.
Prime Minister Theresa May is likely to depart before the end of the summer, having failed to deliver Brexit due in part to hardline demands from her party's right flank.
Boris Johnson is the favorite to replace her, in part because as a hardline Brexiteer he can credibly claim he'd win back Brexit Party voters. What he almost certainly can't do, writes Telegraph Europe editor Peter Foster, is win a parliamentary majority for his approach to Brexit.
What to watch: Farage is just one of the populist protagonists in this week's European elections.
A far-right bloc led by Italy's Matteo Salvini is on the rise. Meanwhile, the long-dominant European People's Party grouping is expected to lose about a quarter of its seats.
One of the chief headaches for that center-right bloc is dealing with a recalcitrant member and proud populist: Hungarian Prime Minister Viktor Orbán.
The big picture: It's not just the conservatives. "Social democratic parties [on the center left] have been hit even harder," says Erik Brattberg of the Carnegie Endowment.
Brattberg says it's not so much the traditional parties' politics that are turning voters off, but the very fact that they're the traditional parties. "Mainstream parties don't excite voters anymore," he says.
2. Poll: Trump's 2020 weak spots on foreign policy
A new poll designed to test President Trump's vulnerabilities on foreign policy heading into the 2020 election finds that economic pain from the China trade war, unraveling alliances and Trump's relations with Russia are of particular concern to swing voters.
The poll was commissioned by National Security Action, a group founded by former top Obama administration officials that is advising Democratic candidates on foreign policy.
The big picture: Trump significantly outperforms his 44% overall approval rating when it comes to national security, on which 55% of all likely voters and 63% of undecided voters approve of his performance.
However, 46% believe Trump has made America less safe, compared to 38% who say he's made the country safer.
Meanwhile, 57% believe he has made America less respected around the world, while 67% worry he "lacks the temperament we need in a commander in chief."
The pollsters tested 20 potential lines of attack against Trump and found that undecided voters were most concerned that Trump was weakening alliances, defending dictators and waging a trade war that will cost jobs and raise prices.
What to watch: 41% of respondents say Trump's foreign policy is a reason to re-elect him, 45% say it's a reason to elect someone else, and 14% say it's not a consideration.
3. China: More than a trade war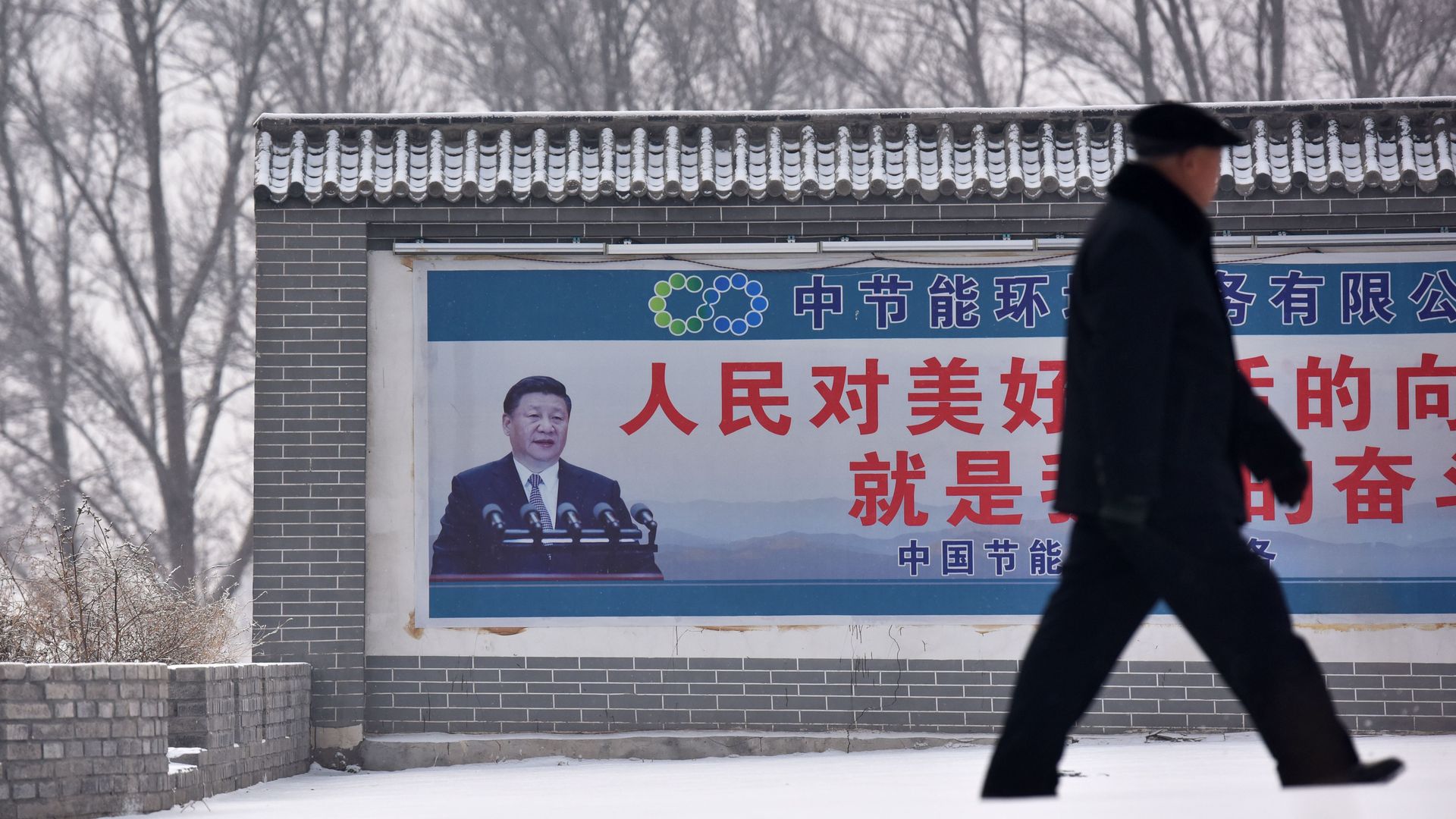 "Google has stopped providing non-public hardware or software to Huawei, severely impacting the Chinese device maker's ability to create new smartphones and update existing ones," Axios' Ina Fried reports.
Why it matters: The battle over Huawei — seen in Beijing as the "symbol of China's technological rise" — is more than just "a very negative sign of the prospects of trade talks," Bill Bishop of Sinocism tells Axios' Dan Primack on Dan's Pro Rata podcast.
"What we're now seeing is that the U.S.-China relationship is very quickly descending into really serious competition, if not conflict, across multiple dimensions, and this really may be [the event] that pushes this forward."
Apple is "uniquely vulnerable" to countermeasures because it relies so heavily on China both for production and sales, but Beijing's response has to "thread the needle," Bill says.
"They are very much still pushing to the rest of the world that 'we're open for business, we're improving the business climate for foreign companies, please come invest in China, you'll be welcome here.'"
Meanwhile, Chinese state TV has been showing old Korean War movies as part of what Bill calls a "significant ramping up of nationalist rhetoric" since talks broke down.
"These movies are the worst part of that ... [they] basically glorify killing Americans and, as you say, kind of being able to last out the Americans."
What to watch: Morgan Stanley is warning that further escalation in the trade war will send the global economy toward recession.
4. Election updates: India, Australia and Ukraine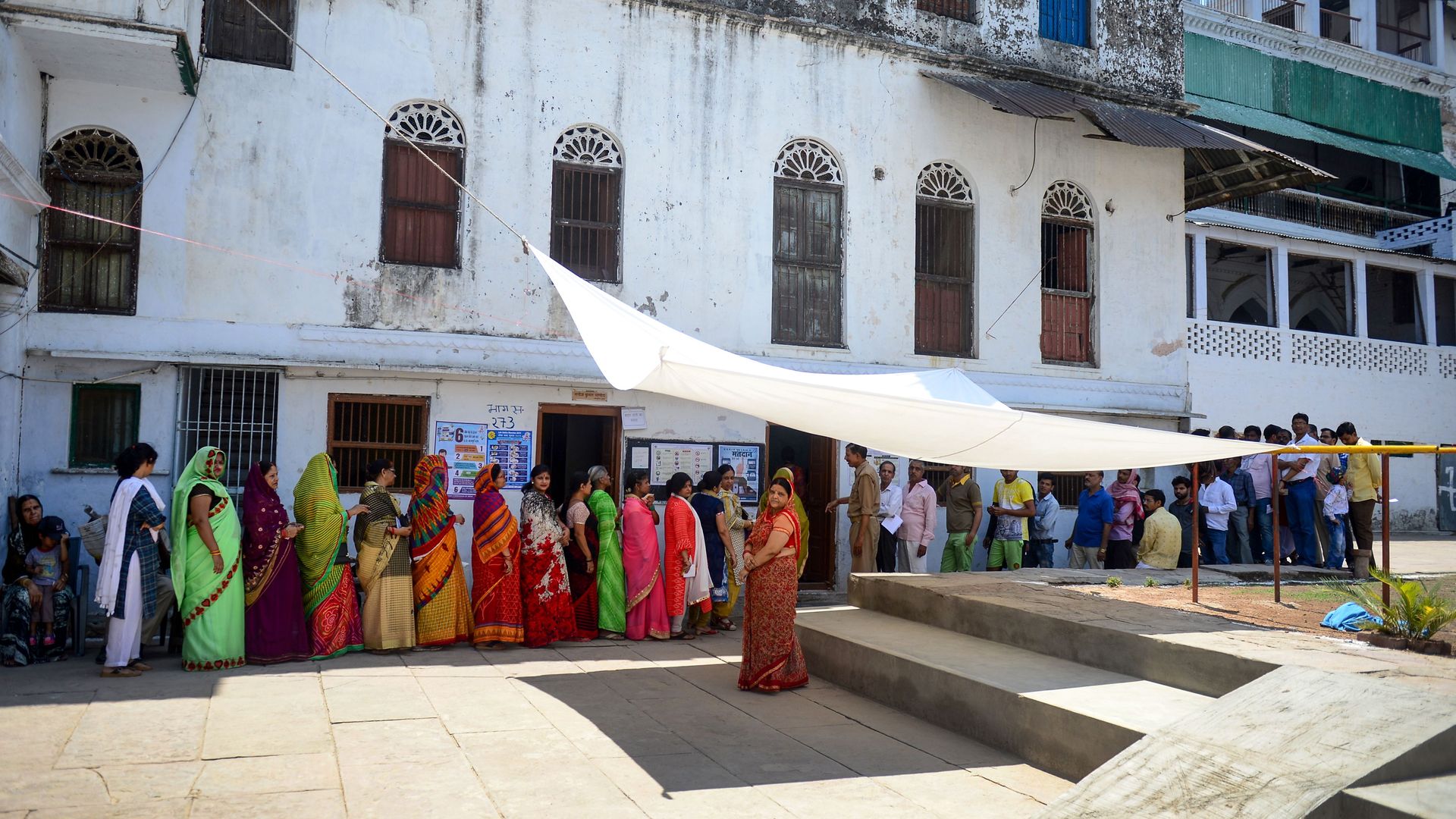 1. Exit polls in India show a resounding victory for Prime Minister Narendra Modi's Hindu nationalist BJP.
Why it matters: Modi's campaign has been "heavy on ethno-religious dog whistles," and "many fear that a victorious, emboldened Modi would seek far-reaching changes to India's constitutional order," James Crabtree writes in Foreign Policy.
However, Crabtree argues that Modi's record thus far has been "of piecemeal rather than radical change."
"[T]he risk India faces is more of the same: a gradual continuation of the erosion of liberties and institutions and occasional religious thuggery."
2. Australia's conservative prime minister, Scott Morrison, shocked the world by winning Saturday's election, despite the opposition Labor Party leading the polls for months.
Morrison is staunchly pro-Trump, writes Axios' Jonathan Swan (an Aussie native). Trump knows him as the guy who "stopped the boats" because he was the architect of a policy to turn back asylum-seekers, Swan reports.
This was billed as a climate change election, but "the results suggest that either voters don't care as much about the issue" as expected or prefer the government's less aggressive approach, Axios' Amy Harder writes.
3. Ukrainian President Volodymyr Zelensky disbanded parliament on his inauguration day today.
A TV star with no political experience, Zelensky was elected last month in a landslide. He'll hope to match that success in early parliamentary elections.
In his address, he said his first priority would be ending the war with Russian-backed separatists in Eastern Ukraine.
He certainly looks like a different sort of president, based on today's high-five and selfie heavy entrance.
5. Migration waves will only grow larger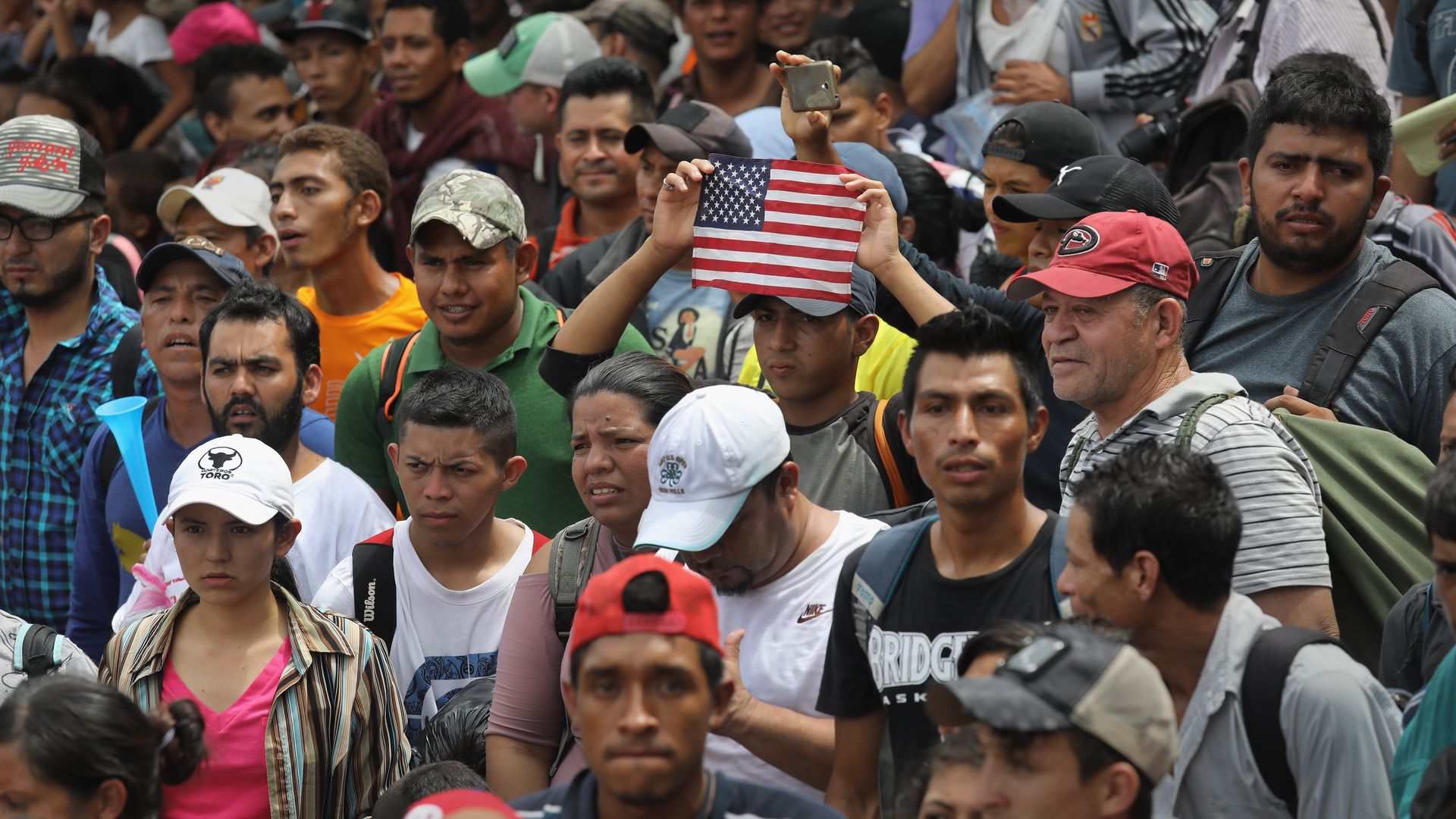 Flows of migrants fleeing violence and poverty have remade the politics of Europe and the United States in recent years, writes Willis Sparks of GZERO Media.
What to watch: A startling new study from Stanford University warns that the conflicts we've seen to date may just be the opening act of a much larger and more dangerous drama.
The report traces migration booms from Syria and Central America to droughts and social unrest.
Now a look to the future.
The authors warn that populations are set to explode in sub-Saharan Africa, the Middle East, South Asia and Central America.
The working-age population of sub-Saharan Africa alone is expected to increase by nearly a billion people between 2020 and 2060.
In coming decades, overcrowding in these places will exacerbate desertification, water shortages and urbanization. Mounting ecological stresses will provoke violent political conflict, forcing more people to hit the road in search of a better life.
In other words: The combination of extreme weather patterns and growing populations of young people in poorer countries will combine to create more migration, more political anger and a greater risk of conflict within and among countries.
Go deeper:
6. Data du jour: Where immigrants are, and aren't
7. Stories we're watching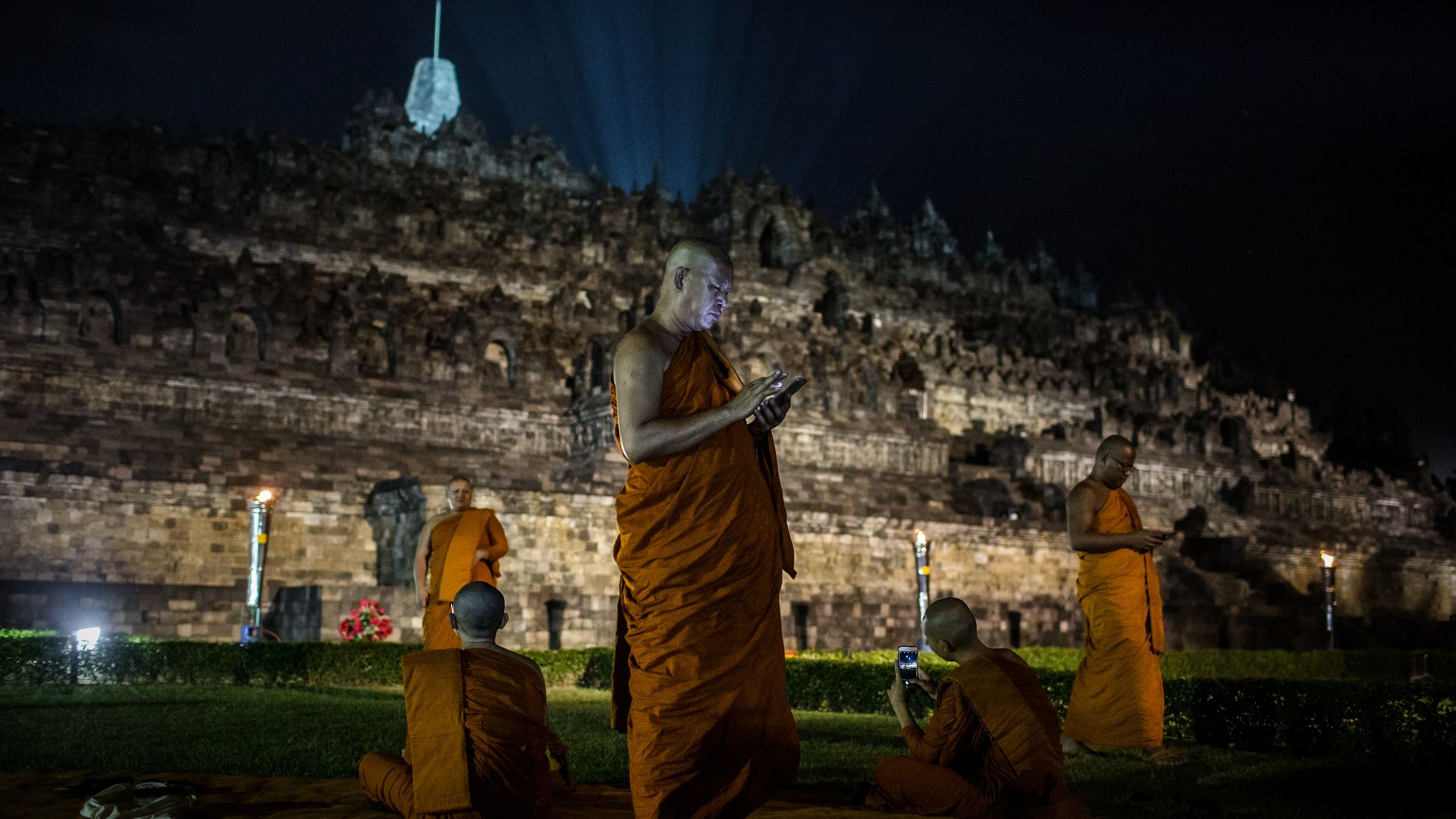 Quoted:
"Together we drain the swamp!"
— One of the rallying cries of the 2016 U.S. election finds its way to Malawi, and the
campaign of outsider contender
Saulos Chilima
Thanks for reading — see you Thursday evening!