Welcome to Axios World, where two evenings a week we break down what you need to know about the big stories from around the globe.
This is our lucky 13th edition — I'd love your feedback on how we're doing so far and what you'd like to read: [email protected] As always, thanks for joining me, and please tell your friends and colleagues to sign up here.
1 big thing: Europe's pent-up fury with Trump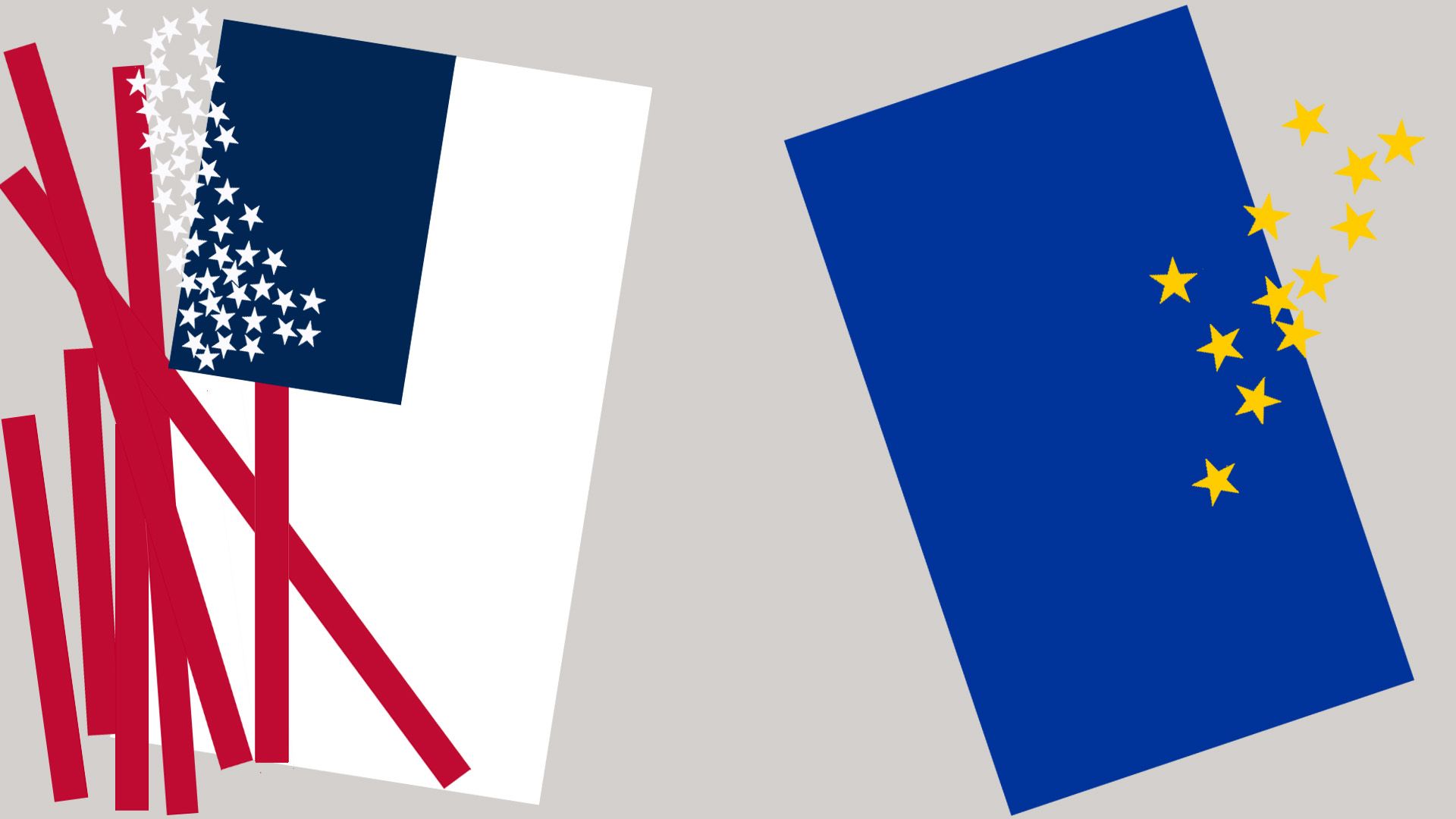 European Council President Donald Tusk expressed a frustration that's been bubbling up across Europe this week when he said of President Trump, "with friends like that, who needs enemies?"
Why it matters: Outraged that Trump spurned their pleas on the Iran deal, fearing the prospect of U.S. sanctions on steel and aluminum and at odds with Trump on key issues like climate change and the U.S. embassy move in Israel, Europe's leaders are warning they could go their own way.
"Very senior" U.K. official to the BBC: "The Americans can't expect us to follow them round with a dustpan and brush putting Humpty Dumpty back together again."
French finance minister Bruno Le Maire: "Do we want to be vassals who obey decisions taken by the United States while clinging to the hem of their trousers?"
German chancellor Angela Merkel last week: "It's no longer the case that the United States will simply just protect us. Let's face it: Europe is still in its infancy with regard to the common foreign policy. That is the task for the future."
This isn't the first time Trump has ruffled European feathers — calling NATO "obsolete" and leaving the Paris climate accord are other notable examples — but the Iran decision hit Europe both in the heart and in the wallet.
"The reaction is reflective of a sense in Europe that the Trump administration is really assaulting the values Europe is built on — multilateralism, cooperation and trade. In some ways it's an emotional response."
— Erik Brattberg, director of the Carnegie Endowment's Europe program
So what is likely to come from the European outrage?
The European Commission announced today it would revive a so-called blocking regulation that could offer European companies limited protections from U.S. sanctions. But French President Emmanuel Macron essentially ruled out further action, saying, "We won't start a strategic trade war against the U.S. about Iran."
It could be a different story if Trump hits the EU with tariffs on June 1, Célia Belin of Brookings notes: "It's one thing to take a decision that disregards European interests. It's another thing to take a decision that attacks European interests."
What to watch for...
France, Germany and the U.K. have been unusually unified and willing to act as a counterweight to the U.S. in recent weeks. Brattberg says we could be headed for a post-Brexit landscape in which the "Big 3" play a bigger collective role.
The Germans have borne the brunt of Trump's attacks, and are most prepared to strike back, Belin says. However, Macron still sees value in his relationship with Trump, and the U.K. wants to strike a deal with Washington after Brexit.
Meanwhile, with Europe and the U.S. turning on one another, they're missing opportunities to confront shared concerns — most notably on China, Brattberg says.
2. Iran deal fallout: The view from Beijing and Moscow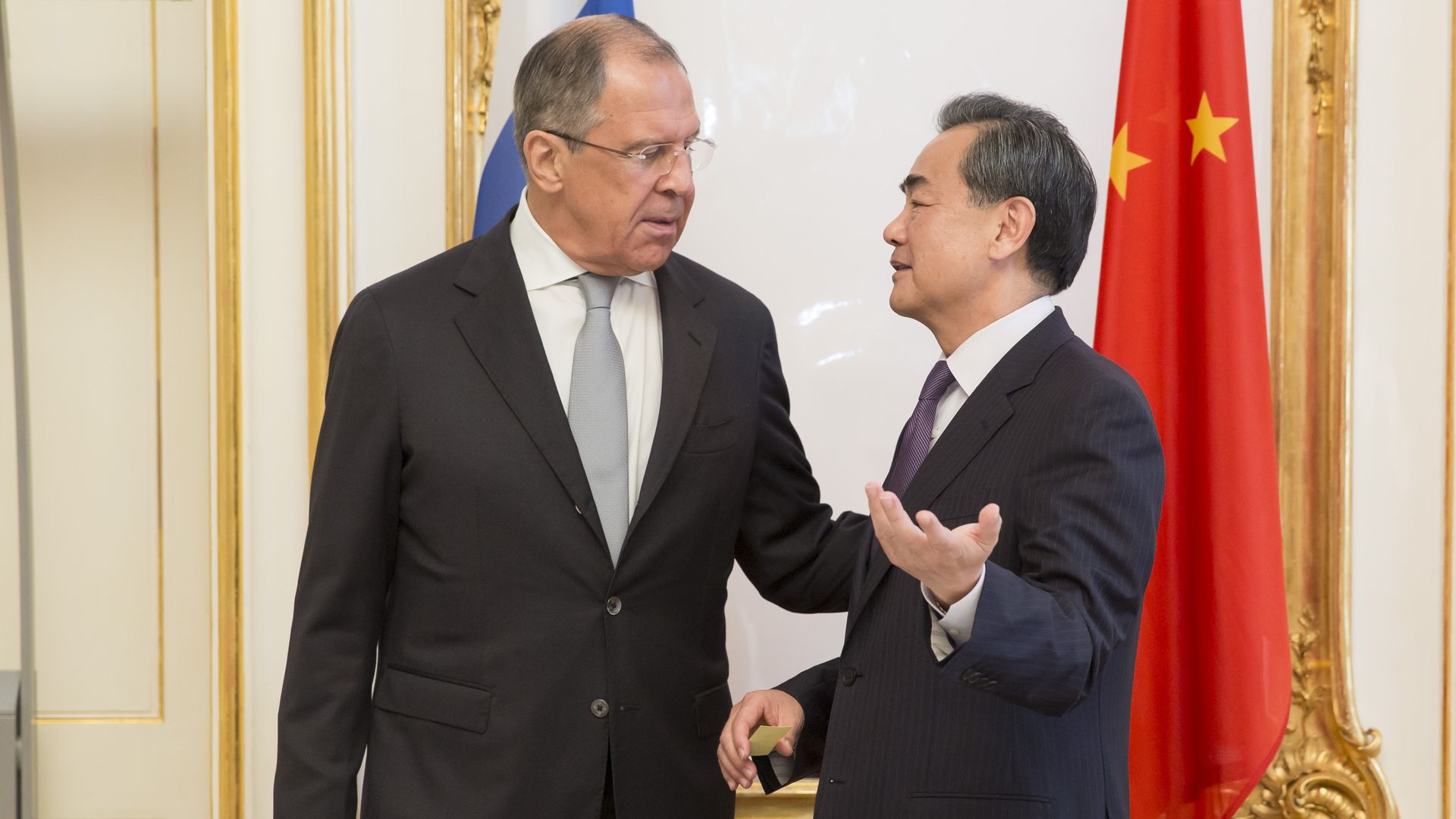 We know where the U.S. and Europe stand, but GZERO Media's Gabe Lipton sized up the stakes for the other Iran deal signatories in the latest Signal newsletter:
China represents an economic and security lifeline for Iran, as its top trade partner and a large consumer of Iranian crude oil, while Iran is a crucial link in China's expansive One Belt, One Road initiative.
The bottom line: Chinese investment in Iran will continue, as the threat of U.S. sanctions bites less for Chinese firms, which have fewer tie-ups in the West. The biggest worry for Beijing is escalation that leads to conflict in a region to which it has increasingly tied its economic fortunes.
Russia's involvement in Iran is more oriented toward security issues — in Syria and across the region — than economics, and the threat of U.S. sanctions is nothing new for Moscow.
The bottom line: Scrapping the deal has boosted oil prices, a temporary boon for the Russian economy, but long term Russia is far more interested in preventing increased proxy conflict throughout the region that could affect its troops stationed in Syria.
3. Between the lines on North Korea's summit threat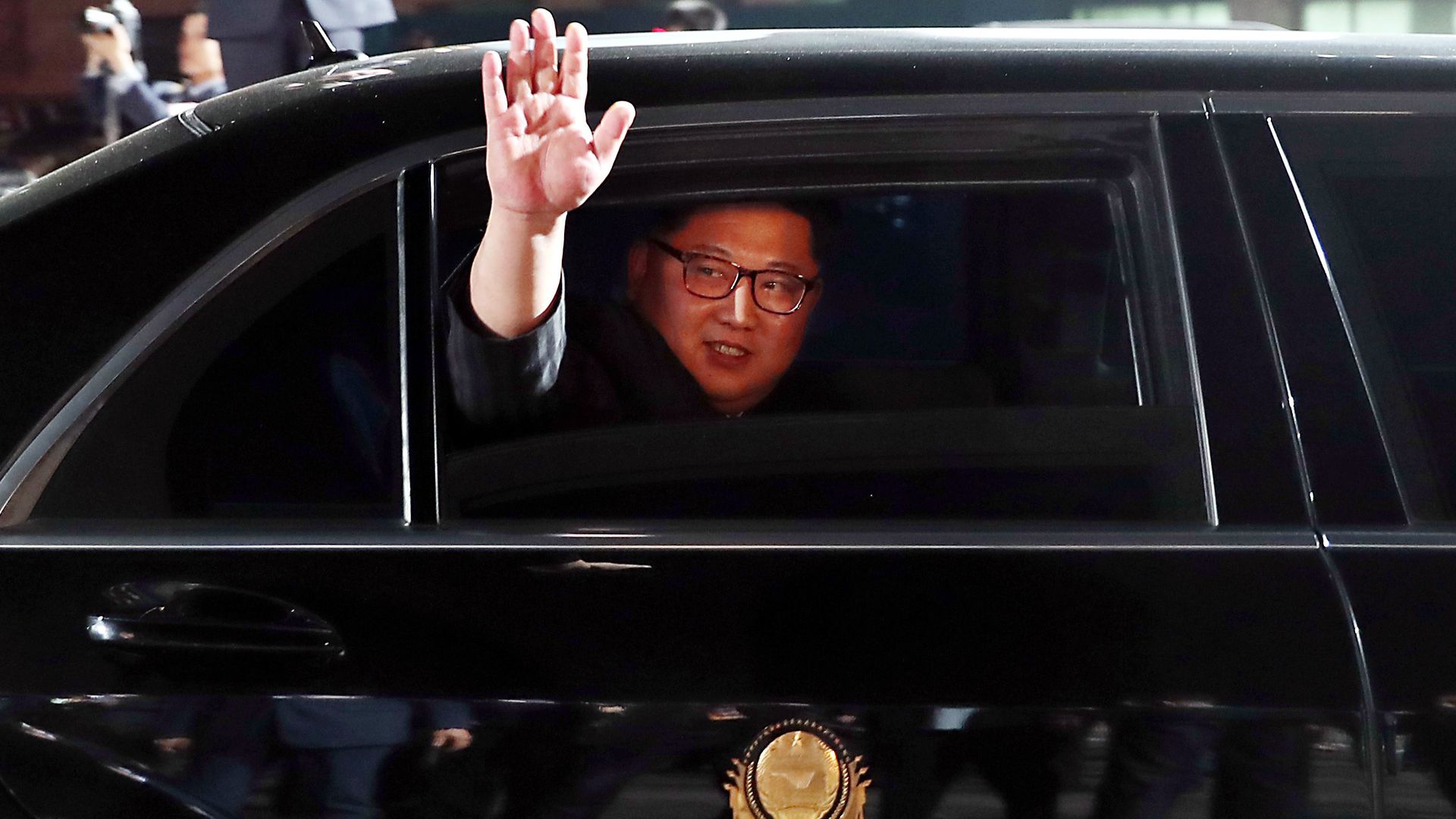 North Korea's threat to cancel the June 12 Kim-Trump summit came amid concerns that agreements over joint military exercises and the framework for a potential deal weren't being followed, Harvard's John Park writes for Axios Expert Voices:
"North Korean leader Kim Jong-un told South Korean President Moon Jae-in that military exercises could continue, but with the understanding that major strategic assets like fighter jets and bombers would not be deployed. ... South Korea will likely try to assure the North that it will no longer use such assets in the immediate future."
"As for the U.S. negotiations, Secretary of State Mike Pompeo has now had two direct meetings with Kim, and both parties appear to have reached enough of a consensus to move forward with plans for the June summit. However, National Security Advisor John Bolton's recent references to a more aggressive denuclearization approach — 'the Libya model' — have sowed North Korean doubts about Pompeo's promised deal."
What's next: "North Korea's statement now puts the spotlight on Trump, who must decide between Bolton's approach and the summit. Early signs indicate that Trump will opt for the summit."
4. Europe: Italy's incoming coalition spooks Europe
Two euroskeptic parties say they've agreed on conditions to form a new government in Italy, Martin Aguirre writes for Axios:
This comes a day after a leaked memo about negotiations between the far-right League and the 5-Star Movement shocked the markets and the EU. It hinted at an exit from the euro and demanded the European Central Bank cancel a huge debt.
The parties' leaders said today that they wouldn't do "anything that could cause any concern regarding Italy's euro membership."
Still, as Reuters notes, the coalition "is likely to put deeper euro zone integration on hold and could set the stage for the bloc's next crisis if it delivers on its tax-cutting and high-spending policies."
5. India: Modi's 4-year report card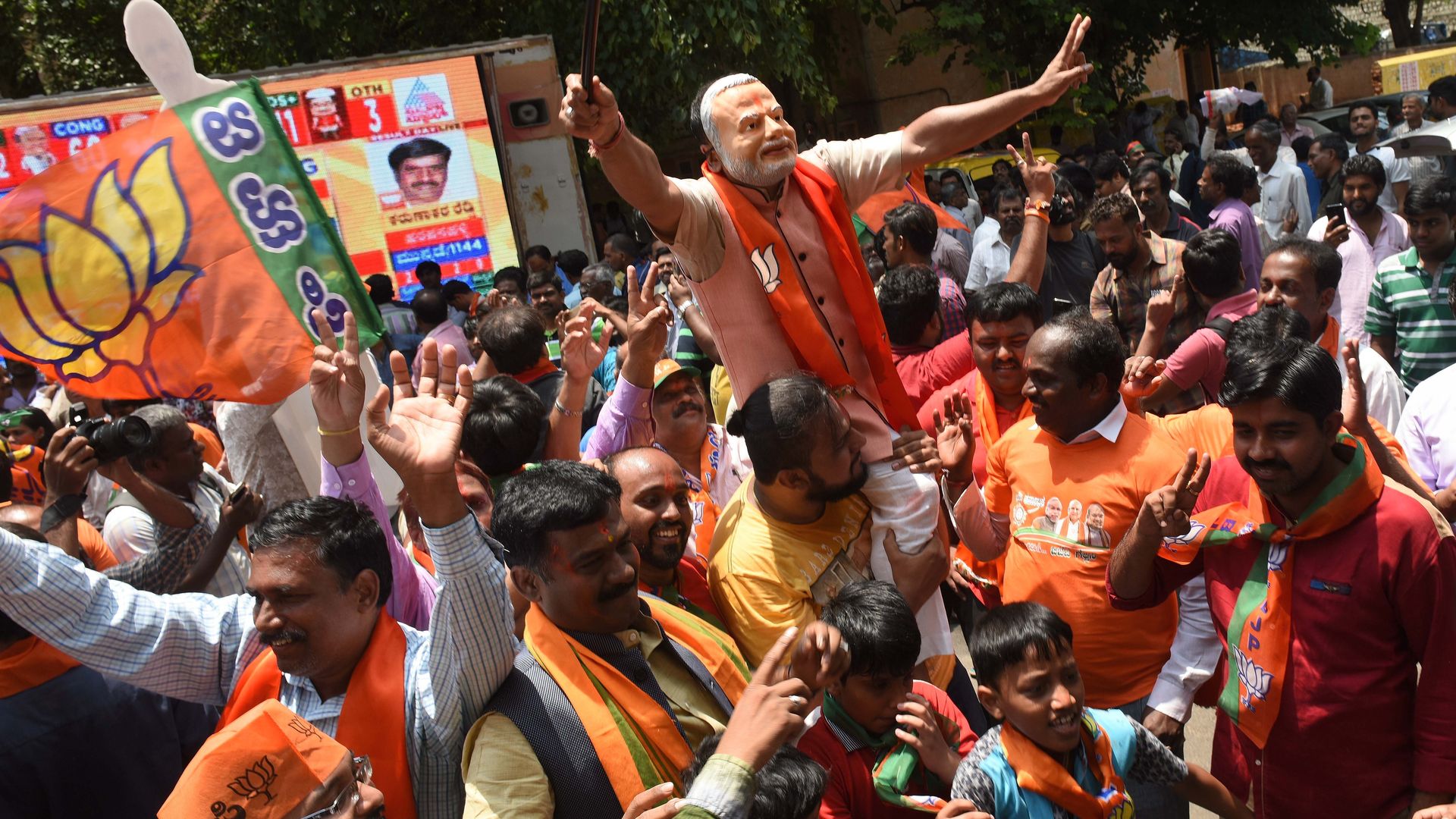 Four years in, and one year from the next general election, Indian Prime Minister Narendra Modi remains highly popular despite not delivering the massive economic strides some expected, Axios' Erica Pandey writes.
With his right-leaning Bharatiya Janata Party's recent gains in the Southern state of Karnataka, there are few places left in India where Modi's agenda doesn't reign supreme.
Similarly to President Trump, Modi and the BJP spoke to India's Hindu majority, which felt sidelined by certain policies of the left-leaning Congress party. And Modi has delivered for his base on key social issues, including a ban on the sale of cattle for slaughter.
Go deeper: Read the full report card.
6. New data: Millennials get multilateral
John Della Volpe, Director of Polling at the Harvard Kennedy School Institute of Politics, writes that new data shows "it is surprisingly not the Baby Boomers who gravitate toward multilateral foreign policy as a voting bloc; it's ... the millennials."
"69% of young Democrats, 59% of Republicans and 64% of Independents believe the United States should allow the UN to take the lead in solving the world's conflicts. Even among those who approve of President Trump's job performance, some 62% still support UN-led, multilateral action."
Why it matters: 'The Trump administration's practice of a foreign policy dictated by transactions, not collaboration, will likely have a profound and lasting impact on the largest cohort of voters within the American electorate."
7. Stories we're watching
Quoted:
"If the U.S. is trying to drive us into a corner to force our unilateral nuclear abandonment, we will no longer be interested in such dialogue and cannot but reconsider our proceeding to the DPRK-U.S. summit."
— North Korean Vice Foreign Minister Kim Kye Gwan
Thanks for reading! I'll see you Monday evening.