Axios World
August 17, 2021
Welcome back to Axios World.
Tonight's edition (1,921 words, 7 minutes) starts in Kabul.
New arrival? Subscribe.
1 big thing: Biden defensive as Kabul collapses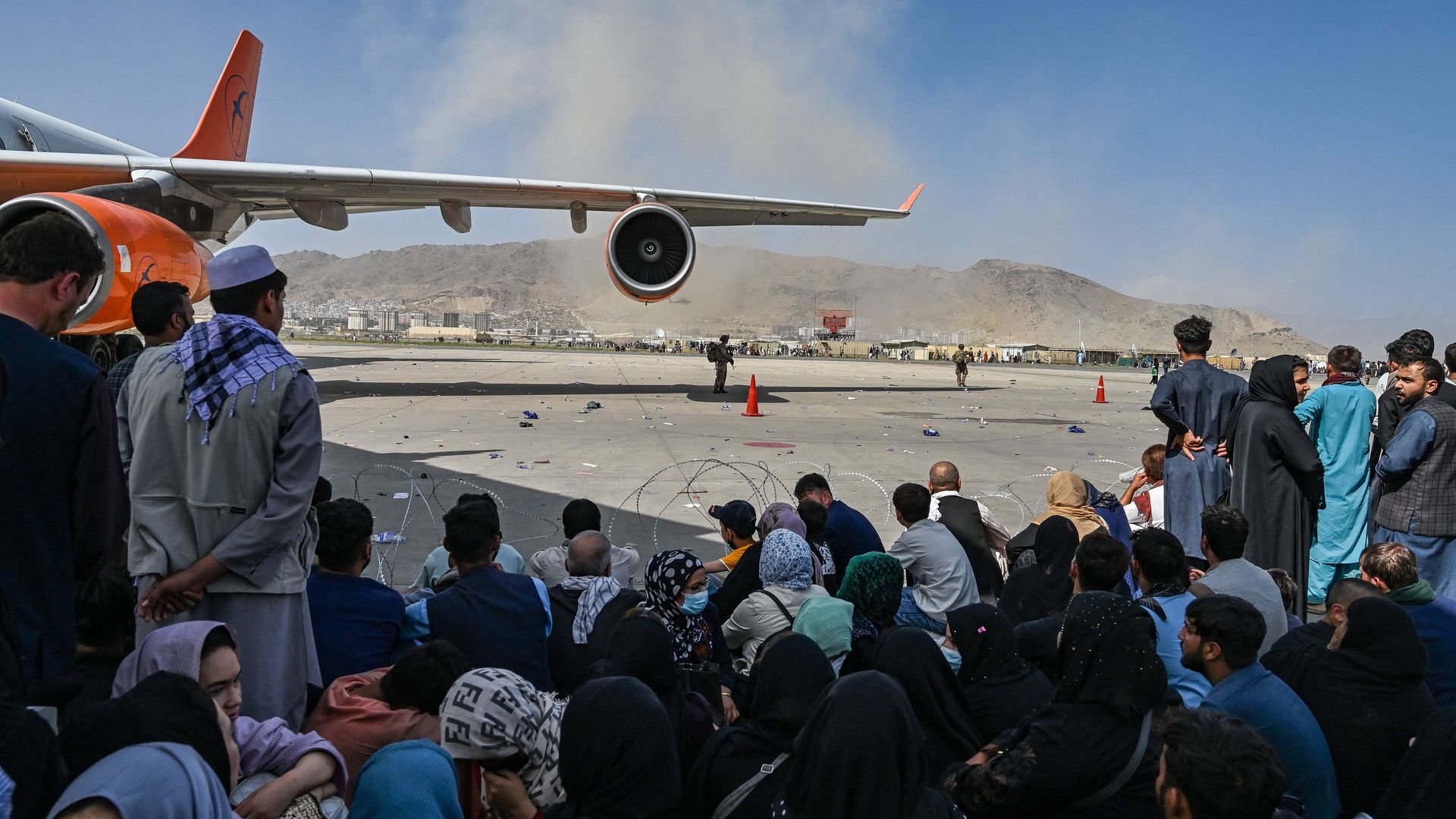 As images of desperation at Kabul's international airport spread around the world today, President Biden defended his decision to withdraw and attributed blame for the resulting chaos to the Afghan leaders and soldiers who lacked "the will to fight."
Why it matters: The U.S. was utterly unprepared for Kabul to fall as quickly as it did, leaving American troops struggling to secure the airport and evacuate U.S. citizens and Afghan civilians who aided the U.S. war effort.
Biden's speech came amid intense criticism for the chaotic withdrawal and for his delay in addressing it publicly.
He spent most of the speech defending his withdrawal decision, arguing that remaining in the country would have required additional troops and that the U.S. has no national security interests in Afghanistan other than preventing an attack on the homeland.
He was more circumspect on the execution of the withdrawal. "The truth is, this did unfold more quickly than we had anticipated," he said, blaming Afghan leaders who "gave up and fled the country" and Afghan forces who "collapsed, sometimes without trying to fight."
"We gave them every chance to determine their own future. What we could not provide them was the will to fight for that future," Biden said.
Biden acknowledged criticism of the slow pace of the evacuation of eligible Afghan civilians, but he said leaders in Kabul had warned that a "mass exodus" would send the wrong signal and that many of the Afghans declined to leave earlier because they were "still hopeful for their country."
The latter claim is "patently false," says Krish O'Mara Vignarajah, president and CEO of Lutheran Immigration and Refugee Service, which has been working with the administration to help resettle Afghans.
"We have been in touch with countless SIV [Special Immigrant Visa] recipients who have been desperate to leave Afghanistan for months and have not been able to due to insufficient financial resources and inadequate flight accessibility through international organizations," Vignarajah told Axios' Stef Kight.
Many Afghans hoping to secure flights out of Afghanistan have no safe route to Kabul or to the airport.
Driving the news: The desperation of many Afghans to depart the country was on full display today, as crowds of civilians forced their way onto airport jet bridges and even latched onto departing aircraft.
At least eight Afghans were killed at the airport. Three fell off of a U.S. Air Force plane, while two armed men were killed by U.S. Marines, the Pentagon said today.
There are currently around 2,500 U.S. troops attempting to secure the airport, but that number will rise to 6,000 in the coming days. Flights were temporarily halted due to the large crowds on the runways but resumed this evening.
The U.S. took control of Kabul airport to manage the evacuation six weeks after abandoning Bagram air base, another potential evacuation hub, as part of its withdrawal effort. The base fell to the Taliban on Sunday.
What to watch: "As we carry out this departure, we have made it clear to the Taliban: If they attack our personnel or disrupt our operation ... we will defend our people with devastating force if necessary," Biden said.
2. Why Kabul fell so fast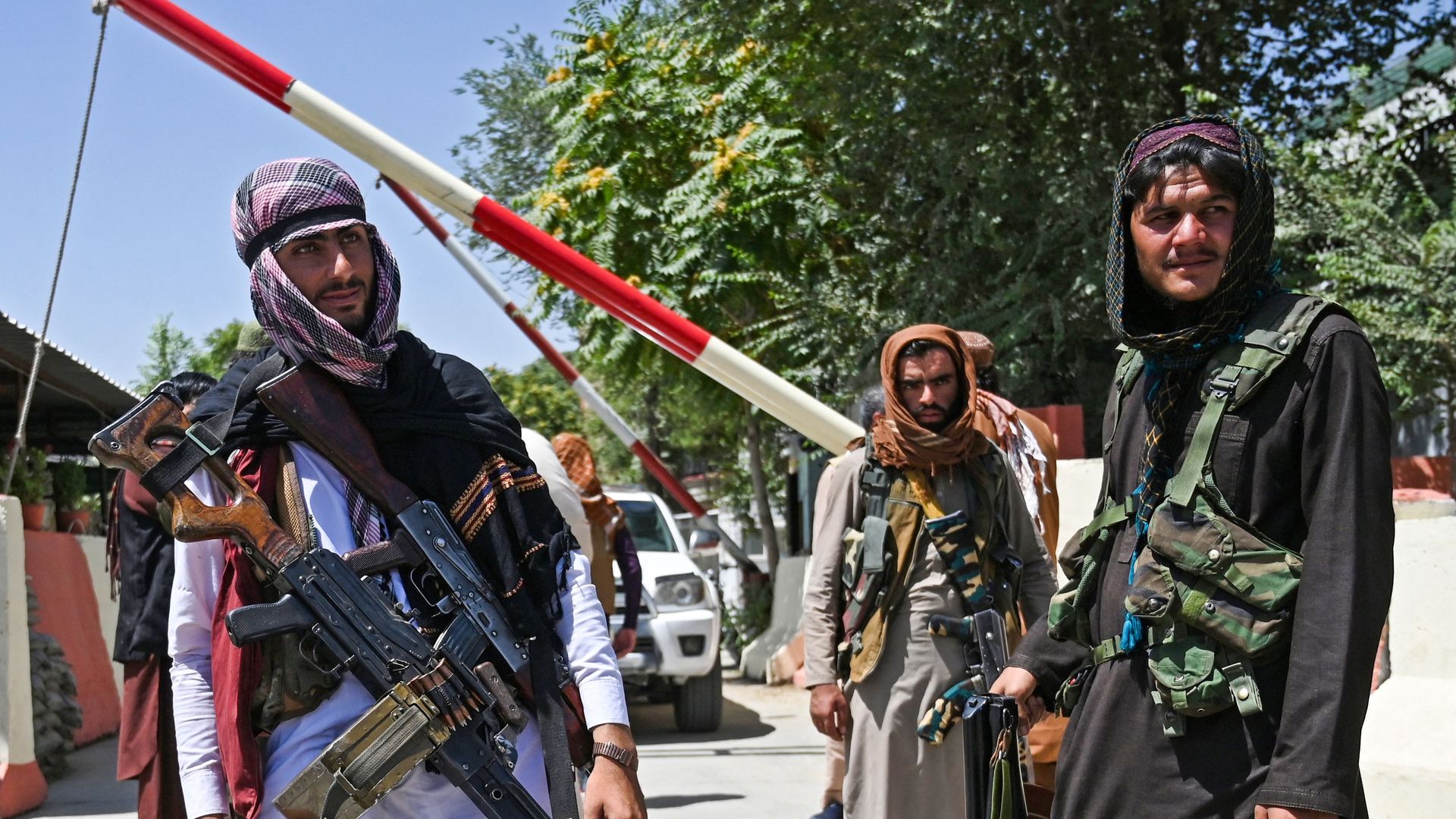 "I never believed we'd see this kind of frenzied evacuation," says Annie Pforzheimer, deputy chief of mission at the U.S. Embassy in Kabul from 2017-2018.
"I never thought I'd see the day that our embassy would have to leave alongside the troops."
Breaking it down: Pforzheimer attributes the rapid collapse first and foremost to Biden's decision to accept Donald Trump's deal with the Taliban — albeit with a four-month extension — while making it clear that the U.S. timeline was set in stone, no matter what happened.
The administration underestimated the psychological impact of Biden's statements essentially washing his hands of the war, she says. "That was heard by the people, by the Afghan military which lost heart and by the Taliban which gained strength and dominance."
Just five weeks ago, Biden had insisted that Afghan forces were "as well-equipped as any army in the world." That equipment has now largely fallen into Taliban hands.
Even after a U.S. investment of $86 billion, the weaknesses of the Afghan forces were glaringly obvious, despite claims to the contrary from U.S. generals, Craig Whitlock reports in the Washington Post.
Some U.S. trainers spent their time teaching recruits not to fight, but to read and write. Desertion was rampant. Some "soldiers" only existed on paper. Highly trained special forces proved effective, but insufficient.
The often brutal warlords the U.S. accepted as partners out of a belief they could mobilize thousands of fighters looked equally toothless in the face of the Taliban surge, notes former U.S. ambassador to Afghanistan Michael McKinley in Foreign Affairs.
The U.S. also appears to have underestimated the Taliban, which prepared extensively for the devastating offensive, positioning its forces and weaponry near cities and building a sense of inevitability as it advanced, notes the Wilson Center's Michael Kugelman.
President Ashraf Ghani's government engendered little loyalty from the troops or the population, and failed to effectively rally opposition to the Taliban.
Without the level of U.S. air support and technical assistance they'd come to expect, and aware of swift Taliban victories in other cities, many soldiers laid down their arms and fled or attempted to blend into the population.
The bottom line: "In the end, the military that we constructed was not the one that could fight this kind of fight against the Taliban," Pforzheimer says.
3. Women and girls brace for life under the Taliban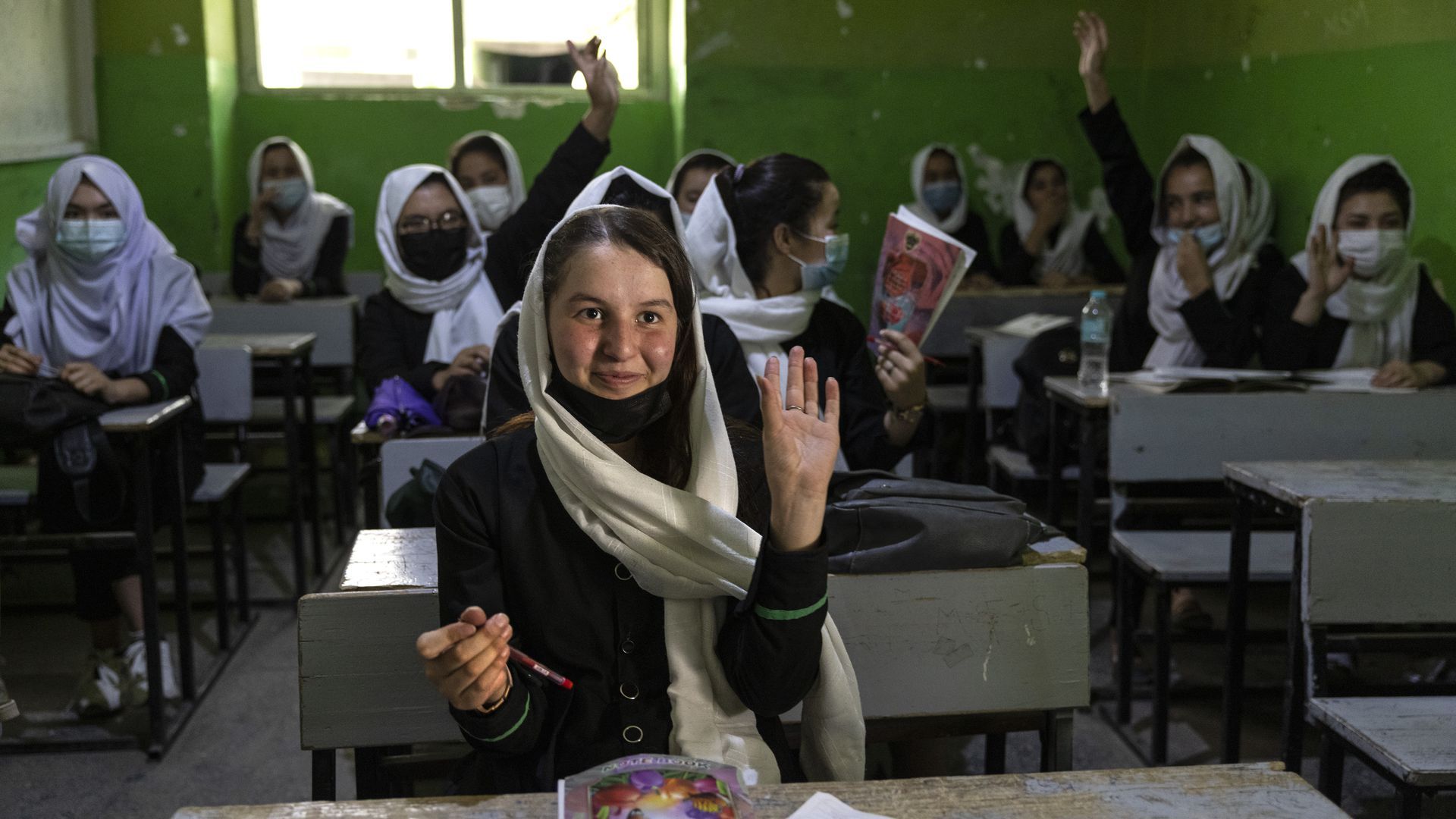 Afghan women and girls face an uncertain future and stand to lose hard-won rights to education, employment and everyday freedoms, Axios' Ivana Saric writes.
What they're saying:
"I am so worried about my future. It seems so murky," Wahida Sadeqi, a high school student in Kabul, told the New York Times ahead of the Taliban victory. "If the Taliban take over, I lose my identity."
"I can no longer listen to my favourite songs, I can no longer meet my friends in our favourite cafe ... And I can no longer go to my job or finish the university degree that I worked for years to achieve," a university student in Kabul wrote in the Guardian.
Zarifa Ghafari, Afghanistan's youngest mayor and the first female mayor of Maidan Sharh province, told iNews that the Taliban "will come for people like me and kill me."
Pforzheimer said the Taliban will now reimpose restrictions on women and that there "should be absolutely no illusion that they have changed."
Girls 15 years old and over could be married off to Taliban fighters. Many won't be allowed to attend school past the age of 12, if at all.
"If they were attending university, such as in Herat, they have already been told not to return to classes. They have been told not to go to work," Pforzheimer said.
"Afghanistan will no longer have women businesspeople, judges or other representatives."
Bonus: Where in the World?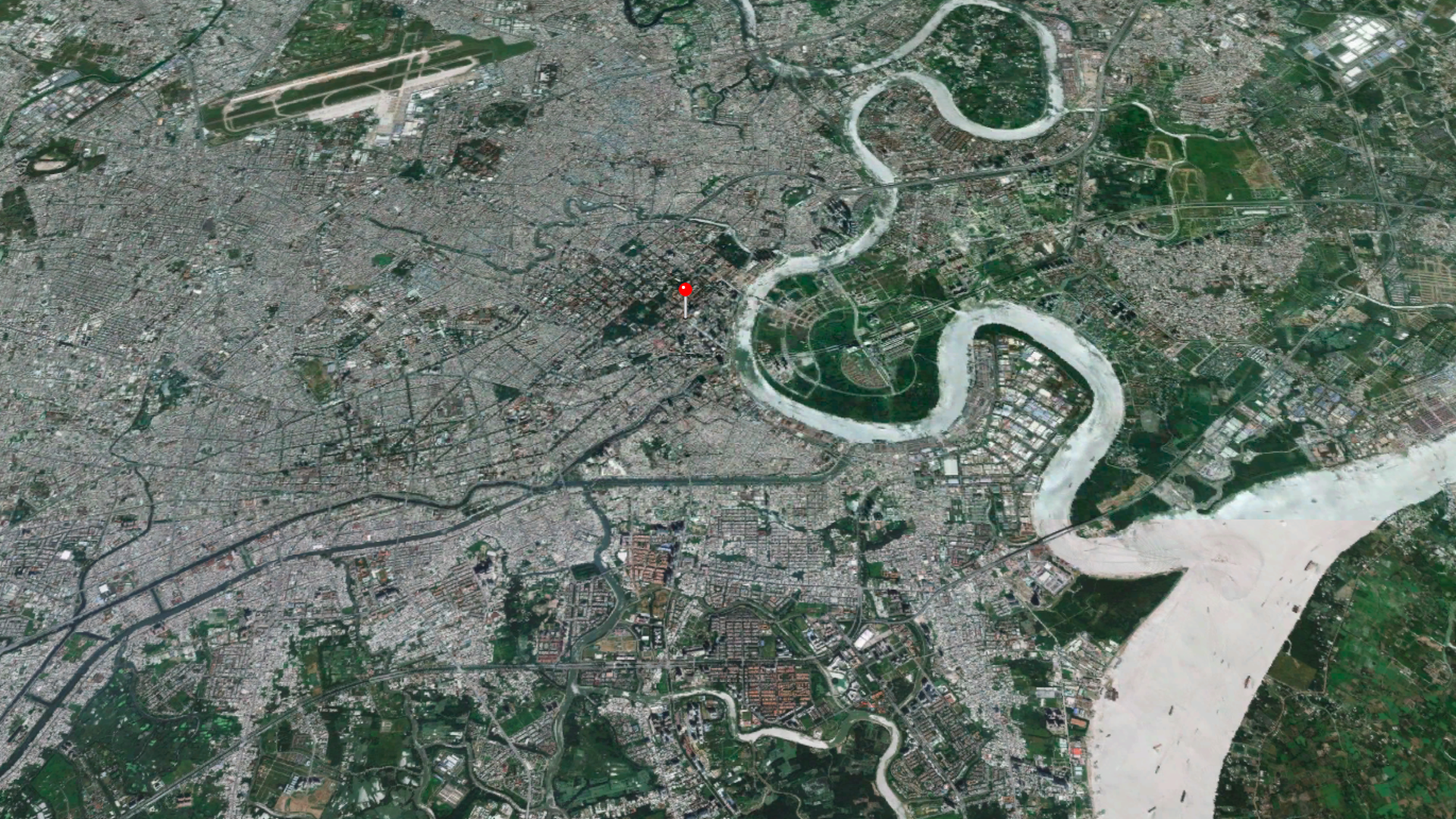 Name this city that has been referenced in many recent news reports but now goes by a different name.
Scroll to the bottom for the answer.
4. Incumbent ousted in Zambia's election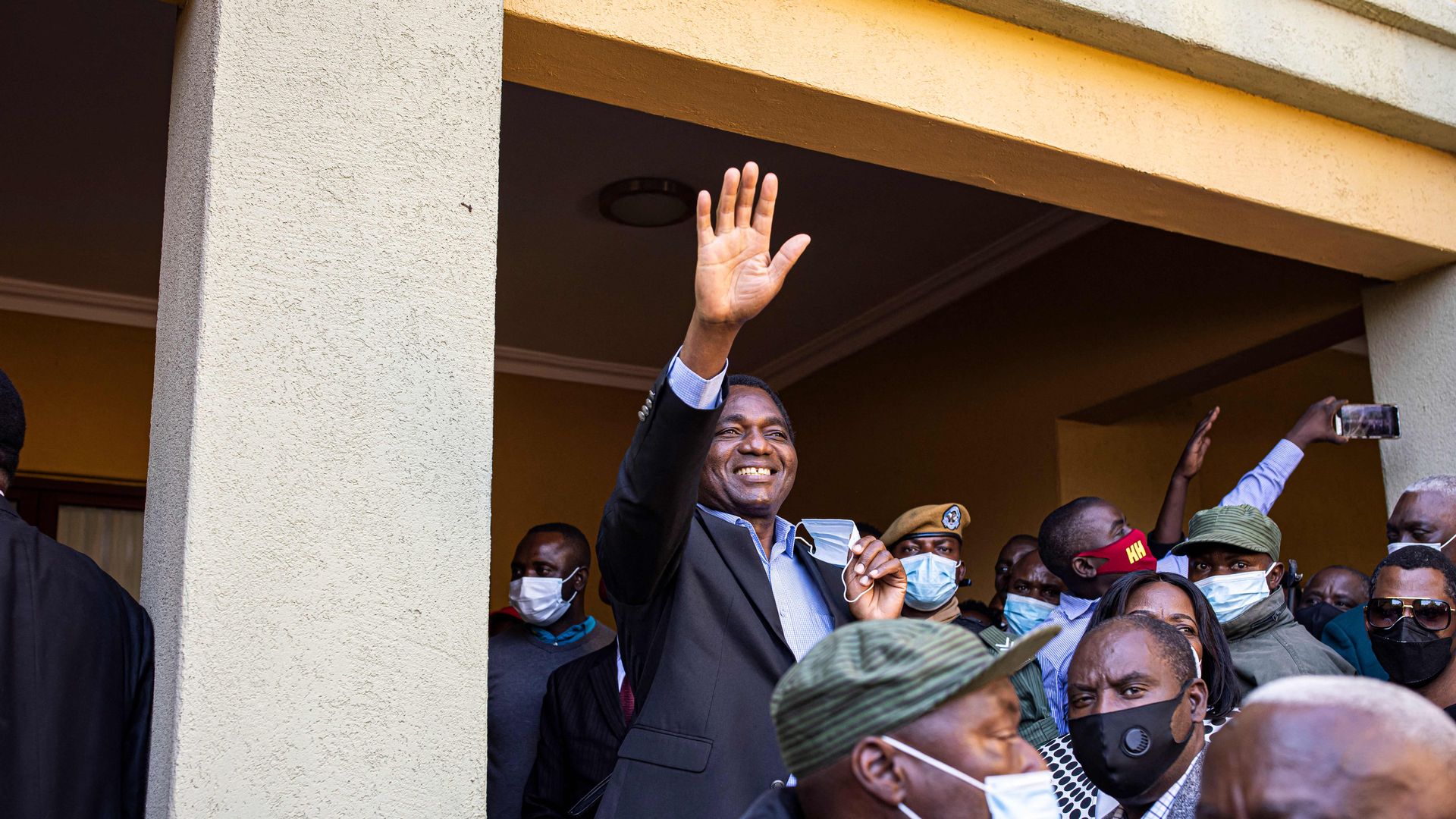 Zambian opposition leader Hakainde Hichilema was declared the country's president-elect on Monday after winning more than 50% of the vote in last week's election, Axios' Laurin-Whitney Gottbrath writes.
Why it matters: The announcement that Hichilema had won by a large margin came as a surprise as Edgar Lungu — who was accused of taking Zambia in an authoritarian direction — had limited Hichilema's ability to campaign, restricted internet access and cracked down on opposition gatherings.
Lungu, who claimed on Saturday the election was "not free and fair," accepted defeat on Monday and said he would work for a "peaceful transfer of power."
What they're saying: "It is indeed a new day. Change is here," Hichilema, 59, said on Monday, per AP.
"Let's put the past behind us. We are not going into office to arrest those who arrested us … to replace those that have been very violent against our people only to start a new wave of violence."
The big picture: It was Hichilema's sixth attempt at the presidency in the southern African nation. He narrowly lost to Lungu in 2016.
Hichilema has promised democratic reforms and a "zero tolerance" approach to corruption. He has also vowed to tackle the country's dire economic situation, which was exacerbated by the pandemic.
5. Rich countries' reverse Robin Hood on coronavirus vaccines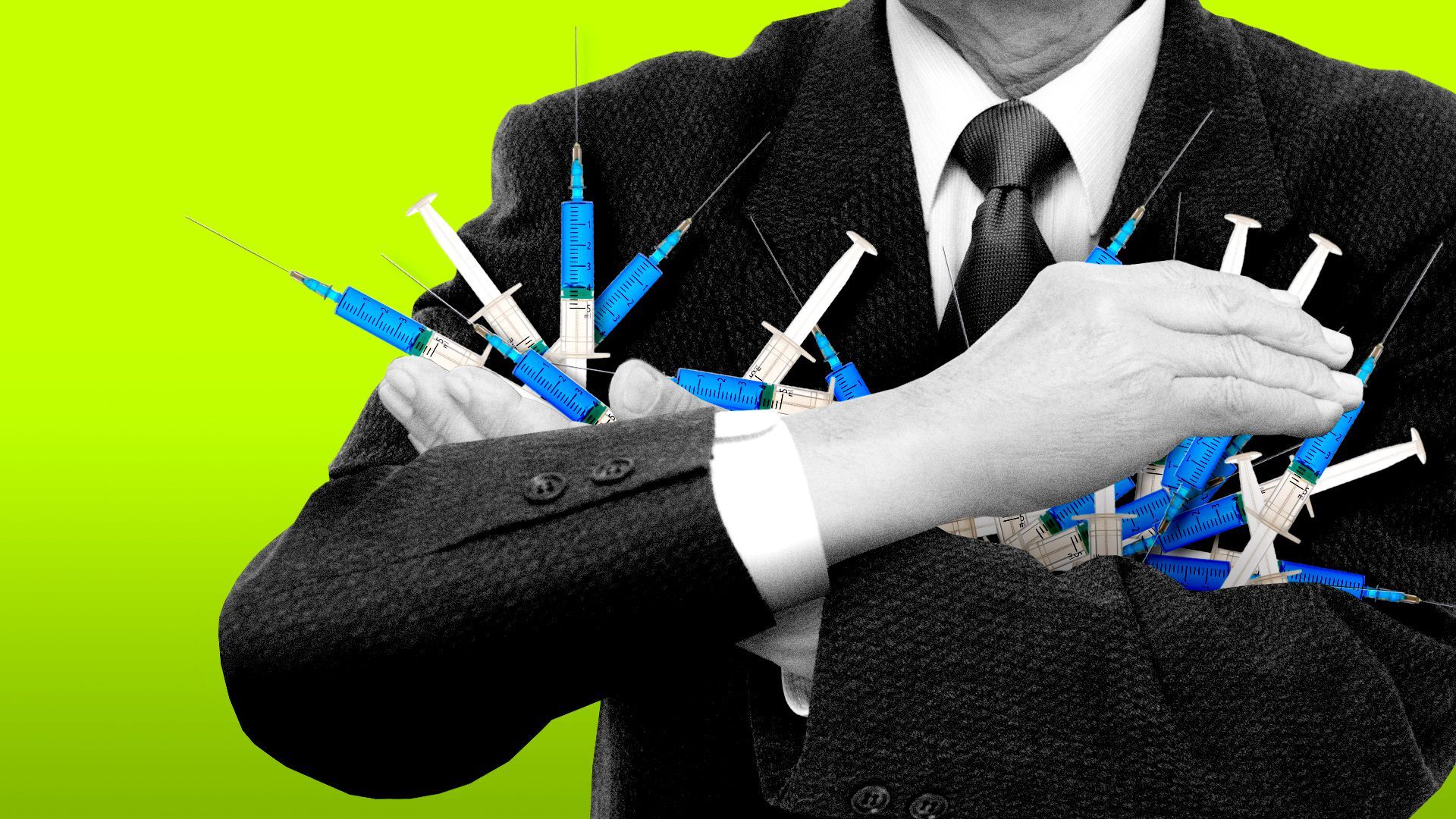 Wealthy countries — including some that have started giving booster shots — have been receiving coronavirus vaccine doses that were either made in or intended for low- or middle-income countries, Axios' Caitlin Owens writes.
Some rich countries like the U.K. that had already reserved a large supply of vaccines for themselves have also dipped into COVAX's vaccine supply, which is way behind on the number of doses it's promised to deliver around the world.
Meanwhile, millions of doses of Johnson & Johnson vaccines partially produced in South Africa have been exported for distribution in Europe.
The big picture: The vast majority of people living in low-income countries remain unvaccinated and dependent on the rest of the world for shots.
More headlines:
6. What to watch: Doing aid differently in Haiti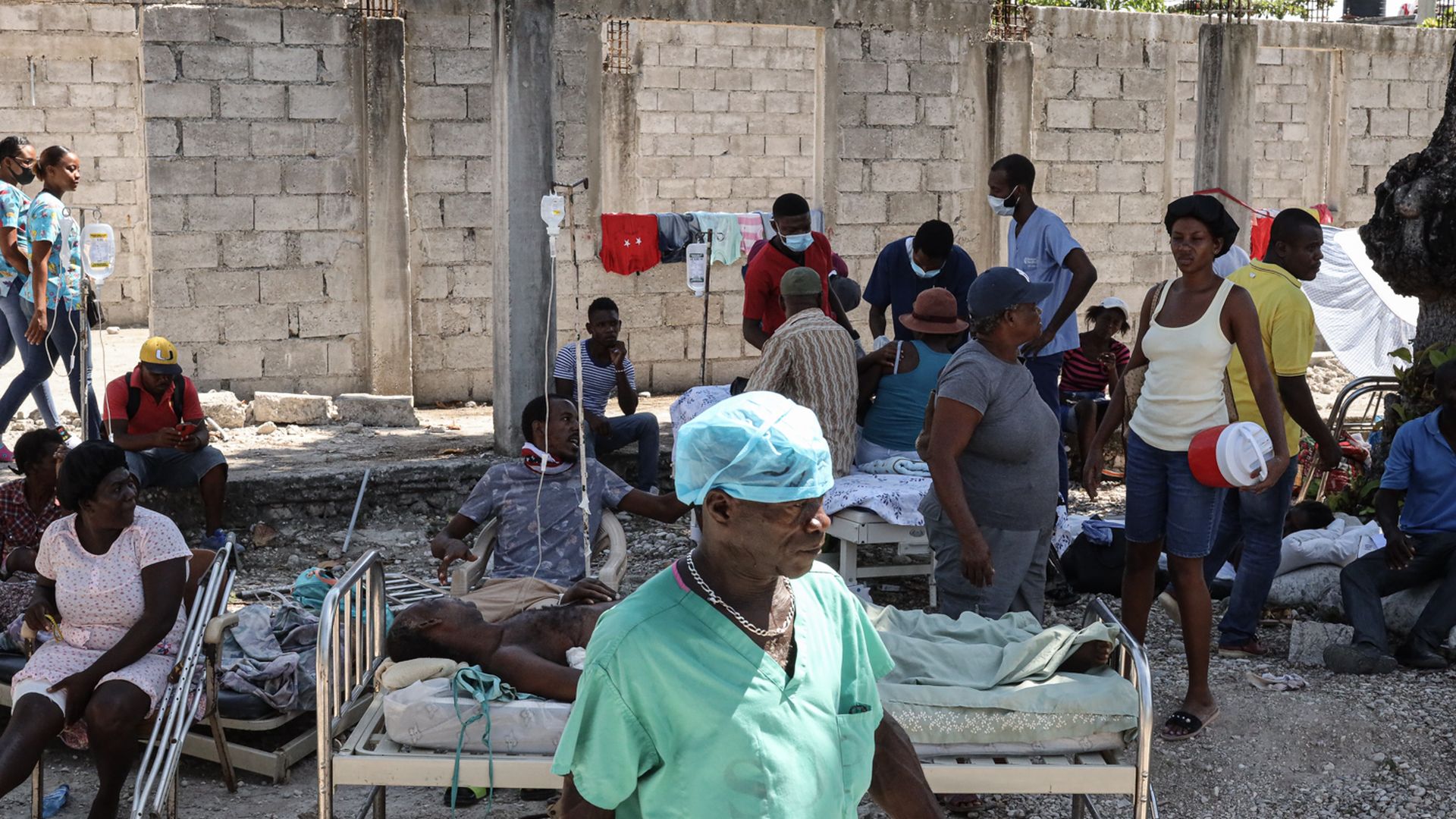 The Haitian-American community, especially in South Florida, is leading a conversation around doing aid differently following this weekend's devastating earthquake in southwestern Haiti, where the death toll is 1,297 and climbing, Axios Today host Niala Boodhoo writes.
The big picture: Saturday's quake couldn't have arrived at a worse time: Haiti's government is in shambles, Tropical Storm Grace is set to arrive late Monday, the country has been beset by gang violence, and yes, there's also the pandemic.
Flashback: The 2010 earthquake killed more than 200,000 people and generated more than $13 billion in relief aid.
"We do not want what occurred in 2010 to happen again," said Haitian-American community activist Marleine Bastien, executive director of FANM. "Most of the resources did not reach those impacted, those on the ground."
Here were just a few of the problems:
The Red Cross raised half a billion dollars and promised to house more than 130,000 people. A ProPublica and NPR investigation found the nonprofit built six homes.
UN Peacekeepers who arrived in Haiti after the 2010 earthquake introduced cholera to the country, creating an outbreak that has infected thousands and killed an estimated 9,000.
Distribution of the aid was complicated by concerns over government corruption. Just 2% of the $657 million disbursed by the Canadian government over the two years following the earthquake was channeled through the Haitian government, according to Jonathan Katz, who reported on the earthquake for AP.
The bottom line: "We are literally trying to stop things from flooding in from this country," says Francesca Menes, co-founder of The Black Collective.
"We also need to talk to the [Haitian] people because they know what they want," Bastien adds.
7. Stories we're watching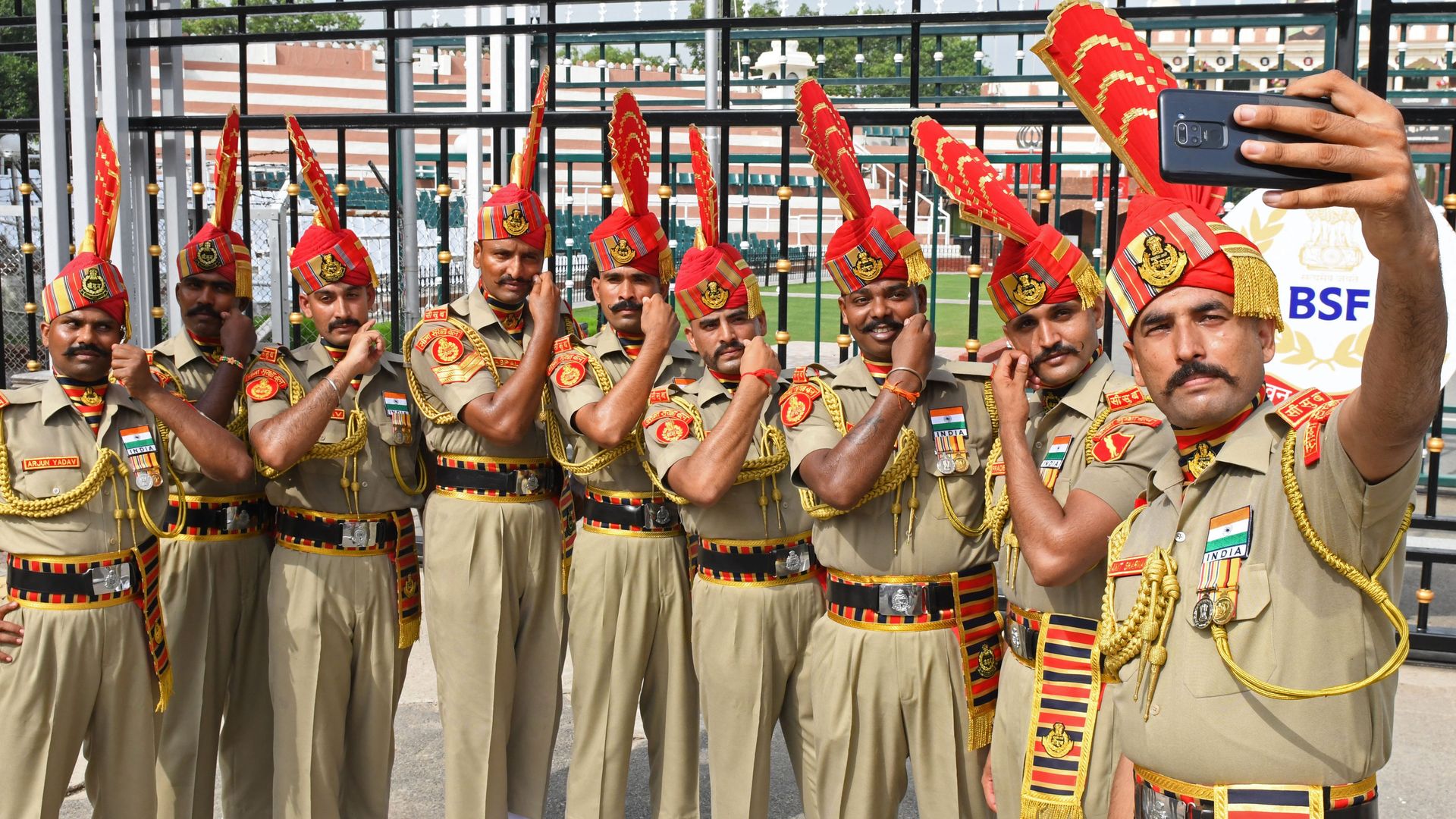 Quoted:
"To be fair, the helicopter has been the mode of transport from our embassy to the airport for the last 20 years."
— National Security Adviser Jake Sullivan to NBC, responding to a question comparing the fall of Kabul to the fall of Saigon
Answer: Saigon (or Ho Chi Minh City), Vietnam.