Axios World
March 10, 2023
Welcome back to Axios World.
I'm feeling refreshed after a six-week sabbatical. I traveled quite a bit, tuned out the spy balloon mania back in D.C., and took several of you up on your book and podcast recommendations.
Now we're back, and starting tonight's edition (1,806 words, 7 minutes) in Turkey.
1 big thing: Erdoğan's toughest test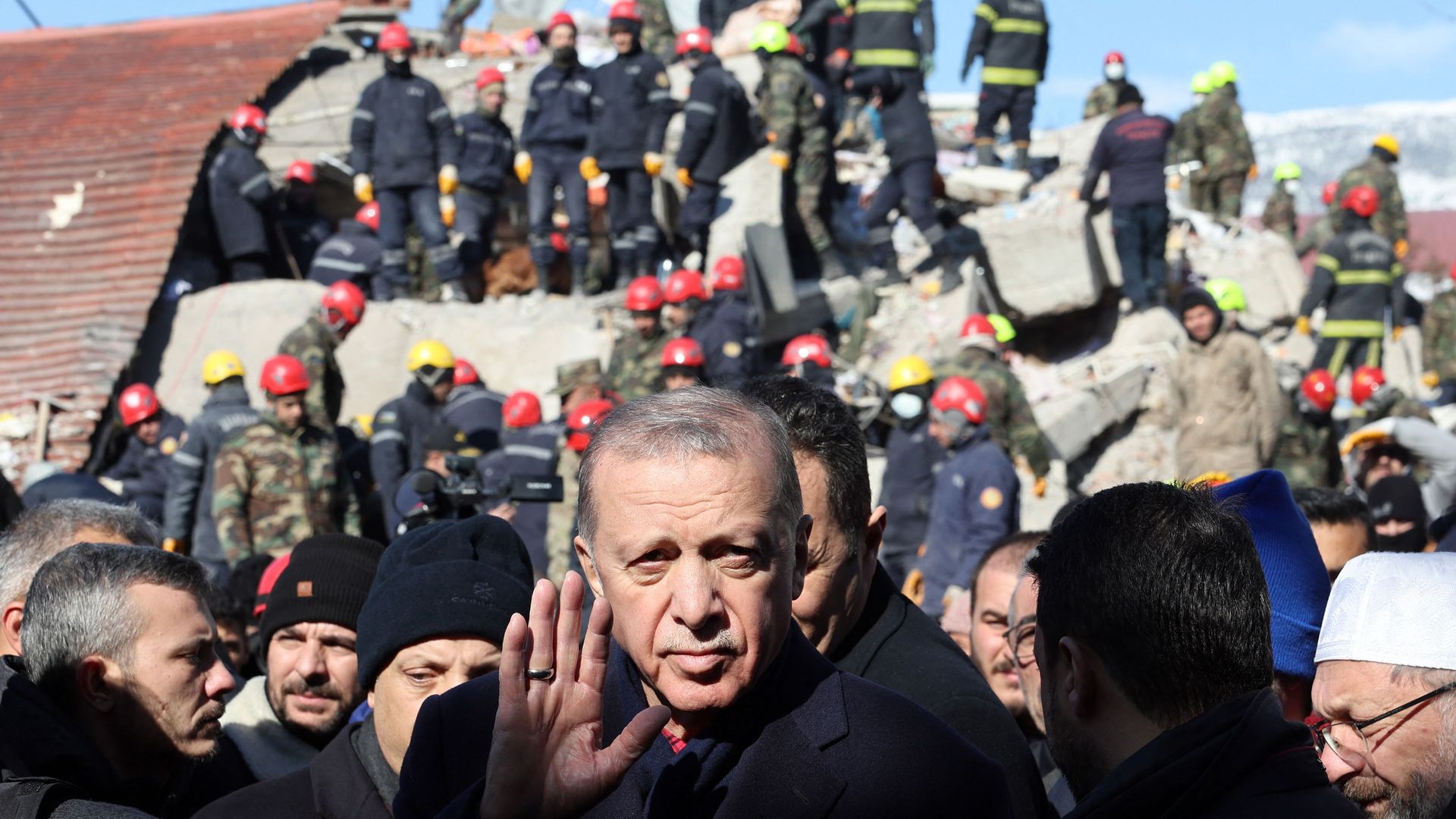 Turkish President Recep Tayyip Erdoğan will contend with a united opposition and an angry electorate in elections slated for May 14, three months after a devastating earthquake and amid ongoing economic turmoil.
Why it matters: Erdoğan has refashioned Turkish politics in his own increasingly authoritarian image over two decades, skillfully wielding Turkey's geopolitical clout abroad and eroding checks on his power at home. This election may be the opposition's best-ever chance to defeat him, but the 69-year-old strongman is unlikely to go down easily.
Driving the news: Six opposition parties this week settled on a joint challenger, Kemal Kılıçdaroğlu, leader of the center-left Republican People's Party (CHP).
The bridge-building former bureaucrat played a key role in uniting the CHP and the broader opposition, and earned the nickname "the Turkish Gandhi" for his physical appearance and calm demeanor.
But his critics say he lacks charisma or any track record of winning elections. The right-wing İyi Party initially insisted that Kılıçdaroğlu be replaced by the mayor of Istanbul or Ankara — both of whom defeated Erdoğan allies in 2019 — before begrudgingly endorsing him.
The opposition's joint manifesto pledges to return Turkey to a parliamentary system, safeguard free speech and the rule of law, and fight corruption.
Kılıçdaroğlu, 74, has also been among Erdoğan's chief critics in the wake of the Feb. 6 earthquake that left more than 45,000 dead and 1.5 million homeless inside Turkey.
State of play: Erdoğan has contended that no country could have been prepared for a disaster on this scale, but he admitted that the emergency response was far too slow.
Some critics argue that's in part because he'd hollowed out agencies like the Disaster and Emergency Management Authority, which is led by an Erdoğan-allied theologian.
Some of the buildings that collapsed were reportedly built shoddily but covered by zoning amnesties granted by Erdoğan's government. Turkish authorities have arrested dozens of contractors for alleged faulty construction, and dozens more people for "provocative" posts about the government's response.
The degree to which the public blames the president is hard to gauge, though anti-Erdoğan chants have rung out at soccer stadiums. His popularity had already been slumping thanks to out-of-control inflation, which, while down from last year's highs, sits at 55%.
Yes, but: Erdoğan retains a loyal base and deep influence over the media and state institutions.
Flashback: When his preferred candidate narrowly lost the 2019 Istanbul mayoral race, Erdoğan forced a re-run. "The opposition is saying, 'we need to win by a strong margin so he cannot play those games,'" says Özgür Ünlühisarcıklı, head of the German Marshall Fund's Ankara office.
What to watch: "Turkish elections are unfair, but they are real and competitive and the opposition has a real chance of winning," Ünlühisarcıklı adds.
With most major opposition parties behind Kılıçdaroğlu and the Kurdish HDP likely to at least tacitly support him, "it's really hard for President Erdoğan to find votes that add up to 50% plus one," Ünlühisarcıklı says.
But Erdoğan is a strong campaigner and will play on voters' fear and uncertainty about replacing their leader of two decades with an unwieldy coalition, says Ünlühisarcıklı.
"He will say, 'if you vote for me, you know who will govern the country. If you vote for them, you don't know what will happen.'"
2. Ukraine: The Battle for Bakhmut, and the battles to come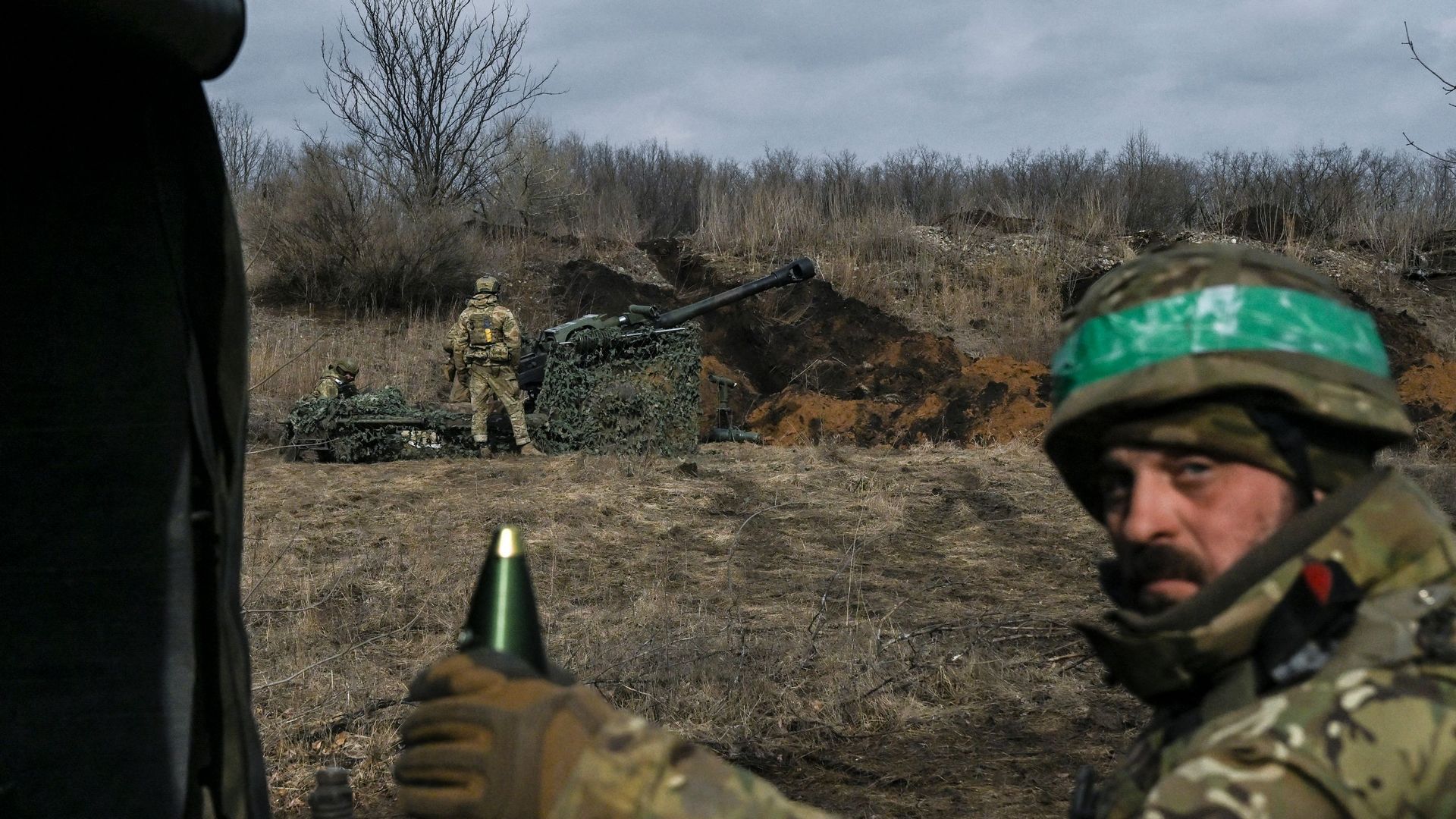 An expected Ukrainian counter-offensive this spring could be a make-or-break stage of the war, with failure potentially sapping morale and leaving Ukraine vulnerable to a renewed Russian push, a European official briefed reporters today in Washington.
Driving the news: All eyes are currently on Bakhmut in eastern Ukraine, which after seven months of fighting is largely destroyed but holds significant symbolic value to both sides.
Ukrainian President Volodymyr Zelensky has refused to pull his forces out of Bakhmut, despite fears that Russia will succeed in encircling it and statements from Western officials that the town would be no big loss.
Zelensky told CNN that if the city falls, it will leave an "open road" for Russia toward other cities in Donetsk. He also insisted that while Ukraine's losses in Bakhmut have been heavy, Russia's are far heavier.
The big picture: While Russia is on the attack in Bakhmut, Ukraine is expected to attempt an offensive of its own this spring in hopes of liberating swaths of occupied territory.
The European official said it was hard to gauge Ukraine's chances of a major breakthrough, noting that Russia has superior troop numbers and that Ukrainian forces could struggle to integrate the wide variety of weapons systems being provided by the U.S. and its allies.
The latest: Moscow this morning unleashed the biggest barrage of missile and drone attacks on Ukrainian cities since late January. The attacks, which included hypersonic missiles, targeted the energy grid and temporarily cut power to the Zaporizhzhia nuclear plant.
In case you missed it... "New intelligence reviewed by U.S. officials suggests that a pro-Ukrainian group carried out the attack on the Nord Stream pipelines last year," NYT reports.
3. Global news roundup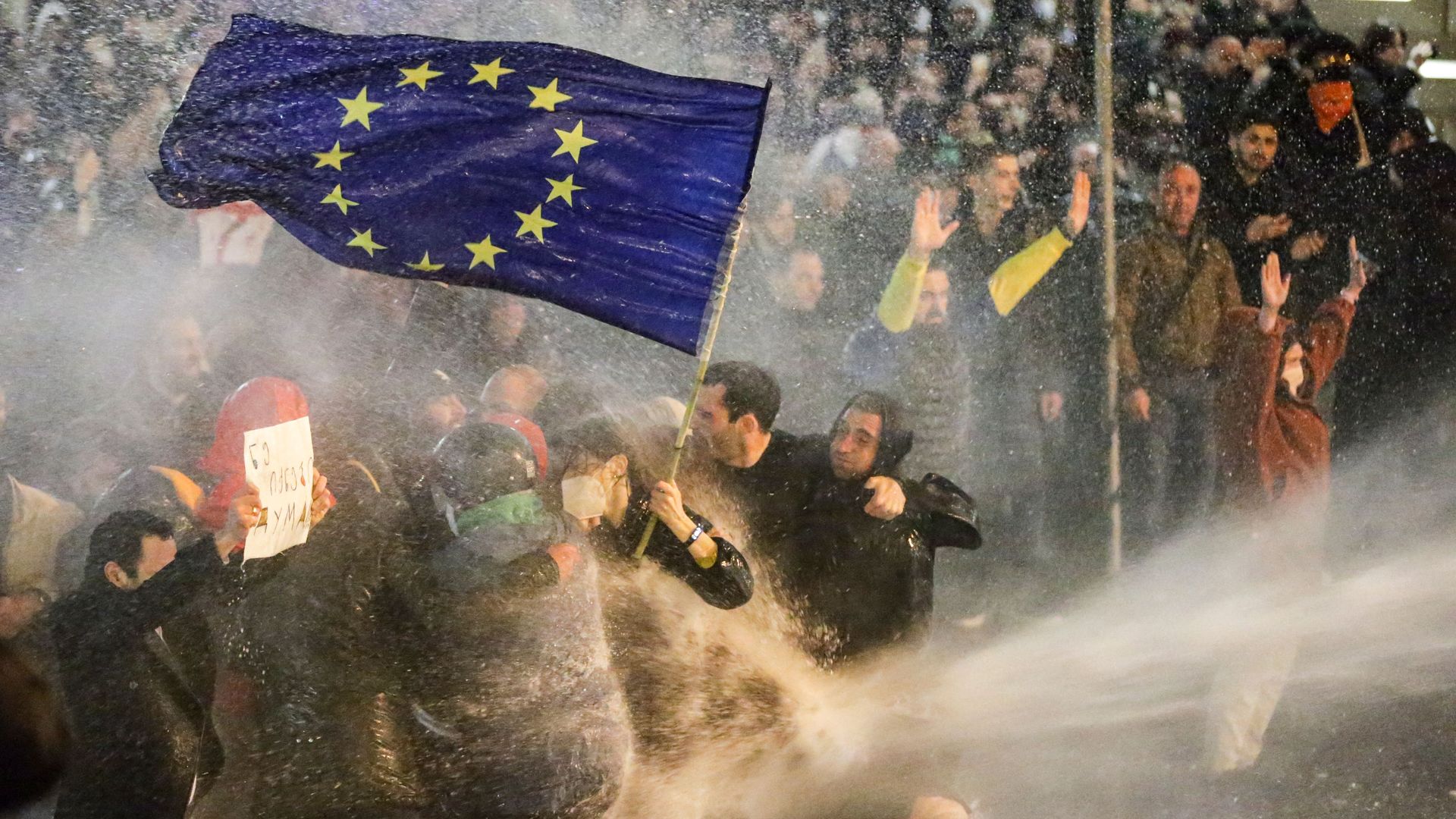 1. After massive protests in Tbilisi, Georgia's ruling party today announced it was dropping legislation that appeared to be based on a Russian "foreign agent" law targeting media outlets and NGOs.
The big picture: Despite the fact that the population overwhelmingly backs European integration and supports Ukraine, civil society groups say the ruling Georgian Dream party has pulled the country in a more authoritarian and pro-Moscow direction.
2. The Netherlands, home to the world's only producer of the ultraviolet lithography machines needed to make advanced semiconductors, ASML, is joining a U.S. push to curb exports of chipmaking tools to China.
3. Iran's supreme leader weighed in on the unexplained poisonings of hundreds of schoolgirls across the country, saying the culprits should face the death penalty.
4. Fighting between forces of the self-declared state of Somaliland and local militias loyal to Somalia has forced an estimated 100,000 people to flee to neighboring Ethiopia, the UN says.
5. Former Malaysian Prime Minister Muhyiddin Yassin was arrested on corruption charges. He claims they're politically motivated.
Meanwhile in Pakistan, the state media regulator has banned the broadcasting of speeches by former Prime Minister Imran Khan.
6. Canadian Prime Minister Justin Trudeau has ordered an investigation into alleged meddling by China in Canada's election — to help his party win.
Meanwhile in Colombia, President Gustavo Petro has asked police to investigate his own son and brother for allegedly taking payments from drug traffickers who were seeking to negotiate with the government. Both say they've done nothing wrong.
Bonus: Where in the World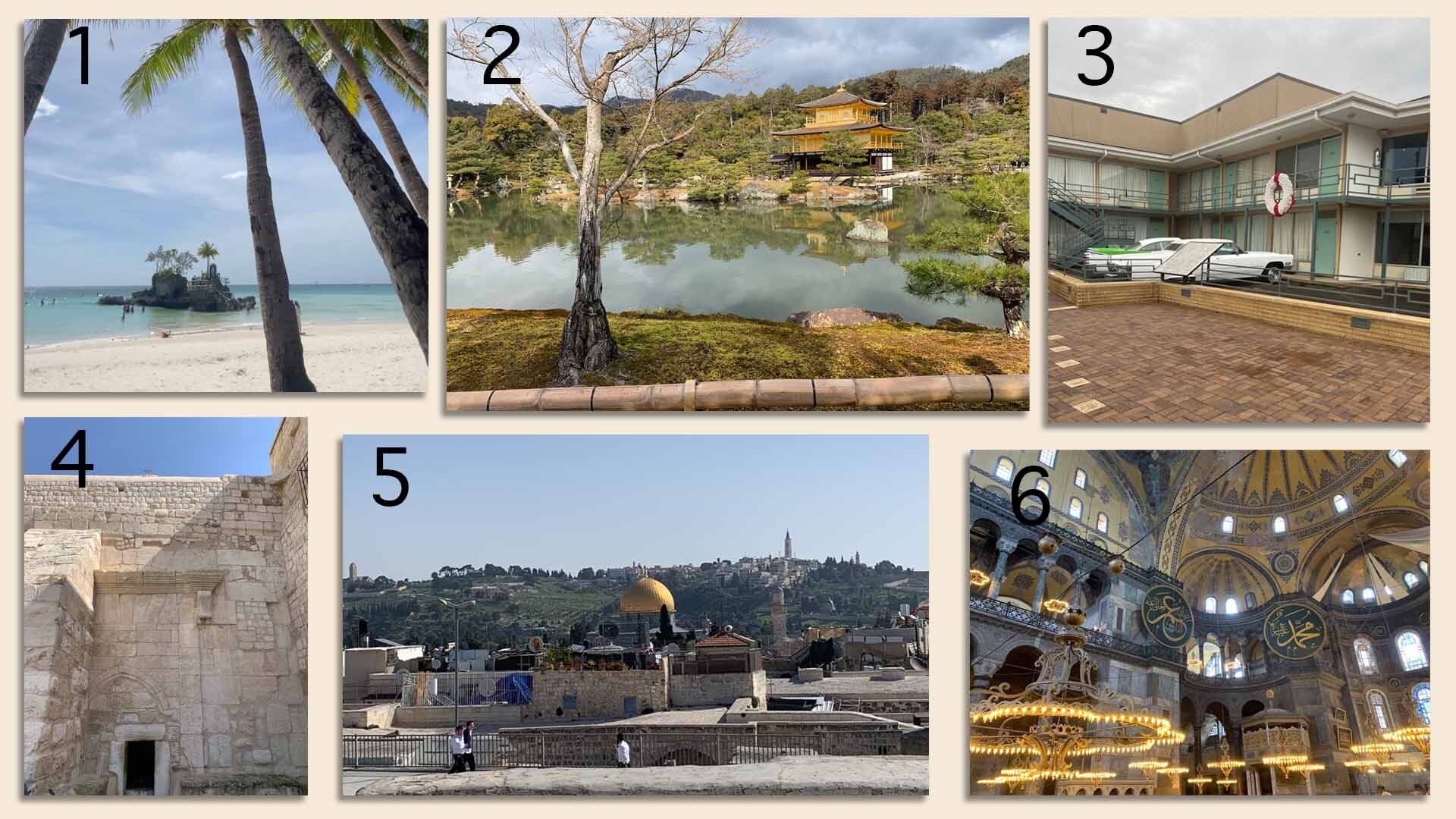 Since it's my first edition back, I thought tonight's Where in the World would be a good excuse to share a few photos from my sabbatical.
Can you name the six sites and/or the cities they're in?
We've got four places of worship (three of them in the Middle East), a motel with historic significance in the U.S., and a beach on a small island in East Asia (I'd be impressed if anyone gets it.)
Scroll to bottom for answers.
4. Democracy's global decline hits "possible turning point"
Democracy declined around the world for the 17th consecutive year, but the pace of that decline has slowed and we could be approaching a "turning point," according to an annual report from Freedom House.
The big picture: The "Freedom in the World" report scores countries on the political and civil rights of their citizens and categorizes them as free, partly free or not free.
The scores of 35 countries declined, while those of 34 countries improved. That's the narrowest gap since the global democratic downturn began in 2005, Freedom House said.
Colombia, Kenya and Malaysia saw peaceful transfers of power following contentious elections, while several countries that had cracked down on free speech and assembly during the pandemic loosened those restrictions.
Still, global press freedom continued its worrying decline in 2022. There were also multiple coups in West Africa, and leaders from Peru to Tunisia attempted power grabs with varying degrees of success.
Finland, Norway and Sweden all received perfect scores, while the least free countries and regions were North Korea, Eritrea, Turkmenistan, South Sudan, Syria and Tibet.
Go deeper: Full story and interactive map
5. Protests over judicial overhaul rock Israeli military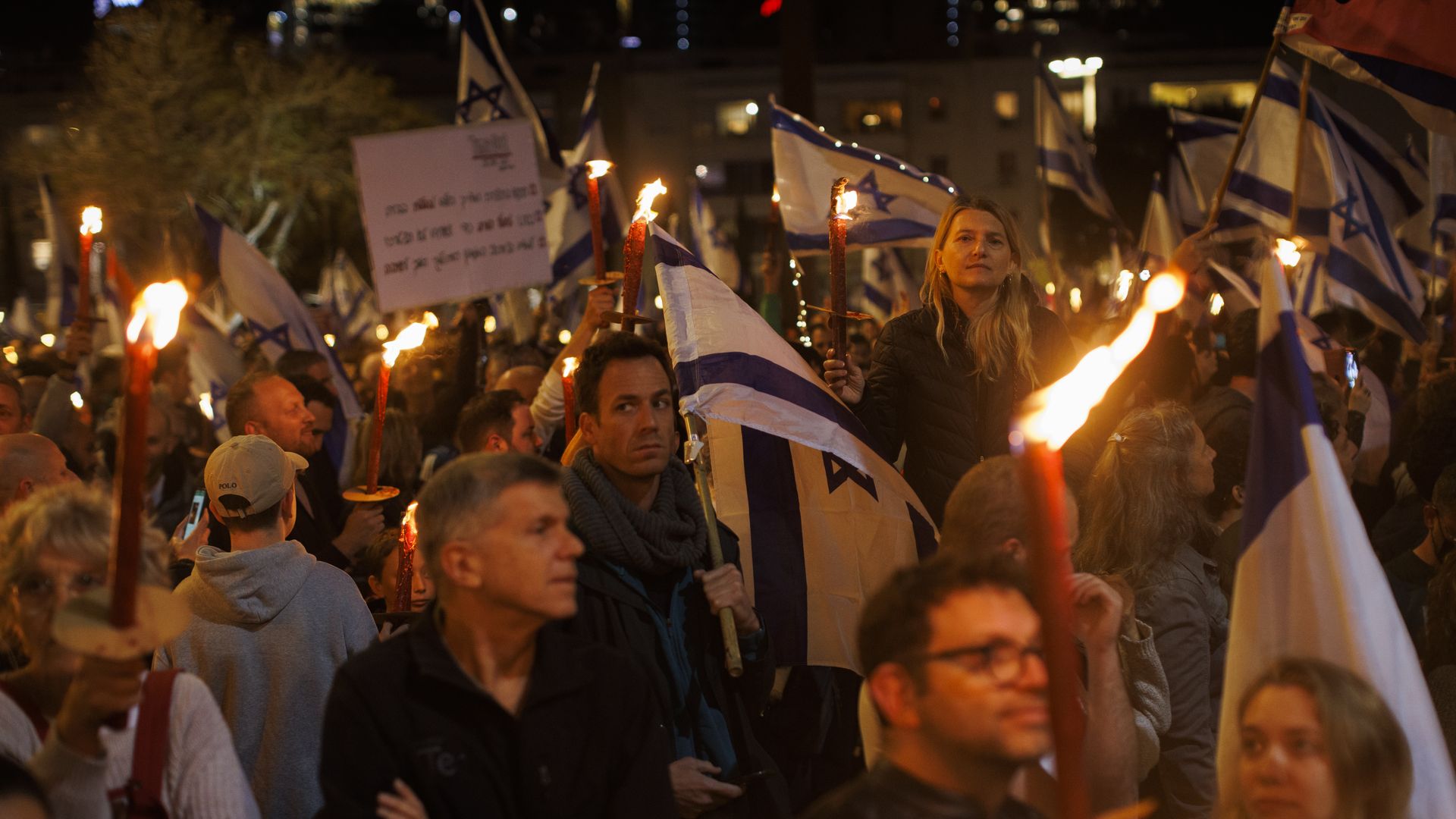 Opposition to a judicial overhaul plan from Israel's hard-right government has filled the streets and rocked the Israeli military.
Driving the news: Hundreds of reserve air force pilots, members of special forces units, and military intelligence officers have said they will not serve if the plan to weaken Israel's Supreme Court is implemented, Axios' Barak Ravid reports.
Critics fear the plan — which includes allowing the government to override Supreme Court rulings with a simple majority — will damage Israel's democracy.
Between the lines: Echoing remarks made by Austin in Israel, Assistant Secretary of State Barbara Leaf said today that such sweeping changes should only be made if there is a societal "consensus," which doesn't currently exist.
The latest: Far-right Finance Minister Bezalel Smotrich, who called last week for the Israeli government to "wipe out" the Palestinian village of Hawara, has been granted a diplomatic visa to visit the U.S., Barak reports.
6. Where the glass ceiling is highest
The Nordic countries have made great strides toward gender equality for women workers. South Korea and Japan have a long way to go.
That's according to the Economist's annual glass-ceiling index, which ranks the OECD club of rich countries on the role and influence of women in the workforce.
Top: 1. Iceland; 2. Sweden; 3. Finland; 4. Norway; 5.Portugal.
Bottom: 29. South Korea; 28. Japan; 27. Turkey; 26. Switzerland; 25. Israel.
The U.S. is 19th, ranking relatively high in terms of women in managerial positions, but behind the pack on family leave, child care costs, the wage gap and women in politics.
7. Stories we're watching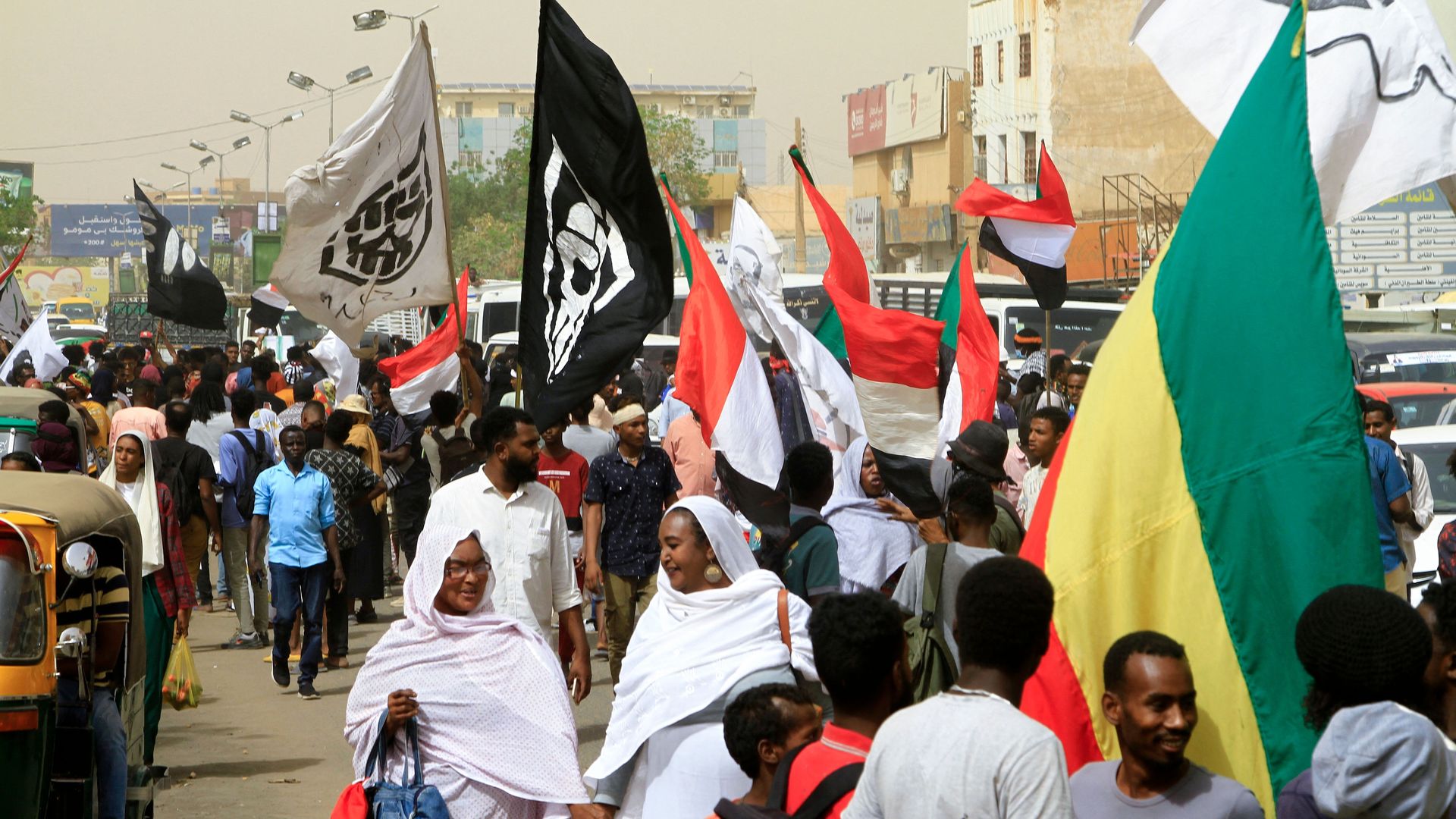 Quoted:
"If the U.S. side does not put on the brakes and continues down the wrong path, no amount of guardrails can stop the derailment and rollover into confrontation and conflict."
— Chinese Foreign Minister Qin Gang
Answers: 1. White Beach, Boracay (Philippines); 2. Kinkaku-ji temple, Kyoto; 3. Lorraine Motel (site of Martin Luther King Jr.'s assassination), Memphis; 4. Church of the Nativity, Bethlehem; 5. Dome of the Rock, Jerusalem; 6. Hagia Sophia, Istanbul.