Welcome to Axios World, where two evenings a week we break down the big stories from around the globe.
Thanks for joining me! Please tell your friends and colleagues to sign up, and I'd love your tips and feedback:

[email protected]

.
Smart Brevity check: This evening's serving is 1,405 words (~5 minute read)
Situational awareness: "Axios on HBO" is BACK, starting Sunday 6 pm ET/PT on HBO. Watch out for interviews with Jared Kushner, Sundar Pichai, David Petraeus and more. Promo here.
Breaking (Bloomberg): "Kim Hyok Chol, who led working-level negotiations for the summit in Hanoi between North Korean leader Kim Jong Un and U.S. President Donald Trump in February, was executed with four other North Korean foreign ministry officials in March, Chosun Ilbo newspaper reported, citing an unidentified source." Note: This report is unconfirmed.
1 big thing: Bibi's stunning collapse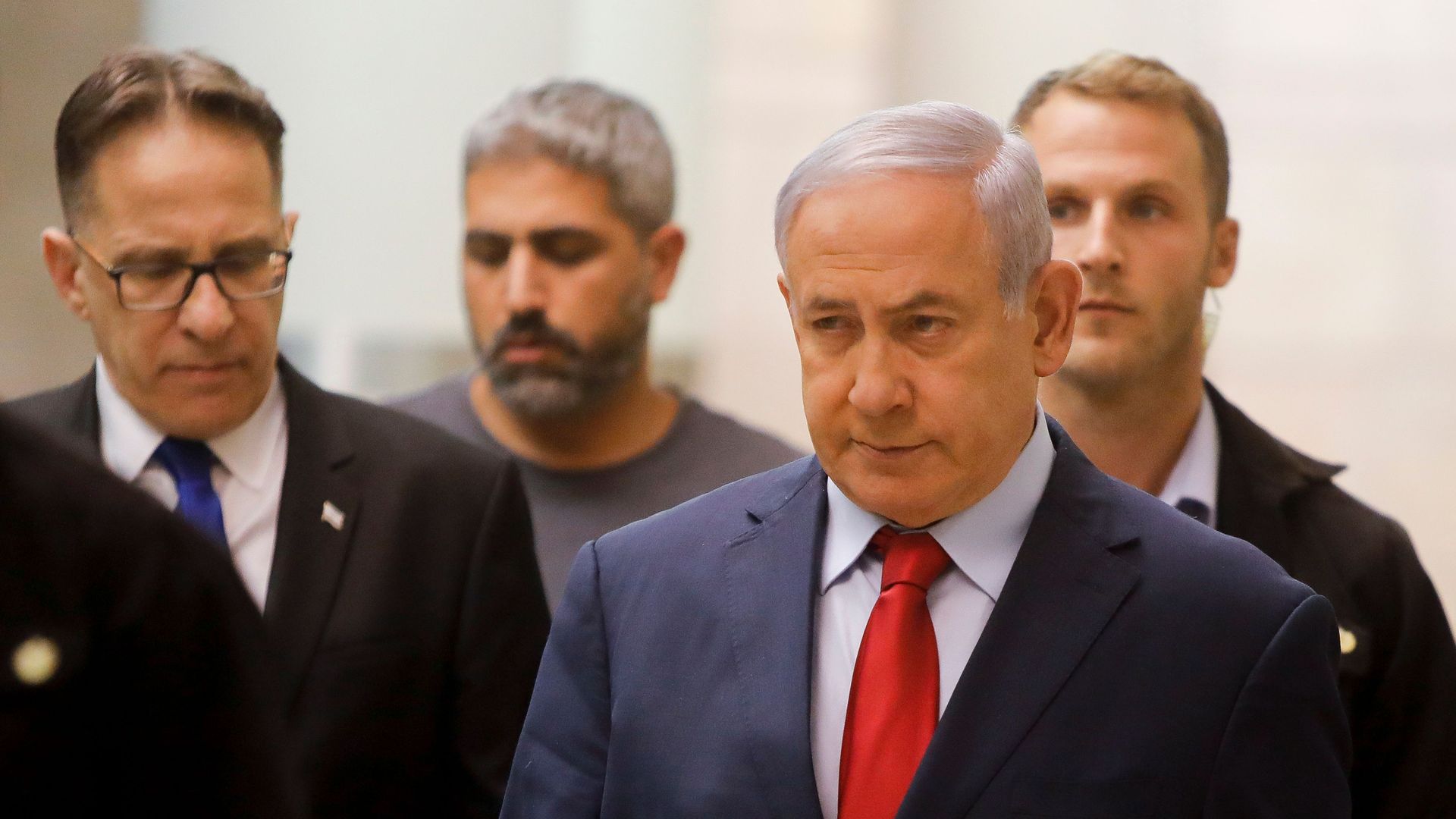 Fresh off his triumph in last month's election — which he won despite three pending corruption indictments — it looked like Israeli Prime Minister Benjamin Netanyahu would end up with a new government, and his legal slate wiped clean.
But, but, but: That all fell apart when Netanyahu was unable to resolve a dispute between his would-be coalition partners over a military service exemption for ultra-Orthodox Jews.
The failure to form a government is unprecedented in Israeli political history and left an opening for Netanyahu's centrist rivals to form a government instead.
Netanyahu quickly closed it. As the midnight deadline struck, the Israeli parliament voted to dissolve itself and force new elections in mid-September.
That will prevent Netanyahu from passing laws to grant himself immunity from the charges, Axios contributor Barak Ravid points out.
President Trump, who intervened in Netanyahu's favor earlier in the week, said today that he was disappointed by the news.
"It's too bad what happened in Israel. It looked like a total win for Netanyahu, who's a great guy. ... And now they're back in the election stage. They don't need this, I mean they've got enough turmoil over there, it's a tough place."
Meanwhile, the unexpected political drama could also leave Trump's Middle East peace plan in limbo.
"No one in the region is calling for it. Netanyahu didn't want it before the April elections, and won't want it before September's. ... For now, we may see the Bahrain economic workshop take place, but it will be a ghost meeting — pretend pledges in support of a phantom plan that could only come into focus much later."
— Shapiro
to Jewish Insider
What to watch: As Netanyahu's failure crystallized last night, the White House announced a summit to be held next month between national security adviser John Bolton and his Russian and Israeli counterparts.
Netanyahu boasted that he had managed to bring both Trump and Vladimir Putin on board for the "unprecedented" summit, emphasizing his influence in Washington and on the world stage.
2. Asia: Nepal reacts to Everest deaths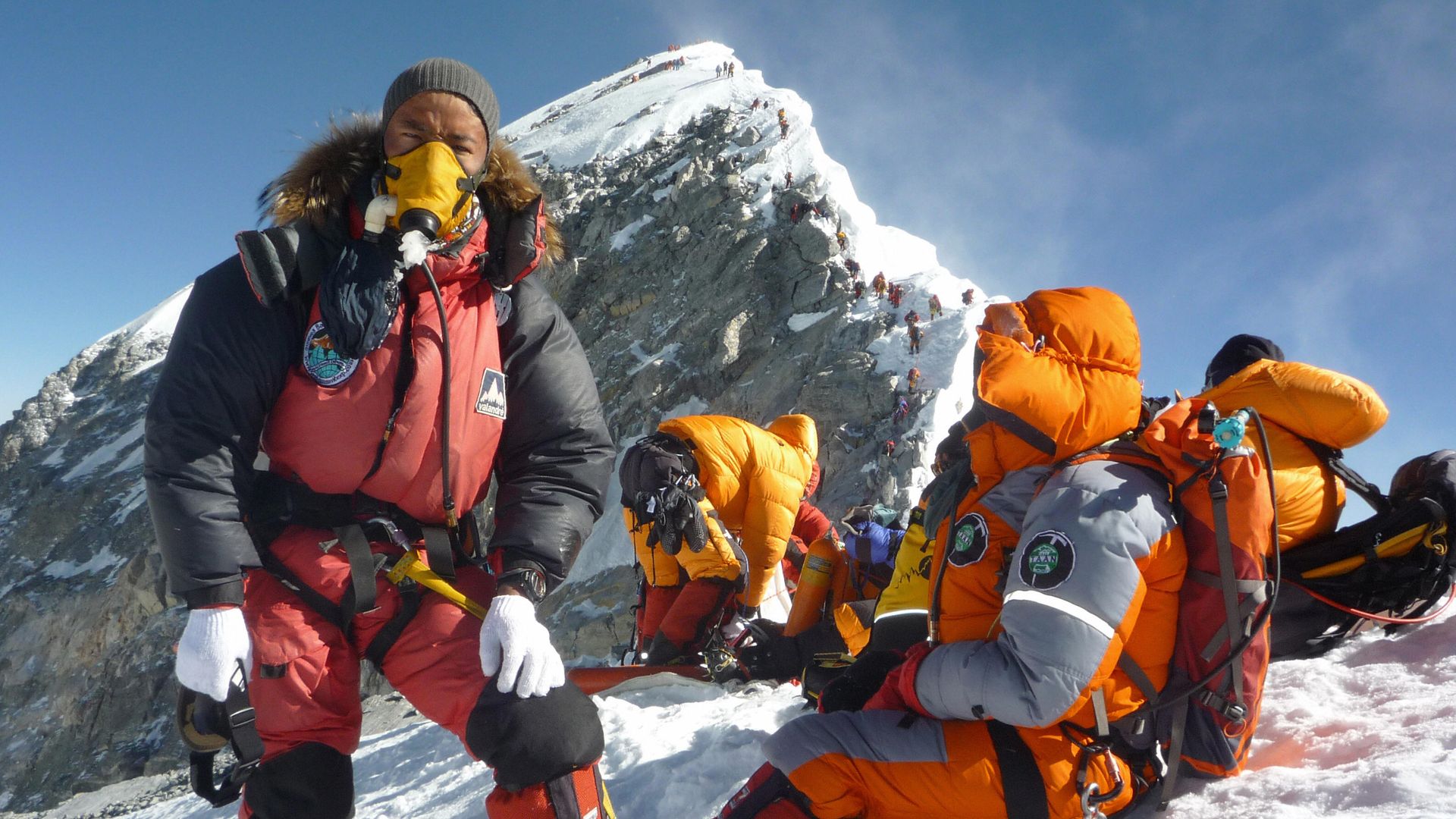 Nepal rejects claims that recent deaths on Mount Everest resulted from overcrowding or government negligence, a government spokesman tells Axios fellow Phanindra Dahal.
Why it matters: Nepali authorities are under pressure to limit the number of permits issued for mountaineers to climb the 29,028-foot peak after the 11 recent deaths, 9 of which came on the Nepali side of Everest. Nepal doesn't place strict limitations on who can attempt the climb.
A record 381 permits were issued this season during a narrow window of improved weather. With support teams, there were upward of 600 total climbers, per the BBC.
The New York Times described "a crowded, unruly scene reminiscent of Lord of the Flies" near the summit and reported that climbers were left exposed to the elements for extended periods due to overcrowding.
This has been the 4th deadliest climbing season on record. The deadliest came in 2015 when a massive earthquake triggered an avalanche.
Nepali Minister for Information and Communication Gokul Prasad Baskota told Axios that climbing Everest is "a life threatening adventure" and the government should not be blamed for accidents that occur in such an unpredictable environment.
Baskota said the government would work to improve weather forecasts and look into other possible precautions, but said climbers and tour guides should ensure their own fitness and training.
The bottom line: Nepal is home to 8 of the world's 10 highest peaks, and mountaineering is vital to the country's tourism industry, with $5 million flowing directly to the government last year and many other sectors benefiting.
Climbers eyeing Everest pay around $45,000 to expedition companies on average, and some pay much more. Around $11,000 goes to the Nepali government for permits.
With all that money involved, there is stiff competition to bring clients to the top of the world. Now, calls for stiffer regulations are growing louder.
3. Middle East: Iran standoff latest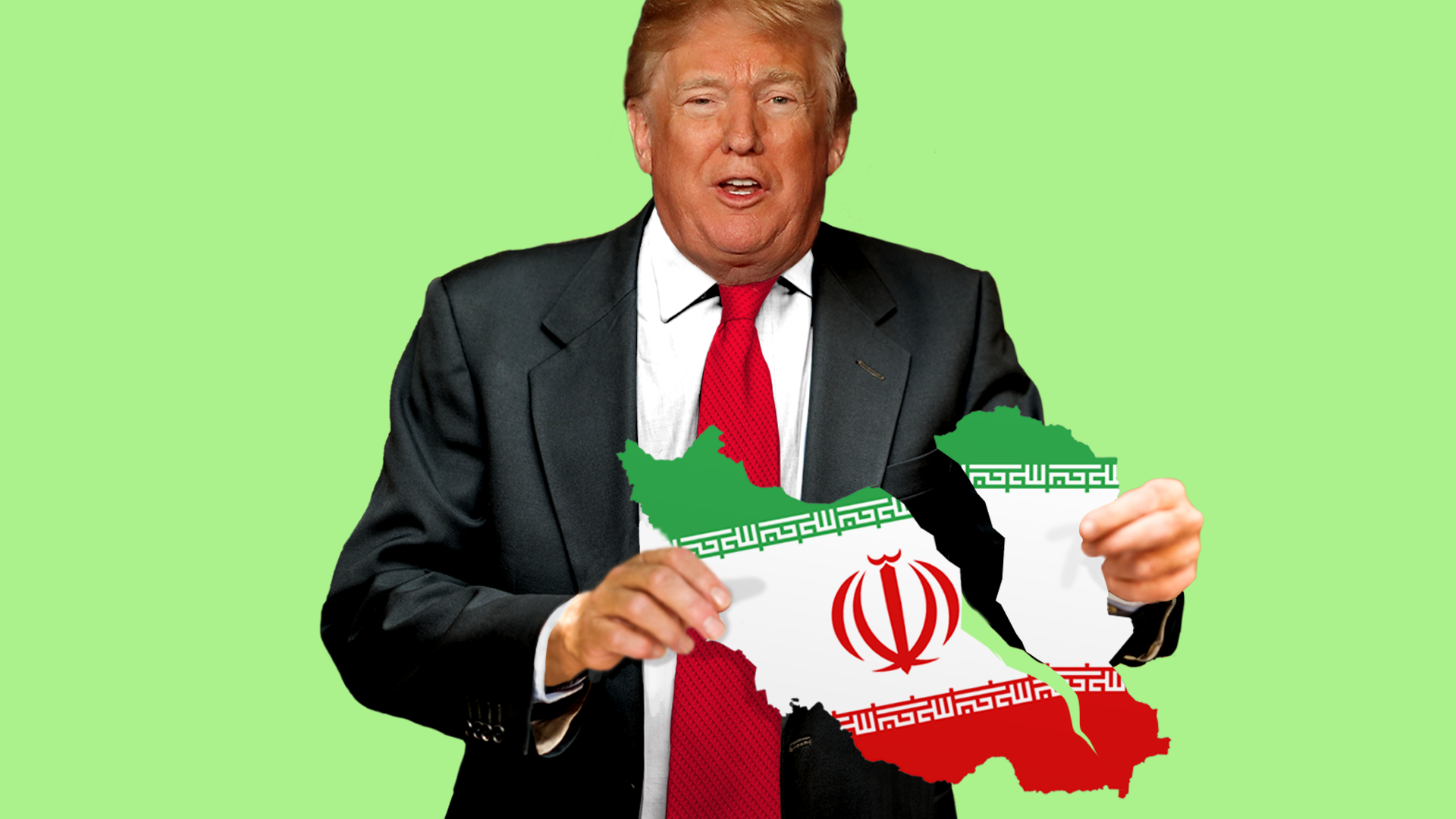 National security adviser John Bolton claimed today that a "quick response" from the U.S. appeared to have deterred Iranian threats to Americans or allies, but added: "I don't think this threat is over."
Flashback: It has been 25 days since Bolton warned of "unrelenting force" in the event of an Iranian attack. His ultra-hawkish line has diverged from Trump's at times since and contributed to fears the U.S. could be headed for war.
Bolton has blamed Iran for sabotaging four oil tankers off the UAE earlier this month. He said today that evidence would likely be presented to the UN Security Council.
Previously, asked about the lack of evidence behind his accusations, Bolton said: "Who else would you think is doing it? Somebody from Nepal?"
While Bolton has been hurling accusations — including that Iran is seeking nuclear weapons — Trump has said he's "not looking to hurt Iran at all."
There seems to be mixed messages on the Iranian side as well. Hours after President Hassan Rouhani said nuclear talks could restart if Trump withdrew sanctions, Iran's supreme leader said, "We won't negotiate with Americans."
4. Latin America: Brazil still waiting for Bolsonaro bounce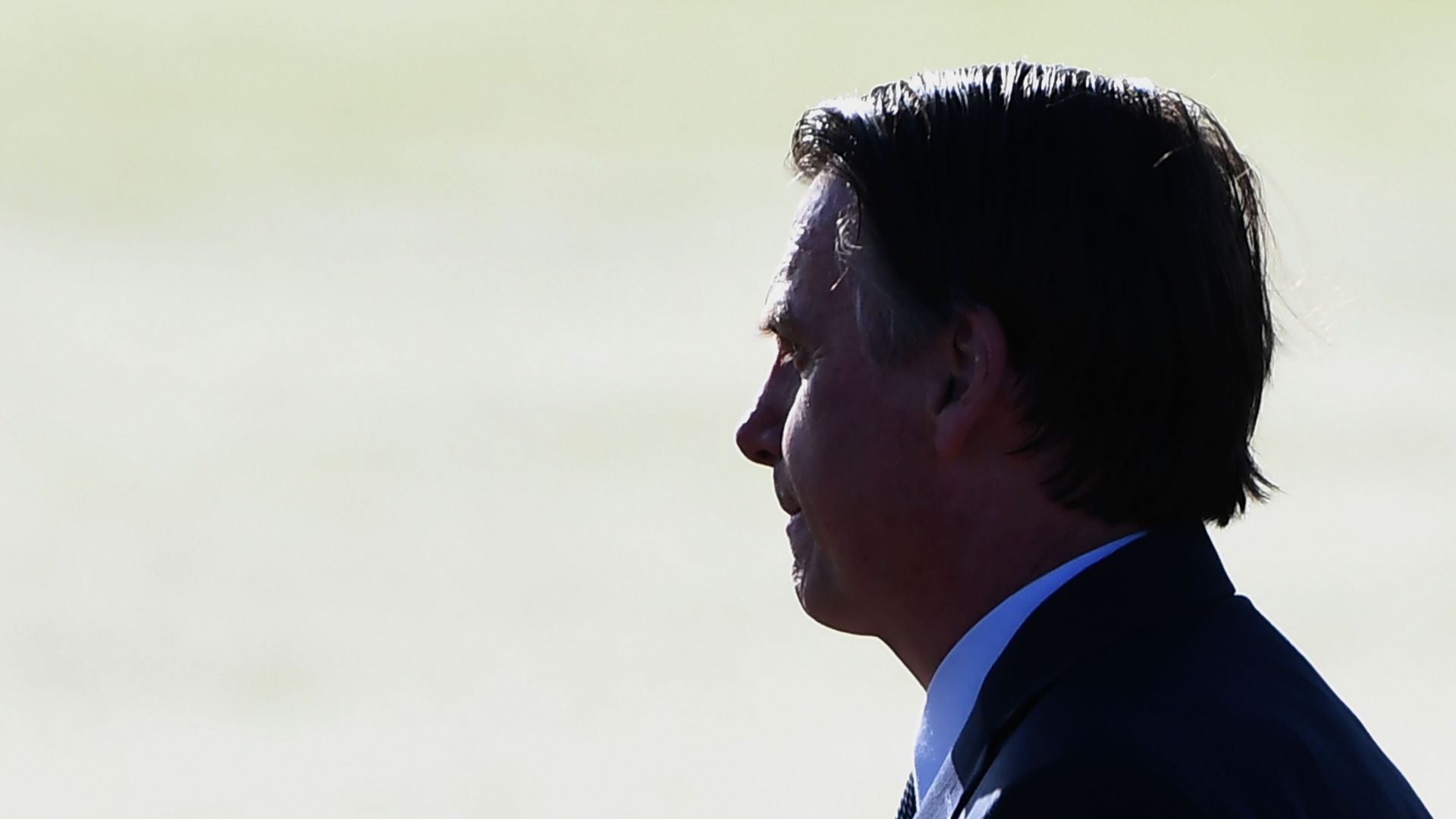 Brazil's economy contracted in the first quarter of 2019, raising the prospect of another recession in Latin America's largest country, per the BBC.
Why it matters: This is more bad news for President Jair Bolsonaro, who had promised to revive an economy that has limped out of a damaging recession in 2015–2016.
The electorate is impatient. Five months into his presidency, Bolsonaro's approval ratings have been cut in half, to about 30%.
The FT's Andres Schipani says he's alienating much of the country with his focus on "culture wars," and "shrinking back to his original power base of 15-20% of the electorate."
The big question for investors is whether Bolsonaro will deliver much-needed pension reforms.
"We think it will come through [later this year], but the difficulty is how far it will be watered down as it gets through Congress," says the FT's Michael Stott, speaking on the World Weekly podcast. "Because Bolsonaro, we shouldn't forget, doesn't have a majority in Congress" and hasn't had much success negotiating with them so far.
5. Coming attractions: Trump to the U.K.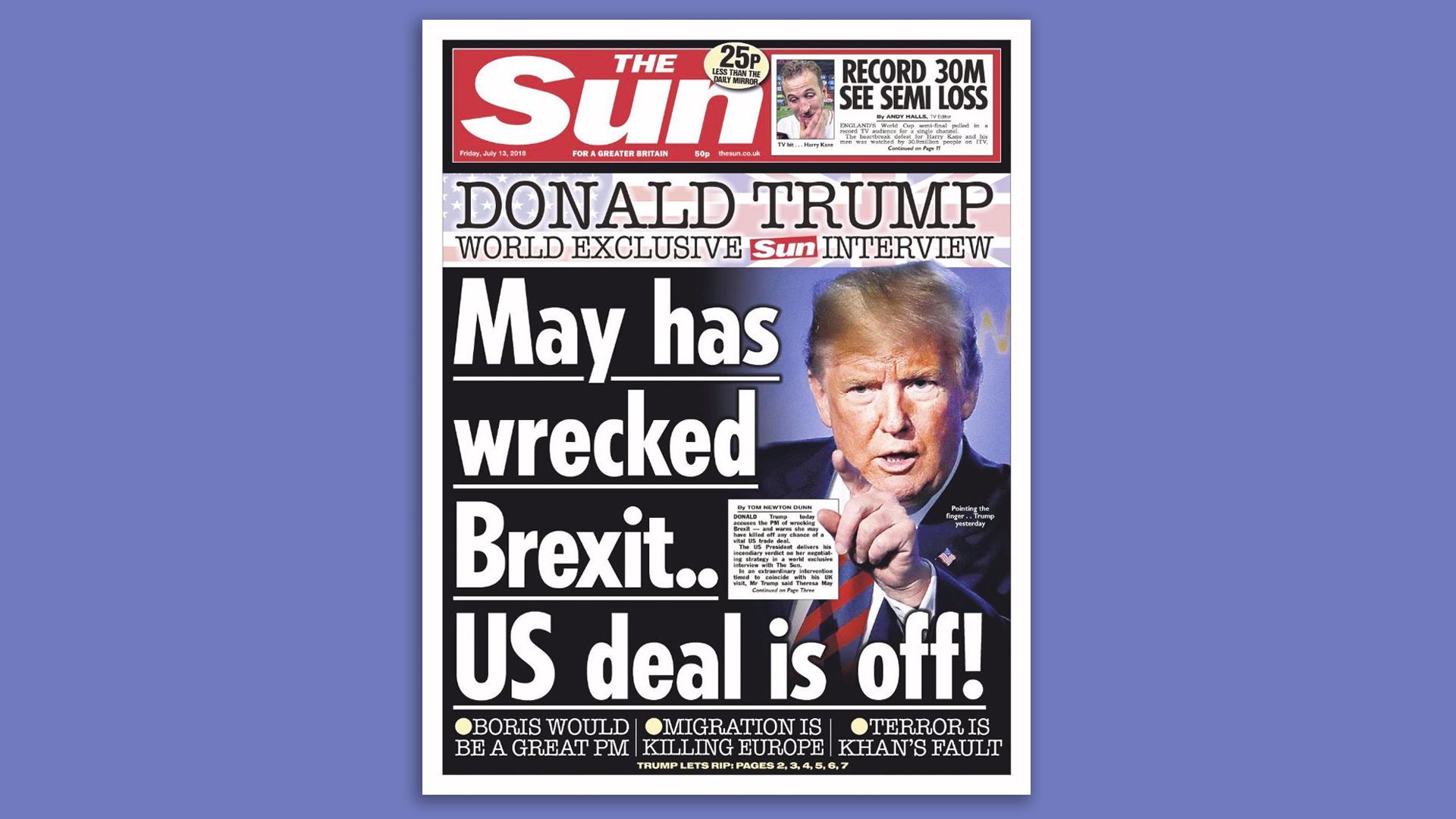 President Trump's state visit to the U.K. will include lunch with the Queen, tea with Prince Charles and his final meetings with outgoing Prime Minister Theresa May.
He's expected to meet Prince Harry but not Meghan Markle, who gave birth to the couple's first child earlier this month.
The visit begins Monday. There will be a state dinner that evening and commemorations of the 75th anniversary of D-Day on Wednesday.
What to expect: Protests in London and, if history is a guide, some awkward interventions into U.K. politics.
Trump said today that he might meet with Brexit Party leader Nigel Farage or Boris Johnson, the front-runner to succeed May as prime minister. A U.K. official who briefed reporters today said there were no such meetings on the official schedule, but "what he does in his down time is his affair."
I asked whether it would be appropriate for Trump to weigh in on Brexit or the Conservative leadership race. The official said that was Trump's business, adding: "I don't want to rule on appropriateness or otherwise."
What not to expect: An address to Parliament.
John Bercow, speaker of the U.K. House of Commons, said in Washington this week that while there had been no formal request for such an address, "nothing has happened since" 2017 — when Bercow cited "racism and sexism" in opposing an invitation — to change his mind.
Bercow said Barack Obama, who did address Parliament, was "comparably popular" in Europe and the U.K., and a historic figure as America's first black president. He did acknowledge that it may have been a mistake to invite China's Xi Jinping in 2015.
Worth noting: A Times/YouGov poll out this evening shows the Liberal Democrats (!!) in first place in a potential general election, followed by the Brexit Party. Labour and the Conservatives are tied in third.
6. Data du jour: Where populations are booming and shrinking
Families have been shrinking and population growth has been slowing in most nations over the past several decades, Axios' Stef Kight notes.
Populations change slowly, humans are living longer and many rich countries still attract lots of immigrants.
But we're already starting to see impacts. Hungary, Italy, Portugal, Japan, Ukraine and 17 other nations are already watching their populations decline.
7. Stories we're watching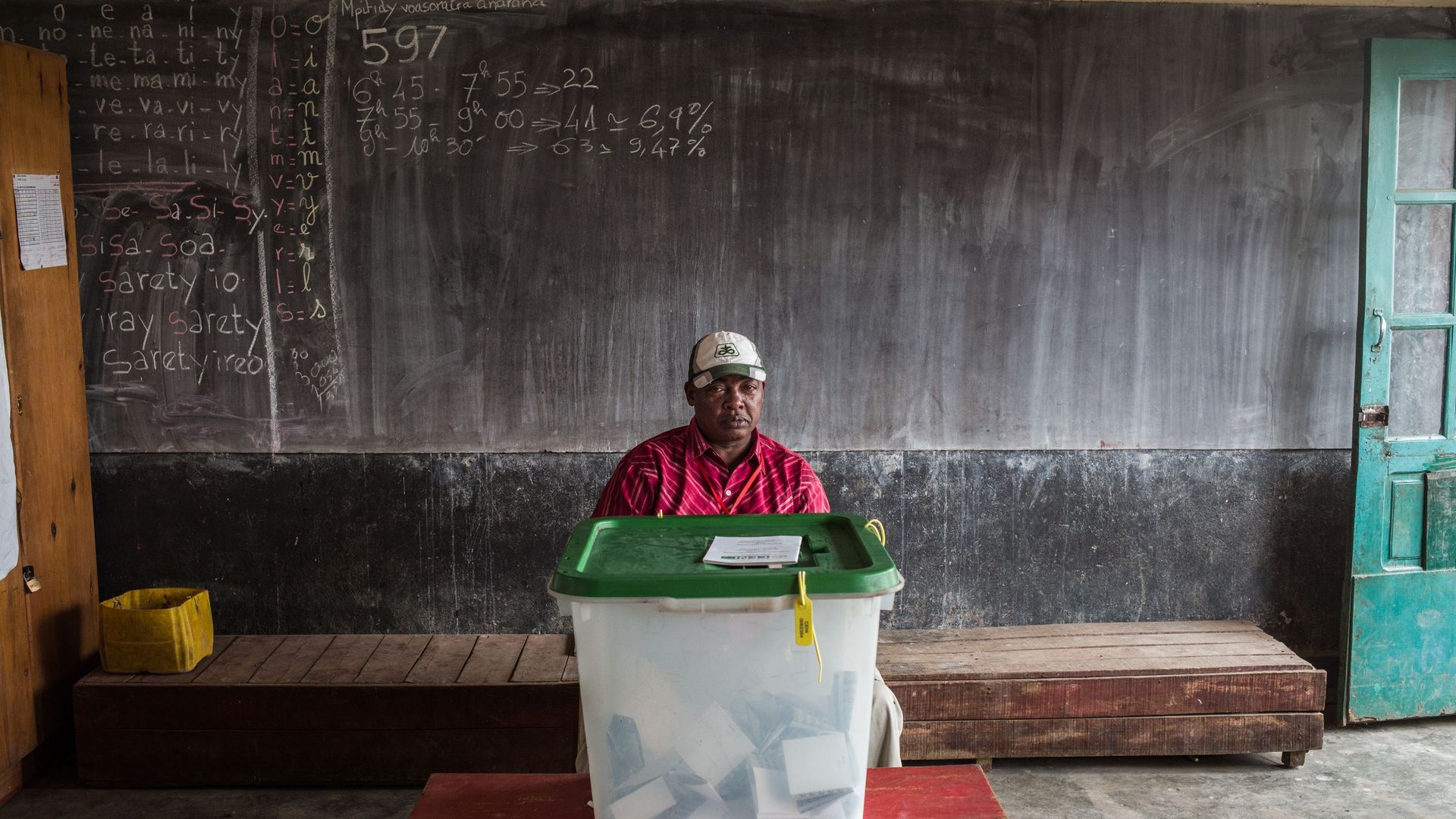 Quoted:
"I was not a big fan of John McCain in any shape or form. Now, somebody did it because they thought I didn't like him, okay? And they were well-meaning."
— Trump today, responding to reports the
USS John S. McCain was moved "out of sight"
during his visit to Japan
Thanks for reading — have a wonderful weekend and see you next week.