Welcome to Axios World, where two evenings a week we break down the big stories from around the globe. Tonight's Smart Brevity count is 1,468 words (~ 5 minutes).
Thanks for joining me! Please tell your friends and colleagues to sign up, and I'd love your tips and feedback: lawler@axios.com.
1 big thing: The age of impunity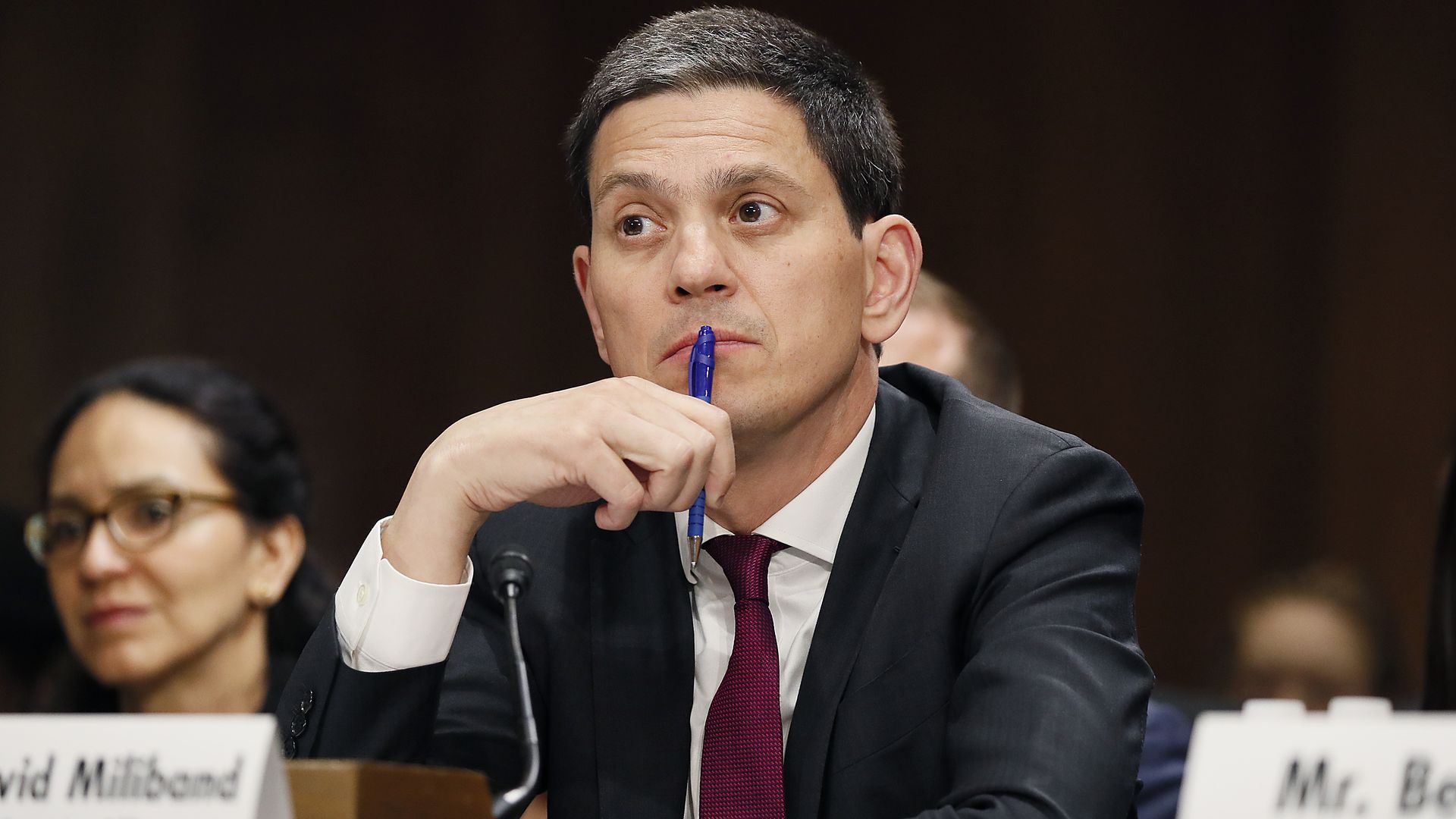 David Miliband, chief executive of the International Rescue Committee and former U.K. foreign secretary, says we've entered an "age of impunity" in which bad actors all over the world "believe they can get away with anything" — and are being proved right.
The big picture: Miliband tells Axios that brutal acts are being carried out in a "vacuum" caused in part by a U.S. retreat from "global responsibility," a "castration" of U.K. foreign policy by Brexit, and widespread disdain for international norms and institutions. In Miliband's view, the "world's most vulnerable" are paying the heaviest price.
Miliband spoke with Axios from Edinburgh before delivering the 2019 Fulbright Lecture.
In his speech, Miliband cites the image of Russia's Vladimir Putin and Saudi Arabia's Mohammed bin Salman high-fiving at last year's G20 summit, weeks after the murder of Jamal Khashoggi, as illustrative of a new global reality.
He writes that Russia and China have been "defending indefensible actions" for years "on the grounds that what a state does within its own borders is its own business." Now, the U.S. has joined them.
When leaders attack civil liberties and the rule of law at home, Miliband argues, the consequences reverberate around the world.
Miliband contends that from the mid-1990s to mid-2000s, the world seemed to be moving toward a future where such values were protected internationally.
But, but, but: "The voters in the West clearly became disillusioned with foreign policy failings, notably in Iraq and Afghanistan," he says. Economically, globalization in that period was "too unequal for its own good and too insecure for its own good, and therefore unsustainable."
Miliband adds that leaders took advantage of the backlash. He points to Brexit (which he opposes) as an example of misleading claims meeting public discontent with explosive results.
Flashback: Miliband plays a central role in alternative histories of the Brexit era. Had he not lost the Labour leadership to his brother Ed, some argue, he could have won the 2015 U.K. general election and disposed of the prospect of a Brexit referendum.
Now, another former foreign secretary is preparing for a move to Downing Street. Asked whether Boris Johnson is likely to reverse the U.K.'s "castration," Miliband says only that Johnson's Foreign Office tenure was "marked by a series of misadventures that partly reflect on the realities of Brexit and partly reflect on him."
As for whether the Labour Party is offering a strong alternative vision of global leadership under Jeremy Corbyn, Miliband said "not good enough."
What to watch: Miliband referred to China as a "swing voter" in the future of multilateral cooperation because Beijing fears instability and favors global collaboration on issues like climate change.
But he conceded that cooperation doesn't extend to human rights because of China's paranoia about criticisms of its internal affairs. "If anyone's going to defend human rights, it's going to have to be the West," he said. "And that's why divisions in the West are so dangerous."
Bonus: By the numbers
In conjunction with Miliband's lecture, King's College and Ipsos polled 25 countries, most of them high- or middle-income democracies, on human rights and international relations.
Respondents were less likely to say the U.S. uses its power for good (18%) than bad (22%). That's only narrowly better than the findings for China (14% good, 20% bad) and Russia (13% good, 25% bad).
The most favorable views were of Canada (37% good, 4% bad), the UN (35% vs. 8%) and Germany (32% good, 7% bad).
Respondents tended to think the U.S. was more likely to use its power for good a decade ago than today.
2. U.K. leadership: And then there were two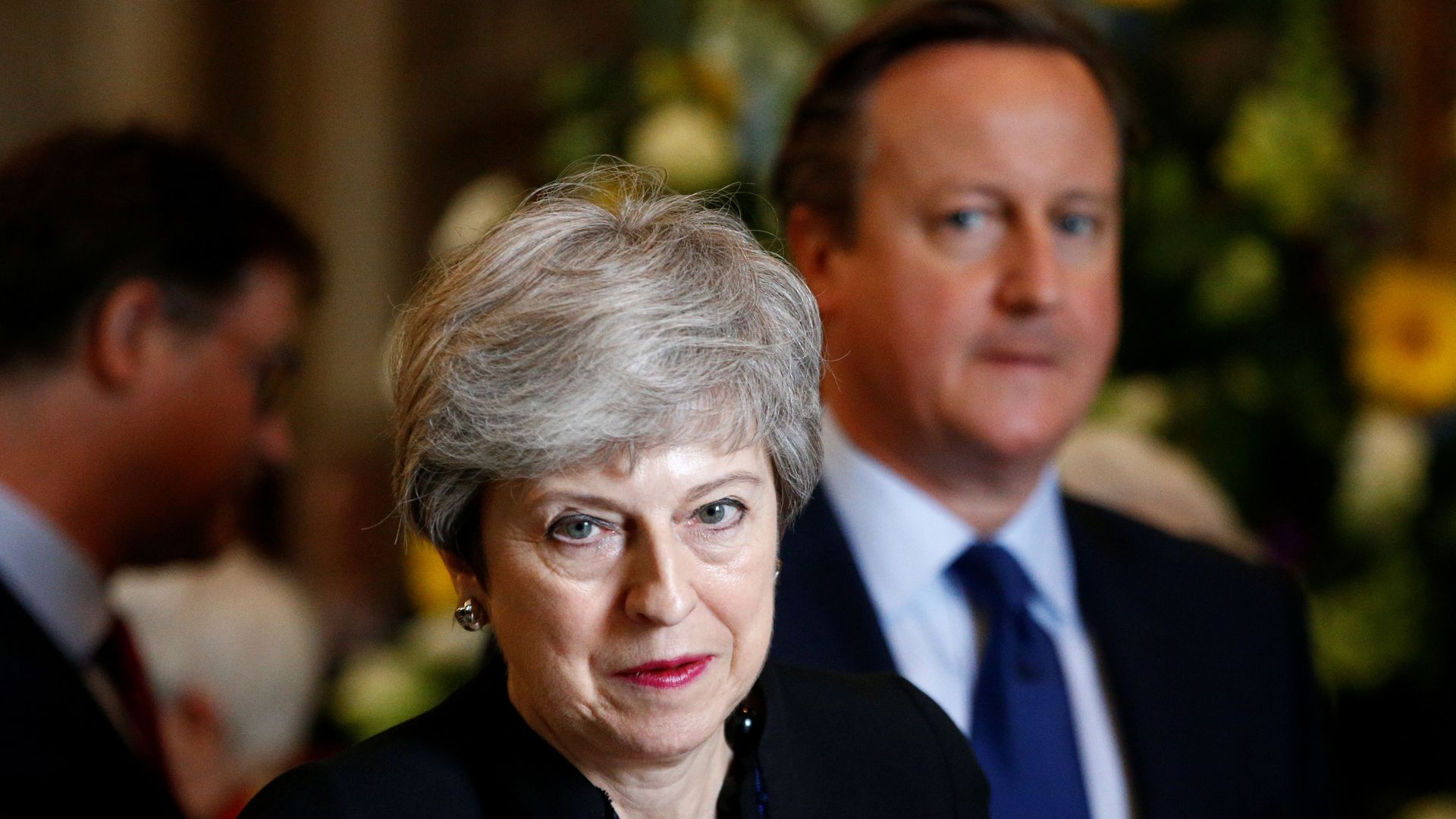 After a series of votes, Conservative Members of Parliament have whittled the field to replace Theresa May as party leader, and prime minister, down to two: Boris Johnson and Jeremy Hunt, the foreign secretary.
Johnson, a brash Brexiteer and former mayor of London, dominated among MPs. His advantage with party members — who will decide between the two after a monthlong campaign — looks at least as large. It'll be shocking if he doesn't soon move into Downing Street.
Given Johnson's overwhelming lead, it's always possible Hunt could drop out early in the name of party unity, notes Axios Chief Brexitologist Shane Savitsky.
Johnson, a leading voice in the 2016 campaign to leave the EU, has promised to deliver Brexit with or without a deal on Oct. 31. His bombastic, gaffe-ridden style has earned him many admirers, and many detractors.
Flashback: I asked Hunt last August whether President Trump was right in saying Johnson would make a "great prime minister." His answer:
"Well Boris is someone I would never underestimate. This is a man who has changed the course of British history through his campaigning for Brexit. I don't agree with him on everything, but, you know, who knows for the future?"
Go deeper: Boris Johnson is steamrolling his way to Downing Street
3. Iran takes a big risk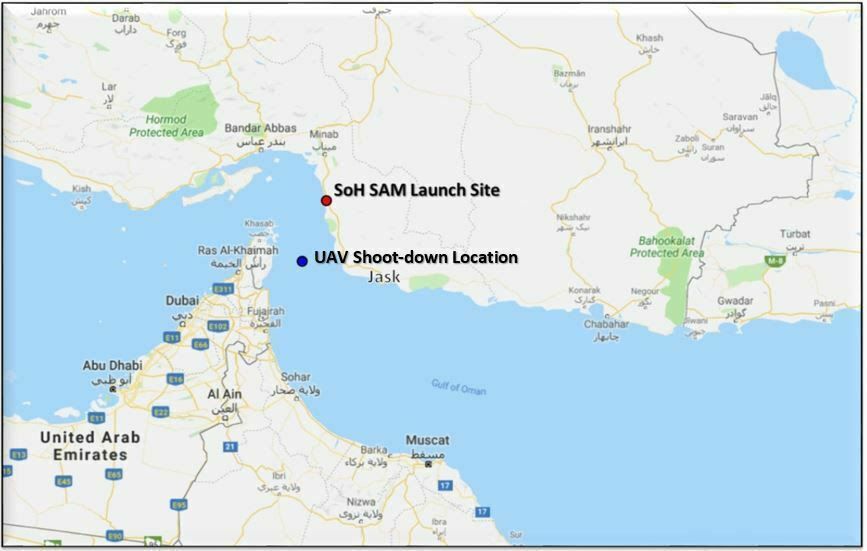 A map of the Strait of Hormuz, where Iran shot down a U.S. drone today. Map: Department of Defense via AP
Iran shot down an unmanned drone this morning over what the U.S. says was international airspace.
Why it matters: It's clearly an escalatory step from the Iranian regime. The commander of Iran's Islamic Revolutionary Guard Corps said he wanted to send "a clear message" that Iran is "ready for war," though it doesn't seek it.
It's also clear that Trump's "maximum pressure" campaign has rendered Iran more aggressive, rather than less. Iran says it will breach uranium enrichment limits under the 2015 nuclear deal within days.
The big picture: Brian Hook, the State Department's Iran envoy, argued yesterday that Trump's strategy has been successful because reduced cashflows make Iran "weaker," and the regime would have sparked a nuclear crisis down the road anyway.
"Rather than wait for all of these things to come to pass in 10 years when Iran is stronger, we have pulled that forward. But I truly believe everything we are seeing today is inevitable," he said.
My thought bubble: That can be debated. But it will be difficult to generate a unified international response to Iran's aggression now when much of the world thinks this crisis is Trump's fault.
What to watch: Trump tweeted today that "Iran made a very big mistake." He later speculated that someone "loose and stupid" made the order without approval from the top.
4. Asia roundup: Nukes, drought and protests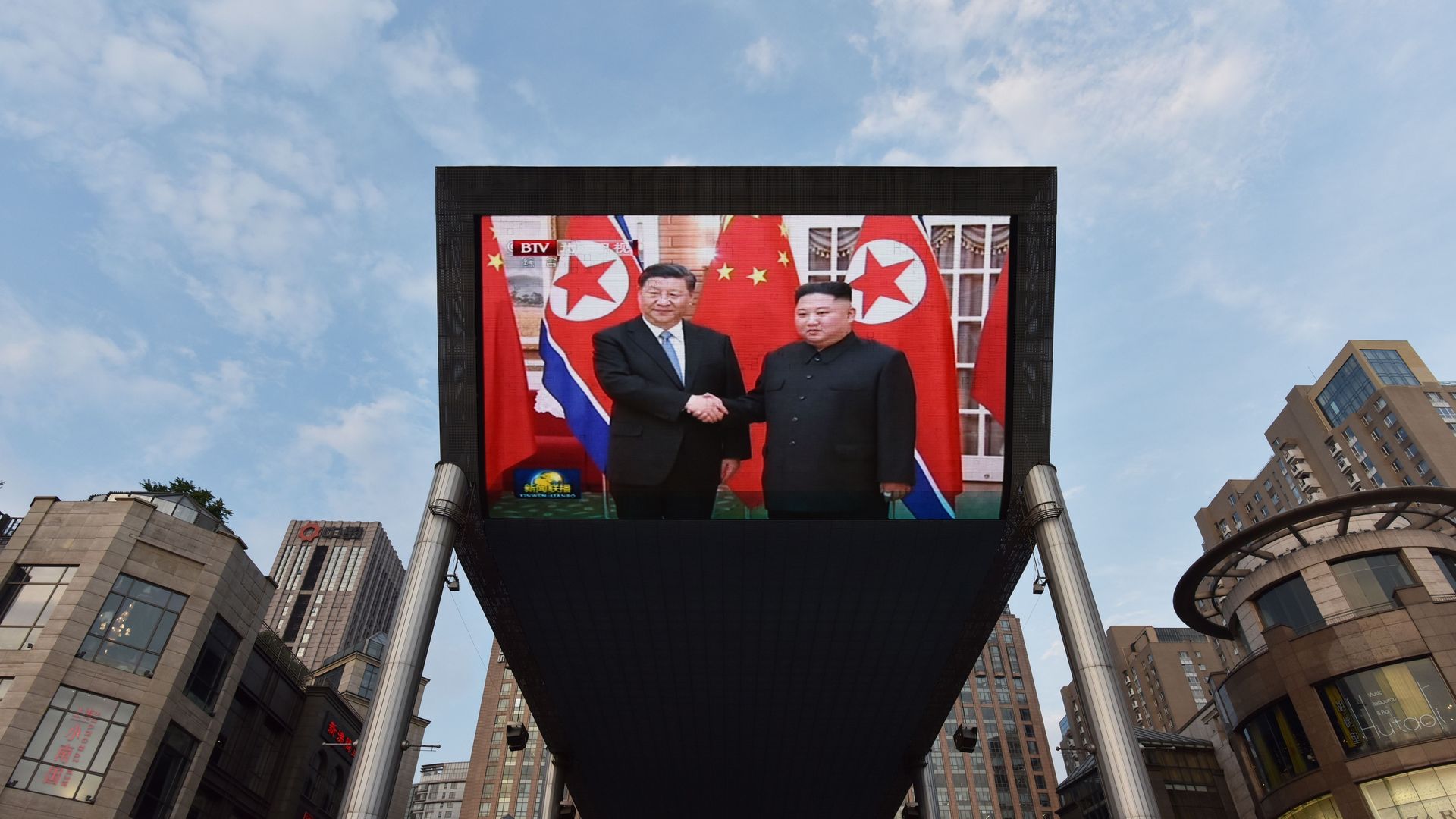 China's Xi Jinping paid his first-ever visit to Kim Jong-un, a meeting that underscores Beijing's influence at a time when U.S.-North Korea talks are frozen.
A delayed monsoon season has left millions of people struggling to access clean water in Chennai, India, Axios' Ursula Perano writes.
Hong Kong's chief executive is ignoring a deadline from protesters to withdraw the controversial extradition bill, making more demonstrations likely.
5. Political drama: The view from Moldova
After refusing to cede power for nearly a week, Moldova's Democratic Party finally surrendered last Friday under international pressure.
The party's leader, oligarch Vladimir Plahotniuc, fled the country. He's been accused of presiding over corruption and democratic backsliding.
The new government consists of pro-EU and pro-Russia parties and was formed expressly to expel Plahotniuc from power.
Nicu Popescu, an academic and the former Soviet republic's new foreign minister, tells Axios the coalition's foreign policy gap can be bridged because most Moldovans want good relations with both Russia and the West.
"Listen, Moldova is a small country and a lot of players have a lot of influence in Moldova. Romania has influence, Russia has influence, the EU has influence, the U.S. has influence," he said during a visit to Washington.
"The main question for us is, how do we ensure better economic development while maintaining our desire to be an independent state?"
"Moldovans don't want to be on geopolitical fault lines. They think they are too small to play big geopolitical games."
Popescu added that because 60% of Moldova's trade is with the EU, it is "impossible in Moldova not to be pro-European."
What's next: Popescu said the new government's top priorities are to clean up the judiciary and investigate the previous government.
"What would not work from a Moldovan standpoint is to discover that hundreds of millions of euros have been stolen."
6. Data du jour: Where the world's displaced end up
An annual UN report on migration finds that Canada resettled more refugees in 2018 than the U.S. for the first time since 1980. Some other key findings, from Axios' Stef Kight and Rashaan Ayesh:
The big picture: Over the course of a decade, the number of displaced people globally jumped from 43.3 million to 70.8 million. There are more people being forced to live outside their home countries as a result of persecution, conflict or human rights violations than at any other time since World War II.
The U.S. received the largest number of asylum applications, with most coming from El Salvador.
There were 13.6 million newly displaced people in 2018, with nearly 11 million displaced internally and most of the rest in neighboring countries.
2.9 million displaced people returned to their native countries in 2018.
67% of displaced refugees came from Syria (6.7 million), Afghanistan (2.7 million), South Sudan (2.3 million), Myanmar (1.1. million) and Somalia (0.9 million).
Turkey is home to the largest number of refugees in the world with 3.7 million. Next are Pakistan (1.4 million), Uganda (1.2 million), Sudan (1.1 million) and Germany (1.1 million).
7. Stories we're watching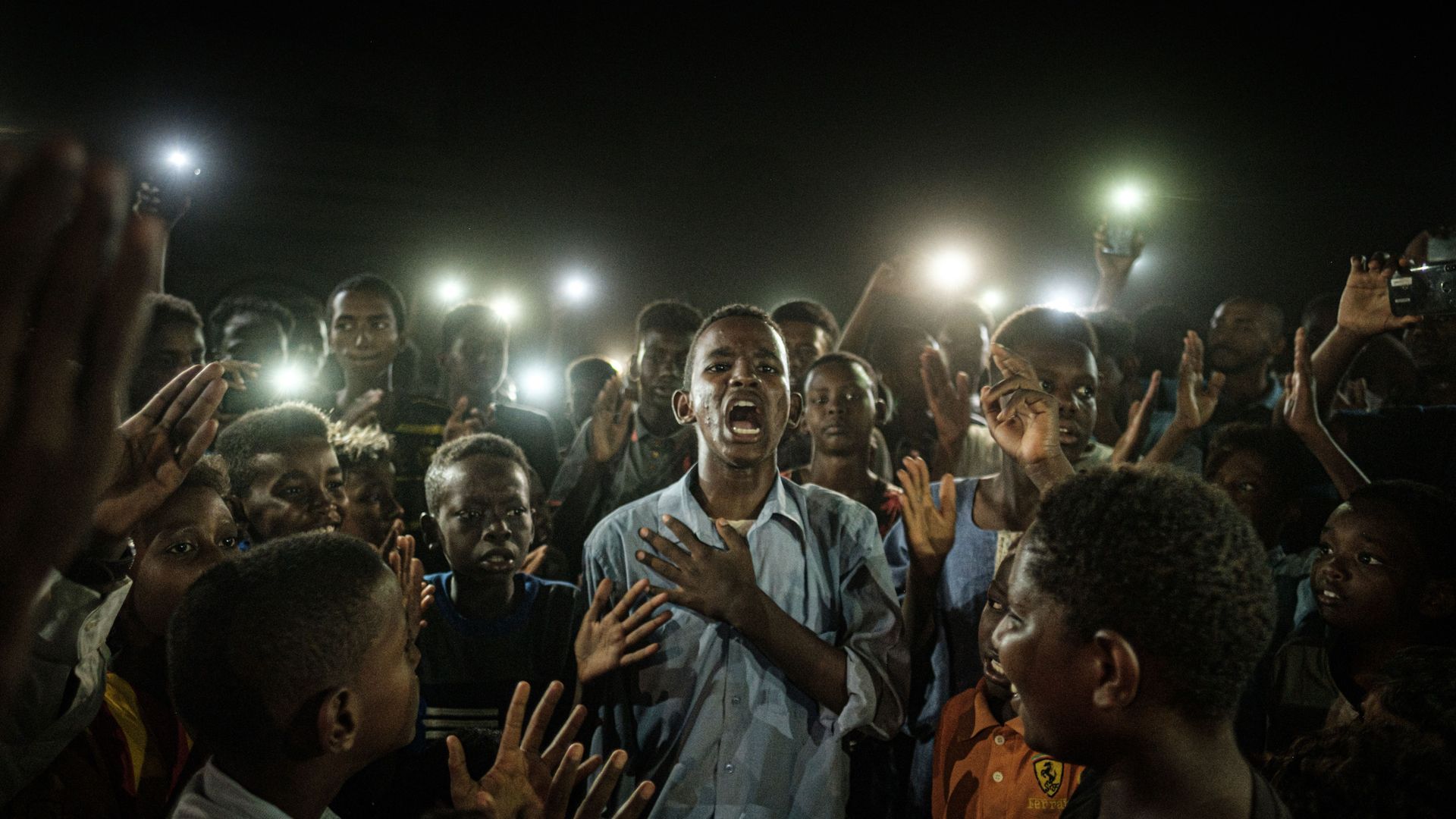 Quoted:
"I don't understand how we are supposed to interpret this. Does this mean they published existing, real information or that they put out a fake?"
— Vladimir Putin
responding
to
Trump's description
of an NYT report that the U.S. had accessed Russia's power grid as "treason"
Thanks for reading — have a lovely weekend!