Welcome to Axios World, where two evenings a week we break down what you need to know about the big stories from around the globe.
Thanks for joining me! Please tell your friends and colleagues to sign up, and I'd love your tips and feedback: lawler@axios.com.
Was this email forwarded to you? Sign up here.
1 big thing: U.S. insists Venezuela's Maduro will fall
The Trump administration's special envoy for Venezuela, Elliott Abrams, insisted today that the fall of Venezuelan leader Nicolás Maduro is inevitable, and issued yet another call for those supporting the regime to change sides.
The big picture: It has now been 3 months since the U.S. recognized National Assembly President Juan Guaidó as Venezuela's interim president. At that time, the U.S. hoped Venezuela's military would abandon Maduro. President Trump also suggested the U.S. might be ready to back Guaidó with force.
Instead, we've seen the suffering of the Venezuelan people deepen, U.S. sanctions escalate, and the political stalemate hold.
Speaking to reporters following a speech at the Atlantic Council, Abrams denied that support among Guaidó's backers was wavering, either inside Venezuela or internationally.
"More and more Venezuelans are aware of the fact that this regime has absolutely no answers to their problems. Everything is getting worse. We see it most recently with electric power and with water," Abrams said.
"There will be no recovery of the economy, there will be no recovery of democracy with this regime. ... It's just not really conceivable that this regime which is destroying the economy and society of Venezuela will remain in power."
Of the U.S. strategy to bring that about, Abrams said: "every week we do a little bit more," and insisted "a large list of options" remains at Trump's disposal.
Shannon O'Neil of the Council on Foreign Relations argues that Trump's strategy in Venezuela "has come up short," and he now risks "alienating influential players and easy friends alike" with his increasingly hard-line approach in Latin America.
O'Neil cites Trump's insistence on keeping the military option alive in Venezuela, disregard for European and Canadian objections over his new Cuba crackdown, and threats to cut aid to ally Colombia for failing to reduce drug trafficking.
"Bellicose posturing undermines the laborious work needed to galvanize the international community and pressure the Maduro regime," she writes.
What to watch: Martin Aguirre, editor-in-chief of Uruguay's El Pais newspaper, emails that the situation in Venezuela remains "top news" across South America, but "interest has faded a bit" as Guaidó has failed to make a decisive move.
"It's just that people have heard so much about how everything is about to explode, and then it still doesn't happen."
"Right now, I guess everyone is waiting to see what the government is going to do once the new sanctions start taking effect and the government runs totally out of resources," he writes. "Are Russia and China going to come to the rescue again? What's going to be their response?"
Worth noting: The Maduro-Guaidó power struggle is playing out in Washington, in addition to Caracas. 
"As the last of Maduro's diplomats prepared in recent weeks to leave the stately Venezuelan Embassy, nearly a dozen American protesters moved in — and vowed to block Guaidó's representatives from setting up shop," per the Washington Post.
Abrams said the left-wing protestors were "clearly" breaking the law and would be forced to leave. He added that it was "shameful" that any Americans would support the Maduro regime.
2. China: All roads lead to Beijing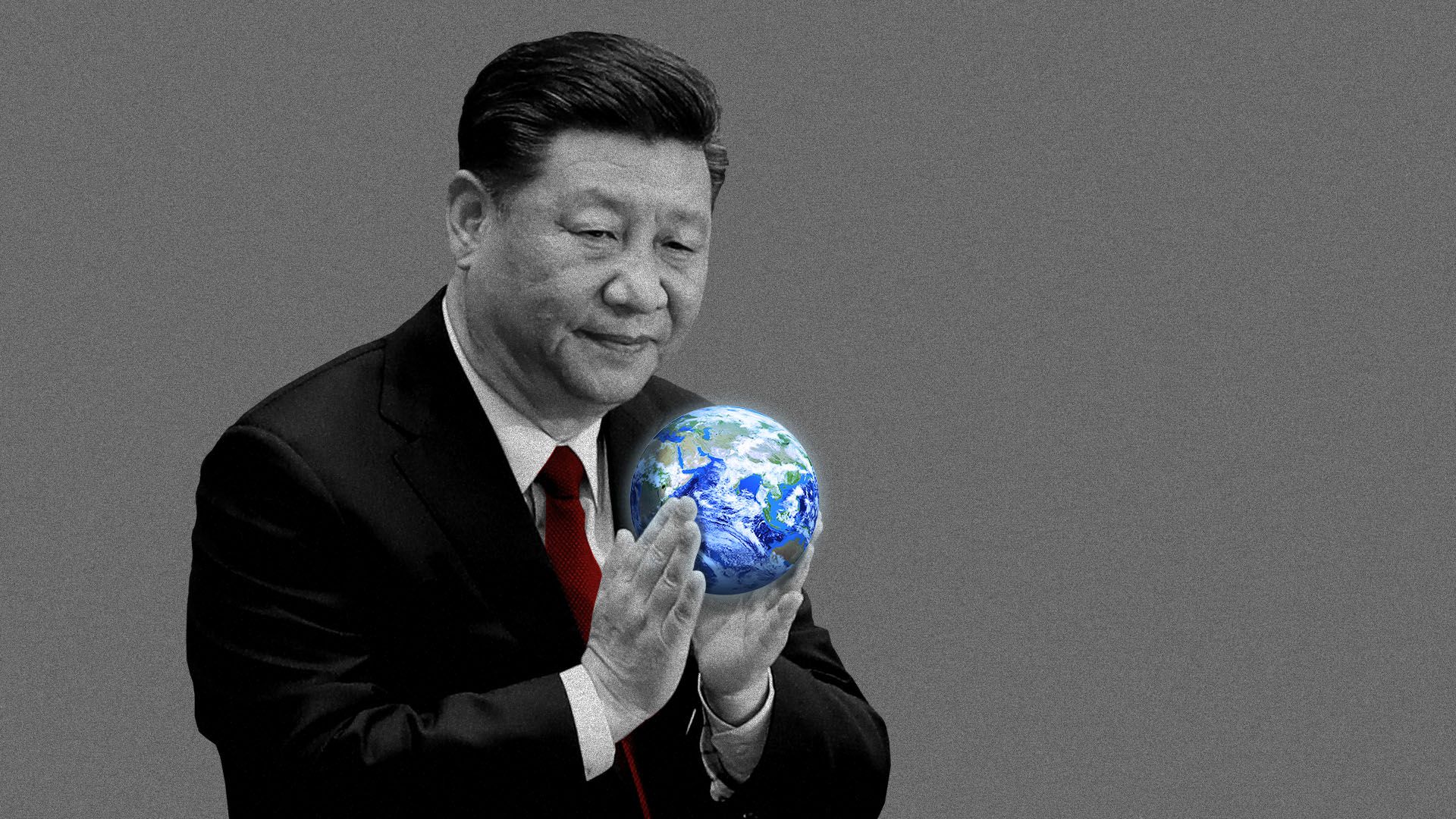 Leaders from 37 countries and delegates from more than 150 are gathering in Beijing for the second forum on China's sprawling Belt and Road infrastructure initiative.
The U.S. isn't sending any high-level representatives.
The backdrop: Getting that many world leaders to turn up might seem like a triumph for President Xi Jinping, but he'll actually have to do some damage control.
Jonathan Hillman of the Center for Strategic and International Studies (CSIS) writes for Axios Expert Voices that in the 2 years since the last forum, concerns have grown over corruption, debt sustainability, environmental impacts and local benefits in addition to worries about Beijing's true motives.
"High-profile projects in Sri Lanka, Malaysia, Montenegro and elsewhere have undercut the Belt and Road Initiative's promise to deliver 'win-win' outcomes, appearing to benefit China at the expense of its partners," Hillman notes.
Dan Kliman, of the Center for New American Security, says that while Xi will attempt to "rebrand and reboot" Belt and Road this week, "this is a strategic geopolitical exercise, so they don't want to take steps that would reduce their control."
The bottom line: Chris Johnson, a former top CIA China analyst now at CSIS, tells me the message will be: "We have heard your feedback, taken it into account, and we're making changes. But guess what, the region still has a huge need for infrastructure and we're ready to provide it."
Johnson says the message to the U.S. is, "try as you might, you're not going to be able to stop us."
What to watch: U.K. Treasury Secretary Philip Hammond will attend the summit, fresh off a decision to allow Chinese tech giant Huawei to help build the Britain's 5G network despite vocal U.S. objections.
Go deeper: China's road to global dominance
3. Kim-Putin summit: What's in it for Russia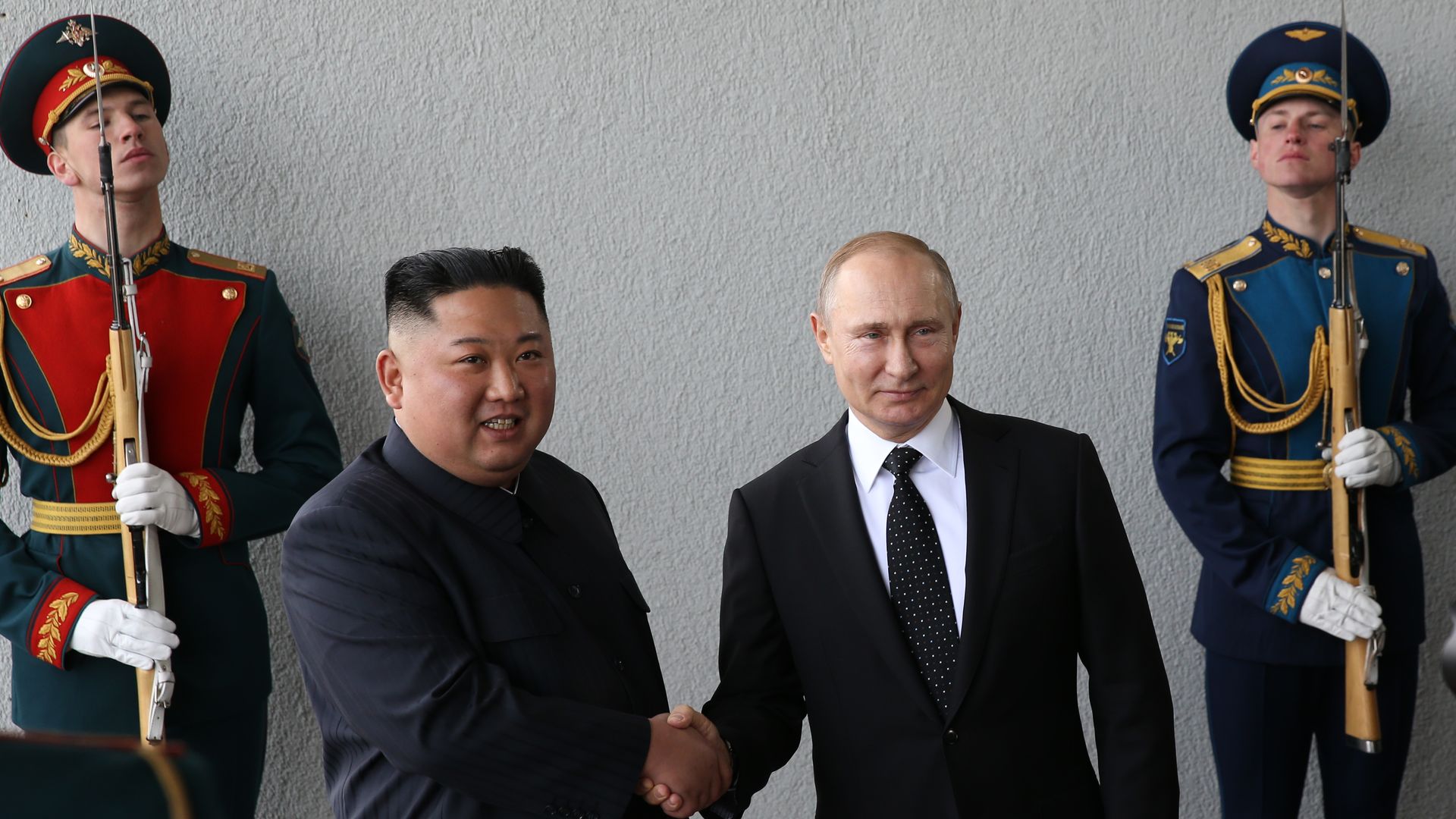 Russia's Vladimir Putin met for over 3 hours today with North Korea's Kim Jong-un, who traveled by armored train from Pyongyang to Vladivostok in Russia.
Why it matters: The meeting comes as North Korea makes its frustrations with the Trump administration clear after the failed summit in Hanoi, and it puts Russia at the table in a process where its role has been peripheral.
The BBC's Sarah Rainsford sets the scene from Vladivostok:
"... the red carpet rolled out, then big smiles, firm handshakes and warm words. It was a show of support by Russia meant to tell Donald Trump that his tactics of pressuring and threatening Pyongyang are mistaken."
"There was no joint statement or road map at the end of it all. But instead of collapse — like in Hanoi — this meeting ended in a champagne reception with the two leaders and their delegations serenaded by a Cossack choir as they tucked into beetroot soup and reindeer dumplings."
Putin doesn't want to see North Korea recognized as a nuclear state, but also opposes any sanctions that risk the collapse of the regime, according to Carnegie Moscow's Alexander Gabuev:
"The Kremlin's red lines and overall analysis of the situation are very similar to those prevailing in Beijing, making Russia a natural partner for China on the Korean Peninsula," he writes.
With Russia increasingly willing to butt heads with the U.S. and increasingly reliant on China, Moscow is "prepared to play bad cop in an unofficial division of labor on the Korean Peninsula," including at the UN.
The bottom line: Gabuev says the U.S. can't write Moscow off because "if any solution is to be achieved and blessed by the UN Security Council, the international community will need Russia's support, and so the diplomatic framework will have to accommodate the Kremlin's interests."
Go deeper: North Korea's message to Trump.
Update: What we know about the Sri Lanka attack
Sri Lanka has revised the official death toll from Sunday's attack down to 253, far lower than the 359 a police spokesman previously said died.
The defense minister resigned today after the government admitted it didn't act on intelligence warnings.
The suspected bombers came mostly from well-to-do families, and 2 were the sons of a wealthy spice merchant.
"Hundreds of Muslims, fearing revenge attacks, have been fleeing the city of Negombo, site of one of the attacks," per the BBC.
4. Europe: Spain's fractured politics on display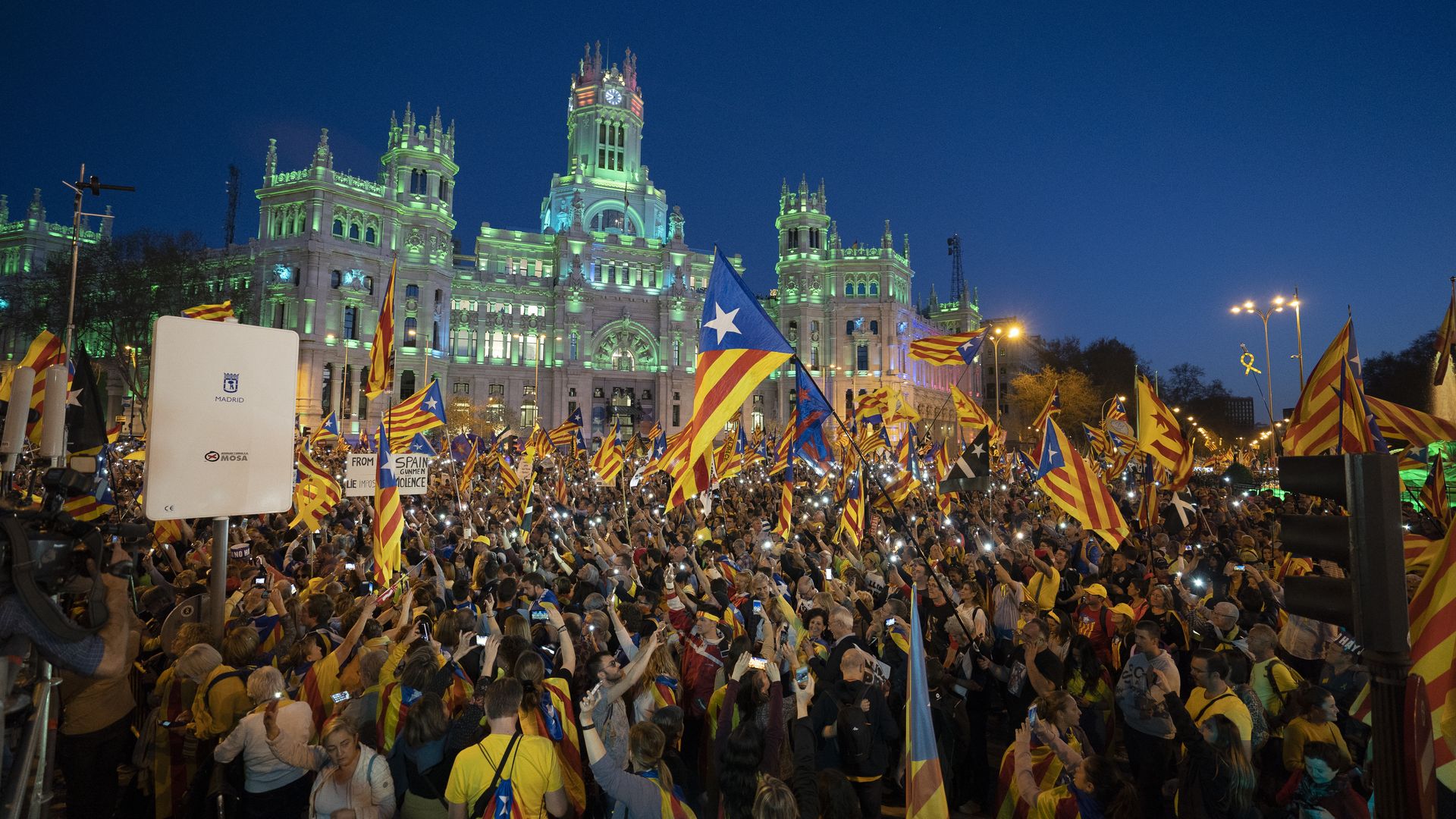 Spanish politics have been upended in recent years by the breakdown of 2-party dominance, a fiery national debate over Catalan independence and the rise of a new far-right movement, Vox.
Why it matters: All 3 factors will be central to Sunday's general election. Political paralysis is perhaps the most likely outcome.
Prime Minister Pedro Sanchez's Socialists lead in the polls, but would likely need the support of separatist parties to form a government. One problem: A dispute with pro-independence parties forced him to call the election in the first place.
The 3 right-of-center parties contesting the election have been portraying Sanchez as sympathetic to Calatan separatism at a time when leaders of the independence movement are on trial in Madrid for staging a 2017 referendum.
The election could yield a right-wing coalition that includes Vox, Spain's most successful far-right party since the death of dictator Francisco Franco in 1975, but the polls make that look unlikely.
What to watch: If no sustainable solution emerges, we could see yet another election before long.
The big picture: "The pattern is becoming familiar in Europe, where fed-up voters have abandoned the traditional parties of right and left (ask France's Republicans, or Italy's Democrats) and opted for a plethora of new groups, some on either extreme of the spectrum, others harder to pin down," the Economist notes.
"Political fragmentation has caused protracted delays to the formation of governments in Germany, Italy, Sweden and Estonia in the past year or so."
5. Europe: Macron's response to the Yellow Vests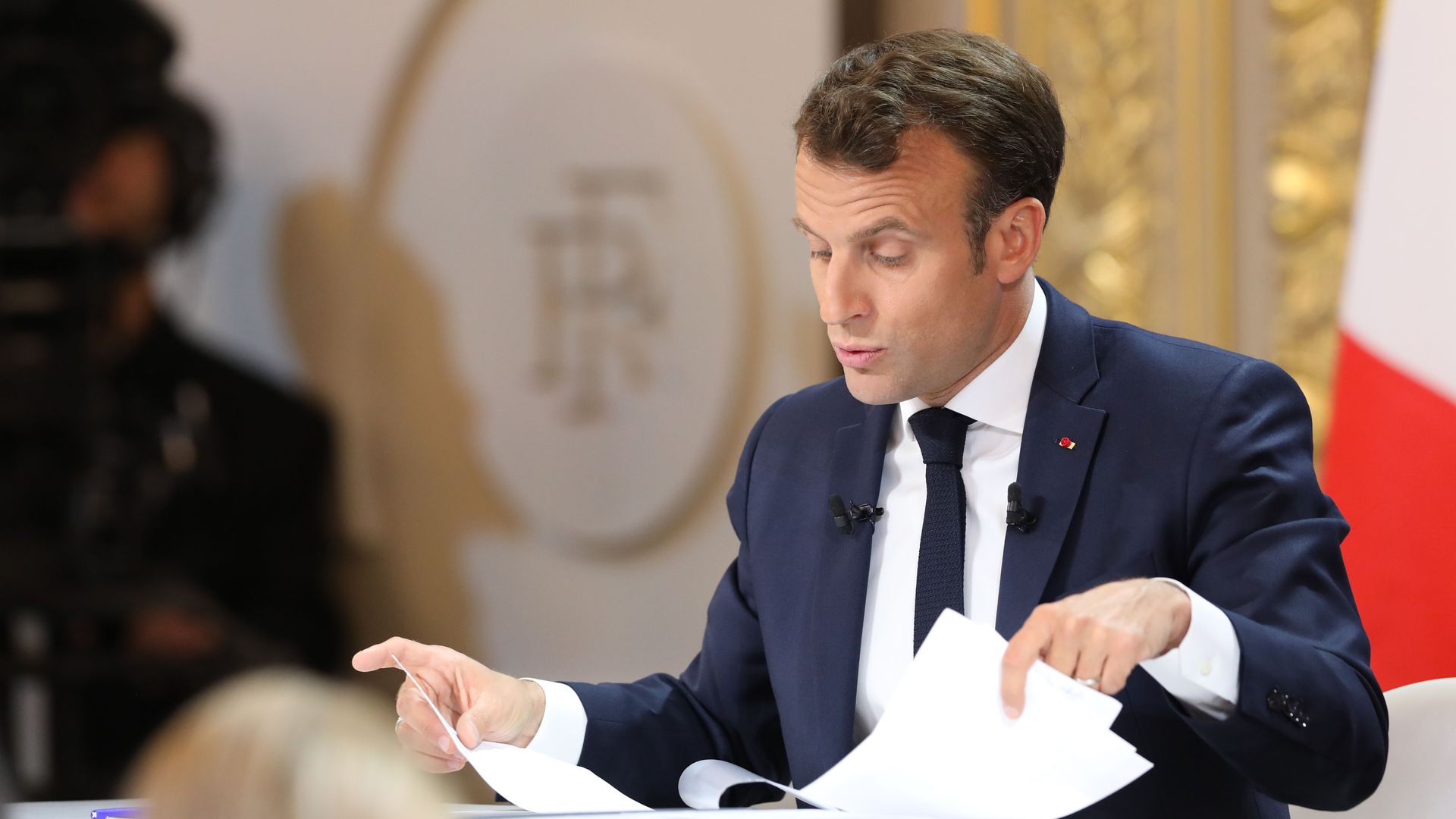 French President Emmanuel Macron "promised tax cuts, pension rises and a continuation of his reform program" in a long-awaited speech this evening responding to the "Yellow Vest" protests against him, per the Guardian.
The announcements didn't signify a dramatic shift — in fact, Macron insisted his economic reforms were more necessary than ever.
Macron spoke and took questions for a total of 2.5 hours. The remarks came after a 2 month "national debate" during which he traveled the country and began to chart a path forward after the protests had pushed his presidency off course.
"We are above all children of reason. It's from those debates, from this ability to say and contradict that solutions can be found for the country, not from obscurantism and conspiracy theories," he said, per the Wall Street Journal.
6. Data du jour: Most miserable countries
Did you do or learn something interesting yesterday?
Gallup asked that question to residents of 143 countries around the world. 85% in Panama and Paraguay said yes, compared to just 43% in Afghanistan. The global percentage was 49%.
Latin American countries were most likely to answer all of Gallup's "positive experience" questions — for example, "Did you smile or laugh a lot yesterday?" — in the affirmative, reflecting a "cultural tendency in the region to focus on life's positives," per the report.
As for the "negative experience" questions — about suffering physical pain, stress, sadness, etc. — Chad, Niger, Sierra Leone, Iraq and Iran ranked as "most negative."
Taiwan, Singapore and Kazakhstan had the lowest "negative experience" scores.
Worth noting: Countries of the former Soviet Union were least likely to say they'd had either positive or negative experiences the day prior. "In Azerbaijan, Belarus and Latvia, fewer than 4 in 10 residents reported experiencing any of these feelings."
7. Stories we're watching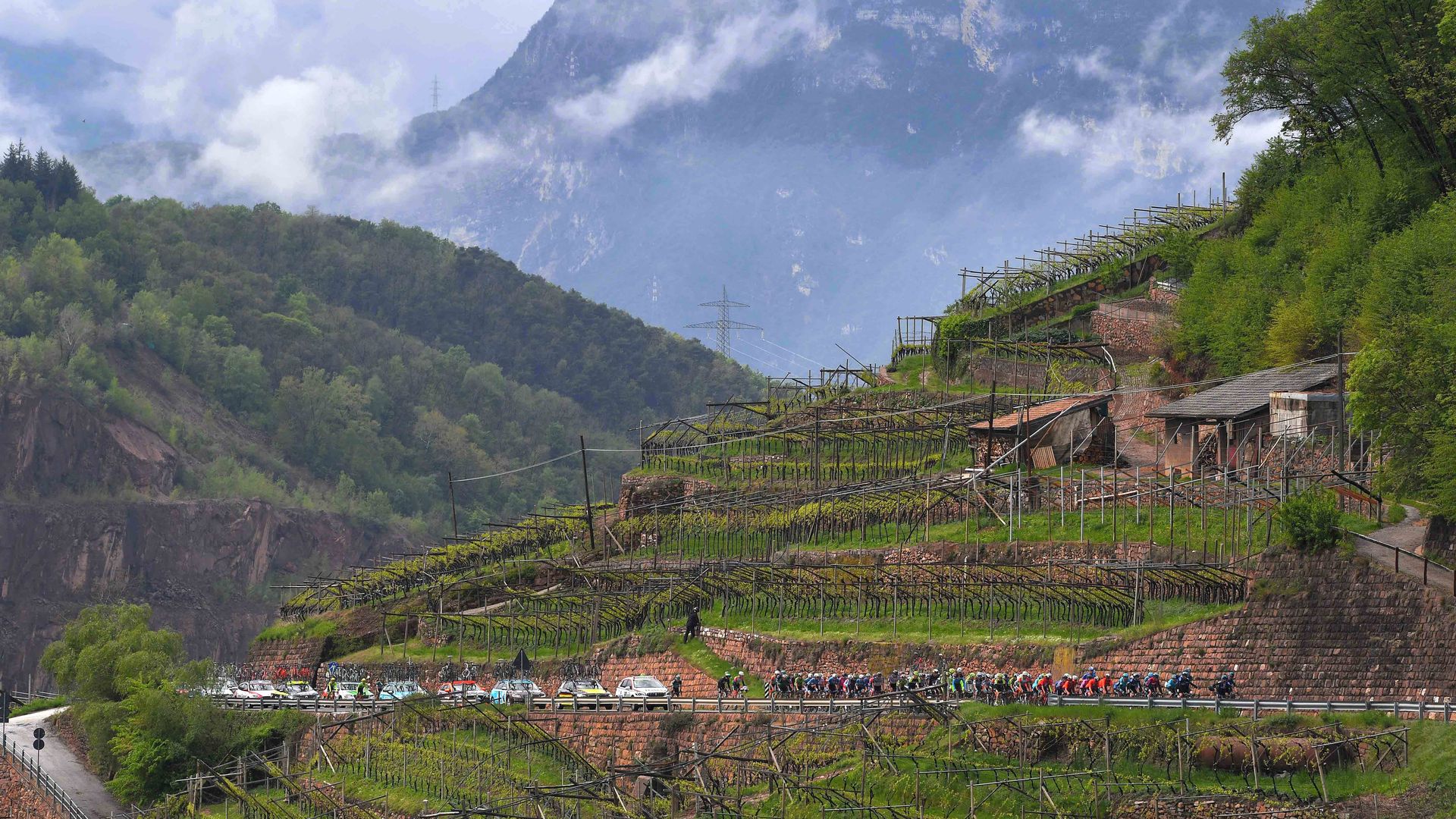 Quoted:
"The U.K. has vanished. The British ambassador told me — and I loved it — that every time the British military is meeting with the American military, the Americans are talking about the French."
— Outgoing French ambassador to the U.S. Gérard Araud,
to the FT
.
"I am sure you enjoyed making hay with the U.K.'s temporary Brexit travails but until there is a French President's bust in the Oval Office we will not take any lessons in having good relations with Washington."
— U.K. Foreign Secretary Jeremy Hunt,
on Twitter
.
Thanks for reading — have a wonderful weekend