Welcome to Axios World, where two evenings a week we break down what you need to know about the big stories from around the globe.
1 big thing: Is America a model for the world?
Most people in China would like to see their country's political system become more like America's over the next two decades. Japanese and Germans, not so much.
The big picture: Opinions of the U.S. have fallen dramatically around the world, due in large part to suspicion of the man in the Oval Office. But the Eurasia Group Foundation probed a deeper question: Do countries still see American democracy as a model? The answers were wide-ranging, and surprising.
The view from China:
Most Chinese respondents have either a somewhat (41%) or very (17%) positive view of the U.S. Far fewer feel very (9%) or somewhat (8%) unfavorable.
When it comes to American democracy, though, just 1% are very favorable and 5% very unfavorable. Most are in the middle — either somewhat favorable (42%) or neutral (40%).
However, 70% of respondents believe the U.S. should "focus on the flaws in its own political system instead of focusing on the political systems of other countries." Most also want a "less assertive" U.S. foreign policy.
Between the lines: At a time when Washington and Beijing are gearing up for a new Cold War, it's counterintuitive to find that most Chinese actually feel the U.S. political and economic systems set "a positive example for the world."
But, but, but: When given a choice of 15 countries and asked which has the best political system, Chinese respondents rank the U.S. second. Far out ahead, though, is China itself.
Germans have strikingly negative views of the U.S., and while that trend is driven in part by antipathy toward Trump, it seems to go deeper.
Just 19% say the U.S. has made the world a better place over the past 20 years, and only 23% think U.S. democracy is a good example for the world.
In India, meanwhile, overwhelming majorities have favorable views of the U.S. (76%) and U.S. democracy (86%).
Nigerians, Poles and Brazilians all have similarly pro-U.S. views.
For Egyptians, the picture is mixed — the U.S. political system is viewed more favorably than America itself.
Japan might be the most remarkable of all. Only 2% have highly favorable views of the U.S. or U.S. democracy, and just 2% want the Japanese political system to become much more like America's.
On all of those questions, the most popular response was "neutral."
As to America's global influence over the past 20 years, Japanese respondents were about evenly divided over whether it's been positive, negative or made "little or no difference."
"This is notable considering that, since the end of World War II, the United States has been the primary guarantor of Japanese security and that the two countries remain close allies today," report author Mark Hannah writes.
The bottom line: Across the 8 countries, the most-cited reasons for unfavorable views of the U.S. were opposition to Trump, U.S. interventions abroad and America's economic inequality.
People who had visited the U.S., knew people living there, or consumed American news and popular culture were far more likely to view the U.S. favorably. That underlines the importance of "attraction" rather than "promotion" in spreading democracy, Eurasia Group president Ian Bremmer writes.
2. Trump tells Pentagon chief he doesn't want a war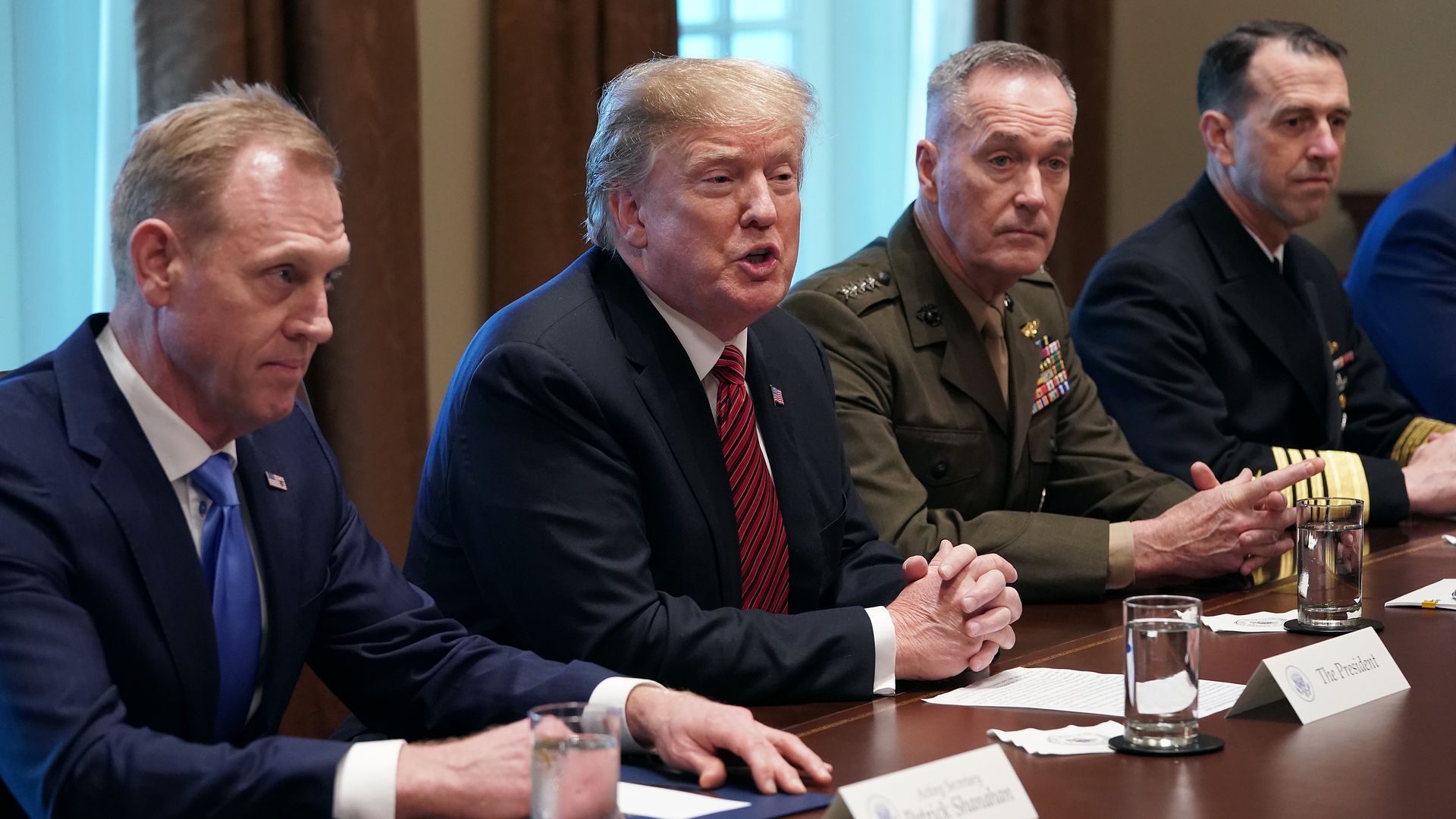 President Trump told acting Defense Secretary Patrick Shanahan on Wednesday that he does not want his pressure campaign against Iran to escalate to war, the NY Times reports.
Between the lines: National security adviser John Bolton and Secretary of State Mike Pompeo have been sounding the alarm about impending attacks from Iran and warning of "unrelenting force" if necessary. Trump has long been wary of military engagements in the Middle East, and this is the clearest signal yet that the standoff with Iran is no exception.
The big picture: Trump's sanctions campaign appears likely to cripple the Iranian economy, and his administration has insisted it won't ease up until the Iranian regime fundamentally changes its behavior, or collapses. There's no sign either is about to happen.
With Bolton and Pompeo amplifying their rhetoric and the U.S. dispatching additional military hardware to the region, fears of miscalculation leading to war have become acute — particularly among European allies.
The latest: The Times reports that the recent flurry of threats and activity from the administration, including the partial evacuation of the U.S. Embassy in Baghdad, was due to intelligence showing Iran placed missiles on boats in the Gulf that could potentially strike U.S. or allied targets.
What they're saying:
Ayatollah Ali Khamenei, Iran's supreme leader, said Tuesday: "We don't seek a war, and they don't either." He added that Tehran is not interested in negotiations and insisted, "our resoluteness is more unwavering than theirs."
Trump has denied that there's "infighting" in his administration on Iran, tweeting: "Different opinions are expressed and I make a decisive and final decision."
Go deeper:
3. China: Not going Huawei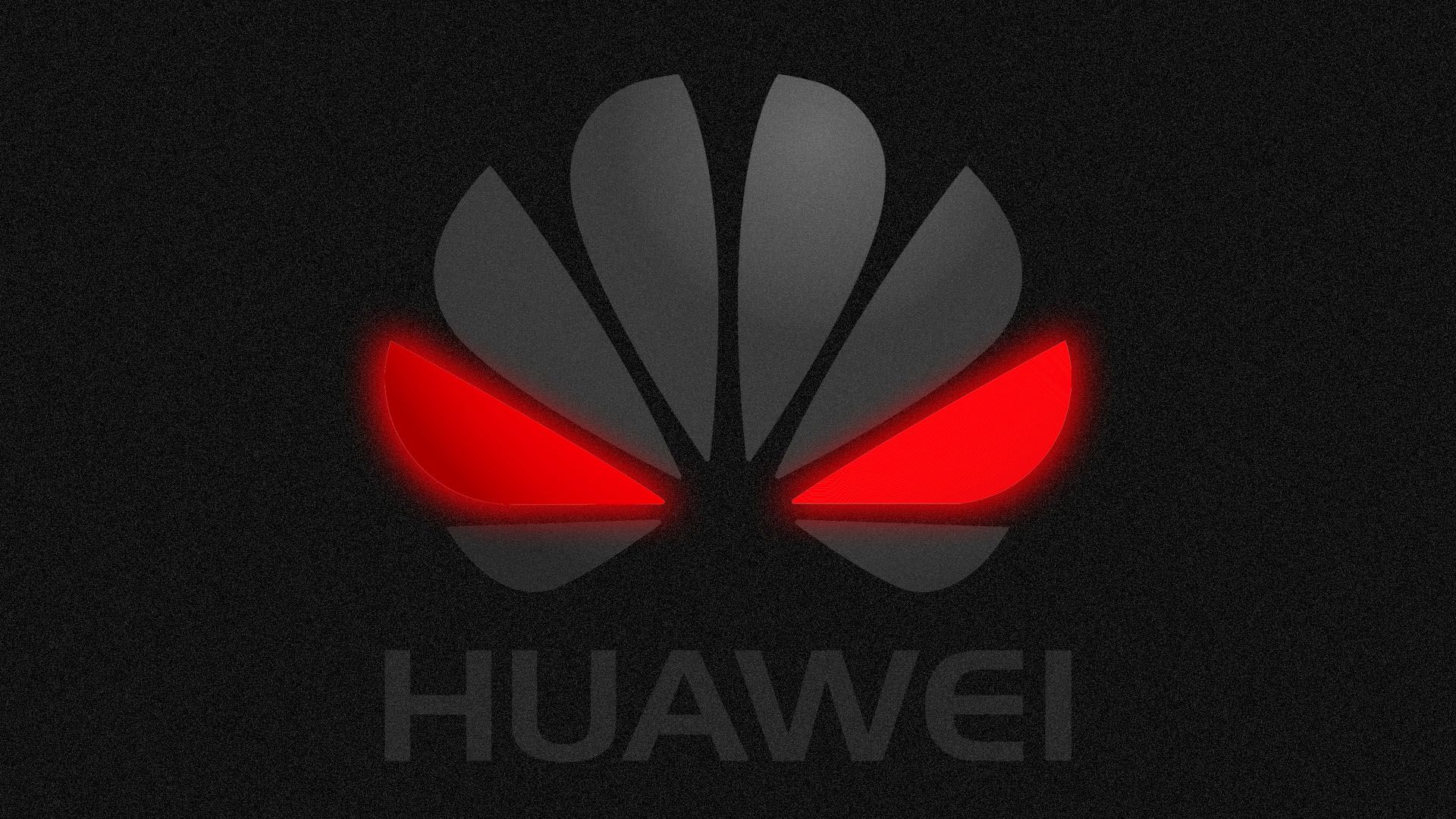 Beijing is crying foul a day after Trump declared a national emergency to effectively ban Chinese giant Huawei from U.S. telecom networks.
Context: The Trump administration has been adamant about the espionage risks of allowing Huawei a role in building out 5G networks around the world, and it has pushed allies to block out the Chinese firm — with mixed results.
Huawei is offering to sign "no-spy agreements" to ease concerns of countries like the U.K. or Germany.
"Few if any in China ... see Washington's fight with Huawei as purely concerned with national security but also as part of wider angst about trade with China and its rising tech prowess," the FT notes.
Meanwhile, China has formally arrested 2 Canadians caught in the U.S.-China crossfire.
Michael Spavor and Michael Kovrig were detained in December, days after Canada detained Huawei executive Meng Wanzhou on U.S. sanctions-busting charges. The espionage charges against them are widely viewed as politically motivated.
Go deeper: Trump's executive order creates new challenges for Huawei in the U.S., but in the meantime, the Chinese telecom giant is racing ahead under the world's seas, Jonathan Hillman of CSIS writes for Axios Expert Voices.
"So far, U.S. actions are focused on limiting Huawei's access to Western markets. But to shape tomorrow's communications networks, it would also have to compete in developing and emerging markets — especially in Asia and Africa, where 90% of global population growth by 2050 is expected."
4. World news roundup: Tough talks
1. Transition talks in Sudan have been suspended for three days as military authorities demand protestors remove barricades in the capital, Khartoum.
"The setback comes hours after the [Transitional Military Council] and the opposition agreed a three-year transition period to civilian rule," per the BBC.
There has been sporadic violence this week as soldiers attempt to break up the sit-in protests outside military headquarters.
The uprising in Sudan began in December and finally brought down strongman Omar al-Bashir last month. There have been sharp disagreements since about who should hold power until elections can eventually be held.
2. The UN envoy for Yemen says there have been both "signs of hope" and "alarming signs in recent days," AP reports.
Houthi rebels have been withdrawing from three key ports in coordination with the UN. But they've also used drones to attack oil facilities in Saudi Arabia.
Meanwhile, the Saudi-led coalition reportedly killed several civilians during airstrikes today in the capital, Sana'a.
3. "Diplomatic efforts aimed at resolving Venezuela's crisis accelerated on Thursday as the government and opposition sent envoys to talks in Norway, though the two sides' mutual mistrust and differences on key issues could prevent any quick solution," per AP.
That's part of a sudden surge of diplomatic activity around the crisis in Venezuela. Juan Guaidó, the U.S.-backed opposition leader, said he planned to meet a European delegation in Caracas, and the foreign ministers of Canada and Cuba met today in Havana.
5. Asia: Pakistani "brides" sold by Chinese gangs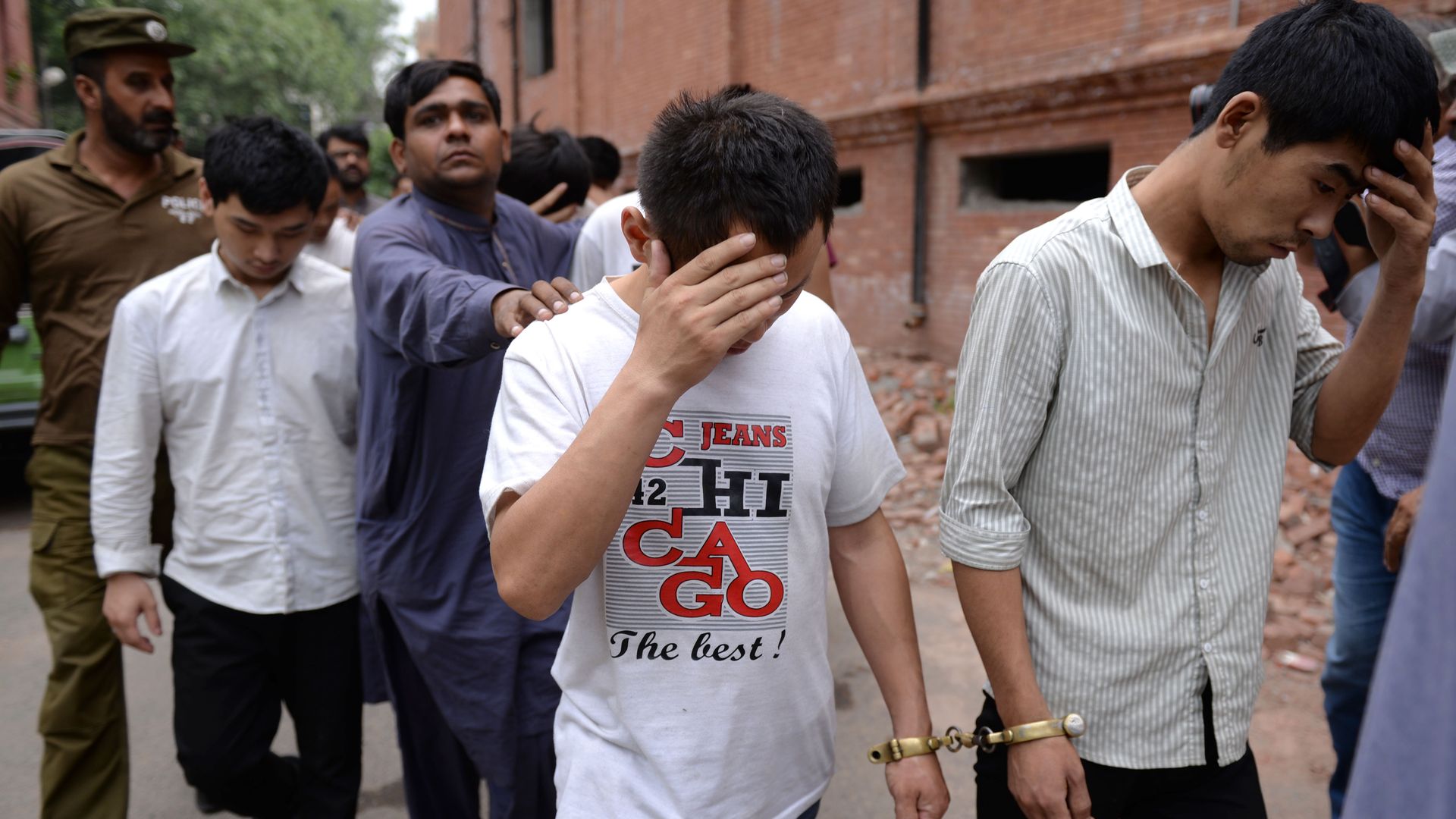 Pakistani authorities have arrested more than two dozen Chinese nationals involved in allegedly selling Pakistani women into forced marriages in China, Axios' Phanindra Dahal reports.
Why it matters: Human rights groups have documented numerous cases of women sold to Chinese men struggling to find wives due in part to the gender imbalance in the country.
A report by the U.S. State Department says such women have been deceived, forced into unwanted pregnancies, confined for forced concubinism and subjected to prostitution.
The latest: Around 30 Chinese nationals allegedly seeking or helping to sell brides have been arrested in raids in multiple Pakistani cities, according to law enforcement officials. Local agents accused of luring poor families into marrying their daughters to Chinese men have also been arrested.
The big picture: There are documented cases of women being trafficked to China from Myanmar, Cambodia, Laos, Vietnam, North Korea and Pakistan, says Heather Barr, acting co-director of the Women's Rights Division at Human Rights Watch.
The "pull factor," Barr says, is the gender disparity in China, which was exacerbated by the one child policy because many parents wanted their only child to be a son. There are 30–40 million more men than women in China.
The "push factor" is conflict and desperate conditions in countries like Myanmar, which leave women vulnerable to trafficking.
The bottom line: The State Department's anti-human trafficking watchdog has stated that Beijing has not met its minimum standards for the prevention of human trafficking.
6. Coming attractions: Australia's election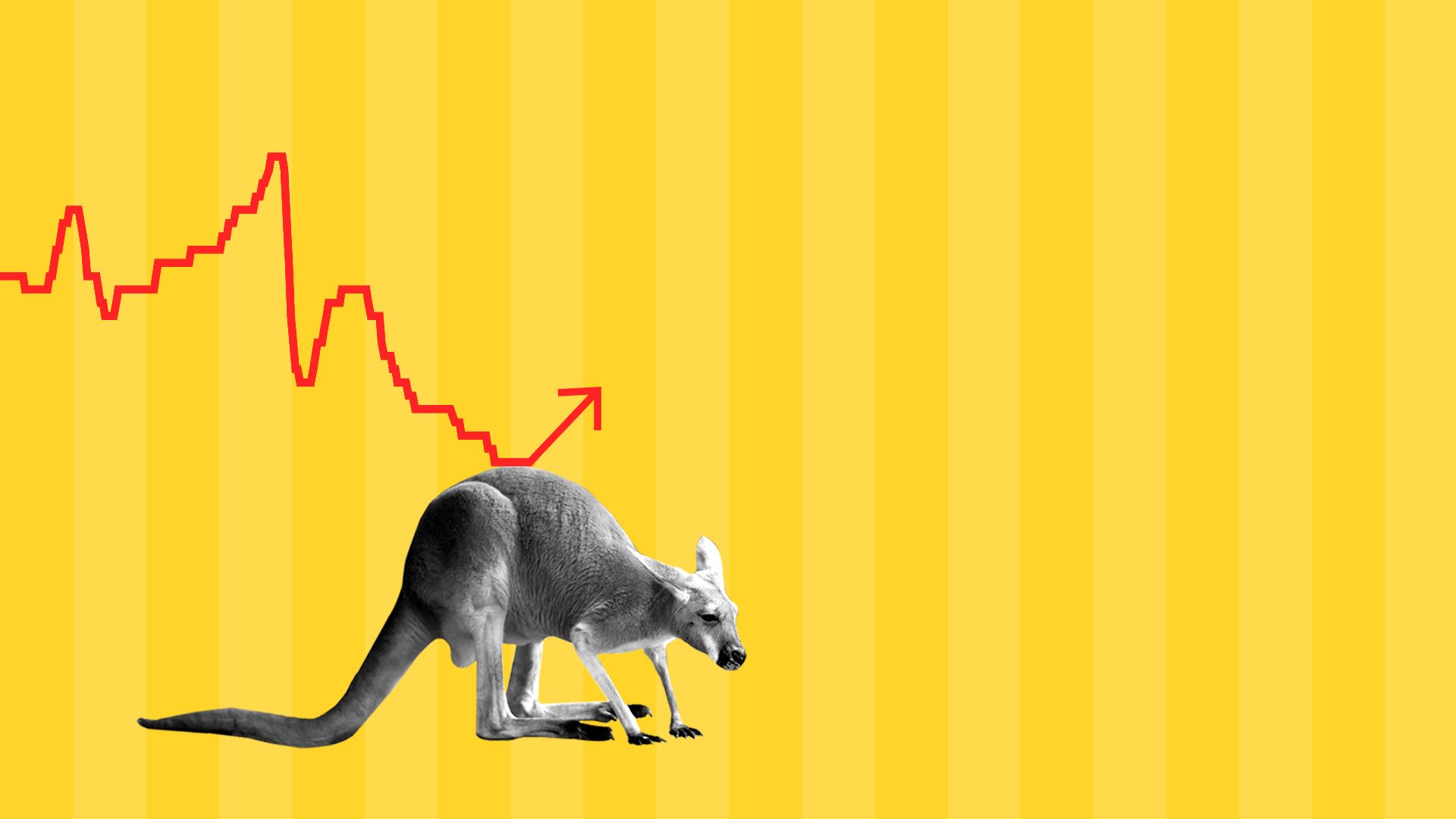 The opposition Labor Party's lead over the ruling center-right coalition has narrowed to just 3 percentage points ahead of Saturday's general election, according to a new poll from The Guardian.
Labor is "laying out a suite of policies including controversial tax reforms targeting the 'top end of town,' which it says will reduce inequality and fund health, education and environmental programmes," per the Guardian.
Prime Minister Scott Morrison, who has only had the job for nine months, is warning against "an experiment that puts our economy under unnecessary pressure" at a time when the U.S.-China trade war and other factors have Australia's long economic winning streak in jeopardy.
Morrison's Liberal Party has been riven by infighting, shuffling through three prime ministers in as many years.
What to watch: Labor's Bill Shorten, a former union leader, is likely to be Australia's next prime minister despite being quite unpopular. He's much more dovish on China and far more concerned about climate change than Morrison.
7. Stories we're watching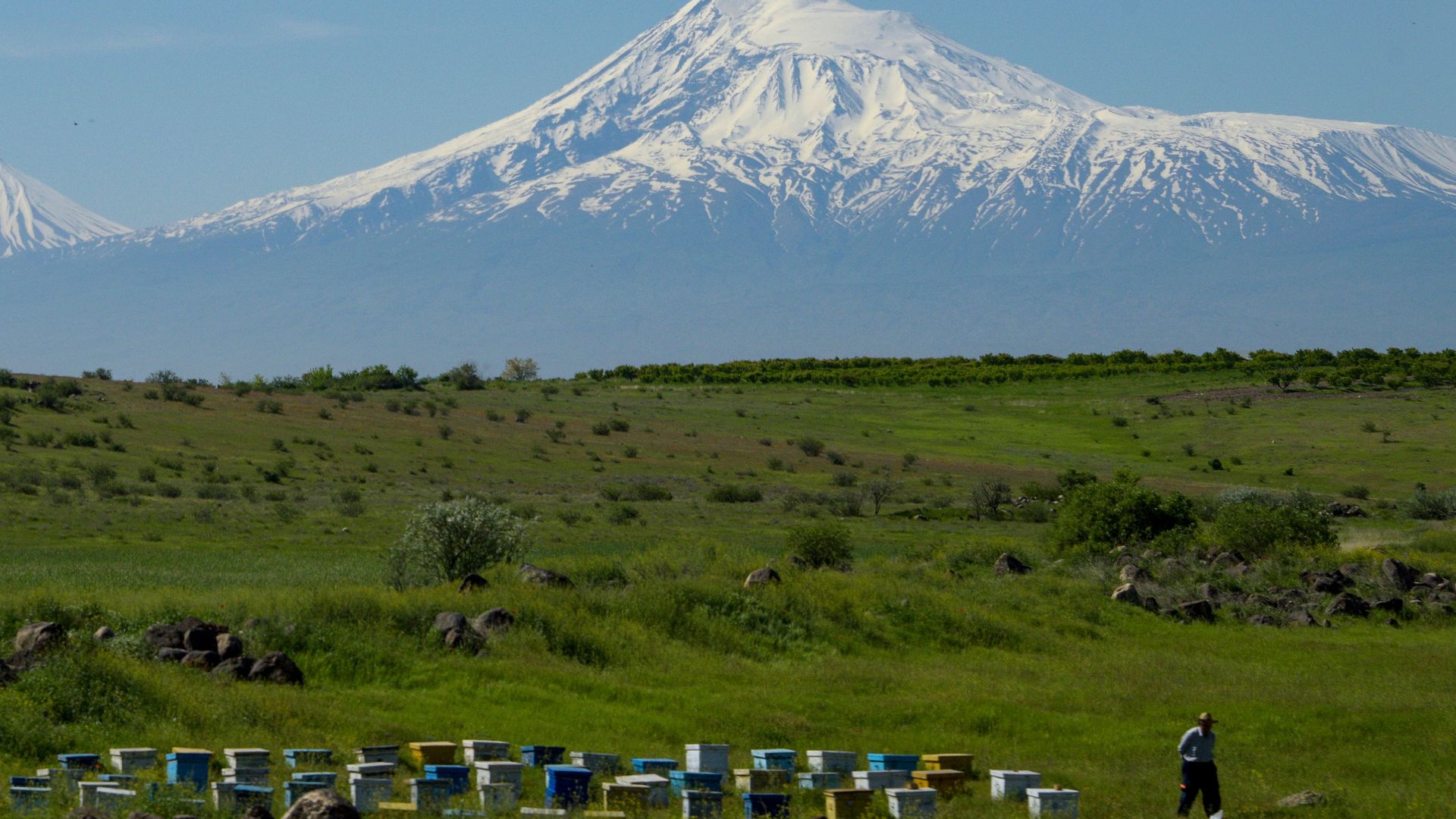 Quoted:
"I hope not."
— Trump today, asked if the U.S. would go to war with Iran
Thanks for stopping by — have a glorious weekend.