Welcome to Axios World, where two evenings a week we break down what you need to know about the big stories from around the globe.
Normal service has now resumed. I hope you're all rested up and ready to make 2019 wonderful. Please tell your friends and colleagues to sign up here, and I'd love your tips and feedback: lawler@axios.com.
1 big thing: Bolsonaro lands with a thud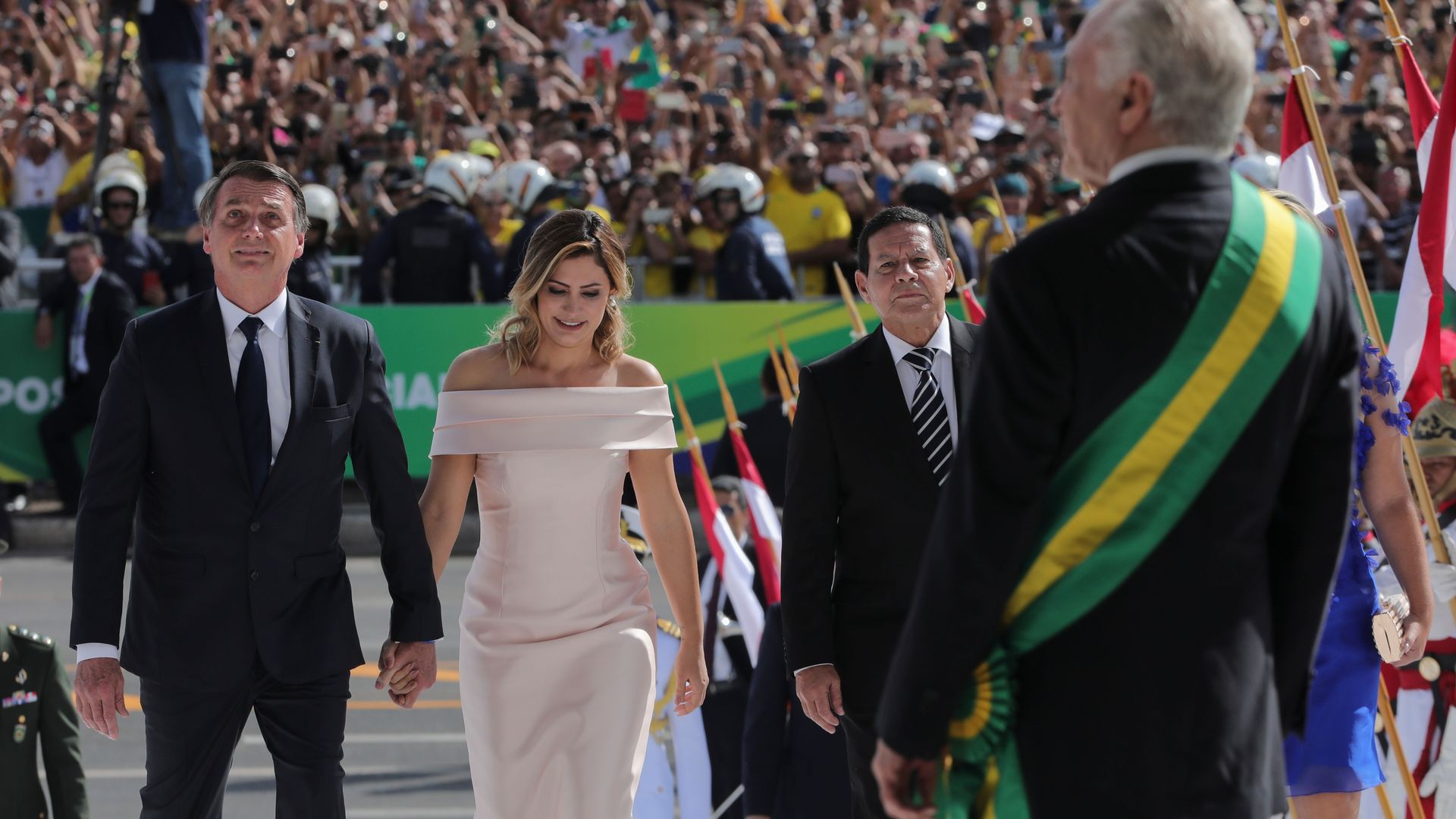 Brazil's new president seemed to confirm the fears of his critics and the hopes of many of his supporters within hours of taking office on New Year's Day.
Jair Bolsonaro, a right-wing firebrand, issued executive orders making it far more difficult for land to be set aside for indigenous groups — a boon for the powerful agro-business lobby — and removed LGBT concerns from the portfolio of the human rights ministry, which will be run by an evangelical minister who echoes Bolsonaro's claims about the "ideological indoctrination" of Brazil's youth.
The big picture: The former army captain has a penchant for insulting women, gay people and minorities, and an affinity for military rule. The stock market loves him so far, and he's viewed as a natural ally by the Trump administration.
President Trump praised Bolsonaro's inaugural address, which was attended by Secretary of State Mike Pompeo.
National security adviser John Bolton has hailed Bolsonaro's election as a "positive sign" and suggested he could help counter leftists in the region while increasing the pressure on Cuba and Venezuela.
Martin Aguirre, editor-in-chief of Uruguay's El Pais newspaper and a former Axios fellow, emails from Montevideo that "Trump is going to love this guy."
"He will be an unconditional ally of Israel, shares many protectionist views with the U.S. when it comes to China, and will definitely be on Trump's side on issues like global warming or migration."
"He fits perfectly into this new breed of right-wing leaders, like [Hungary's Viktor] Orbán or [the Philippines' Rodrigo] Duterte, who are shaking the world political landscape, freaking out journalists, traditional politicians, and status quo institutions."
The region's other power, Mexico, recently elected a leftist president in Andrés Manuel López Obrador who is likely to clash with Trump, Aguirre writes. "The fact that at the same time the other powerhouse elects a president so aligned with U.S. short-term interests can only be seen as a relief for the White House," particularly if he "manages to align this new wave of center-right leaders in the region."
Two key questions:
Can Bolsonaro really implement his free trade platform? "Brazil is a very closed country on trade, and the big industrialists and businessmen fear an opening, so it's going to be interesting to see who wins there."
Can he really pivot away from China, Brazil's largest trading partner, as the Trump administration hopes? That will be difficult, considering the "agro-business was Bolsonaro's biggest supporter and China buys all their soybeans and beef," Aguirre writes.
For those reasons, Daniel Erikson argues for Axios Expert Voices that despite his strident criticism of China on the campaign trail, Bolsonaro is "likely to assume a more pragmatic attitude toward Beijing once in office."
2. Russia charges American with espionage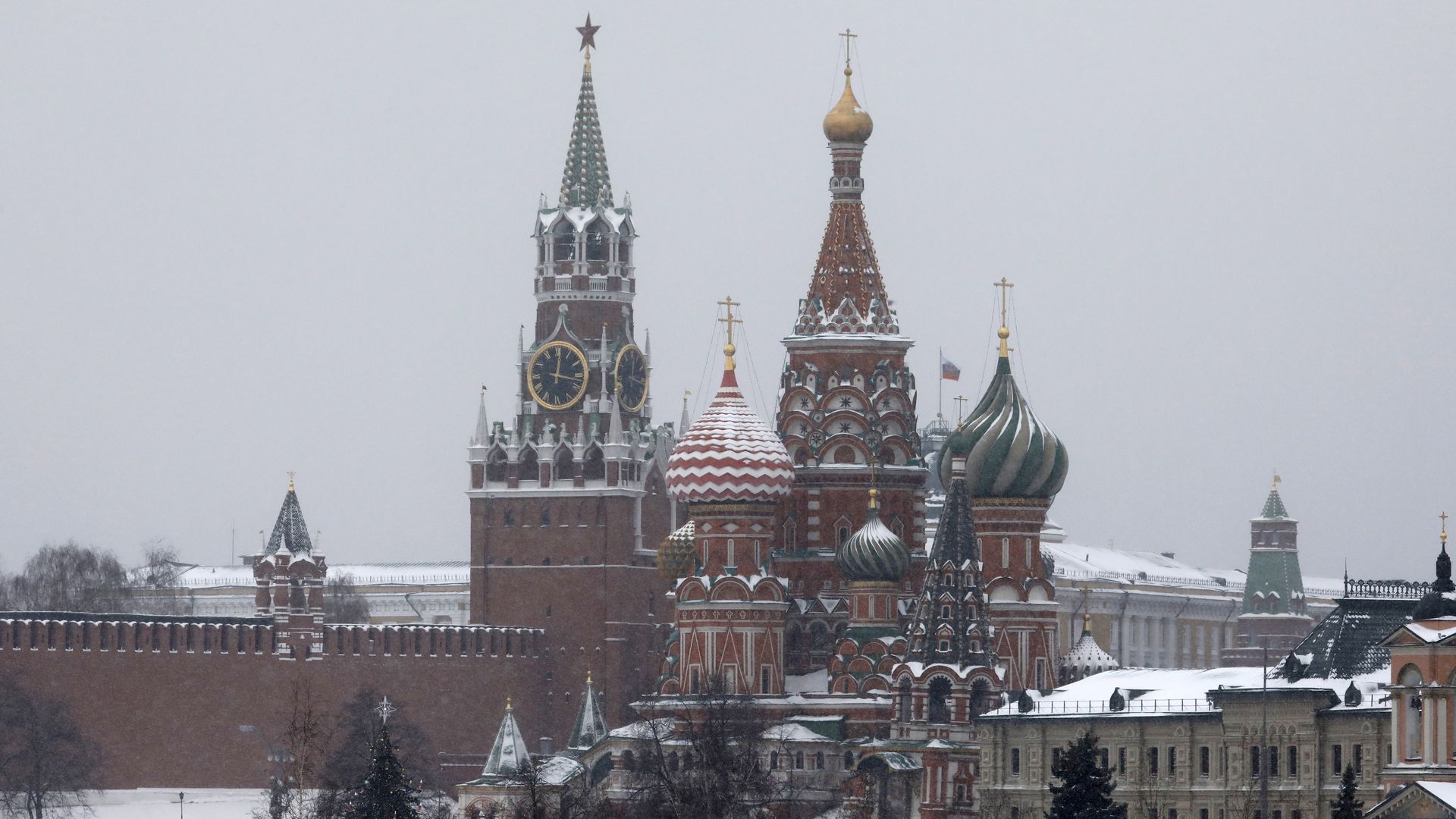 Paul Whelan, a former U.S. marine, was reportedly charged with espionage today in Moscow. Whelan has been held for six days and was visited yesterday by U.S. Ambassador Jon Huntsman. His lawyer says he pleaded not guilty.
Russia says Whelan was captured during a "spy mission." Russian news agency Rosbalt cites a law enforcement source who says Whelan was "caught red handed" after accepting a flash drive with sensitive information, per Meduza. That report is drawing plenty of skepticism.
Whelan's family says he traveled to Moscow for a wedding. The U.S. government isn't saying much. Secretary of State Mike Pompeo said only that the U.S. would demand his return "if the detention is not appropriate."
Experts say it's highly unlikely Whelan is a spy. "The way we run spy cases in Moscow is very, very carefully, very meticulous," John Sipher, who once ran the CIA's Russia program, told the Washington Post. "We don't send in random Americans without diplomatic immunity to collect low-level stuff."
The bottom line: "[F]ormer CIA officers say that, far from a counterintelligence coup, the American's detention is most likely payback for the U.S. arrest of confessed Russian agent Maria Butina," The Daily Beast reports.
Bonus: Electricity prices around the world
The big picture: Western European nations are saddled with the highest electricity prices in the world due to high fees and taxes, Axios' Amy Harder writes. Prices in other countries, such as the U.S., are far lower — partly because of lower taxes. Many Middle Eastern nations (not shown) have even lower prices.
Go deeper: See how much you pay for electricity compared to rest of America
3. Asia: Indian state "paralyzed" by protests, violence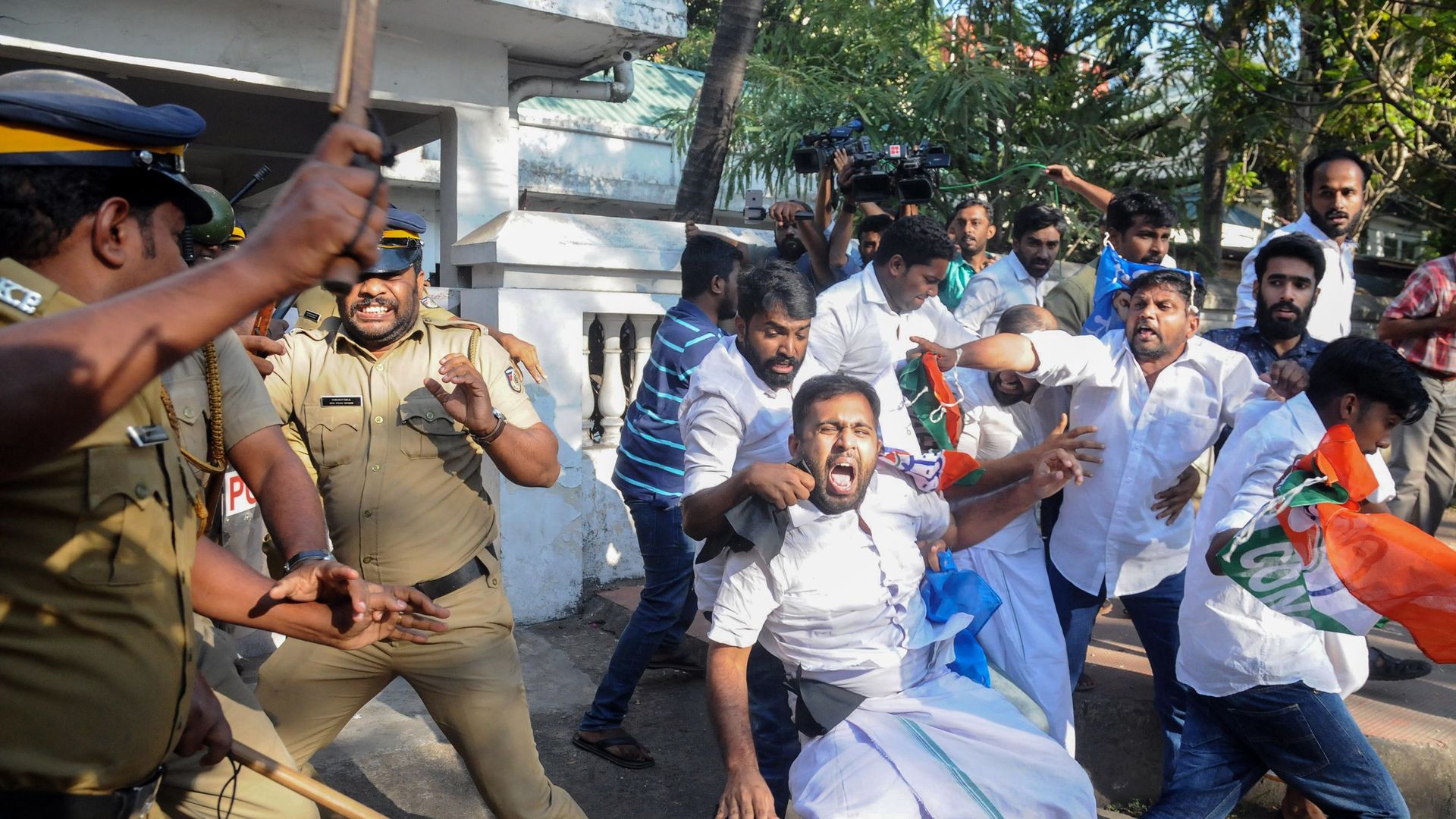 Violent protests have "paralyzed" the Indian state of Kerala, per BBC, after two women made history Wednesday by entering the Sabarimala Hindu temple, which women of "menstruating age" had previously been barred from.
"Right-wing groups, supported by India's ruling Hindu nationalist Bharatiya Janata Party (BJP), demanded a state-wide shutdown. They wanted schools, colleges and businesses to remain closed as a sign of protest," per BBC.
What's happening: Right-wing mobs "hurling crude bombs and stones ... rampaged through the streets of Kerala" today, the Times of India reports. Dozens were injured.
What to watch, from Joydeep Sen of Oxford Analytica:
Prime Minister Narendra Modi and the BJP "will be seeking a second term at the general election likely in April or May. The clashes in Kerala underscore the potential for religious protests to turn violent."
"In the febrile atmosphere of an election campaign in which the BJP will likely lean more heavily on Hindu nationalism, further violent protests are likely. Sabarimala and Ayodhya (where activists want to replace a mosque destroyed by right-wing groups in 1992 with a Hindu temple) will be key points of reference for Hindu nationalists."
4. Africa: Congo cuts internet over "fictitious results"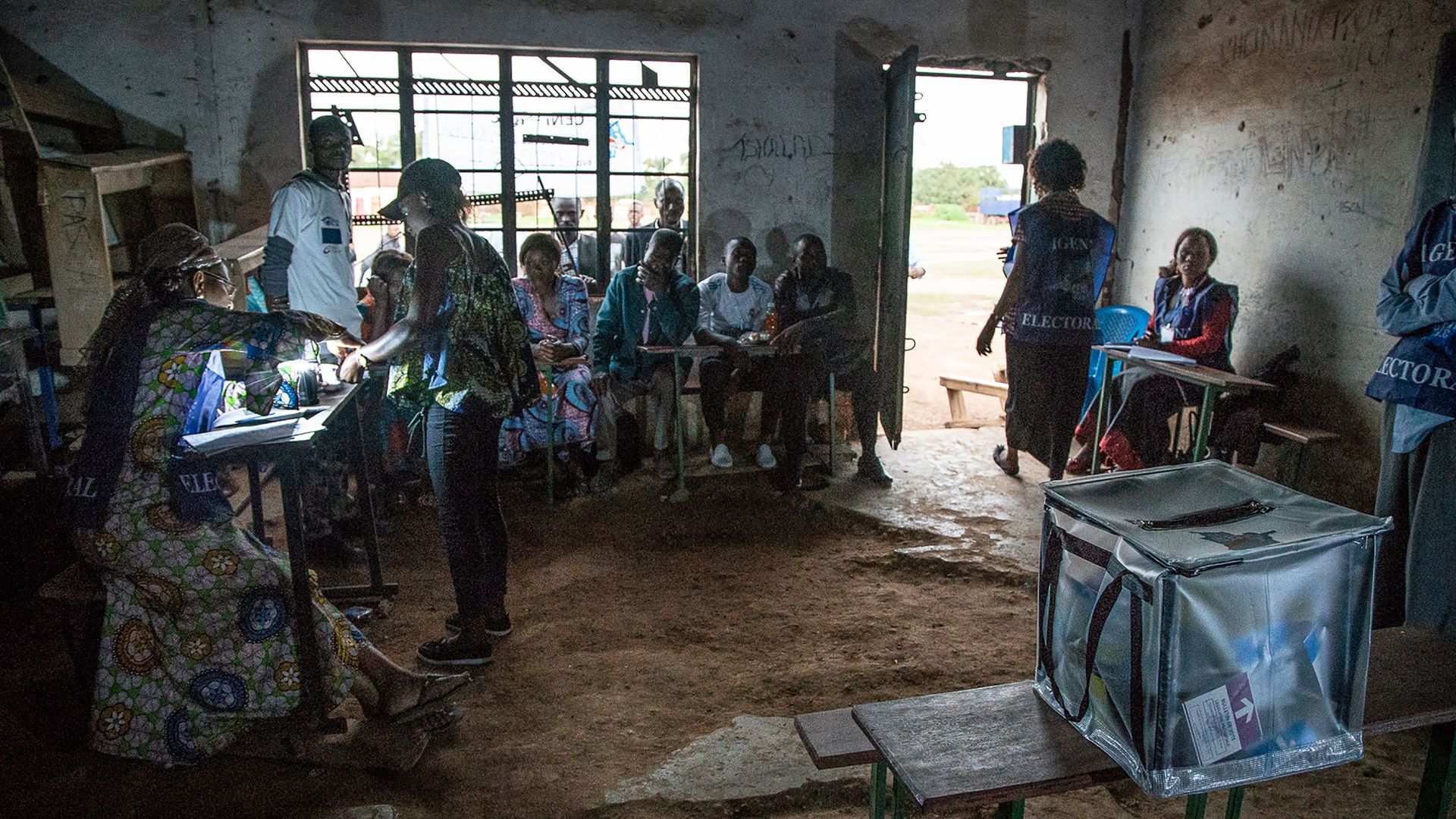 The government in the Democratic Republic of the Congo cut internet and texting services across the country this week following Sunday's election, claiming "fictitious results" were swirling on social media, per Reuters.
The government also blocked a radio station and an opposition-owned TV station. During the election itself — which was marred by irregularities and massive logistical hurdles — three opposition strongholds were not allowed to vote, officially because of Ebola and security concerns.
The Catholic Church, one of the few well-organized and trusted nongovernmental groups in the DRC, had thousands of election monitors in place and says there was "a clear winner." They haven't said who they believe won.
What's next: We could be waiting a while for results. They likely won't all be in by Sunday's deadline, the country's electoral commission says. When the results are announced, violence is highly possible. Congo has never had a peaceful transfer of power.
The big picture: James Griffiths writes for CNN that Congolese internet users might be "getting a preview of just what Chinese-crafted cyberspace rules look like." He notes that "internet shutdowns have spiked sharply around the world in recent years."
5. China roundup: A bite out of Apple
Three China-related stories for your radar screen ...
1. Apple led a rout in the stock markets a day after it warned it would fall far short of targets primarily due to weak business in China.
Thought bubble, from Axios' tech editor Scott Rosenberg: Apple's warning, while rare and a temporary shock to its shares, is probably more alarming for the wider world, since Apple's visibility into what is actually happening in China is likely to be more reliable than more official info on the state of the Chinese economy. In other words, this could be worse news for China — and the world economy — than for Apple specifically.
2. China's space agency said today that it had landed a probe on the far side of the moon for the first time in history. That's a big breakthrough for the country as it establishes itself as a major player in space.
3. President Xi Jinping said Taiwan "must and will be" reunited with China in a speech Wednesday, and he warned that Beijing could use force to make that happen. Taiwanese President Tsai Ing-wen said Taiwan would never accept that.
6. What I'm reading: A mysterious Russian in Canada
A year ago, a source told Mark MacKinnon of the Globe and Mail: "If you want to understand this whole Trump-Russia thing, look into a guy named Boris Birshtein." MacKinnon followed that trail to a wealthy Toronto neighborhood, and far beyond:
"The broad outlines of the man, I discovered, were easy enough to discern: Boris Birshtein was born in 1947 in Soviet-occupied Lithuania. He first gained a measure of fame in the early 1990s, as one of the most powerful businessmen to emerge from the collapse of the USSR."
"He dabbled — not unlike Mr. Trump — in real estate and entertainment, and he dreamed, as well, of building a hotel in the centre of Moscow."
"But the deeper I dug, the more labyrinthine the tale became. Law-enforcement and intelligence sources told me they themselves had struggled for decades to understand just who Mr. Birshtein was, and who, if anyone, he worked for. Some diplomats and intelligence agents described his powerful and multitentacled company, Seabeco, as a front for KGB-linked operations. Police told me they believed, but could never prove, that he operated under the protection of the Russian mafia."
7. Stories we're watching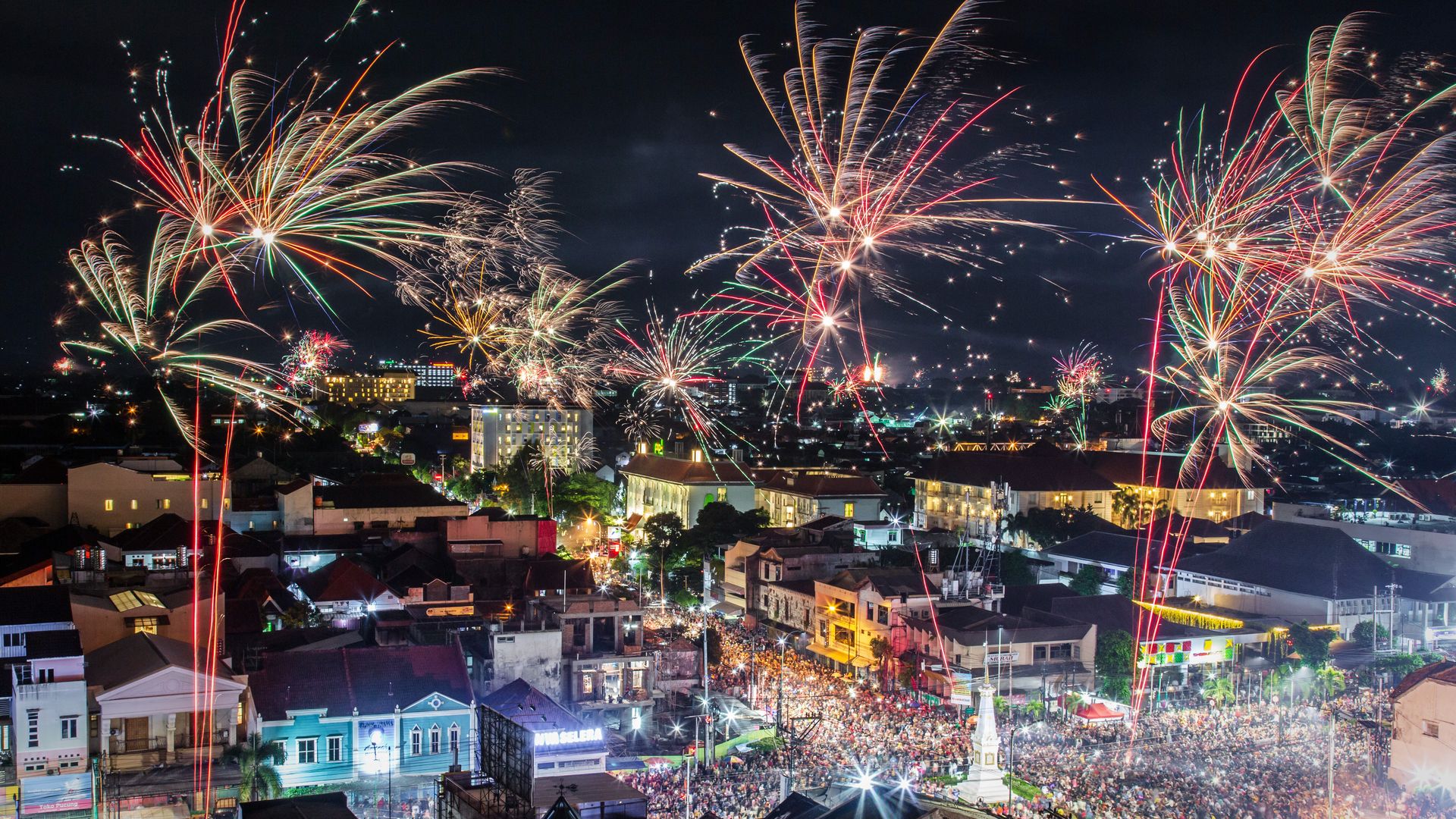 "It's not gonna be just Apple. I think there are a heck of a lot of U.S. companies that have a lot of sales in China that are basically going to be watching their earnings be downgraded next year until, you know, we get a deal with China."
— Kevin Hassett, chairman of Trump's Council of Economic Advisers
Thanks for stopping by — see you Monday evening!