Welcome to Axios World, where two evenings a week we break down the big stories from around the globe.
Thanks for joining me! Please tell your friends and colleagues to sign up, and I'd love your tips and feedback: lawler@axios.com.
Brevity check: Tonight's edition is a slender 1,432 words (< 6 min. read).
Situational awareness: We're off Monday for Memorial Day.
Was this email forwarded to you? Sign up here.
1 big thing: Modi crushes all opposition
Prime Minister Narendra Modi's BJP has won or is leading in 303 of 543 seats up for grabs in India's general election — a whopping 6 times more than the largest opposition party, Congress.
Why it matters: This is a landslide of staggering proportions. It earns Modi another 5 years in office and establishes him as India's most powerful politician in decades.
Congress, the party of Mahatma Gandhi and Jawaharlal Nehru, led India for all but 12 years between 1947 and 2014. It's now fading into the electoral wilderness while Modi remakes Indian politics in his image.
The massive election — with 900 million eligible voters and 1 million polling places — unfolded over five weeks, with results tallied today.
Flashback: Modi campaigned in 2014 as the man to invigorate India's economy. The results there have been mixed: Growth is solid, but unemployment has ticked upwards and rural India has struggled on Modi's watch.
This time around, he whipped up nationalist fervor and capitalized politically on February's nuclear standoff with Pakistan.
"In speeches over recent weeks, one count showed he spent 53% of his time attacking opponents, a further 18% talking of national security, and only the remainder touting vikas, or development," per the Economist.
Modi did make good on another campaign promise — to expand India's presence on the world stage.
Not since Nehru's era "has India been so engaged in such a wide range of global issues" driven by "the sheer personality of the prime minister himself," argues the Carnegie Endowment's Ashley Tellis.
Tellis contends that while Modi has strengthened ties with countries around the world, India won't "realize its great power ambitions" unless he carries out economic reforms at home, strengthens institutions and protects "the nation's internal cohesion."
Modi's victory is a source of joy for his Hindu nationalist base and of fear for many in India's Muslim minority.
"A strident — and at times violent — Hindu nationalism has become mainstream in the past five years, with increased attacks against minorities, including the lynching of dozens of Muslims accused of smuggling cows," BBC notes.
The bottom line: "There is no doubt that Modi's politics rest on polarizing the country, but he has polarized very successfully," as Axios fellow Phanindra Dahal pithily puts it.
Check out the interactive map, which will continue to update.
2. European elections: Far right floods Brussels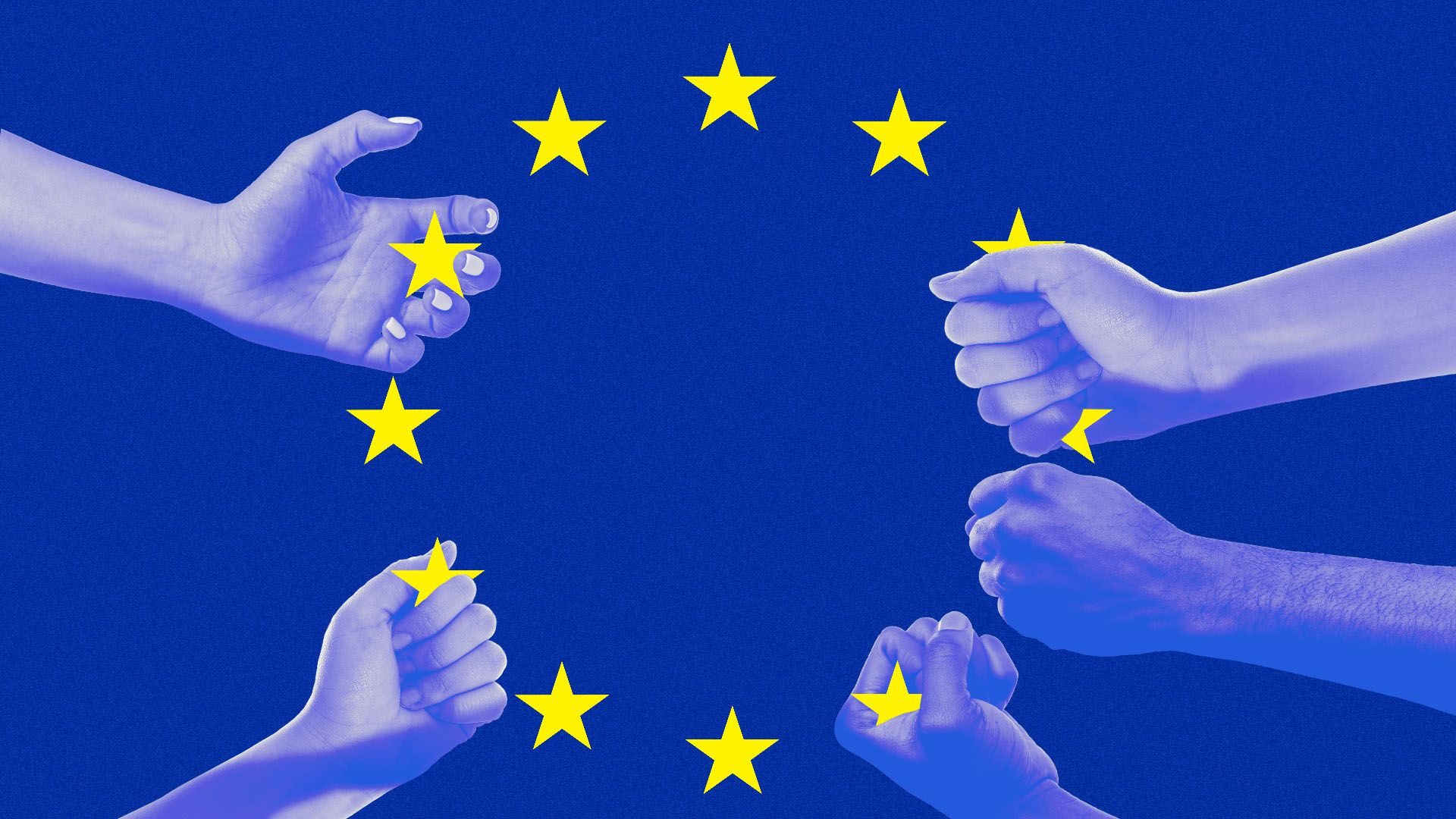 A long-awaited test for Europe's far right began today with European parliamentary elections, which will send a medley of nationalists to Brussels and a message to mainstream parties all over the continent.
Why it matters: Emmanuel Macron, France's fiercely pro-EU president, has portrayed it as a referendum on the European project. His nationalist foes agree — but their ambition is to weaken the EU from the inside.
All 28 European Union members will elect representatives to the EU's 751-seat parliament between today and Sunday.
The far right is growing in strength, but it's hardly a unified force. Things tend to get messy when nationalists, campaigning on "sovereignty," attempt to join hands across borders.
Matteo Salvini, Italy's pugnacious interior minister, has cobbled together a far-right coalition that's expected to take about 10% of the new parliament. It doesn't include the populist ruling parties of Poland or Hungary, or the Brexit Party — which is taking British politics by storm.
The big mainstream blocs — the center-left Social Democrats and the center-right European People's Party — are likely to lose their long-held combined majority. That means a shift in Brussels' balance of power.
Macron hoped to gather enough seats and sway to position his party as the "kingmaker," says Célia Belin of the Brookings Institution. He's short on allies, though, and now in a desperate fight simply to top Marine Le Pen's far-right National Rally.
What to watch: Turnout is often low in these elections, but the consequences can be significant. Markus Schomer, chief economist at PineBridge Investments, tells Axios' Dion Rabouin the 2014 vote was the "catalyst" for Brexit.
"My worry is something could happen in these elections that lights the fuse for another Brexit-like event a few years from now."
The big picture: Since 2014, Brussels has largely remained insulated from the political upheaval around the continent, says Erik Brattberg of the Carnegie Endowment. Not any longer.
Go deeper: Populism smothers Europe's mainstream conservatives
3. United Kingdom: May's day approaches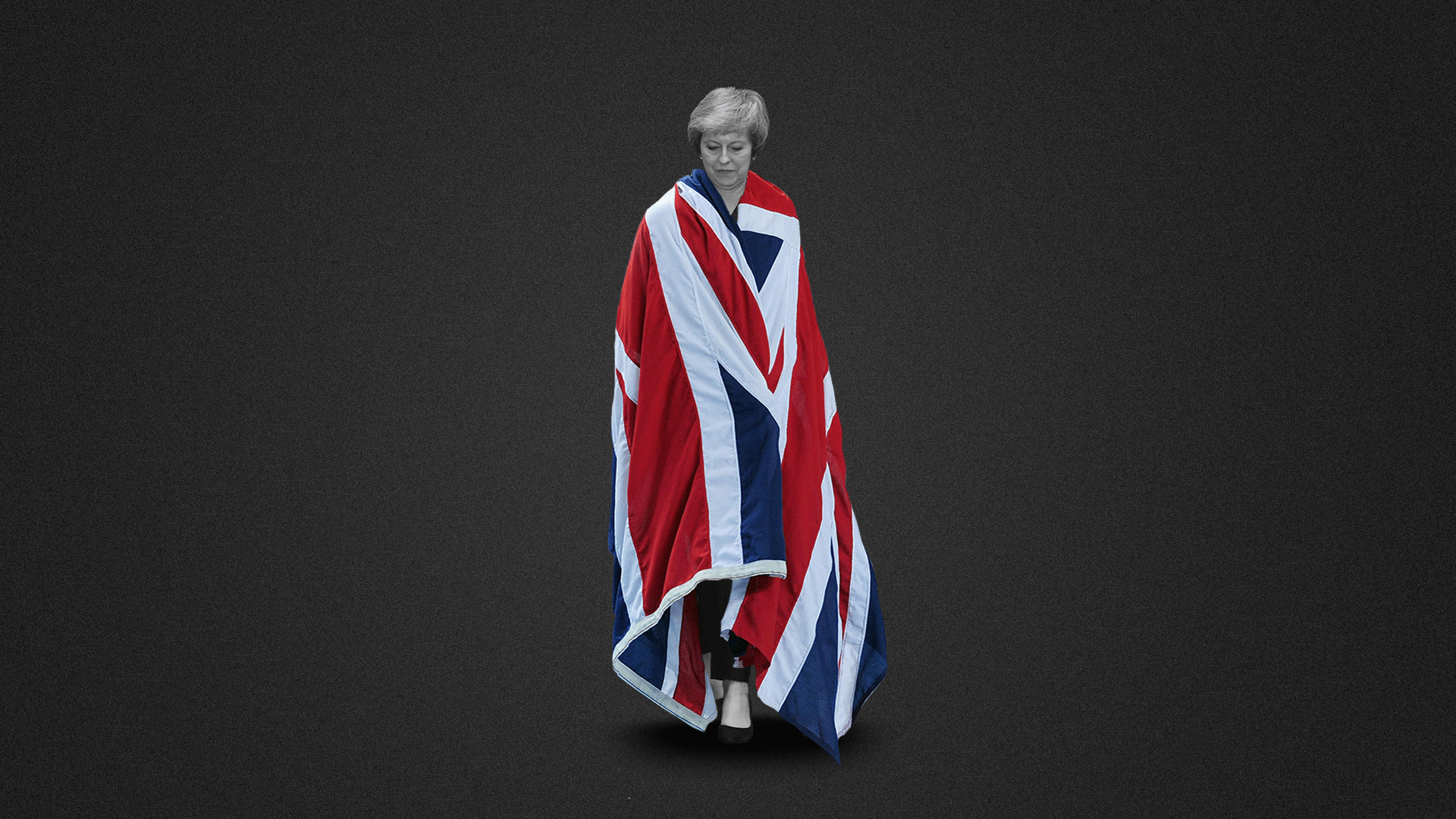 U.K. Prime Minister Theresa May appears, finally, to have reached the end of the road. A plan to resuscitate her Brexit deal was abandoned today. The London Times reports that she'll "announce a timetable for her departure tomorrow morning."
My thought bubble: May came into office three years ago with a singular mission — to deliver Brexit. Anyone would have struggled to do so. She, quite clearly, failed.
May labored desperately to stitch together a party that nonetheless continued to fray. British politics are more polarized and gridlocked than at any time in recent memory.
Flashback: May replaced David Cameron in July 2016 after six years as Home Secretary and two decades in Parliament. She positioned herself as the "strong and stable" choice and triumphed after Boris Johnson unexpectedly pulled out of the race.
Timeline:
March 28, 2017: May invokes "Article 50," giving the U.K. two years to finalize its withdrawal from the EU.
June 8, 2017: May's decision to call a snap election to bolster the Conservative majority ahead of Brexit negotiations backfires spectacularly. She's left with a minority government.
July 7, 2018: May puts forward a modified Brexit plan that includes the infamous "Irish backstop." Hardline Brexiteers, including Johnson, revolt.
Nov. 13, 2018: May finalizes her withdrawal agreement with the EU.
Jan. 15, 2019: May's deal fails in Parliament by the largest margin in modern history.
Since then, May has seen off attempts to oust her by the opposition and her own party, had her plan defeated by another massive margin, and been forced to delay the Brexit deadline twice — most recently to Oct. 31.
What's next: Assuming May goes, Johnson is favored to replace her. That worries leaders across Europe, but might delight President Trump. He's set to visit the U.K. early next month.
4. Soccer meets geopolitics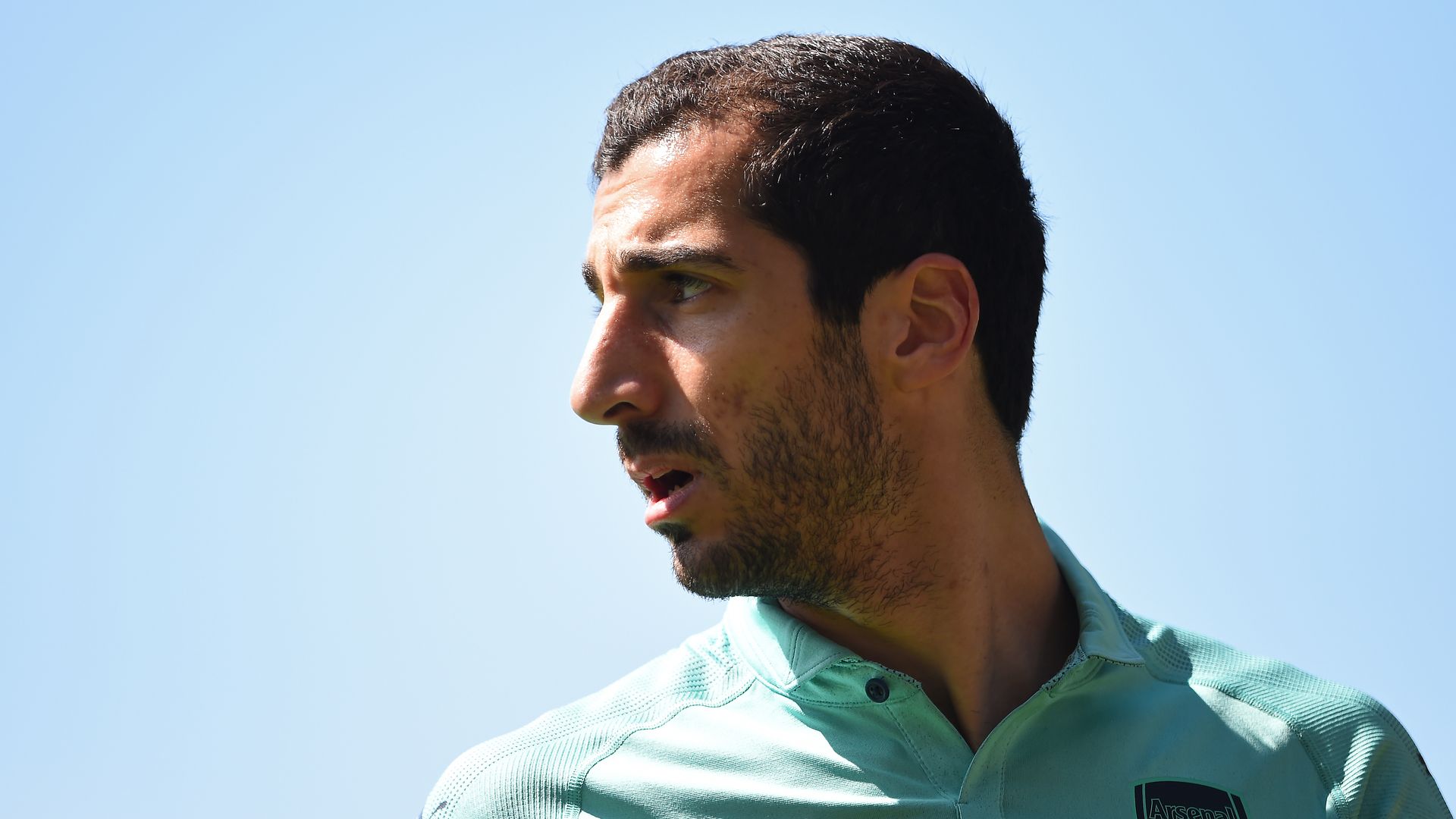 When Arsenal takes the field in Baku, Azerbaijan, next week to face Chelsea in the Europa League final, Henrikh Mkhitaryan won't be with them.
The star midfielder is from Armenia, Azerbaijan's neighbor and rival. There were concerns about his security.
Azerbaijan says it guaranteed Mkhitaryan's safety. The country's ambassador to the U.K. accused him of making a political statement.
Yesterday, I asked the secretary of Armenia's security council, who was traveling through D.C., for his view:
"It shows once more that the hatred in that society is so high that it creates problems for Armenians."
Context: "The conflict centres on control of the Nagorno-Karabakh region, which declared independence from Azerbaijan in 1988 as the Soviet Union started to break apart. After the Armenians sided with Nagorno-Karabakh, a full-scale war broke out — in which some 30,000 people had died by 1994. The region has been under Armenian control ever since, but this has failed to bring a lasting peace," per the Economist.
Meanwhile, FIFA has dropped plans to expand the 2022 World Cup field from 32 to 48 teams.
The change would have required hosting duties to be split between Qatar and its neighbors. One problem: Most of those neighbors have been blockading the energy-rich kingdom for two years.
5. Data du jour: World's most resilient countries
Yet another Nordic-led list, this time from FM Global. The property insurer ranks countries by economic productivity, political stability, control of corruption and corporate governance to gauge their resilience to disruptive events, per Axios' Dion Rabouin.
Top 10: Norway, Denmark, Switzerland, Germany, Finland, Sweden, Luxembourg, Austria, the central U.S. (large, diverse countries were divided into regions) and the U.K.
Biggest climber: Rwanda, which FM Global labels the "Singapore of Africa."
6. Coming attractions: Trump to Japan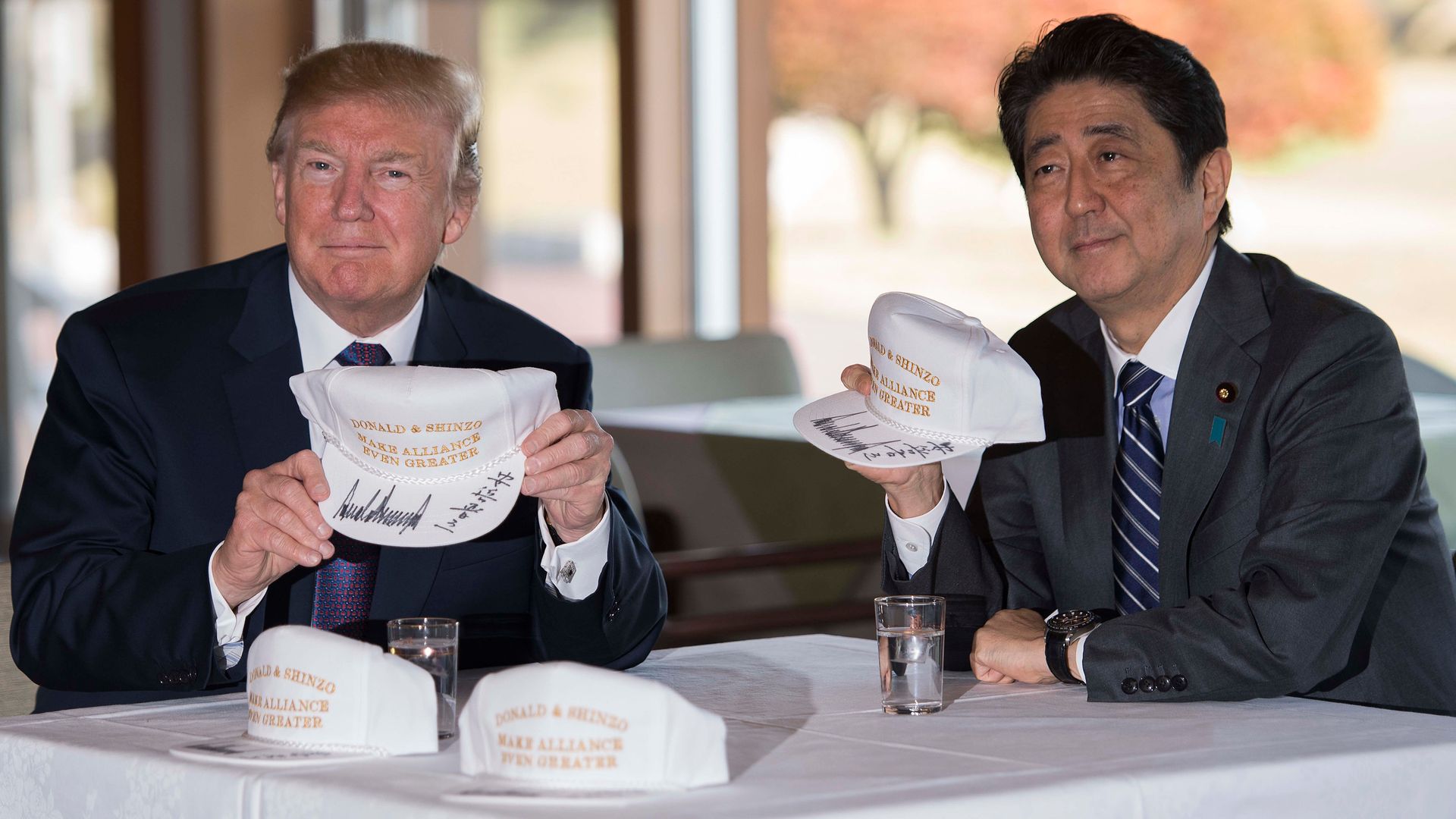 Trump is heading to Japan tomorrow for a four-day state visit. Expect a round of golf, dinner for the first couples at an izakaya and a visit to an aircraft carrier.
"Trump will not only become the first foreign leader to meet Japan's new emperor, Naruhito, but he also will take ringside seats at the first sumo tournament of the new imperial era, presenting a specially made 'Trump Cup' to the winner," per the Washington Post.
As for the flattery ... "It's a strategy that raises eyebrows here, even as it receives a degree of sympathy. Japan's leader is viewed as doing what needs to be done to maintain his country's most important foreign alliance and keep a mercurial president in check." 
What not to expect: Widespread protests, or a trade deal. While Trump floated the possibility of signing one, both U.S. and Japanese officials say it's not coming this week.
7. Stories we're watching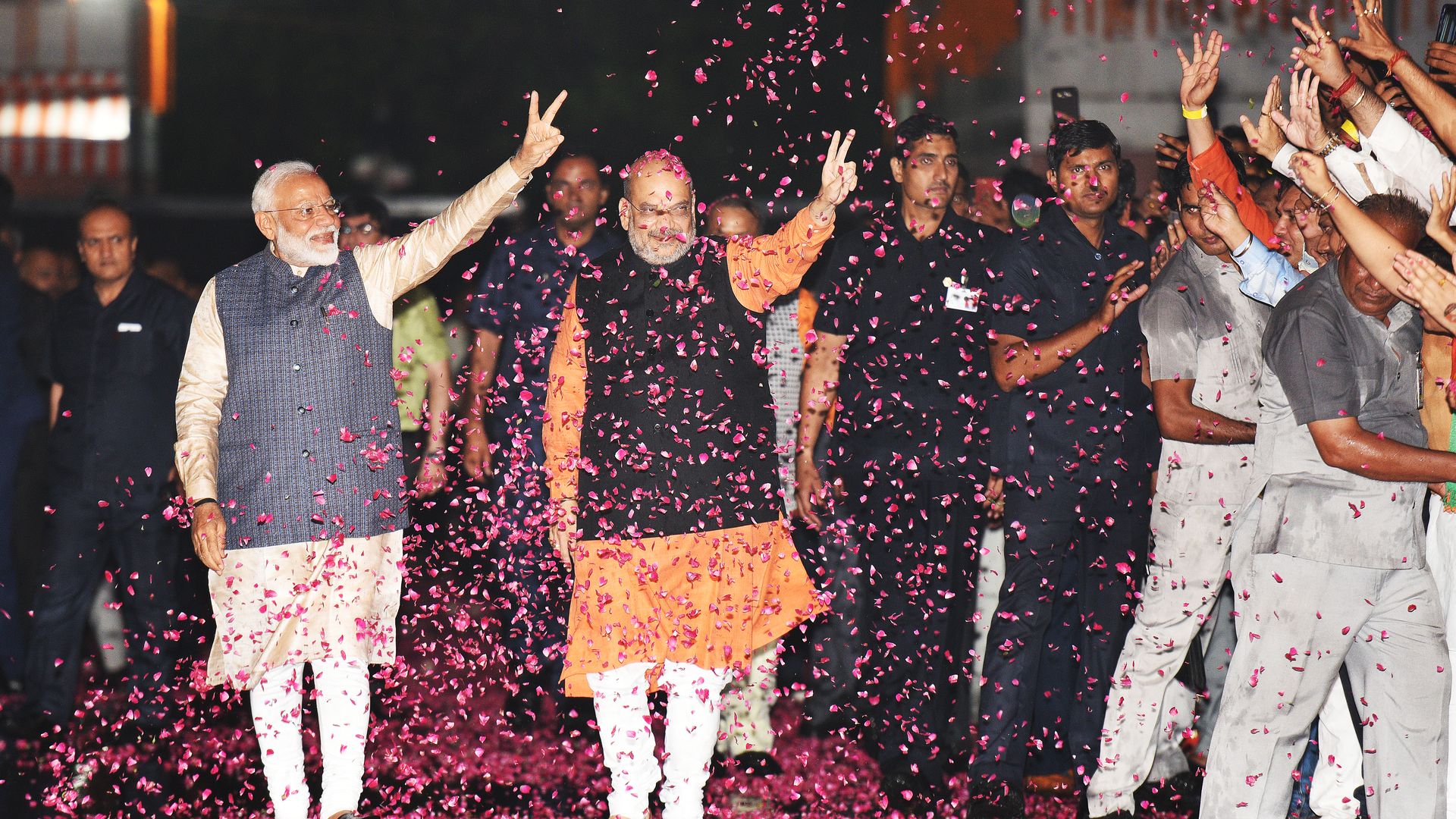 "An imbecile bereft of elementary quality as a human being."
— North Korean state media
on Joe Biden
Have a lovely long weekend — see you next Thursday