Welcome to Axios World, where two evenings a week we break down what you need to know about the big stories from around the globe.
Thanks for joining me! Please tell your friends and colleagues to sign up here, and I'd love your tips and feedback: lawler@axios.com.
Situational awareness: "U.S. spy agencies are seeing signs that North Korea is constructing new missiles at a factory that produced the country's first intercontinental ballistic missiles capable of reaching the United States," officials familiar with the intelligence tell the Washington Post.
1 big thing: Where the death penalty survives
An Egyptian court has sentenced 75 people to death for their roles in the violent uprising that followed a 2013 coup, the latest in a series of flare-ups around the world concerning the death penalty.
The bigger picture: Worldwide, as in the U.S., fewer people are being executed in fewer places. But capital punishment remains a potent political issue.
Recent controversies...
By the numbers...
At least 993 judicial executions took place worldwide last year across 20 countries, per Amnesty International. That's a 4% drop from 2016, but doesn't include China, North Korea or Vietnam, where numbers weren't available.
51% of those executions took place in Iran, with Saudi Arabia, Iraq and Pakistan also carrying out upwards of 60 executions.
13 countries executed people by hanging. 8 used shooting, 3 used lethal injection and 1, Saudi Arabia, used beheading.
142 countries have either de jure or de facto bans on the death penalty, per Amnesty International.
Worth noting: 55% of Americans support the death penalty for those convicted of murder, per Gallup, down from 69% a decade ago.
2. Latin America: The roots of Venezuela's crisis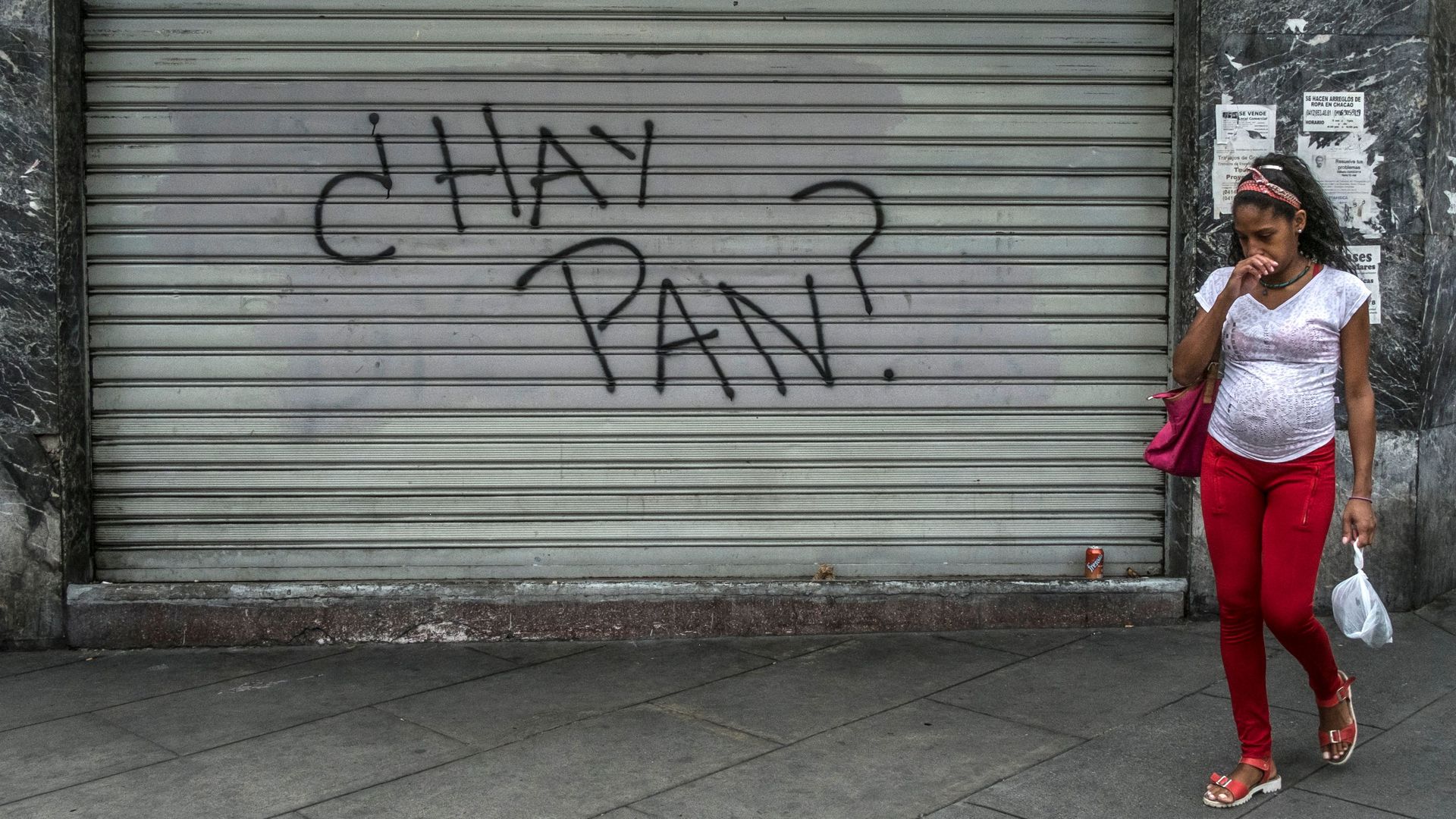 Inflation in Venezuela will reach a stratospheric 1,000,000% by year's end and the economy will shrink by 18% this year, the IMF projected last week. That rivals economic calamities like Germany's in 1923 or Zimbabwe's in the late 2000s, according to the IMF's Alejandro Werner.
Formerly one of the richest countries in the Americas, sitting on perhaps the world's largest oil reserves, Venezuela hasn't been crippled by war or natural disasters — the catastrophe is manmade, Foreign Policy's Keith Johnson writes:
Then: "In the early 1960s, Venezuela produced more than 10% of the world's crude and had a per capita GDP many times bigger than that of its neighbors Brazil and Colombia — and not far behind that of the U.S."
Now: "The same state that, six decades ago, dreamed up the idea of a cartel of oil exporters (OPEC) now must import petroleum to meet its needs. … Venezuela's murder rate, meanwhile, now surpasses that of Honduras and El Salvador. ... Blackouts are a near-daily occurrence, and many people live without running water. According to media reports, schoolchildren and oil workers have begun passing out from hunger, and sick Venezuelans have scoured veterinary offices for medicine."
Why: The nationalization of the oil industry in 1976, Hugo Chavez's subsequent hollowing out of the state oil firm and raiding of its coffers to fund social programs in the 2000s, and Venezuela's near-total dependence on oil left it with few options when prices tanked beginning in 2014, Johnson writes.
What to watch: The crash came under the disastrous leadership of Nicolás Maduro, who has managed to make a bad situation much worse. Millions of Venezuelans have already fled the country, and there's no end in sight.
3. Asia: Three stories to watch
1. India leaves 4 million in limbo: A citizenship register for the border state of Assam excludes refugees who arrived after neighboring Bangladesh declared independence from Pakistan in 1971, leaving Bengali Muslims fearing mass deportation.
Axios' Zach Basu explains: The millions left off the register include many who immigrated before the war but lack the paperwork to prove it. The Indian government claims the updated register is an attempt to identify illegal Bangladeshi migrants for deportation, while critics say it's being used as a nationalist pretext for discrimination against Bengalis.
2. The share of Chinese students who return home after studying abroad has spiked in the last decade, Quartz reports, citing Chinese government data.
China's job market is strong, and there are plenty of opportunities for recent graduates — especially if they are willing to work in some of China's smaller cities. However, the job search can still be difficult in some high-tech sectors, Axios' Steve LeVine reports.
3. Cambodian Prime Minister Hun Sen, in power since 1985, won Sunday's "election." It wasn't too difficult: the opposition leader has been jailed and his party dissolved, and independent media is being actively squashed. Election observers came in from China, that bastion of democracy. The White House called the election "flawed."
4. Africa: The votes are in from Zimbabwe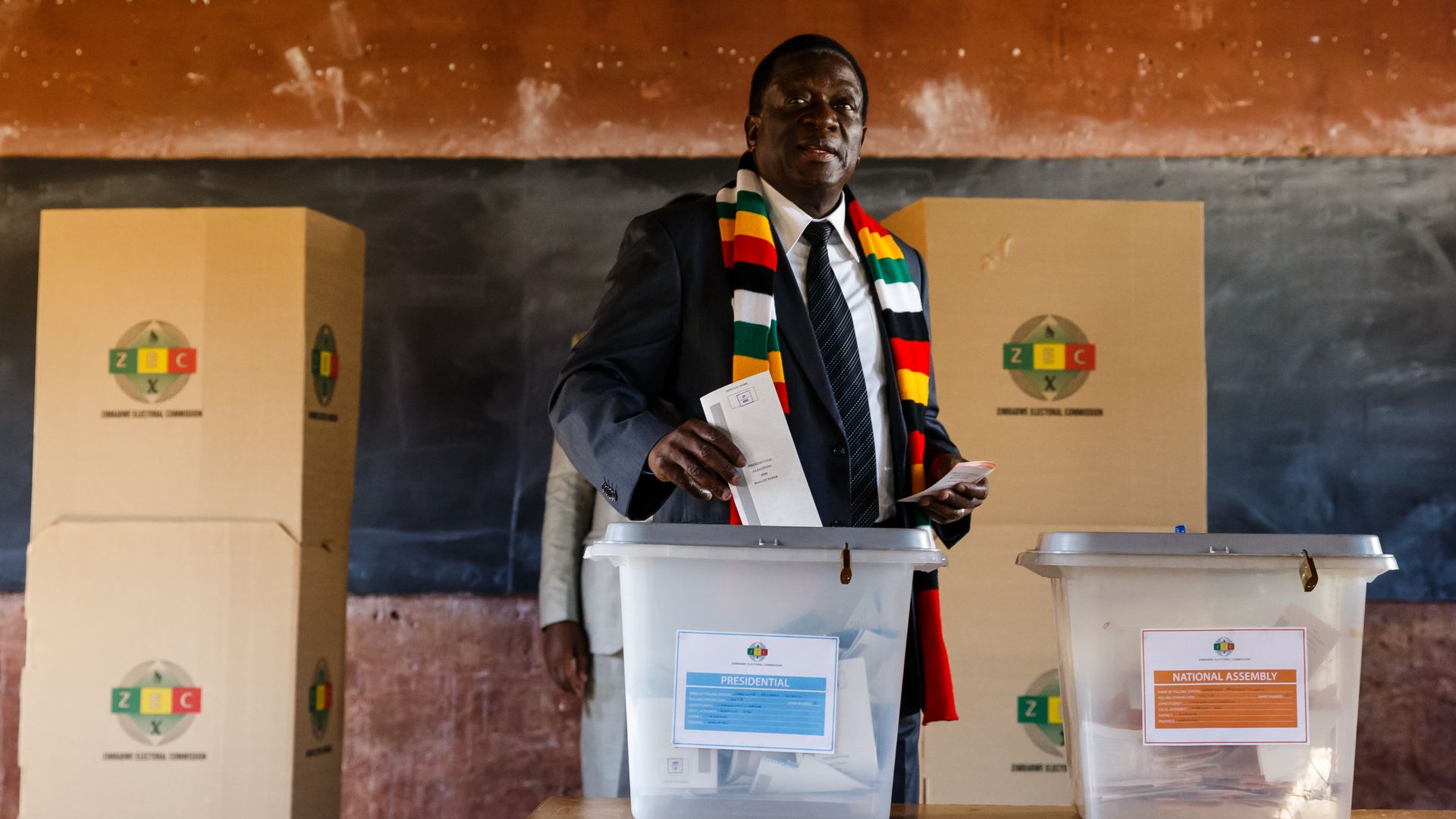 Votes are being counted in Zimbabwe's historic election, the first in three decades without Robert Mugabe on the ballot. Electoral officials said turnout was a higher-than-expected 75%, and it could take days to tally the votes.
Elmar Brok, the EU's chief observer, told Al Jazeera that voting went smoothly in some cases but was disorganized in others, and many observers have noted significant improvements on past (rigged) votes. Hamza Mohamed of Al Jazeera reports from Harare:
Mugabe, who was removed from power last year, broke with the ZANU-PF party he led for three decades yesterday, saying he "cannot vote for those who have tormented me."
The economy and job creation have topped political debate in the lead-up to the vote, with all presidential hopefuls promising to fix the country's financial situation, which has been in meltdown for the past two decades.
At least 60% of the 5.6 million registered voters are under the age of 40, and experts expect this to play a key role in the closely contested election.
Emmerson Mnangagwa, Mugabe's 75-year-old former vice-president whose nickname is "the Crocodile," is now president and the ruling party's presidential candidate. The latest polls show a close race between Mnangagwa and 40-year-old Nelson Chamisa, making a runoff on September 8 likely.
By the numbers: Just 47% of Zimbabweans say they have confidence in the honesty of elections, per Gallup. Meanwhile, amid a currency crisis, 71% say they struggle to afford food.
5. Africa: A symbol slain in Ethiopia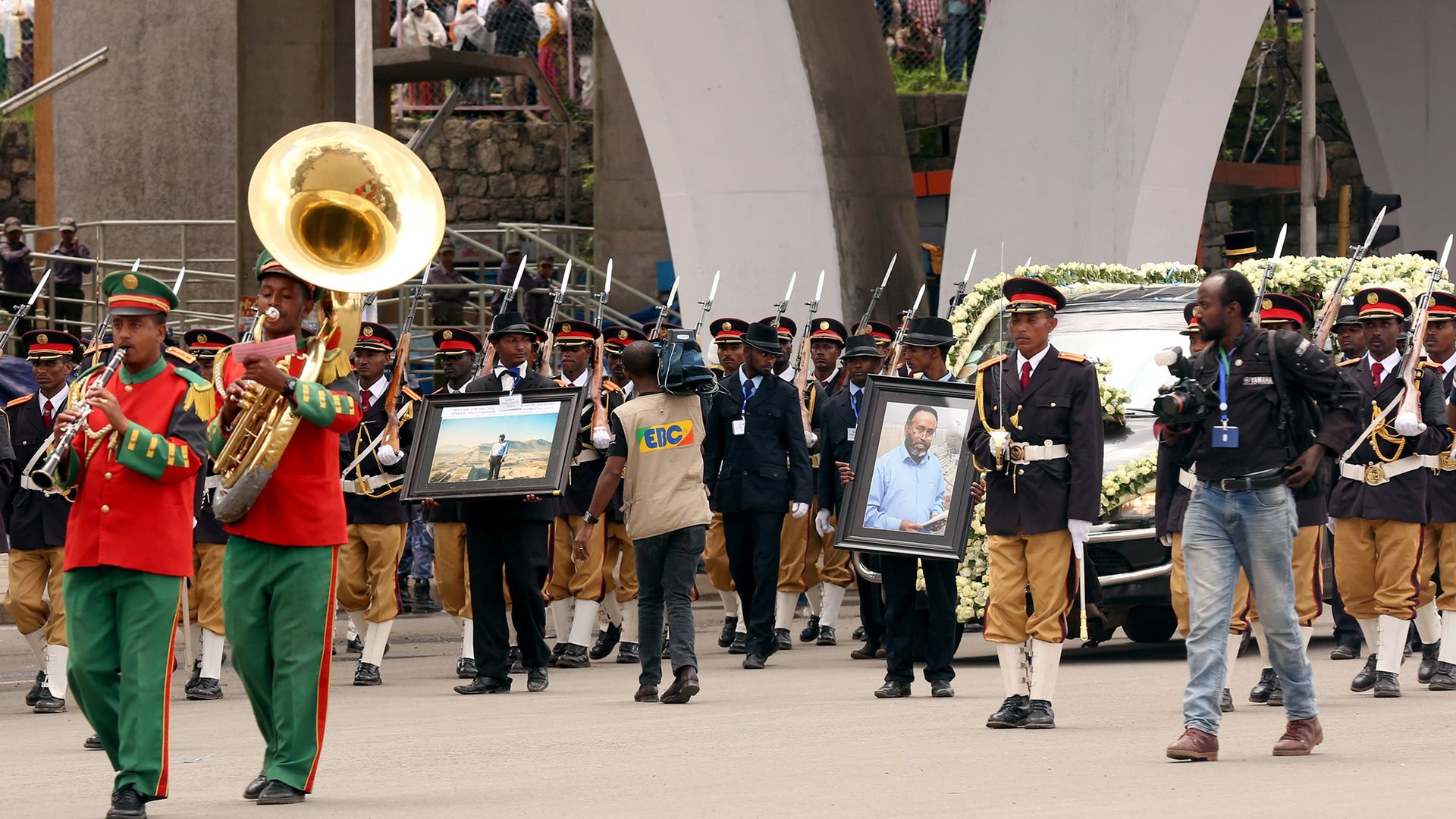 Thousands gathered yesterday in Ethiopia's capital, some dodging tear gas canisters from police trying to control the unruly scene, to pay their last respects to a man considered by many to be a national hero.
Engineer Simegnew Bekele was found murdered Thursday in an SUV parked near the bustling center of Addis Ababa. Demonstrators have demanded an explanation as to who killed him, and why.
Bekele was overseeing the construction of the Grand Renaissance Dam on the Nile river. The dam will be Africa's largest hydroelectric power plant when completed and is the centerpiece of an infrastructure-led push to modernize the impoverished East African country's economy.
It is also controversial, particularly in Egypt, which fears the flow of the Nile will be disrupted. In Ethiopia, though, the project and its chief engineer had become symbols of national pride. It's not yet clear whether Bekele's murder is linked to the dam project.
6. Europe: Populists unite in Washington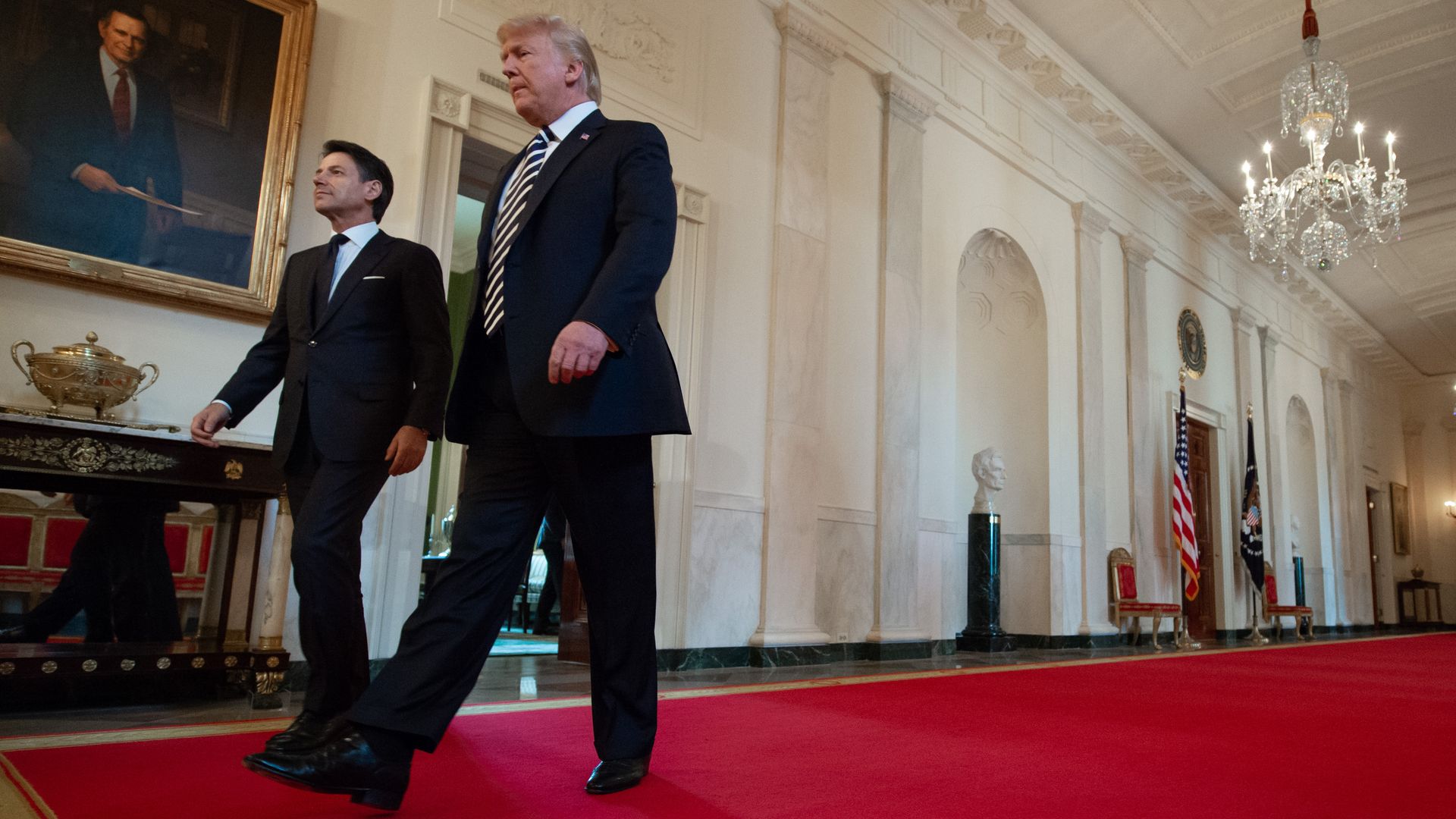 President Trump hosted Italian Prime Minister Giuseppe Conte today at the White House, noting with a smile during their joint press conference that he's closer ideologically to Conte than other G7 leaders.
Why it matters: Italy's two-month-old populist government is skeptical of both the Euro and the EU, and spoiling for a fight on immigration and trade. Trump's sympathies fall more with Rome than with Brussels or Berlin.
Another area of overlap is Russia. "We do believe Russia plays a fundamental role in all international, geopolitical crises," Conte said today, echoing Trump. "If we want to solve problems, we cannot choose the counterparts to deal with."
Worth noting: Interior minister Matteo Salvini, central to the coalition as leader of the far-right League party, is often compared to Trump. He quoted Benito Mussolini yesterday on the former fascist dictator's birthday. Trump could have told him that would be controversial, because he did virtually the same thing during the 2016 campaign ("I want to be associated with interesting quotes," Trump said at the time).
The headline from today's visit had nothing to do with Italy, though. Trump said during the press conference that he'd be willing to meet with Iran's leaders "any time they want."
Between the lines: The Trump administration has emphasized destabilization and delegitimization when it comes to Iran, encouraging Iranians to pile pressure on their government and hinting at support for regime change. But Trump says he's also open to negotiation with President Hassan Rouhani, who has reportedly turned down meetings in the past.
7. Stories we're watching
Quoted:
"I'm ready to meet anytime they want to... no preconditions. If they want to meet, I'll meet. Any time they want."
—
Trump, when asked today if he'd meet with Iranian leadership
Thanks for stopping by — see you Thursday!