Axios World
March 01, 2019
Welcome to Axios World, where two evenings a week we break down what you need to know about the big stories from around the globe.
1 big thing: No deal in Hanoi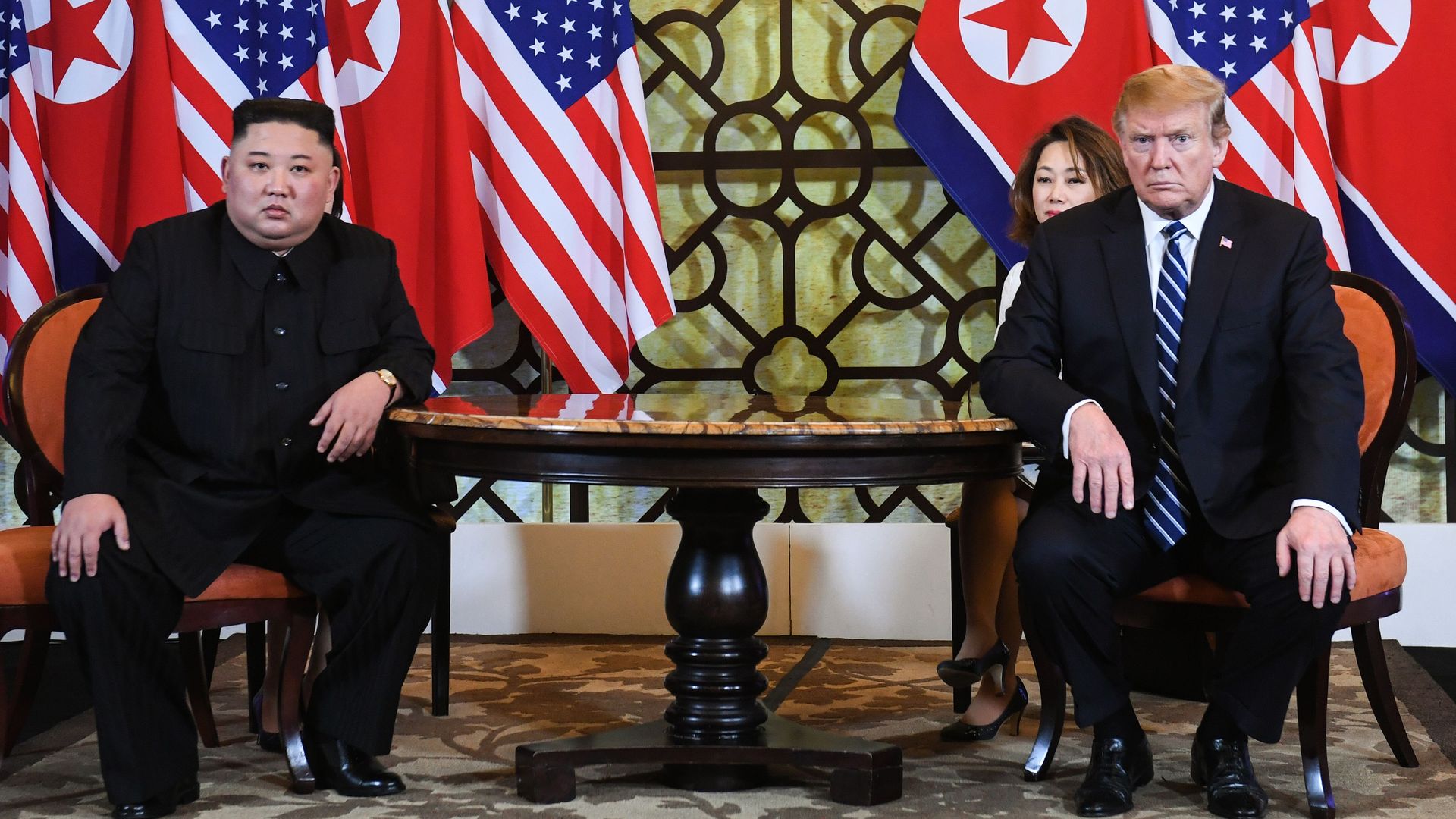 President Trump and Chairman Kim are returning to their respective capitals empty-handed, with conflicting explanations for how talks broke down and where we go from here.
Why it matters: In Hanoi, Vietnam, Trump showed both flexibility — he backed off the long-standing U.S. demand that any deal requires complete and verifiable denuclearization — and a willingness to walk away. The summit also laid bare the limits to his charisma-based negotiating style and revealed just how far the two sides are from agreeing to anything of substance.
Catch up quick: In a press conference this morning, Trump looked dejected but still called Kim "quite a guy," said progress had been made, and he insisted the U.S. was on track to become "very good friends with Chairman Kim and with North Korea."
The North Koreans then held an unexpected, late-night press conference to contradict Trump's claim that Kim had demanded all sanctions be waived in exchange for partial denuclearization. Vice Foreign Minister Choe Son-hui also said her "impression" is that Kim "has lost the will to engage in deal-making" with the U.S.
Between the lines: North Korea's demands on sanctions relief still went far beyond what was likely to be accepted in exchange for limited steps toward denuclearization.
Jung Pak, a former CIA analyst now at Brookings, emails that Trump "demonstrating his desire for substantive actions on denuclearization was important because Kim has been ignoring U.S. negotiators and banking on his personal appeals to Trump, whom he probably judged was more malleable."
While the abrupt ending of the summit was a surprise, the absence of a major breakthrough was not.
Jim Walsh, an international security expert at MIT who has negotiated with North Korea, says the two sides "squandered their time since Singapore," adding: "It took 2 years of intense, regular negotiation to get the Iran deal. And Iran is easier. … So no, 30 days and winging it isn't going to get it done."
"Trump was told — and the expert community has long stressed — that Kim wanted immediate sanctions relief," says Van Jackson, a former Pentagon strategist and author of "On the Brink: Trump, Kim, and the Threat of Nuclear War." "Because most sanctions are by legislation and not executive order, that meant Trump literally couldn't give Kim what he wanted. But Trump went ahead with the summit anyway out of a heady mix of hubris and ignorance."
The question now is whether this was a bump in the road or if we've now veered entirely off course.
Bruce Klingner, a former CIA official now at Heritage, isn't expecting a return to fire and fury in the short term, given Kim "promised not to resume nuclear or missile testing" — at least according to Trump — and the U.S. has shown no interest in "activity that could trigger a strong North Korean response."
"The negotiations will resume sooner or later, and the misfortune in Hanoi might impart a different kind of momentum to what is destined to be a fluctuating, arduous diplomatic process," Gi-Wook Shin of Stanford University writes for Axios Expert Voices.
Behind the scenes: For the South Koreans and anyone banking on positive momentum, this was a bad outcome. As Axios' Jonathan Swan points out, hawks like John Bolton won't share that disappointment.
The bottom line: "Now that many of the critics ... have got what they wanted — a tougher approach to North Korea — they have to accept the consequences, whatever they may be," write Joel Wit and Jenny Town of 38 North.
2. India-Pakistan: Modi's next move
Pakistan and India came closer to the precipice of war this week than they have in decades, Madiha Afzal of Brookings writes for Axios Expert Voices, and they may have further yet to go.
What to watch: Following Pakistan's announcement that it would release a captured Indian pilot on Friday as a gesture of goodwill, opening the door for de-escalation, the ball is now in Indian Prime Minister Narendra Modi's court. His next step will determine whether these two nuclear-armed neighbors head for war or take a tentative step toward negotiations.
Background: The crisis began with a Feb. 14 attack by Jaish-e-Muhammad, a Pakistan-based militant group, that killed 40 Indian paramilitary soldiers in Pulwama, Kashmir.
India responded with airstrikes on Balakot in Pakistan, crossing the line of control that divides the two countries for the first time since 1971.
Pakistan then launched a retaliatory strike, downing an Indian plane and capturing an air force pilot. But Pakistani Prime Minister Imran Khan followed up with a conciliatory speech asking Modi to come to the table for talks, including about terrorism.
Between the lines: As the world largely leaves it up to these two countries to resolve this crisis, Modi faces pressure to act muscularly in the lead-up to India's May elections. But it's hard to see how another round of escalation would benefit his endgame, given Pakistan's willingness to retaliate.
What's next: If Khan and Modi meet, Modi might ask for Pakistan to take concrete, permanent steps against Jaish-e-Muhammad and Lashkar-e-Taiba.
That's the hard part: Pakistan's military has never been willing to root out these groups completely, as they allow the country to maintain the semblance of power parity with India.
Go deeper: Trump more hands-off than predecessors on India-Pakistan conflict.
3. Middle East: Bibi hit with 3 indictments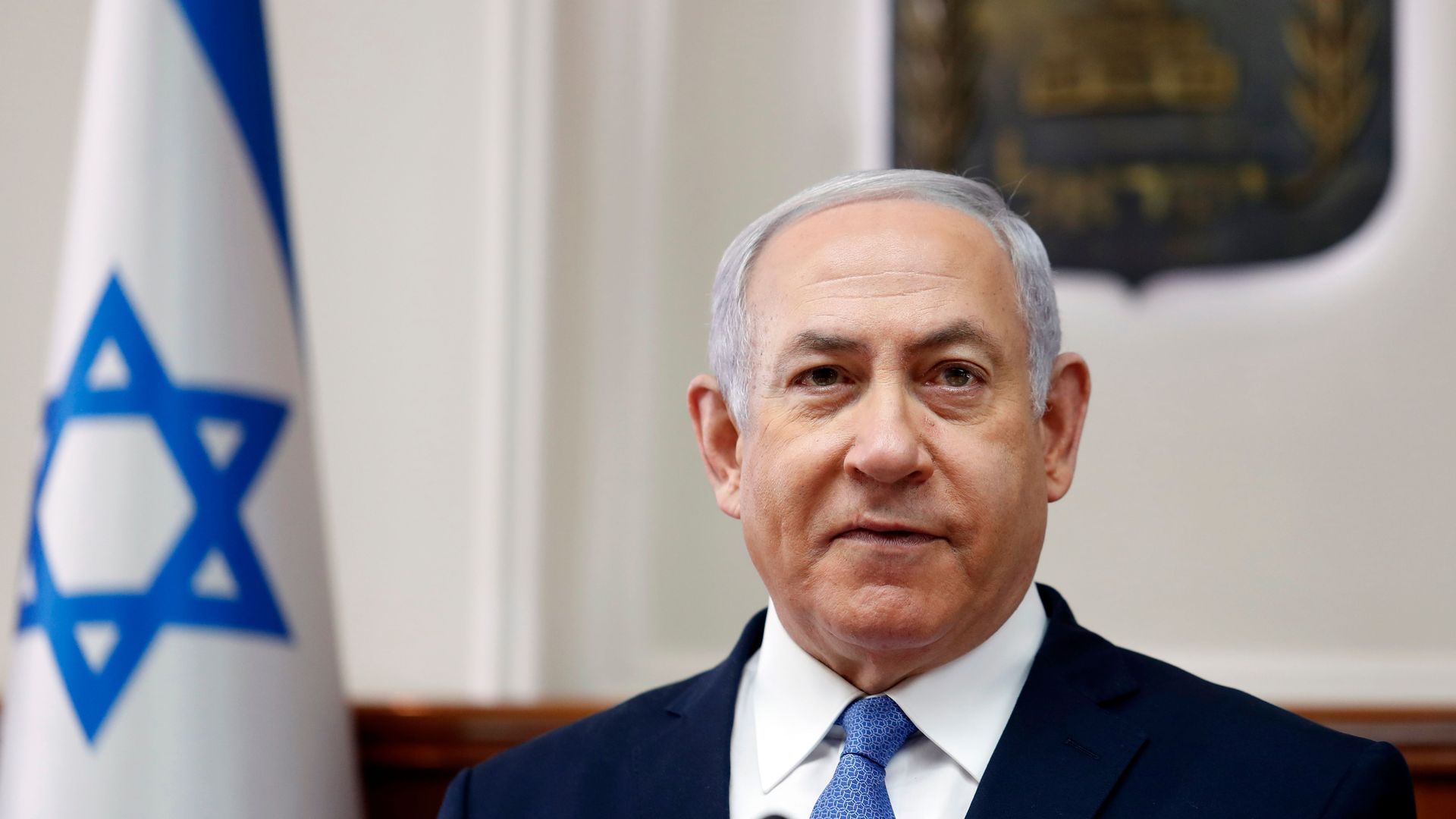 Israeli Attorney General Avichai Mandelblit today announced his decision to indict Prime Minister Benjamin Netanyahu in one case of bribery and two cases of fraud and breach of trust, Axios contributor Barak Ravid reports. All indictments are pending a hearing.
Why it matters: The announcement comes after more than two years of investigations and less than two months before Israel's highly anticipated April 9 elections. It's also the first time in Israel's history that a sitting prime minister will face criminal charges.
Details:
In case 4000 — which involves Netanyahu's relationship with Israel's leading telecommunications tycoon — the indictment is for bribery.
In case 2000 — Netanyahu's alleged deal with a newspaper publisher for favorable coverage — the indictment is for fraud and breach of trust.
In case 1000 — involving Netanyahu allegedly taking $200,000 from businessmen in return for promoting their interests — the indictment is for fraud and breach of trust.
In the past 8 days, Netanyahu boosted a racist, extreme-right party in a bid to form an unbeatable right-wing bloc. Then his chief rivals joined forces, united only by their desire to topple him. Now come the indictments.
4. Venezuela: Guaidó vows to return to Caracas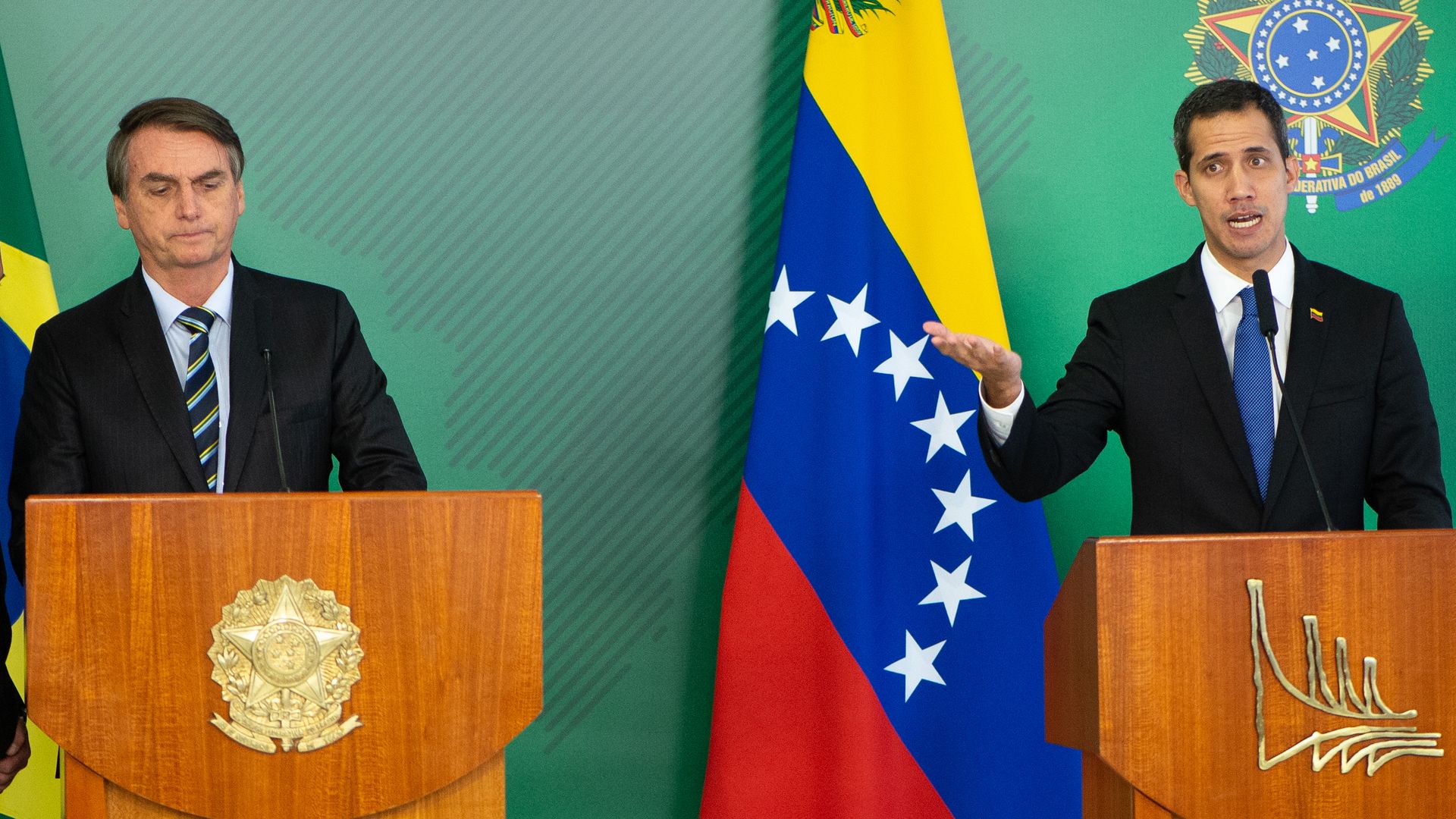 Five days on from what some hoped would be a decisive moment in Venezuela's power struggle, Nicolás Maduro remains in power and National Assembly President Juan Guaidó remains outside Venezuela's borders.
What to watch: Guaidó says he will return to Caracas this weekend despite fears he might be arrested for orchestrating the showdown at the border last Saturday. Jailing Guaidó would cross a U.S. red line and raise the risk of military confrontation.
Rob Malley, president of the International Crisis Group, recently met with allies of both Maduro and Guaidó in Venezuela. He says there's a sense among more pragmatic actors that Trump's forceful demands could make it harder to enter negotiations.
According to Malley, some close to the regime could potentially support early elections or a unity government. But they would not accept an outcome in which Guaidó simply assumes the presidency, as the U.S. is demanding. "They see him as a tool of a foreign power," Malley says.
Keeping his hold on power amid the standoff allows Maduro to argue he has won, and that the opposition is responsible for inflicting suffering by backing sanctions, Malley adds.
"A protracted crisis does not lend itself to solutions," he says. As for claims Maduro's support will evaporate as he runs out of hard currency, Malley argues "he will still have the ability to buy the right people off. … They have learned the art of survival. And they are continuing to learn it."
What's next: Malley says that "walking around Caracas, you don't get the feeling this is a government walking on eggshells, believing a military intervention is imminent." The regime may actually become emboldened, sensing that risk is fading. That presents another risk: miscalculation.
5. South America: Brazil's economic "revolution"
Right-wing firebrand Jair Bolsonaro is now two months into his presidency, and he is expected to visit Washington in mid-March.
What to watch: Murillo de Aragão, CEO of political analysis firm Arko Advice, says the key to that visit will be to show Brazil's economy is open to the world and ripe for foreign investment.
He argues that the sprawling "Lava Jato" corruption investigation "destroyed the Brazilian system of capitalism and created a new business environment" by enforcing transparency and competitive international bidding for contracts.
Then came Bolsonaro. De Aragão says his planned reforms, starting with an important but politically perilous pensions overhaul, are a "cultural shock" in a country currently ranked 109th in World Bank's Ease of Doing Business index.
Add reforming the tax code and cutting red tape and, by Brazil's standards, "it's more than a reform, it's a revolution," he says. Whether it's all implemented will depend on Bolsonaro's continued popularity.
The big picture: Martin Aguirre, editor-in-chief of Uruguay's El Pais newspaper, emails that if Bolsonaro pulls off pension reform, "it could boost both the trust in the new government and the economic situation in the country. It's definitely a key issue for the near future of the whole region. Brazil is the most powerful economy in the region, and if it starts to really pull, we might all benefit in a big way."
6. Africa: DRC Ebola clinics attacked
The World Health Organization said Thursday it was deeply concerned over 2 violent attacks on Ebola treatment centers in 2 cities in the Democratic Republic of the Congo this past week, Axios' Eileen Drage O'Reilly reports.
Why it matters: Doctors without Borders (MSF), one of the lead international organizations helping fight the second-worst outbreak on record of the deadly virus, is now suspending its medical activities in the heart of the outbreak.
What's happening: A "toxic environment" has been created by a combination of people who don't believe Ebola exists and don't trust the government or international relief workers efforts, in addition to local politicians "promoting lies about Ebola," DRC spokesperson Jessica Ilunga told Eileen.
Bonus: Thank you!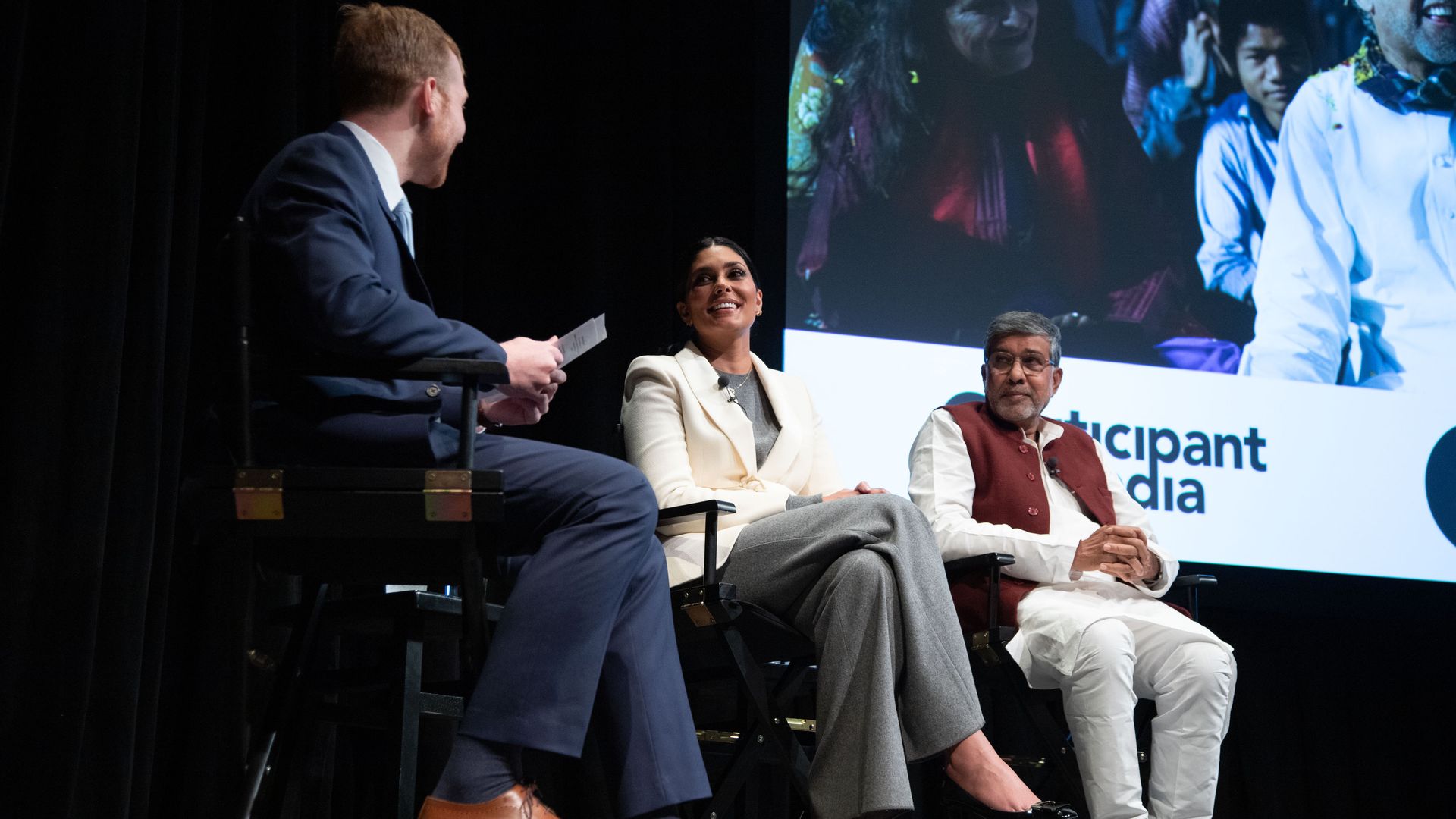 Thanks to all the Axios World readers who came out on Tuesday evening for our screening of "The Price of Free."
7. Stories we're watching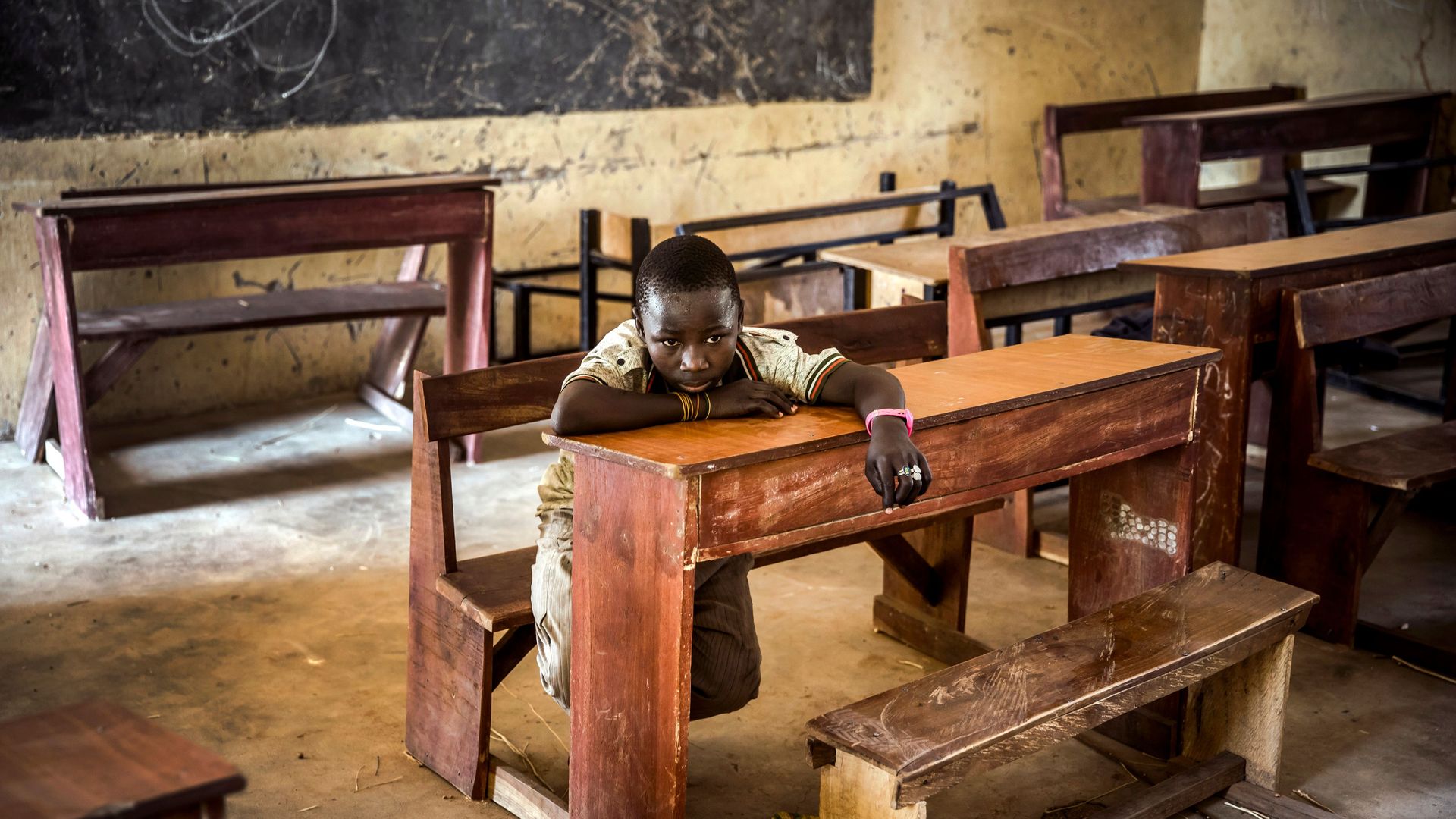 Quoted:
"Americans know the cruelty that was placed on Otto Warmbier by the North Korean regime. Our hearts are with the Warmbier family for their strength and courage. We will never forget Otto."
— Nikki Haley,
indirectly criticizing
Trump's comments on Warmbier
Thanks for reading — see you next week!