Axios World
January 10, 2023
Welcome back to Axios World. Today's edition (1,800 words, 7 minutes) begins with ugly scenes in Brazil's capital.
Heads up: Axios World will be taking a six-week break starting at the end of next week. More on that in item 6.
If you're heading to Davos next week, sign up for our events, including one I'll be moderating on the future of energy security.
1 big thing: Restoring order after Brazil's riots
Brazilian authorities today detained more than 1,200 people, dismantled a protest camp in the capital and cleared roadblocks set up by supporters of former President Jair Bolsonaro as they moved to restore order a day after far-right rioters stormed government buildings in Brasília.
State of play: Justice Minister Flávio Dino said that while those who breached the Presidential Palace, Congress and Supreme Court would be punished, so too would those who organized and financed what has been described as the darkest day for Brazil's democracy since it was restored in the 1980s.
How it happened: The mob that descended on Congress included individuals who had been camping outside army barracks to demand a military intervention to depose Lula. It also included around 40 busloads of protesters who arrived on Sunday.
Despite a significant security presence, the mob appeared to meet little resistance as it traveled across the city to Three Powers Plaza, where the National Congress, Supreme Court and Presidential Palace are located.
Once inside the buildings, protesters vandalized valuable artwork, smashed windows and destroyed furniture.
While the parallels with the Jan. 6, 2021, insurrection in the U.S. are obvious, Brazil's Congress was out of session at the time and the transfer of power was already complete.
Bolsonaro, who decamped to Florida ahead of Lula's inauguration on Jan. 1 without ever conceding defeat, distanced himself from the riots and denied any responsibility in tweets that came six hours after the incident began.
His wife said he checked into an Orlando hospital today for abdominal pain, from which he has suffered since being stabbed in 2018. A friend told O Globo that Bolsonaro's health situation was not serious.
Since losing narrowly to Lula in October, the far-right leader has done nothing to calm his supporters throughout weeks of chaotic demonstrations but has "remained at a safe distance," suggesting he may have "learned from Trump's comeuppance," Gustavo Ribeiro, editor-in-chief of the Brazilian Report, tells Axios.
Bolsonaro is believed to have entered the U.S. on an A-1 visa, which is reserved for heads of state, per Reuters. It's unclear how long the former president — who faces several criminal investigations at home — might plan to stay in Florida.

National security adviser Jake Sullivan said today that the Brazilian government had not contacted the Biden administration about Bolsonaro's presence in the U.S., but they would look into it if asked.
State Department spokesperson Ned Price said that while an individual's visa status is confidential, anyone on an A visa would be required to leave the U.S. or seek another visa status within 30 days of their official business concluding.
Driving the news: Brasília Governor Ibaneis Rocha, a Bolsonaro ally, was suspended for 90 days by a Supreme Court justice who argued that the riots "could only have occurred with the consent" of the authorities.
Rocha denied any complicity. Before being suspended, he fired Brasília's security chief, who was formerly Bolsonaro's justice minister. Bolsonaro has many allies within the security forces and military.
Brazil's purpose-built capital was effectively laid out so as not to allow this sort of thing to happen, Ribeiro says.
Access points to government buildings could have been blocked off, but weren't, he says. "Best case scenario, gross incompetence. Worst case scenario, they let it happen maliciously."
What's next: The first challenge for Lula's government is to prevent further violence and disruption, says Ribeiro, noting that Bolsonaro supporters have been trying to block access to oil refineries to sow further chaos — so far unsuccessfully.
The focus will then turn to investigations and potential charges against politicians, businesspeople and others alleged to have organized or funded the riots.
2. Fortress China opens the gates
China this weekend opened its borders to the world after three years — a major step for the country's 1.4 billion people and for the global economy.
Driving the news: As of Sunday, travelers can now enter China without any quarantine if they test negative for Covid-19. Chinese tourists, who spent more than $250 billion overseas in 2019 and have left a huge gap in global tourism ever since, will also now be free to travel the world — though some countries are requiring negative tests due to the huge spike in cases.
Thailand's ministers of transport, tourism and public health all traveled to Bangkok's airport today to welcome Chinese travelers.
In Beijing, there were long lines outside immigration offices as people waited to renew their passports, per Reuters.
The strict border restrictions had been particularly keenly felt in Hong Kong, which is heavily economically reliant on mainland China. Tens of thousands of travelers flowed in both directions on Sunday, many of them to visit family.
What to watch: "China's reopening will be the biggest economic event of 2023," the Economist predicts. While China's rebound should power global growth, it will also likely drive up energy prices and make it more difficult for Europe to compete for LNG supplies.
In related news…
Chinese Foreign Minister Qin Gang, the outgoing ambassador to Washington, set off on a five-country trip to Africa immediately after taking office. That's become the custom for new foreign ministers in a signal of the continent's importance to Beijing.
Meanwhile, Foreign Ministry spokesman Zhao Lijian, who had become the face of confrontational "wolf warrior" diplomacy, has been shifted to a low-profile bureaucratic post in another possible signal that Beijing is seeking to soften its global image.
3. Global news roundup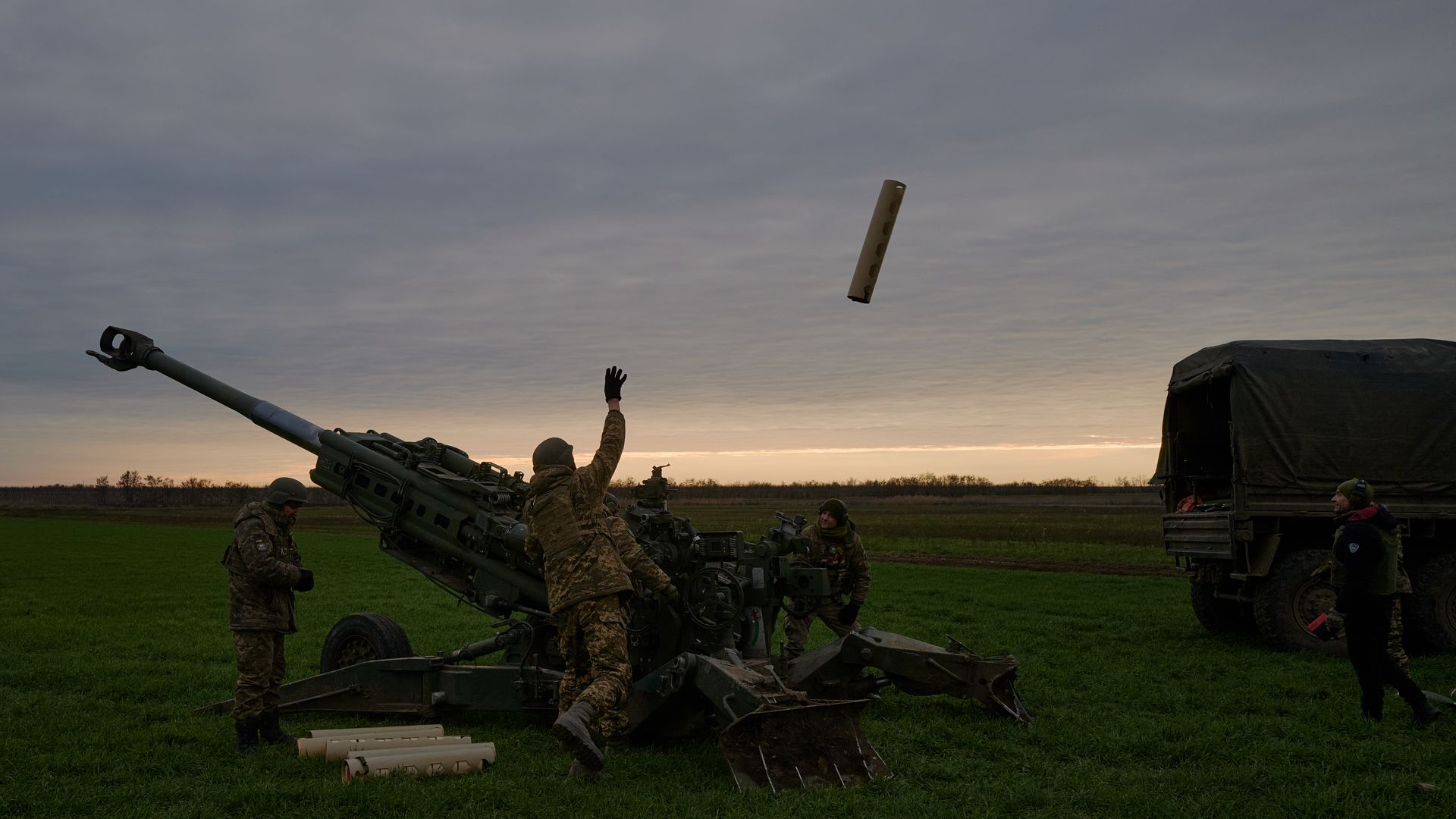 1. Donors pledged more than $9 billion for Pakistan to rebuild from last year's devastating floods at at UN-sponsored conference today.
Meanwhile, the UN Security Council unanimously voted to keep an aid corridor into Syria open, with Russia backing the extension after objecting in the past.
2. Andre de Ruyter, the outgoing CEO of South Africa's corruption- and debt-laden state power company Eskom, alleges that someone poisoned coffee he drank in his office last month with cyanide, before his resignation became public.
3. Ukraine is taking steps to bolster defenses around the eastern cities of Bakhmut and Soledar, which comprise some of the "bloodiest places on the frontline," Ukrainian President Volodymyr Zelensky said.
What to watch: Yevgeny Prigozhin, founder of Russia's Wagner mercenary group, reportedly hopes to extract salt and gypsum from mines around Bakhmut.
4. Thai Prime Minister Prayuth Chan-ocha switched parties ahead of an expected bid for another term in May's election. The unpopular incumbent first took power in a 2014 coup.
5. Former U.S. Defense Intelligence Agency analyst Ana Belen Montes was released from prison after serving more than 20 years for spying for Cuba.
Bonus: Stories we're watching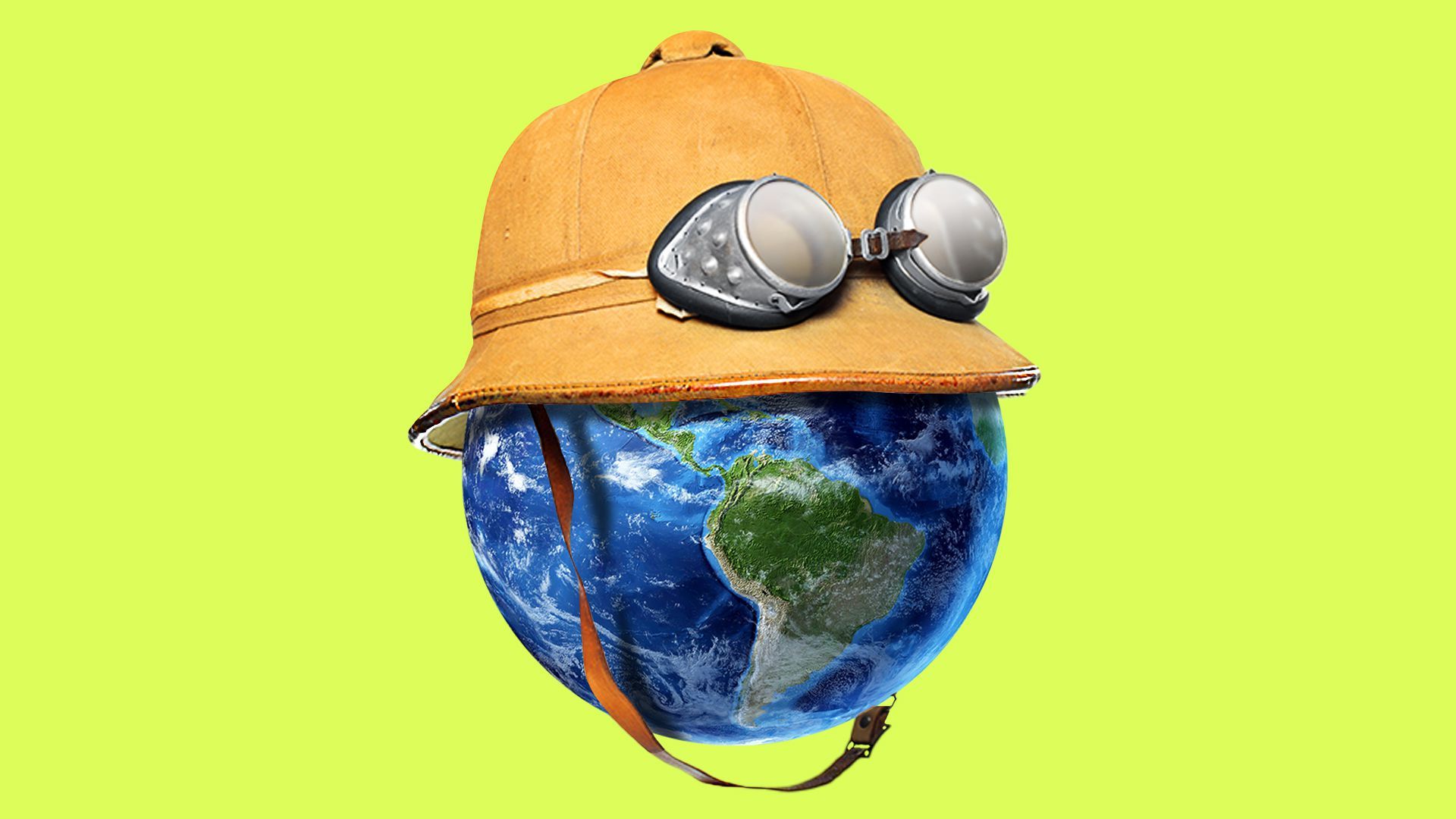 Today's rules are simple. I give you an island, you tell me what country it's a part of.
Sicily
Honshu
Bermuda
Bali
Crete
Tasmania
Luzon
Tenerife
Hainan
Tahiti
Bolshevik Island
Guadalcanal
Prince Charles Island
Kodiak Island
Zealand
Scroll to the bottom for answers.
4. Biden visits Mexico and the border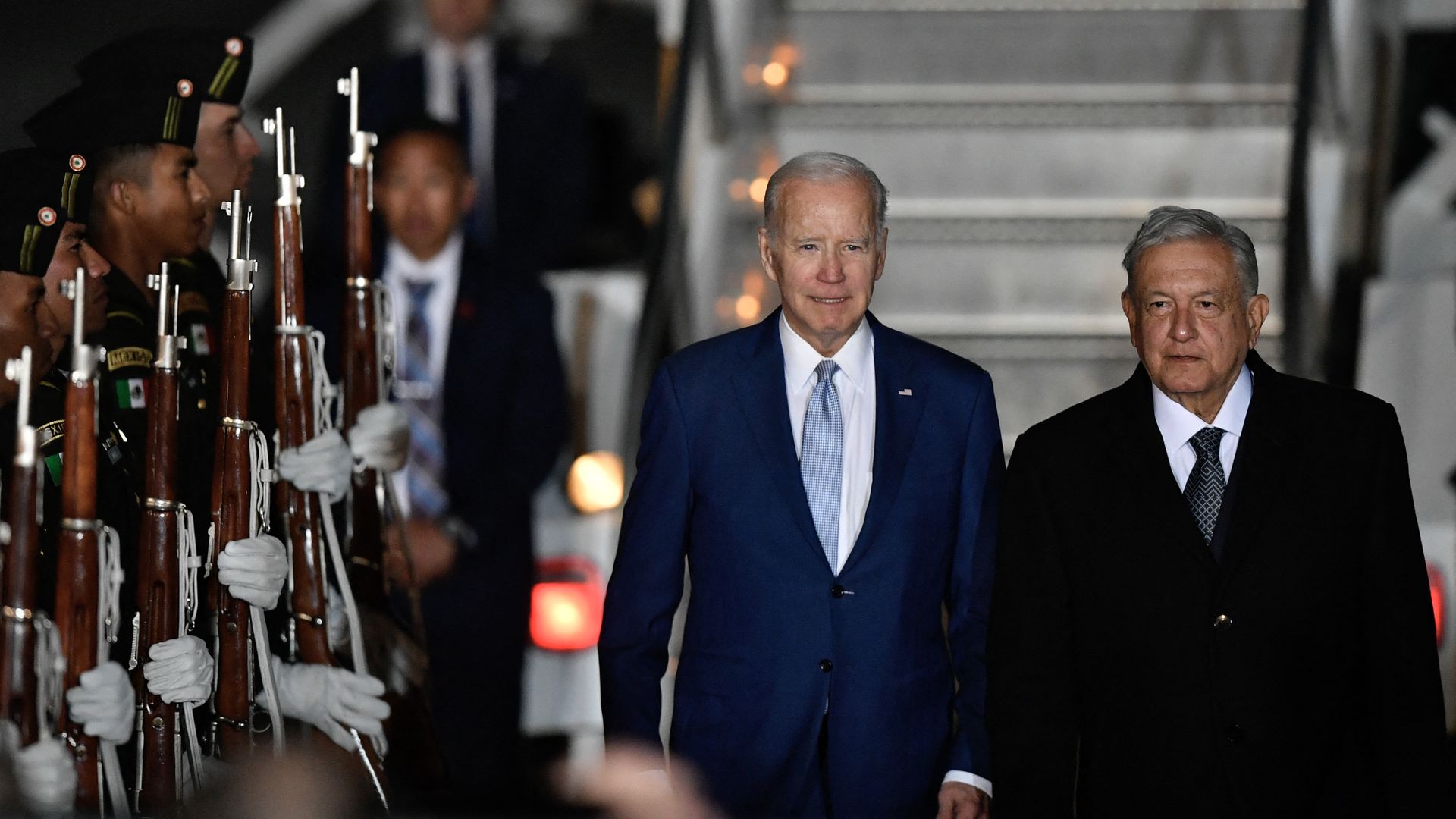 President Biden and Mexican President Andrés Manuel López Obrador had much to discuss today in Mexico City — a dispute over López Obrador's nationalist energy policies, concerns around the Mexican president's plans to overhaul electoral institutions and, of course, one of the world's biggest bilateral trading relationships.
But on the U.S. side of the border, only one issue is getting much attention: immigration. Border crossings are currently at record-high levels.
Driving the news: Biden visited the border in Texas yesterday before heading to Mexico, and announced that his administration would expand the nationalities of migrants that could be rapidly expelled to Mexico to include Nicaragua, Haiti and Cuba.
López Obrador then said today that Mexico would consider accepting more migrants.
Biden flew into a new airport north of Mexico City that's a pet project for López Obrador and a major target for his critics. The Mexican president met him on the tarmac and they both climbed into Biden's presidential limousine.
One take: "Biden arrives in Mexico where AMLO is on a quest to centralize power by atrophying regulatory agencies, militarizing Govt, harassing journos & capturing electoral bodies. Biden won't say anything as he struck an implicit Trump-like deal in exchange for AMLO stopping migration," tweeted José Díaz Briseño, a correspondent for Mexico's Reforma newspaper.
National security adviser Jake Sullivan said migration was one of several key issues for the visit, with the others including fentanyl trafficking, supply chains, and strengthening North American manufacturing in areas like clean energy
What's next: Biden, López Obrador and Canadian Prime Minister Justin Trudeau will dine together this evening and hold a trilateral summit tomorrow.
5. Data du jour: Who's riding high in the new year
Let's check in on the approval ratings of some major world leaders heading into 2023, including the three meeting in Mexico City today, according to Morning Consult's tracker.
6. What should I be reading?
Axios World will be taking a six-week break starting after next Thursday's edition while I'm on sabbatical.
While I'm feeling very fortunate to log off for such an extended period, I'll miss the newsletter and corresponding with readers.
I'll be sticking around Switzerland after the World Economic Forum to do some skiing, heading to Asia for a couple of weeks, and taking my dog on a road trip through the southern U.S.
That's a lot of flying and driving, so I'll need some book and podcast recommendations.
So far, I've packed Jonathan Wilson's history of Argentina through the lens of soccer, "Angels with Dirty Faces;" downloaded a couple of audiobooks from Mick Herron's "Slough House" series; and stored up a few episodes of "The Rest is History" podcast.
What else should I be reading or listening to? Reply to this email with any recommendations — here's one from me to even things out.
Bradley Hope wrote a book I've been waiting for ever since news broke in 2019 about a break-in at the North Korean embassy in Madrid. Hope untangles that bizarre incident and the network behind it in "The Rebel and the Kingdom."
7. Stories we're watching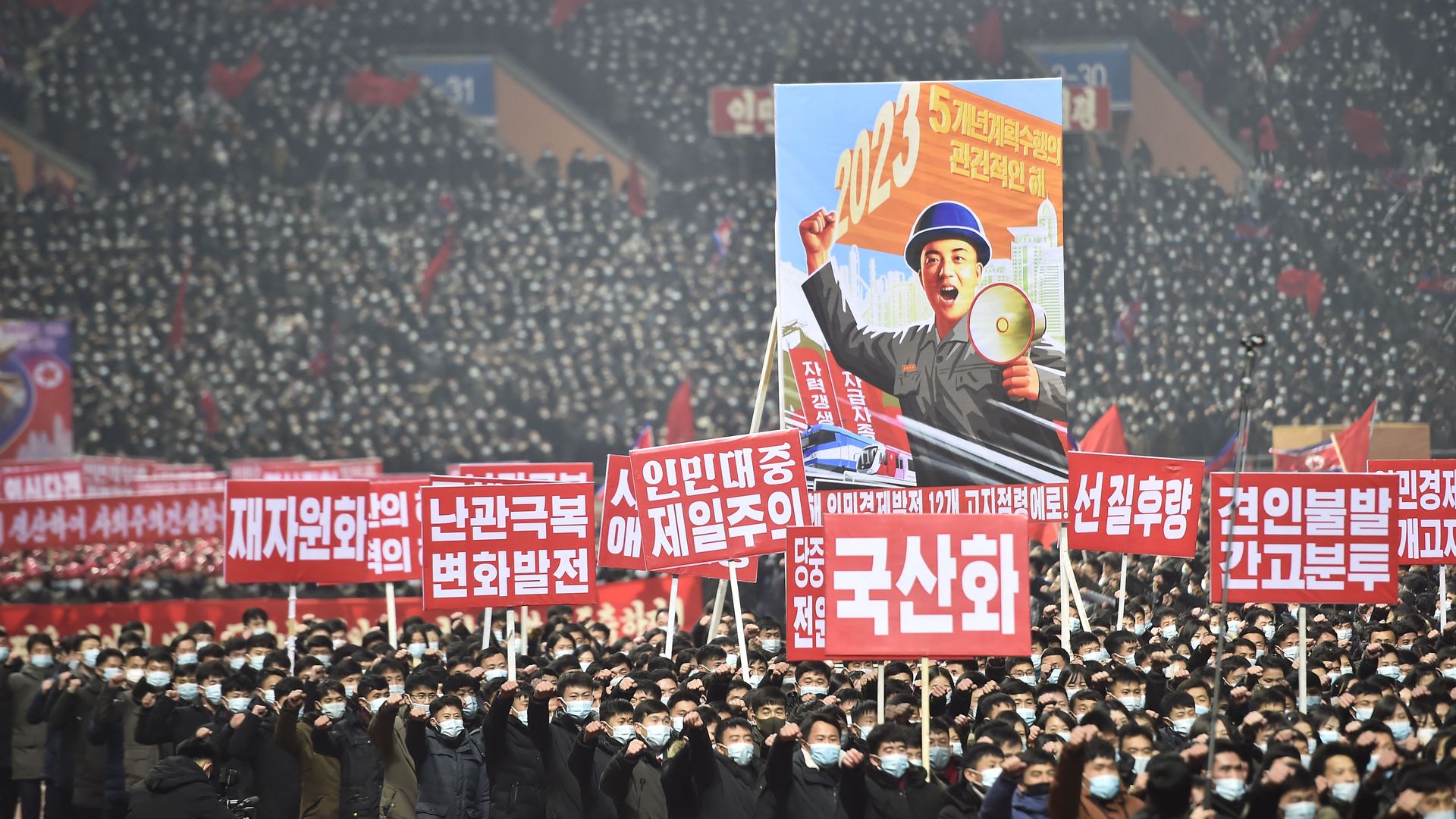 Quoted:
"He's the president. He should be exemplary and not marry his teacher."
— A question for Emmanuel Macron from "Le
Papotin," a show on France 2 where people with autism conduct interviews.
"You don't choose who you fall in love with. You don't think it's OK? ... She taught me theatre — that doesn't count!"
—
Macron's reply. The clip is worth watching.
Answers: 1. Italy; 2. Japan; 3. U.K.; 4. Indonesia; 5. Greece; 6. Australia; 7. Philippines; 8. Spain; 9. China. 10. France; 11. Russia; 12. Solomon Islands; 13. Canada; 14. U.S.; 15. Denmark
Key: 1. Sicily; 2. Honshu; 3. Bermuda; 4. Bali; 5. Crete; 6. Tasmania; 7. Luzon; 8. Tenerife; 9. Hainan; 10. Tahiti; 11. Bolshevik; 12. Guadalcanal; 13. Prince Charles; 14. Kodiak; 15. Zealand.