Axios World
November 30, 2018
Welcome to Axios World, where two evenings a week we break down what you need to know about the big stories from around the globe. It's our lucky 65th edition.
Thanks for joining me! Please tell your friends and colleagues to sign up here, and I'd love your tips and feedback: [email protected].
1 big thing: Trump-Xi dinner puts billions of dollars on the table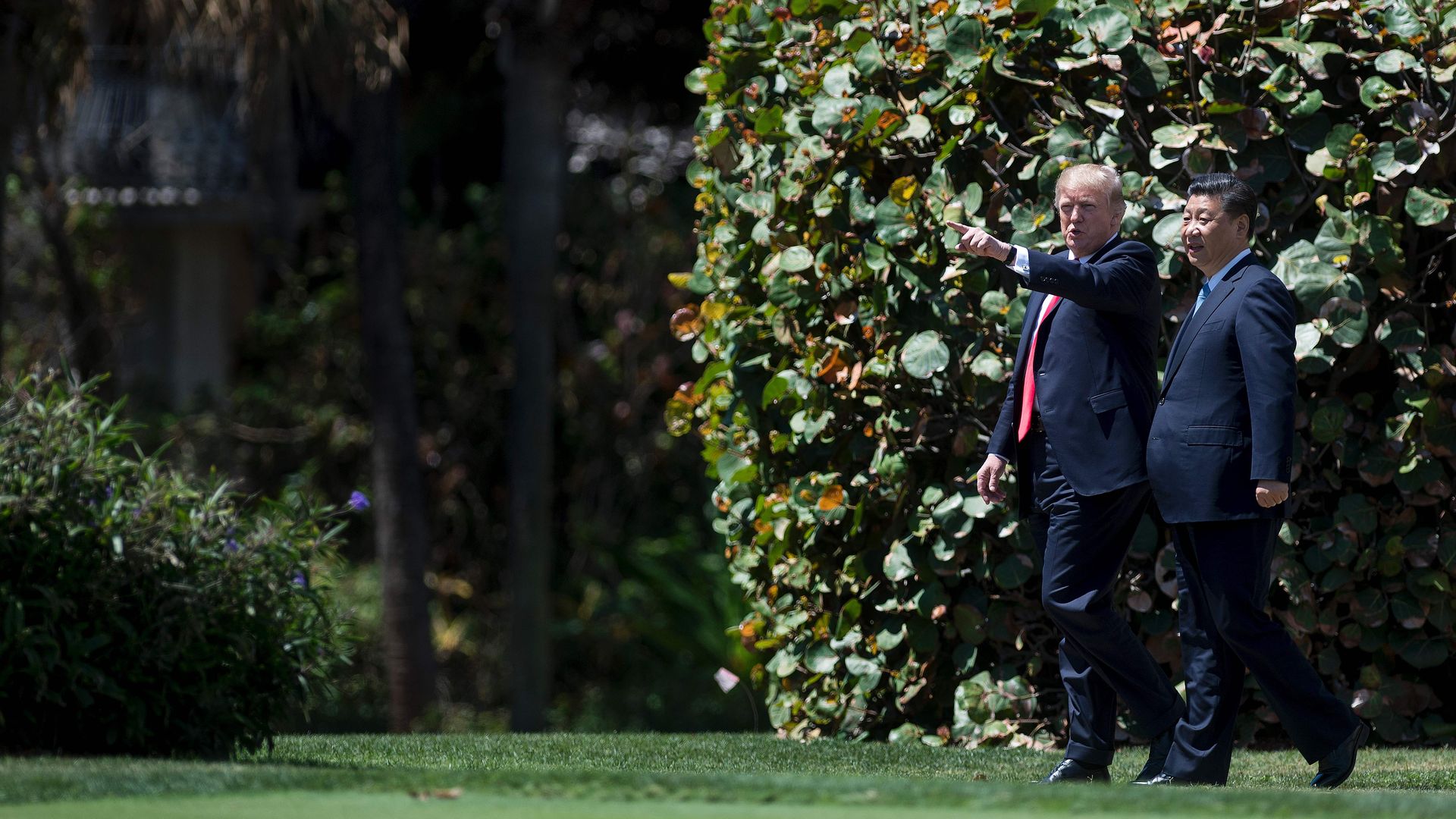 If President Trump's dinner with Chinese President Xi Jinping on Saturday at the G20 summit is make-or-break, Trump is giving every indication he's prepared for, or even prefers, the latter option.
Between the lines: Trump told reporters before taking off for Argentina that while China is interested in striking a deal, "I don't know if I want to do it" because "I like the deal we have now." He says he's already planning to raise existing tariffs from 10% to 25% on Jan. 1 — and impose a huge swathe of new ones if the meeting doesn't go well. Absent a breakthrough, this trade war is about to get brutal.
On the one hand: This is the best chance for a reset in months. The stage has been set by weeks of behind-the-scenes talks, and fears over slumping markets offer plenty of incentive.
On the other hand: As Axios' Jonathan Swan reports, Trump believes to his core that tariffs work and isn't anxious to change course. Meanwhile, according to Axios contributor Bill Bishop, the Chinese still "don't seem to understand that the tactics that worked in the past in D.C. no longer do."
If they don't reach a truce in Argentina, David Dollar of Brookings says it's "really hard to see an exit ramp, a real opportunity to get off of that trade war situation over the next couple of months."
Politico's Ben White writes, Trump's trade war is "slamming parts of the American economy, especially in Midwestern and farm belt states that helped propel him to the White House."
"Soybean crops are rotting in fields with China's market now closed. Dairy farmers hit by retaliatory charges are selling family businesses. And blue-chip American companies from Whirlpool to Caterpillar and Stanley Black & Decker Inc. have cited higher prices generated by Trump's tariffs."
What a deal looks like …
Bob Davis and Lingling Wei report in the Wall Street Journal that the sides have discussed potential "partial agreements," like those reached with the EU and Japan to stave off auto tariffs. It's unclear if Trump is prepared to sign such a deal. 
Ely Ratner argues in Foreign Affairs that "any agreement in Argentina will be a tactical pause at best, providing short-term relief to jittery stock markets and beleaguered U.S. farmers, but having no material or long-lasting effect on the slide toward a high-stakes geopolitical competition between the United States and China."
His grim conclusion is that "The days when the world's two largest economies could meet each other halfway have gone. … On most issues of consequence, there is simply no overlap between Xi's vision for China's rise and what the United States considers an acceptable future for Asia and the world beyond."
Go deeper: A great read from Davis and Wei on how we got here
2. Surprise twist: Trump cuts out Putin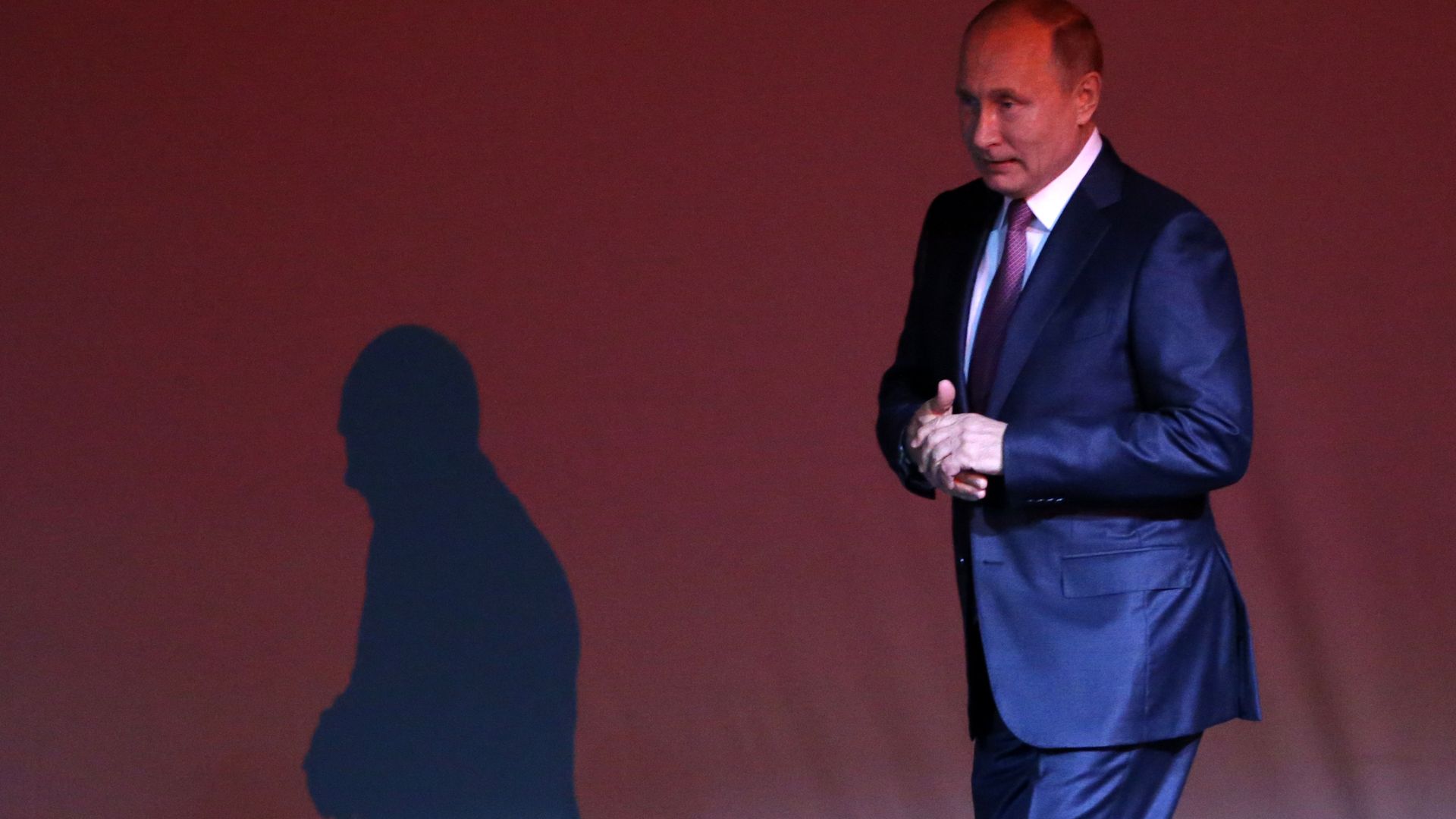 President Trump cancelled the other headline act from his trip to Buenos Aires — his meeting with Vladimir Putin — with a tweet from Air Force One:
"Based on the fact that the ships and sailors have not been returned to Ukraine from Russia, I have decided it would be best for all parties concerned to cancel my previously scheduled meeting in Argentina with President Vladimir Putin. I look forward to a meaningful Summit again as soon as this situation is resolved!"
Trump's decision comes five days after Russia fired on and seized three Ukrainian naval vessels, and 24 sailors, in the Kerch Strait between Crimea and Russia. It also came just hours after his former attorney, Michael Cohen, pleaded guilty to lying about plans to build a Trump Tower in Moscow.
Trump also downgraded meetings with Turkish President Recep Tayyip Erdogan and South Korea's Moon Jae-in. He'll meet with Germany's Angela Merkel and Japan's Shinzo Abe. The Abe meeting is set to evolve into a trilateral with India's Narendra Modi.
Bonus: Brits don't know what they want on Brexit
The U.K. Treasury released an analysis on Wednesday concluding that, under Prime Minister Theresa May's proposed Brexit deal, the country's GDP would be 3.9% smaller after 15 years than if it remained in the EU. If Parliament rejects May's plan, though, and the U.K. crashes out without a deal, GDP would be 9.3% smaller after 15 years.
So what do the British people make of it all? According to one poll ...
58% prefer May's deal to exiting without a deal.
56% prefer remaining in the EU to May's deal.
So remain wins the day, right? Wrong.
52% prefer no deal to remain.
The bottom line: Does that make any sense? No. But none of this does. May's argument is now, "take our deal, it's worse, but not too much worse" — and she's making more sense than just about anybody else!
3. Latin America: Argentina's ill-timed fútbol fiasco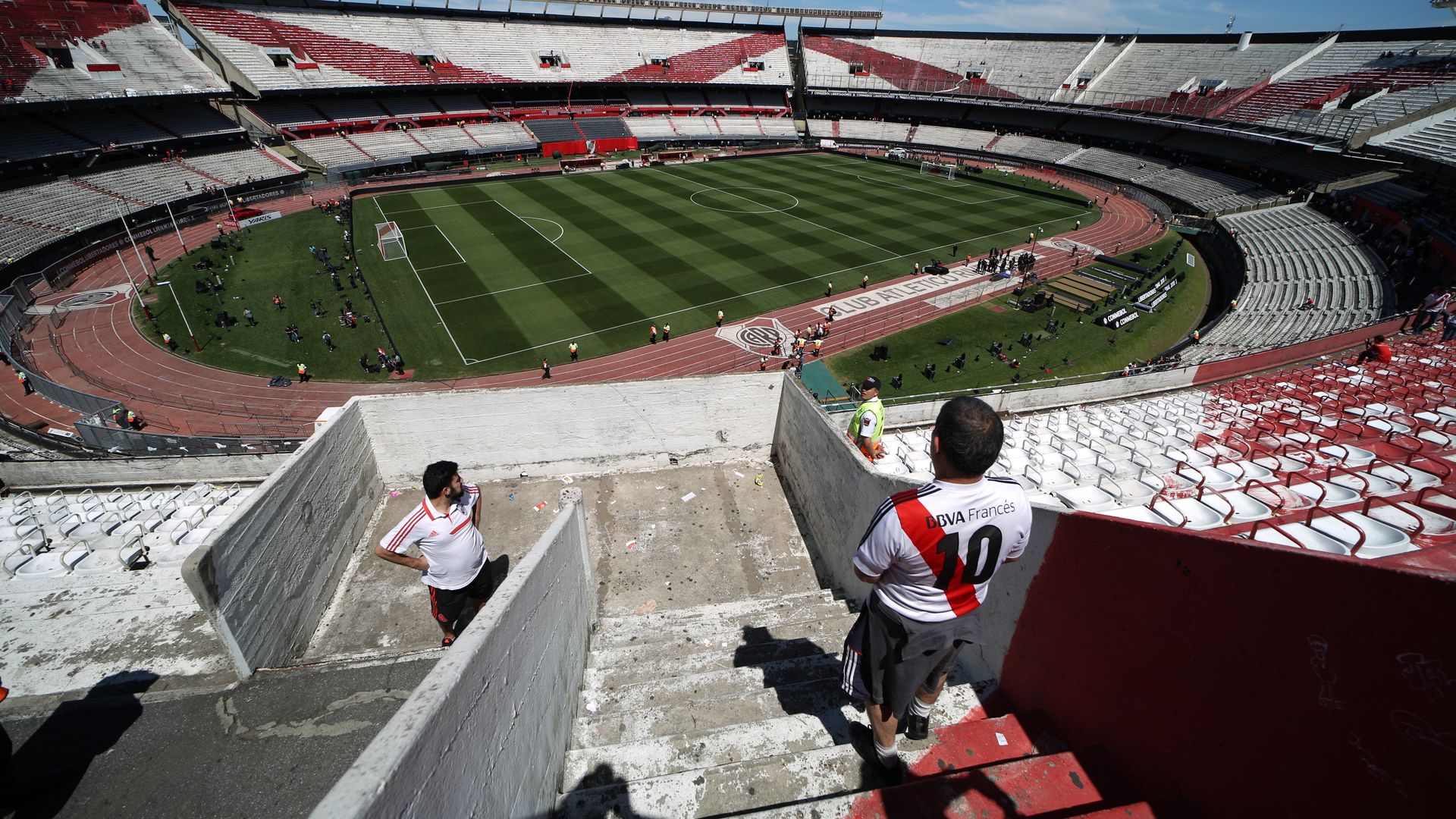 One man Trump is still slated to meet in Buenos Aires is the conference's host, Argentine President Mauricio Macri. Gabe Lipton of GZERO Media explains in the latest Signal newsletter why a recent "fútbol fiasco" — when fanatic supporters of River Plate attacked a bus carrying members of the rival Boca Juniors — came at a terrible time for Macri.
Zoom out: The business-friendly Macri is attempting a careful balancing act between his domestic and foreign audiences, amid an economic crisis that has seen Argentina fall into a deep recession.
Investors are watching carefully to see whether Macri has enough mettle to implement reforms, while voters at home fear the pinch of further cuts to government programs that help them make ends meet.
Zoom in: Saturday's championship match was supposed to be an opportunity to showcase Argentina's soccer prowess and escape the gloom of the spiraling domestic economic situation. Instead, it was postponed after the melee and will now take place outside of Argentina.
Macri, who hails from one of Argentina's wealthiest families, isn't helped by the fact that the rivalry between Boca Juniors and River Plate has distinct class undertones — with River drawing its support from the capital's wealthy suburbs and Boca its working-class neighborhoods. (In a twist, Macri was the president of Boca for over a decade before his election.)
The bottom line: Macri intended to use the high-profile G20 summit to reassure foreign leaders and investors that Argentina fundamentally remains a good bet. A toxic cocktail of sport and class rivalries has just made that a harder sell.
4. Middle East: Yemen barrels toward famine
As debate rages in Washington and around the world about how to slow or end the war in Yemen, the country continues to teeter on the edge of a debilitating famine, Axios' Haley Britzky writes.
The big picture: The UN has said for months that Yemen is on the brink of famine, and the heads of major humanitarian organizations say the U.S. will share responsibility "for the deaths of many more Yemeni civilians" if significant action isn't taken.
Yesterday, the Senate voted to advance a resolution that would pull U.S. support from the Saudi-led coalition in Yemen. That was a rebuke to President Trump, who has stood by the Saudis, but the resolution is a long way from passage.
Secretaries Mattis and Pompeo have called for a ceasefire in Yemen by Dec. 1, but that deadline is unlikely to be met. However, the sides are expected to begin talks next week in Sweden.
Dan Schneiderman of the International Crisis Group, and a former Yemen director at the White House National Security Council, told Axios: "It's important to remember that the Sweden talks are consultations — pre-talk talks rather than a full-blown peace process. So our expectations shouldn't be that they will end with a deal."
Go deeper: Declan Walsh files from Sanaa for the New York Times: "The problem isn't a lack of food; it's that few people can afford to buy what food is available."
5. Europe: Italy's view on Brussels budget standoff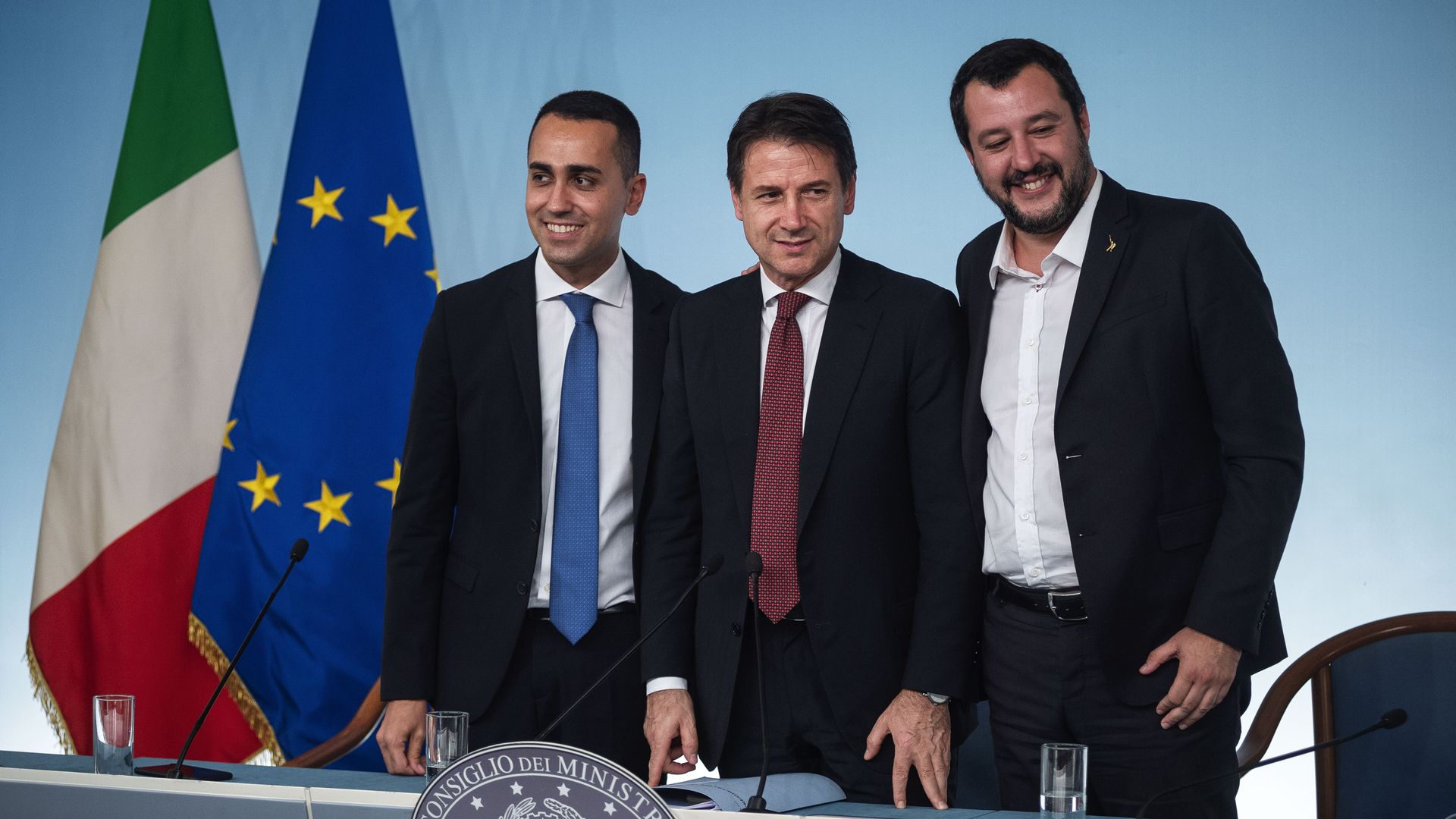 Italy's populist government is offering only limited concessions to the European Commission, which rejected Rome's big-spending budget last month and said the country risked "sleepwalking into instability."
Where things stand: The budget includes a deficit target of 2.4% of GDP, which Brussels says is too high for the debt-strapped country. Finance Minister Giovanni Tria has said the government must consider "the fears of our European partners," but Deputy Prime Minister Matteo Salvini said today that the government wouldn't consider bringing the target below 2.2%, per Bloomberg.
Michele Geraci, Italy's undersecretary of state for economic development, argued today at the Peterson Institute that what Brussels fears is a scenario in which economic growth is lower than the Italians project, bringing the 2.4% figure up to, say, 2.9%.
He says the government will crunch the numbers in the summer and, if they are on pace to exceed 2.4%, cut discretionary spending by delaying or pulling back on some programs "so that we never, never cross 2.4%."
Any fines from the European Commission are months away, he says, and will only come in the unlikely event that Italy massively overshoots their targets.
The bottom line: Geraci says the standoff has been more about "personality and politics than economics" and is already dying down. "If you have an argument, once you start smiling, usually the other guy starts smiling back at you," he said.
6. A secret meeting in Istanbul
A special envoy from the Israeli Foreign Ministry held a secret meeting in Istanbul with Sudanese officials a year ago as part of an attempt to renew the dialogue between the two countries, a source briefed on the meeting tells Axios contributor Barak Ravid.
The secret meeting took place in the Istanbul office of a Turkish businessman and close confidant of Sudanese President Omar al-Bashir. The Israelis and Sudanese discussed the warming of relations after several decades of hostility and possible Israeli aid to Sudan in the fields of medicine, agriculture and the economy.
Why it matters: Israel is the only country in the world that Sudan does not allow its citizens to visit legally. Sudan used to host Hamas' headquarters and was an ally of Iran, but since 2014 it has started to distance itself from Tehran and pivot toward Saudi Arabia. In response, Israel began in 2016 to quietly lobby the U.S. and EU members to boost economic aid to Sudan.
Go deeper: President of Chad made military hardware demand on historic Israel trip
Update: Georgia's presidential runoff
In my special report from the Republic of Georgia last month, I wrote that "the strength of Georgia's democracy and of its all-powerful ruling party will be put to the test in ... what is sure to be a bitter runoff."
It was indeed a bitter runoff, but the ruling party's candidate, Salome Zurabishvili, won easily yesterday and will become the former Soviet republic's first female president. The opposition rejected the results, and former president Mikheil Saakashvili called for mass demonstrations.
7. Stories we're watching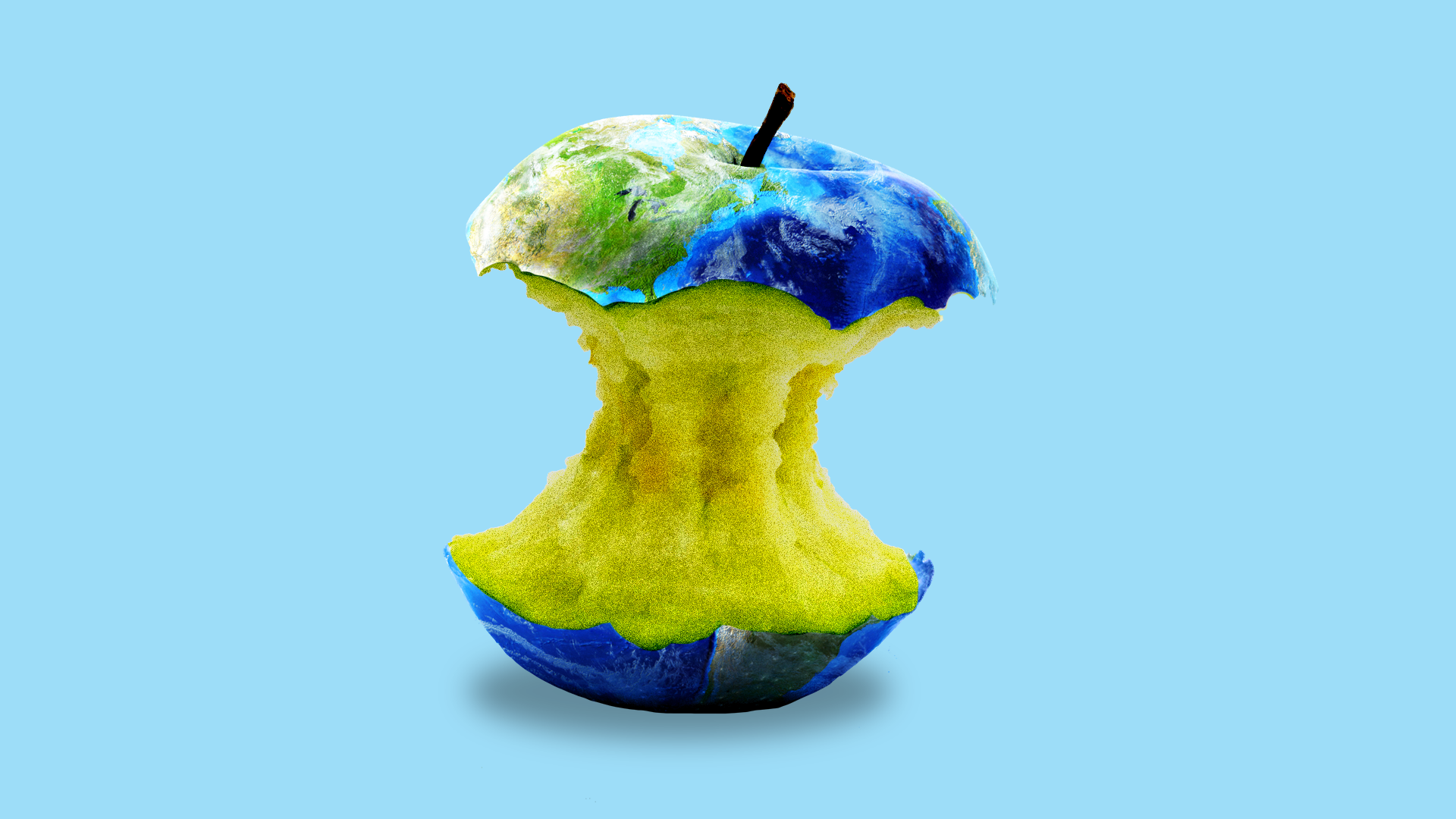 Quoted:
"It has been a long journey, from the fear of acceptance, and today hopefully advocacy, knowing my treatment keeps me healthy and that it protects any partner I have."
— Lloyd Russell-Moyle, a member of the British parliament,
revealing he is HIV positive
in an effort to reduce the stigma
Thanks for stopping by — see you Monday evening!