Welcome to Axios World, where two evenings a week we break down what you need to know about the big stories from around the globe. Please tell your friends and colleagues to sign up here, and I'd love your tips and feedback: lawler@axios.com.
For your radar: We launched two newsletters today, and they're both fantastic. Check out the first editions and I'm sure you'll agree.
Situational awareness: Kim Jong-un has arrived in China for a visit with Xi Jinping, Chinese state media reports. "Kim's visit, his fourth summit with Xi, comes amid reports of advanced negotiations for a second summit between the North Korean leader and U.S. President Donald Trump," per CNBC.
1 big thing: We're getting out, and we'll be there as long as it takes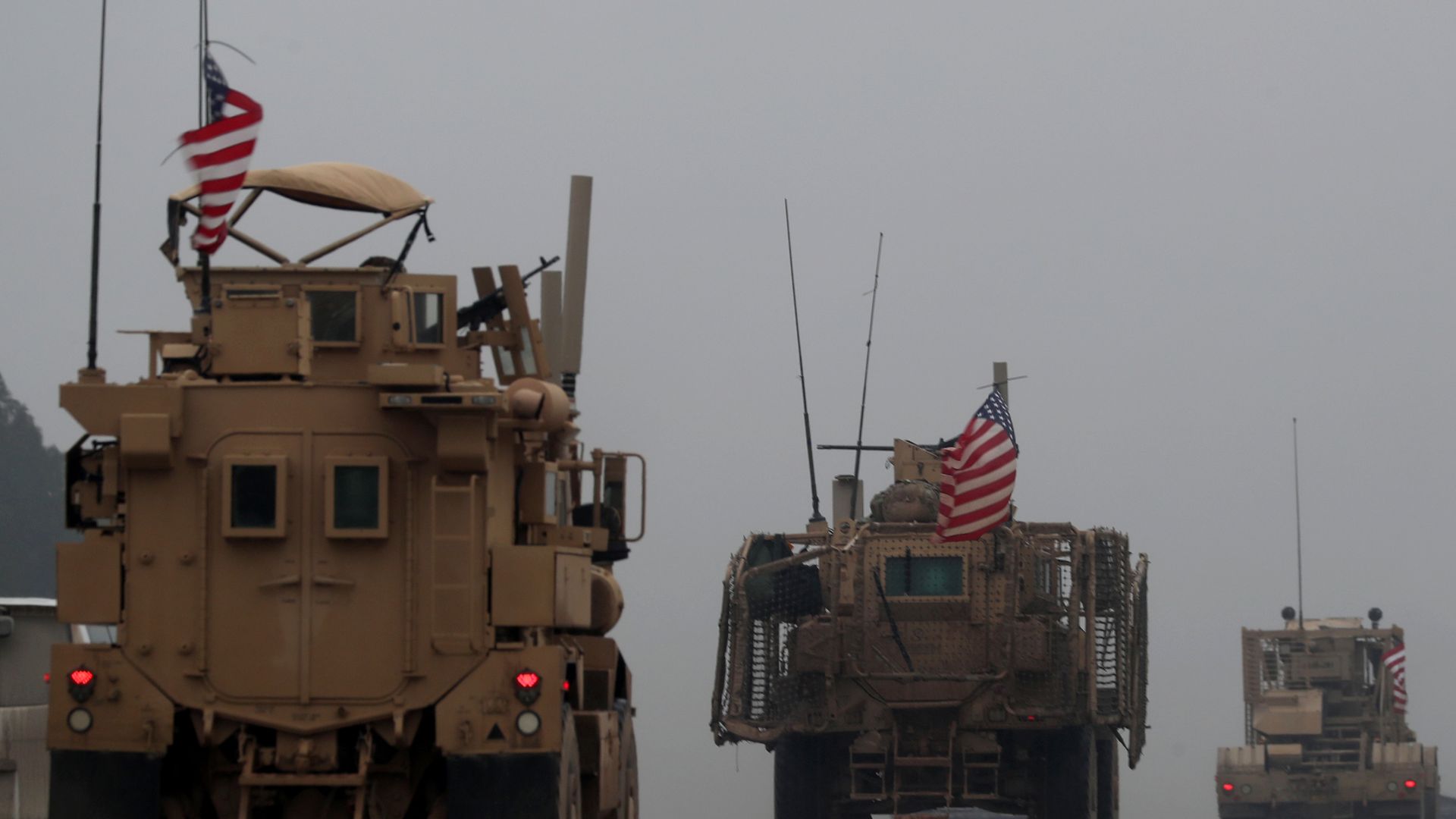 President Trump's sudden announcement that the U.S. would pull out of Syria stunned the key players in the conflict, prompted America's panicked Kurdish allies to turn to Syrian dictator Bashar al-Assad, and led to the resignation of Defense Secretary James Mattis.
Nearly three weeks later, the withdrawal seems to be getting less imminent by the day.
Catch up quick:
Trump now says U.S. troops will withdraw "at a proper pace while at the same time continuing to fight ISIS and doing all else that is prudent and necessary." He initially announced: "They're all coming back, and they're coming back now."
National security adviser John Bolton has been more specific. He says the U.S. won't pull out until ISIS is irreversibly defeated and the U.S. secures a promise from Turkey not to target Kurdish forces — a guarantee many observers say Turkey, which labels the Kurdish forces terrorists, can never credibly make.
The NY Times reports that Trump was convinced to extend the troop drawdown from one month to four, but that Bolton's conditions "could leave American forces there for months or even years." Bolton, meanwhile, says we shouldn't even discuss timetables until all the U.S. objectives are met.
Bolton and Secretary of State Mike Pompeo are both visiting the Middle East this week to signal to allies like Israel and adversaries like Iran that, as a State Department official put it, "The United States is not leaving the Middle East. … We are not going anywhere."
The policy divide:
There is a pattern of "Trump saying we're getting out and his advisers saying we're staying in," Philip Gordon of the Council on Foreign Relations tells me. Gordon, who served as Barack Obama's top Middle East adviser, says the moment of truth may be when Trump is asked about the apparent contradictions between his statements on Syria and Bolton's:
"I guess we'll find out then if Bolton actually speaks for the president or if we're back to 'ISIS is defeated and we're getting out.'"
One fundamental tension is that Bolton and Pompeo see containing the threat from Iran as central to America's interests in Syria. Trump, who has long said his only goal in Syria is to defeat ISIS, said last week that Iran "can do what they want" there.
The bottom line: "The danger of such inconsistency is that America's word becomes meaningless, leading allies to doubt Washington's promises and adversaries its resolve," writes Joel Rubin of the Washington Strategy Group for Axios Expert Voices. "Because Trump has neither responded to Bolton's statements nor clarified his position, it's unclear how committed he is to the Syria withdrawal."
2. Should we stay ...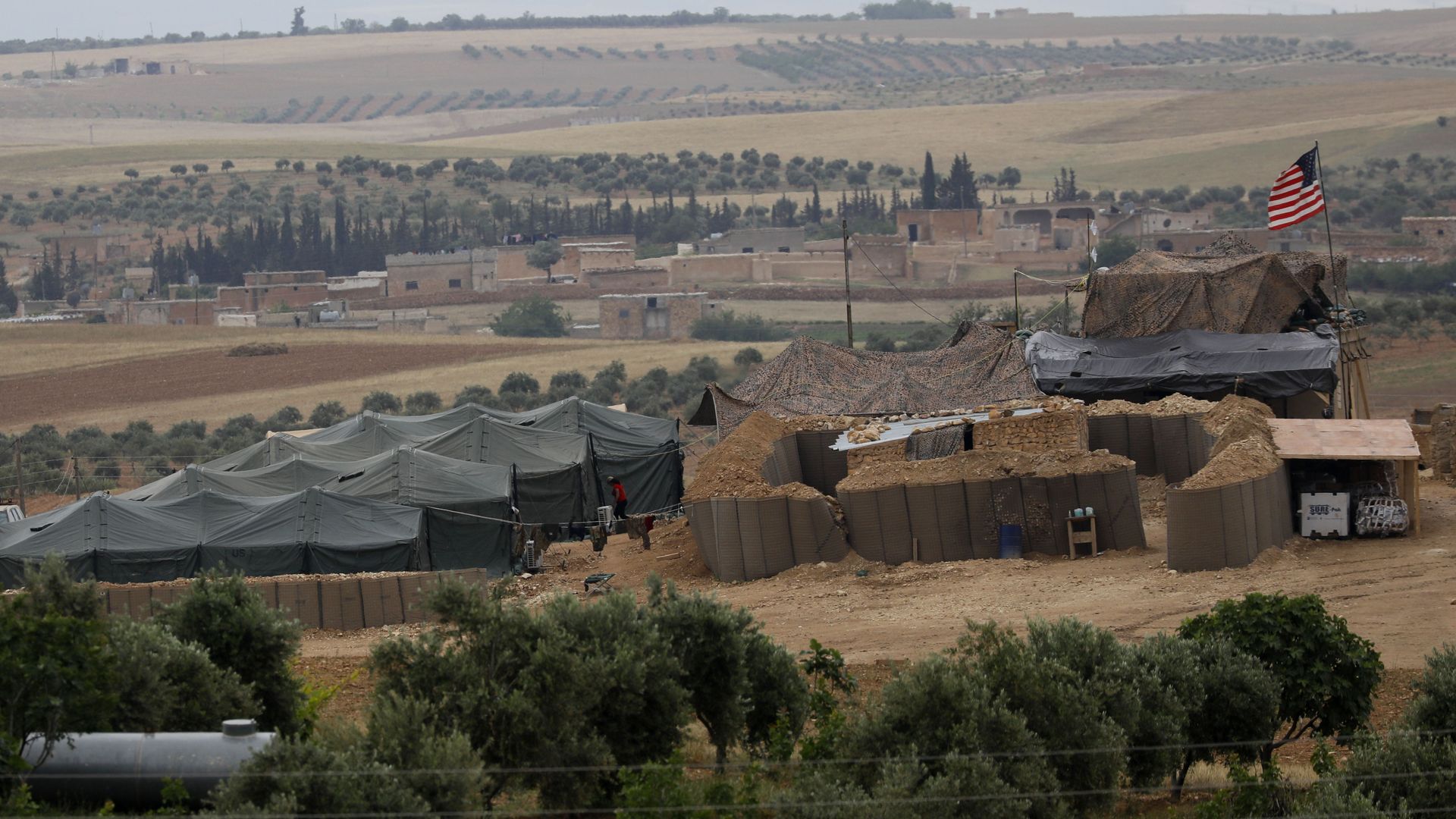 As Mark Landler noted on today's episode of the NY Times' The Daily podcast, Trump's Syria announcement unleashed a torrent of criticism — that he was empowering Russia and Iran, paving the way for ISIS' return, risking Israel's security, betraying the Kurds — but also "stimulated a conversation about whether 'forever wars' are the best way to prevent terrorism."
Aaron David Miller of the Wilson Center was among those who argued that, ultimately, Trump made the right call. Among his reasons: ISIS will still face capable adversaries, the alliance with the Kurds was always meant to be limited and "the more Syria becomes a burden for Russia and Iran, the better for the United States."
Today, Miller tweeted: "Bolton's conditions can never be met; the Iran hawk outfoxes Trump and commits US to another forever deployment."
What to watch: Nicholas Heras of the Center for a New American Security tells me even if the letter of Trump's order is followed, the hawks might still get their way:
"There's every chance that two years from now, three years from now, five years from now there's effectively no difference in the size of U.S. presence on the ground in Syria. It just will be with paramilitaries and private military contractors, not the U.S. military. And nobody's really talking about that."
3. ... Or should we go now
The immediate consequence of a U.S. withdrawal would be a scramble for control in eastern Syria, now controlled by Kurdish forces.
Zoom out:
"This was the heart of the Islamic State group's foothold in Syria until the United States partnered with a Kurdish militia, creating a force of some 60,000 fighters ... that wrested it away from the militants," per AP.
The U.S. presence there gave the Kurds cover against offensives either from Assad, who's seeking to restore his control of all of Syria, or Turkey, which "sees Kurdish autonomy on its border as an existential threat and has vowed to prevent" it, AP notes.
Zoom in:
Trump's announcement caused the Kurds, fearing a possible Turkish onslaught, to seek a deal with the Syrian government. They view Assad as the least-bad option, Joshua Landis, a Syria specialist at the University of Oklahoma, told Vice:
"There is a deal to be made. The Syrian government needs the Kurds to help police the north and the Kurds need the Syrian military to protect them against the Turks."
Turkish President Recep Tayyip Erdogan, meanwhile, seemed almost spooked by Trump's sudden decision (which was reportedly made in a call between the two), Soner Cagaptay of the Washington Institute told me.
Cagaptay says that despite his warnings of invasion, Erdogan is wary of having to take and hold a big swathe of Syrian territory. He might settle for a "soft partition" where Kurdish forces are "hemmed in by Turkish proxies," and sell that solution domestically as a "massive victory."
The big picture:
There are three broad scenarios here: The Syrian regime re-establishes its sovereignty, Turkey takes control or the Kurds are able to maintain their autonomy.
Gordon, of the Council on Foreign Relations, tells me the answer will ultimately be "some combination of all three." He says Washington's ability to shape that outcome is now "significantly reduced."
Bonus: "Sisterhood of spies"
"CIA Director Gina Haspel has appointed another woman to the top level of the agency, naming Cynthia 'Didi' Rapp as deputy director for analysis, essentially the top analyst in the CIA. The appointment means that the top three directorates of the agency, for operations, analysis and science and technology are now all headed by women."
—
NBC News
4. Africa roundup: A coup, a revolt, a flawed election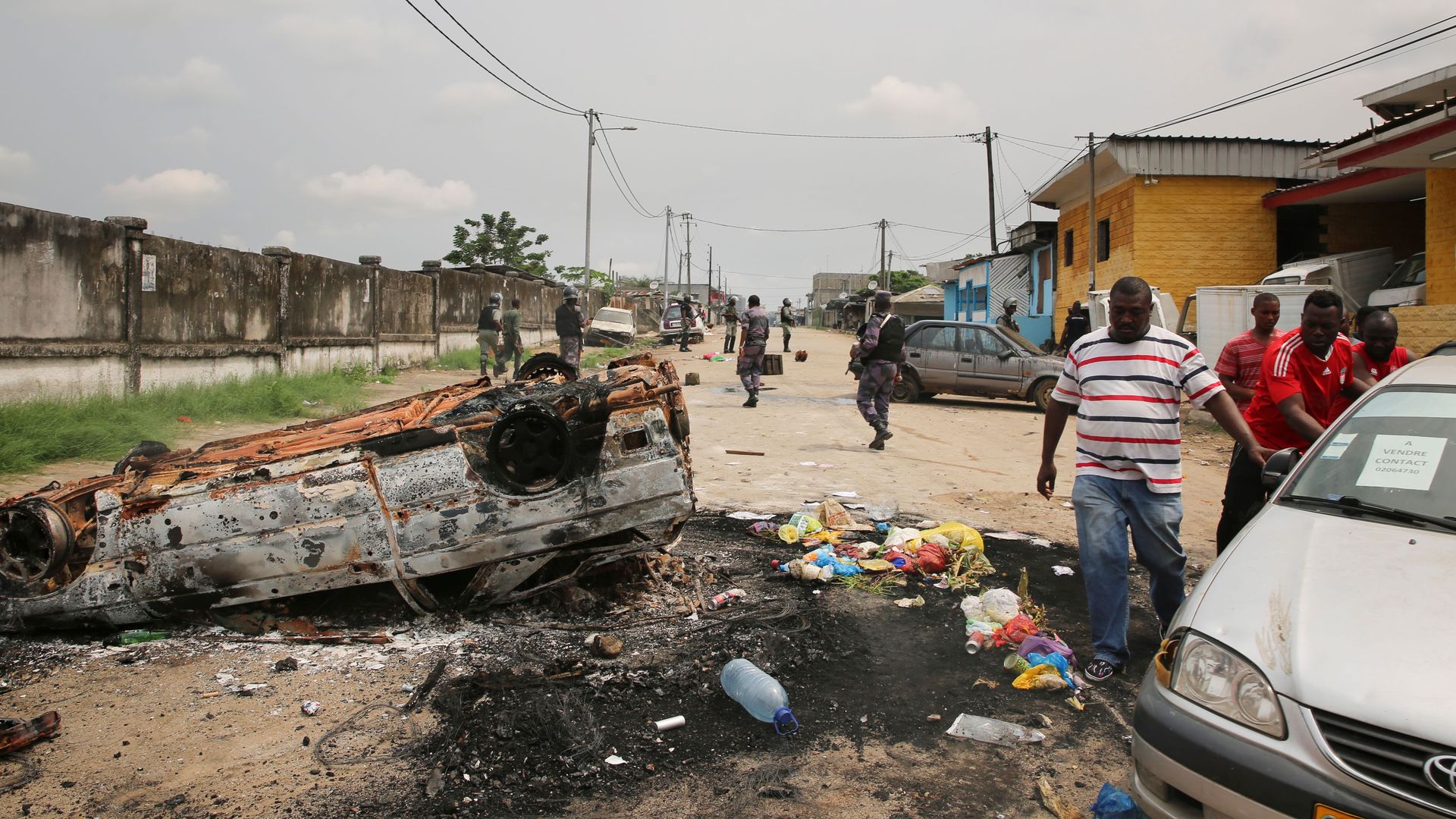 1. Gabon's government says an attempted military coup was easily put down today and everything is now "under control." The oil-rich country has been controlled by the Bongo family for a half century of relative political stability.
Background: "Current leader Ali Bongo ... narrowly won re-election in 2016 in a poll marred by violence and accusations of fraud. ... Mr. Bongo, who has been out of the country for two months, reportedly suffered a stroke in October and received treatment in Morocco," per BBC.
2. Sudan's interior minister says more than 800 people have been arrested since last month amid a string of protests against President Omar al-Bashir's government.
What to watch: "While the government has clearly been deeply shaken by the protests, on balance it still looks more likely to survive than not," writes Matt Ward of Oxford Analytica. He says a political transition is more likely than a military coup or "a genuine popular revolution."
3. Congo's electoral commission has delayed its presidential announcement, saying only half the results from the Dec. 30 presidential vote are in.
Why it matters: The chaotic election and its opaque aftermath, which has seen the government block internet access, have fueled claims the vote is being rigged in favor of the ruling party.
5. Africa: The great ivory trade debate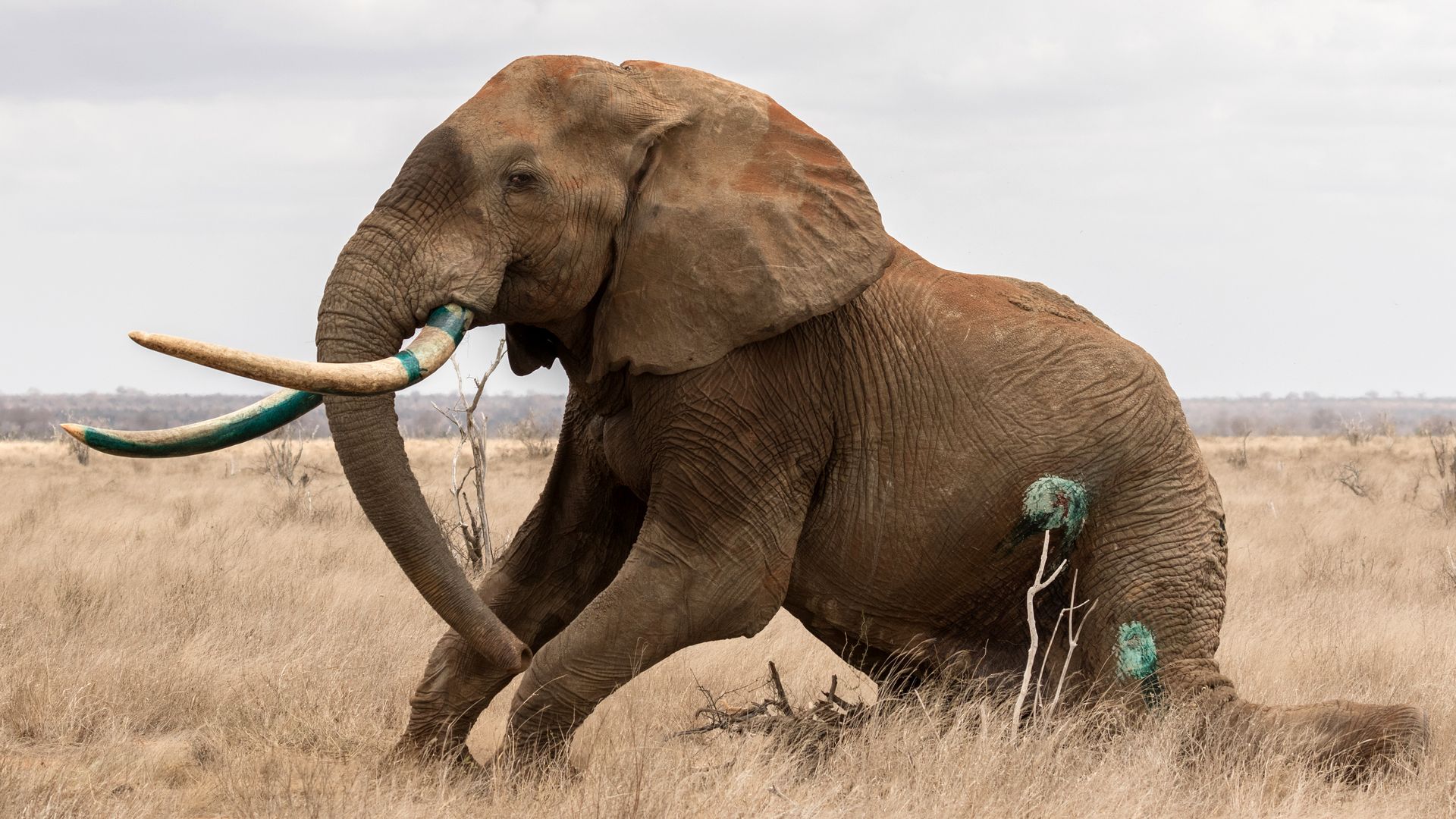 "Several African countries with some of the world's largest elephant populations will push this year for looser controls on legal ivory trade, while another group of countries on the continent says more restrictions are the best way to curb the illegal killing of elephants for their tusks," AP's Christopher Torchia reports from Johannesburg.
The debate pits "southern African countries including Botswana and Zimbabwe that say commerce will help them pay to conserve elephants against Kenya, Gabon and others that believe even limited trade fuels demand and drives up illegal killing." Those dueling proposals will be discussed at a convention in May in Sri Lanka.
Supply: "[T]he main exit points for African ivory from the continent are the Kenyan port of Mombasa, the Tanzanian region of Zanzibar and to a lesser extent Maputo, Mozambique's seaside capital."
Demand: "An illegal ivory market in Vietnam and other countries is feeding demand in China, which banned its domestic ivory trade."
Go deeper: This comes after Japan announced it will resume commercial whaling — a decision that's actually more complicated than it sounds.
6. One-quarter of the world goes to the polls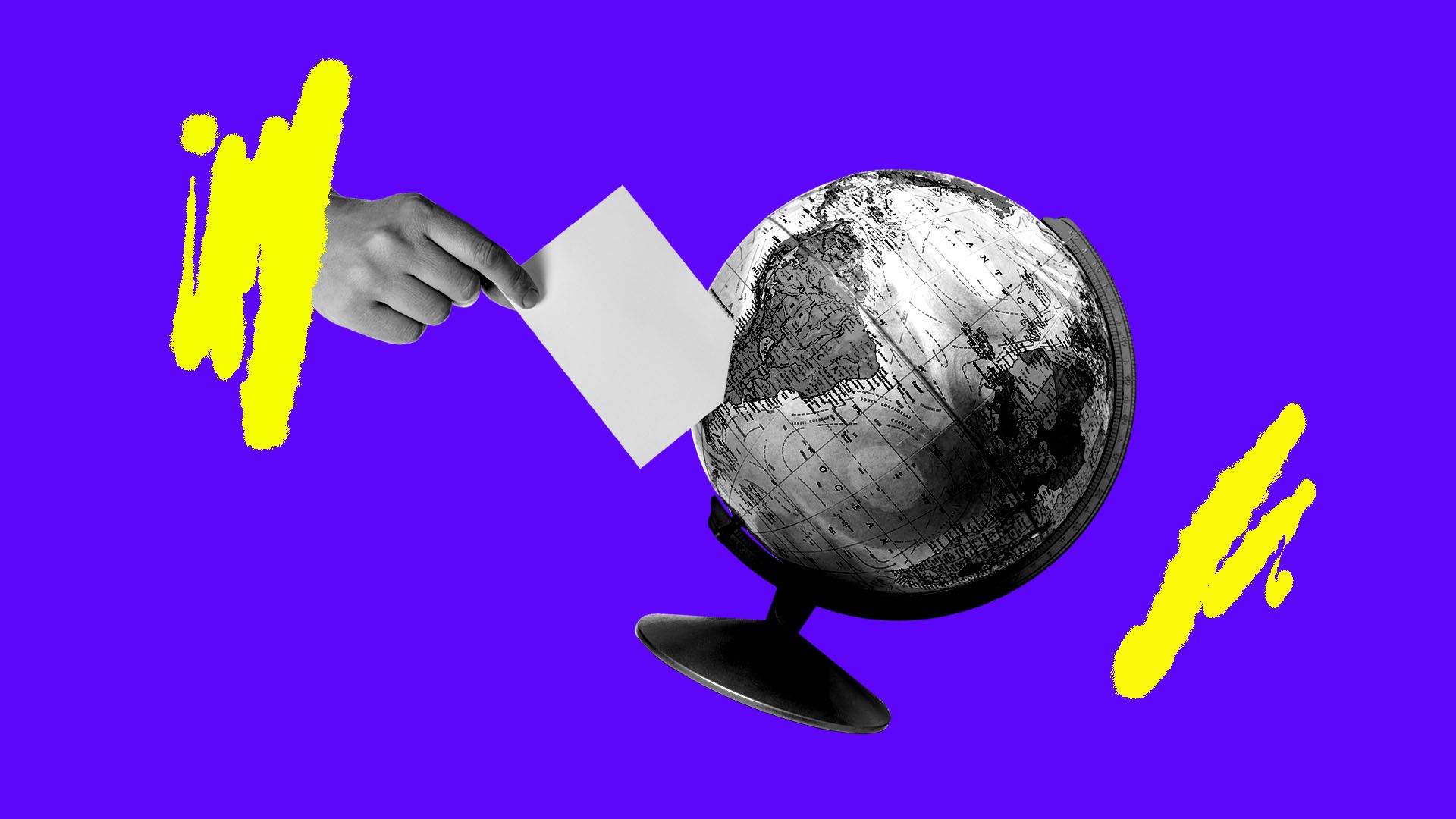 From our quarterly Axios Trends special report ... This will be a big few months for global democracy.
The big picture: The leadership of roughly a quarter of the world will be decided as three of the seven largest countries by population will hold general elections.
Nigeria (February): Four years ago, President Muhammadu Buhari swept into power on a surge of optimism, pledging to restore security and stamp out corruption. Since then, his record has been mixed, his popularity has dwindled and his health is poor (he recently had to deny rumors he'd been replaced by a body double). The old guard is clawing at the door.
Indonesia (April): President Joko Widodo is a charismatic reformer, but he's in a bitter fight fueled in part by misinformation about his faith. He has picked an influential Muslim cleric as his running mate in an attempt to undercut his strongman rival. If he loses, observers fear a rollback of democracy.
India (April/May): Recent setbacks in state elections were a shot across the bow for Prime Minister Narendra Modi, whose Bharatiya Janata Party may struggle to win enough seats to form the next government. That would be a stunning fall for a leader who, until fairly recently, looked untouchable.
7. Stories we're watching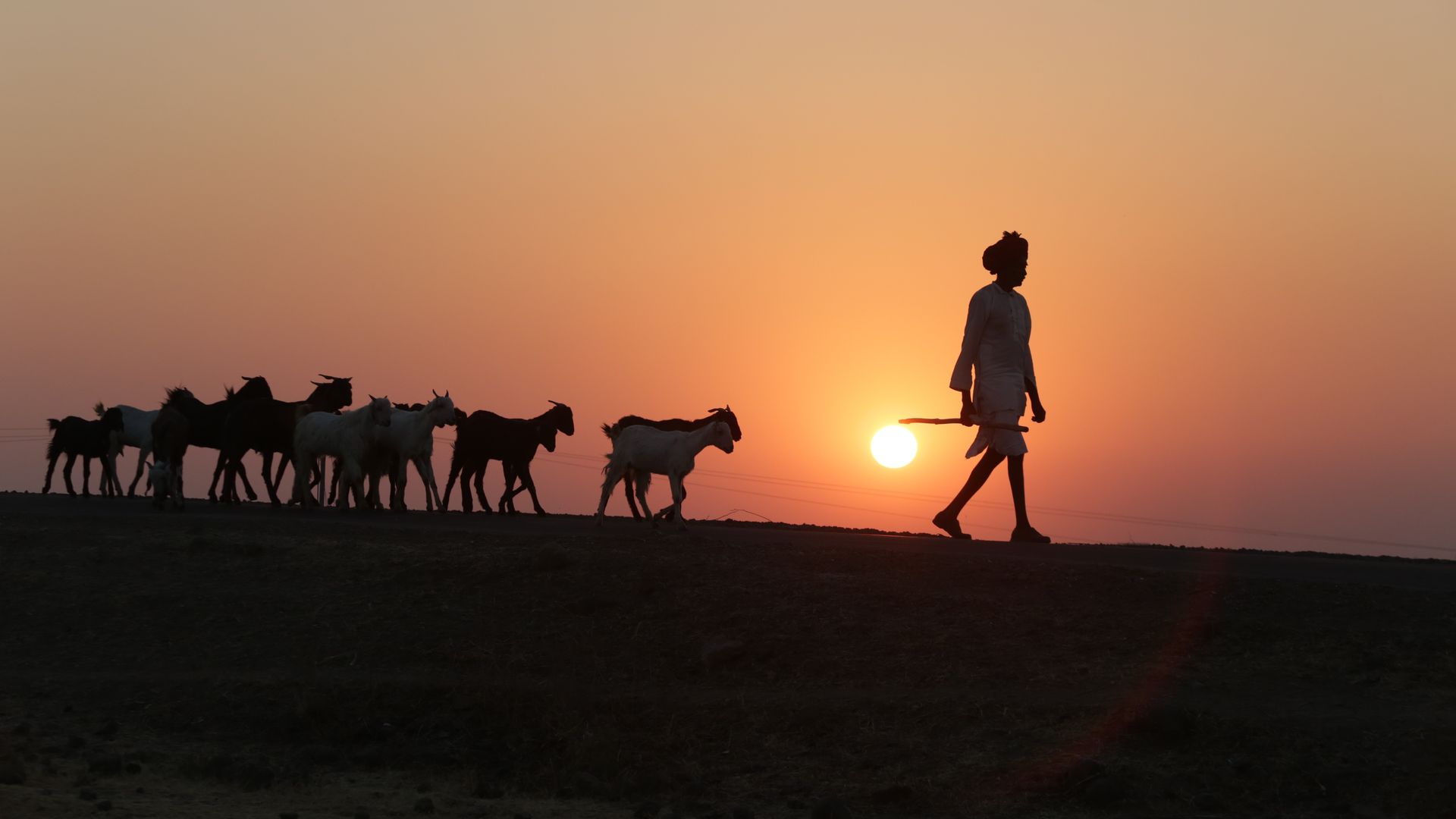 Quoted:
"We have finally liberated our ancient Church from Moscow's captivity."
— Ukrainian President Petro Poroshenko
Thanks for reading — see you Thursday!