May 09, 2022
Welcome back to Axios World. The sun is finally out here in D.C. Hope it's shining wherever you are.
Contrary to some expectations, Vladimir Putin did not use today's Victory Day holiday to declare war on Ukraine or announce mass conscription. The Pentagon says Russia's progress in the Donbas has been slow, and some Russian officers are disobeying their orders.
We've got a lot of Ukraine reporting coming soon, but we're focusing this evening (1,965 words, 7 1⁄2 minutes) on the EU, South Korea, the Philippines and Sri Lanka.
New arrival? Subscribe.
1 big thing: EU at a crossroads over Ukraine crisis
French President Emmanuel Macron today admitted that Ukraine's accession to the European Union could take "several decades" as he proposed a new, multitiered framework for a "European political community," Axios' Zach Basu and I write.
The big picture: The Ukraine crisis has further exposed two key tensions at the heart of the European project: the ability of current members like Hungary to undermine collective action and the lack of a clear path to membership for other key members of the "European family," particularly Ukraine.
Why it matters: The EU is the world's biggest single market. With the stroke of a pen, the bloc could strangle the Russian economy by banning energy imports or brighten Ukraine's economic future with the promise of membership.
Driving the news: Macron, who currently holds the rotating presidency of the European Union, offered some answers to those existential questions in a keynote speech today at the conclusion of a special conference in Strasbourg, France.
The more urgent threat to Macron's reform ambitions for the EU, as well as plans to ramp up pressure on Moscow, are differences between existing members.
Between the lines: The European Parliament has proposed an amendment to the bloc's founding treaties to eliminate the veto — and with it the need to repeatedly appease leaders like Orbán.
What to watch: While Macron continues to emphasize the need for a "sovereign" Europe that doesn't rely on any other power, including the U.S., the war has underscored for some members the importance of the American security umbrella.
The bottom line: The EU that emerges from the Ukraine crisis will be different, but perhaps not as different as Macron would like.
2. Shake-up in Seoul
Yoon Suk-yeol, who officially became South Korea's president at midnight local time and will be inaugurated in a few hours, comes to office promising a harder line on North Korea and closer relations with the U.S.
State of play: The former public prosecutor and political newcomer takes power under fairly ominous circumstances. North Korea has conducted 14 missile tests already this year, including the first ICBM test since 2017.
North Korean leader Kim Jong-un promised to expand his nuclear arsenal "at the fastest possible speed​" during a military parade last month. Kim has also said Pyongyang is pursuing lower-yield, "tactical" nuclear weapons, which could lower the threshold for a nuclear strike.
In a shift from his dovish predecessor Moon Jae-in, Yoon has said he would respond to an imminent North Korean nuclear attack with a preemptive strike.
Context: Moon made detente with Pyongyang his overriding foreign policy priority, and he tried to carefully balance relations with Washington and Beijing.
Yoon, by contrast, promised to make strengthening the alliance with Washington "the central axis" of his foreign policy and condemned Moon's approach as "parochial and shortsighted" in a Foreign Affairs essay earlier this year.
He also plans to improve relations with Japan, speak up about human rights abuses and raise South Korea's profile on issues well beyond North Korea.
But he'll face many of the same constraints that Moon did, particularly toward China, which is South Korea's largest trading partner and a crucial player in North Korea.
Driving the news: One step announced last week during the presidential transition might signal a greater willingness in Seoul to step on Beijing's toes. South Korea's intelligence agency became the first Asian member of NATO's cyber defense organization.
China fiercely opposes any NATO presence in its neighborhood, and the Global Times tabloid warned that the U.S. was pushing its South Korean "chess piece" into a step that "might trigger more confrontation with its neighbors."
What to watch: Beyond laying out a general policy framework, insisting he's ready to talk with no conditions, and criticizing each missile test as they come, President Biden has hardly engaged on North Korea.
With the odds of a diplomatic breakthrough looking slim, the administration seems to be focused on limiting the likelihood of serious escalation.
But Kim may seek to test Yoon and force his way onto Biden's agenda soon, perhaps with a nuclear test.
3. Marcos-Duterte ticket set for landslide in Philippines
Ferdinand Marcos Jr. is set to win today's presidential election in the Philippines 36 years after his dictator father was ousted in a popular uprising, preliminary results show.
State of play: With over 90% of the votes in, Marcos had double the tally of his rival, Vice President Leni Robredo. Marcos will replace Rodrigo Duterte, but Sara Duterte, the outgoing strongman's daughter, appears to have easily won the vice presidency.
The return of a Marcos to the presidency is the stunning conclusion of a decades-long process to rehabilitate the family's political brand.
It's unclear what Marcos Jr., known as "Bongbong," intends to do with power. He skipped the presidential debates and didn't campaign on many policy specifics.
In other elections news...
In Northern Ireland, Sinn Féin has officially become the largest parliamentary party for the first time.
Sinn Féin advocates joining the Republic of Ireland, but it must share power with the "unionists" due to political rules adopted after the Troubles.
However, the Democratic Unionist Party is currently blocking the formation of a power-sharing government due to its concerns about Boris Johnson's Brexit concessions.
In Hong Kong, former security chief John Lee was "elected" chief executive by the city's new "patriots only" electoral committee. Lee was handpicked by Beijing and ran unopposed.
In Costa Rica, President Rodrigo Chaves lambasted the "political class" and the high cost of living after being sworn in on Sunday.
Bonus: Where in the world?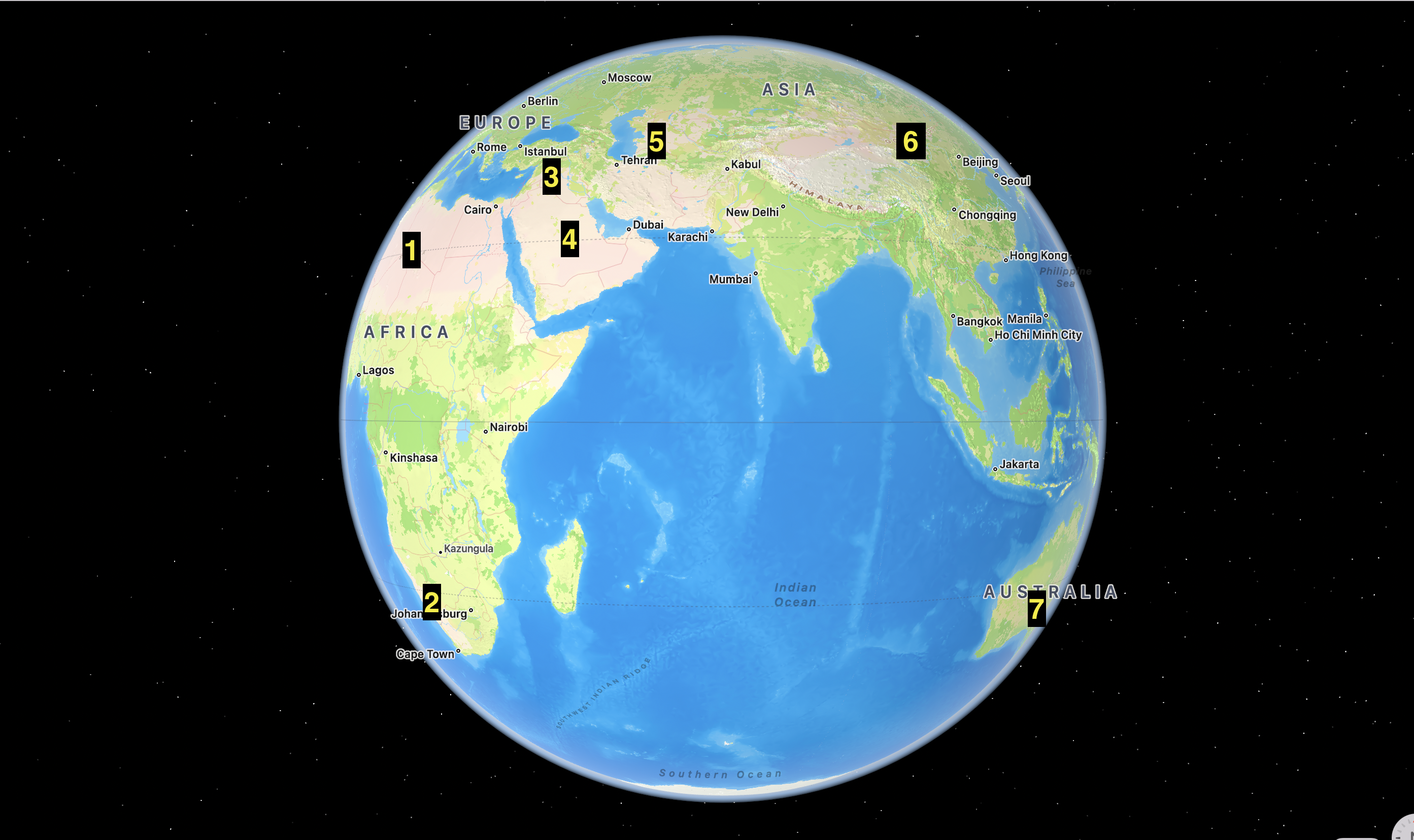 Today we're visiting seven of the world's largest nonpolar deserts. Can you name them all?
Note: I'm honestly not sure what the best answer would be for No. 7, so if you guess basically any Australian desert or even the name of a much-loved steakhouse, I'll give it to you.
Scroll to the bottom for the answers.
4. Prime minister resigns as Sri Lanka crisis deepens
Sri Lanka's government is down to its last Rajapaksa after Prime Minister Mahinda Rajapaksa presented his resignation today to his younger brother, President Gotabaya Rajapaksa.
State of play: Two more Rajapaksa brothers and one nephew resigned last month along with the rest of the Cabinet as the country's worst-ever financial meltdown took hold. But protesters likely won't be satisfied until Gotabaya joins them.
Driving the news: This morning, supporters of the ruling party, some of them bearing clubs, gathered outside of the prime minister's official residence before storming an anti-government protest.
Hours later, the protesters began retaliating by beating Rajapaksa supporters, torching official buildings and breaching the gate of the prime minister's residence, per WaPo.
At least five people including an MP were killed and 150 were injured, according to Al Jazeera, leading authorities to declare a nationwide curfew and Mahinda Rajapaksa (who served as president from 2005-2015) to announce his resignation.
The big picture: The protests have lasted more than a month as essential goods have grown increasingly scarce and unaffordable. The country's foreign reserves have dwindled to almost zero.
The Rajapaksas originally tried to blame it on the pandemic and other factors beyond their control, but it's clear that the protesters blame them.
That's a shocking twist. Before the crisis began, their political dynasty looked almost untouchable.
5. War crimes catch-up
It's been a busy two days for war crimes probes. Axios' Laurin-Whitney Gottbrath rounds up the latest.
1. The trial of a former senior Rwandan official accused of complicity in the 1994 genocide began today in a French court. Laurent Bucyibaruta, who denies the charges, is the highest-ranking Rwandan official to stand trial in France.
2. Defense lawyers for an alleged Malian rebel fighter accused of crimes against humanity and war crimes told an International Criminal Court hearing today that he was merely "in the wrong place at the wrong time."
Prosecutors say Al Hassan Ag Abdoul Aziz was a key figure in an al-Qaida-linked rebel group that overtook Timbuktu in 2012 and began a "widespread and systematic attack" on the civilian population, including rape, torture, persecution, enforced marriages and sexual slavery.
3. The WHO said yesterday it has started collecting evidence for a possible war crimes investigation into attacks on health care facilities in Ukraine, Reuters reports.
6. Data du jour: Soaring fertilizer prices hurt global food security
The rolling crises of the past few years rendered visible so many vital commodities that plenty of us had never given much thought — nickel, silicon chips, lumber. The latest entrant into this camp: fertilizer, Axios Markets co-author Emily Peck reports.
China, which supplies 24% of the world's phosphates, 13% of nitrogen and 2% potash, halted fertilizer exports this past summer.
Russia's invasion of Ukraine disrupted trading in the Black Sea, putting the global food supply in peril (for instance, the wheat disruption). Russia and its ally Belarus also produce a lot of fertilizer.
Fertilizer is a heavily traded product, meaning most countries — even the ones making lots of food — import their supply.
The bottom line: In richer countries, we'll continue to see higher food prices. In more vulnerable countries, things could grow desperate.
"Many fields are not being planted," Theo de Jager, the president of the World Farmers' Organisation, said yesterday. "I'm not so sure it's possible to avoid a food crisis."
7. Stories we're watching
Quoted:
"Shanghai is going into the harshest phase of lockdown yet. Food delivery is halting. We're told to rely on govt for food (rotting cabbage?). Day 39 of full lockdown feels like it could be day 1. They say this new phase is 2-5 days. The original lockdown was supposed to be 4 days."
— Don Weinland of the Economist,
tweeting
from Shanghai
Answers: 1. Sahara; 2. Kalahari; 3. Syrian (or Jordanian); 4. Arabian; 5. Karakum; 6. Gobi; 7. Great Victoria OR Gibson OR Great Sandy OR Great Australian OR even, the Outback.