Axios World
September 24, 2020
Welcome back to Axios World for tonight's 1,767-word (7-minute) journey.
Thanks as always for joining us. Please tell your friends and colleagues to sign up.
Flashback: In case you're losing track of time (who isn't?), it's now been 200 days since Italy led the world into lockdown, introducing the first nationwide restrictions outside of China.
1 big thing: How the world gets a vaccine
A global initiative to ensure equitable distribution of coronavirus vaccines now includes most of the world — but not the U.S., China or Russia.
Why it matters: Assuming one or more vaccines ultimately gain approval, there will be a period of months or even years in which supply lags far behind global demand. The COVAX initiative is an attempt to ensure doses go where they're most needed, rather than simply to countries that can produce or buy them at scale.
How it works: COVAX — led by the WHO, the Coalition for Epidemic Preparedness Innovations and the Gavi vaccine alliance — is investing in the production of nine vaccines, including candidates from the U.S., Europe and China. It plans to distribute any that are approved to all participating countries.
The funding will come from wealthier countries and other donors, with poorer countries receiving subsidized access.
A draft plan envisions a first phase of proportional distribution across all countries until about 20% of their populations are vaccinated.
The guidelines suggest health workers be vaccinated first, followed by the elderly and those with serious health conditions (countries will make their own allocation decisions).
In a second wave of more widespread distribution, each country's "COVID threat and vulnerability" will be taken into account.
Where things stand: 65 higher-income economies have now joined the 92 that are eligible for subsidized access. Together, they comprise 64% of the global population.
A further 35 higher-income countries or territories have said they intend to join.
The other side: The U.S. is independently buying up doses of six vaccine candidates and has said it won't participate in COVAX, citing the influence of "the corrupt World Health Organization and China."
China isn't currently part of COVAX. It may still join, but it plans to give its citizens and some friendly countries priority access to any vaccine it produces.
Russia hasn't joined either. Like China, it says it will make its vaccine available to other countries, but it wants to control that process.
President Trump, meanwhile, has said the U.S. will vaccinate Americans first and then share any remaining doses.
Between the lines: COVAX will be competing for a scarce supply of vaccines with both the U.S. and some of its own participants.
The U.K., Japan and EU plan to participate in COVAX, but they have also been purchasing tens of millions of doses for their own populations.
Meanwhile, India is eligible for access under COVAX, but it has also been promised some 500 million doses by the Serum Institute of India, the world's highest-capacity vaccine manufacturer.
What to watch: The groups behind COVAX argue that its diversified "portfolio" of vaccines gives countries their best shot at obtaining access to one that works.
Russia, by contrast, appears to be putting all of its hopes into a single vaccine, called Sputnik.
The White House says it's confident that at least one of the six vaccines the U.S. has invested in will work.
The latest: Johnson & Johnson's vaccine became the fourth to begin phase 3 trials in the U.S. this week.
The bottom line: We're sprinting toward a potential vaccine, and there's now a plan in place to distribute it around the world. But this is one of the most complicated global undertakings in decades, and success is nowhere near guaranteed.
Go deeper: Where the vaccine race stands in the U.S.
2. Europe: This man is unrecognizable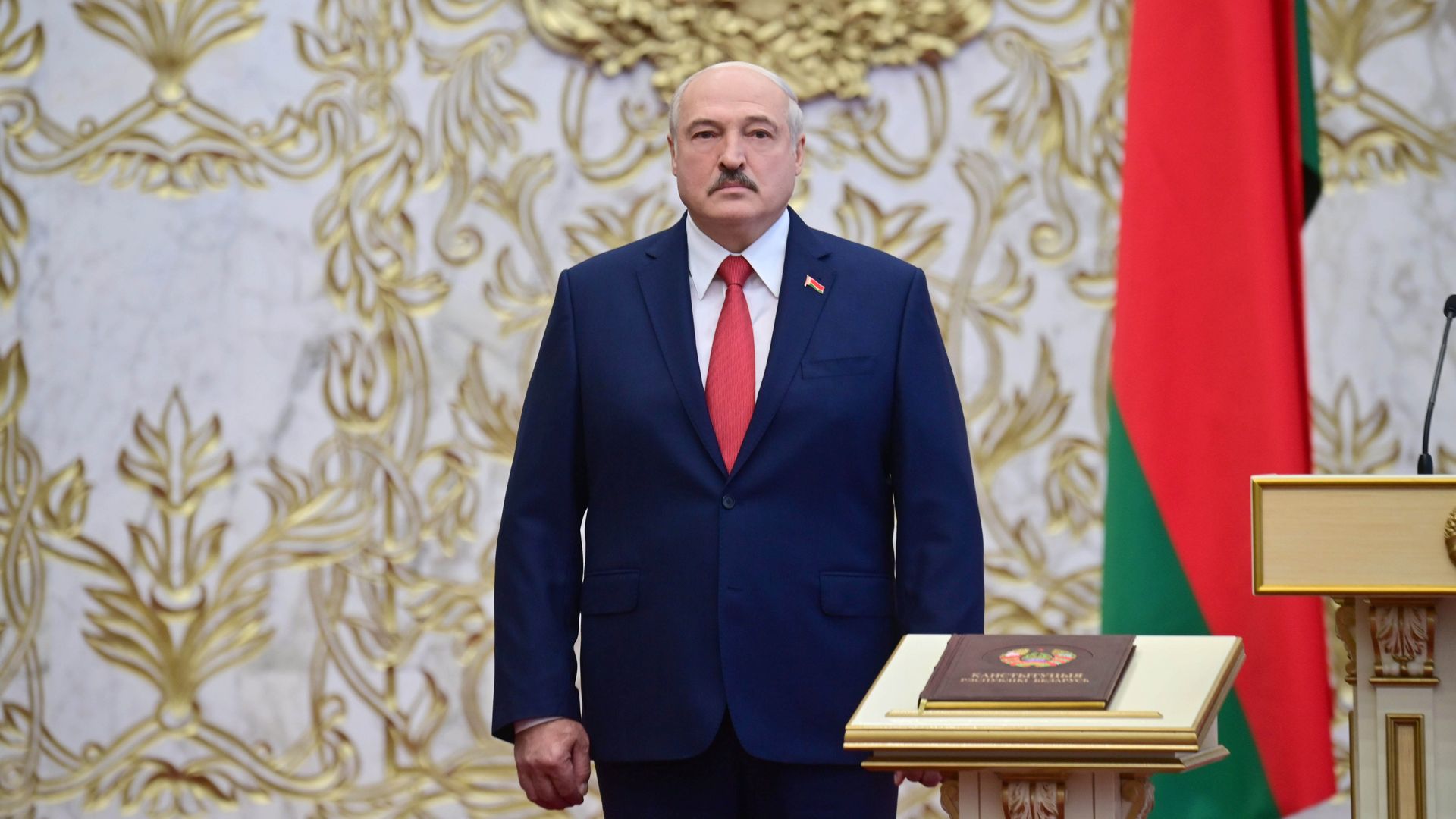 The U.S. no longer recognizes Aleksandr Lukashenko as the legitimate president of Belarus, the State Department said in a statement following Lukashenko's secret inauguration ceremony on Wednesday.
"The United States cannot consider Aleksandr Lukashenko the legitimately elected leader of Belarus. The path forward should be a national dialogue leading to the Belarusian people enjoying their right to choose their leaders in a free and fair election under independent observation."
— State Department spokesperson
Why it matters: Lukashenko has clung to power with the support of Russia amid seven weeks of protests that have followed a blatantly rigged election. Fresh protests broke out in Minsk after the inauguration.
The U.S. announcement follows similar statements from European officials, including EU foreign policy chief Josep Borrell:
"The situation is clear for us. We consider the elections of August 9 fraudulent. We don't recognize Lukashenko as the legitimate president of Belarus."
What to watch: Rhetoric from Washington and Brussels has not been matched by significant actions.
The EU failed earlier this week to pass sanctions on Belarusian officials because Cyprus, one of the smallest EU member states, objected due to an unrelated matter.
European leaders have vowed to raise the issue again, with Borrell warning "our credibility is at stake."
Where things stand: Lukashenko seems to have retained the loyalty of the security forces, but he's clearly lost much of the population. Cities across the country saw large protests on Sunday for the seventh consecutive weekend.
3. Future of multilateralism: The view from the U.S.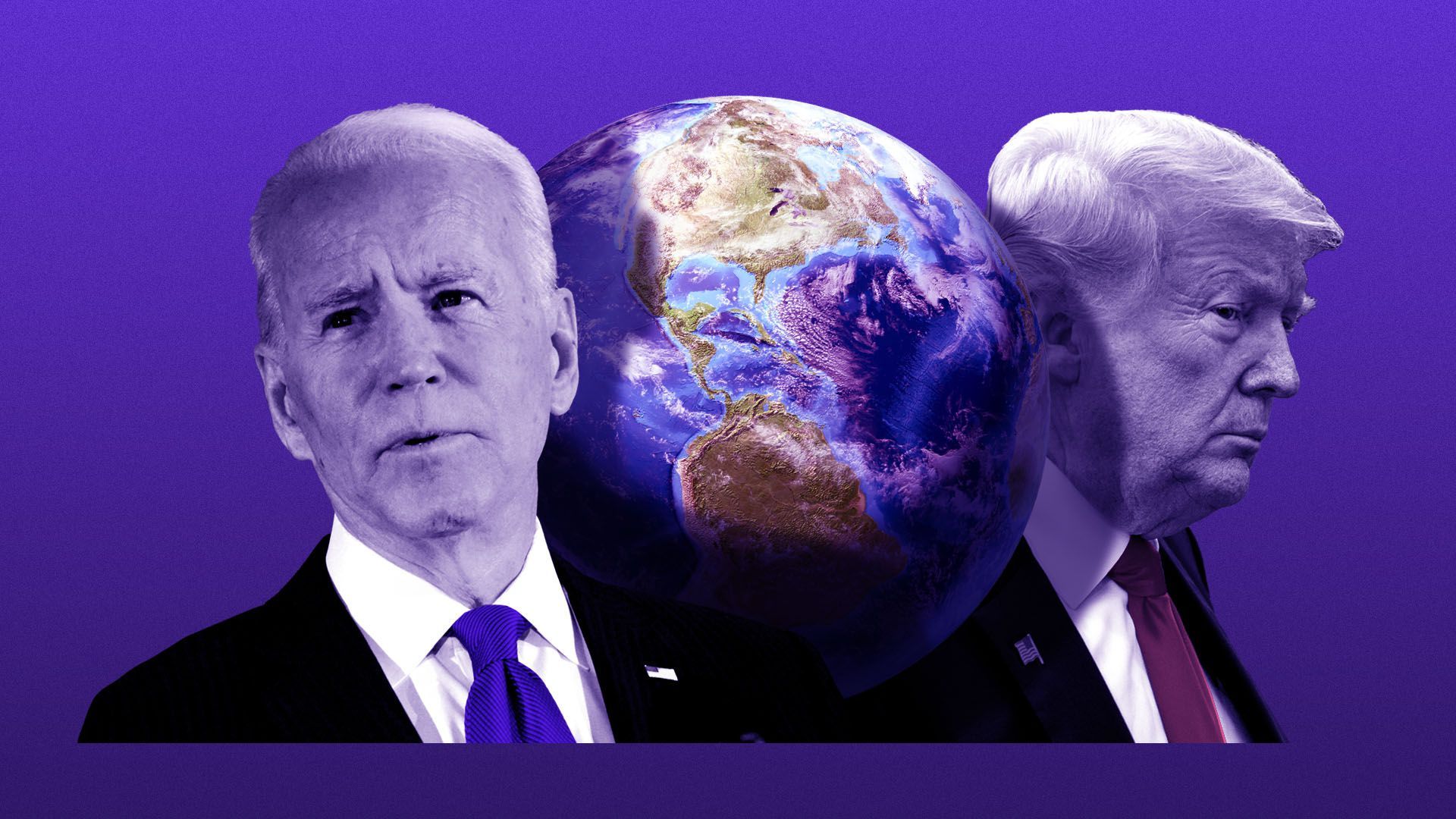 This year's UN General Assembly was the first to go almost entirely virtual, and the last of a tumultuous term for President Trump.
The big picture: The annual festival of diplomacy was far more subdued this year, but it did give world leaders an opportunity to reflect on the state of the global order and — with an election looming — America's place in it.
1. President Trump's view, expressed in a strikingly brief speech to the UN General Assembly, is that multilateral institutions (like the WHO) and agreements (Paris Accord, Iran deal) often harm the interests of the U.S., which is better off going its own way.
"As president, I have rejected the failed approaches of the past, and I am proudly putting America first, just as you should be putting your countries first."
— From Trump's speech
2. Joe Biden's view, as expressed by his top foreign policy adviser Tony Blinken, is that "the world just doesn't organize itself," and America remains the country best placed to do the organizing.
"When we act at our best, we still have a greater ability than any other country on Earth to mobilize others."
— Tony Blinken this week on the "Intelligence Matters" podcast
Between the lines: Blinken acknowledged that American foreign policy needs to keep pace with a fast-changing world, rather than revert back to 2017.
Still, he said, "If Joe Biden's elected on Nov. 3, I think a lot of people will see the last four years as an aberration."
4. Future of multilateralism II: The global view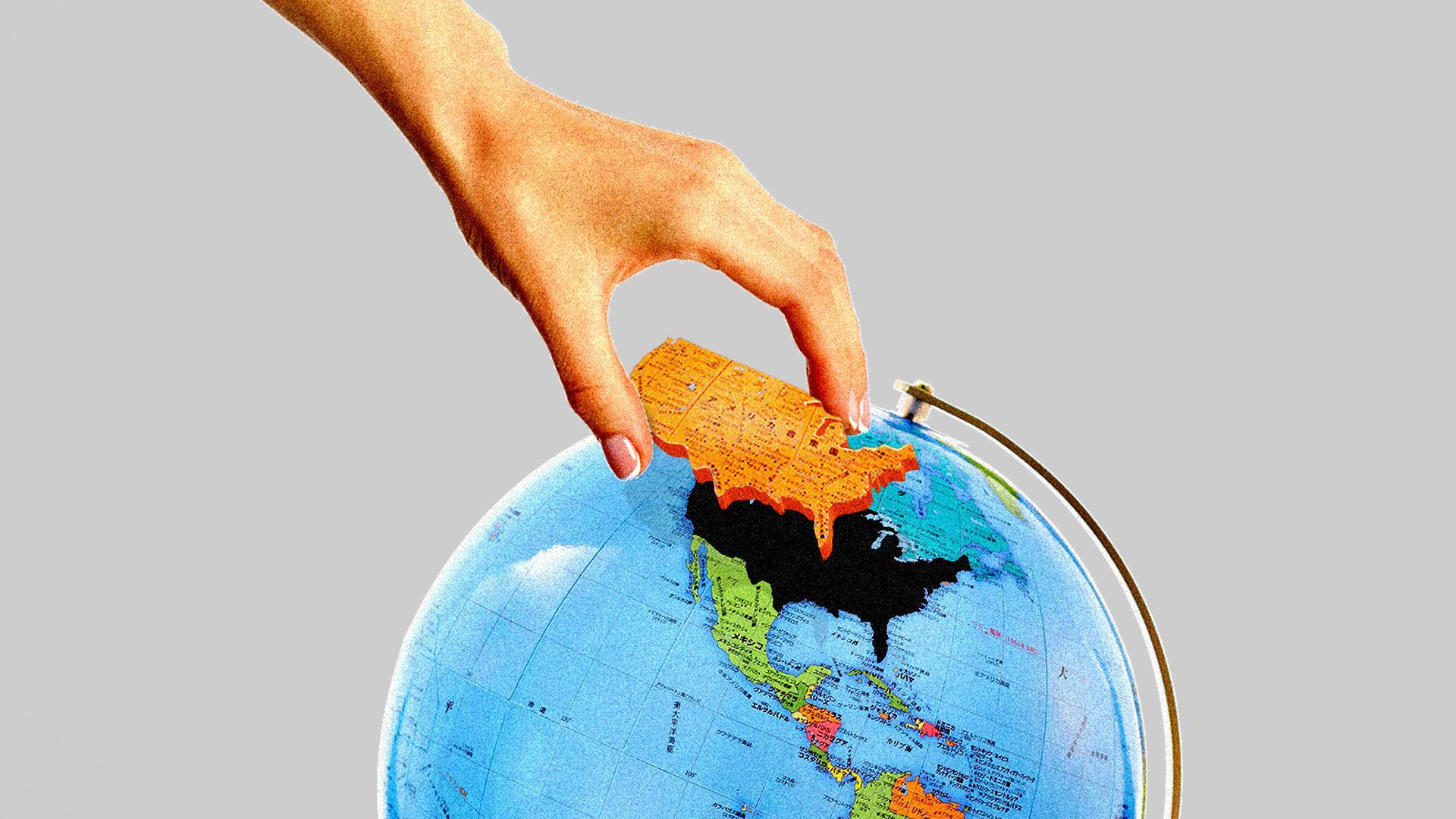 3. French President Emmanuel Macron took a different tone, declaring that the current period of uncertainty "is not a parenthesis that is opening and will then close."
"There will be no miracle cure to the destructuring of the modern order," he lamented. Instead, Europe must assert itself to shape an international system that functions properly and aligns with its values.
"The world as it is today cannot come down to simple rivalry between China and the United States, no matter the global weight of these two great powers, no matter the history that binds us together, and especially to the United States."
— From Emmanuel
Macron's speech
4. Chinese President Xi Jinping's view, at least according to his speech, is that globalization is unstoppable and institutions like the UN are more vital than ever.
"Major countries should act like major countries" and "take up their due responsibilities," he said, in a clear reference to the U.S.
"Let this be clear: The world will never return to isolation, and no one can sever the ties between countries."
— From Xi Jinping's speech
Between the lines: Xi lauded multilateralism in his speech, but he also called for a "new type of international relations" that would ensure the "peace, development, equity, justice, democracy and freedom shared by all of us."
That new system would presumably adapt itself to China's growing clout and have very flexible definitions of democracy and freedom.
Go deeper: Xi's surprise climate pledge
5. UNGA update: Defining human rights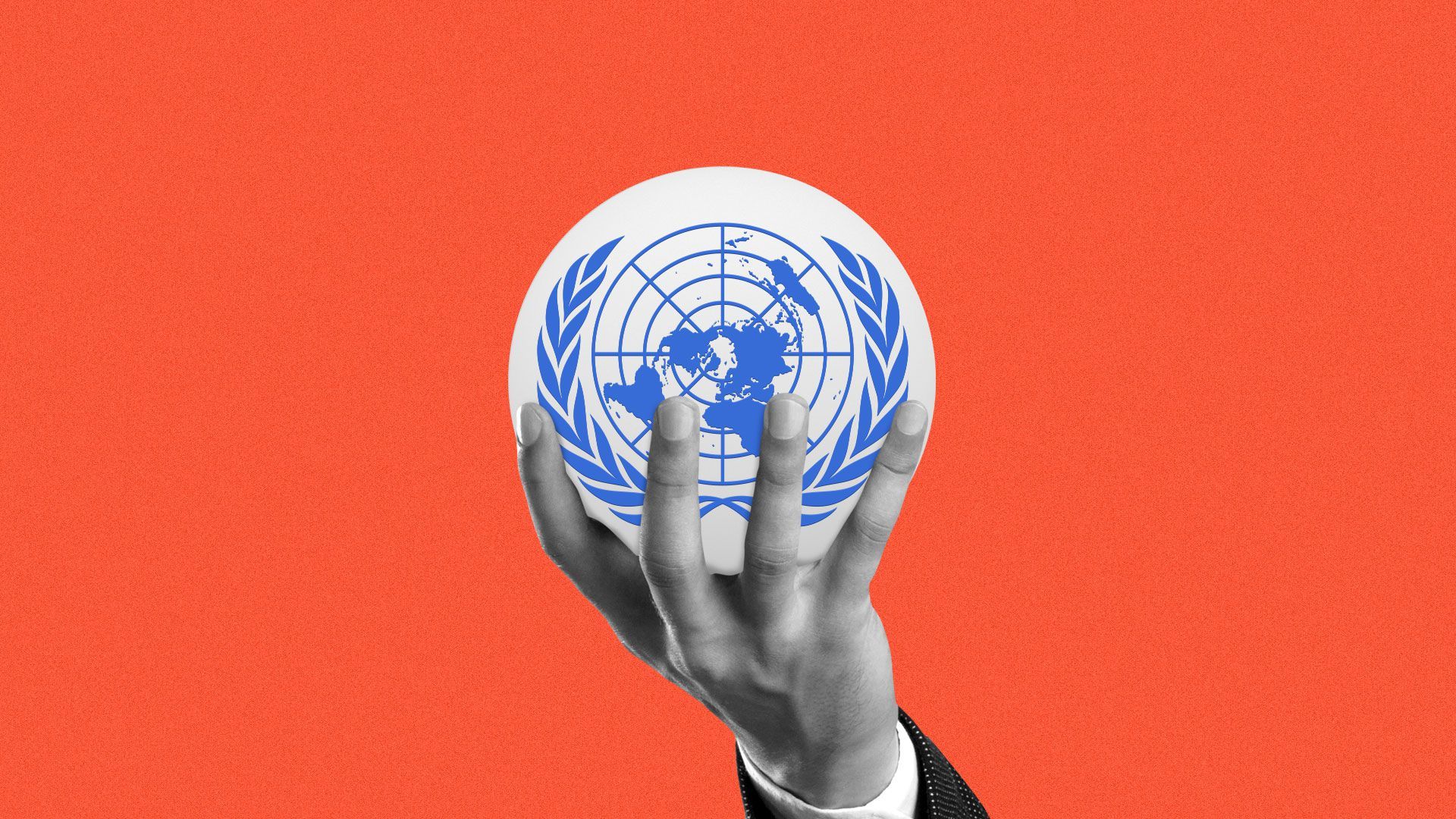 China isn't the only one attempting to redefine such terms. Secretary of State Mike Pompeo convened a virtual UN gathering on Wednesday to discuss his project on reevaluating the way America and the world view human rights.
The backstory: Pompeo formed the Commission on Unalienable Rights last year, which the Washington Post notes has "drawn criticism for giving primacy to freedom of religion and property rights, raising concerns that it could undercut protections for women, gay people and other minorities."
Pompeo's argument is that focusing on such a broad range of rights has made it harder to protect those that are most fundamental.
What he's saying: He told Wednesday's forum that "the international human rights project is in crisis" due largely to "authoritarian governments, from China to Iran to Venezuela."
There are also plenty of authoritarian countries on the list of 59 countries that signed onto Pompeo's initiative — including Saudi Arabia, Uzbekistan, Burundi, the Democratic Republic of the Congo and Egypt.
Other participants included Brazil, India, Israel, the Philippines and Japan.
The other side: Just Hungary, Poland and Romania joined from the EU. Germany's mission to the UN tweeted an apparent response to Pompeo's initiative:
"There is no hierarchy among human rights, no subordination of one to the other. Everyone is entitled to all the rights & freedoms set forth in the Universal Declaration of Human Rights, without distinction of any kind."
Bonus: Data du jour
6. What we're watching: "Agents of Chaos"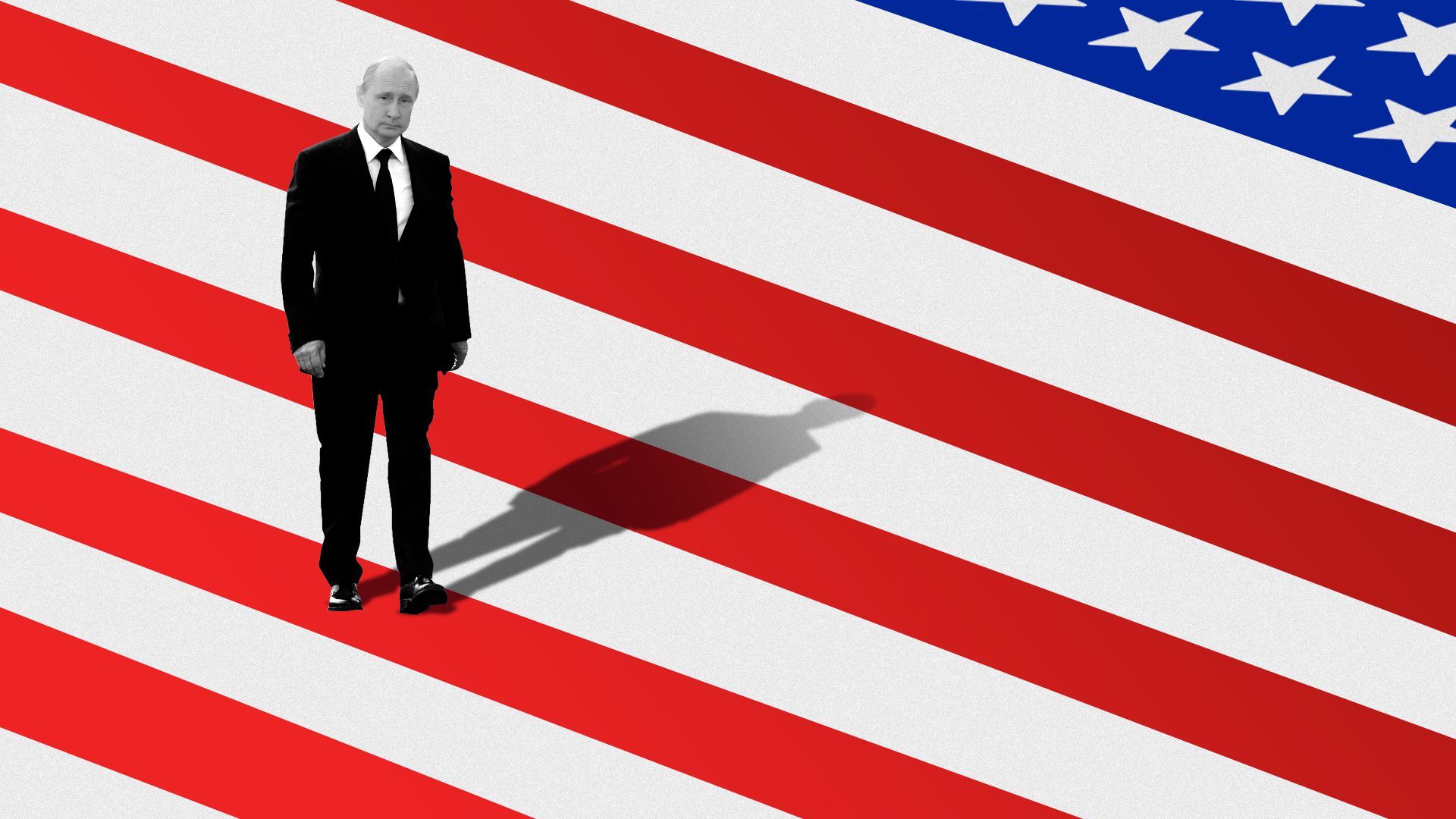 My colleague Zach Basu has been watching Alex Gibney's latest HBO documentary series "Agents of Chaos," about Russia's interference in the 2016 election. Zach writes:
The two-part investigative series brings to life last month's 1,000-page Senate report — serving as both an autopsy and cautionary tale ahead of another U.S. election that the Kremlin is seeking to disrupt.
Gibney explores the geopolitical roots, eccentric characters and "active measures" at the heart of the attack.
Highlights:
One of Obama's top Russia experts, Celeste Wallander, reveals that the administration considered releasing embarrassing information about Russian officials to deter the Kremlin's operations during the 2016 campaign.
Top Mueller prosecutor Andrew Weissmann recounts how Paul Manafort popped up as the Trump campaign's pro bono chairman after being hunted for unpaid debts by a Russian oligarch.
Convicted mobster Felix Sater opens up about his efforts to secure a Trump Tower in Moscow during the campaign and the importance of getting the "highest levels of power" in the Russian government on board: "The entire system is so messed up that if you try to work legitimately, you will fail."
Glenn Simpson, whose firm Fusion GPS contracted ex-British spy Christopher Steele, details how the now-infamous Trump-Russia dossier came together.
The bottom line: The film seeks to debunk narratives on both sides of the political spectrum and untangle the web of Kremlinology and conspiracy.
Ultimately, Gibney concludes that the domestic chaos and "moral panic" in the U.S. over Russian interference has itself been a major strategic victory for Vladimir Putin.
Go deeper: Facebook takes down Chinese campaign aimed at U.S. election
Editor's note: Axios partners with HBO to produce "Axios on HBO."
7. Stories we're watching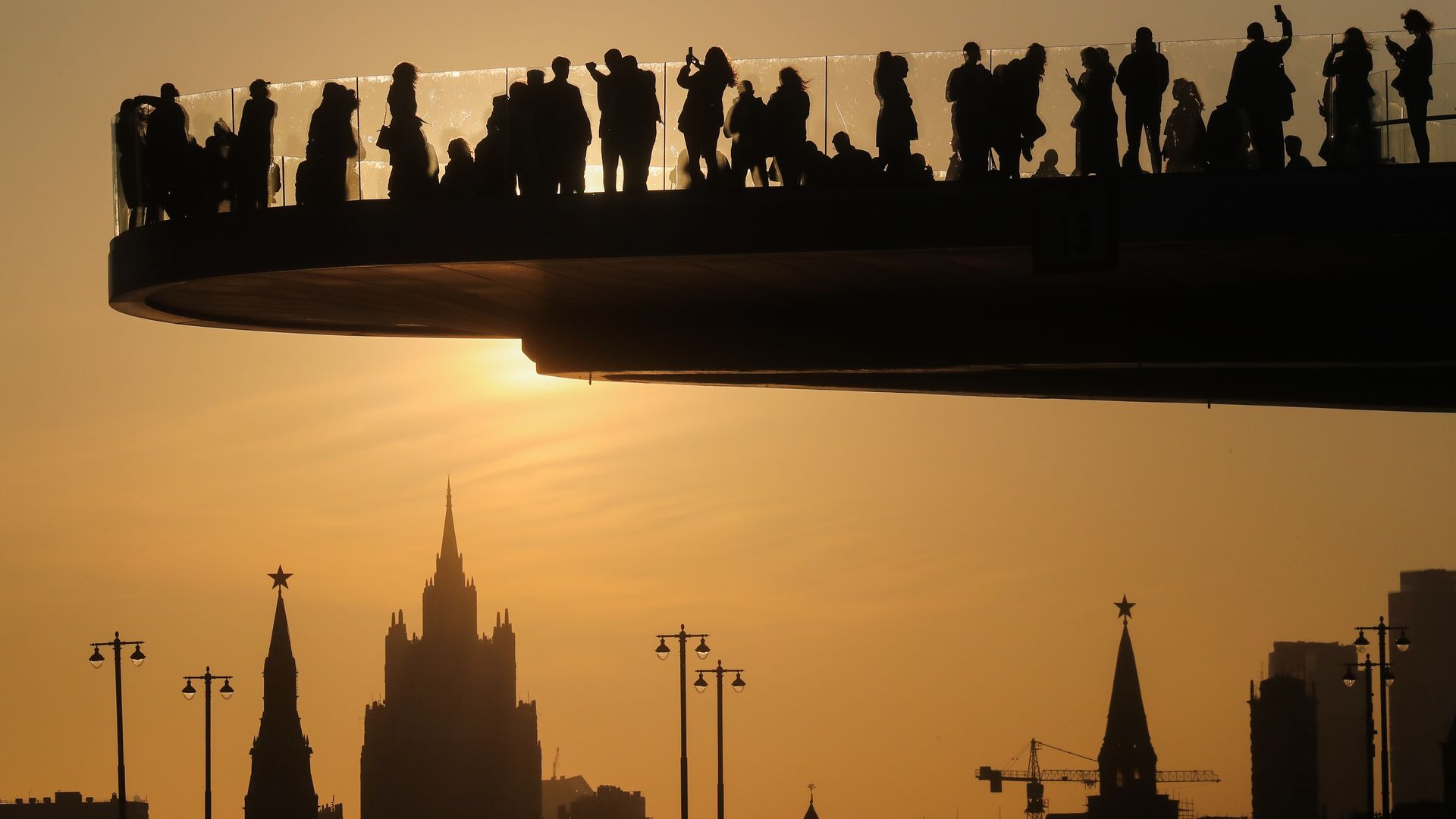 Quoted:
"They seized the assets and the apartment of a person who was in a coma."
— Russian opposition leader Alexei Navalny's spokesperson on
news that his assets were seized
due to a defamation suit from a Putin ally