Welcome to the debut edition of the Axios World newsletter, where two evenings a week we'll break down what you need to know about the big stories from around the world.
Thanks for joining me! Tell your friends and colleagues to sign up here, and send tips and feedback to [email protected]
1 big thing: Cold War 2.0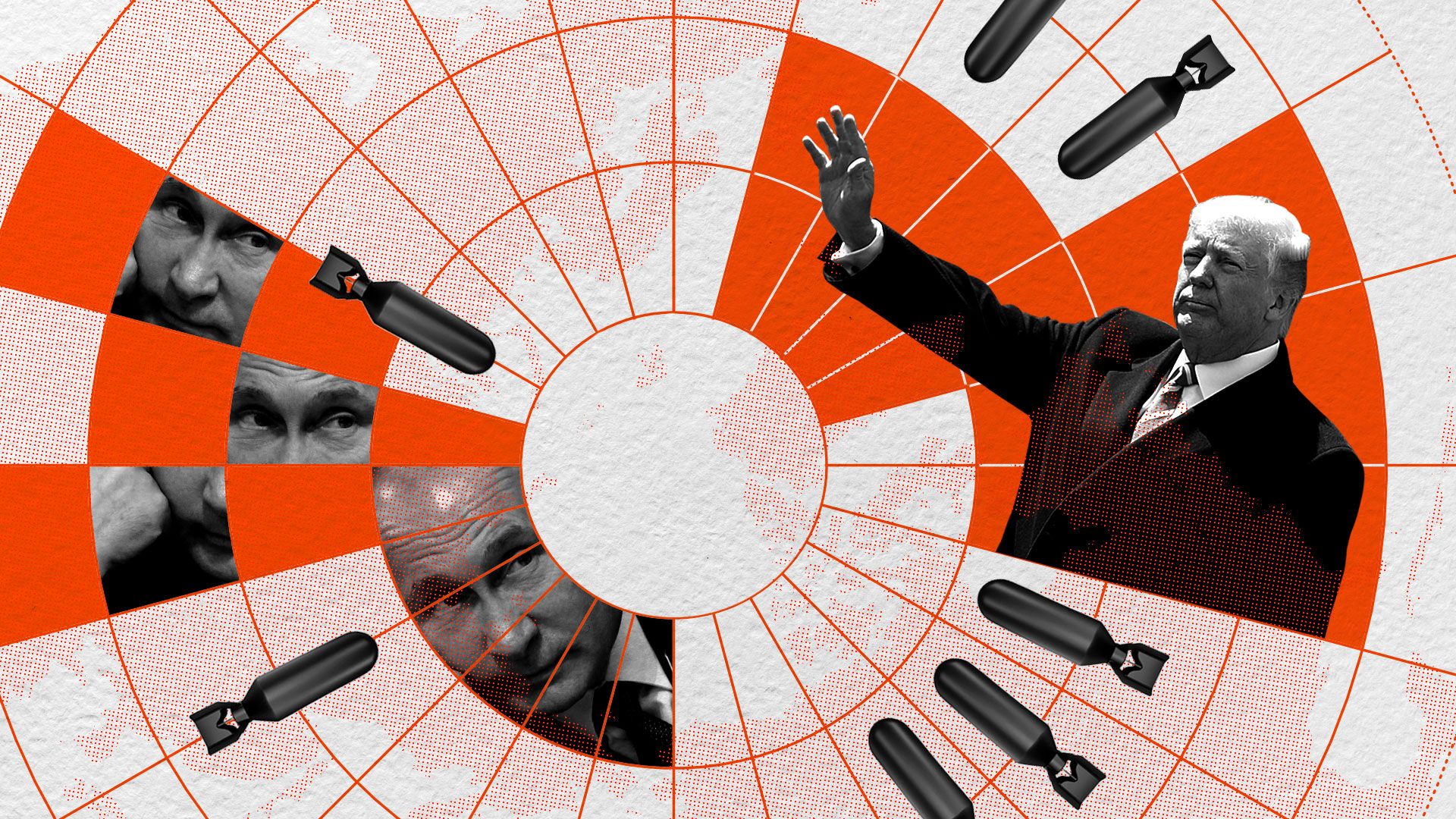 Despite President Trump's mixed appraisals of the Russian threat, a clear consensus is emerging among foreign policy experts on both sides of the Atlantic: this is a new Cold War, with new dangers.
Why it matters: "We are deep into what you might call Cold War 2.0," Brookings Institution fellow Strobe Talbott said Wednesday, and this time it's "far more dangerous."
Like the last time around, Talbott argues, it's a zero-sum game with both ideological and geopolitical dimensions at play. But this time, "there is no process underway to mitigate" the threat of a hot war, and we're in an "arms race without arms control." 
This is escalating fast. Consider:
Talbott, who served in Bill Clinton's State Department, said the Russian threat is magnified by the decline of "transatlantic institutions and trust," and the lack of a coherent Russia policy from the White House. ("We've had bad policies, but never no policy.")
Sir Francis Richards, the former chief of GCHQ (Britain's version of the NSA,) told the Economist Radio the new Cold War "has rules that bind us but none that bind the aggressors."
The bottom line: Things will get worse before they get better.
Bonus: A tale of two quotes
"Getting along with Russia is a good thing, not a bad thing. Now maybe we will and maybe we won't. Probably nobody's been tougher on Russia than Donald Trump."
—
Trump on Tuesday, at a press conference with Baltic leaders
"Mr. Putin may believe that he is winning in this new form of warfare.... Perhaps he believes that our free nations are weak and will not respond to his provocations. He is wrong. We might all help Mr Putin understand his grave error."
—
H.R. McMaster later that evening, in his last speech as nat. sec. adviser
2. Breaking: Political giant heading to jail
A judge has given former Brazilian president Luiz Inácio Lula da Silva until 5pm tomorrow to turn himself in, per Bloomberg. That comes a day after Brazil's Supreme Court voted 6-5 to reject his plea to remain free while he appeals his conviction for corruption.
That means Lula, a leftist icon who left office in 2011 with sky-high approval ratings, will begin his 12-year sentence and is unlikely to complete his political comeback (he was leading the polls for October's election.)
The big picture: Politics in Brazil, the world's fifth most populous country and ninth largest economy, have been engulfed by corruption scandals that have spread throughout the region. Lula's successor, Dilma Rousseff, was removed from office in 2016 amid corruption allegations, while sitting president Michel Temer has also been accused of graft.
3. Expert Voices: In Syria, withdrawal means defeat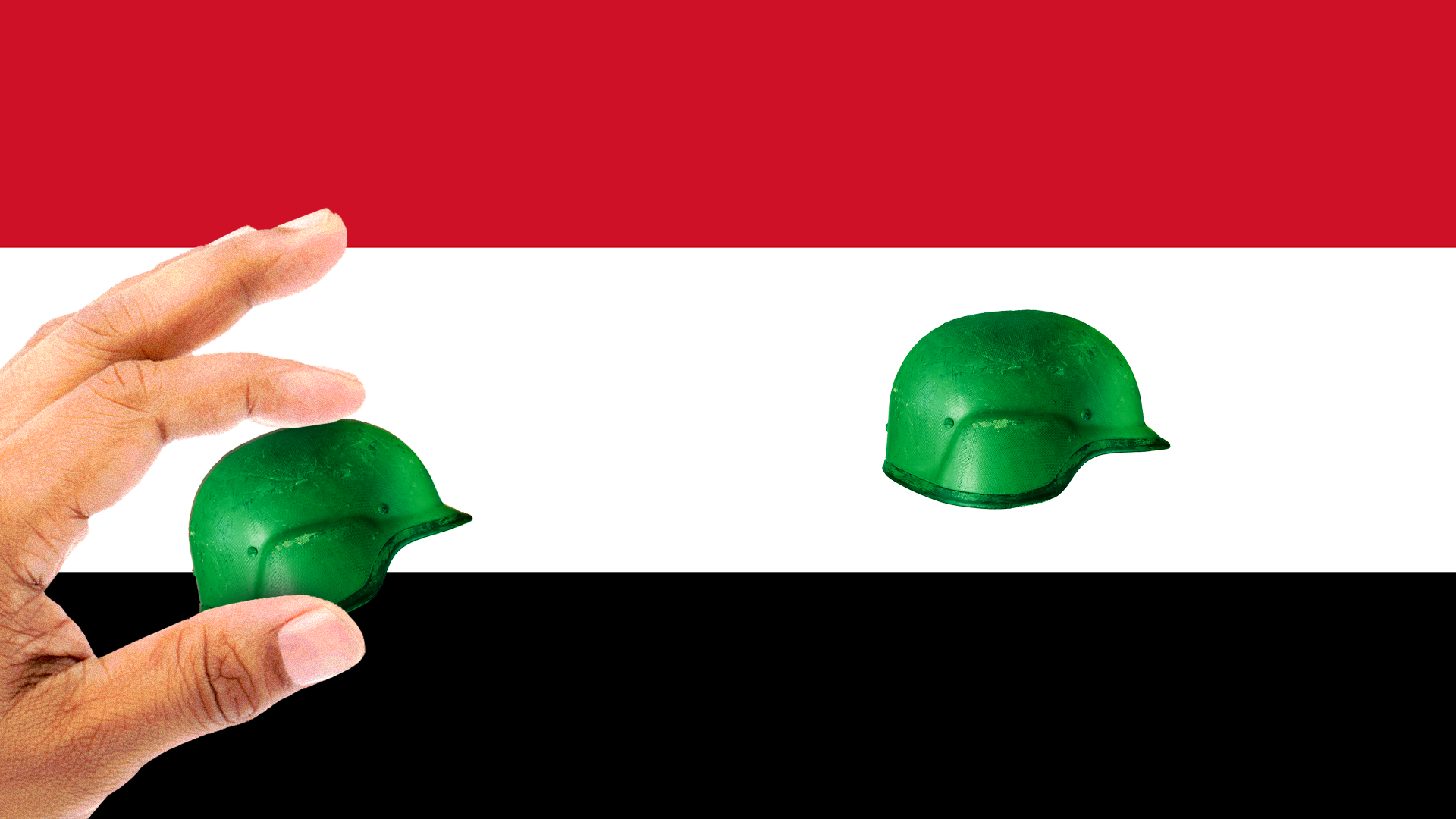 President Trump reportedly decided yesterday to keep U.S. troops on the ground in Syria a while longer, walking back his declaration on Tuesday that it's time to bring those troops home because "we've had a tremendous military success against ISIS."
CFR President Richard Haass on why that matters:
"American troops have provided valuable support and intelligence to local Kurdish forces fighting ISIS and have at times engaged in direct combat. A U.S. withdrawal would constitute a strategic victory for Bashar al-Assad's abhorrent regime, for its patrons Iran and Russia and for ISIS itself, allowing the group a chance to recoup."
"A small U.S. military presence is still needed to train and advise Syrian Kurds and on rare occasions to carry out operational missions against vulnerable, high-value targets. This is nothing like what was attempted in Iraq and Afghanistan — which was nation-building, not counterterrorism — and Trump is right to argue that the costs incurred in those countries far exceeded any benefits."
The bottom line: "Success should be defined as limiting the problem of terrorism, not ending it. Trump needs to accept this — and level with the American people about what it will require."
4. Latin America: Hunger and division in Venezuela
Venezuela's humanitarian crisis is deepening.
What's new: In polling data out today from the Atlantic Council, three-quarters of respondents say they're eating fewer meals. Concerns over the availability of food and medicine are near-universal. 88% say life is worse than a year ago, while 73% expect it to be worse a year from now.
So who do Venezuelans blame? 54% say President Nicolas Maduro is responsible for the hyperinflation that is wreaking havoc on the economy. 50% say his leadership is "very bad," while 0.4% say it's "very good" (overall approval sits at 22%.)
And yet Maduro has little fear of being voted out in May. Brookings fellow and Stanford research scholar Harold Trinkunas told me the regime is even "betting they might not have to steal too many votes." That's because the opposition is fractured, and divided over whether to take part or boycott the vote.
Go deeper: What the future holds for Maduro and other strongman leaders.
5. Asia: Deadly clashes in Kashmir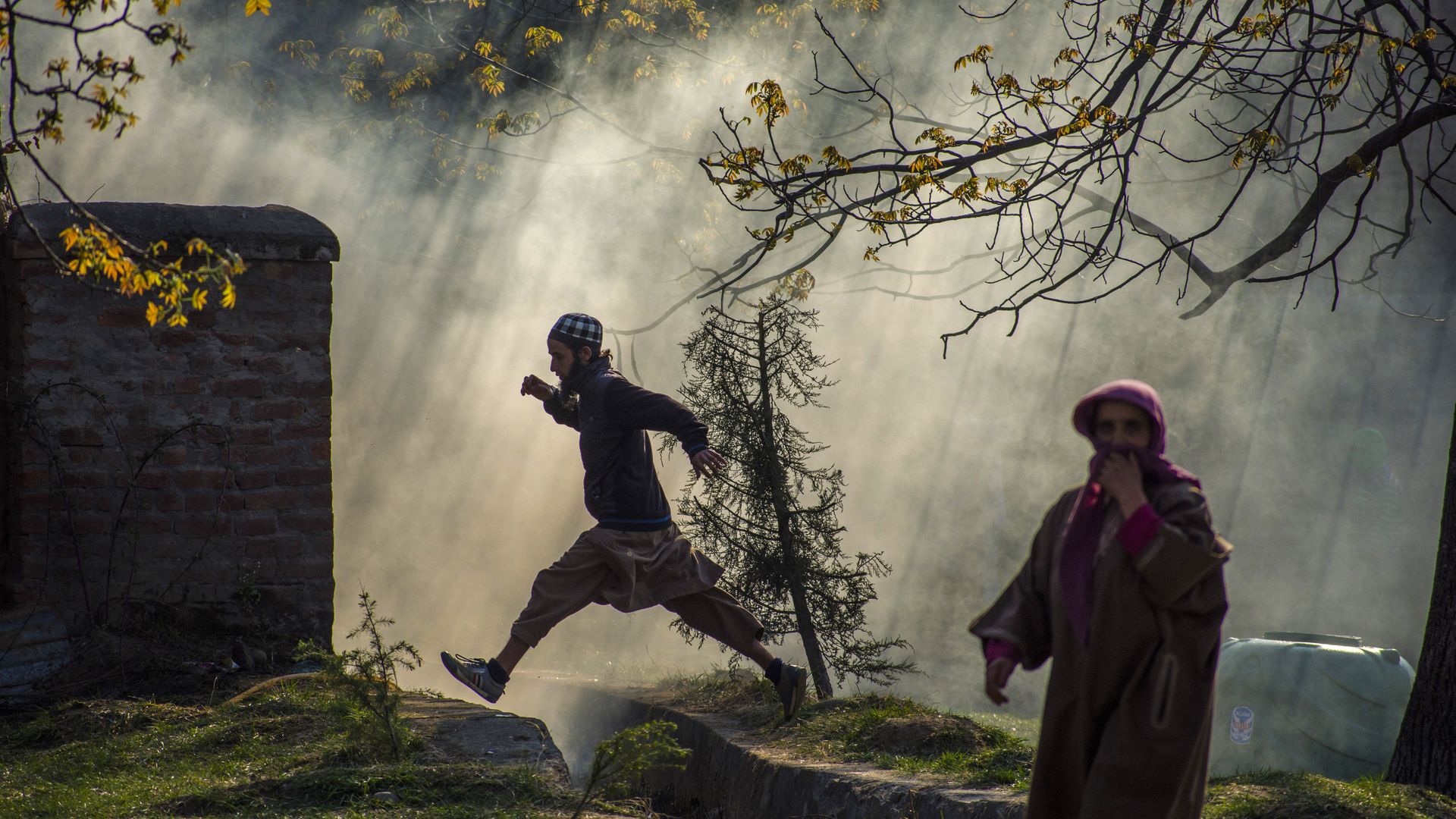 At least 20 soldiers, civilians and insurgents were killed and 200 wounded this week in clashes between Indian troops and Kashmiris protesting Indian rule.
Kashmiris have lived in the heart of the India–Pakistan conflict since the two countries — with Kashmir caught in the middle — split in 1947, Axios' Erica Pandey writes.
The big picture: "You need some amount peace and quiet for a time for normal politics and economics to take place," Aparna Pande, a South Asia expert at the Hudson Institute, told Erica. Kashmir hasn't seen that in 70 years.
These recent clashes are different: It's not Pakistanis, but homegrown Muslim militants who are fighting the Indian army, according to Vipin Narang of MIT's Security Studies Program.
Go deeper: Read Erica's full piece.
6. Europe: Illiberal democracy in Hungary
Hungarian Prime Minister Viktor Orban is set to win another term this Sunday, giving him a fresh mandate to continue building what he calls an "illiberal" state at the heart of Europe, GZERO Media's Alex Kliment writes.
Why it matters: "Over the past eight years, Orban's democratically elected governments have, in fact, behaved less and less democratically — steadily centralizing power, eroding the independence of the courts, the media, and even cultural institutions."
"This presents a growing existential challenge for the EU and sharpens two critical questions: First, how to impose costs on countries that buck EU institutions and ideals without alienating them further. And second, how to reconcile the desire of core Western European countries like Germany and France, which seek to further integrate the bloc, with Eastern countries' resurgent nationalism."
Go deeper: Read Alex's full piece and sign up for the Signal newsletter.
7. Stories we're watching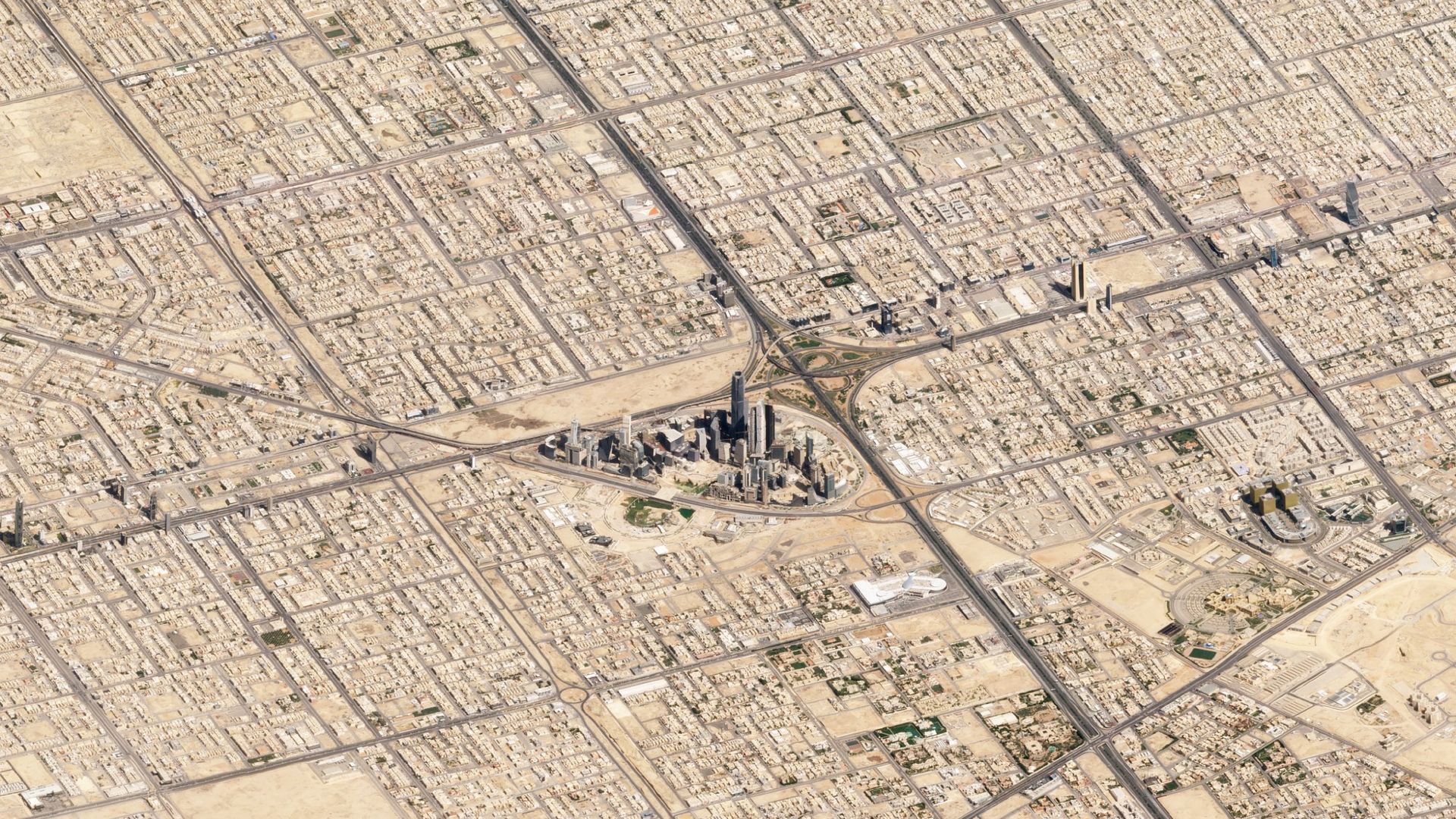 Quoted:
"I think it's much more likely that you're going to have ISIS x.0, 3.0, 4.0, 5.0, than you're going to see the 'end' of it."
— David Miliband
speaking today with Axios' Shannon Vavra
and Haley Britzky.
I'd love your feedback on our inaugural edition — see you Monday evening!