Welcome to Axios World, where two evenings a week we break down the big stories from around the globe.
Thanks for joining me! Please tell your friends and colleagues to sign up, and I'd love your tips and feedback:

[email protected]

.
Tonight's Smart Brevity count is 1,587 words (~ 6 minutes).
I'm off next week so you'll be in the capable hands of Shane Savitsky.
1 big thing: How Putin views Trump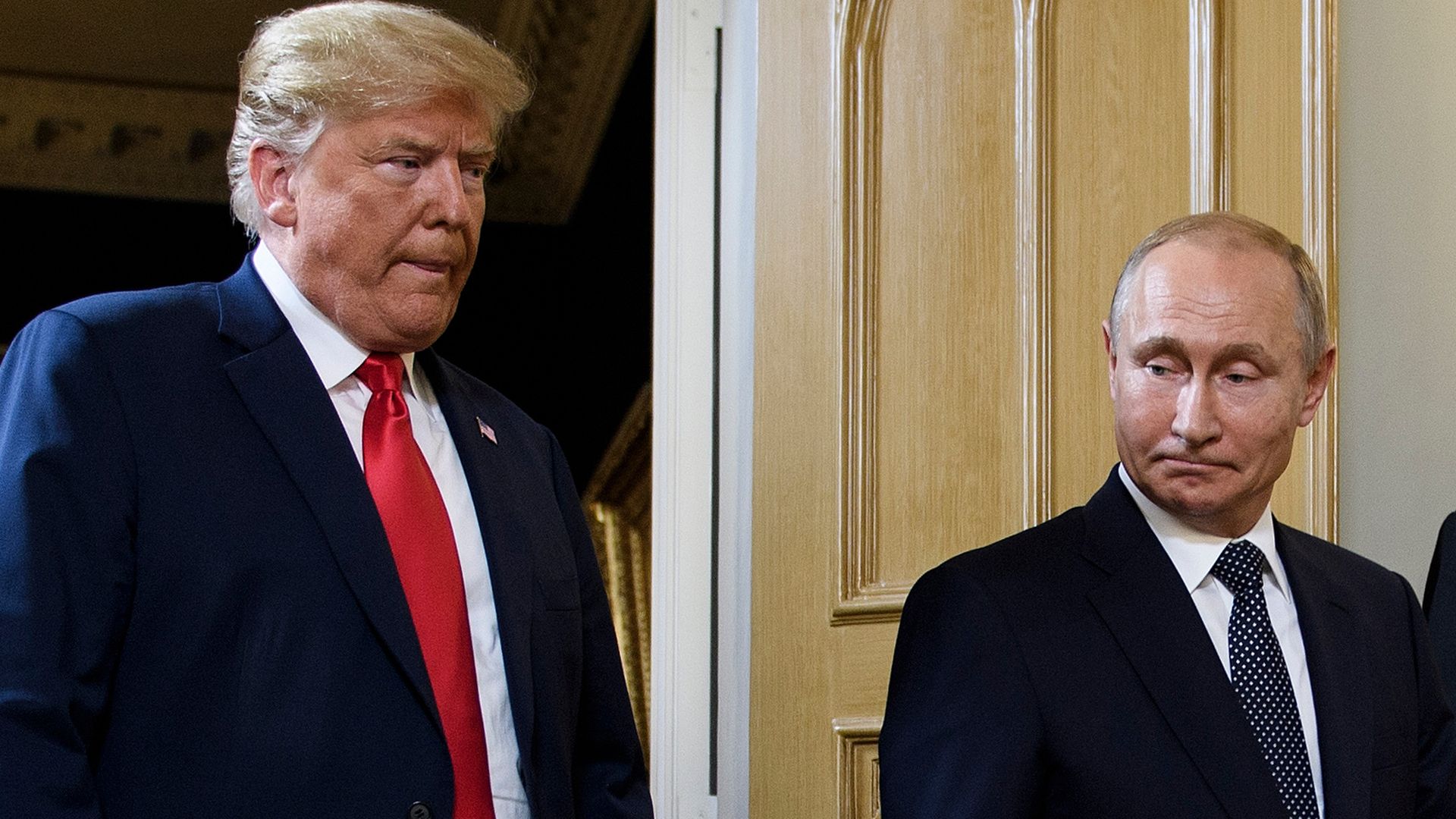 In a matter of hours, while most of us in the U.S. are asleep, President Trump will sit down with Russia's Vladimir Putin in Osaka, Japan.
Between the lines: Trump, who has said he hopes to improve relations with Russia now that the Mueller investigation is over, told reporters before setting off that what he says to Putin is "none of your business." The ghost of their disastrous press conference last year in Helsinki still lingers.
Putin recently lamented that there are institutional "restraints" keeping Trump from normalizing ties.
Asked about Trump in a lengthy interview, published today, with the FT's Lionel Barber and Henry Foy, Putin expressed both approval and bewilderment.
From the interview...
Putin describes Trump as a "talented person" who "saw changes in American society and took advantage."
While globalization pulled millions out of Chinese out of poverty, Putin says, the American middle class "hardly benefited," and shares Trump's view that the whole system has been unfair to the U.S.
"I will not say if what he is doing is right or wrong. I would like to understand his motives… maybe this could explain his unusual behavior."
Putin refers to Russian interference in the 2016 election as "mythical," and echoes Trump's claim that it's used to discount his victory.
On immigration, Putin says Trump's approach "could be going too far," but he "had to do something." He adds that, by contrast, German Chancellor Angela Merkel, made a "cardinal mistake" by allowing in 1 million Syrian refugees.
Putin claims, erroneously, that "the liberal idea presupposes that nothing needs to be done," and "migrants can kill, plunder and rape with impunity because their rights as migrants must be protected."
He transitions from migration to "traditional values," insisting "the interests of the core population" should be protected above all else.
Putin concludes that "the liberal idea has become obsolete" and "outlived its purpose."
Asked whether he's putting "too many eggs" into the China basket, Putin says: "we have enough eggs, but there are not that many baskets where these eggs can be placed."
He notes that Russia and China "have many coinciding interests," and downplays concerns about China's growing military, pointing to the massive defense spending gap between Washington and Beijing.
On Syria, Putin says Russia has had a "positive return," including "very good, business-like" relations with all the key players, including Iran and Turkey.
His view on backing Assad: "When you do not know what happens tomorrow, why shoot from the hip today?"
On Venezuela, he denies Russia is playing a key role, but dismisses opposition leader Juan Guaidó's claim to the presidency, which rests on the idea that Russian ally Nicolás Maduro was not legitimately elected.
"He may be just wonderful, and his plans are good. But is it enough that he entered a square and proclaimed himself president?"
What to watch: Putin faces constitutional term limits in 2024. He says he's been thinking about his succession plan "since 2000," when he took power.
He says the next Russian president will be chosen in a national election, though he adds: "Of course, the leader always supports someone."
2. Coming attractions: Trump's day at the G-20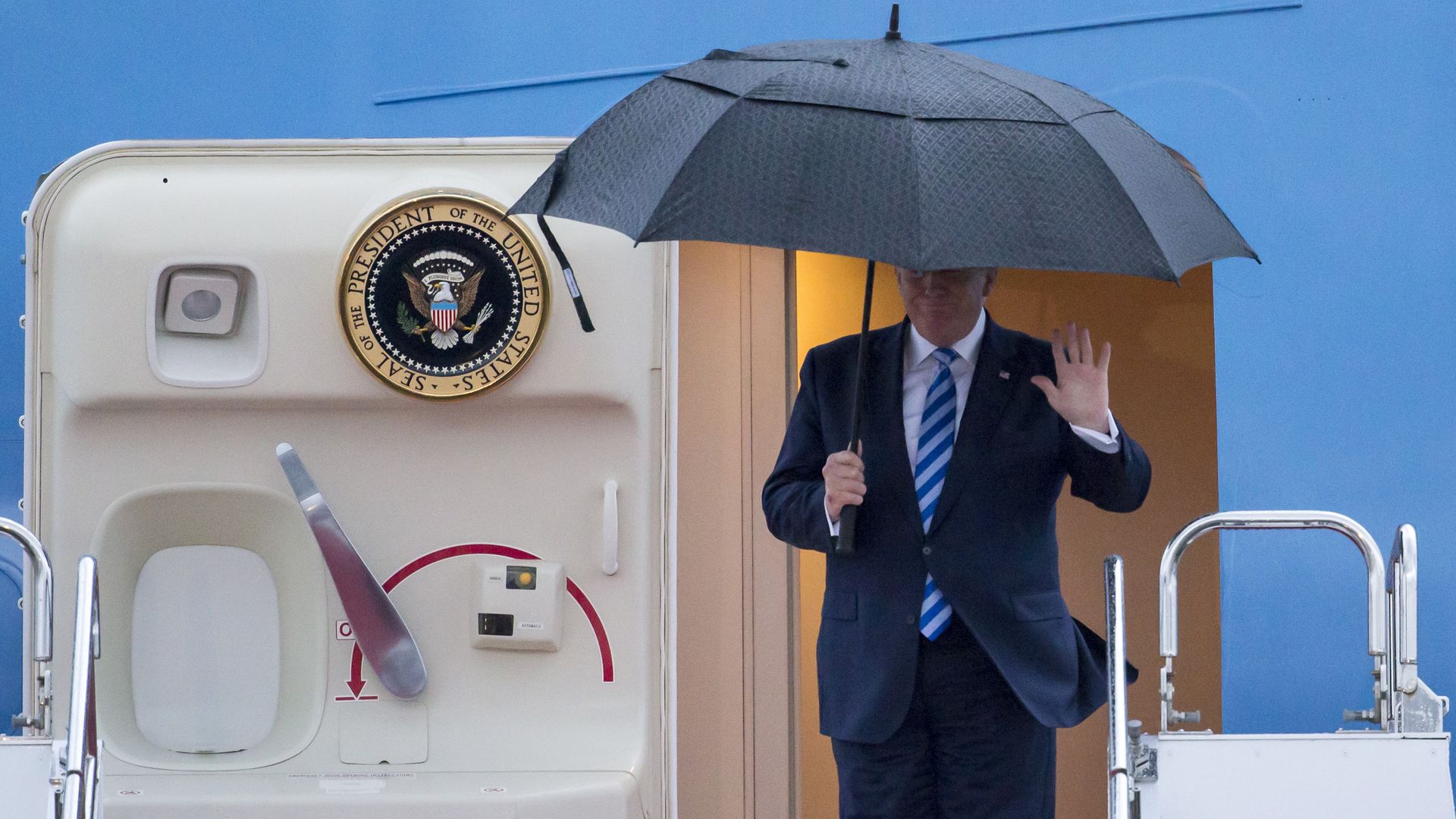 The centerpiece of this year's summit is a bilateral meeting on Saturday between President Trump and China's Xi Jinping.
It comes at a crucial tipping point, with Trump threatening tariffs on an additional $300 billion in Chinese imports, a move analysts say could tip the global economy into recession.
David Dollar of the Brookings Institution says there's a high likelihood of a "mini-deal" that sees Trump hold off on the tariffs and open up a new period of negotiation. He says a more substantial deal seems far off.
The WSJ reports that Xi is arriving in Osaka with a list of preconditions for any deal, including "insisting that the U.S. remove its ban on the sale of U.S. technology" to Huawei.
Trump already met with Australian PM Scott Morrison.
Up on Friday are...
Japanese PM Shinzo Abe
Indian PM Narendra Modi
Merkel
Putin
Brazilian president Jair Bolsonaro
And on Saturday...
Saudi Crown Prince Mohammed bin Salman
Xi
Turkish President Recep Tayyip Erdogan
What to watch: There are "two Trump foreign policies," says Tom Wright of Brookings, noting that "official" U.S. policy often "exists in tension" with the president. At the G-20, Trump will be "front and center."
"When you talk to administration officials they'll often say these trips are when they feel least in control," says Wright. And the "possibility of real events driven by the president" is highest.
3. Ukraine: From the screen to the presidency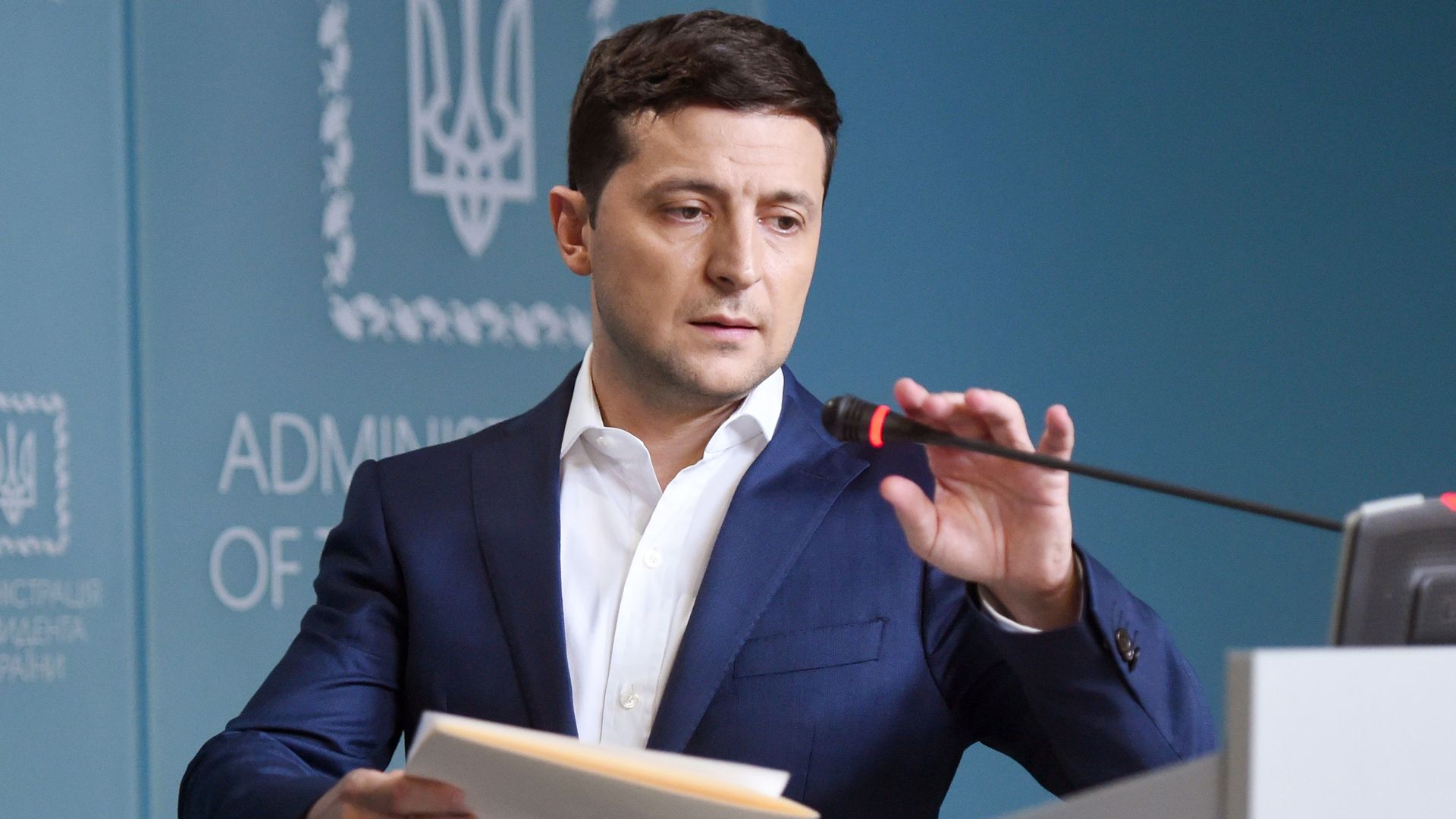 Volodymyr Zelensky, Ukraine's TV-star-turned president, has now been in office for nearly ten weeks.
Peter Wagner, head of the European Commission's Support Group for Ukraine, has been in several meetings with him. He tells me Zelensky is "saying the right things" and connects easily with people, but has a "huge learning curve."
Wagner says if Zelensky wins a large mandate in next month's parliamentary elections, he may be able to avoid the factional disputes that plagued Petro Poroshenko's administration.
Wagner adds that Poroshenko lost to Zelensky in large part because voters were frustrated by his failure to tackle corruption. He says the early signs from Zelensky are "encouraging."
As for whether Zelensky will have more independence from Ukraine's powerful oligarchs, Wagner says it's "too early, because it's moving by the day."
Wagner says it's also too soon to characterize Zelensky's stance toward Russia, which is still holding 24 Ukrainian sailors and has intensified its disinformation efforts in Ukraine.
Behind the scenes: In meetings, Wagner says, Zelensky comes across as well-briefed, and makes an effort not to appear naive. "This is a smart person. You can see that this man, even if it was a while ago, studied law," he says.
The bottom line: "Let's give him the benefit of the doubt. Let's not forget, this is not Trump or Macron, who have been in the system, or around, or playing with it for decades," Wagner says. Zelensky is just 41, and politics is entirely new to him.
4. Latin America: Brazilian giant remains in jail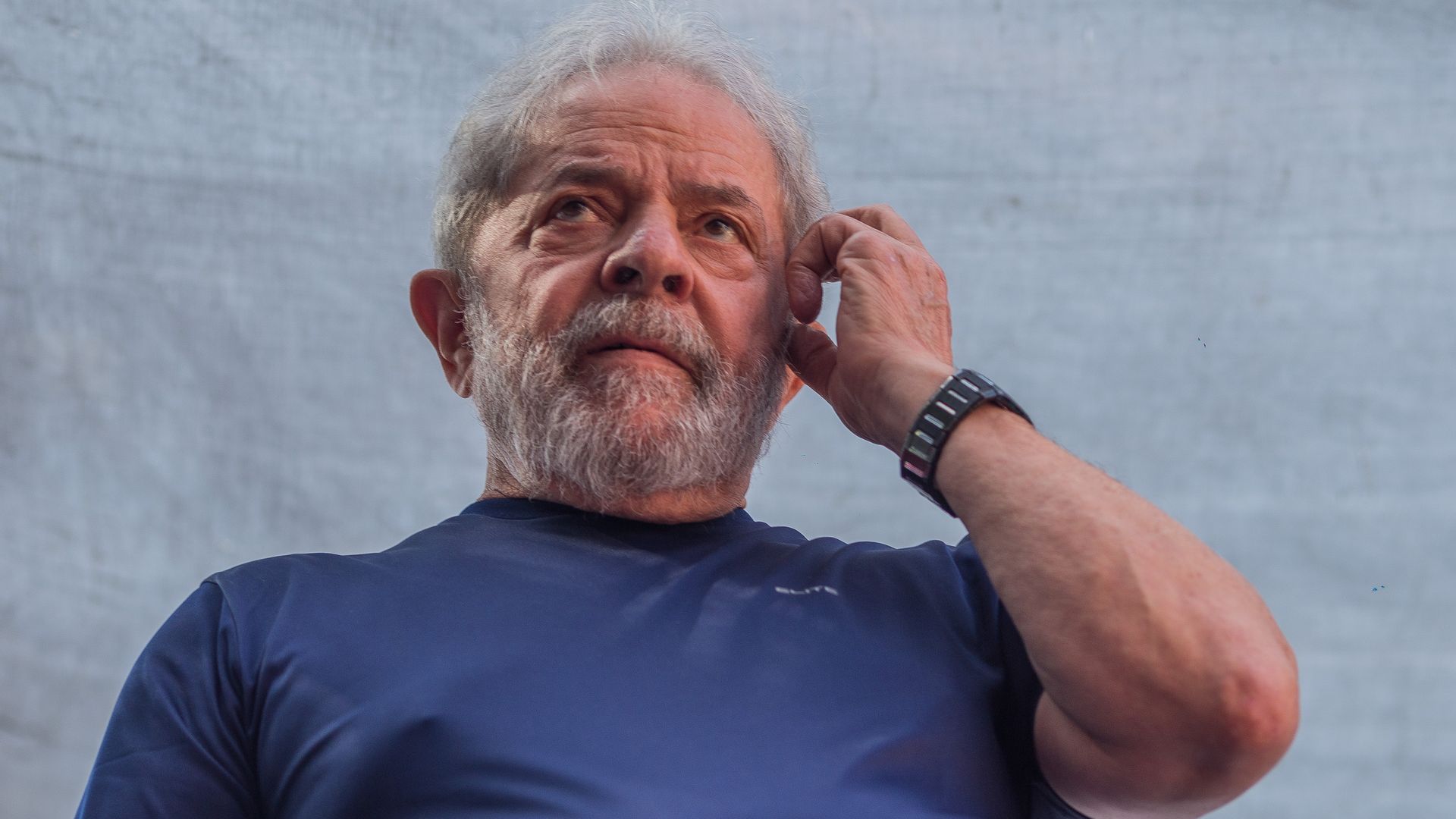 Brazil's supreme court has rejected a motion that would have freed Luiz Inácio Lula da Silva, and delayed its decision on the former president's appeal.
Why it matters: Lula's corruption convictions, which kept him out of October's presidential election despite his lead in the polls, are under growing scrutiny. I asked Martin Aguirre, editor-in-chief of Uruguay's El Pais newspaper, to help break it down:
"A couple of weeks ago, the The Intercept Brazil published conversations between a prosecutor and Sergio Moro, the former judge in the case and now President Jair Bolsonaro's Justice Minister."
"Moro seemed to make suggestions to the prosecutor about internal aspects of the case that Lula's followers argue confirm his bias and justify annulling the whole process."
"Moro claims his comments were nothing out of the ordinary. He's facing calls to resign, but was backed by a senate committee which studied the issue."
Flashback: "Lula was the brain behind the wave of left-wing governments that ruled Latin America for over a decade," says Aguirre.
"He had a vision to make Brazil the regional super power, the country that could be the voice of the continent in international forums. His ambition was to get a permanent seat in the UN Security Council."
"Coming from a socialist ideological background, he convinced the biggest businessmen in Brazil to support him. They got the best infrastructure contracts in countries around the region, where local governments could hardly resist Lula's influence."
"Eventually, when the political cycle in the region changed, the biggest corruption scandal in the history of Latin America (Operation Car Wash) was revealed."
5. The crumbling walls between Hong Kong and China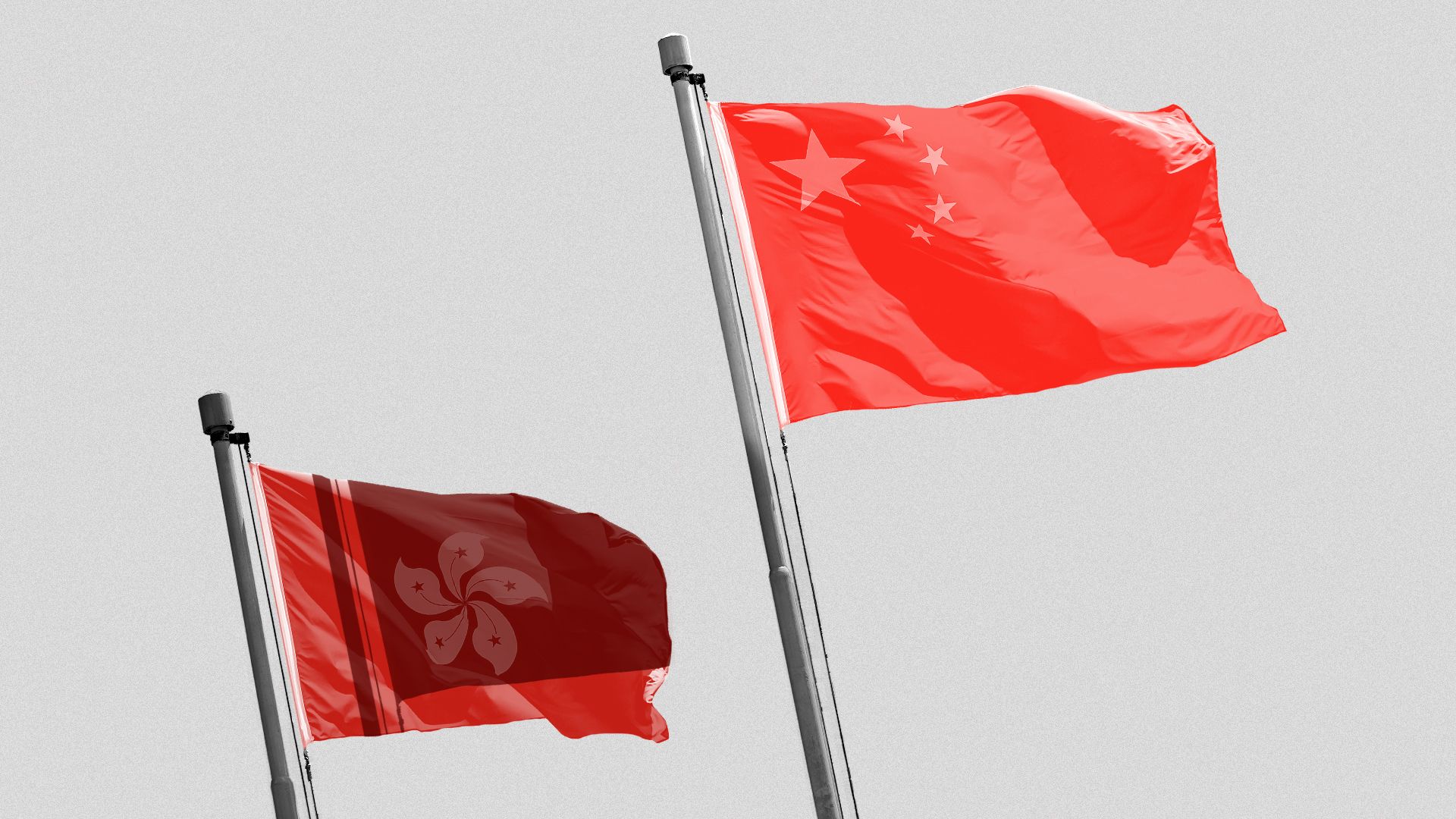 Protesters in Hong Kong are keeping the pressure on their leaders over a controversial extradition bill that has been suspended, but not withdrawn entirely.
"In the early hours, riot police wielding batons and shields chased dozens of protesters as they broke up a siege of police headquarters. By nightfall on Thursday, only around 200 protesters remained. Black-clad and masked, they sat peacefully outside government headquarters," Reuters reports.
They want the events in Hong Kong to be discussed at the G-20, something that would infuriate Beijing. China is already warning countries like the U.K. to mind their own business.
The big picture: The extradition bill is the latest step blurring the lines of the "One Country, Two Systems" structure that governs relations between Hong Kong and mainland China.
6. What I'm watching: Behind the making of Chernobyl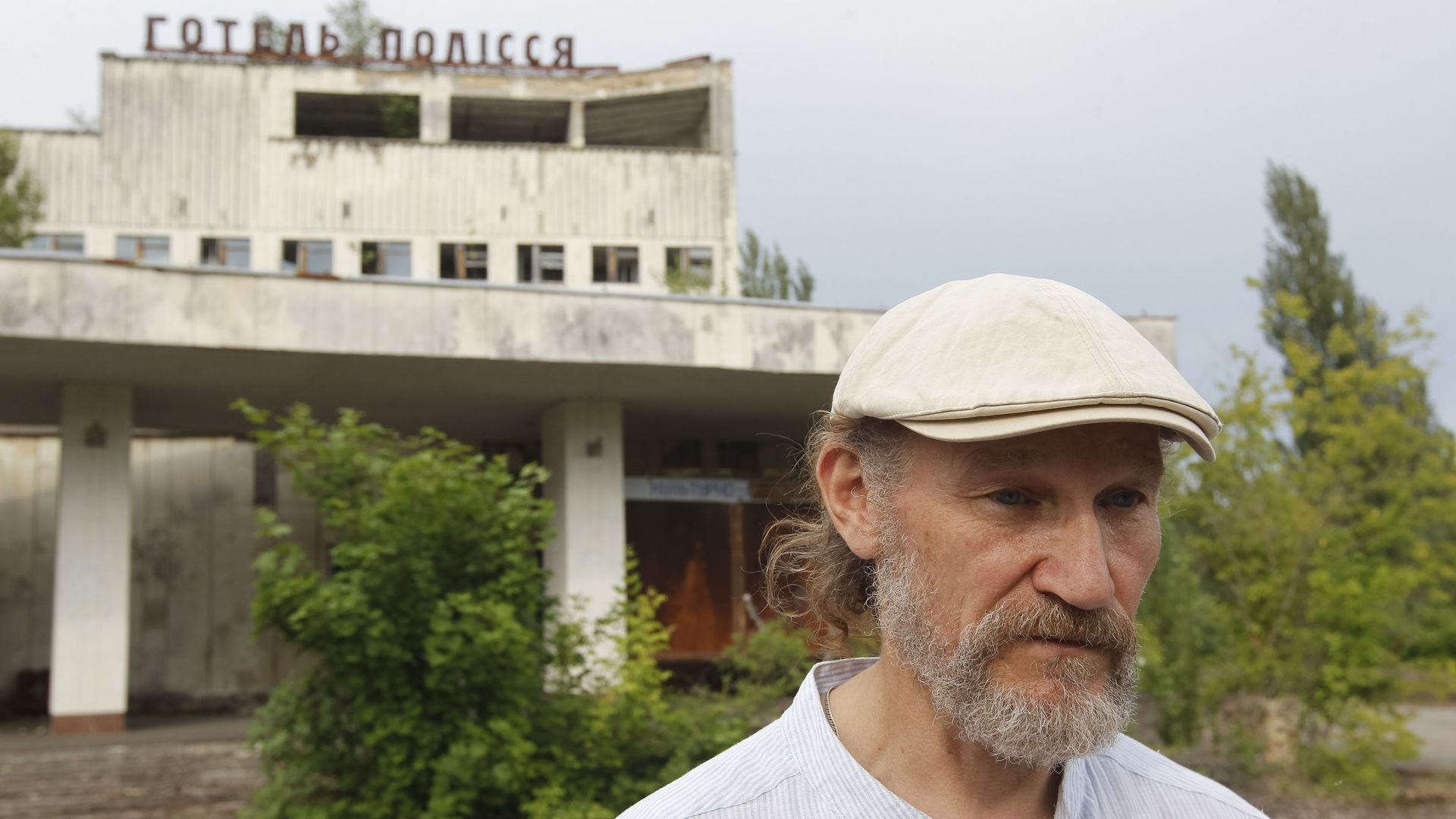 As I've mentioned in this newsletter before, I'm a big fan of HBO's "Chernobyl" (and the corresponding podcast). So when creator Craig Mazin came to the Wilson Center in D.C. last night, I went along.
Mazin said he was drawn to Chernobyl because unlike other major disasters — the Titanic, for example — most people don't know why it happened.
"I don't think Chernobyl was forgotten," he said. "I think Chernobyl was defanged. It became a curiosity, I think, because the Soviet Union ended. It was almost, 'well, that was a Soviet thing.'"
He added that he "wanted a western audience to see the heroism of Soviet citizenry," not just the flaws of the Soviet system.
Mazin said the show was made for "anybody who lived through it," and he's been gratified by responses from people in Ukraine "who watched it with their parents, usually their mother."
As for the backlash in Russia, Mazin said it only became a problem once the show caught on with Russian audiences.
"It's a strange thing to have a very popular show about your culture, your history, coming from one of your traditional enemies. I understand that. And I understand they're making their own version."
What's next: Mazin said his next project is set "closer to home, closer to now" but continues on the theme of "things we think we know, but we don't."
7. Stories we're watching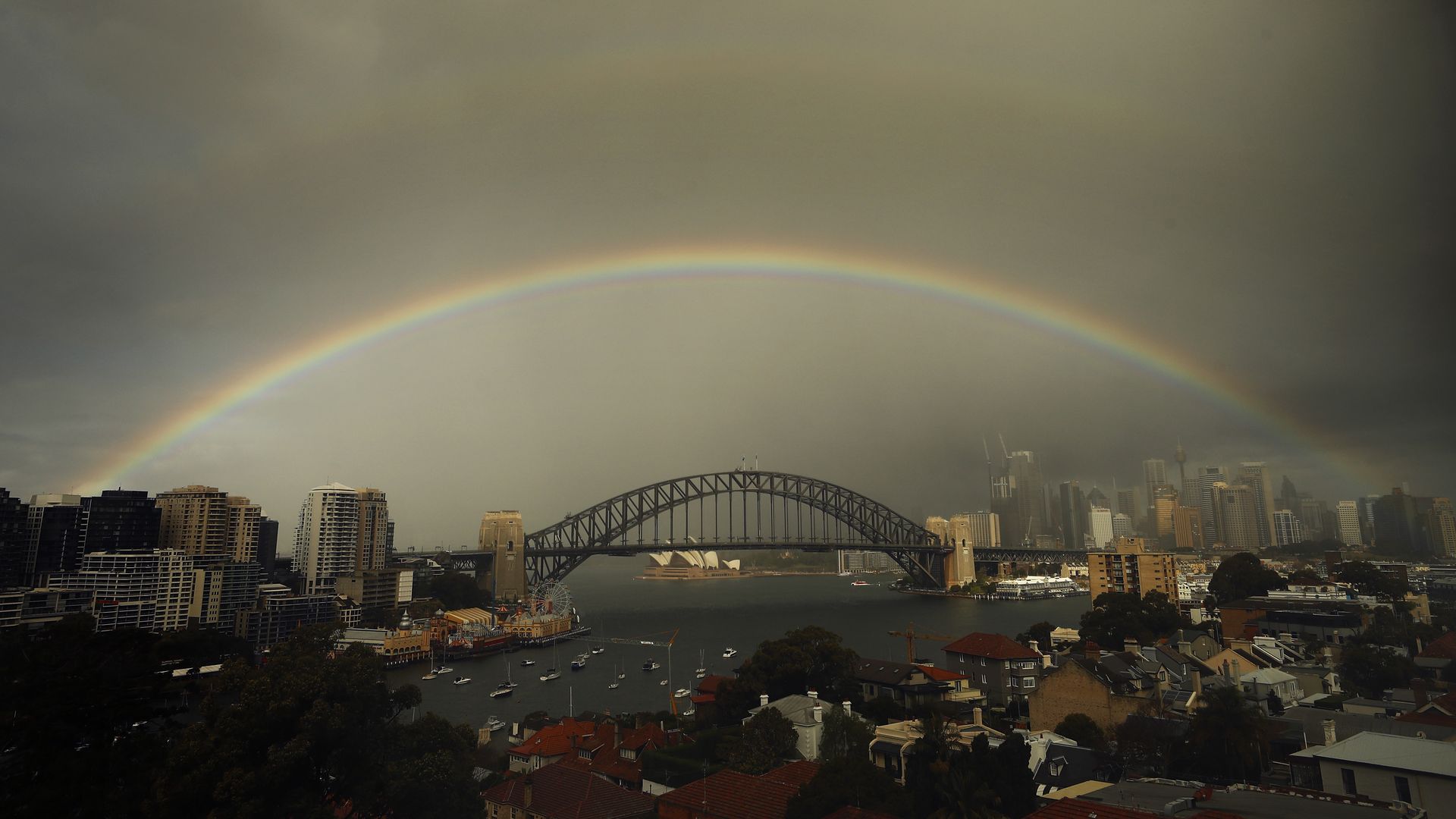 Thanks for stopping by. Be nice to Shane while I'm gone.