June 28, 2021
Welcome back to Axios World.
I'll be your guide this week as Dave jets off on a much-deserved vacation. Please send your "Where in the World?" trivia suggestions, as I definitely spent too much time on tonight's clues.
In this edition, we'll be unpacking the effects of China's crackdown on Hong Kong, some breaking news out of Tigray, last night's airstrikes on the Iraq-Syria border and more (1,707 words, 6 minutes).
1 big thing: Hong Kong, one year later
One year after Beijing imposed a sweeping national security law on Hong Kong, the city's once-lauded political freedoms have been dramatically curtailed, Axios' Bethany Allen-Ebrahimian writes.
Why it matters: By asserting total political control over one of the world's top financial hubs, the Chinese Communist Party is seeking to demonstrate that its model of authoritarianism can preserve the wealth of those who agree to toe the party line.
What's happening: The effects of the national security law and other measures have rippled through politics, industry, art and other facets of life on the island.
In March, China's parliament approved a law giving a pro-Beijing committee in Hong Kong the power to vet candidates for the Hong Kong legislature, making it virtually impossible for pro-democracy candidates to run for office.
For the second year in a row, Hong Kong authorities prohibited the city's annual Tiananmen vigil commemorating the June 4, 1989, massacre in Beijing.
Many pro-democracy leaders, including former lawmakers, now face charges or are currently serving time in jail.
Press freedom has deteriorated to an all-time low over the last year, according to the Hong Kong Press Freedom Index 2020.
Pro-democracy newspaper Apple Daily was forced to shutter last week, and its founder Jimmy Lai has been charged with foreign collusion under the national security law.
Just last night, an Apple Daily editorial writer was arrested at Hong Kong's airport while attempting to leave the city — the seventh employee to be arrested in the past two weeks.
The New York Times has moved part of its Asia operations from Hong Kong to Seoul.
The crackdown has had a chilling effect on Hong Kong's relationships around the world.
The U.S., Canada, Britain, Australia, New Zealand, Germany, France, the Netherlands and other countries have suspended their extradition treaties with Hong Kong.
The U.S. revoked Hong Kong's special status, ending preferential trade privileges and prohibiting the export of sensitive technologies.
After Britain promised to provide a path to citizenship for what could amount to millions of Hong Kongers, China retaliated by saying it would stop recognizing the special U.K. passport several million Hong Kong residents hold.
Education hasn't been spared either. The city's schools are now required to include "national security" education in their curriculum.
Teachers have been fired for classroom content considered subversive, and strict new regulations have been implemented that forbid "disrespecting the country."
What to watch: No one has yet been convicted under the national security law, though dozens have been charged so far.
The law carries harsh penalties of up to life in prison. The length of prison sentences doled out to peaceful pro-democracy activists will provide a sense of just how far Beijing intends to go to stamp out pro-democracy sentiment.
2. Breaking: Cease-fire in Tigray
Ethiopia's government declared an immediate and unilateral cease-fire in Tigray today, shortly after Tigrayan rebel forces said they'd retaken the regional capital of Mekelle captured by the Ethiopian military nearly eight months ago.
Why it matters: It's a major turning point in a civil war that has destabilized Africa's second most-populous country, potentially clearing the way for desperately needed humanitarian aid.
International observers and Tigray residents have accused the invading central government of large-scale atrocities, including ethnic cleansing. Millions have been forced to flee as the region has been pushed to the brink of famine.
The Ethiopian government said the cease-fire will last until Tigray's farming season ends in September.
On the scene: Reporters for CNN and the New York Times said thousands of residents poured into the streets of Mekelle after hearing that Ethiopian military forces had retreated, waving flags and setting off fireworks despite calls for them to remain indoors.
3. U.S. airstrikes reignite debate over Iraq war powers
The U.S. launched airstrikes last night against three facilities on the Iraq-Syria border, which the Pentagon says Iran-backed militias have been using to carry out drone attacks on U.S. personnel.
Why it matters: The Washington Post reported last month that U.S. officials were growing increasingly alarmed by the use of small, low-flying drones — rather than traditional rocket fire — to covertly strike U.S. targets in Iraq.
The Biden administration seriously considered taking military action in April after an explosive-laden drone targeted a CIA hangar in Irbil, according to the Post, but ultimately declined.
A recent spate of attacks appears to have changed the calculus on what officials believe is currently the biggest threat to the military mission in Iraq.
Zoom in: Last night's strike marks the second time since taking office that President Biden has approved a "defensive" operation against Iran-backed militias in the region, and it comes just two weeks after the House voted to repeal the 2002 Authorization for the Use of Military Force (AUMF) in Iraq — a move Biden supports.
In a statement disclosing the airstrikes, Pentagon spokesperson John Kirby cited Biden's "Article II authority to protect U.S. personnel in Iraq" as justification for the attack, rather than the AUMF. But not everyone's satisfied.
"I'm just as worried about the expansion of Article II authority interpretation as I am about the expansion of existing AUMF interpretation," Sen. Chris Murphy (D-Conn.) told Politico.
Murphy, an influential voice on foreign policy in the Democratic Party, warned that the fighting between U.S. forces and Iranian proxies is beginning to look like "low-scale war," and he said Biden should consider asking Congress for a new authorization.
Sen. Jim Inhofe (R-Okla.), the top Republican on the Senate Armed Services Committee, applauded the strike but called it "overdue" and an example of the "continued need" for the 2002 AUMF.
Inhofe added that while he currently opposes repealing the 2002 AUMF, Congress should consider a "comprehensive replacement" to address the "ongoing threat" that Iran-backed militias pose to U.S. troops.
The Iraqi government, meanwhile, called the airstrike a "blatant and unacceptable violation of Iraqi sovereignty," condemning the idea that its country should be an "arena for settling accounts."
Bonus: Where in the World?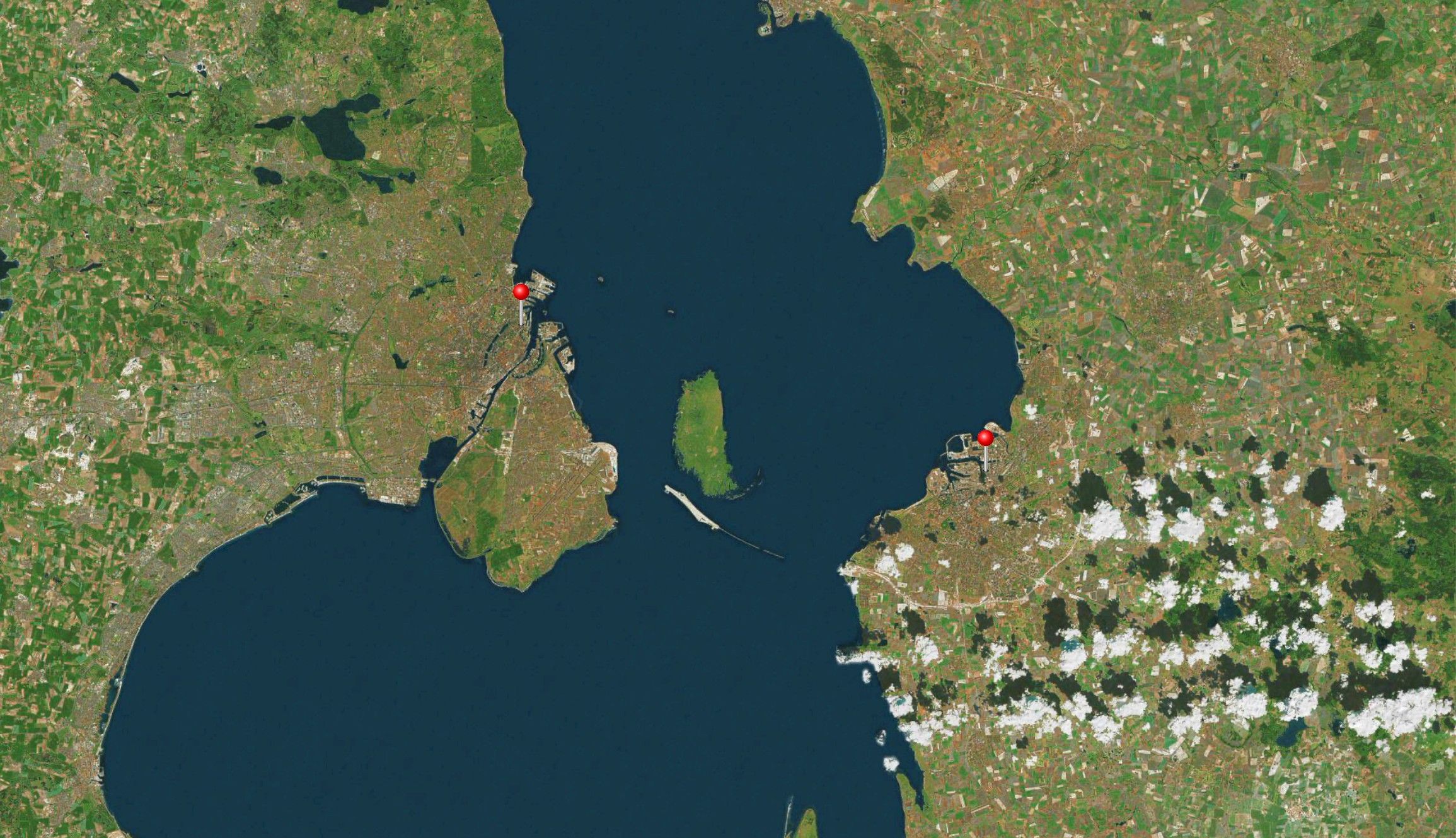 We're visiting two cities in two countries, where these days the sun barely ever sets.
Both countries celebrated one of the most popular holidays of the year last week, which you may have heard of if you're a fan of recent horror movies.
Bonus point if you can name the bridge that connects the two, the setting of a widely adapted crime drama.
Scroll to the bottom for an answer.
4. Global news roundup
1. The parties led by French President Emmanuel Macron and his far-right rival Marine le Pen suffered humiliating defeats in regional elections on Sunday, with neither winning a single province.
Why it matters: Macron and le Pen are the two favorites in next year's presidential election — though the record-low 35% turnout in the regional elections makes it hard to draw any firm conclusions.
2. Protests have erupted in the West Bank after the death of Palestinian Authority critic Nizar Banat in the custody of Palestinian Authority security forces.
Why it matters: The demonstrations pose a new crisis for Palestinian President Mahmoud Abbas, whose government has been accused of corruption and quashing free speech in the West Bank.
3. Over 17,300 Venezuelans have crossed the U.S.-Mexico border illegally since January, including a stunning 7,484 last month alone, AP reports.
Why it matters: Many of the Venezuelans that border agents encountered have been living for years in South American countries and are now migrating as a consequence of the still-raging pandemic — posing a new and difficult challenge to the Biden administration.
4. Canada set a national all-time heat record today, smashing the old record by nearly 3°F.
Why it matters: It's part of a dangerous heat wave enveloping the Pacific Northwest that's been shattering records by such large margins that even climate scientists are uneasy, Axios' Andrew Freedman reports.
5. Scoop: Israel and U.S. in talks on first Biden-Bennett meeting
The U.S. and Israel are working to set up a White House visit for new Israeli Prime Minister Naftali Bennett in July, three Israeli officials and two U.S. sources tell my colleague Barak Ravid.
Why it matters: It's another sign of the Biden administration's desire to help stabilize the new and fragile Israeli government, which was formed to oust Benjamin Netanyahu and bring an end to three years of political deadlock.
The White House believes the new coalition — which consists of a historically broad spectrum of parties, including the first Arab party to join an Israeli government — could set an example for other countries going through political crises, one U.S. source told Barak.
6. What I'm reading: India's heroes
Newlines Magazine, a new website whose long-reads have quickly come to dominate my bookmarks, is out with a first-person essay by Mehk Chakraborty on the apocalyptic scenes from India's COVID-19 surge.
The piece recounts how the Modi government declared victory months before the Delta variant became a suffocating, inescapable force in India, driving ordinary citizens to step into the void to save their communities.
It struck a chord with me because of similar conversations I've had with my own family-members-turned-oxygen-hunters in Calcutta, serving as a reminder that millions are still enduring the worst of the pandemic even as life in the U.S. returns to normal.
"These nightmares bleed into our days and haunt our waking hours. Everyone seems to be walking with brain fog, saying half-sentences that, although incomplete, we still understand. Everyone seems to know that the partial statement 'verified leads for,' which is uttered by people all the time, actually means: 'verified leads for oxygen cylinders/ICU beds required.'
As I write this, two months since the panic hit in mid-April, my phone is still buzzing with messages as volunteers on WhatsApp and Telegram share screenshots, 'leads,' for where to find oxygen cylinders and beds in intensive care units — urgent and desperate pleas that might have decreased in frequency but remain persistent."
7. Stories we're watching
Quoted:
"Seeing our respected comrade General Secretary become emaciated like that, all the people became so heartbroken. Everyone is talking about it. We all just started to cry."
— An unnamed Pyongyang citizen expressing concern about Kim Jong-un's weight loss during a
mystifying interview
on North Korean state media, where coverage of the dictator is tightly controlled.
Answer: Copenhagen, Denmark (left) and Malmö, Sweden (right). The holiday is Midsummer, the bridge is Öresund or Øresund Bridge, and the TV show is "The Bridge."