Axios World
August 28, 2020
Welcome back to Axios World.
We've crossed the 100,000 subscriber mark! When we launched in 2018, I worried no one would read this newsletter, and I'm so very grateful that you do.
If you're new to the party, sign up here.
Tonight's edition starts with a flashback to 2003. It's 1,631 words (6 minutes).
We'll be back in the present on Monday. I hope you have a wonderful weekend first.
1 big thing: The path to war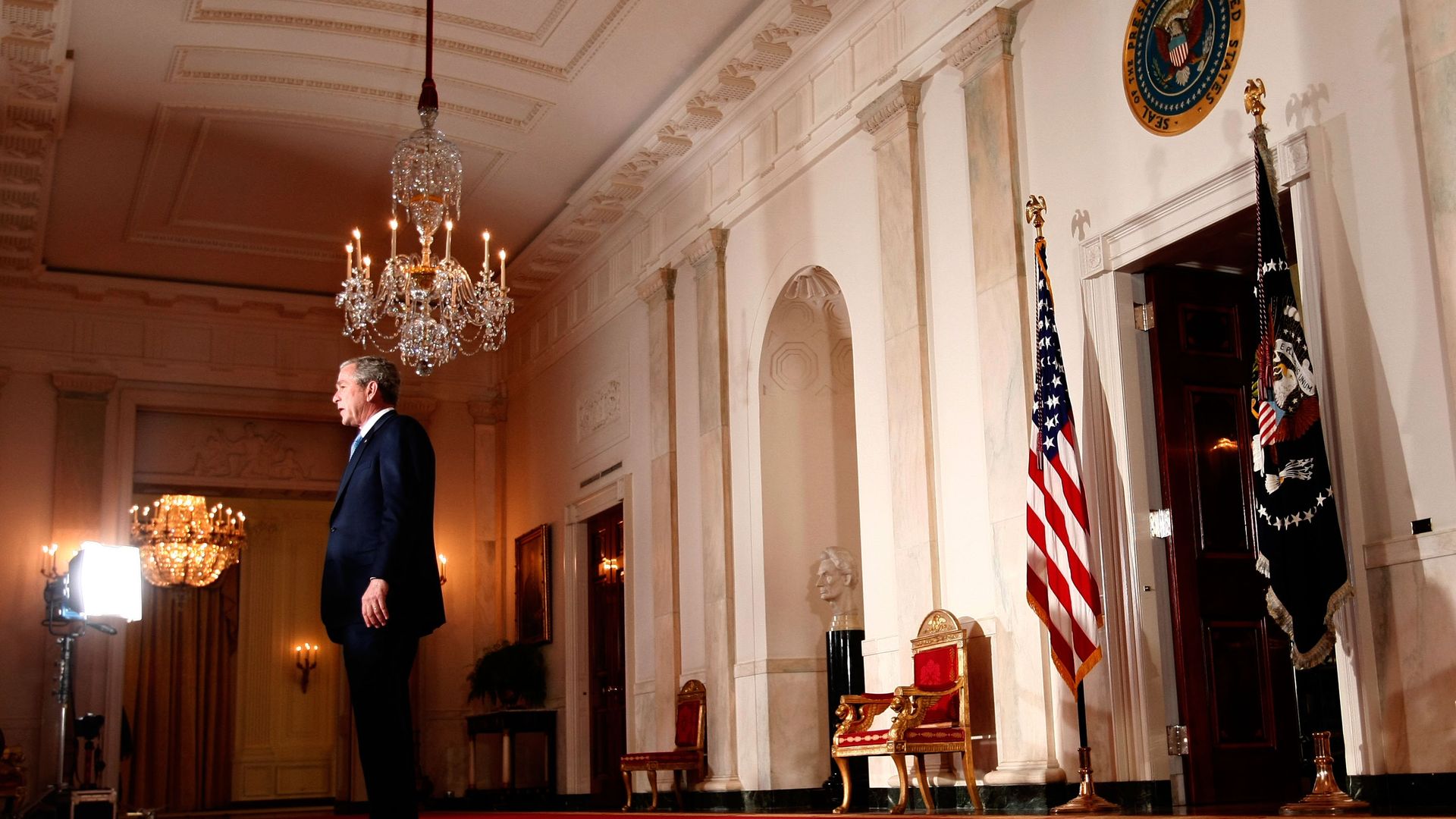 The most consequential foreign policy decision any American president has made in decades was based on two things that didn't exist: Saddam Hussein's weapons of mass destruction and his links to international terrorism.
Why it matters: That decision has been a driving factor in America's foreign policy, and politics, for nearly two decades. In his new book "To Start a War," Robert Draper offers the definitive account of how it was made.
The big picture: After 9/11, Bush believed that the country desired dramatic action. Absorbed by the conviction that Saddam had weapons of mass destruction — and by the unfounded fear he would provide them to terrorists — Bush's attention turned quickly to Iraq.
The hawks — Vice President Dick Cheney, Secretary of Defense Donald Rumsfeld and Deputy Defense Secretary Paul Wolfowitz — searched for intelligence that aided the case for war, while discarding anything that didn't.
Others, like Secretary of State Colin Powell or National Security Adviser Condoleezza Rice, were more cautious. But they served a president who had little patience for equivocation and seemed on a path toward war, and they shaped their counsel accordingly.
The calculus was similar inside the CIA. Layers of doubt were peeled away as intelligence wound its way toward the Oval Office and then into the public sphere. It emerged looking shiny and whole, but ultimately proved hollow.
The press also ultimately helped make the case for war, even as individual reporters poked holes in it. After 9/11, there was little appetite for skeptical coverage on matters of national security.
The bottom line: Bush genuinely believed that by invading Iraq, he was removing a potent threat to the homeland and paving the way for peace and democracy in the Middle East.
Behind closed doors, Draper writes, Bush even contended that removing Saddam would lead to peace between the Israelis and Palestinians. Such beliefs were rarely grounded in facts, but they typically went unchallenged.
"[I]t will never be known what George Bush's course of action would have been if, during the spring, summer and fall months of 2002, even one member of his administration had tested his professed receptiveness to an argument against war," Draper writes.
Even more damaging was Wolfowitz's conviction that post-invasion planning was "largely unnecessary," Draper writes, because "Iraqis would rejoice at the sight of their Western liberators" and unite in the cause of democracy.
The administration's estimates of the costs to America in terms of blood, treasure and time also proved almost breathtakingly inaccurate.
405,000 Iraqis died as a result of the U.S. invasion, and many more in the ensuing violence and instability, which gave rise to ISIS.
America's international standing was damaged so severely that the U.S. has higher global approval today, under Trump and America First, than it did in Bush's second term.
Where things stand: The scars from Iraq have made Americans more skeptical of war, and in particular of war as a tool for peace.
Draper's book arrives with the Iraq War fading from America's consciousness — during the first presidential election since 2000 in which it has not featured prominently.
But it serves as a reminder that circumstances can change quickly. It's not hard to envision many of the scenes he paints repeating themselves in another moment of crisis, under another commander-in-chief.
2. State of the outbreak I: Feeling good
Most people across 14 wealthy countries surveyed by Pew tend to think their country has handled the pandemic well — and in Denmark and Australia that view is near-universal.
Even in hard-hit countries like Italy and Belgium, which has the world's highest population-adjusted death rate, views are generally positive.
Despite their controversial no-lockdown approach, Swedes also tend to think their country has performed well. They're also among the most likely to believe it has united their country (58%), rather than dividing it (36%).
There are two exceptions to the generally positive outlook: the U.S. and U.K. Americans were also by far the most likely to say the pandemic has divided their country (77%).
Between the lines: The polling was conducted throughout the summer, when most of these countries — unlike the U.S. — had either bounced back from large initial outbreaks or avoided them.
Go deeper: U.S. far behind other rich countries in coronavirus response
3. State of the outbreak II: Cause for concern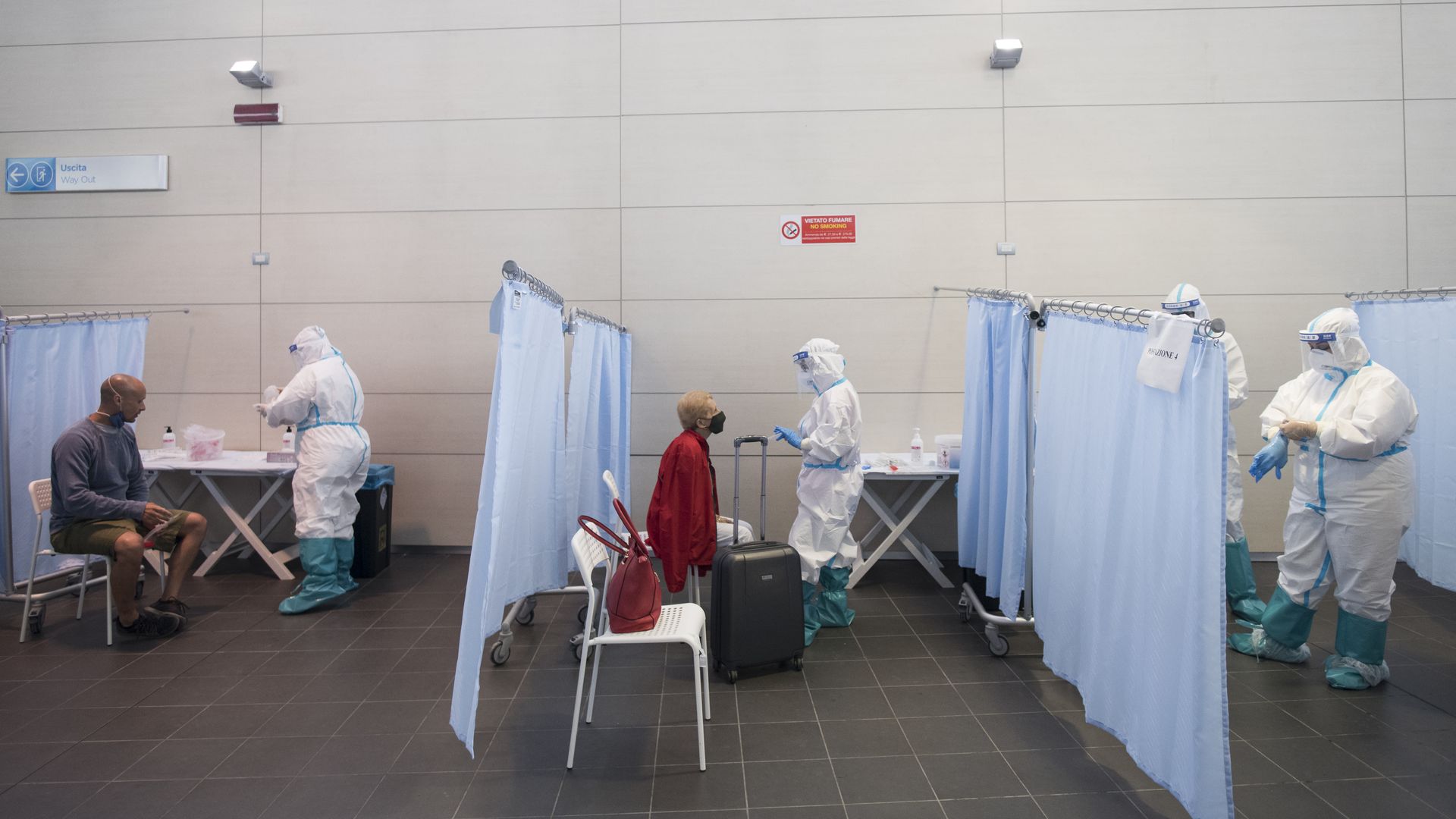 Several European countries have seen sharp spikes in cases in recent weeks.
In Spain, cases had remained below 1,000 per day from early May to mid-July, before spiking as high as 7,565 per day last week, the highest infection rate in Europe.
France isn't far behind. It saw its highest case total today (5,429) since April.
Italy has been remarkably successful in staving off a second wave, but today recorded its highest daily total (1,365) since May.
Breaking it down: Health officials in Spain were caught off guard by the rise in cases. It's been driven by younger people, which might explain why deaths and hospitalizations have risen much more slowly.
"Around 40% of clusters detected since the lockdown ended have been linked to social events, including private parties, nightclubs and family gatherings," per WSJ.
Spain has employed targeted lockdowns, shut down nightclubs, ordered bars to close earlier and banned smoking in some public places.
Face coverings are mandatory in Paris as of today, and Germany is also tightening some restrictions.
The big picture: India recorded the most cases globally over the past week, and the third-most deaths, behind the U.S. and Brazil.
While cases in the U.S. are ticking downward, America still accounted for 18% of all new cases recorded worldwide over the last week, as well as 18% of deaths.
The Americas remain home to most of the world's worst outbreaks, accounting for 62% of all deaths worldwide.
4. Africa news roundup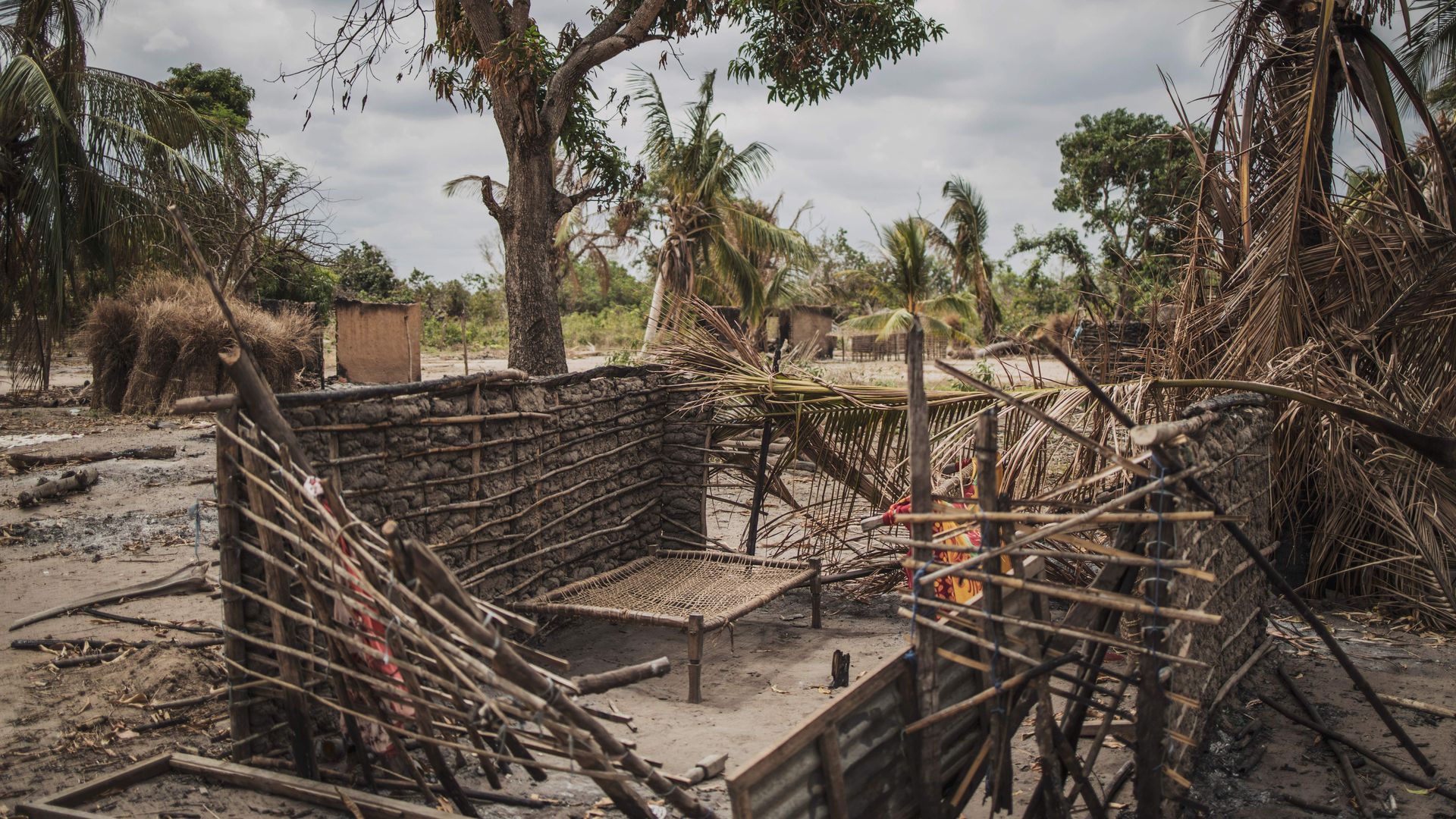 1. A battle is expected in Mozambique's Cabo Delgado province as the government attempts to regain control of a port city seized by an extremist group.
The government has struggled to contain an insurgency in Cabo Delgado that is holding back international investments in massive natural gas deposits in the region.
It has brought in mercenaries and armed local militias, per the Economist. "There is no sign that the government is willing or able to tackle the conflict's root causes, such as poverty and corruption. So a local fight is slowly becoming international."
2. The leaders of last week's coup in Mali say ousted President Ibrahim Boubacar Keïta has been freed and is now at home. It's unclear whether he's under house arrest.
State of play: While the military plotters initially said they had no intention of holding power, they've reportedly proposed a three-year transition period in negotiations with ECOWAS, a regional bloc.
3. The U.S. and Sudan have reached "an agreement in principle" to settle claims from American victims of terror attacks, Foreign Policy reports.
The claims date back two decades and had been a major obstacle to Sudan's removal from the U.S. state sponsors of terrorism list, a top priority for a government that's desperate to bring in foreign investment.
Visiting Khartoum this week, Secretary of State Mike Pompeo reportedly made less progress on another priority: convincing Sudan to follow the UAE in recognizing Israel.
4. Africa was declared free of wild polio this week, following a long-standing effort to eradicate the disease in Nigeria.
5. U.S. and China: Trading barbs, not goods
1. China is more than 50% behind the expected pace to buy U.S. exports to match its promises under the phase one trade deal, Axios' Dion Rabouin writes.
Driving the news: Following a videoconference between senior U.S. and Chinese officials on Monday, both sides said they were committed to carrying out the deal.
No adjustments or plans for China to realistically meet the targets were announced despite the severe disruption to its economy as a result of the coronavirus pandemic.
Through July, Chinese imports of all uncovered products from the U.S. were actually 28% lower than over the same period in 2017.
2. Pompeo pressed Israeli Prime Minister Benjamin Netanyahu this week to further cool relations with China and limit Chinese investments in Israel, Axios' Barak Ravid reports.
Why it matters: The Trump administration has been lobbying Israel on this issue for two years, with very little success.
The U.S. wants Israel to formally ban Chinese companies from its 5G networks, upgrade its oversight mechanism on Chinese investments, and stop considering Chinese companies for major infrastructure projects.
3. The Department of Commerce on Wednesday blacklisted 24 Chinese firms for "helping the Chinese military construct and militarize the internationally condemned artificial islands in the South China Sea," Axios' Rashaan Ayesh writes.
The backdrop: The U.S. sharpened its approach to the contested territory last month, officially rejecting most of China's territorial claims in the sea.
6. One to watch: Biden says China is committing "genocide"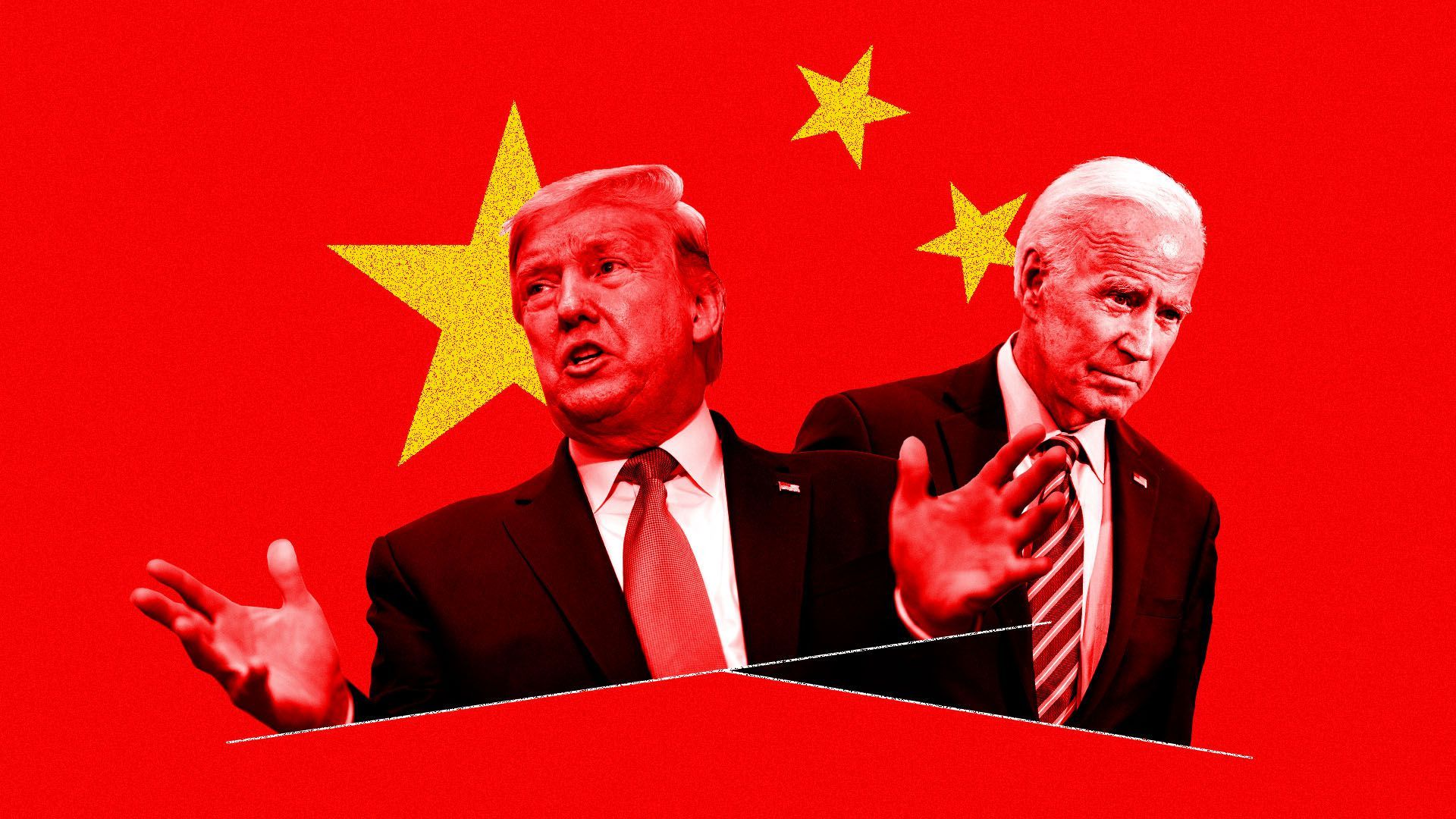 Joe Biden believes the Chinese government is committing genocide against Uighur Muslims and other ethnic minorities in its northwestern region of Xinjiang, his campaign said in a statement on Tuesday.
Why it matters: There are few more serious accusations under international law, and the U.S. government has used the label only on rare occasions — typically when it is prepared to take action.
What they're saying: A Biden spokesperson accused the Trump administration of failing to "call this out for what it is," and President Trump of "condoning" China's actions.
Between the lines: Former White House national security adviser John Bolton claimed in his book that Trump had encouraged China's President Xi Jinping to continue building detention camps in Xinjiang.
Trump denies that and claims Biden would be soft on China as president. Biden, in turn, has accused Trump of discarding human rights in his dealings with authoritarian countries.
The big picture: Reports of mass surveillance, arbitrary detentions, brainwashing, torture and forced sterilization in Xinjiang have led experts to use the term "demographic genocide."
China has vehemently rejected any claim that it is engaged in human rights abuses in Xinjiang, and it claimed the detainees there had been set free.
The latest: A BuzzFeed News investigation published today reveals that China in fact built 260 structures "bearing the hallmarks of fortified detention compounds" since 2017.
Mapped: Where the world stands on China's mass detentions in Xinjiang.
7. Stories we're watching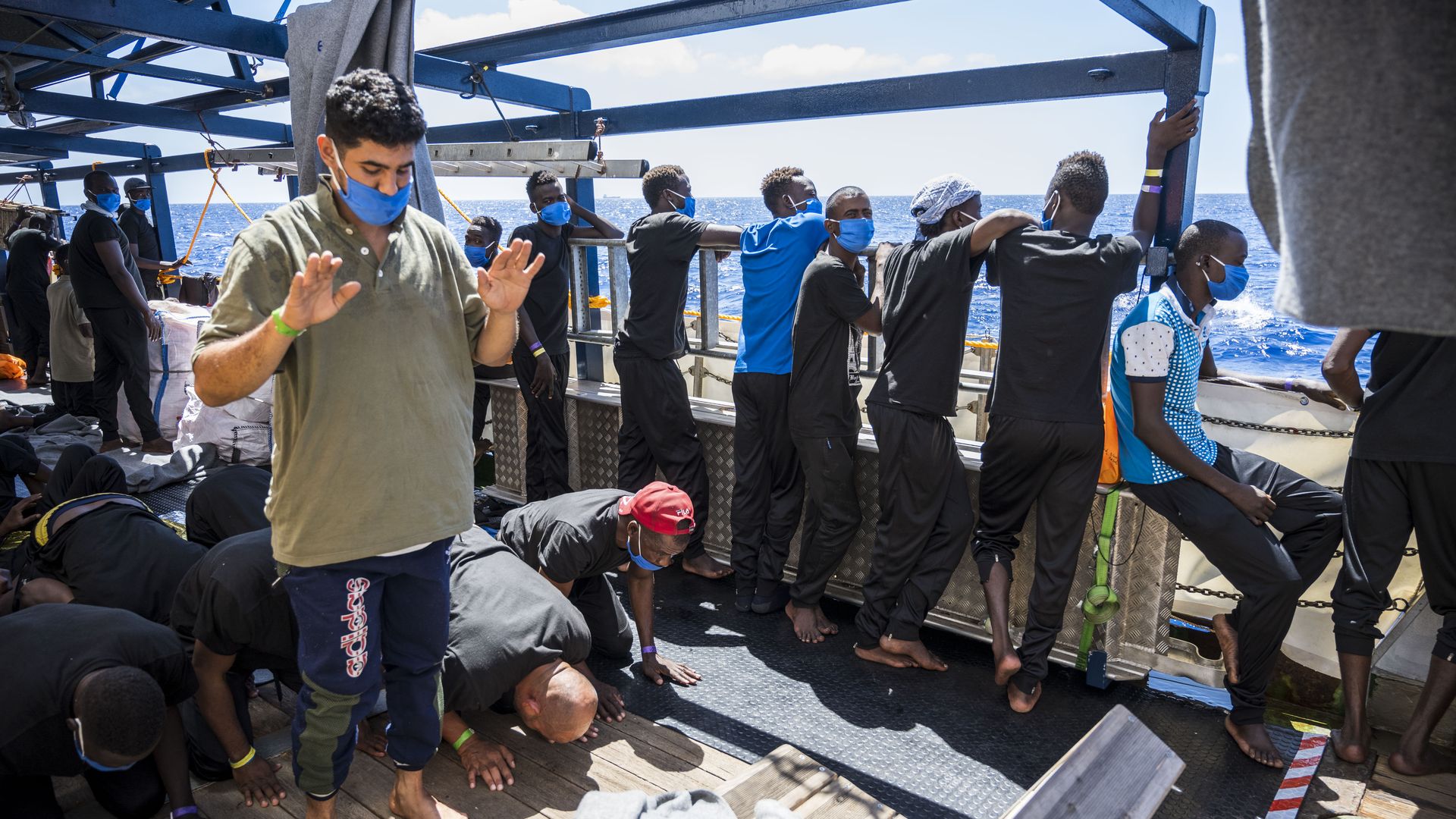 Quoted:
"We agreed that it won't be used until the situation gets out of control."
— Vladimir Putin today, on sending police into Belarus