Welcome to Axios World, your biweekly tour of the big stories from around the globe.
I'm back after a lovely week off, with a mild sunburn and plenty of world news. Please tell your friends and colleagues to sign up here, and I'd love your tips and feedback: [email protected]
1 big thing: Worries in Westminster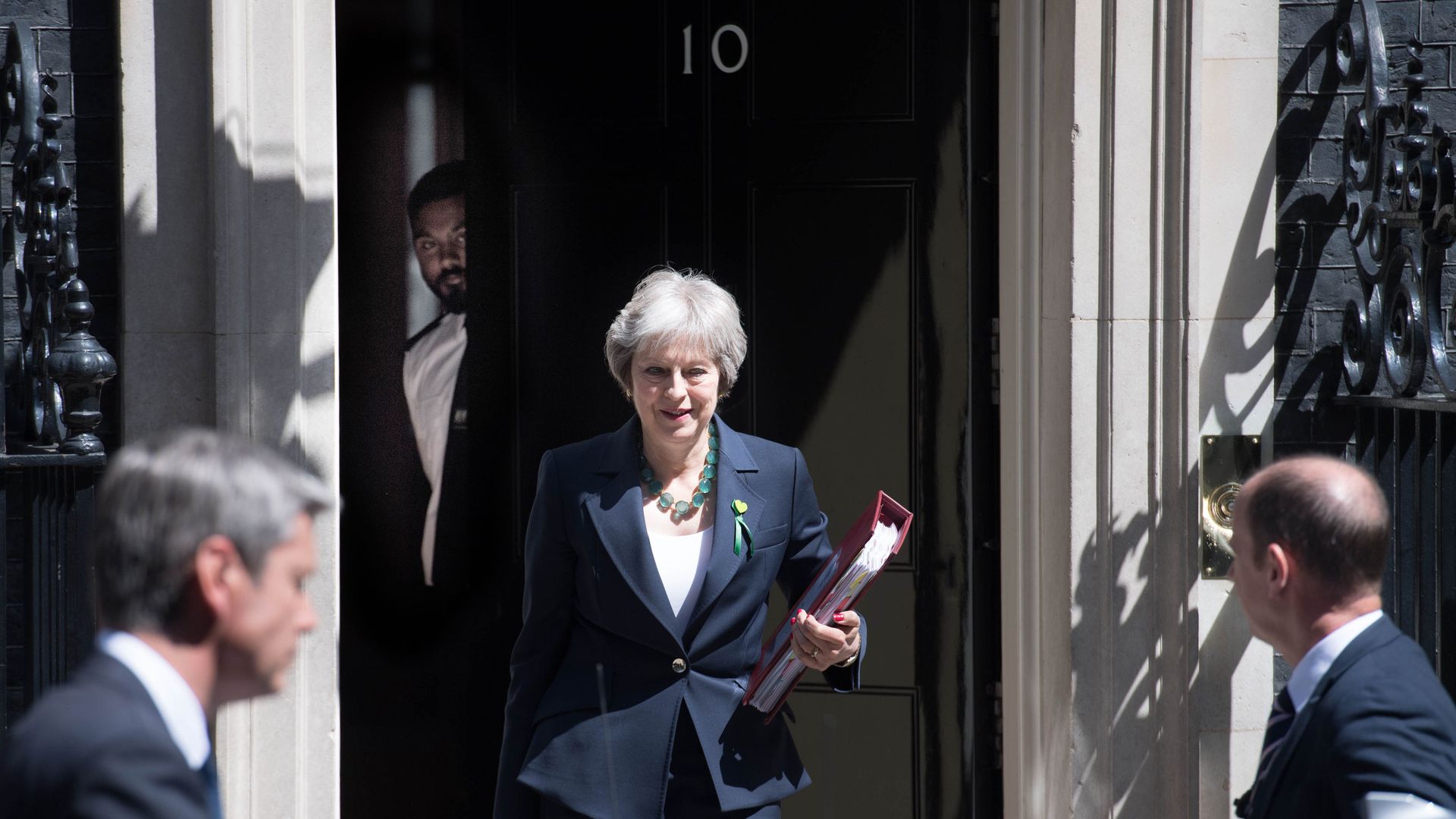 The ground is shaking under U.K. Prime Minister Theresa May's feet after two top cabinet officials resigned over her blueprint for Brexit.
The bigger picture: Two years after May moved into Downing Street in the wake of the Brexit referendum, and nine months before the U.K. is set to leave the EU, the truce she worked tirelessly to maintain within the Conservative Party has officially broken down, and the path to Brexit remains far from clear.
How it happened:
David Davis, the outgoing Brexit secretary, went fairly quietly, saying he couldn't advocate for a plan he doesn't support. Boris Johnson does little quietly, and landed several parting shots in resigning as foreign minister, including the proclamation that the Brexit "dream is dying, suffocated by needless self-doubt."
The departures followed a Friday cabinet gathering at Chequers, the prime minister's country retreat, that produced a so-called "soft Brexit" plan, which would see the U.K. maintain close economic ties with the EU after Brexit. It was designed in part to alleviate concerns from business, but infuriated hardline brexiteers who want a sharp break from Brussels.
May, who announced Johnson's departure before he had a chance to, wrote that she was "a little surprised" to receive his letter after the cabinet agreed to her proposal.
May replaced Johnson with Jeremy Hunt, the long-serving health secretary and a loyal supporter. The top jobs in her cabinet are now all held by officials who opposed Brexit.
Jeremy Corbyn, leader of the opposition Labour Party, said May's government must "get its act together and do it quickly. And if it can't, make way for those who can."
The risk of an imminent ouster seems to be fading for May, though things remain fluid some eight hours after Johnson's resignation. Ben Roback of the Cicero Group consulting firm emails from London with his analysis:
"Today's resignations have shown Theresa May is vulnerable, but the question has become when the Brexiteers strike more than if. Their worst option is to try but fail to oust May, whose strength is that she is still the only one offering a Brexit solution. But Brexiteers like Johnson, Davis and the European Research Group are now together on the back benches in Parliament and may start plotting their own plan for Brexit, as well May's downfall, soon."
Where things stand:
Having seen off two chief critics and survived (assuming she does), May could actually emerge from this with a stronger hand and a more united cabinet. As Sam Coates of the Times quips, it's "totally unclear whether the U.K. political classes are one step closer to sanity or one step closer to calamity."
A new Sky News poll shows just 22% of Britons trust May to run Brexit negotiations, down from 54% in March 2017 (the last time the poll was taken). The fact is, though, they might trust the alternatives to May even less.
Reminder: President Trump heads to the U.K. on Thursday.
Bonus: Trump's big trips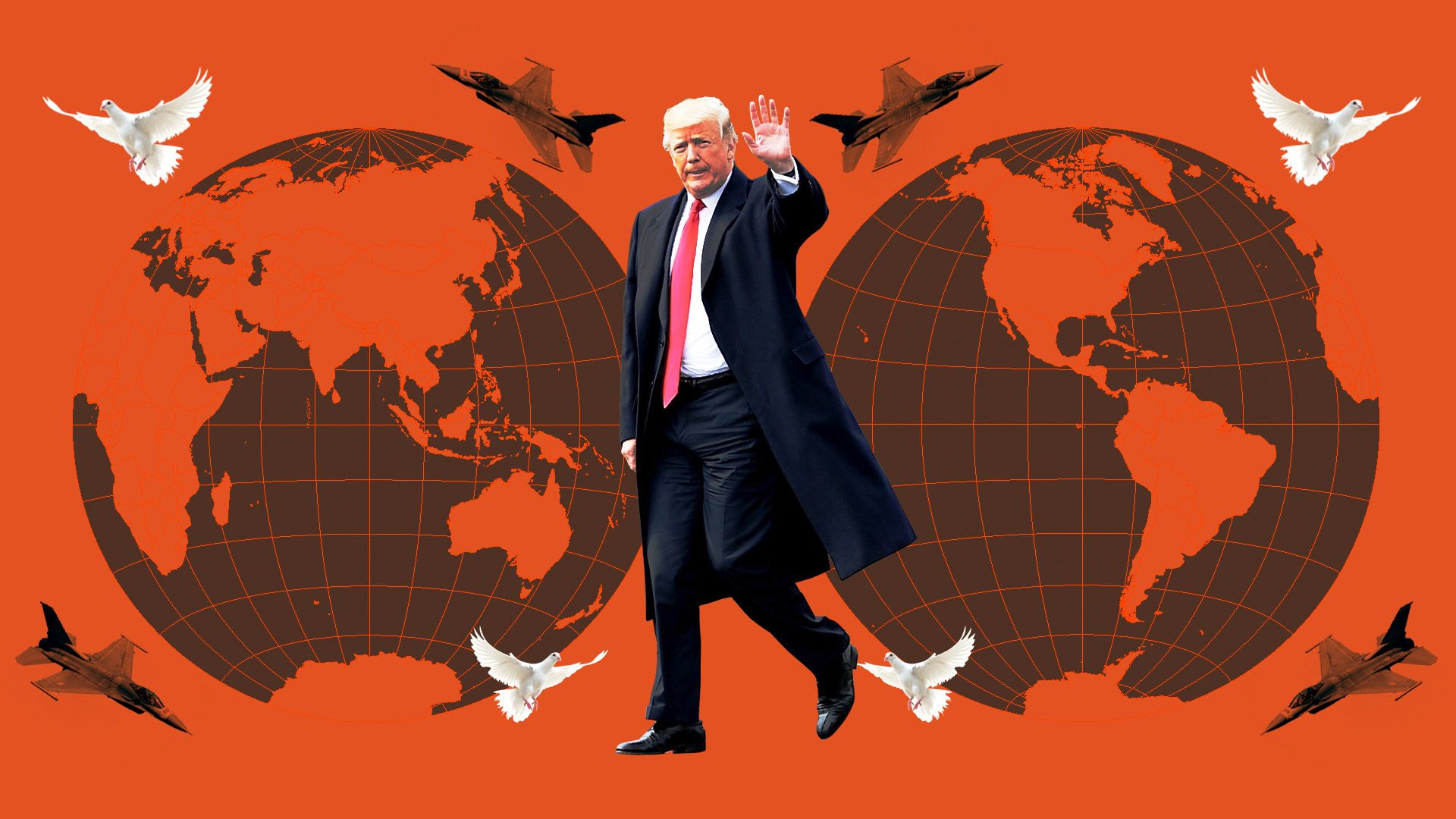 President Trump has a European triple-header over the next week...
NATO summit, Brussels (Weds-Thurs): Senior European officials tell Axios' Jonathan Swan they're worried Trump will make criticism of allies like Germany the focus of the summit, suggest America's commitment to defend NATO allies is conditional upon higher defense spending, and side with Putin-friendly populists in the alliance at the expense of America's closest allies.
U.K. visit (Thurs-Sun): He'll visit the prime minister's country retreat, meet the queen, travel to Scotland and hope to avoid massive protests in London.
Putin summit, Helsinki (Mon): Allies and some in Washington worry a fractious NATO summit will be followed by a friendly meeting with Putin.
2. Europe: Poland's Supreme Court battle
Poland's government is attempting to purge one-third of the country's 72 Supreme Court justices, among other steps intended to undermine the independence of the judiciary. Eurasia Group's Willis Sparks explains in the latest Signal newsletter from GZERO Media:
"We've been anticipating this showdown for two years as the right-wing Law and Justice Party escalates its bid to consolidate power. In response, tens of thousands of protesters hit the streets of more than 60 cities and towns, and some of the judges have simply refused to leave the bench."
"Then there's the fight with the EU. The European Commission has warned that this action amounts to a power grab in violation of EU rules, and that Poland risks disciplinary action. But any European attempt to sanction Poland won't get far, as Poland's ruling party knows that like-minded friends in Hungary's government will vote no."
What to watch: "The government can withstand pressure from the EU. Less clear is whether it can impose its will on a divided country in years to come. This is nothing less than a battle for Poland's future.​"
The bigger picture: 52% of Poles say they have confidence in their judicial system and courts, per Gallup, up from 36% in 2014 and right in the middle among EU countries. Confidence in the courts is highest in Denmark (85%) and Finland (83%) and lowest in Bulgaria (22%) and Slovenia (29%).
3. Africa: The end of a cold war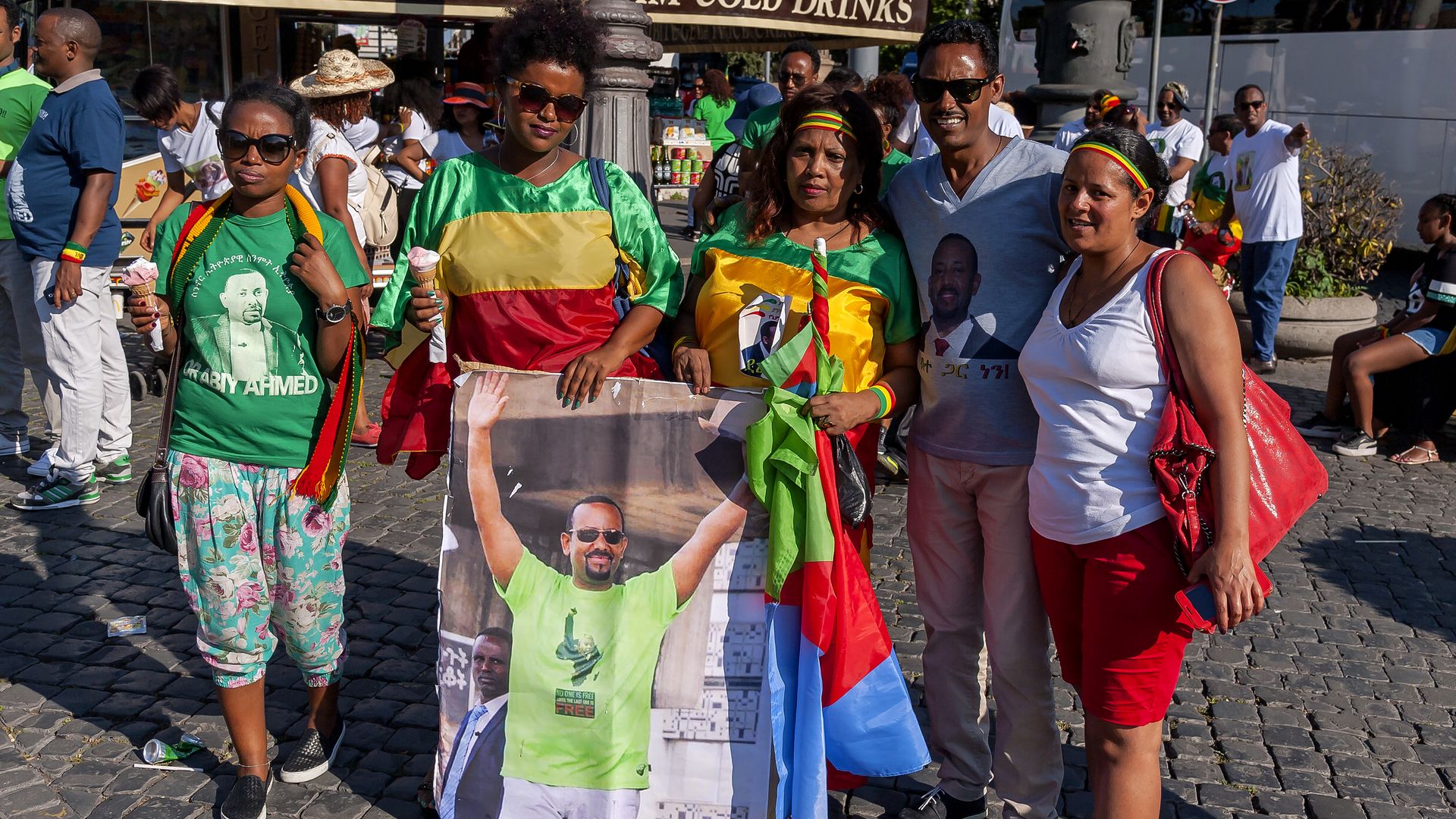 In a moment that seemed unthinkable just months ago, the leaders of Ethiopia and Eritrea today declared that they are no longer at war.
The two neighbors and rivals fought a hot war from 1998-2000 which left 80,000 dead, and hostilities remained frozen in place after Ethiopia rejected the ensuing peace deal over a border dispute.
Per the BBC, "For the last 20 years, it has been impossible to travel directly from one nation to the other. There have been no flights, the land border was closed, and telephone lines did not work. This raises the possibility that families who have been divided by the conflict could finally be reunited."
Abiy Ahmed, Ethiopia's new reform-minded prime minister, launched the peace talks and is bringing rapid-fire change to his country.
"You don't want to exaggerate but for Ethiopia, a country where everything has been done in a very prescriptive, slow and managed way, these changes are unprecedented. His main task is to satisfy all expectations of all groups in a huge and diverse country. That's impossible but he's trying to do so with some gusto."
— Ahmed Soliman of Chatham House,
to the Guardian
4. Latin America: Crisis in Nicaragua rumbles on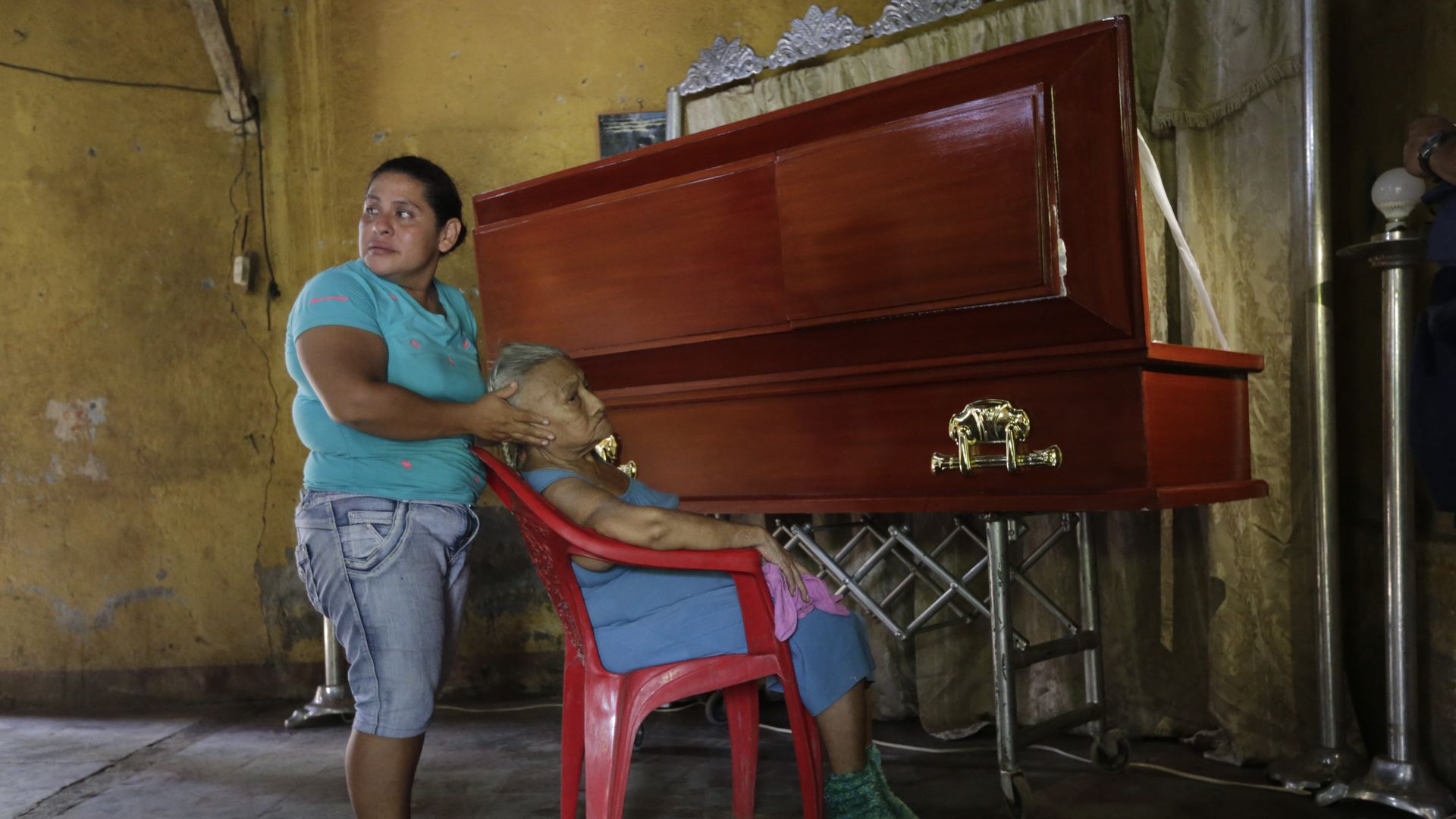 There's no end in sight to protests demanding the removal of Nicaraguan President Daniel Ortega's authoritarian regime, Mateo Jarquín of Harvard writes for Axios Expert Voices:
The background: In the 1980s, Ortega was a key figure in the left-wing Sandinista Revolution. Since his election in 2006, however, he has abandoned his socialist ideology and implemented pro-business and socially conservative policies. With tacit support from his former foes in the country's business elite, he brought all branches of government under his control. However, after a decade of sham elections and intolerance for dissent, tensions have boiled over.
Ignoring calls for early elections and derailing peace talks with the civilian opposition alliance, Ortega has used police and paramilitary forces in a bid to win back the streets through brute force. Regime repression has left over 200 dead and the economy is forecasted to shrink dramatically as a result of the unrest.
The military remains the X factor: It has not participated in the repression, nor has it disarmed the paramilitary bands that now roam the streets. Whether Ortega succeeds in quashing dissent, or is instead forced to make concessions, will likely depend on the armed forces.
Why it matters: Until recently, Nicaragua enjoyed relative stability and security compared with its neighbors in Central America. The deteriorating situation could create an opening for international organized crime and threatens to spawn a refugee crisis that would affect the whole region.
5. Asia: Foreigners help fill Japan's worker gap
Low unemployment combined with an aging (and shrinking) population has led to a worker shortage in Japan. That shortage has spurred investments in automation — but are foreign workers the answer, at least in the short term? The Economist explores:
"Acceptance of foreign labour is gradually increasing in Japan, one of the world's most homogenous countries, where only 2% of residents are foreigners, compared with 16% in France and 4% in South Korea."
"Attracting foreign workers will not necessarily be easy. Language is a big barrier... only a handful of companies work in English. Lowlier workers must pass a Japanese exam and are not allowed to bring their families."
"Fears that more foreigners would bring more crime have proved unfounded (although many landlords still refuse to rent to them)."
"Whatever Japanese think of them, foreign workers have become a fact of life, at least in cities. There are 1.3m of them, some 2% of the workforce—a record."
6. World Cup roundup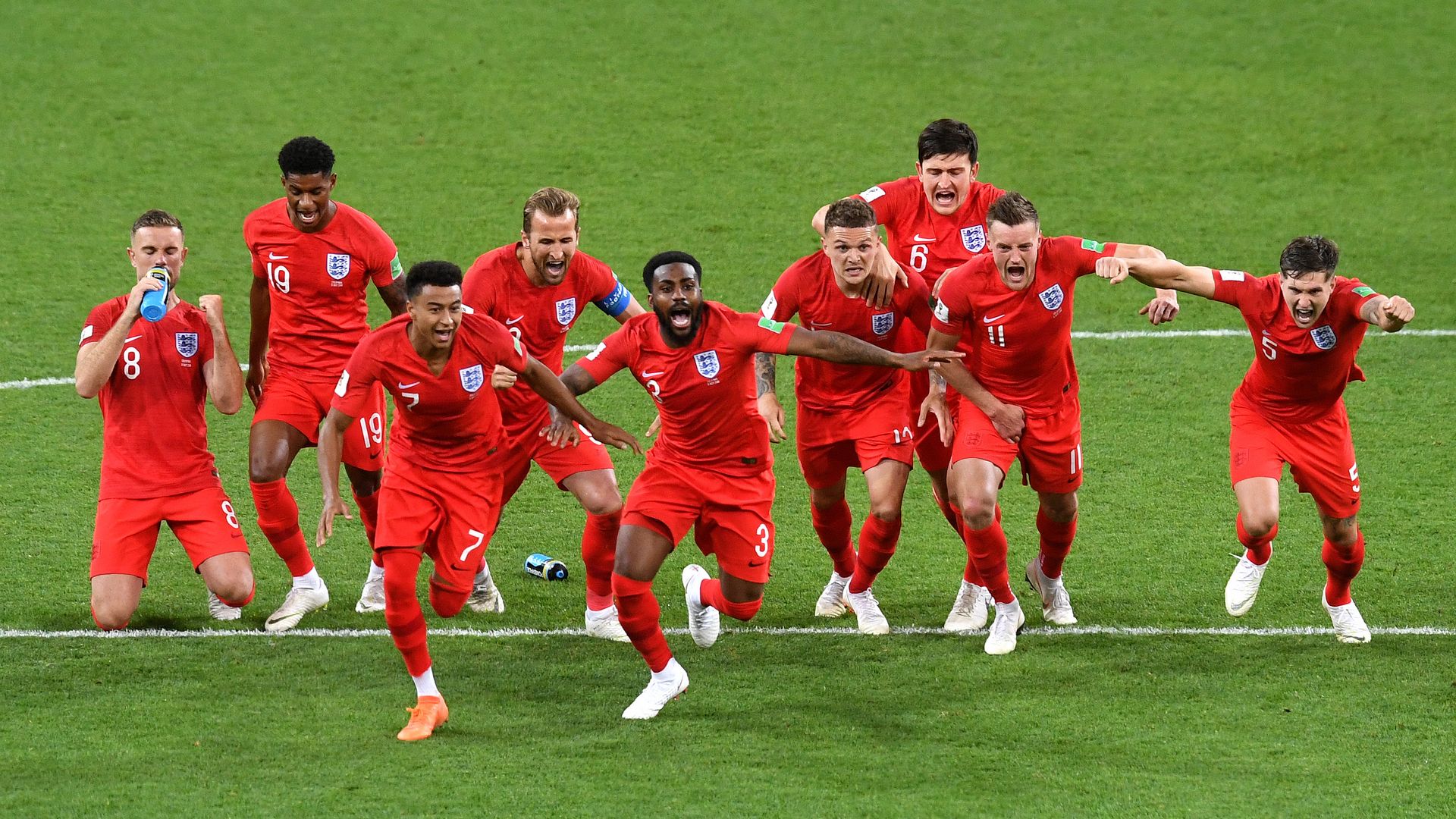 And then there were four! After some dramatic clashes (Belgium ousting Brazil, Croatia beating Russia, in Russia, in a shootout) we've got Belgium vs. France tomorrow and England vs. Croatia on Wednesday. Here are four big and small things to know about this fantastic tournament...
In years to come, when this stadium is a crumbling white elephant, they will sit in almost empty stands, hear the wind whisper across the marsh that surrounds it and believe what they hear is the ghosts of giants. In three games Kazan has claimed the winners of 11 World Cups. First Germany went, insipid against South Korea. Then, in a full-blooded epic, Argentina were blown away by France. And then fell the biggest of them all, Brazil, outwitted and outbattled by Belgium, who will face France in Tuesday's semi-final.
7. Stories we're watching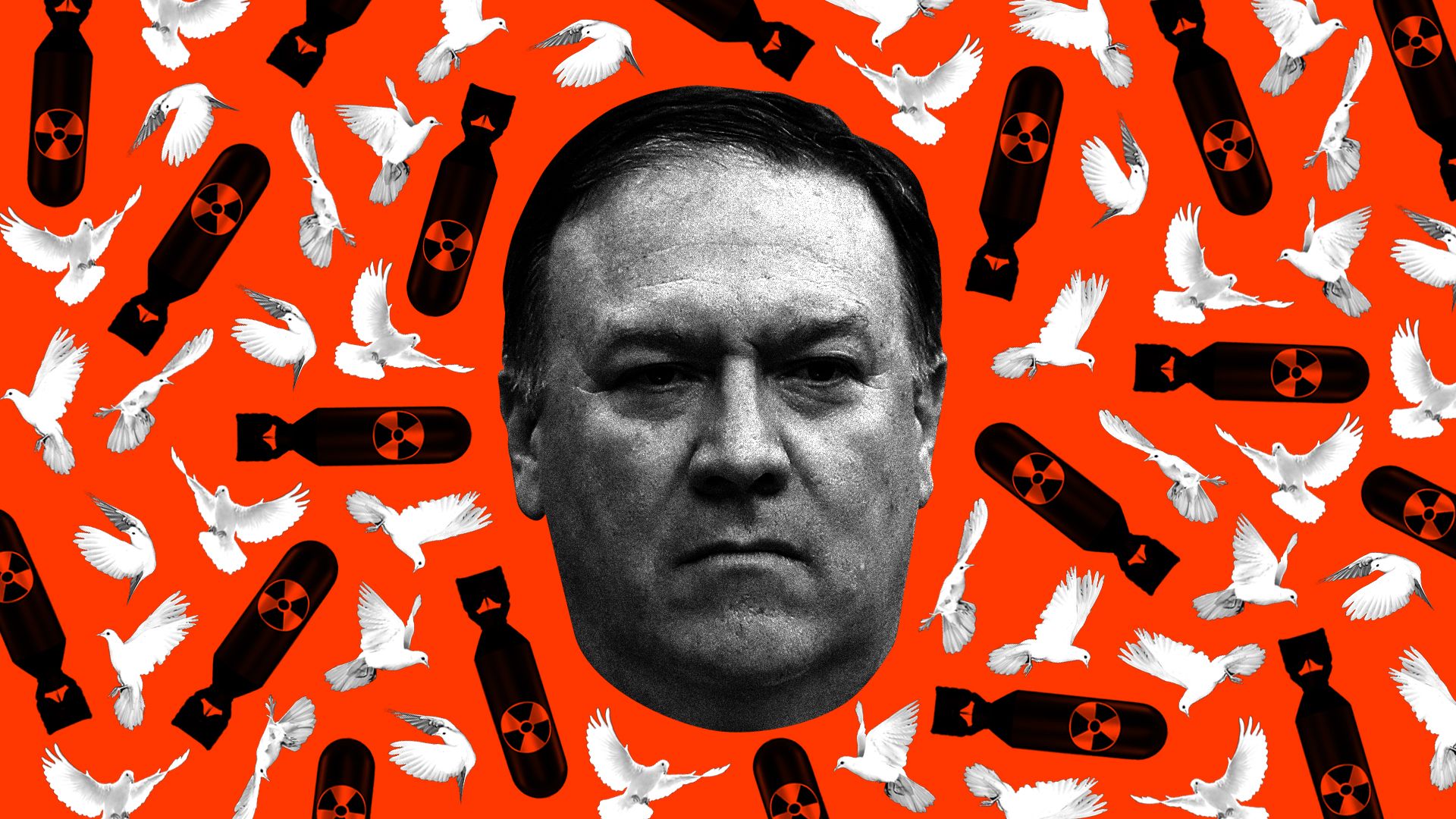 Quoted:
"We are truly headed for the status of colony."
— From Boris Johnson's resignation letter
Thanks for reading — see you Thursday evening!