Welcome to Axios World, where two evenings a week we break down what you need to know about the big stories from around the globe.
Thanks for joining me! Please tell your friends and colleagues to sign up here, and I'd love your tips and feedback: [email protected].
1 big thing: Brexiting is hard to do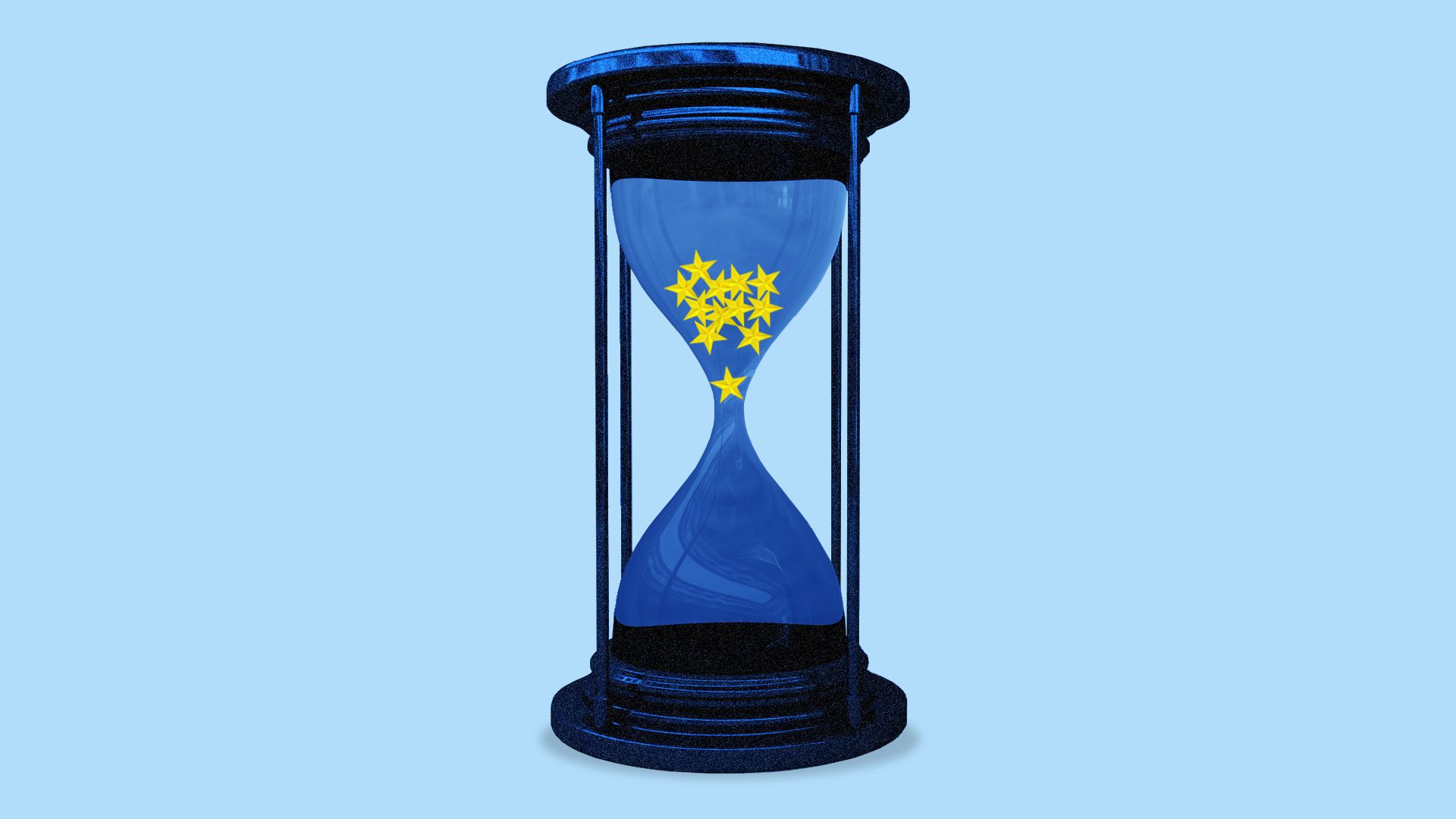 With Brexit talks still deadlocked, U.K. Prime Minister Theresa May has been forced to admit she may need more time to finalize a divorce agreement with the EU.
The key remaining issue is what will happen on the border between Northern Ireland, a constituent of the U.K., and the Republic of Ireland. A "hard" border could have implications not only for economics, but for peace. But the EU's terms for a "soft" border don't past muster with many in Northern Ireland and May's Conservative Party.
Sebastian Payne, political editorial writer for the Financial Times, emails from London that May "went to Brussels this week desperate for a Brexit breakthrough and left empty-handed."
"She has now suggested extending the so-called 'transition' phase, in which the U.K. remains closely tied to the bloc but with no say in its laws and regulations. She hopes that this will give her the political space to advance her proposals for the future of the Irish border and make progress on a long-term free trade deal. "
The problem: "Her already skeptical members of parliament are very skeptical of her plan."
"Negotiations will pick up again shortly, but May's breakthrough won't come until the Irish border conundrum is resolved. EU negotiators are standing firm, knowing that time is on their side and the U.K. will suffer more if it leaves the bloc next March without a formal agreement. The markets have yet to wake up to the real prospect of a messy 'no-deal' exit. If they do, it could focus the minds of the prime minister and her party."
The bottom line: "May is under increasing pressure from her colleagues to take a tougher line, but in reality she is going to have to accept more compromises to broker any deal with Brussels. The outlines of a withdrawal agreement are clear. Now it is all about the tricky politics of selling it to a cabinet, party and country that are running out of patience."
Peter Foster, the Telegraph's Europe Editor, has this withering analysis of where things went wrong for May:
"Right from the start... when she made herself hostage to totally unrealistic promises on completely leaving the single market, customs union and European Court of Justice, May has failed to explain that the Brexit process must be taken one step at a time."
"It could have been conceived as a series of 'lily-pads' to take us safely to the other side of the pond. Instead the fantasy of a giant leap was preserved. ... This indeed, is the story of the political mishandling of Brexit. A catalogue of desperate denials many of which have, over time, turned out to be false."
Meanwhile, Stephen Paduano argues in Foreign Policy that "Britain isn't just losing Brexit. Europe is winning it."
"The biggest winners of Brexit — Dublin, Frankfurt, and Paris — have proved to be at least as effective at pulling business in as the Brexiteers have been at pushing business out."
Bonus: Is Brexit contagious?
What a difference a sea makes. While 52% of Brits voted to leave the EU in 2016, just 7% of Irish voters would, according to a new Eurobarometer survey.
Fears of a Brexit contagion are dying down on the continent, in part because the U.K. exit has been such a shambles. But Italy is one to watch: It's at the bottom of this list and has a Eurosceptic government anxious to pick fights with Brussels.
Grain of salt: Axios' Felix Salmon points out that the poll gives "Remain" an 18-point lead in the U.K., so "nothing to worry about there!" Well ...
2. Khashoggi crisis: Saudis "investigate" themselves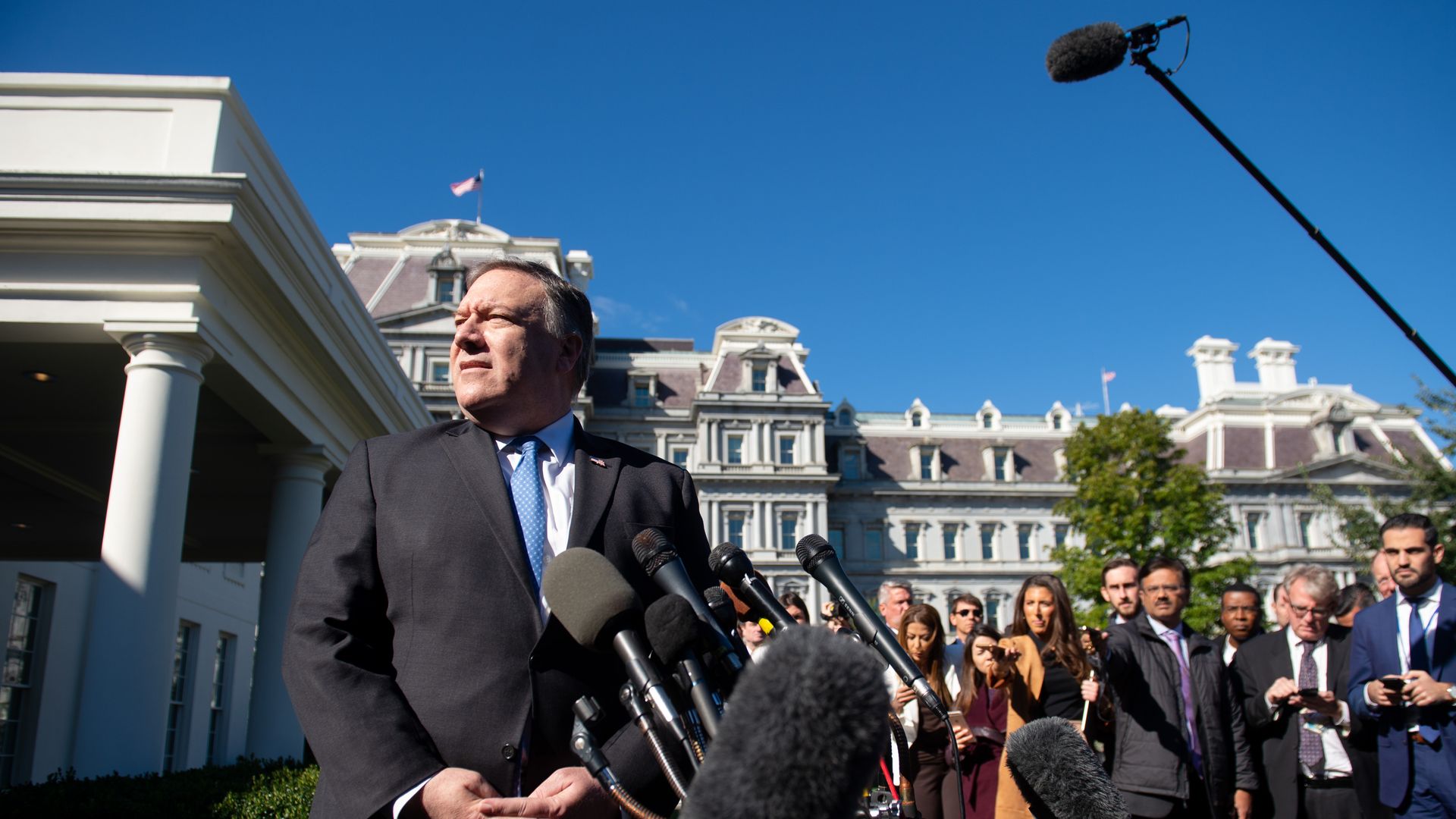 President Trump said this afternoon that it "certainly looks like" Jamal Khashoggi, the Saudi journalist and Washington Post columnist, is dead.
Secretary of State Mike Pompeo told reporters this morning that upon his return from Saudi Arabia and Turkey, he advised Trump "to give [the Saudis] a few more days" to complete their investigation before deciding "how or if the United States should respond."
Asked why on earth the U.S. would trust the Saudis to investigate themselves, Pompeo insisted "a complete picture will emerge" in the coming days when the Saudi and Turkish investigations are both completed.
Axios' Jonathan Swan reports that Pompeo told Crown Prince Mohammed bin Salman Tuesday that he had 72 hours to wrap things up or risk wrecking the kingdom's place on the world stage.
As the administration calls for patience, the Saudi arsenal of alibis continues to be depleted.
From the NY Times: "American intelligence officials are increasingly convinced that Crown Prince Mohammed bin Salman of Saudi Arabia is culpable in the killing of the dissident journalist Jamal Khashoggi."
From the Washington Post: "The Trump administration and the Saudi royal family are searching for a mutually agreeable explanation for the death of journalist Jamal Khashoggi — one that will avoid implicating Crown Prince Mohammed bin Salman."
The bottom line: If that second report, from reporter Shane Harris, is accurate, the U.S. government is conspiring with an autocratic regime to obscure the truth of what happened to a journalist and U.S. resident.
The latest: The Times is reporting that the Saudi rulers are "considering blaming a top intelligence official close to" MBS for Khashoggi's death, and Jared Kushner is arguing internally that "the outrage... will pass, just as it did after other Saudi errors like the kidnapping of the prime minister of Lebanon and the killing of a busload of children in Yemen."
Go deeper: After Khashoggi's death, Turkey sees a path to greater influence.
3. Arms trade: Where Saudi Arabia fits in
Trump has said it would be "foolish" to cancel billions of dollars in weapons deals with Saudi Arabia over the kingdom's alleged involvement in Khashoggi's disappearance — a remarkably blunt statement of the role the international arms trade plays in U.S. foreign policy. Axios' Zach Basu puts it in perspective:
The big picture: The U.S. is the world's top arms exporter, competing directly with Russia and increasingly China in a global market that's worth upwards of $89 billion annually. Saudi Arabia is currently the No. 1 buyer of U.S. weapons, purchasing nearly three times as much as any other country over the past two years.
Arms deals tie ethics to economics, and they can exacerbate geopolitical tensions.
The bottom line: The U.S. uses arms sales as a carrot to further its foreign policy aims. But as Trump's statement on Khashoggi shows, the lucrative deals involved can also shape U.S. policy, rather than the other way around.
4. Demographics: Out-of-wedlock births become new normal
In some European countries most children are now born to unmarried parents, and the U.S. isn't far behind, according to a new UN report. Axios' Stef Kight breaks it down:
Why it matters: If having babies without being married becomes increasingly common, it could help stabilize falling fertility rates and avoid an aging, childless future, Michael Hermann, a senior adviser for economics and demography at UNFPA, told Axios. But it's also likely to lead to more cultural friction, as social conservatives are unlikely to accept more births outside marriage.
How we got here: Demographers point to three key trends...
The decline in emphasis on traditional marriage. The shift has been slower, though, in many Asian countries like Japan.
Increased opportunity for women to obtain an education and launch successful careers has enabled them to provide for themselves without a husband.
More American men are facing unemployment or underemployment, drug use, and jail "due to the loss of secure, well-paid blue collar jobs," Jack Goldstone, of George Mason University and the Wilson Center, told Axios.
One notable exception: Russia also saw an increase in births outside of marriage in the 1980s and 1990s, when alcoholism and male mortality rose during the chaos following the collapse of communism, according to Goldstone.
But beginning in the early 2000s — as Vladimir Putin came to power — the share of births outside of marriage began to fall. Demographers say that's partly because of Putin's emphasis on traditional family values and new policies encouraging married couples to have more children.
5. Middle East: Afghans suspicious and vulnerable ahead of vote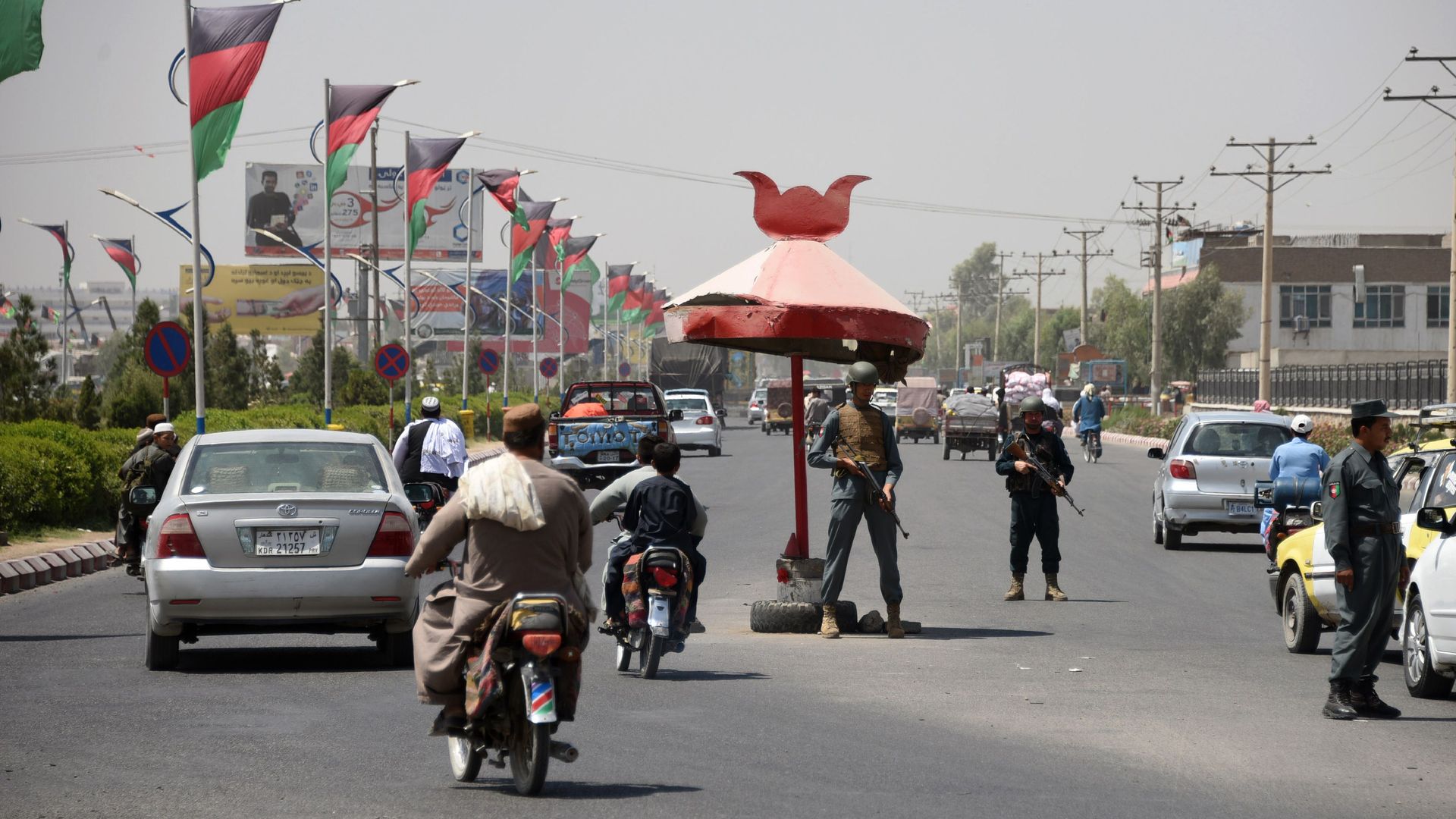 Afghan guards today reportedly turned their guns on Gen. Abdul Raziq, a powerful figure in the southern province of Kandahar, during a security meeting also attended by Gen. Scott Miller, the commander of U.S. and NATO troops in Afghanistan.
Raziq and two other senior Kandahar officials were killed, while two American troops were wounded. The Taliban has claimed responsibility. The attack comes ahead of parliamentary elections on Saturday, where security is a major concern.
The big picture: According to a new Gallup report, only 22% of Afghans have confidence in their local police and just 13% feel safe walking through their neighborhoods at night. Equally concerning is the fact that only 19% have confidence in the honesty of elections.
The Wilson Center's Michael Kugelman tells me "it's no surprise that there's a fair amount of skepticism about the elections, and yet there's a huge amount at stake."
"While Afghanistan is undoubtedly a much better place now than during Taliban rule, at no time during the current 17-year war has the security situation been so precarious and Afghans' confidence in their government's ability to protect them so low."
Why it matters: "The elections this month mark the first step of a critical political transition, culminating in presidential elections next year, that is meant to bring to power a new government that can address security problems and be a credible partner in a potential peace process with the Taliban."
6. Global news roundup: Canadian weed, #MeToo in India, KKK and Brazil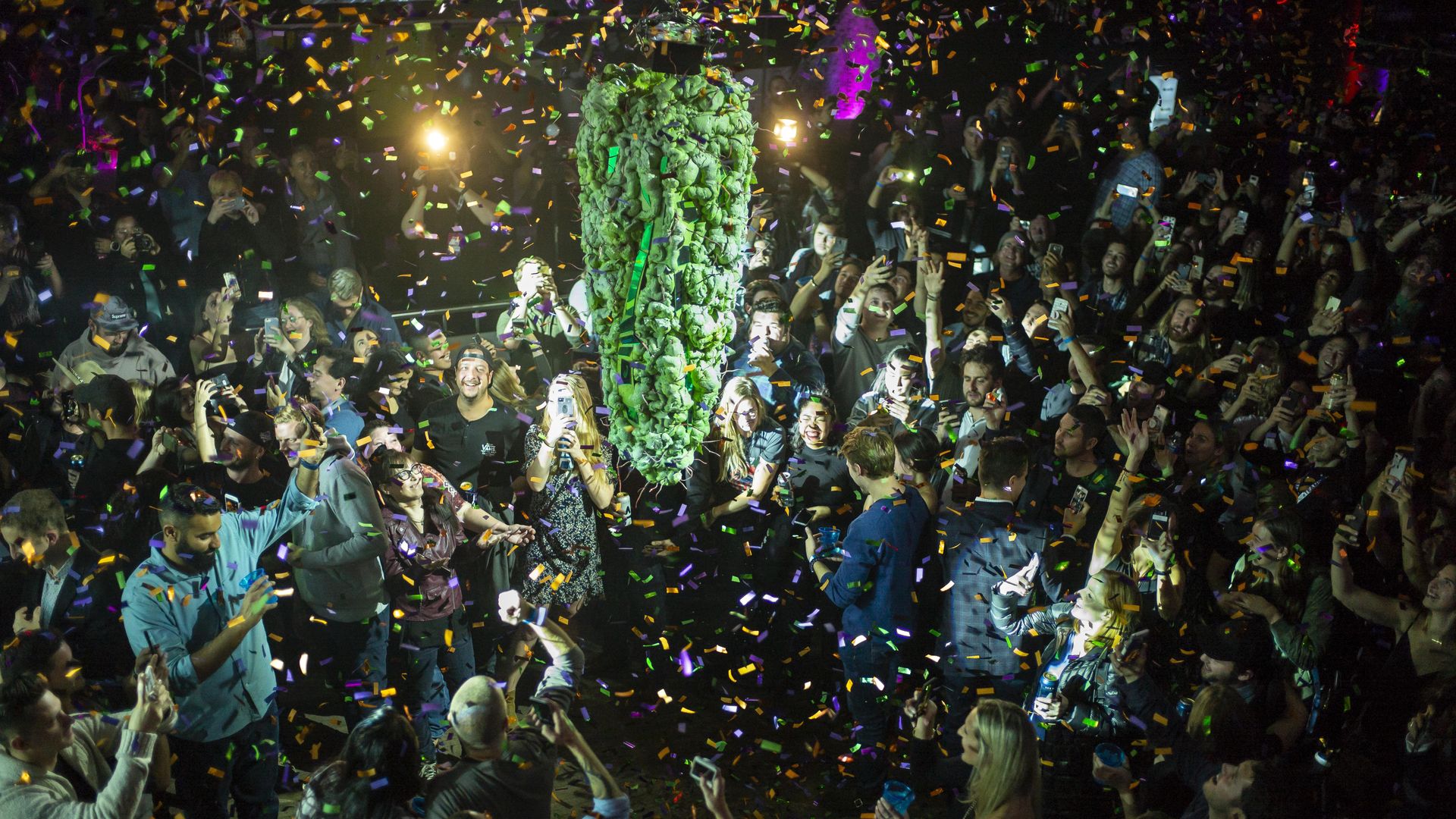 1. Canada became the second country to permit the possession and use of recreational marijuana at a national level on Wednesday, following Uruguay's 2013 legalization.
2. M.J. Akbar, India's junior foreign minister and a renowned former journalist, resigned on Wednesday after at least 20 women came forward against him with allegations of sexual harassment, Axios' Haley Britzky writes. It's India's highest-profile #MeToo moment yet.
3. Brazilian presidential frontrunner Jair Bolsonaro rejected an endorsement he wasn't expecting, from former KKK leader David Duke, Axios fellow Diego Rodriguez writes.
Why it matters: Bolsonaro, the far-right congressman who polls show as a strong favorite in the October 28 presidential runoff, has a history of controversial comments on race. Duke, who also endorsed Donald Trump in 2016, said Bolsonaro "sounds like us."
7. Stories we're watching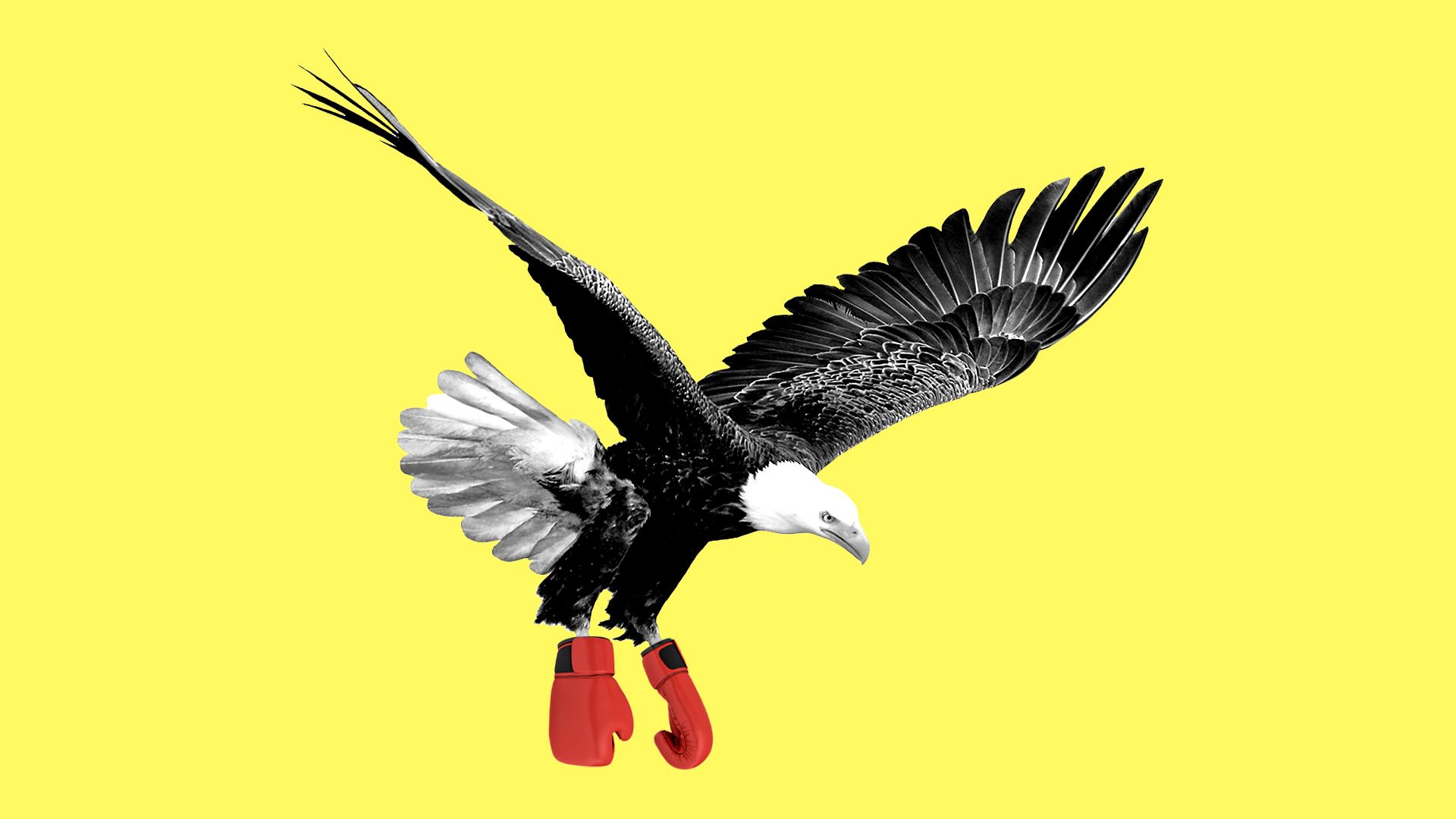 Quoted:
"He did not live in Russia, but in the U.S. In this sense, the U.S. bears some responsibility for what happened to him. In truth, we do not know what happened. So why should we take any steps that could harm our relations with Saudi Arabia?"
— Vladimir Putin
weighs in
on the Khashoggi case
Situational awareness: Check out Axios on Instagram for brilliant illustrations like the one above, data visualizations and more.
Thanks for reading — see you Monday evening!