Welcome to Axios World, where two evenings a week we break down what you need to know about the big stories from around the world.
Thanks for joining me! Tell your friends and colleagues to sign up here, and send tips and feedback to [email protected].
1 big thing: Merkel follows Macron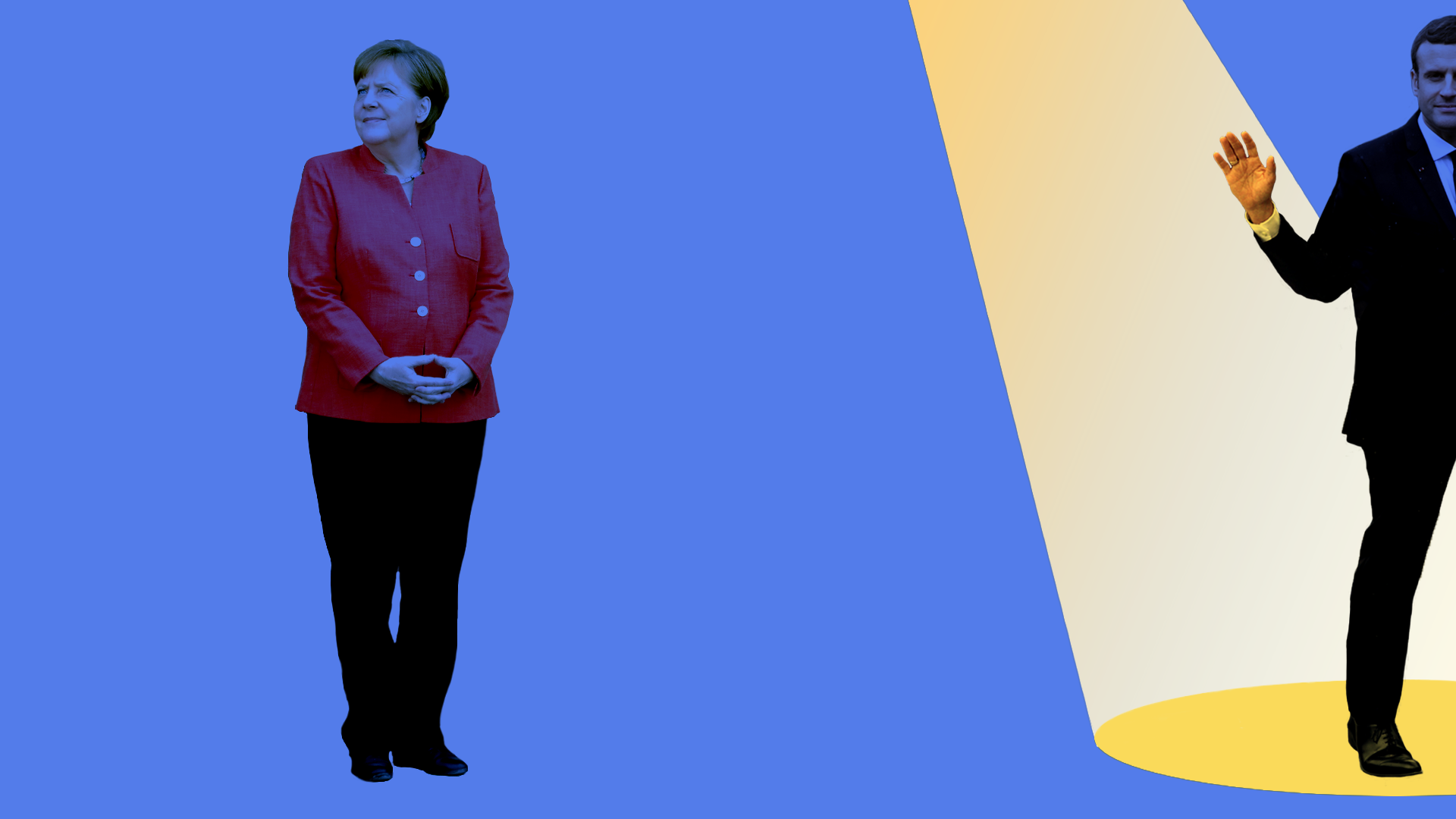 German Chancellor Angela Merkel will arrive in Washington tomorrow a diminished figure — limping into her fourth term after six months of torturous coalition talks and touching down in the afterglow of Emmanuel Macron's state visit.
Flashback: Days after Trump's election in November 2016, Barack Obama flew to Germany and hailed Merkel — then TIME's reigning Person of the Year — as "my closest international partner these last eight years." Headlines declared that she had, however reluctantly, become the "leader of the free world."
Flash forward: Since losing ground in September's election, Merkel has been in something of a strategic retreat internationally. A recent Der Speigel cover story bemoaned "Germany's Incredibly Shrinking Role on the World Stage."
According to Erik Brattberg, director of the Carnegie Endowment's Europe program, that retreat involved leaving some distance between her and a U.S. president who is toxic in Germany — though cold air was clearly flowing in both directions.
While she'll never match Macron's chummy relationship with Trump, she'll have more freedom to engage with him now that she has formed a government.
With Macron having moved the ball as far as he could on the Iran deal, and an E.U. exemption from Trump's steel and aluminum tariffs expiring Tuesday, her chief focus is likely to be trade.
Peter Foster, the Telegraph's Europe editor (and my old boss) emails that if Merkel makes progress there, it will be a characteristic "triumph of substance over style." 
"After Macron, Merkel will inevitably look ponderous, dour even. But she has been around long enough to know that the Trumps and Macrons of this world have a habit of coming and going."
"Even as she enters the endgame of her political life, she will be quietly confident about whose legacy will endure. She will note that Macron may have upstaged her on the back-slapping stakes, but to scant effect — it looks certain that Trump will pull out of the Iran deal. Merkel still has the chance to pull off a substantive diplomatic achievement."
The bigger picture: With perhaps 3 years left as chancellor, and more than a dozen behind her, don't expect Merkel to scour the world for opportunities to burnish her legacy.
"She sees her legacy as keeping Europe and the West together at a difficult time. That's how she wants to go down in history."
— Erik Brattberg
Go deeper: Putting Merkel's longevity in perspective.
Bonus: Photo of the week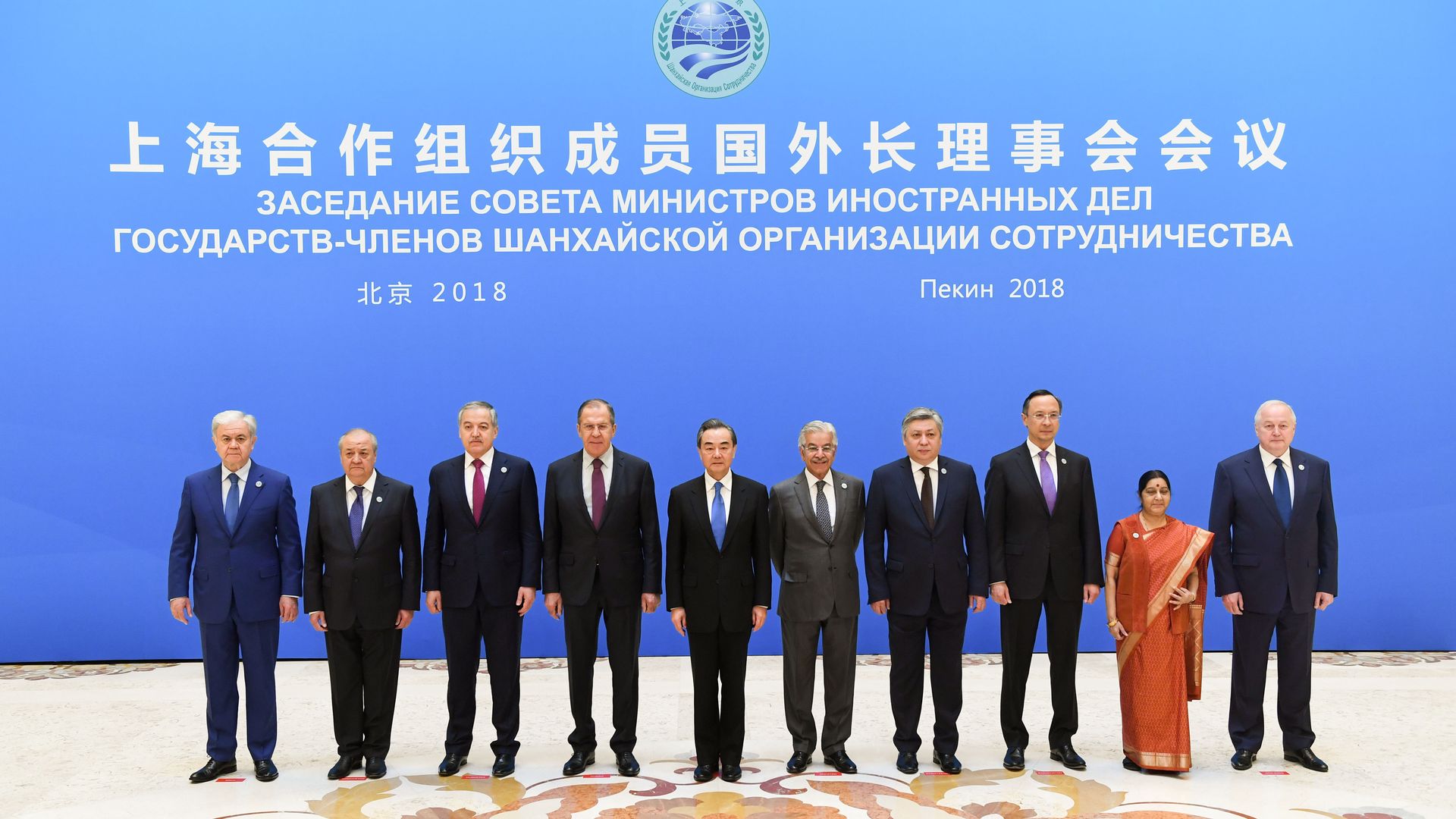 2. Asia: Kim heads South for historic summit
Kim Jong-un will become the first North Korean leader to set foot in South Korea since the 1950s when he crosses the military demarcation line between the Koreas at 8:30pm ET tonight (9:30am Friday local). Parts of the third-ever inter-Korean summit, with South Korea's Moon Jae-in, will be broadcast live.
How it's playing in South Korean media:
Set the scene: The conversations Moon and Trump will juggle with Kim aren't just about nukes.
Go deeper: Who Kim is bringing with him.
3. Africa: Coastline for rent, fighter jets welcome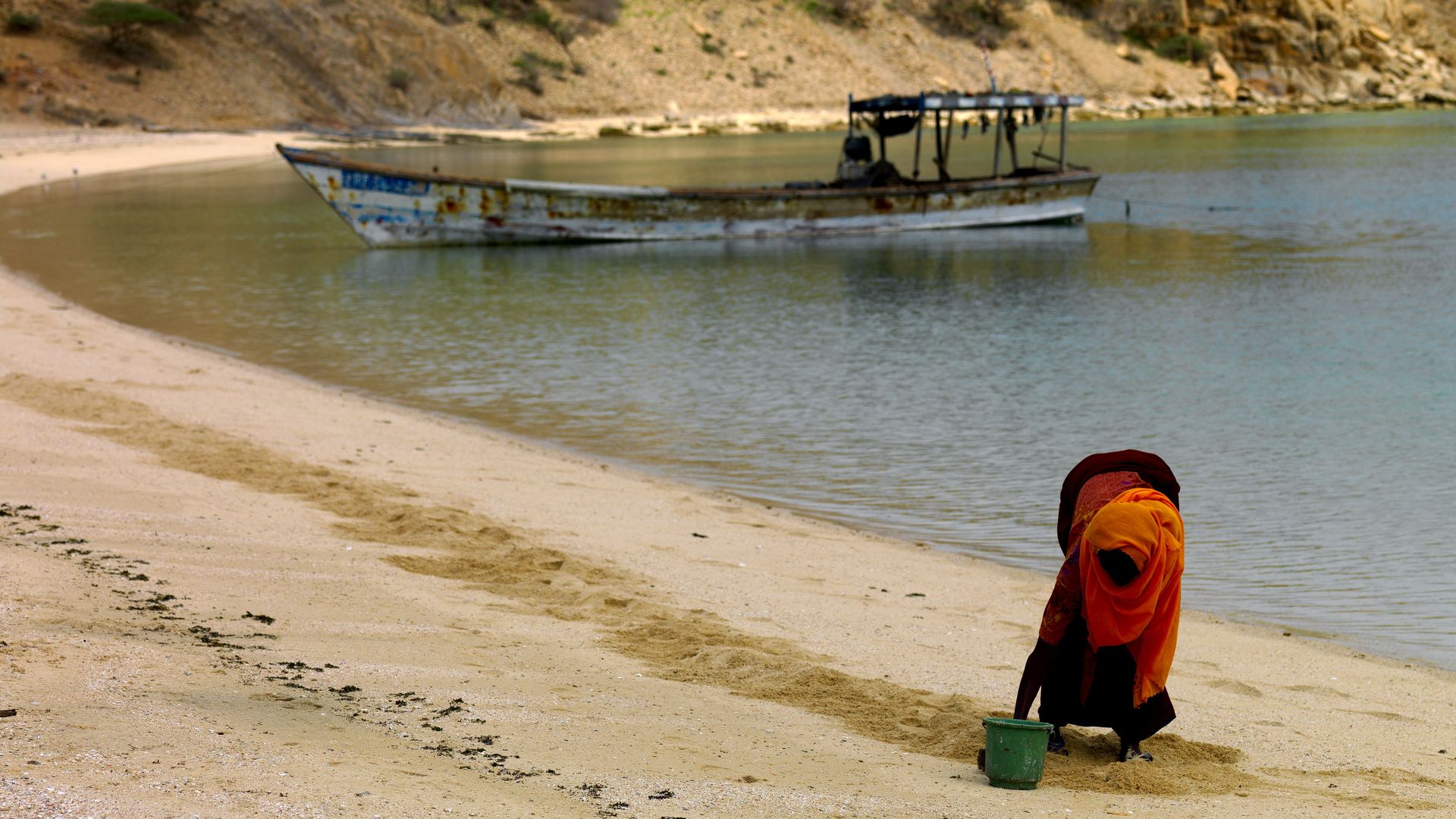 Eritrea is in dire need of economic development, but it has isolated itself from regional neighbors and the international community, and doesn't trust or accept any foreign aid, Axios' Erica Pandey writes:
"This perception that Eritrea must go at it alone in confronting a fickle, and often hostile, international community, continues to define [dictator Isaias] Afwerki's mindset," a senior Western diplomat, who served as ambassador in Eritrea in the early 2000s, tells Erica.
Without aid, Eritrea has to find other ways to make money, and one big asset is its coastline. The strip of land — just 200 miles from the Arabian peninsula where deadly conflicts between Gulf nations are playing out — is available to the highest Arab bidder.
The Saudi-led coalition waging war in Yemen "now uses a base in the Eritrean port of Assab, close to Djibouti, as a key spot from which to attack Houthi positions in Yemen," reports the Economist. The Arab allies sanctioning Qatar for alleged funding of regional terrorists have also gained Eritrea's support.
Go deeper: Read Erica's full piece.
4. Global: The most welcoming countries for migrants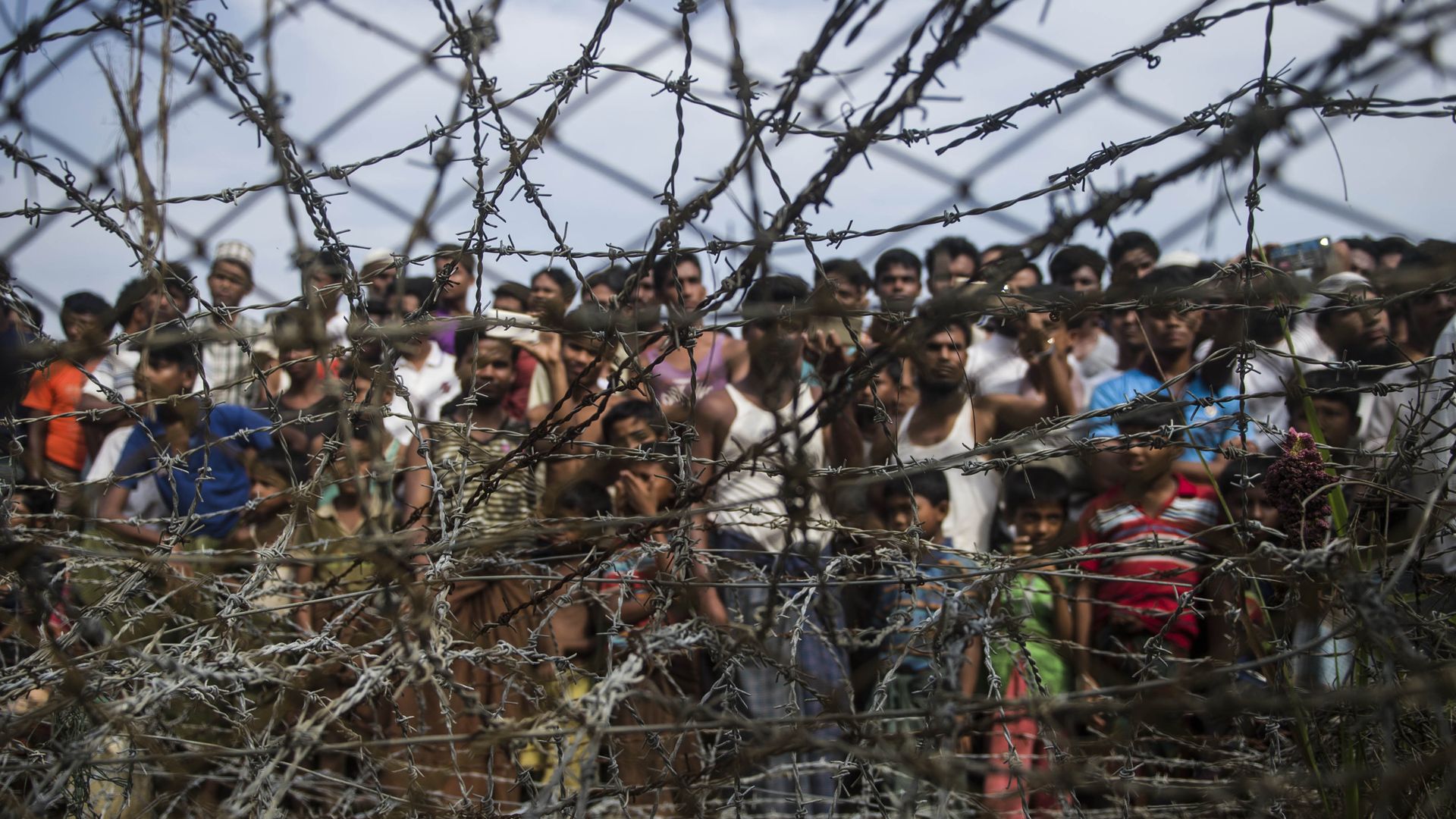 Gallup's World Poll asked people around the world whether they "think migrants living in their country, becoming their neighbors and marrying into their families are good things or bad things" and found the following results:
Most accepting: Iceland, New Zealand, Rwanda, Canada, Sierra Leone, Mali, Australia, Sweden, United States, Nigeria.
Least accepting: Macedonia, Montenegro, Hungary, Serbia, Slovakia, Israel, Latvia, Czech Republic, Estonia, Burkina Faso, Croatia.
Trends: In the U.S., religious people and Trump supporters tend to be less accepting, and younger and more educated people more accepting. Meanwhile, Eastern Europe tends to be the least accepting region for migrants.
5. China trade war tensions dropping
Trade disputes rarely escalate as quickly and intensely as the current U.S.–China spat, but recent statements from both countries suggest that tensions may now be falling, Dali L. Yang of the University of Chicago and Chicago Council on Global Affairs writes for Axios Expert Voices.
"After President Xi first met President Trump at Mar-a-Lago in April 2017, the Chinese thought they could handle Trump as they had his predecessors, and didn't take his trade-related threats — many of them issued on Twitter — seriously."
"But as tariff threats were followed by counter-threats, the atmosphere turned increasingly somber in Beijing, especially because Trump's objections extended beyond China's trade surplus to Chinese industrial policies."
"It turned out, however, that staring into the precipice pushed leaders in both countries to look for solutions."
What's next: "Trump indicated on Tuesday that he would send Treasury Secretary Mnuchin to China next week. As both sides have softened their stances, the stage is set for the two sides to consider returning to the negotiating table."
6. Europe: Protesters victorious in Armenia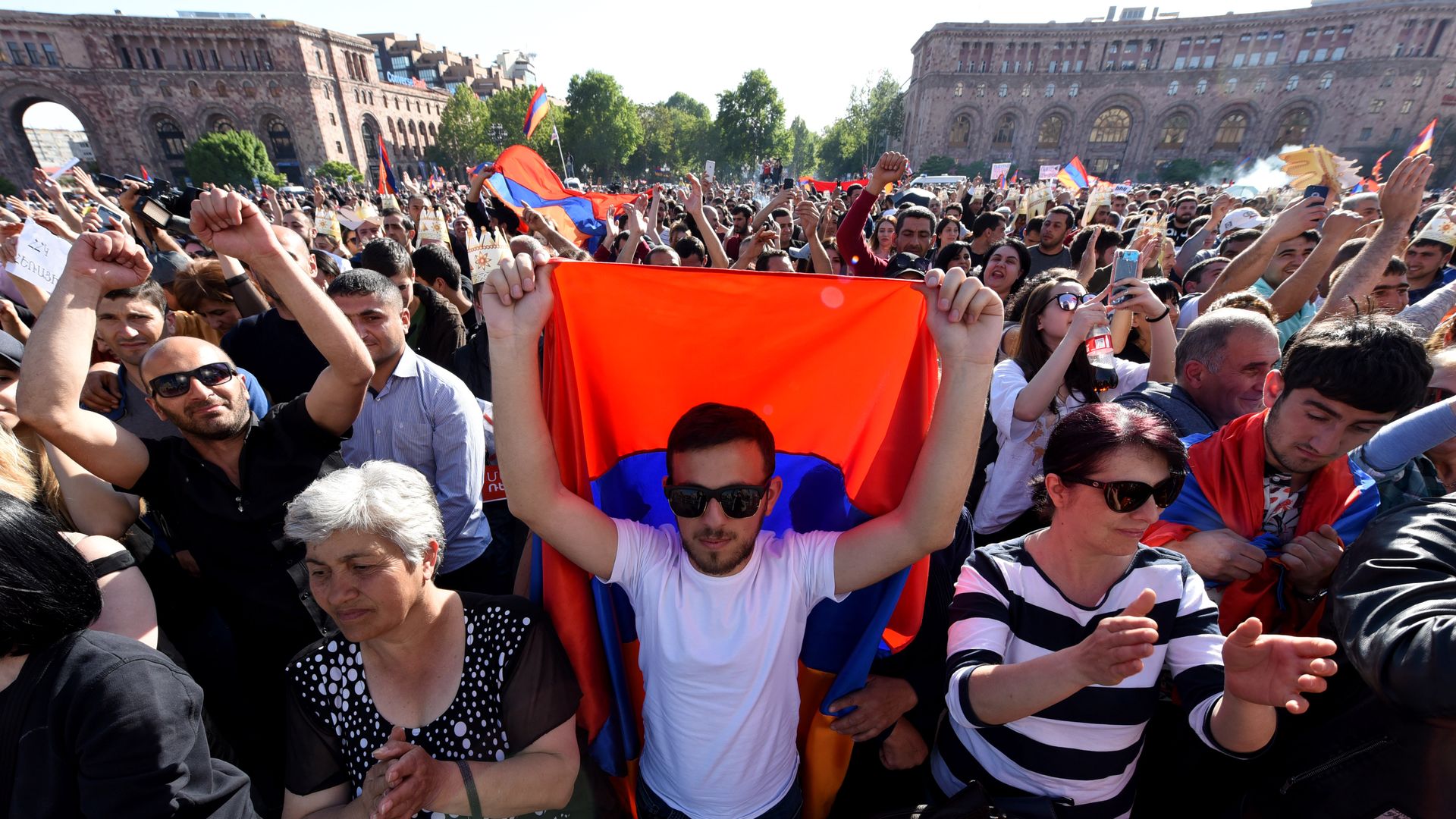 Just three days after protests forced Serzh Sarksyan to resign as Armenia's prime minister, the country's parliament today said it will hold a special session next week to choose a new leader, per the Guardian.
Sargsyan, who served as president for the past decade, sparked massive demonstrations by transferring powers to the prime minister's office and then taking the job for himself.
"The job swap, similar to those executed by Mr Putin and Turkey's Recep Tayyip Erdogan, angered many Armenians who saw it as entrenching the power of the ruling Republican party and a group of oligarchs," per the FT.
Opposition leader Nikol Pashinyan appears to be the favorite, Axios' Khorri Atkinson writes.
7. Stories we're watching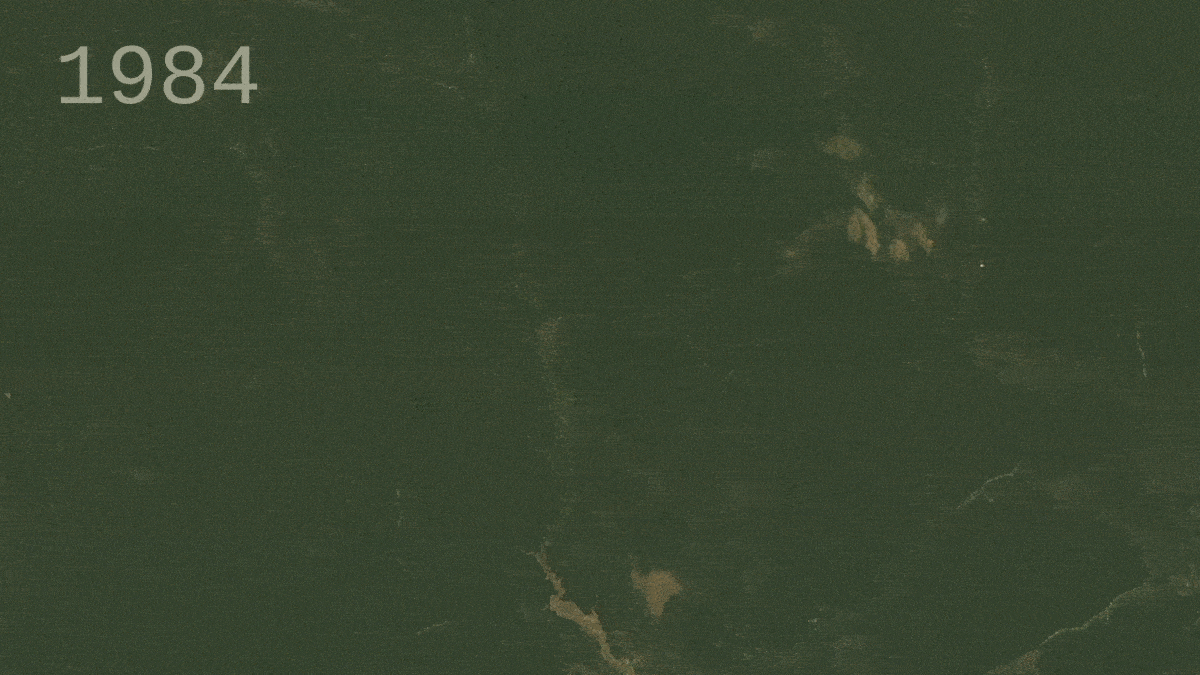 A time-lapse satellite view of deforestation in Brazil from 1984 to 2016. Images via EarthTime.
Quoted:
"I tried to follow which kind of rationality he can respect. ... Your president made very strong statements to say this is an awful agreement, and so on and so on. We pushed. I tried to convince. I did my best."
— Macron to reporters on the Iran deal.
Read more highlights here
.
Thanks for reading — see you Monday evening!