Welcome to Axios World, where two evenings a week we break down what you need to know about the big stories from around the globe.
Thanks for joining me! Please tell your friends and colleagues to sign up, and I'd love your tips and feedback: lawler@axios.com.
Was this email forwarded to you? Sign up here.
1 big thing: Sri Lanka's delicate balance is shaken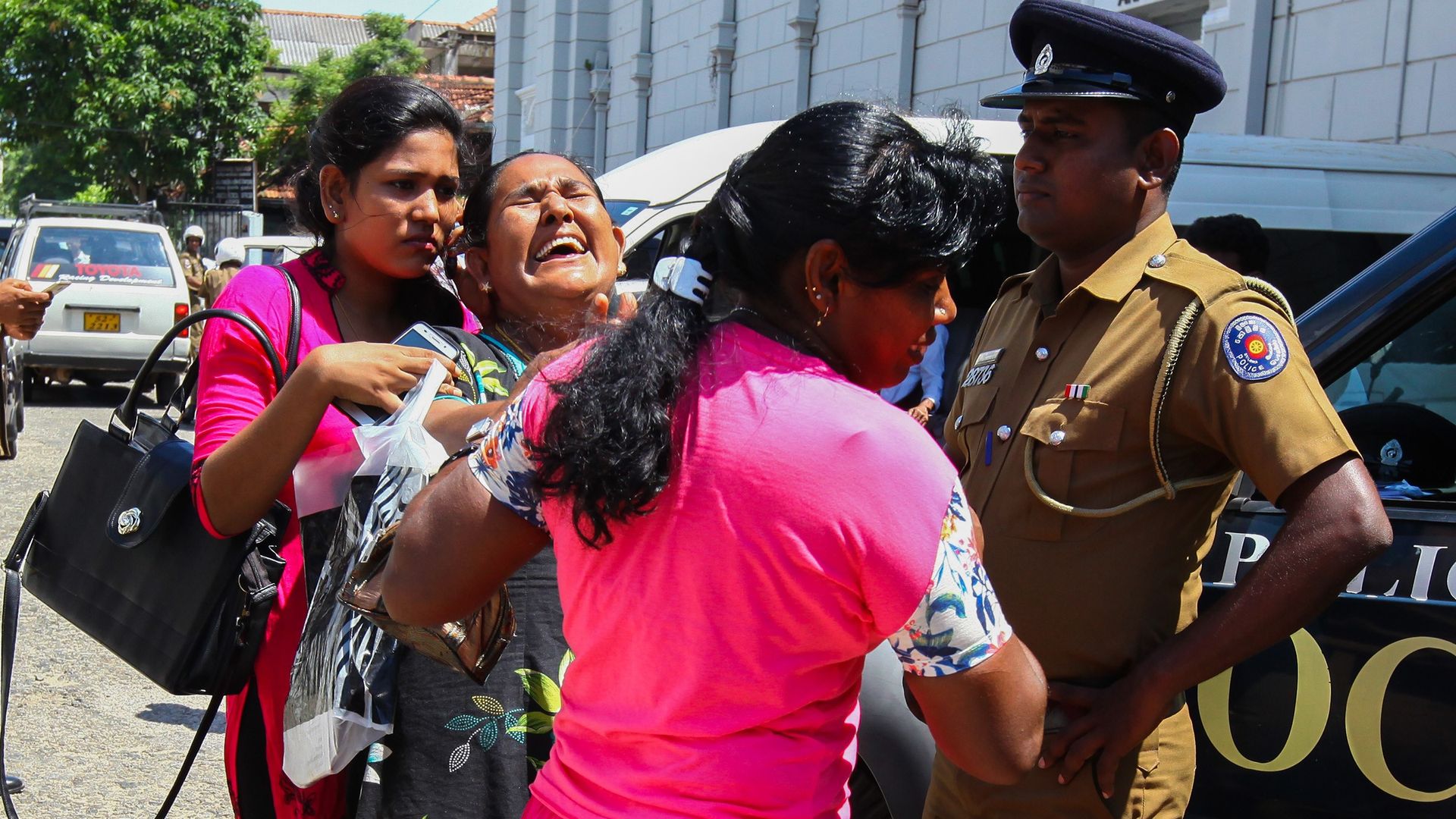 At least 290 people are dead and hundreds more wounded following a string of suicide bombings in Sri Lanka, which targeted Christians and foreigners on Easter Sunday.
The big picture: "This is by far the largest and most ambitious attack that's ever taken place in Sri Lankan history," says Robert Blake, U.S. Ambassador to Sri Lanka from 2006–2009 and now a senior director at McLarty Associates.
Ten years on from a prolonged civil war, Blake tells me, "This really does open yet another fault line in Sri Lanka's very complex society."
The latest: Warnings of an impending attack from U.S. and Indian intelligence appear to have gone unheeded. That's led to a political blame game in Sri Lanka, where the president and prime minister were already bitterly divided.
So far, 24 people have been arrested. The government temporarily shut down social media, instituted a curfew, and declared tomorrow a national day of mourning.
Blake says he was surprised to see such a sophisticated attack targeting Sri Lanka's Christian minority, which has historically had "fairly good relations with the Muslim community."
Michael Morell, the former CIA deputy director and host of the Intelligence Matters podcast, emails: "The group blamed by the Sri Lankan government for the attack, National Thowheeth Jama'ath, was not publicly known in the West."
Morell says the attack "underscores how quickly a group can move from a limited capability to an ability to kill hundreds."
"There are at least triple the number of Islamic extremists in the world today than there were on 9/11.  We need to be prepared to deal with this type of terrorism for generations," he writes.
Alyssa Ayres of the Council on Foreign Relations writes for Axios Expert Voices that the "attacks targeting Christian worshippers suggest a new front in the annals of violence in Sri Lanka." She continues...
"In its religious demographics, Sri Lanka is overwhelmingly Buddhist, more than 70% of the country's population of more than 22 million, with around 12% Hindu, just under 10% Muslim, and a little more than 7% Christian."
"Sri Lanka's decades-long civil war was driven largely by ethnolinguistic cleavage, with Tamil separatists in the north and east fighting against the Sinhalese-majority government."
"Tensions have been growing between Buddhists and Muslims, however; last year Buddhist extremists attacked Sri Lankan Muslims."
Axios media reporter Sara Fischer notes that shutting down social media, or even the internet altogether, is an increasingly frequent response to violent incidents. However, research suggests it can actually make the situation more dangerous.
"What we've seen is that when social media is shut down, it creates a vacuum of information that's readily exploited by other parties," said Alp Toker, executive director of NetBlocks. "It can add to the sense of fear and can cause panic."
"The concern among human rights experts is that interventions that are meant to curtail these terrible events sometimes provide political cover for a more general attempt to curtail people's access to information and ability to express themselves," said Rasmus Kleis Nielsen, director of the Reuters Institute for the Study of Journalism.
What to watch: Blake says the immediate challenge for Sri Lanka's government is to identify all the perpetrators and determine whether an outside actor — like al-Qaeda or ISIS — was involved. But the longer-term challenges of reconciliation, accountability and good governance also demand action.
Update: From the small screen to the global stage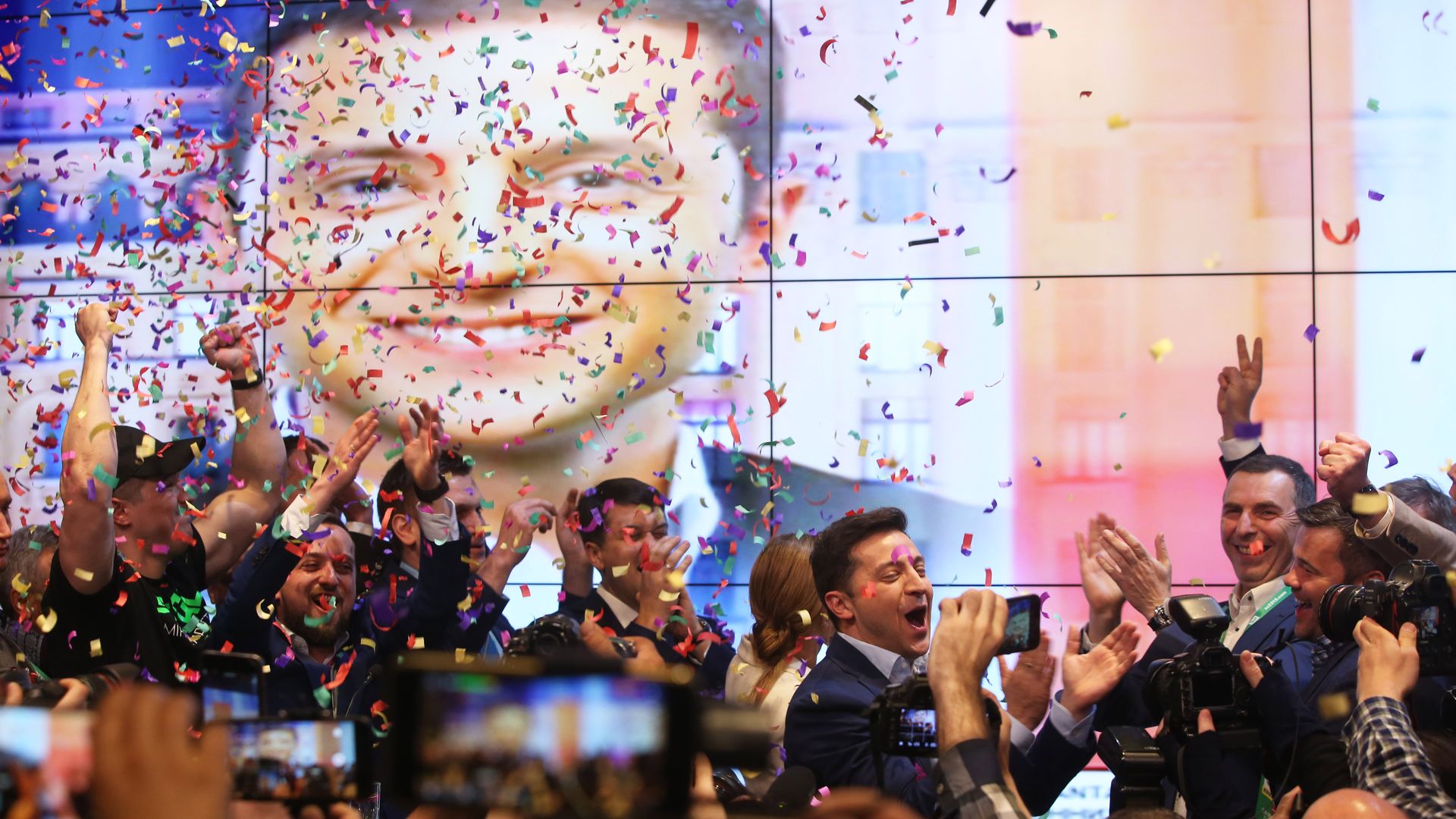 TV star Volodymyr Zelensky won nearly three-quarters of the vote in Ukraine's presidential runoff yesterday.
Zelensky has no political experience and few policy positions beyond the idea that, as an outsider, he'll be able to shake up the corrupt system.
Watch him in action: German Chancellor Angela Merkel offered her congratulations to Zelensky — for real this time. In this clip, from the hit TV show in which Zelensky play's Ukraine's president, she had intended to call the president of Montenegro.
2. Trump wants to wipe out Iran's oil exports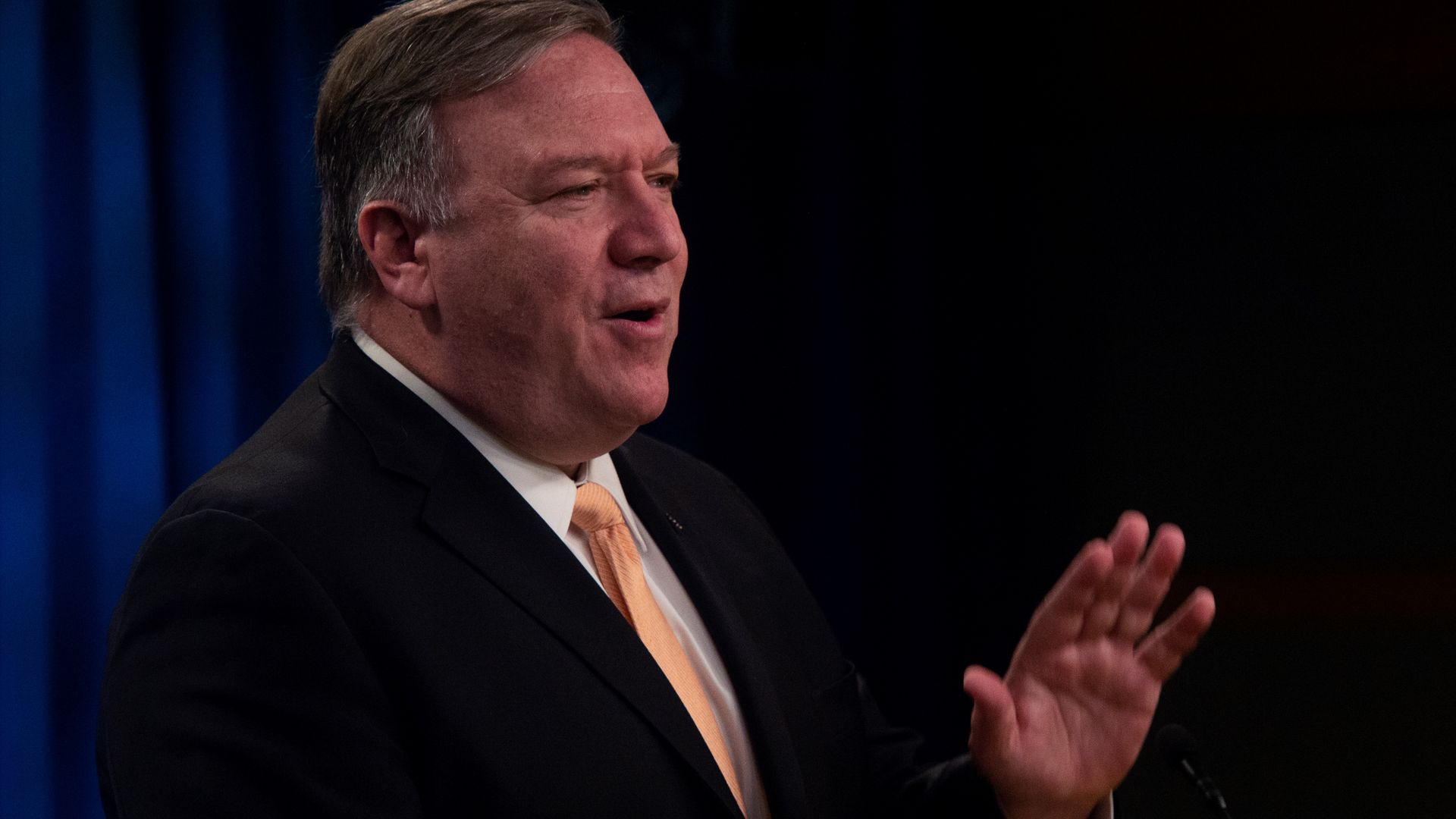 The Trump administration dramatically escalated its "maximum pressure" campaign against Iran today, with Secretary of State Mike Pompeo announcing there will be no further waivers to allow countries to import Iranian oil beyond May 1.
The goal is to block all Iranian oil exports. Pompeo claimed the U.S. "maximum pressure" campaign has already begun to reduce Iran's power, though that's far from clear.
Oil prices rose on the news. Combined with the chaos in Venezuela and Libya, this could make for a jarring period for oil markets. Pompeo said Saudi Arabia and the UAE will plug the gap, along with rising U.S. output.
The humanitarian stakes for Iran are significant. Further reductions in oil revenues could lead to shortages of food or medicine. The Trump administration is betting the Iranian people will blame their government, not the U.S.
What to watch: It remains uncertain "whether Iran's main remaining customers ... will bow to U.S. demands," Barbara Slavin of the Atlantic Council writes for Axios Expert Voices.
"China has denounced the secondary sanctions as illegal; Turkey is a major importer of Iranian energy, as is India, which is in the throes of parliamentary elections."
"Enforcement will also present challenges for the U.S. Transactions between Iran and its major trading partners already avoid the U.S. dollar, and new mechanisms such as Europe's INSTEX are being developed to reduce the dollar's dominance in international transactions."
"Overuse of sanctions, without a clear and realistic goal, could simply encourage more such efforts and ultimately reduce the utility of sanctions as a tool of international diplomacy," Slavin writes.
Go deeper: Trump administration opposes military intervention in Iran
3. China: Feigning ignorance over mass detentions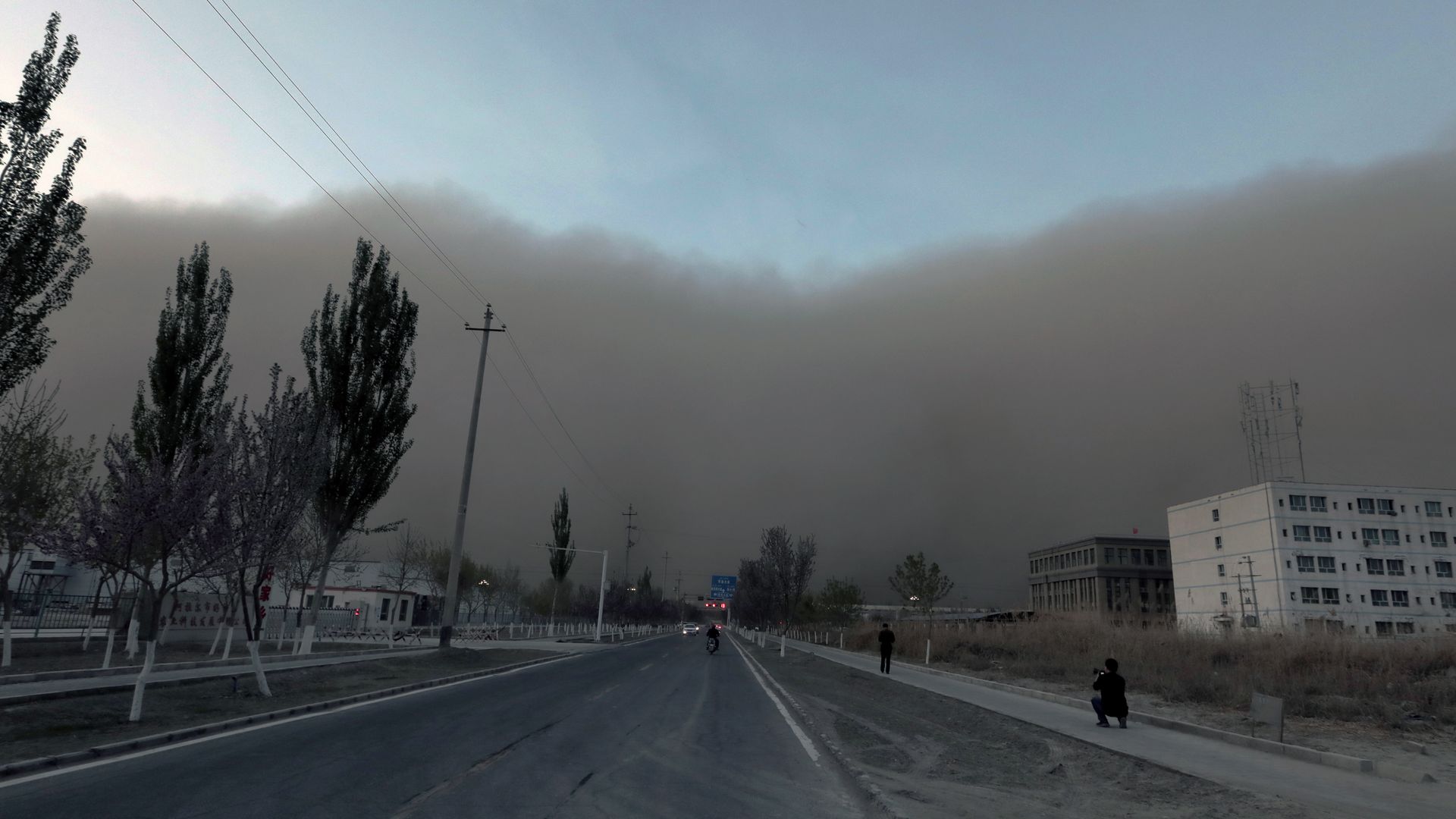 There are upwards of 1 million Uighur Muslims detained in China's Xinjiang region — yet the leaders of Pakistan, Indonesia and, most recently, Volkswagen (which has a factory in Xinjiang) claim they don't know anything about it.
Between the lines: "This is a difficult issue to address precisely because China has the world's second-largest economy" and is "ruthless" when challenged, says John Herbst, a former longtime diplomat now at the Atlantic Council.
"Countries are not going to make this a critical issue in their relations with China," he said at an event hosted by the Turkish Heritage Organization, adding that even in the U.S., one of the few countries to have spoken out, there are many higher-priority issues.
The big picture: China has long waged a campaign of "assimilation and cultural destruction" in Xinjiang, but under President Xi Jinping it has "dramatically escalated," said Omer Kanat, a prominent Uighur activist.
"The camps are designed to eradicate the Uighur's religious and ethnic identity once and for all," he said, adding that it has now been about two years since their existence emerged.
During that time, Beijing has shifted from denying the existence of the camps to characterizing them as voluntary "vocational training centers." Officials claim their purpose is to teach Mandarin and job skills while eliminating "extremist" ideology.
However, as a Council on Foreign Relations report points out, "The Chinese government has come to characterize any expression of Islam in Xinjiang as extremist." Former detainees say they were forced to renounce Islam and praise the Communist Party. Some say they were tortured.
What to watch: "Xinjiang is an important link in China's Belt and Road Initiative," the CFR report notes. "Beijing hopes to eradicate any possibility of separatist activity to continue its development of Xinjiang, which is home to China's largest coal and natural gas reserves."
Bonus: Xi brings the world to Beijing this week
Speaking of Belt and Road... some 40 world leaders are expected in Beijing this week for the second Belt and Road Forum for International Cooperation. Two takes on how we should view China's massive web of infrastructure projects:
Jonathan Ward, author of "China's Vision of Victory," says Beijing's goal is to impose the "coercive force of the Chinese economy to build strategic beachheads" around the world. "In the 19th century we'd understand that as empire building."
Chris Johnson, a former top CIA China analyst now at the Center for Strategic and International Studies, says, "If the Chinese want to go around the world wasting money I'm not so sure we should be trying to stop them."
Watch the Axios stream for more on the forum coming this week.
4. North Africa news roundup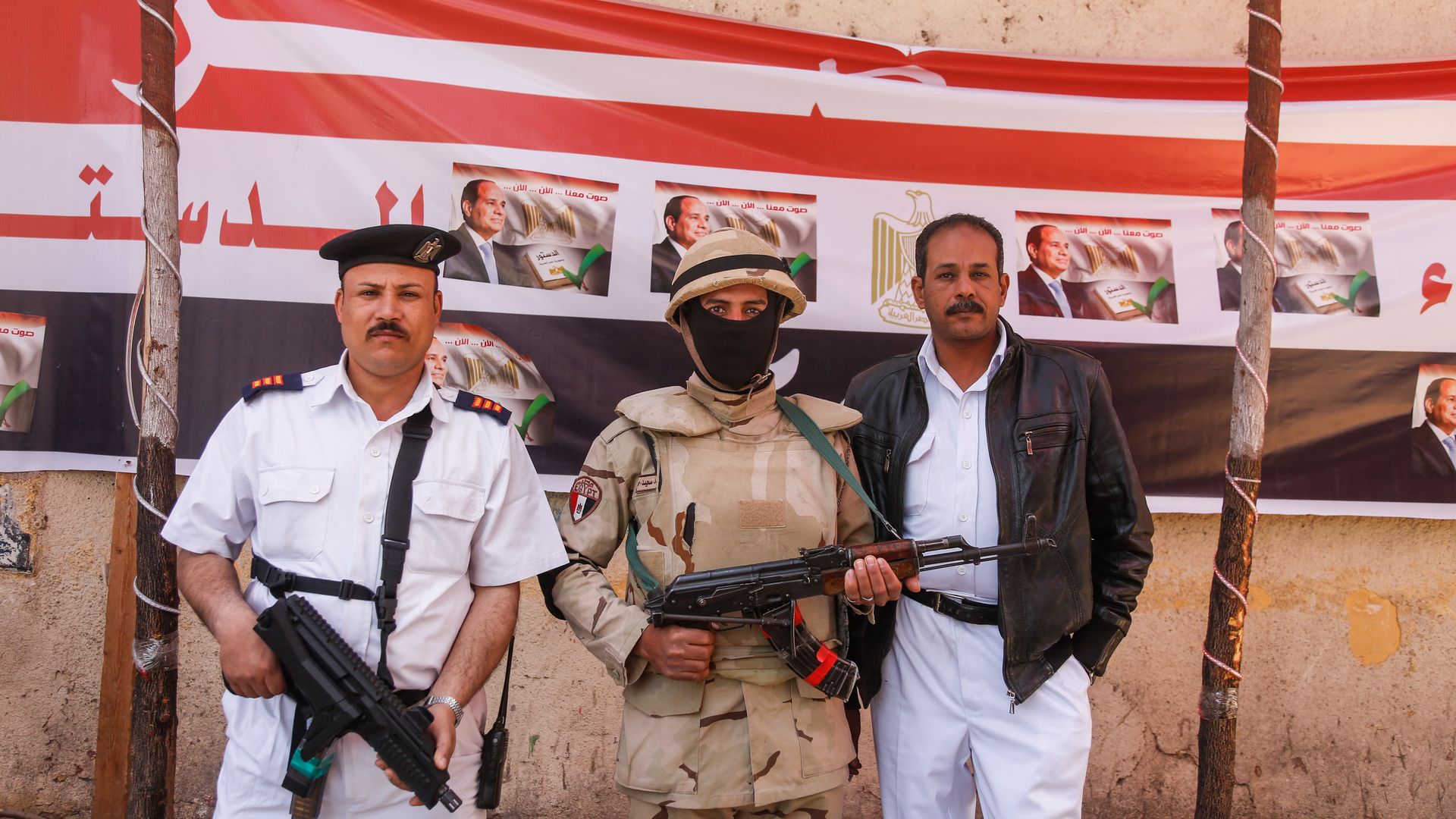 1. A referendum in Egypt today is all but certain to clear the way for Egyptian President Abdel Fattah el-Sisi to rule through 2030. The only real wildcard was turnout.
The backdrop: Sisi, who took power following a 2013 military coup, won a sham presidential election with 97% of the vote last year. He pushed constitutional changes through parliament last week that should cement his status as Egypt's dictator.
2. President Trump's apparent endorsement of Libyan warlord Khalifa Haftar appeared to contradict Pentagon and State Department positions that there is "no military solution" to Libya's civil war.
The backdrop: Haftar's forces control Eastern Libya. He began an offensive three weeks ago on the capital, Tripoli, in an attempt to seize power from the UN-backed government.
A White House statement following a call between Trump and Haftar last week referred to their "shared vision" for Libya, and praised the strongman's "significant role in fighting terrorism and securing Libya's oil resources." Critics warn that Haftar is polarizing and autocratic.
3. Sudan's military has ordered protestors to remove barricades in the capital, Khartoum, two weeks after a sit-in began outside military headquarters, and 11 days after longtime dictator Omar al-Bashir was forced from office.
The backdrop: The powerful military has a lot to lose. It says it will eventually hand over power and is open to a joint military-civilian governing council. That's far short of what the protestors are demanding.
4. In Morocco, thousands marched on Sunday demanding the release of activists jailed for organizing anti-poverty demonstrations in 2016 and 2017.
5. Latin America: "Macrisis" in Argentina
Argentine President Mauricio Macri came to office as a pragmatic businessman who was going to save Argentina's government and economy from socialism.
What's happening: As this year's presidential election approaches, investors are beginning to fear the worst — that Macri will lose to former President Cristina Fernandez de Kirchner, who defaulted on the country's sovereign debt in 2014, Axios markets editor Dion Rabouin writes.
The state of the Macrisis...
Inflation rose last month to 54.7% year-over-year, the highest level on record. Consumer prices rose 55%.
Poverty rose to 32% at the end of 2018, up from 25% the prior year.
Unemployment rose to 9.1% and Argentina's GDP fell 6.2% from a year ago.
Flashback: Argentina was an investor darling when Macri came to office in 2015, reaching a settlement with creditors and levering the country up with new debt, including a 100-year bond investors said was issued largely out of hubris.
What to watch: A recent poll from Synopsis has Macri losing in all 3 likely election matchups by at least 7 points.
6. Data du jour: How countries are changing
Gender equality and diversity are on the rise around the world, according to respondents across 27 countries sampled by Pew.
With the exceptions of Indonesia and the Philippines, they also tend to believe family ties have grown weaker, Axios' Stef Kight points out.
Somewhat surprisingly, pluralities in 23 of the 27 countries say the increased diversity in their countries is a good thing.
The exceptions are Greece, Hungary, Italy and Russia.
The countries most favorable to increased diversity are Indonesia (76%), South Korea (68%), Canada (62%), U.S. (62%), U.K. (62%) and Australia (60%).
Older people, supporters of right-wing parties and less educated people tend to view diversity less positively.
Worth noting: One odd finding is that younger people are more likely to favor increased gender equality in every country except South Korea, where 18-29 year olds are actually less likely to want greater equality (though a majority is still in favor).
7. Stories we're watching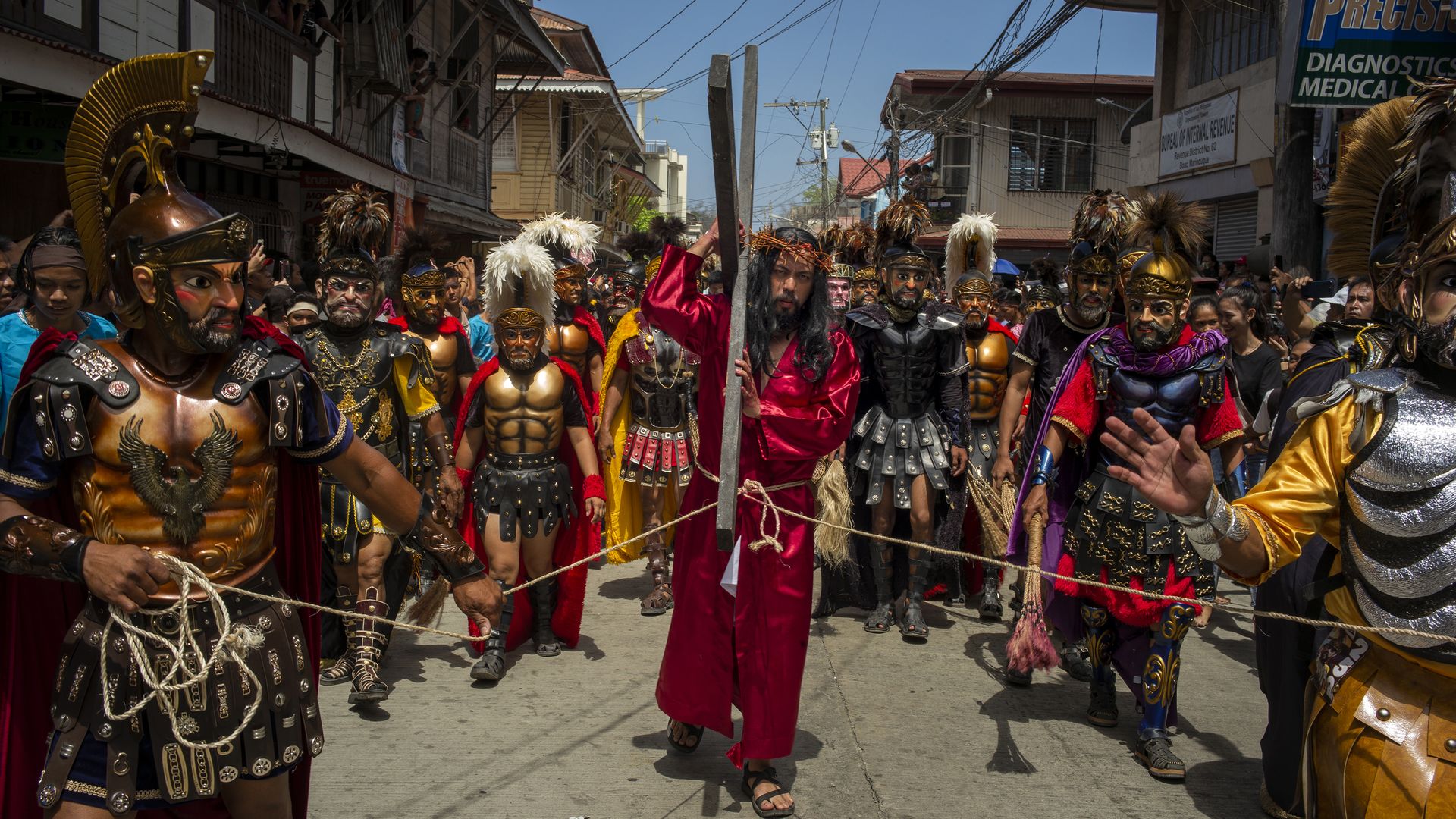 Quoted:
"Spoke to President Maithripala Sirisena of Sri Lanka yesterday to inform him that the United States stands by him and his country in the fight against terrorism."
— President Trump on Twitter. The message was later deleted and replaced with a corrected statement indicating Trump actually spoke with Sri Lanka Prime Minister Ranil Wickremesinghe.
Thanks for reading — see you on Thursday!