Welcome to Axios World, where two evenings a week we break down what you need to know about the big stories from around the globe.
Thanks for joining me! Please tell your friends and colleagues to sign up, and I'd love your tips and feedback: lawler@axios.com.
Was this email forwarded to you? Sign up here.
Heads up: Axios World will be in my colleague Shane Savitsky's capable hands on Thursday while I drift off to the West Coast for a mini-vacation. I'll be back Monday.
Situational awareness: In another major defeat for U.K. Prime Minister Theresa May, Parliament has voted to allow "indicative votes" on a series of alternatives to her Brexit deal. Those votes will test whether any solution has majority support. Two government ministers who defied May to vote for the measure resigned. BBC coverage.
1 big thing: Trump's closest ally in fight of his life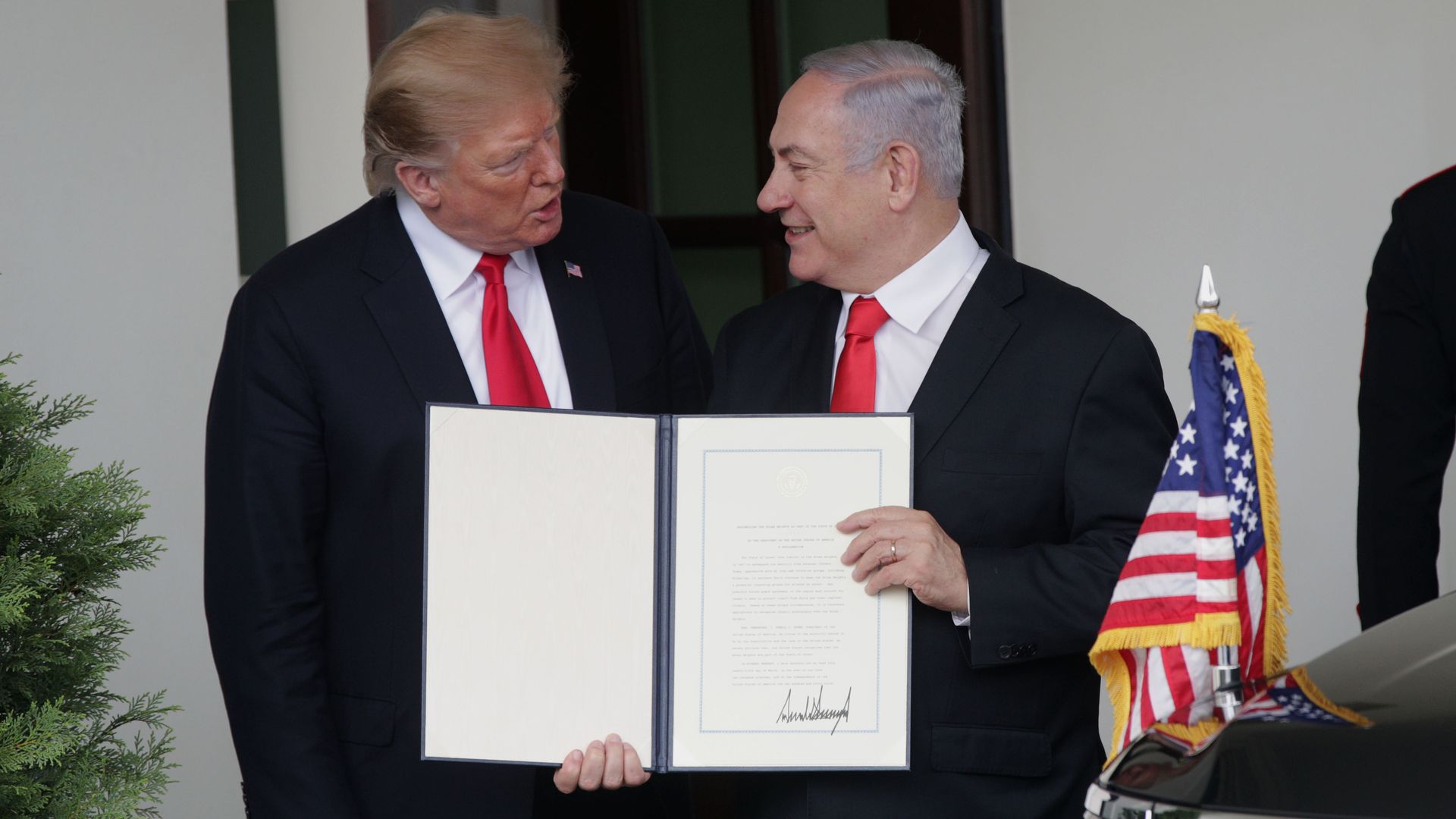 Israel's election campaign came to Washington today, with both frontrunners making high-profile appearances. Some 6,000 miles away, the Israeli military was mobilizing for an aerial offensive.
Catch up quick: After a rocket fired from Gaza struck a family home north of Tel Aviv early this morning, injuring seven people, Israel responded with force.
The military says it struck Hamas' public security offices and the office of the Islamist organization's chairman, among other targets. Israel's acting foreign minister told Channel 13 News it was the largest operation undertaken in Gaza since 2014. Hamas fired rockets in response.
The latest: Just as things looked like they might spiral into war, Hamas announced a ceasefire. It's unclear if it's holding. As the Telegraph's Jerusalem correspondent Raf Sanchez tweeted: "The psychological whiplash that people in this region live with is unreal."
Back in Washington this morning, Prime Minister Benjamin Netanyahu met with President Trump before cutting his visit short in light of the attack.
Benny Gantz, a former chief of staff of the Israel Defense Forces who is making a strong centrist challenge in the April 9 elections, criticized Netanyahu for the deteriorating security situation. Gantz later addressed the pro-Israel AIPAC conference in Washington, stressing his military bona fides while calling for "unity" and condemning racism and corruption.
Those were thinly veiled swipes at Netanyahu, who boosted a racist fringe party in a pre-election maneuver designed to ensure a right-wing majority in the Knesset and is facing indictments in three bribery and fraud cases.
Yet another scandal reared its head this week. This one concerns a submarine deal Netanyahu's critics claim he profited from (he denies it). But while polls show Gantz's party narrowly leading Netanyahu's, they also show most Israelis expect Netanyahu to keep his job.
Before departing Washington, Netanyahu lavished praise on President Trump during a ceremony in which Trump officially recognized Israeli sovereignty over the occupied Golan Heights. He told Trump: "Israel has never had a better friend than you."
Internationally, Trump has never had a better friend than the Israeli prime minister. He has clashed with the leaders of most of America's traditional allies. Not with Netanyahu.
They're kindred spirits. Both castigate the "fake news" media, claim to be the victims of a "witch hunt," and paint visions of destruction and destitution should they be removed from office.
Their relationship is also politically symbiotic. Trump sees political advantage in being the president who moved the U.S. embassy to Jerusalem and steadfastly defended Israel at the UN. Netanyahu, meanwhile, is placing his close ties with Trump at the center of his campaign.
The bottom line: Netanyahu claims events like today's show he's the only man who can keep Israel safe, while his opponents argue they prove he's not keeping Israel safe enough. But at the heart of Israel's security lies its relationship with the U.S..
On that front, Netanyahu's case is clear. Giant billboards in Tel Aviv and Jerusalem show him smiling next to Trump along with a message: "Netanyahu, in another league."
2. Interview: Ernest Moniz on the growing threat of nuclear war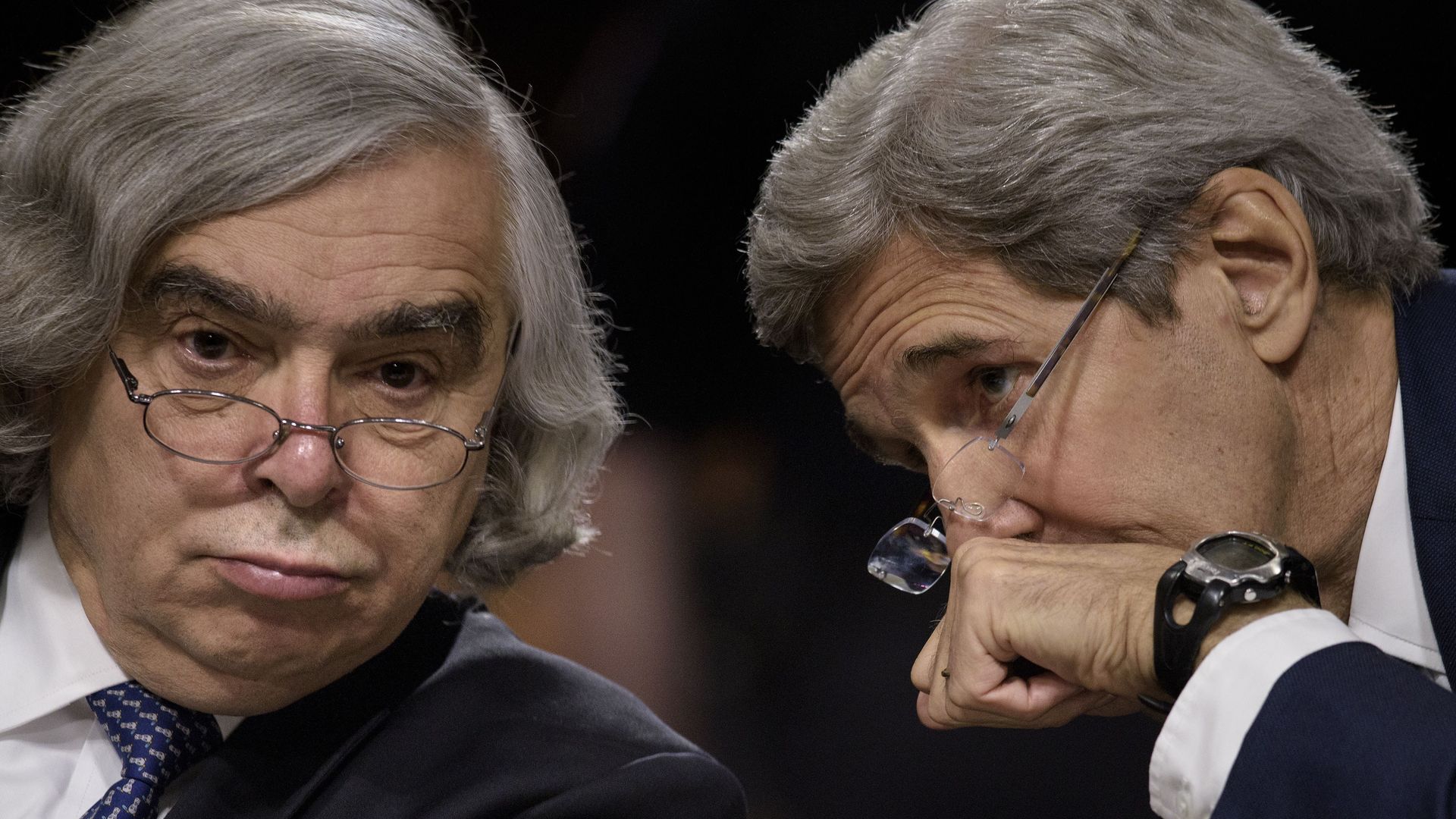 Ernest Moniz, former energy secretary and now CEO of the Nuclear Threat Initiative, tells Axios, "The risk of a nuclear weapon being used is now higher than at any time since the Cuban Missile Crisis."
I interviewed Moniz at length last week at Indiana University, where we both took part in a foreign policy conference. He was particularly concerned about the erosion of the U.S.-Russia arms control regime, which could collapse entirely if the Trump administration declines to renew the New START treaty.
Moniz said arms control has been "an enormous part of sustaining, even in dark periods, dialogue between the U.S. and the Soviets and now the U.S. and the Russians."
He raised a frightening scenario: A cyberattack on command and control systems (from either a state or non-state actor) that leads to a false warning of an incoming attack. Given the broken state of U.S.-Russia communications, a president would have just minutes to decide whether to respond, and limited information to act on.
Beyond the potential for miscalculation, Moniz said current debates in the U.S. and in Russia are "reviving the idea of nuclear weapons as battlefield weapons" rather than tools for deterrence
On North Korea, Moniz said that if the Trump administration sticks to its all-or-nothing approach to denuclearization, "the chances of success are miniscule."
He said North Korea's testing freeze does enhance U.S. national security while it lasts, because Kim Jong-un hasn't demonstrated he can strike the U.S. with an intercontinental ballistic missile.
But he added: "We frequently forget that there are ways of delivering nuclear weapons that don't involve missiles." An example would be "a ship going into a harbor."
3. Latin America: Putin's Venezuela power play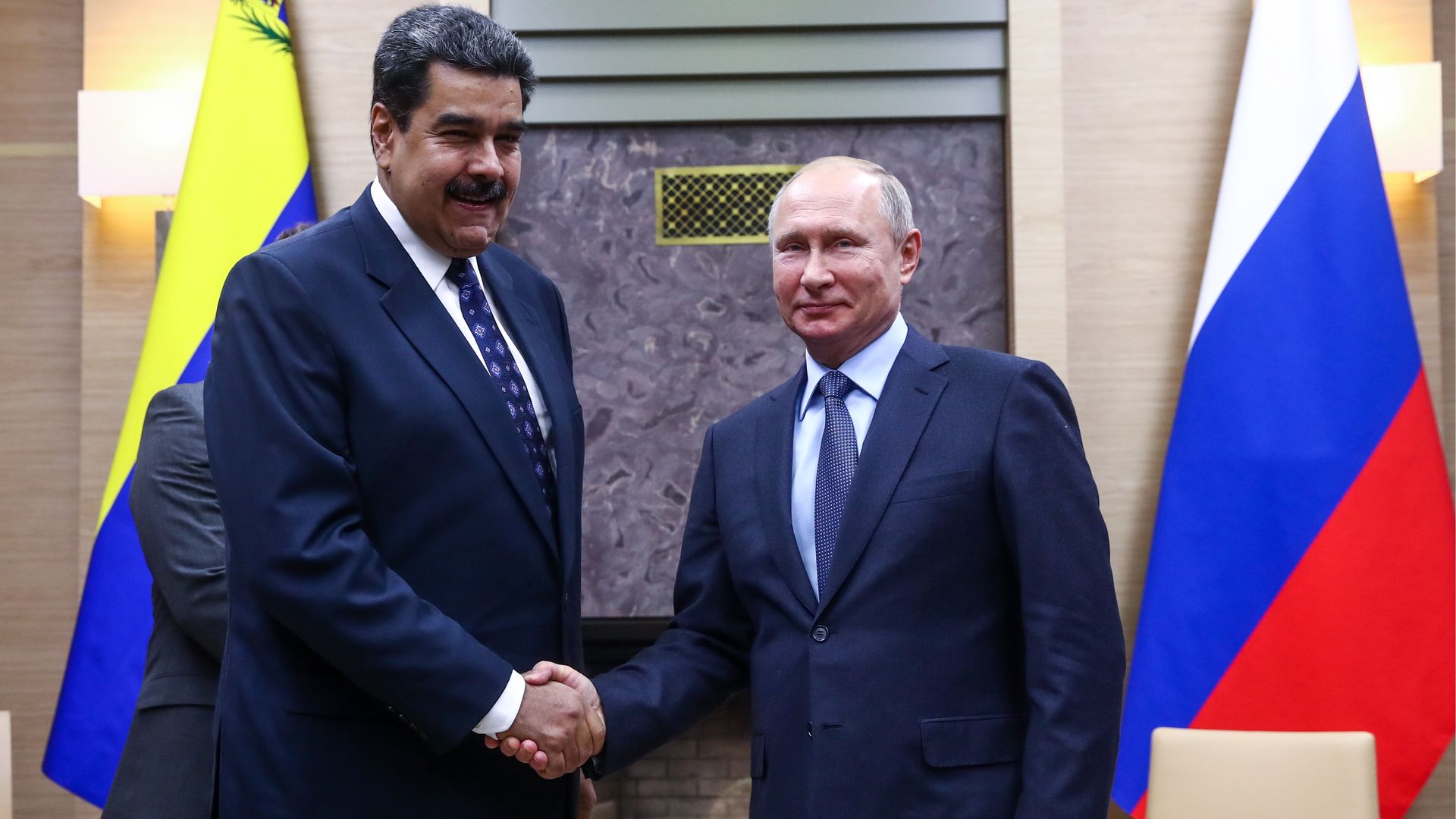 Two Russian planes landed in Venezuela on Saturday, reportedly carrying 35 tons of military supplies and 100 Russian troops.
Why it matters: More than two months after the United States and 50 other countries recognized National Assembly leader Juan Guaidó as president of the country, Russia's latest power play is a defiant move to shape events in what has long been considered a U.S. sphere of influence.
The U.S. has staked its maneuvers on a bet that the military high command would turn on Maduro and back Guaidó as interim president until the country could hold free and fair elections.
Russian troops are more than a hedge against a U.S. invasion; they are a signal to prevent the defections from the Venezuelan military that the U.S. and others had been banking on.
The bottom line: Now, perhaps in part as reprisal for U.S. support of Ukraine's democratic government against Russian intervention, Vladimir Putin may try to play a role in any solution to the Venezuelan standoff.
Bonus: Bolsonaro in the New Yorker
I got a sneak peek over the weekend at Jon Lee Anderson's profile of Brazilian president Jair Bolsonaro. Two paragraphs that stuck with me:
"For Brazilians watching the news in recent years, the country can appear to be perilously in decline. An enormous scandal — called Operação Lava Jato, or 'Operation Car Wash' — seems to involve every third official in the government. Two dams have collapsed at mine sites in the countryside, releasing millions of gallons of waste. Last September, an accidental fire broke out at the two-hundred-year-old National Museum, destroying an irreplaceable ethnographic collection."
"Bolsonaro grew up in Eldorado, a sleepy town in Brazil's 'banana heartland,' south of São Paulo. … In 1970, during the first decade of military rule, a Brazilian Army unit descended on Eldorado in pursuit of Carlos Lamarca, an officer who had gone rogue and joined a Marxist guerrilla group. As the soldiers ransacked houses and searched the woods for hideouts, Bolsonaro, who was fifteen, was enthralled; he offered to help them in their search."
4. Asia: Taiwan tensions on the rise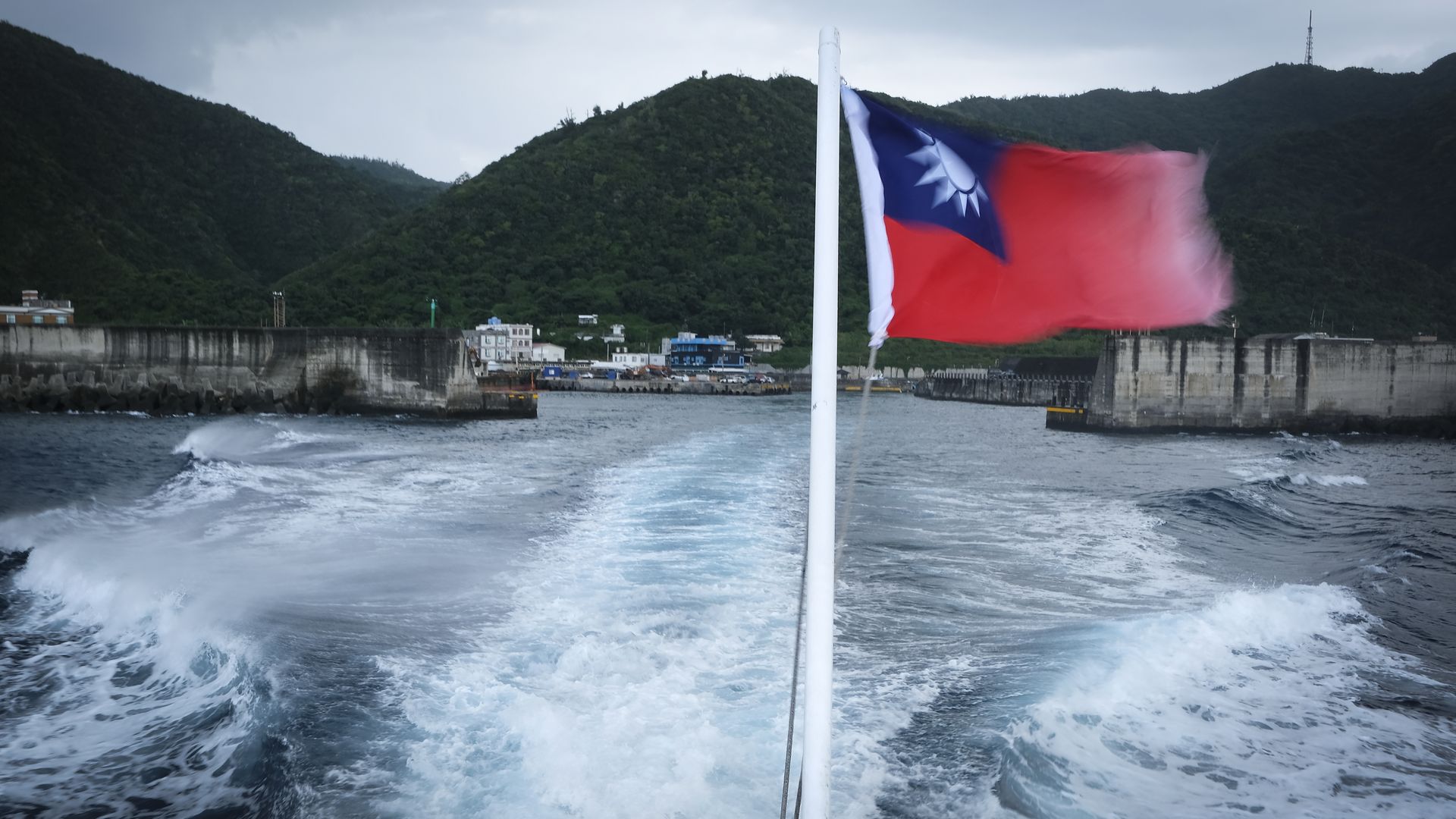 China has lodged formal complaints to the U.S. after the Pentagon sent two ships through the Taiwan Strait yesterday, the latest in a string of such operations designed "to assert [the U.S. Navy's] right to sail through international waters as it sees fit," per the WSJ.
The backdrop: The U.S. formally accepts the "One China Policy," under which self-ruling Taiwan is considered part of China. But while Beijing has been increasingly assertive about its claims over Taiwan, the U.S. has stood by the island of 24 million.
Foreign Policy's Lara Seligman writes:
"[I]n January, China's President Xi Jinping warned that any efforts by the contested island democracy to assert its full independence could be met by armed force, and he implicitly threatened the United States if it tries to intervene."
"In what appears to be a signal to China, the Trump administration has reportedly given tacit approval to Taiwan's request for 60 new F-16 fighter jets, prompting fresh protests from Beijing."
What to watch: Taiwan's unpopular president, Tsai Ing-wen, is facing a primary challenge — a first for an incumbent — by former Prime Minister Lai Ching-te ahead of January's presidential election, per the Economist:
"[T]he contest may anger China, since Mr Lai is a more vocal supporter than Ms Tsai of the idea that Taiwan should formally declare itself to be a distinct country from China — a move China says would be grounds for war."
"[Party] activists had been panicking, as Ms Tsai has been trailing badly in the polls. They feared not only a further electoral setback, but one that would have put the government into the hands of a China-friendly leader just as China is pressing Taiwan to begin talks on unification."
The primary results will be announced on April 17.
5. Africa news roundup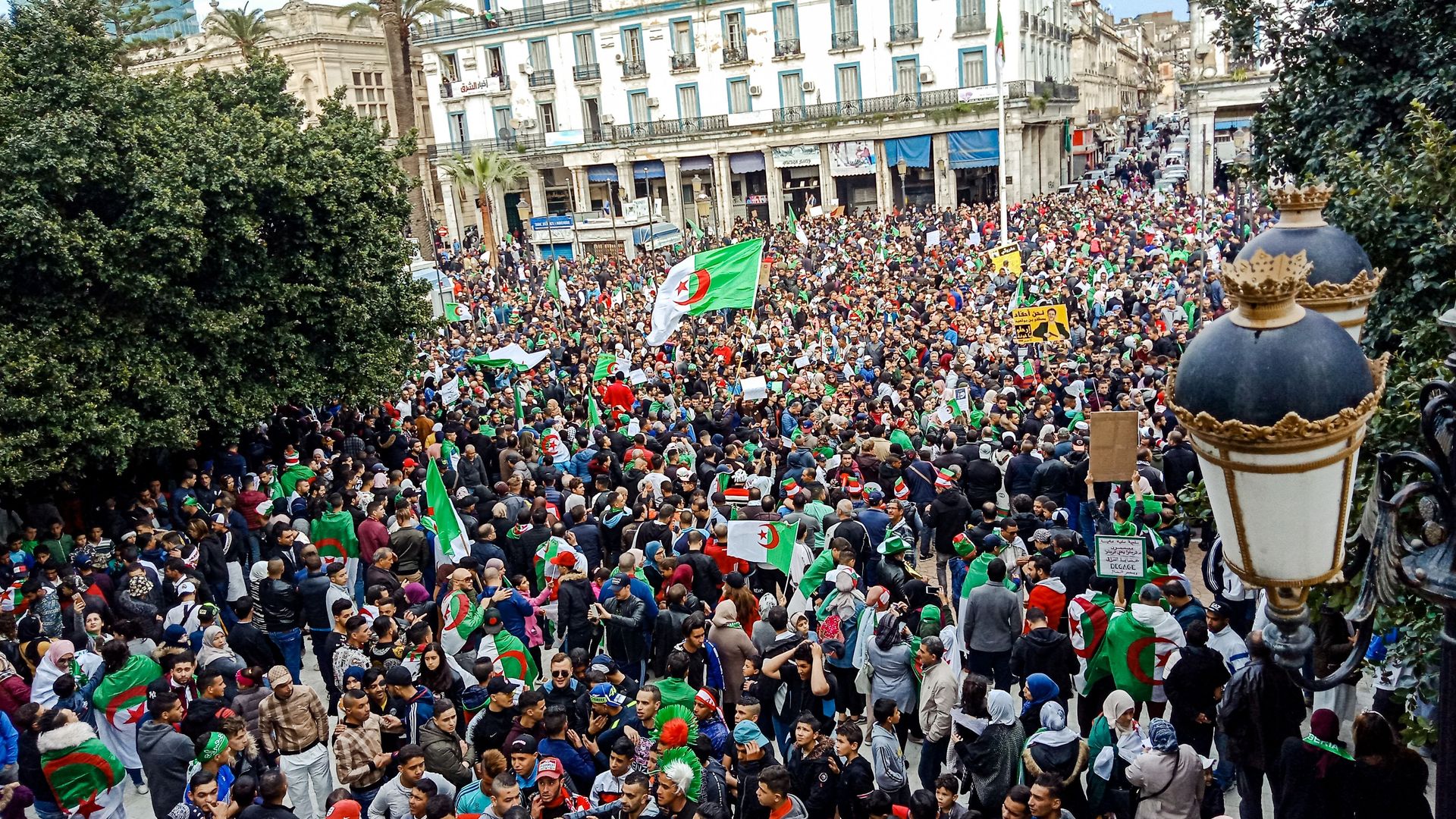 1. Protests in Algeria just keep growing despite President Abdelaziz Bouteflika having backed down from his plan to seek a fifth term.
A spokesman from the ailing president's own party now says the plan to put off elections and hold a conference to decide on Algeria's political future is "no longer valid" because the protesters are demanding a chance to elect new leaders. The spokesman said he was expressing his personal opinion.
The big picture: Bouteflika has hardly appeared in public since a 2013 stroke. He was only put forward again because Algeria's factionalized elites couldn't decide on a successor. Now, the protesters aren't just demanding a new president — they want to topple the entire system.
2. The death toll from Cyclone Idai in southern Africa has crossed 750, with most of those deaths coming in Mozambique. The hard-hit city of Beira, pop. 530,000, was reportedly 90% destroyed.
3. In Mali, 134 people were killed Sunday in a region that has been plagued by terrorism and ethnic violence. "The UN said armed men, reportedly dressed as hunters, came before dawn and attacked the villagers with guns and machetes," per CNN.
6. Data du jour: World's best and worst infrastructure
With Italy's decision to sign on to the Belt and Road Initiative shining a spotlight once again on China's infrastructure investments around the world, I thought this might be a good list to dive into. Per the World Economic Forum:
Top 5: Singapore, Hong Kong, Switzerland, Netherlands, Japan.
6-10: South Korea, Germany, France, U.S, Spain.
Selected others: Italy (21), China (29), Russia (51), India (63), Brazil (81).
Bottom 5: Liberia, Chad, Yemen, Democratic Republic of the Congo, Haiti.
My thought bubble: It's remarkable that Haiti, a country less than 700 miles from Florida, is by this measure the least developed country on Earth.
7. Stories we're watching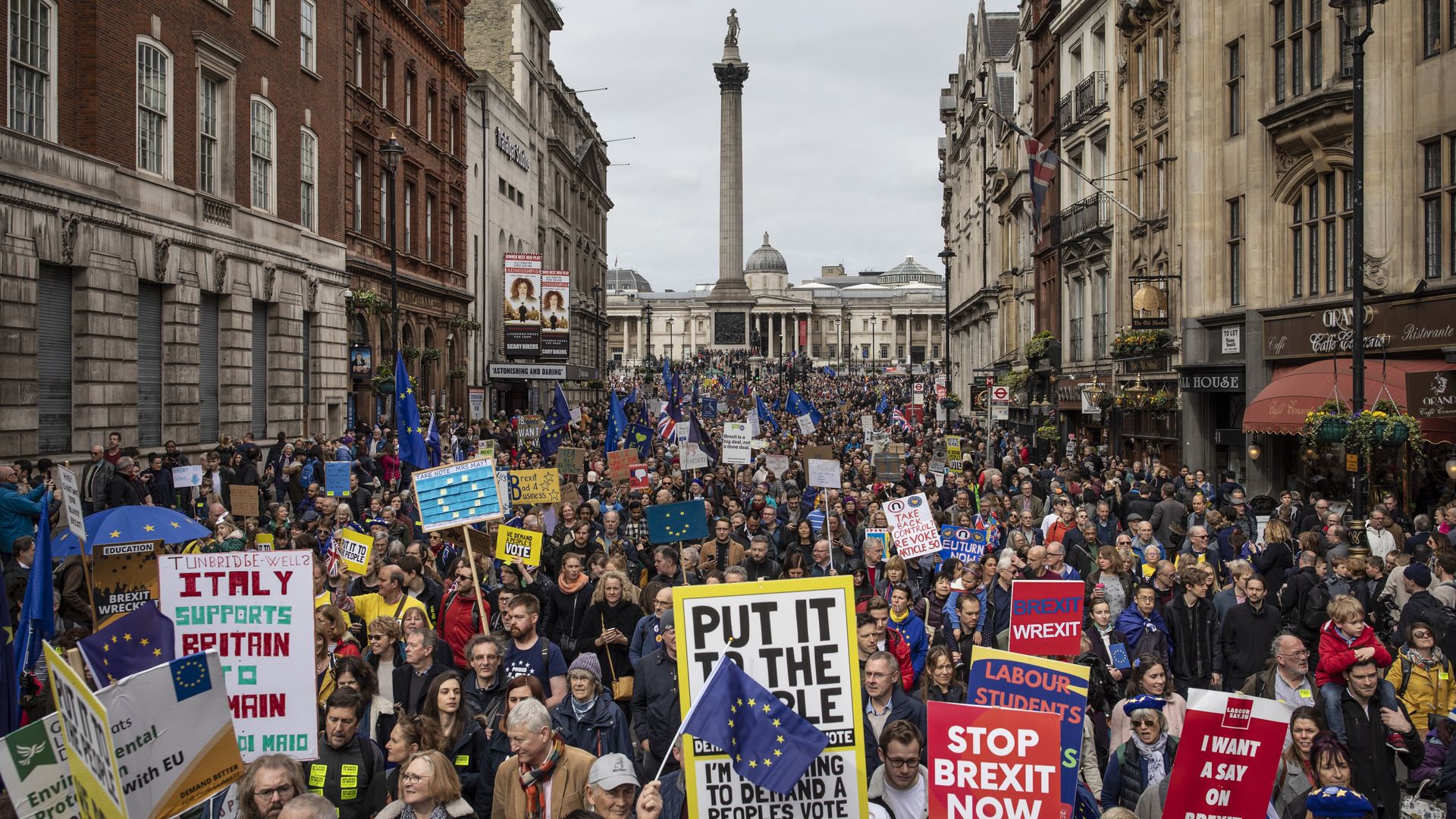 Quoted:
"There's a chance to renew much in our relations, but the question is whether Trump will take the risk. We, of course, are ready."
— Konstantin Kosachyov, chairman of the foreign relations committee in Russia's Federation Council,
reacts to the Mueller report news
.
Thanks for stopping by — enjoy Shane's edition on Thursday, and I'll see you in a week.